Union Pacific Steam Program

Header Photo: Drew Jacksich
When Union Pacific elected to save one its Class FEF 4-8-4s as steam operations wound down during the 1950s it planted the seeds of what is today considered one of the greatest heritage fleets across the country, and perhaps the world.  That locomotive was #844 and today it is a household name throughout the railfan community having hosted numerous special excursions over the many decades as the only steamer never officially retired from a Class I railroad.  Since then UP has added several classic steam and diesel models to its roster, most of which are housed in its shops and roundhouse at Cheyenne, Wyoming.  The most spectacular addition occurred during 2013 when UP announced it would acquire one of the fabled 4-8-8-4 Big Boys for the fleet, often regarded as one of the largest and most powerful examples of traditional steam designs ever built.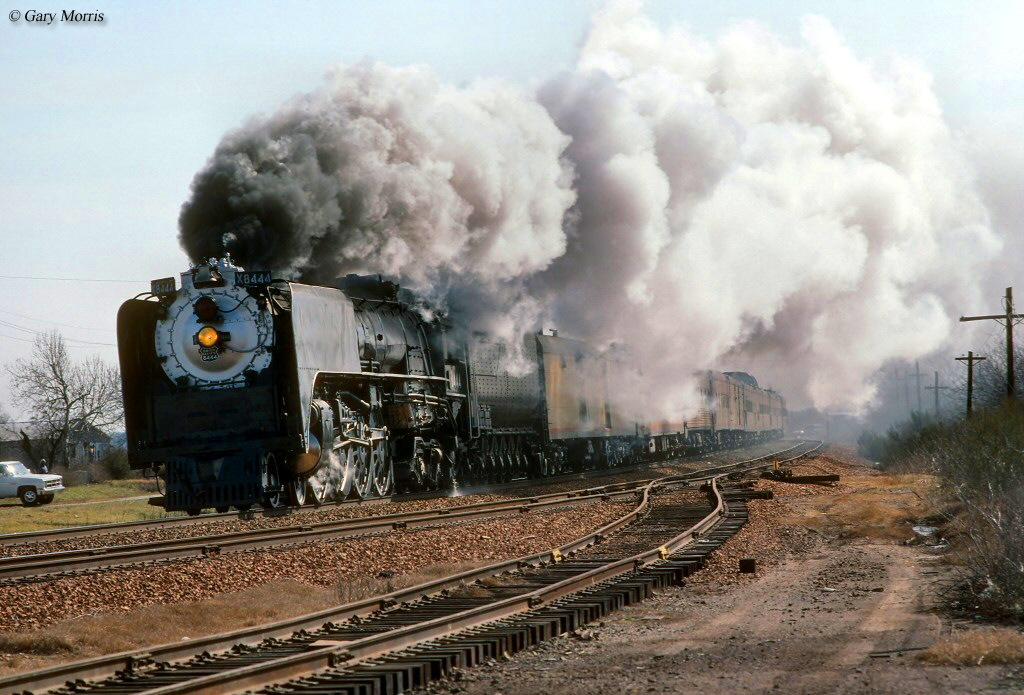 The traffic strains felt by World War II meant that many railroads were struggling to avoid power shortages.  This issue was no different for the Union Pacific.  Needing additional and more powerful locomotives for passenger operations UP went to the American Locomotive Company (Alco) requesting a batch of 4-8-4s.  The first arrived in 1937, given Class FEF-1, and numbered 800-819.  While UP would have liked new diesels wartime restrictions prevented this.  In any event, the new Northerns were able to save the railroad some $300,000 annually at a cost of roughly $10-$11 per mile.  During 1939 UP purchased additional examples, Class FEF-2's #820-834, and completed the roster with the Class FEF-3's of 1944, #835-844.  After the war diesels soon supplanted steam and the Northerns, despite their advanced technologies and cost savings, were bumped to freight assignments.
More Reading...
In 1954 UP began retiring the first of the 4-8-4s although the locomotives continued to see service through 1962.  At this time the end of steam on the railroad appeared imminent.  However, in a move unique only to UP the railroad spared #844 following her final freight assignments performed in 1959.  A year later the Northern began hosting special excursions from its base of operations in Cheyenne, Wyoming.  This location, an important division point on the UP with a large roundhouse and turntable, became the permanent home of the locomotive.  In 1961 new Electro-Motive GP30s arrived, which were given the 800 numbering series and forcing the Northern to be reassigned as #8444 for a time.  One of its most notable excursions during these early years included Ross Rowland's Gold Spike Special to celebrate the centennial of the transcontinental railroad completion on May 10th, 1969.

Union Pacific Steam Program
UP #844 Specifications
| Road Number | Builder | Class | Overall Wheelbase | Engine/Tender Weight | Tractive Effort | Date Built |
| --- | --- | --- | --- | --- | --- | --- |
| 844 | Alco | FEF-3 | 98 1/2 Feet | 908,000 Pounds | 63,750 Pounds | 1944 |
UP #3985 Specifications

| Road Number | Builder | Class | Overall Wheelbase | Engine/Tender Weight | Tractive Effort | Date Built |
| --- | --- | --- | --- | --- | --- | --- |
| 3985 | Alco | 4664-4 | 99 Feet | 1,063,500 Pounds | 97,352 Pounds | 1942 |
UP #4014 Specifications

| Road Number | Builder | Class | Overall Wheelbase | Engine/Tender Weight | Tractive Effort | Date Built |
| --- | --- | --- | --- | --- | --- | --- |
| 4014 | Alco | 4884-1/Big Boy | 117 1/2 Feet | 1,189,500 Pounds | 135,375 Pounds | 1941 |
Since then the 4-8-4 has become the most visible public relations ambassador on the Union Pacific system, hosting numerous excursions annually, leading the business train during various outings, and/or sitting on display for special events such as the College World Series in Omaha and the annual Cheyenne Frontier Days.  Beginning in 1977 UP added to its steam program when restoration was launched on 4-6-6-4 #3985 and completed through an all-volunteer effort by 1981.  To celebrate the restoration the Challenger was sent to Railfair '81 at Sacramento to help showcase the opening of the California State Railroad Museum that year.  Since then the big articulated steamer has been used on several outings and excursions although does not make appearances outside of Cheyenne as often as #844.

---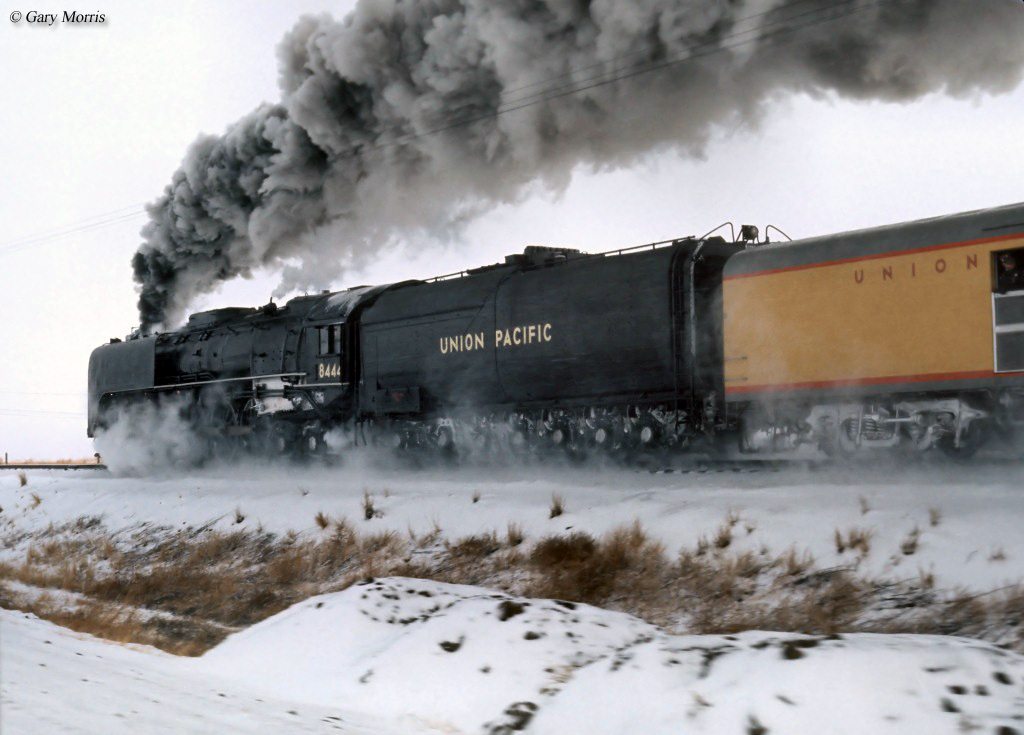 The biggest news regarding the steam program occurred in 2013 when UP announced it would acquire one of the largest and most powerful designs ever built, 4-8-8-4 "Big Boy" #4014 which had set on display in Pomona, California since the early 1960s.  It was chosen since the locomotive was in relatively good condition and will certainly become the star attraction on the railroad regardless of how often it leaves the roundhouse.  There are also some other notable heritage pieces kept at Cheyenne including one of the largest diesels ever constructed, Electro-Motive DDA40X Centennial #6936.  This locomotive remains operational and also occasionally pulls excursions.  Additionally, UP's fleet of streamlined E9s normally assigned to the business train call there for maintenance as do its restored, lightweight cars.  Finally, there are two other steamers, both of UP heritage albeit non-operational, kept at the roundhouse including 2-10-2 #5511 and 4-8-4 #838.

Home

›
Steam Locomotives
› Union Pacific's Steam Program