Wisconsin Railroad Jobs

Last revised: May 31, 2023
Wisconsin was once home to many famous classic railroads such as the Milwaukee Road, Chicago & North Western, Soo  Line, Green Bay & Western, and Chicago, Burlington & Quincy. 

However, today, if you are interested in railroad jobs in Wisconsin the state is home to just half of its peak rail mileage, most of which is currently owned by Class Is Union Pacific, BNSF Railway, Canadian National, and Canadian Pacific.
As for originated freight, Wisconsin remains diversified among several different areas from agriculture and food to pulp/paper and non-metallic minerals. 
Historically, Wisconsin was home to over 7,500 miles, a number which has been cut to just over 3,000 miles today. 
It was the Milwaukee Road which maintained the greatest mileage, operating numerous main and secondary lines throughout the lower and central parts of the state.
In addition, it operate a route into Michigan's Upper Peninsula where it handled great levels of iron ore traffic.  The information provided here is to aid job searches in highlighting those railroads which currently operate within the state. 

Milwaukee Road GP9's with a Royal American Shows carnival train heading west near Lewiston, Wisconsin during the 1970's. Author's collection.
A career in railroading can be quite challenging to say the least and if you are particularly interested in working in the industry it would definitely be worth your time to thoroughly look into it (especially if you are rather unfamiliar with railroads).
Of course, Class Is offer many different job titles, aside from operating the trains themselves, from mechanics to track maintainers.
Or, if management/business is your interest most of the large railroads now offer internships or graduate programs for college students during the summer months (some also offer scholarships).  
In the end, you will have to decide for yourself if the long hours required with Class Is is worth the pay they offer.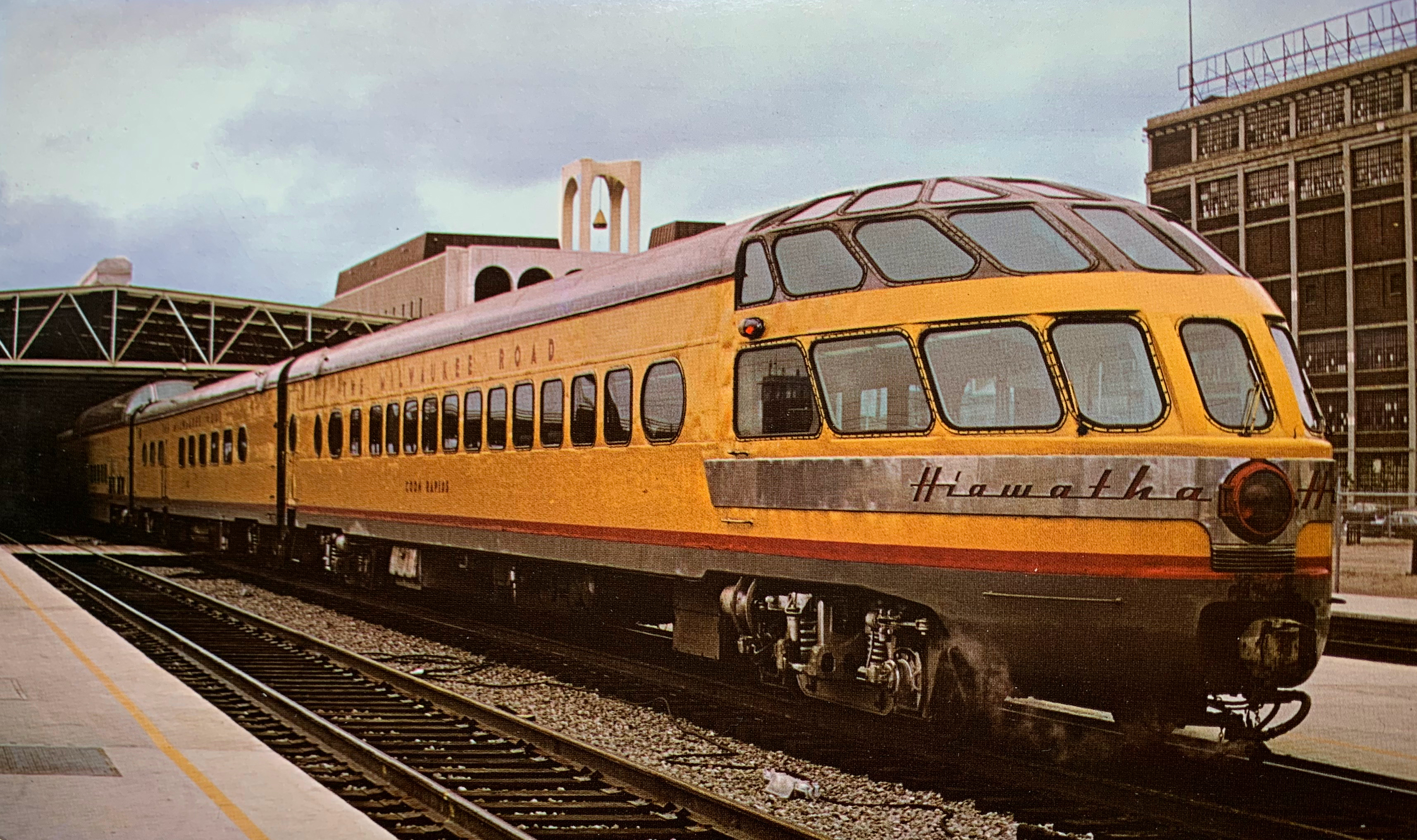 Milwaukee Road 'Skytop' lounge-observation "Cedar Rapids" brings up the tail end of the westbound "Afternoon Hiawatha" stopped at the then-new depot in Milwaukee, Wisconsin during September, 1965. Ahead of the "Cedar Rapids" is the diner, and then a "Super Dome" (used on the transcontinental "Olympian Hiawatha" from 1952-1961). In 1964, Milwaukee sold six of the ten "Super Domes" to Canadian National. Roy Gabriel photo. Author's collection.
A career in the railroad industry has long been a successful one, albeit requiring long hours and a erratic schedule.  
Your salary in the field as a track maintainer typically starts out in the high $30,000's (minimum) while crewmen usually begin in the $50,000's.
In addition, seniority positions (such as trainmaster and roadmaster) as well as skill positions (such as signal maintainer) can earn $60,000 - $80,000+ immediately.  
After many years of employment it is quite possible for any of these positions to earn $100,000+ annually.  A position with a short line carrier will typically not pay this well although do offer better hours and a more predictable schedule.

Class I Railroads/Amtrak
Short Lines And Regionals

Wisconsin & Southern Railroad: Wisconsin's largest non-Class I railroad, the W&S has been in operation since 1980 operating former Milwaukee Road and C&NW trackage totaling more than 700 miles across southern Wisconsin. Please visit Watco's website for contact information and career inquiries within the company. 

Escanaba & Lake Superior Railroad: The E&LS has been in operation since 1978 operating ex-Milwaukee Road and Duluth, South Shore & Atlantic Railway (Soo Line) trackage in the Upper Peninsula of Michigan.
Today, it serves a 235-mile system that, while mostly located in the Upper Peninsula of Michigan also reaches Green Bay and Marinette, Wisconsin. Visit the E&LS website for contact information and employment. 
---
Tomahawk Railway: This short line is part of the Genesee & Wyoming's vast family of railroads, operating just six miles of trackage. It currently owns about 6 miles running north and south of Tomahawk and handles chemicals, coal, and forest products. 

Wisconsin Northern Railroad: The Wisconsin Northern Railroad is another property operated by Progressive Rail of Minnesota.
The railroad began operations in 2004 and operates over 60 miles of track in the northern part of the state over trackage once owned by the Chicago & North Western and Soo Line.
Its current commodities range widely from scrap metal and lumber to fertilizer and agriculture. Visit Progressive Rail's website for career information.