While the FDDM&S continued to concentrate on coal it also began to focus on the movement of gypsum near Fort Dodge and general industry located around Des Moines. Additionally, its owners began looking at electrifying part of the railroad as an interurban. It remained focused, however, on freight and in 1906 purchased the Ames & College Street Railway to serve that town. After completing an extension from Hope to Fort Dodge, and establishing an interchange with the Des Moines & Central Iowa it now had a through route between both of the state's major cities (easily Iowa's largest interurban). Service along the entire route opened on November 4, 1907. Soon after, its owners realized that the the N&NW's route from Newton to Rockwell City offered a non-sustainable freight potential and decided to electrifying only part of the route between Hope and Midvale on a 1,200-volt, DC system.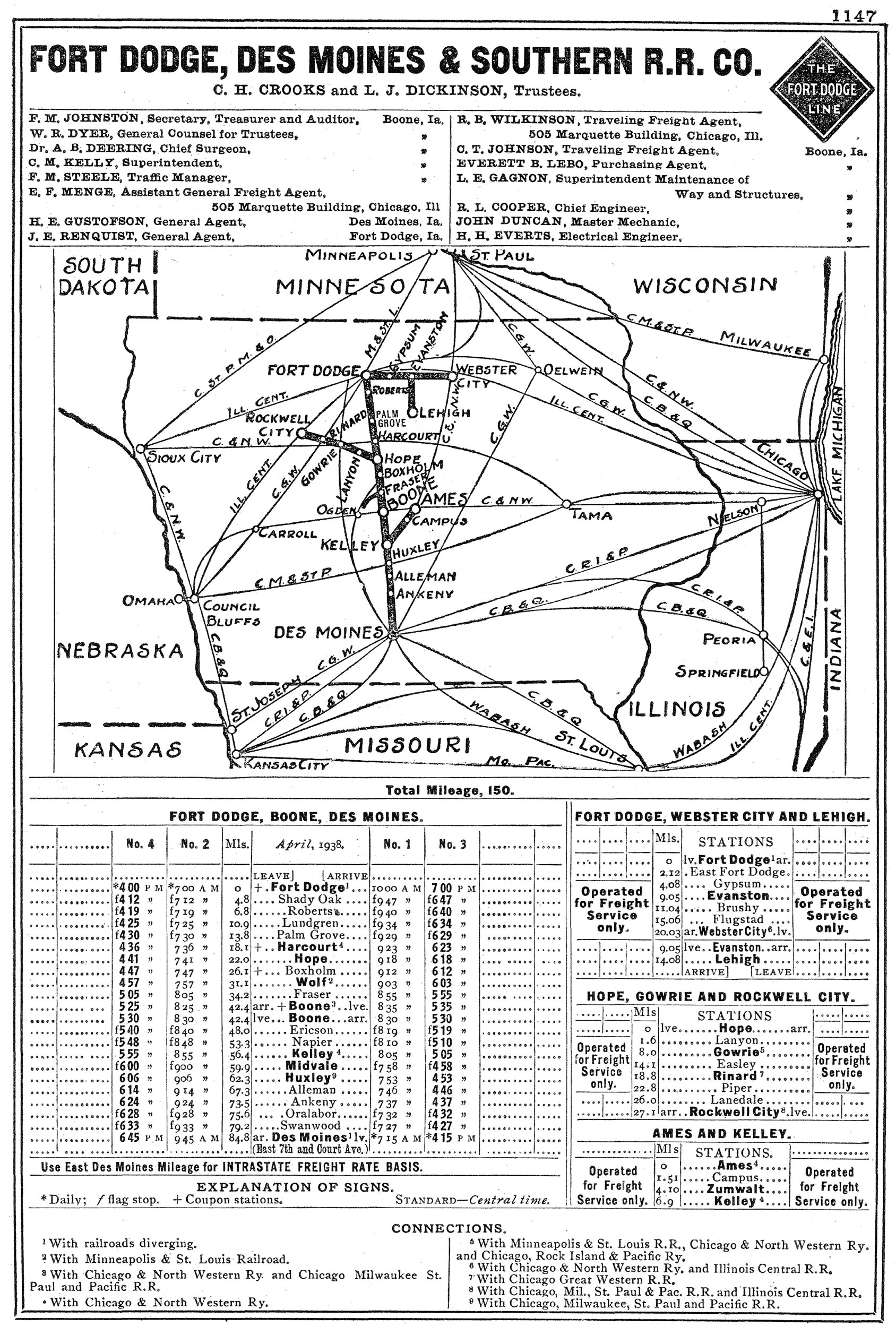 In 1911 the Midvale to Newton section of the N&NW was abandoned and much of the entire FDDM&S route was electrified to some extent. Small editions continued to be added, including a branch from Kelley to Ames (which finally directly connected its Ames & College Street subsidiary) and the purchase of the aforementioned Crooked Creek Railroad in 1916. This route was also energized. For freight service the railroad utilized second-hand General Electric-built freight motors (it acquired more beginning in 1942 from the Oregon Electric) and used Niles Car & Manufacturing Company interurban cars for passenger operations. Part of the reason for the road's success was not only due to its freight traffic but also had numerous interchange partners (sometimes in more than one location) with Class I lines including the Milwaukee Road, Illinois Central, Chicago & North Western, Burlington, and Rock Island.
The Great Depression hit the line hard and it fell into receivership in 1930, emerging in 1942 as the Fort Dodge, Des Moines and Southern Railway. Beginning in 1954 the FDDM&S began dieselizing its motive power roster while at the same time ended virtually all of its remaining passenger services (branch line services began to be discontinued as early as 1926). Its diesels consisted almost entirely of General Electric products, 44-tonners and 70-tonners along with a Plymouth 65-ton switcher. In 1955 the railroad was purchased by the Salzburg family, which owned a number of shortlines including the Louisiana & North West and Wellsville, Addison & Galeton.   For more information and history about the FDDM&S please click here.
Fort Dodge, Des Moines & Southern Locomotive Roster
| Builder | Model Type | Road Number | Built | Quantity |
| --- | --- | --- | --- | --- |
| GE | 70-Ton | 401-411 | 1948-1955 | 11 |
| Plymouth | 65-Ton | 501 | 1936 | 1 |
| GE | 44-Ton | 502-505 | 1941-1945 | 4 |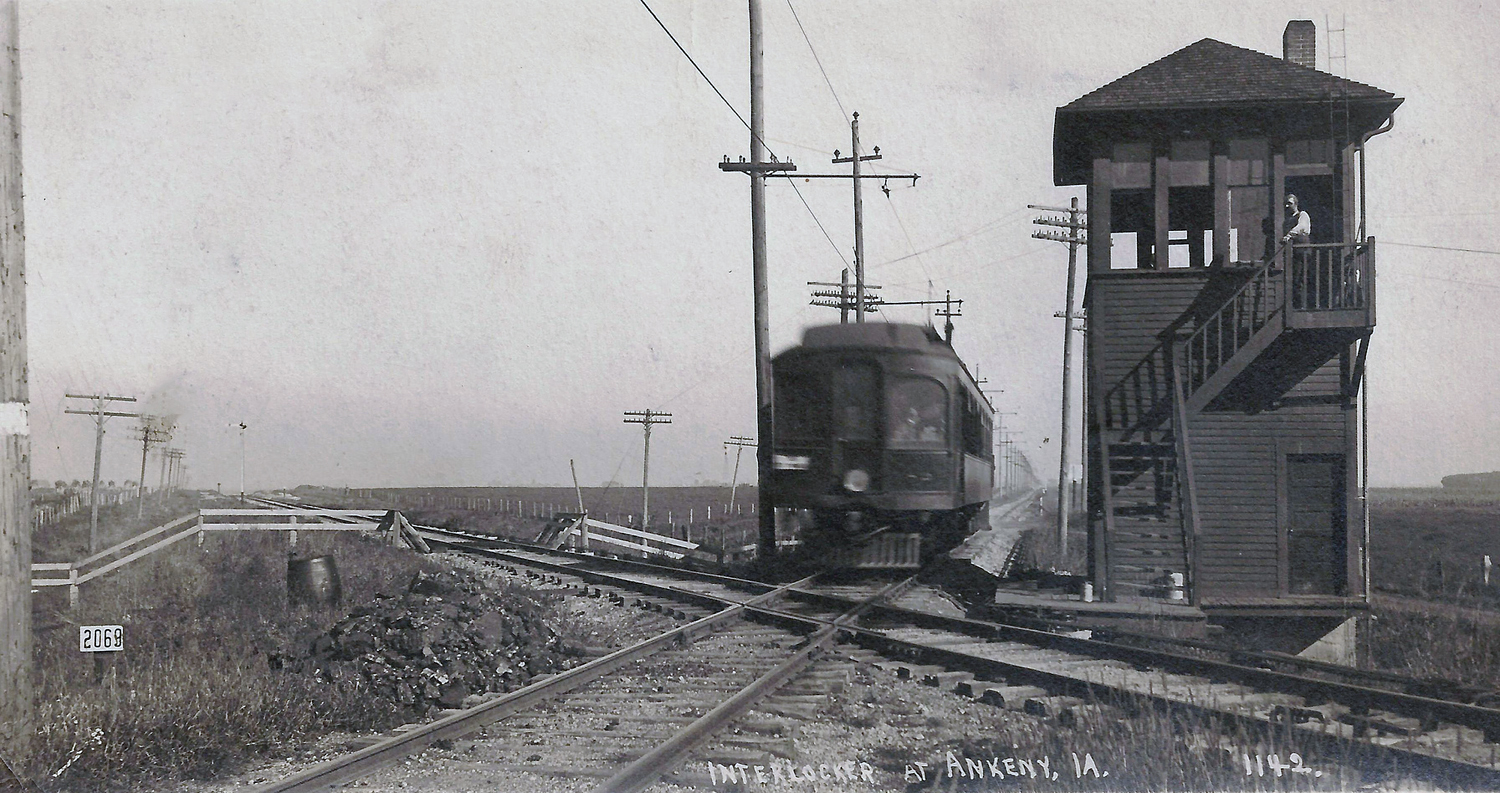 By the 1960s the railroad had cut back to its main line between Des Moines and Fort Dodge with the eastern extension to Webster City.   It also was still operating a remaining section of the N&NW between Hope and Gowrie. In 1968 the C&NW acquired the FDDM&S from Salzburg and, unfortunately, was not kind to the road. It immediately began cutting back services and by 1983 was looking to abandon the entire Fort Dodge-Des Moines route. Part of the system, a 12-mile section between Wolf and Boone was spared, and is now operated as the tourist line Boone & Scenic Valley Railroad.   For further reading about the interurban please click here.

Related Reading You May Enjoy


Home

›

Trolleys And Interurbans

› Fort Dodge, Des Moines & Southern