However, Kalmbach is not the only publisher out there. Others include Railfan & Railroad published by Carstens Publications, Inc. and it is similar in nature to Trains in the content it provides, which gives you the latest happenings around the industry. There is also Extra 2200 South, published by Iron Horse Publishers, and is a bit different in that it focuses only on locomotives and their whereabouts (in the hobby of railfanning locomotives are many times the centerpiece because of their historical nature as there are several still in active service which date back over a half-century).
While almost all of the railroad-related magazines out there carry roughly the same content, they all slightly differ in their presentation and/or content, which draw folks to them. For instance, Kalmbach Publishing's Trains Magazine focuses rather broadly on railroading, including the latest important news and articles on the past, present, future, and even overseas. However, Railfan & Railroad takes a bit of a different approach in focusing more on the the side of the railfan hobby including lots of classic pictures of fallen flag railroads (which appeal to the vast majority of railfans) and the magazine is also more cordial and down-to-earth in nature allowing you to get to know the editors and writers.
For instance as with myself I was subscribed to Trains for nearly 20 years now, mostly because they kept me up-to-date on everything I wanted (the annual price, however, eventually drove me away). However, having said that, I have nothing whatsoever against Railfan & Railroad and find it to be a great publication as well. Below is a list of the most popular magazines currently in publication.
Looking like buses on rails, a CSX maintenance-of-way convoy moves along the mainline at Charlotte, North Carolina during late June of 2012 as part of its annual MOW Jamboree. Every year near the July 4th holiday, saturation maintenance is done along the coal traffic rail corridors in a two week blitz. Trains are rerouted or annulled during this span as ties and rail are replaced in addition to any other defects found.
Covering The Railroad Industry
Trains Magazine
Railfan & Railroad
Railroads Illustrated (Formerly CTC Board)
Classic Trains
Railpace Magazine
Railroad Heritage
Trolley Talk
Extra 2200 South
Modeling Magazines
Model Railroader
Garden Railways
Classic Toy Trains
Railroad Model Craftsman
Model Railroad News
N-scale Magazine
N Scale Railroading
O Gauge Railroading
Please Click Here To Return To The Home Page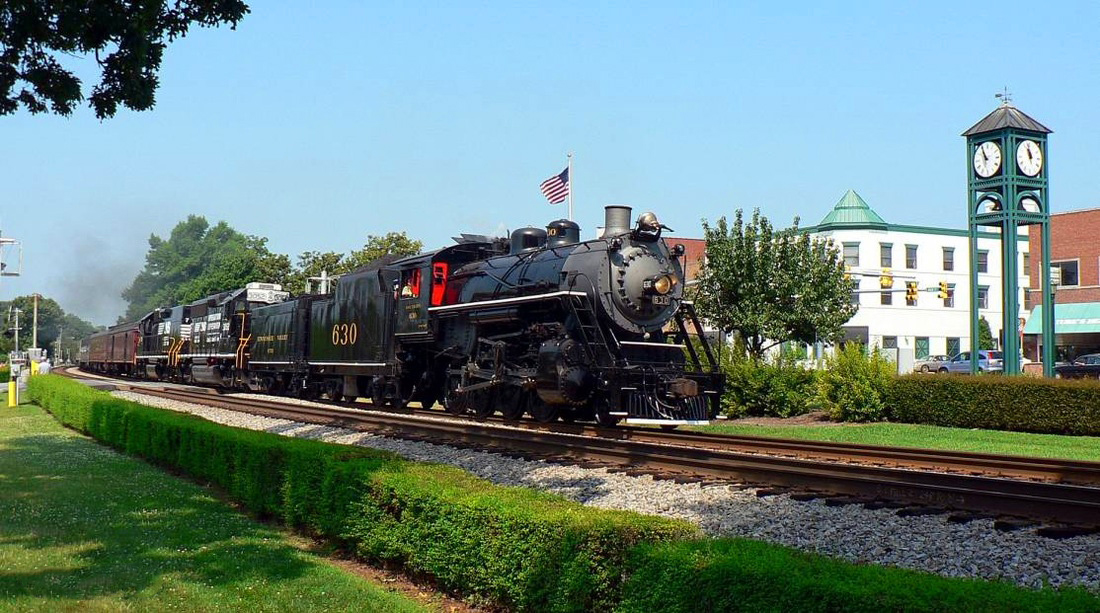 Restored Southern 2-8-0 #630 is at speed along the Norfolk Southern main line powering the Class I's Employee excursion train at Thomasville, North Carolina on June 23, 2012. The train is bound for Winston-Salem to the north.
If you are not sure about which magazine(s) sounds the most interesting be sure and pick one up and browse through it before subscribing to find out which one(s) suit you the best (always much better than reading a short description about it, subscribing, and then finding out you're not really interested in it!).  In any event, the railroad magazines mentioned above are not the only ones out there available. Again, if you have a local hobby shop near you please check them out as most carry a wide assortment of magazines (such as the ones mentioned), from layouts and modeling ideas to the current industry itself.