Maryland
Western Maryland Scenic Railroad:  Without question Maryland's most popular tourist railroad operating the former Western Maryland Railway between Frostburg and Cumberland. The WMSR does not offer fall foliage tours but it hosts train rides throughout the autumn season giving passengers breathtaking views of the Allegheny Mountains during that time.

Massachusetts
Edaville Railroad:  The popular, steam-powered Edaville Railroad, based in Carver, Massachusetts is part of an entire park system with its railroad a two-foot narrow-gauge operating around the grounds. Each October they host Pumpkin Aglow where the kids can dress up for Halloween and enjoy trick-or-treating.
Cape Cod Scenic Railroad:  The Cape Cod Scenic is based in Hyannis and offers a wide range of dinner trains and specials throughout the year.  While it does not host a fall foliage excursion the railroad upscale accommodations and schedule that runs through October means passengers can ride during the height of the fall season. 

Michigan
Little River Railroad:  This excursion is based in Coldwater and operates along a six mile stretch of railroad with trains being pulled by restored steam locomotives.  They host regular excursions through October including the Fall Color Run during that month, which also allows patrons the chance to purchase pumpkins.
Southern Michigan Railroad:  The Southern Michigan Railroad, based in Clinton, has been in operation since 1982 operating about 13.5 miles of a former New York Central line acquired from Conrail.  They operate from the spring until December each year, hosting several special trips during that time.  One such annual run is the Fall Color Tour every October.  Around the same time you can also enjoy local festivals nearby such as the Clinton Fall Festival and Appleumpkin Festival.  To learn more please visit their website.
Minnesota
North Shore Scenic Railroad:  Based in Duluth and part of the Lake Superior Railroad Museum this excursion hosts a wide range of special trains throughout the year along its 26-mile route using both steam and diesel locomotives.  Beginning in late September it offers the Fall Colors Tour which, "CNN named the... 'Top 5 of the Top 10 in America!'"
Mississippi
None known.
Missouri
Arkansas & Missouri Railroad:  The A&M is a large, short line railroad operating between Fort Smith, Arkansas and Monett, Missouri.  They annually offer popular excursions across their system and while a dedicated fall foliage train is not provided rides are hosted throughout the autumn season. 

Branson Scenic Railway:  Missouri's most popular tourist railroad using the tracks of short line Missouri & Northern Arkansas between Galena and Self through the state's famous Ozark Mountains.  They do not offer dedicated fall foliage trips but their regular excursions and dinner trains run through the autumn season allowing the chance to see the changing leaves during that time.
Montana
None known.
Nebraska
None known.
Nevada
None known.
New Hampshire
Conway Scenic Railway:  Since New England is one of the top locations to see the stunning colors of fall doing so by rail is a must.  As one of the top excursion trains in the country the Conway Scenic Railway based in North Conway gives visitors unparalleled views of the autumn colors through the Mt. Washington Valley.
Hobo Railroad:  This tourist line is based in Lincoln and hosts trains along the Pemigewasset River.  During select dates in October the railroad hosts Fall Foliage Specials between Meredith and Plymouth as well as dinner trains celebrating the fall season. 
Winnipesaukee Railroad:  Owned by the same group as the Hobo Railroad this operation is based in Meredith using tracks once owned by the Boston & Maine.  The tourist line also hosts Fall Foliage Specials during September and October.
New Jersey
None known.
New Mexico
Cumbres & Toltec Scenic Railroad:  Please click here to visit the Colorado section to learn more about the fall foliage trips offered by the Cumbres & Toltec Scenic.

New York
Adirondack Scenic Railroad:  As its name suggests the ASRR, one of New York's most popular tourist railroads, operates through the state's Adirondack Mountains where it operates former stretches of a New York Central branch.  During September and October of each year they host several Fall Foliage Trains to allow passengers that chance to see the region's splendid fall colors.
Arcade & Attica Railroad:  The A&A is based in Arcade and operates trackage originally built by the Buffalo, Attica & Arcade.  The railroad is popular for its use of steam locomotives.  During October they host Fall Foliage specials that last for roughly two hours passing through the Wyoming County countryside.
Catskill Mountain Railroad:  As with the ASRR this railroad is named after the region in which it operates, the beautiful Catskill Mountains.  It is based in Kingston and hosts its popular Fall Foliage Specials running from late September through much of October.
Cooperstown & Charlotte Valley Railroad:  The C&CV operates through the
Susquehanna River Valley and hosts its 2 1/2-hour Fall Foliage Trains during late September through mid-October.  Excursions depart from the Milford Depot.
Finger Lakes Railway:  Also a short line freight railroad this operation based in both Geneva and Watkins Glen offers fall foliage excursions in the Finger Lakes area located in western New York State.
Medina Railroad Museum:  The Medina Railroad Museum mostly looks to preserve the area's railroad history, notably that of the New York Central which operated through the town. The museum is housed in the NYC's former freight depot and also operates a 34-mile round trip excursion train along the Erie Canal Heritage Corridor during the operating season.  During October each year they run Fall Foliage trips to see the region's beautiful fall colors.

Saratoga & North Creek Railway:  The S&NC operates through the beautiful Adirondack Mountains along the Hudson River using historic rare diesel locomotives like Electro-Motive's BL2 model.  They use, enclosed streamlined equipment, including dome cars for maximum panoramic views.  They do not offer dedicated fall foliage tours but do run daily throughout the season providing a wide range of options from dinner trains to available cafe cars on-board.
North Carolina
Great Smoky Mountains Railroad:  Perhaps the preeminent place in North Carolina to ride trains not only during the fall season but throughout the year the GSMR, based in Bryson City, operates through the gorgeous Great Smoky Mountains in the western part of the state.  The railroad's official fall foliage train is the Pumpkin Patch Express geared more towards the kids.  However, their trains, offering a wide range of different packages and options, operate through the height of the fall season.
Tweetsie Railroad:  Also located in western mountains of the Tarheel State at Blowing Rock this railroad is popular for its use of steam locomotives.  It operates just a few miles of track and does not host dedicated fall foliage specials but its location and schedule that runs through autumn provides for spectacularly scenic views during that time.
North Carolina Transportation Museum:  The North Carolina Transportation Museum, located in Spencer, NC, is situated on the former Southern Railway's largest steam locomotive repair shops. Today the museum sees tens of thousands annually and is housed in three of the former shop buildings (currently); the Bob Julian Roundhouse, the Flue Shop, and the Master Mechanics Shop.  During the fall they offer special Autumn Rails excursions hosted by Amtrak.  To learn more please visit their website.
North Dakota
None known.
Ohio
Cuyahoga Valley Scenic Railroad:  Ohio's, and one of our country's most popular excursions, seeing thousands of visitors annually,, this railroad operates a former Baltimore & Ohio branch through the Cuyahoga National Park outside of Cleveland.  They operate special train rides throughout the year and while they do not offer fall foliage specials they do host excursions throughout the autumn season allowing visitors the chance to see the vibrant colors of northern Ohio and the park.
Hocking Valley Scenic Railway:  The Hocking Valley Scenic Railway is located in Nelsonville, Ohio and operates over a former Chesapeake & Ohio branch to Athens. The HVSR does not operate luxury dinner trains or host steam locomotives but they feature a very nice operation through Ohio's countryside.   They host a 2-hour Fall Foliage Train which departs the Nelsonville depot throughout October
Lorain & West Virginia Railway:  The L&WV is based in Elyria and hosts a 12-mile round-trip (six miles each way) fall excursion (the Fall Color Tour) during Saturdays and Sundays in October.
Oklahoma
None known.
Oregon
Mount Hood Railroad:  The Mt. Hood Railroad is based in its namesake town operating between there and Parkdale.  While an operating short line it also offers excursion train rides.  Its standard ride is known as the Parkdale Excursion Train and hosts trips during the peak of fall foliage season.  To learn more please visit their website.
Eagle Cap Excursion Train:  The Eagle Cap Excursion Train, based in Elgin, Oregon operates its trains in northeast Oregon using RDCs (or Rail Diesel Cars) for their excursions which follow the Grande Ronde River.  One day each September they host Fall Foliage specials.   To learn more please stop by their website.
Oregon Coast Scenic Railroad:  This tourist railroad is based in the beautiful Tillamook Bay area and uses a small fleet of steam locomotives to power its trains.  During weekends in October they offer Fall Splendor excursions that depart from Wheeler with round-trips lasting two hours.
Sumpter Valley Railroad:  Based in Sumpter this Oregon excursion line also operates only steam locomotives, a rare geared Heisler and a 2-8-2 "Mikado."  Their regular season runs from May through September although they host specials in October and for the holiday season.  This includes special fall foliage runs in mid-October.

Pennsylvania
Kiski Junction Railroad:  This tourist line is also an operating freight railroad based in Schenley.  They host excursion trains usually between June and October with specials running through December. Normally train rides on the route last about 1 1/2-hours.  Their special autumn train rides run three times daily during weekends in October and reservations are required.
Colebrookdale Railroad:  A relatively new tourist railroad, the Colebrookdale Railroad, also known as the Secret Valley Line, began service in 2014 and operates 8.6 miles between Boyertown and Pottstown. They currently offer their Autumn Splendor - Hayride On Rails, Bonfire Train, and Bountiful Harvest - Tour of the Secret Valley during the fall season. For more information please visit their website. 
Lehigh Gorge Scenic Railway:  This excursion is operated on and owned by freight line Reading & Northern.  It is based in Jim Thorpe and sometimes uses a restored 4-6-2 "Pacific" steam locomotive.  They host special Autumn Leaf fall foliage tours through October operating between Jim Thorpe and Port Clinton.
Oil Creek & Titusville Railroad:  The OC&T, based in Titusville, operates on about 14 miles of track normally using a traditional diesel locomotive for power. Along with their standard excursions the railroad also hosts murder mystery dinner trains throughout the year including Fall Foliage Tours each October.
Strasburg Railroad:  Our country's second most popular tourist railroad seeing hundreds of thousands annually.  The railroad is based in Strasburg and their restored, period equipment and steam locomotives pull a wide range of different excursions and special trains throughout the year.  While a dedicated fall foliage ride is not offered you can choose from several different excursions to enjoy during the autumn season.
Tioga Central Railroad:  Another popular tourist train in the Keystone State they operate on trackage once owned by the New York Central railroad. Today, excursion trains operate on a section of line, which travels through the beautiful rolling hills of north-central Pennsylvania, owned by the Wellsboro & Corning Railroad, a freight line.  They do not offer fall foliage excursions but their season does run through October during the peak of autumn.
Wanamaker, Kempton & Southern:  The WK&S is based in Kempton, in eastern Pennsylvania, operating a unique blend of steam and diesel locomotives. Along with their standard excursions the WK&S also offers chartered trips.  Every fall the railroad offers their Fall Foliage Excursion during a few weekends beginning in late October.  To learn more please visit their website.
West Chester Railroad:  Operating out of West Chester not far from Philadelphia on tracks once owned by the mighty Pennsylvania Railroad this tourist line hosts the Fall Foliage Express from late September through mid-October.
Rhode Island
Newport Dinner Train:  One of the state's only excursion trains the Newport Dinner Train hosted by the Newport & Narragansett Bay Railroad and based in Newport, runs several different trips throughout the year on their 18-mile line via enclosed, "streamlined" cars.  They host Autumn Bistro Trains during October that includes a "...three-hour journey that will take you north along the island to the Mt. Hope Bridge. While on board you'll be treated to a special seasonal lunch created by our Executive Chef."  To learn more please visit their website.
South Carolina
None known.
South Dakota
None known.
Tennessee
Tennessee Central Railway Museum:  The state's largest railroad museum is based in Nashville and focuses on preserving its history with trains.  Aside from the static displays the TCRM also offers many different excursions throughout the year in enclosed, climate-controlled cars.  During October they offer the very long Fall Foliage Excursion that is either a 180 or 216 miles, round-trip.
Three Rivers Rambler:  This popular excursion hosts a 90 minute round-trip along the Tennessee River based in Knoxville.  They operate year-round and do not offer a seasonal fall special but do run trains during the height the autumn colors.
Texas
Texas State Railroad:  The Texas State Railroad, based in Rusk and Palestine, Texas, is perhaps the state's most popular tourist train. Using trackage once owned by the Southern Pacific the railroad features two operating steam locomotives and a vintage diesel locomotive (an Alco RS2). Along with their standard excursions the railroad hosts numerous specials throughout the year including the Pumpkin Patch Express during select days throughout October.  Finally, they host a Fall Foliage Brunch Train.  According to their website: "It is designed to give nature lovers the best opportunity to view this annual show close-up.  This train departs from the Palestine Depot at 10:15 am and returns to the depot approximately 2:45 pm."
Utah
Heber Valley Railroad: Utah's most popular excursion is the Heber Valley, which has utilized the Rio Grande's 28-mile Provo Canyon Branch (Heber City to Provo) since the 1990s.  During the fall season their regular trains, the Provo Canyon Limited and Deer Creek Express offer fine views of the autumn colors.  They also host events for Halloween.
Vermont
Green Mountain Railroad:  The state's most popular excursions and one of the best known across the country the Green Mountain hosts trips through the beautiful Vermont countryside.  From mid-September through mid-October the railroad hosts popular Fall Foliage trips to allow patrons to enjoy New England's vibrant autumn colors.  They also offer First Class accommodations for these trips.  To learn more please visit their website.
Virginia
None known.
Washington
Chelatchie Prairie Railroad:   The Chelatchie Prairie Railroad, located in Yacolt, operates on former logging trackage between Chelatchie Prairie and Lucia Falls that was eventually owned by the Northern Pacific.  It pulls its trains using an historic steam locomotive and a few diesels.  During mid-October they offer the Steam Fall Leaves Special.
Mount Rainier Scenic Railroad:  Perhaps Washington's most popular excursion, thanks to their fleet of steam locomotives, this railroad uses former segments of the Milwaukee Road and is based out of Elbe.  During October they host the Peanuts™ The Great Pumpkin Patch Express allowing visitors to enjoy the area's gorgeous fall colors while the kids can meet the Snoopy gang and pick out a pumpkin for Halloween.
West Virginia
Cass Scenic Railroad:  The best way to experience the fall grandeur in the Mountain State and the Appalachian Mountains, the Cass Scenic hosts rail excursions using restored geared steam locomotives via open-air cars with trains departing from the small town at Cass where they travel to the top of Bald Knob (if one wishes to ride that far).  Their seasonal schedule normally runs through the end of October.
New River Train Excursions:  An annual tradition since 1966, this excursion has been hosted each fall by the Collis P. Huntington Historical Society since that time taking travelers through the Mountain State's stunning New River Gorge.  For many years, steam locomotives pulled this train but today CSX does not allow them and Amtrak diesels now do the honors.  To learn more about this event please visit the society's website.
Potomac Eagle Scenic Railroad:  Located in the state's Eastern Panhandle on a branch line originally owned by the Baltimore & Ohio the Potomac Eagle Scenic meanders along the South Branch Potomac River with surprisingly incredible scenery for an area known for being in the flatter region of the state. The tourist line is best known for its regular sightings of Bald Eagles.  Each year during October they host Fall Foliage Specials during their final month of service.
West Virginia Central Railroad: Based in Elkins and not far away from the Cass Scenic Railroad the WVC operates along the Greenbrier and Tygart Rivers offering a wide range of excursions in climate controlled cars.  They do not host a dedicated fall foliage train but stay open throughout the fall season allowing visitors to see the region's spectacular beauty and fall colors.  The same company also operates the Durbin & Greenbrier Valley just down the road in Durbin, which uses a restored Climax geared steam locomotive via open-air cars along a short stretch of the C&O's old Greenbrier Branch.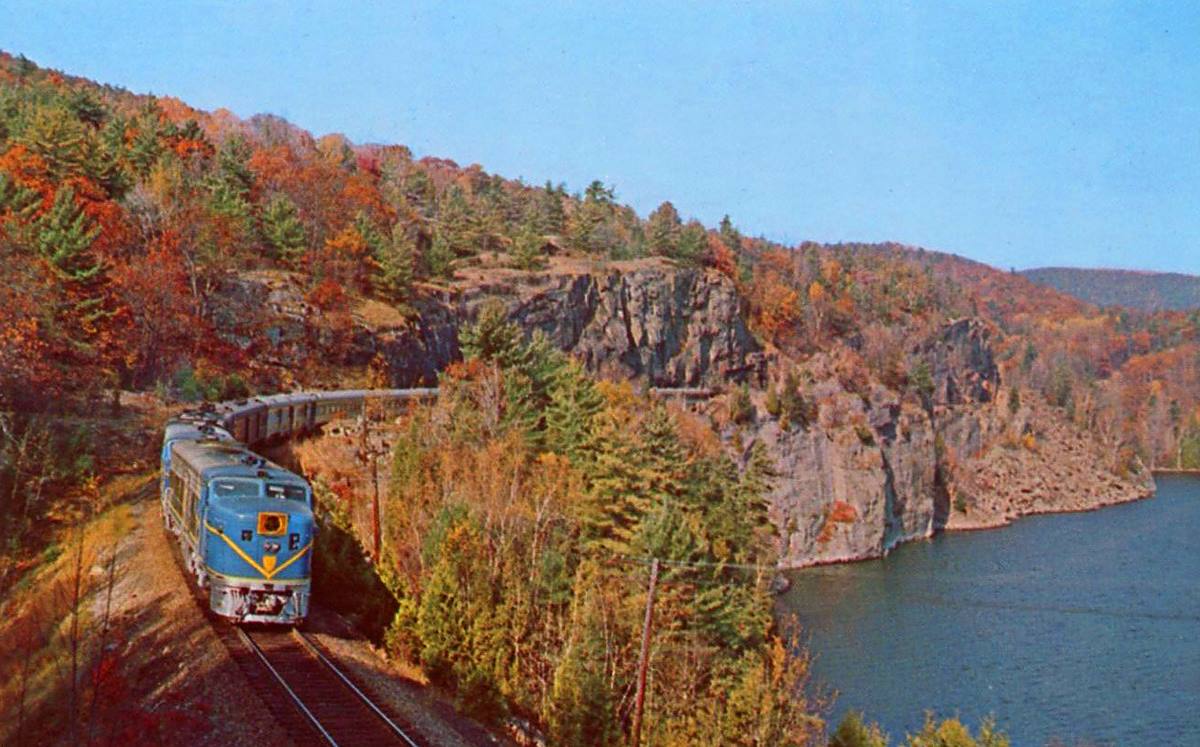 Wisconsin
Lumberjack Steam Train:  The Lumberjack Steam Train is located in Laona and operated by the Camp 5 Museum.  They operate a restored 2-6-2 "Prairie" steam locomotive and board from the restored Soo Line depot in Laona.  During late September and into October they host Saturday Fall Festivals where along with a train ride the entire family can enjoy the "...Green Treasure Forest Tour, pumpkin patch, face painting, a marshmallow roast, and fresh apple cider."
Mid-Continent Railway Museum:  This museum is based in North Freedom and looks to preserve the region and state's railroad history. In doing so it also operates an excursion train for a 50-minute round-trip.  During October one of their specials includes Autumn Color Weekends, which is hosted just before they close for the season.
Wyoming
None known.
Related Reading You May Enjoy


Home

›

Tourist Train Information

› Fall Foliage Train Rides