Unfortunately, there have also been recent losses of Class IIs through purchases. The Wisconsin Central, a name that dates back to the 19th century was reborn in the 1980s as a large system using former Milwaukee Road lines in Wisconsin and Upper Michigan, later also picking up the Green Bay & Western, Fox River Valley Railroad, and even operating the Algoma Central. It was able to turn many of these lines into profitable ventures luring Canadian National Railway, which purchased it in 2001. The large Canadian lines have also acquired other notable lines in recent years including the Elgin Joliet & Eastern, Dakota Minnesota & Eastern, and Iowa Chicago & Eastern.

One other note regarding Class IIs, which also includes Class IIIs (shortlines); while not always the case, these railroads are usually much more open to railfans and anyone interested in seeing how railroads work. Of course, with the aftermath of September 11th and a much more litigious America, long gone are the days of cab rides on all railroads and being able to freely roam across yards and company property. However, these smaller railroads are, in general, much friendlier than their larger cousins and with permission most are more than happy to give you a tour of what they do and how they work.
Northeast
New York Susquehanna & Western Railway (The "Susie-Q")
Southeast
Midwest
Northwest
Defunct Roads
Montreal, Maine & Atlantic Railway
Canadian Lines
Listed above are a number of of systems currently in operation today, categorized by the geographic area of the country in which they operated (i.e. north, south, east, or west). Also included within this list are notable defunct operations, such as the fabled Indiana Hi-Rail system. As you may notice, this list is not yet entirely complete (both for active and inactive roads) although as time allows I will feature all current Class IIs. In any event, to learn more about each simply click on their link.
Please Click Here To Return To The Home Page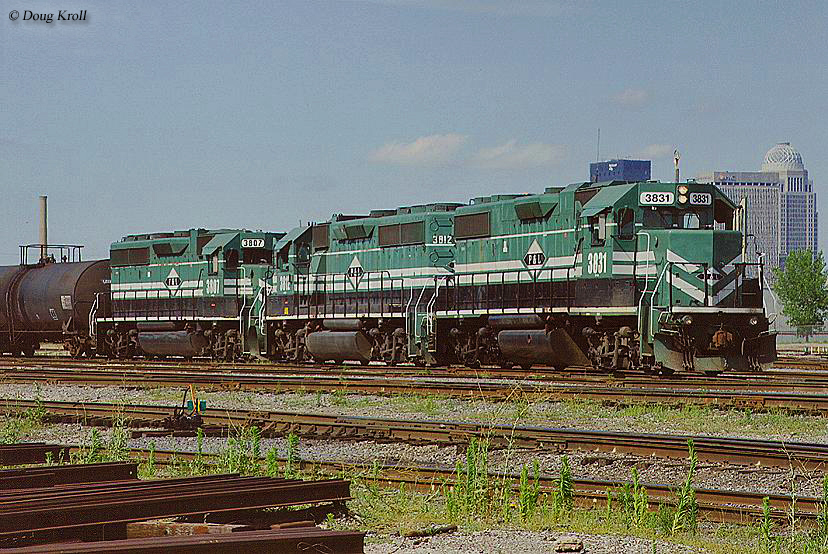 A trio of Paducah & Louisville GP38-2s including #3831, #3812 and #3807 work the Oak Street Yard in Louisville, Kentucky on June 20, 2009.
Visiting a railroad museum is always a thrilling experience being able to inspect the equipment and seeing the museum's operations. However, nothing really, truly, compares to witnessing railroading in its truest form; a long freight at-speed on the main line or watching a switcher keeping order in what looks to be a chaotic mess of a yard (but rest assured, while it looks a mess, even a huge classification yard has its order). With that said, perhaps most importantly when visiting a real railroad is the chance to talk and mingle with the men and women who keep it going by maintaining the tracks and property, and keeping the trains running. Finally, to learn more about Class II railroads please click here to visit the American Short Line and Regional Railroad Association (ASLRRA). This member organization is similar to the Association of American Railroads(AAR) except designed for the smaller systems that are not Class Is.
Related Reading You May Enjoy