Contact American-Rails.com

If you need to contact me, for whatever reason, please do not hesitate to do so. Also, if you have any suggestions about how to improve the site, see a minor error here or there, and/or have an idea for a new topic please let me know.
I am always looking to improve things here at American-Rails.com and your input is greatly appreciated.  In any event, just fill out the basic contact information below and I will get back to you (if need be) as soon as possible.
Thanks so much!  Take care and best regards,
~ Adam Burns
American-Rails.com
Union Pacific DDA40X #6924, SD40-2 #3525, and another Centennial lead autoracks westbound through Wyoming in the summer of 1985. American-Rails.com collection.
Genealogy Researchers Please Read!
If you are researching a relative's career history in the railroad industry you may want to contact the U.S. Railroad Retirement Board as there is little assistance I can provide regarding such questions.
The Board keeps records on workers dating back to the early 20th century and they are likely source for such information. 
However, if you are requesting documents prior to the early 1900s the Board likely does not have them on file. Please be aware that the organization requires a fee for any research done on your behalf.
Job Searchers Please Note!
If you are inquiring about a possible jobs within the industry please be aware you cannot do so through this website. I receive many e-mails regarding employment and there is simply little help I can provide.

Business-To-Business Inquiries!
If you are a business attempting to contact a railroad regarding freight shipments car location please know that you will not reach them through this contact page (your request will come to American-Rails.com).
I receive many e-mails about questions pertaining to a business's rail shipments and there is nothing I can do to help.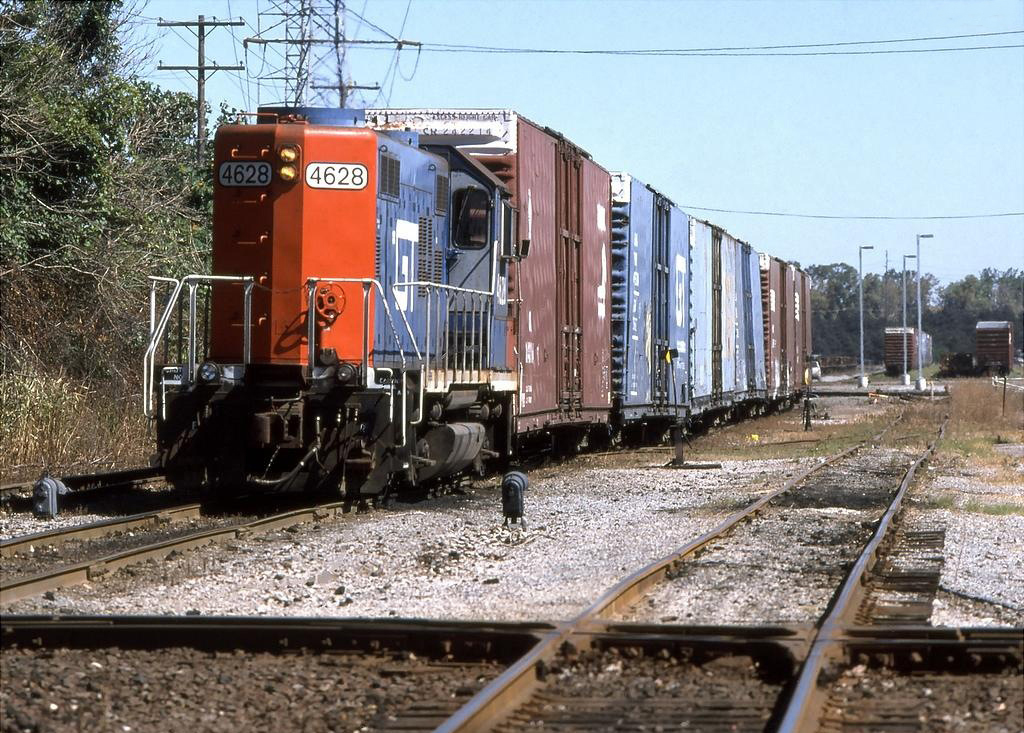 Grand Trunk Western GP9R #4628 pauses at Schaefer Tower while waiting to cross the former Michigan Central in Dearborn, Michigan on September 4, 2002. Wade Massie photo.
Historic Railroad Item Values!
If you are researching the value of historic railroad items in your collection, anything from old lanterns and locks to paper tickets and menus, please visit the website Railroadiana.org. 
I often receive e-mails wanting to know the value of an item.  I apologize but I can provide little help on the subject and Railroadiana.org specializes in that very arena.  Hopefully, they can provide answers to your questions.