Diesel Locomotives Of The 1930s, 1940s, 1950s, And Today!

Last revised: August 1, 2023

By: Adam Burns

Diesel locomotives, technically known as diesel-electrics, came into widespread use following development of Electro-Motive Corporation's (later, General Motors' Electro-Motive Division) EA/EB design, first tested on the Baltimore & Ohio Railroad (B&O) in 1937.  

The motive power's genesis, however, dates back even further to the World War I period when an early switcher model entered service.  
The industry remained skeptical of the diesel for many years, relegating it to secondary status while steam remained the preferred choice for main line assignments.
This changed after General Motors successfully demonstrated the diesel's viability during testing of its FT freight design in 1939.
The demonstrator set toured the country, convincing skeptic after skeptic that diesels were not only efficient and reliable but could also outperform the iron horse.
Today's newest models offer even great advancement, heavily computerized to monitor almost every aspect of a locomotive while in service.  

As a result, the "old school" ways in which an engineer operated theirs has been taken away through technological improvements in models like the SD70ACe-T4 and ES44AC.
A diesel-electric's mechanics are rather straightforward although it is commonly mistaken that the diesel engine propels the locomotive.  This is not the case.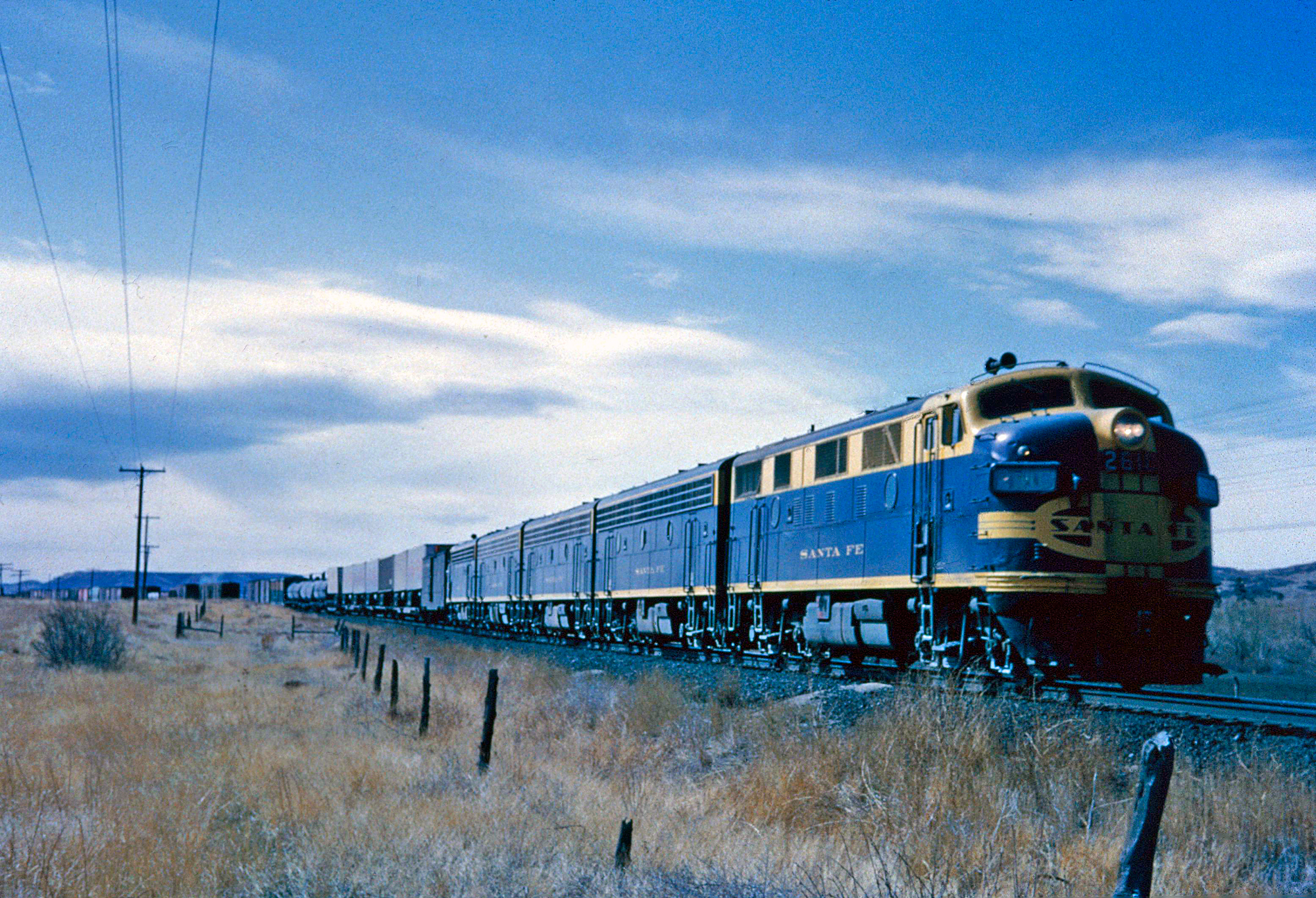 Santa Fe F7A #261-C (an early variant sporting the chicken wire grill) and other Fs lead their freight south out of Denver near Castle Rock, Colorado on April 15, 1965. American-Rails.com collection.
History
While the engine is the prime mover the energy it creates drives an electric generator, which in turn powers the traction motors found within the locomotive's trucks.  The latter are responsible for turning the wheels and propelling the unit forward. The engine, itself, has no connection to the actual motion.  
In essence, the diesel is an electric locomotive with its own power plant.  What is the difference?  A true electric is provided power via electricity through either overhead catenary or third-rail while a diesel-electric carries its own (engine) on board.  
This motive power type has been around in one shape or form since 1904-1905 when Southern Pacific took delivery of an early test-bed design according to Brian Solomon's book, "GE Locomotives." 
General Electric was directly involved in this project by supplying the locomotive's generator and electric equipment. 
In 1917, GE was back at it when the company began testing an experimental model utilizing a GM-50 prime mover (a V-8 diesel engine designed by GE).  
A year later it launched formal production of these 225 horsepower machines; the line was largely considered a failure although a few were sold; one to the Jay Street Connecting Railroad (#4), another to the city of Baltimore and finally one to the U.S. Army.
Early Examples
Undeterred by this experiment's lackluster performance the company pressed forward with a new design in 1923.  
This latest trial carried GE electrical components, a prime mover from Ingersoll-Rand (capable of 300 horsepower), and a carbody provided through American Locomotive (Alco).  
As the late historian Jim Boyd notes in his book, "The American Freight Train," the 60-ton boxcab was finished in 1924 and proved a success.
It eventually sold to the Central Railroad of New Jersey (#1000) where it spent many years in switching assignments around New York City.  
Ironically, despite the company's pioneering ways it never launched its own formal locomotive line until the late 1950's. 
It did remain involved, however, by partnering with Alco providing it components (such as traction motors) while also pioneering early electrification systems and locomotives.
In time, the Schenectady builder continued to lose market share against Electro-Motive, spurring GE to launch its own "Universal" line in 1959.  
While a commercial success the series was not particularly reliable (many of these so-called "U-boats" had a lifespan of only a few decades).
Once more, GE did not give in and spent many years fine-tuning its design until it had overtaken EMD by the 1980's.
Santa Fe F7A #335-L eases out of the siding with a southbound freight at Ardmore, Oklahoma as the train crosses 5th Avenue on February 27, 1974. American-Rails.com collection.
The early boxcabs are often credited as the first with a diesel engine although the very first railcar to utilize an internal combustion engine was the McKeen Car.
In Brian Solomon's book, "The American Diesel Locomotive," the idea for this concept came from William McKeen, Union Pacific's chief of motive power.  
Even by the early 20th century railroads were attempting to cut costs on lightly patronized branch lines and UP's leader, the legendary Edward Harriman, approached McKeen in 1904 about developing a self-powered railcar for use on these secondary corridors.  
At A Glance
| | |
| --- | --- |
| First Examples | Jay Street Connecting Railroad #4 (1917), Central Railroad of New Jersey #1000 (1924) |
| Major Manufacturers | Electro-Motive, General Electric/Wabtec, American Locomotive Company, Baldwin Locomotive Works/Baldwin-Lima-Hamilton, Fairbanks-Morse |
| Most Powerful | EMD DDA40X "Centennial" (6,600 Horsepower) |
| Most Important | EMD FT |
After many tests at the Electric Railway Test Commission in St. Louis they came up with an aerodynamic design powered by a 100 horsepower, gasoline engine manufactured by early pioneer, Riotte.
The first unit, listed as #M-1 and given the name "Windsplitter," was completed at UP's shops in Omaha, Nebraska during March of 1905.  
Following a refinement which featured a longer frame and marine engine (producing twice the horsepower), Harriman was impressed.  He allowed McKeen to setup production of the McKeen Railcar Company in 1908.
Rio Grande SW1200 #138 carries out switching chores in Salt Lake City, Utah, circa 1975. Robert Eastwood, Jr. photo. American-Rails.com collection.
Early on McKeen was successful but soon ran into reliability issues and sales had flattened by 1912. While the "Windsplitter" had its issues other companies were triumphant (including GE and Electro-Motive) in producing a reliable railcar for branch line service, the so-called "Doodlebug."  
Their achievements eventually led to the diesel-powered boxcab switchers mentioned above.  These early examples proved their worth in branch line and secondary assignments.  
Erie Lackawanna HH600 #323, still in its Delaware, Lackawanna & Western scheme (built as #406), is seen here in Jersey City, New Jersey on June 23, 1964. The DL&W owned eight of these early, 600 horsepower Alco switchers, #401-408 that were acquired between 1933 and January, 1934 (#401 was originally Alco demonstrator #603). Although Alco never gave these early switchers a model name, railfans later adopted the "HH" designation, an acronym for "High Hood." American-Rails.com collection.
1930s
However, usurping steam's dominance in main line service was another matter entirely.  The venerable Baltimore & Ohio was always a technological trailblazer and with the diesel it was no different.  

It holds the distinction as the first to utilize one for main line service, Electro-Motive's boxcab #50, manufactured in 1935. 
Delaware & Hudson PA-1 #18 pours on the smoke as the Alco departs Mohawk Yard near Alplaus, New York with the northbound "Laurentian" during the late 1960s. Jim Shaughnessy photo. American-Rails.com collection.
Electro-Motive took this boxcab and upgraded its prime mover with a rugged General Motors model 567 while shrouding it within a sleek carbody.  
This FT demonstrator A-B-B-A set, #103, began testing across the country in November of 1939.  As Brian Solomon notes in his book, "Electro-Motive E Units And F Units," it proved itself time again, such as on Southern Pacific's Tehachapi Grade where it outperformed SP and Santa Fe steamers (the AT&SF held trackage rights in this territory). 
One of the Santa Fe's famous "One Spot Twins" boxcab diesels is seen here, probably in the early 1950s before it was rebuilt as an E8B. The 1,800-horsepower unit, and a mate (the pair was also referred to as "Amos & Andy"), led the original "Super Chief" of 1936. They were later displaced the following year by the new, streamlined E1's, and rebuilt into this configuration in 1938 featuring a short, stubby nose and raised cab. They were again overhauled as E8B's (#83-A and #84-A) in 1953 and remained in service until 1970 when they were traded in to Electro-Motive for GP38's. American-Rails.com collection.
1940s
According to David Morgan's article, "The Diesel That Did It," from the February, 1960 issue of Trains Magazine during their trials the locomotives traveled 83,764 miles on twenty Class I's in thirty-five states over an eleven-month period.  
Many, like the Santa Fe and Southern Pacific, were so impressed they immediately placed orders.  Others, like New York, Ontario & Western purchased the model based on word-of-mouth.  
During the 1940s many lines were attempting to acquire as many new diesels as they could afford although the onset of World War II delayed the transition due to War Production Board restrictions.
After the war the industry acquired large quantities of F units, early Alco road-switchers, and examples from various other manufacturers like Baldwin and Fairbanks-Morse.
It would take the diesel nearly fifty years to equal the horsepower output of a single steam locomotive during its technological height.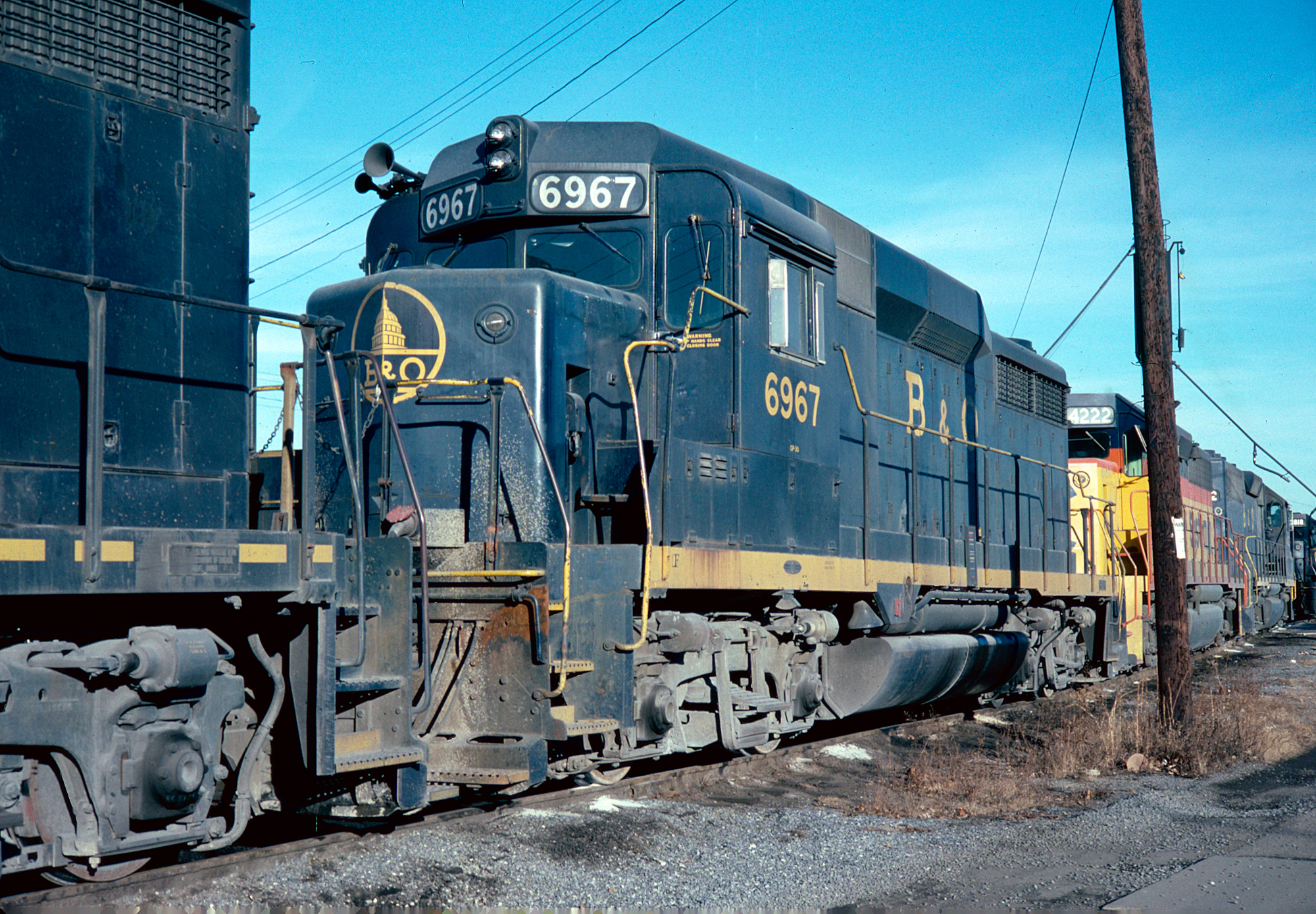 Baltimore & Ohio GP30 #6967 and other Geeps. Location not recorded. December, 1976. American-Rails.com collection.
However, diesels made up for this disadvantage in other ways. They required far less maintenance, including heavy overhauls, and could operate much further between refueling stops.  

This meant diesels could spend more time on the road doing what they were designed for, paying the bills.  In addition, thanks to MU (Multiple Unit) technology a single engineer from the lead locomotive could control several trailing units, increasing the horsepower output per train.  
As Mr. Solomon notes, while American Locomotive, General Electric, and Ingersoll-Rand spearheaded the diesel's development, it was General Motors/Electro-Motive which successfully mass-produced them for main line service. 
GM had already entered the auto industry and recognized that durable internal mechanics coupled with a rugged prime mover (the model 567) could mean big business.  This led to cab designs packaged within an attractive carbody and the rest, as they say, is history.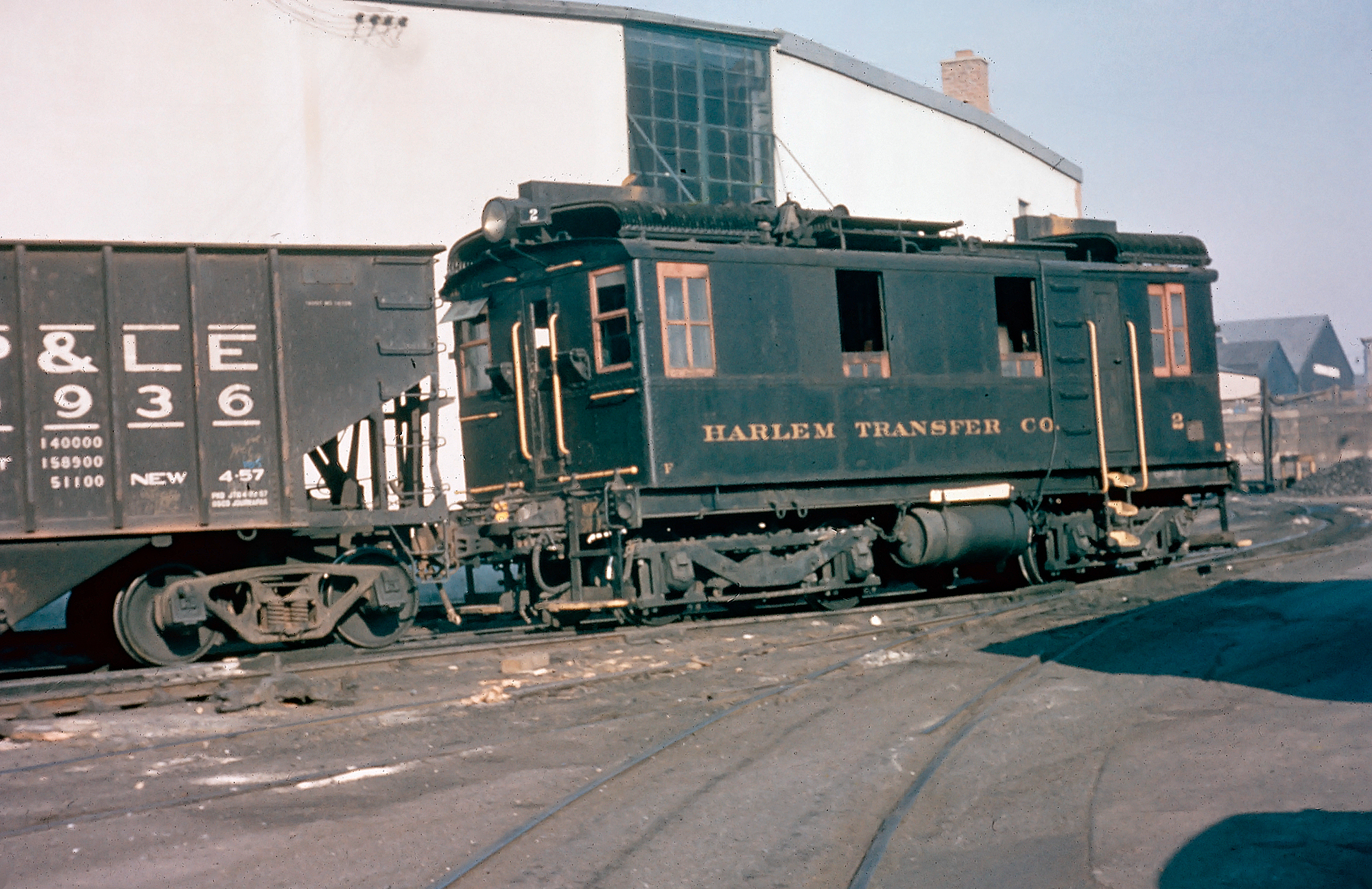 Harlem Transfer Company 60-ton boxcab #2 is seen here in the Bronx (New York), circa 1960. This 300 horsepower switcher was manufactured by Alco/GE/Ingersoll-Rand in June, 1926, ordered as Lackawanna #3002. However, the locomotive was transferred to DL&W-subsidiary Harlem Transfer, remaining in service until February, 1962. It was scrapped later that year in November. Meyer Pearlman photo. American-Rails.com collection.
1950s
The 1950s are often regarded as the pinnacle of classic locomotive designs.  During this time streamlining was still viewed as an important aesthetic appeal for both passenger and freight trains.  
As a result, one could find examples in service from all of the then-four major builders.  In addition, early road-switchers from EMD had debuted along with models being produced by Alco, Baldwin, and FM.  Between these locomotives, and the numerous company paint schemes adorning railroad equipment, it was quite a time to be alive if you were a rail enthusiast!
Manufacturers
American Locomotive Company, Alco 
Alco's Canadian Arm, The Montreal Locomotive Works
A History Of The Baldwin Locomotive Works
Lima Locomotive Works

Whitcomb Locomotive Works
Fairbanks-Morse's Locomotive Division 
Canadian Locomotive Company, FM's Canadian Arm
EMD's Canadian Division, General Motors Diesel
Types
American Locomotive Company (Alco)
The Experimental "Black Maria"

General Electric/Alco Gas Turbine Design
Baldwin Locomotive Works (BLW)
"Baby Face" DR-4-4-1500

DR-6-4-1500

DR-6-4-2000

RF16 "Shark"

DR-12-8-3000 "Centipede"

Baldwin's "Sharknose" Carbody

The Unpopular "Baby Face"

Fairbanks-Morse (FM)
H16-66, "Baby Train Master" 

H24-66, "Train Master"

"Erie Builts"

Consolidated Line, "C-Liners"

General Electric (GE)
U36B

U23C

U25C

U28C

U30C

U33C

U36C

U50

U50C

The Joint General Electric/Alco Gas Turbine Design

B23-7

C30-7

C36-7

"Super 7" Series Rebuild Program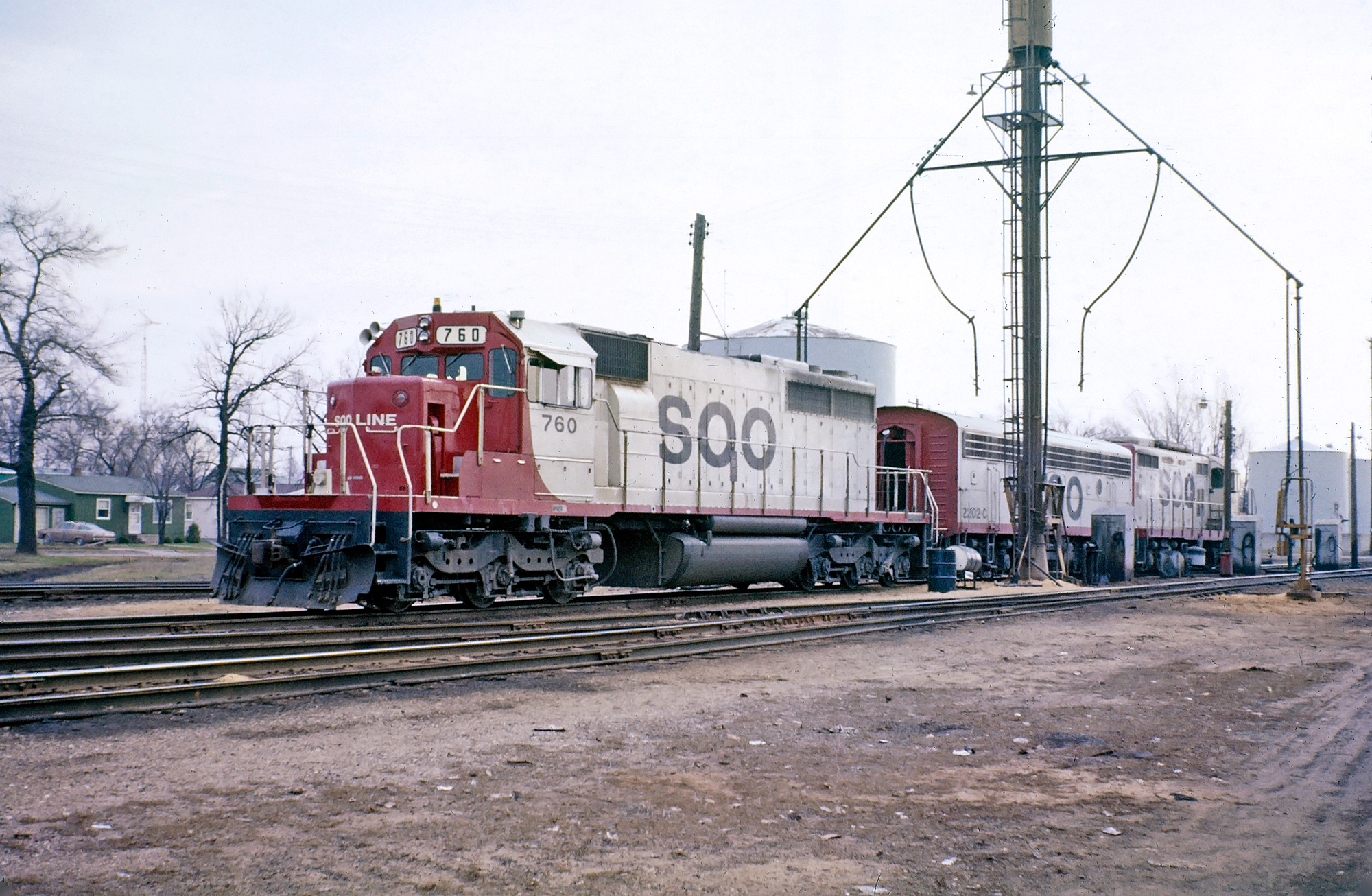 Soo Line SD40-2 #760, F7B #2202-C, and a GP9 layover at the sanding rack in Stevens Point, Wisconsin on April 20, 1974. American-Rails.com collection.
Electro-Motive (EMD)
Early EMC Switchers: SW, SC, NW, NC 

SW9

SW900

SW1000

SW1001 Variant

SW1200

SW1500
GP7

GP9

GP15 Series

GP18

RS1325

GP20

GP30

GP35

GP38 Series

GP40 Series

GP50
SD35

SD38 Series

SD40/SD40-2 Series
SD45 Series

SD50

SD60 Series

SD70 Series

SD75M/I
Unique Designs
B Units

C&NW's Crandall Cabs

DD35/A

DDA40X, "Centennial"

Draper Taper

Krauss-Maffei ML-4000

MK5000C

Slugs

Tunnel Motors

Wabtec Freight
Notable Prime Movers
Truck Types
Other Reading
Doodlebugs

Gensets/Green Goats

Rail Diesel Car, RDCs

Morrison-Knudsen

Notable Events
Norfolk Southern's Heritage Program

Streamliners At Spencer

Union Pacific's Commemorative Series

Common Designs
Cab Unit

Road-Switchers

Transfer Switcher
---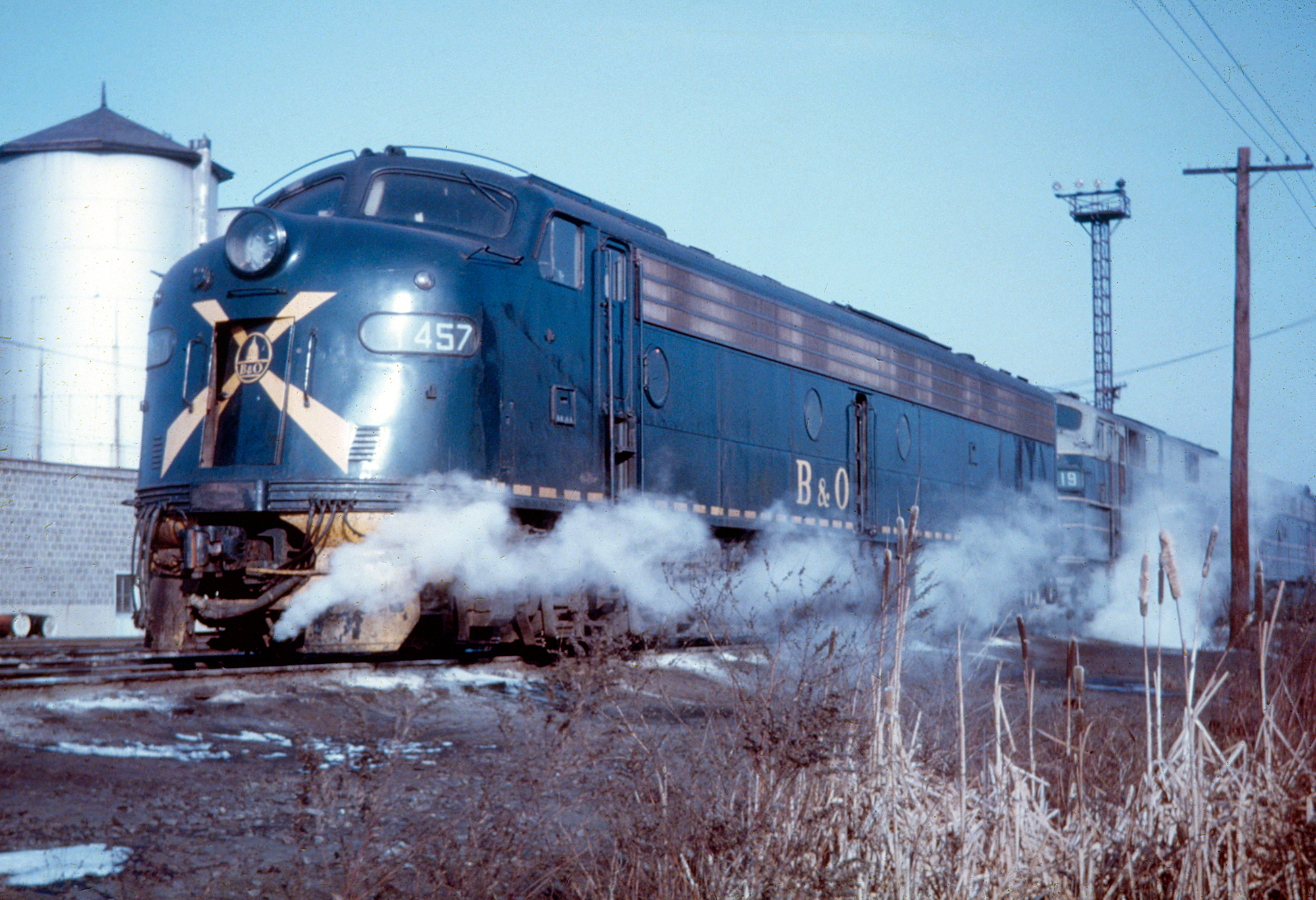 Baltimore & Ohio E9A #1457 (originally #40), wearing the "Sunburst" livery, is seen here with other power at the Ivy City engine terminal in Washington, D.C.; December, 1963. American-Rails.com collection.
Diesels have come a long way from the EMC and Alco-GE-IR boxcabs of the 1920's.  Today's models, manufactured by Wabtec Freight (successor to General Electric) and Progress Rail (successor to EMD), are equipped with comfort cabs, air conditioning, and advanced electronics. During the early days there were more than just two builders.  
After Electro-Motive opened a new motive power market many joined in, including Alco, Lima, Baldwin, Fairbanks-Morse, and later GE.  The former had been the longstanding "Big Three" steam manufacturers.  
They had produced thousands of high-quality locomotives during their heyday but unfortunately could never make the successful transition to diesel technology.  
Alco was the last holdout, finally closing in 1969.  Fairbanks-Morse was a bit of an outlier with a history tracing back to the 19th century.  
It became a leader of the opposed-piston marine engine and decided to enter the diesel market during the 1940's.  
Unfortunately, it couldn't establish a foothold after a decade and gave up (but is still in business today).  EMD never, truly recovered after losing its top spot in the 1980's, which led to its sale by General Motors in 2005.  
Today, the corporate division has been dissolved altogether and Progress Rail only uses the company name for marketing purposes.  A testament to its first and second-generation models endures, however, as those built more than a half-century ago can still be found in revenue service today!