Baldwin Locomotive Works (BLW), 1825-1956

Last revised: June 12, 2023
By: Adam Burns

The Baldwin Locomotive Works was one of the famed "Big Three" locomotive builders during the steam era, along with the American Locomotive Company (Alco) and Lima Locomotive Works.

Baldwin built tens of thousands of steam locomotives and is often regarded as the preeminent builder over even Alco and Lima as it was always on the leading edge of steam technology and development.
However, with the Electro-Motive Corporation's introduction of a successful main line diesel-electric locomotive in the mid-1930s Baldwin clung to the belief that nothing could usurp steam which ultimately lead to its downfall as a locomotive builder and its exit from the market very early in 1956.
One of the Pennsylvania's interesting DR-12-8-3000 "Centipede" sets is seen here between assignments at East Altoona, Pennsylvania on October 29, 1959. Despite their incredible tractive effort they were plagued with issues and saw relatively few sales. Bill Volkmer photo.
History
This history of the Baldwin Locomotive Works dates back to the early 1830s, founded by Matthias Baldwin, and was the oldest locomotive manufacturer in the country by the time it exited the market in the 1950s.
During the railroad industry's first century, the 1800s, Baldwin produced thousands of early steam locomotive designs such as the 4-4-0 American, 2-6-0 Mogul, and 2-8-0 Consolidation. 
Innovator and Pioneer
Later in the 20th century it manufactured and had a hand in virtually every popular wheel arrangement to roam the rails from smaller 2-8-2 Mikados, 4-6-2 Pacifics, and 4-8-2 Mountains to large articulateds like the 2-8-8-4 Yellowstones and 4-6-6-4 Challengers.
The company built small and large experimental designs such as the 2-4-4-2 articulated and 2-4-2T 2-6-2T small tank engines (which were steamers without tenders as water was stored in tanks that wrapped over the boiler). 
Baldwin, however, also built other locomotive types prior to the diesel era such as steam turbines and even electric locomotives, the latter of which were in conjunction with the Westinghouse Electric Company.
Its famous steam turbine was the "Jawn Henry" built for the Norfolk & Western Railway in 1954 (two similar designs were tested on the Chesapeake & Ohio and Pennsylvania railroads). 
At A Glance
Headquarters

Eddystone, Pennsylvania (Philadelphia)

Dates of Operation

April, 1831 - August 6, 1956

Total Locomotives Produced

76,140

Founder

Matthias W. Baldwin

60,000th Locomotive

Baldwin's 60,000th locomotive was an experimental three-cylinder design (numbered 60000) completed in 1926. It tested on several major railroads including the Baltimore & Ohio, Erie, Pennsylvania, Burlington, Santa Fe, Great Northern, and Southern Pacific but ultimately never sold. In 1933, it was donated to the Franklin Institute Science Museum in Philadelphia, Pennsylvania where it remains today.

First Locomotive Built/Completed

2-2-0: April 25, 1831

First Production Locomotive

2-2-0, "Old Ironsides" (Philadelphia, Germantown & Norristown Railroad)*: November 23, 1832

Company Name Changes Under Mathias W. Baldwin

Mathias W. Baldwin (1831)

Baldwin, Vail & Hufty (1839)

Baldwin & Vail (1841)

Baldwin & Whitney (1841)

M.W. Baldwin (1846)

M.W. Baldwin & Company (1854)

Other Name Changes

M. Baird & Company (1867)

Burnham, Parry, Williams & Company (1873)

Burnham, Williams & Company (1891)

Baldwin Locomotive Works (1911)

Eddystone Shop Buildings

Boiler Shop

Brass Foundry

Brass Shop

Cafeteria

Jacket & Lagging Shop

Machine Shop

Paint Shop

Pattern Shop

Cylinder Shop

Erecting Shop

Frame Shop

Forge Shop

General Offices

Grate Shop

Iron Foundry

Pipe Shop

Propeller Shop

Rod Shop

Southwark Shop

Tender & Cab Shop

Spring Shop

Truck Shop

Wheel & Box Shop

World War II Employment

20,000

Last Diesel Produced

U.S. Steel-Geneva Works S-12 #453 (August 6, 1956)

Last Diesel Shipped

Erie Mining Company S-12 #448 (October 30, 1956)

Most Successful Diesel Model

VO-1000 (548 built)
* This locomotive was sold for $4,000.
The massive machine, which looked like a large, over-sized diesel switcher, carried 12 powered axles and produced more than 4,500 horsepower. The unit proved to troublesome, however, and was retired a few years later by the N&W.
Baldwin also built a number of electric locomotives as early as the first decade of the 1900s. It built models for the New Haven (EP-1, EF-1, and EP-2), Milwaukee Road (the EP-3 "Quills," which unfortunately proved to be Milwaukee's most problematic motors), and the Pennsylvania (P5A, R1, and contributed on the GG-1).
The builder proved to be incredibly innovative in its approach to locomotive building, which is rather ironic considering management (notably president Samuel Vauclain of the 1920s) became very brisk towards diesel-electric technology which ultimately led to the company's undoing.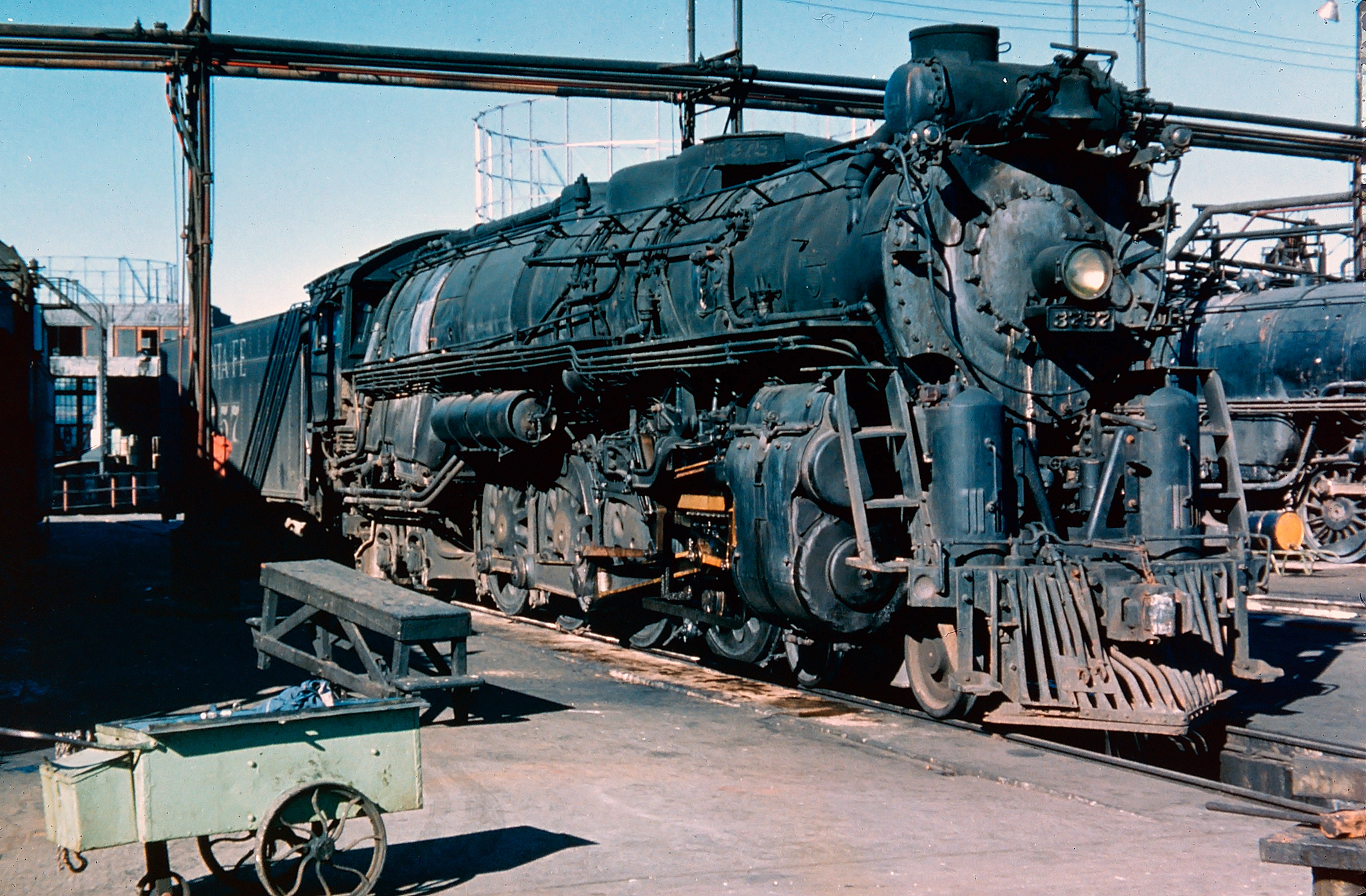 Santa Fe 4-8-4 #3757 at Redondo Junction (Los Angeles); May, 1949. This was one of the many fine Northerns Baldwin built for the AT&SF between 1927-1944. American-Rails.com collection.
Believing nothing could ever trump the steam locomotive, Baldwin brushed off the notion that diesels could ever be a reliable means of motive power for main line freight and passenger trains, even though the company had dabbled with the technology as early as the 1920s and electric technology even earlier.
During that decade Vauclain moved the company's original headquarters and manufacturing facilities in Philadelphia to the nearby suburb of Eddystone and did so on the belief that steam sales would grow immensely in the coming years, even after EMC introduced the EA and FT diesel models in the mid/late-1930s.
Because of this the company did little on research and development of main line diesels (they ultimately offered few such models) and mostly delegated such to their subsidiary the Whitcomb Locomotive Works (whom they had purchased in 1929), which offered only very small industrial switchers for sale.

Diesel Locomotives
Finally, in the late-1930s Baldwin officially broke into the diesel-electric locomotive market after it had acquired the I.P. Morris & De La Vergne company in 1931, which manufactured diesel engines.
De La Vergne produced a four-cycle diesel engine model known as the VO-series which Baldwin would use in its first line of switchers, also known as the VO-series, in 1939. The first model was the VO-660, which was a simple end-cab switcher that produced 660 horsepower and offered a B-B wheel arrangement (four axles per truck).
That same year Baldwin offered a 1,000 horsepower version, the VO-1000.  Although these early switcher models actually proved to be very successful for Baldwin the company still clung to the belief that steam reigned supreme.
By doing so Baldwin took the approach of building diesels customized to a railroad's needs (as had been done with steam locomotives) rather than mass producing them.
Delaware & Hudson's pair of RF16's, #1205 and #1216, circa 1975. This units were originally built for the New York Central and later worked on the Monongahela Railway. From the Mike Bledsoe collection. American-Rails.com collection.
This would prove unsuccessful and lead to further woes for the company in the future.  Two other factors sharply hurt Baldwin's transition from steam to diesel production.
It fell into bankruptcy in 1935 due to the poor economic conditions of the time and just as the company was beginning to take serious interest in diesel locomotive research and development in the early 1940s World War II hit and the War Production Board forced the company to limit its production to only the VO-660 and VO-1000 models it was already manufacturing.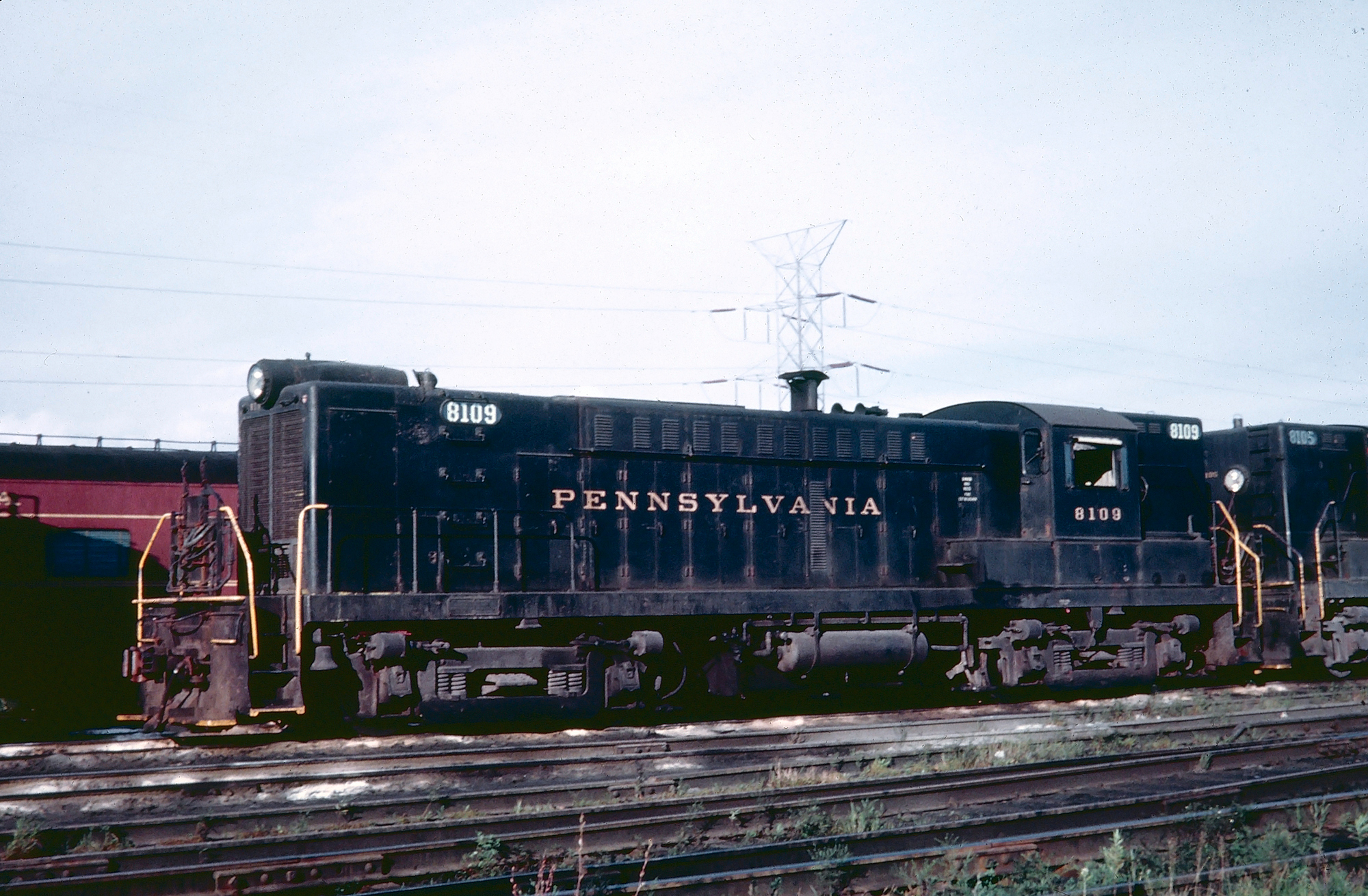 Pennsylvania RS-12's #8109 and #8105 were photographed here between assignments at Buffalo, New York on June 11, 1965. American-Rails.com collection.
Following the war the company introduced its much more powerful 600-series engines, which could be used in main line diesel locomotives. Thus in 1946 Baldwin reclassified its VO-660 and VO-1000 models as DS-4-4-660 and DS-4-4-1000 and offered a true road-switcher, the AS616.
As with Baldwin's practice to customize orders the AS616 would go by many names on different railroads such as DRS-4-4-15, DRS-6-4-15 and DRS-6-6-15. 
You might be also wondering what that all of those letters, dashes and numbers stood for. Using the DS-4-4-660 model as an example the DR referred to Diesel Road unit:
The first number, 4, was the designation of four overall axles.


The second number, 4, was the designation of four powered traction motors


660 stood for the horsepower rating (in later models Baldwin would shorten the horsepower number to include only the first two digits of the rating so a 2,000 horsepower unit like the "Babyface" model would be DR6-4-20)
One of Baldwin-Lima-Hamilton's RP-210 diesel-hydraulic locomotives (1,000 horsepower) designed for New York Central's lightweight "Xplorer" trainset, developed by Pullman in 1956. The New Haven operated a similar train called the "Dan'l Webster." Neither were successful with a poor ride quality; after just over a year of service both were retired. John Edmonson collection.
Also in 1946 the Baldwin Locomotive Works launched a new catalog of diesels, transfer locomotives, which were meant to be used in drag service at slow speeds but offering exceptional tractive efforts during moves between yards or similar operations.
The first model offered was the DT-6-6-2000. The DT-6-6-2000 originally used Baldwin's 608NA engine while later DT-6-6-2000s and a newer version, the RT-624, used the 606 SC engine.
To compete with EMD and Alco in the passenger locomotive market Baldwin offered its version of a cab unit, the DR-4-4-1500, which was shrouded in a number of differing carbodies.
Originally the model had a low nose and big front windshields, giving it the affectionate term of "Baby Face."
Later, in 1950 it was reequipped with a new prime mover, the model 308A and Baldwin commissioned legendary industrial engineer Raymond Loewy, who based the unit after the Pennsylvania's streamlined T-1 steam locomotive (Loewy was always well known for several designs among many different railroads, particularly during the streamliner revolution).
Dubbed the "Sharknose" by historians and railfans the model designation was changed to RF-16 because the new engine provided 1,600 horsepower.
Chesapeake & Ohio 4-6-4 #312; listed as Class L-2a it was out-shopped by Baldwin in 1948 as a part of a final batch of five (#310-314).
Westinghouse
In 1948 the Baldwin Locomotive Works came under the control of Westinghouse Electric Company and in 1951 it merged with the Lima-Hamilton Corporation to form Baldwin-Lima-Hamilton Corporation (BLH).
Under Westinghouse control Baldwin's purchase of Lima-Hamilton was to diversify its interests outside of the locomotive market (LH was well known for its heavy machinery business).
Interestingly, Westinghouse control came just as Baldwin management was more focused and interested in strongly competing against Alco and EMD in the diesel-electric market. However, this was not to be as Westinghouse did not share a similar philosophy.  
The models listed above, and variations of them, proved to be the extent that Baldwin-Lima-Hamilton would compete in the diesel market. It ceased production on diesels by 1955 and a year later had exited the market altogether focusing on the heavy machinery business instead.
In 1965 BLH was sold to Armour & Company, which itself was purchased by the Greyhound Corporation in 1970, which dissolved BLH by 1972. 
Diesel Models
Switchers
| Model Type | Units Built | Date Built | Horsepower |
| --- | --- | --- | --- |
| VO-660 | 142 | 1939-1946 | 660 |
| DS-4-4-660 | 139 | 1946-1949 | 660 |
| VO-1000 | 548 | 1939-1946 | 1,000 |
| DS-4-4-1000 | 502 | 1946-1951 | 1,000 |
| S-8 | 54 | 1951-1953 | 800 |
| S-12 | 451 | 1951-1956 | 1,200 |
| DS-4-4-750 | 53 | 1949-1951 | 750 |
Road-Switchers
| Model Type | Units Built | Date Built | Horsepower |
| --- | --- | --- | --- |
| AS16 | 127 | 1950-1955 | 1,600 |
| AS416 | 25 | 1950-1955 | 1,600 |
| AS616 | 214 | 1950-1954 | 1,600 |
| RS12 | 42 | 1951-1956 | 1,000 |
| DRS-4-4-1000 | 22 | 1948-1950 | 1,000 |
| DRS-4-4-1500 | 35 | 1946-1950 | 1,500 |
| DRS-6-4-1500 | 91 | 1946-1952 | 1,500 |
| DRS-6-6-1500 | 83 | 1948-1950 | 1,500 |
Transfer Switchers
| Model Type | Units Built | Date Built | Horsepower |
| --- | --- | --- | --- |
| DT-6-6-2000 | 46 | 1948-1950 | 2,000 |
Cab Units/Passenger Locomotives
| Model Type | Units Built | Date Built | Horsepower |
| --- | --- | --- | --- |
| DR-4-4-1500 (Baby Face) | 22 A Units/11 B Units | 1947-1948 | 1,500 |
| DR-6-4-1000 (Baby Face) | 1 | 1948 | 1,000 |
| DR-6-4-1500 (Baby Face) | 7 A Units/3 B Units | 1947-1948 | 1,500 |
| DR-6-4-2000 (All Types) | 38 | 1945-1948 | 2,000 |
---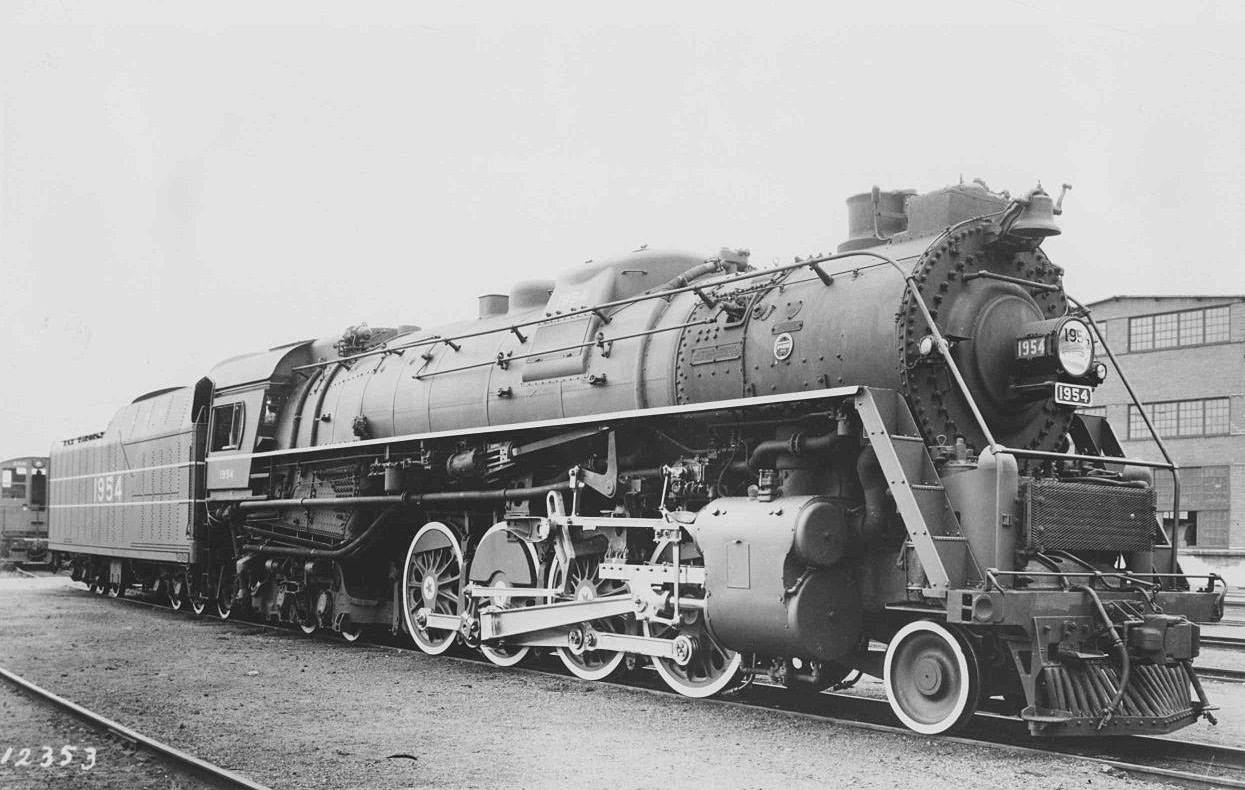 A Baldwin Locomotive builder's photo featuring Louisville & Nashville 2-8-4 #1954 (M-1), circa 1942. The finely crafted "Big Emma's" were equipped with the latest in steam technology but sadly, the entire fleet (42) had been scrapped within a decade (some were less than 10 years old!).
Of note, the Baldwin Locomotive Works' most unusual diesel model had to be its "Centipede" listed by the company as a DR-12-8-1500/2 (also known as the DR-12-8-3000. Its wheel arrangement looked much like an electric locomotive featuring a 2-D+D-2 configuration.
The model was meant to offer very high horsepower in passenger train applications, originally intended to offer 6,000 hp it was scaled back to just a 3,000 hp model.
However, as with virtually all of Baldwin's diesels it was much better suited for freight service, in which virtually all the units built ended up (only US railroads Pennsylvania and Seaboard Air Line owned the unusual model).
Sources
Kirkland, John F. Diesel Builders, The: Volume Three, Baldwin Locomotive Works. Pasadena: Interurban Press, 1994.
Simpson, Walter. Steam Locomotive Energy Story, The. New York: American University Presses, 2021.
Solomon, Brian.  Baldwin Locomotives.  Minneapolis:  Voyageur Press, 2009.
Solomon, Brian. American Diesel Locomotive, The. Osceola: MBI Publishing, 2000.