Locomotives: Who Invented Them?
Last revised: April 19, 2023
By: Adam Burns

The dictionary definition of a locomotive is: "a self-propelled, vehicular engine, powered by steam, a diesel, or electricity, for pulling or, sometimes, pushing a train or individual railroad cars."  While this describes the device its complete history is quite complex and fascinating. 

Arguably the very first "locomotives" were simply horses or mules capable of pulling only a few carloads of people or freight. 
Despite their drawbacks, the animals' simplicity saw them remain in service (particularly in streetcar operations) long after the steam engine's invention. 
Steam, of course, was the first fuel to power a man-made, mechanical device used in transportation applications.   The initial designs came about in the 18th century although its implementation on a railroad did not occur until the early 1800's. 
History
The technology would migrate to the United States during the 1820's and within a few years was being used for commercial purpose.

It would remain the tried, proven, and only motive power type for nearly a century until electricity was introduced just prior to 1900. 
Although electrification was never adopted on a wide scale the diesel, developed during World War I, would eventually displace the "iron horse" (steam locomotive). In this article we will look at all types, their histories, and how each was used.

Photos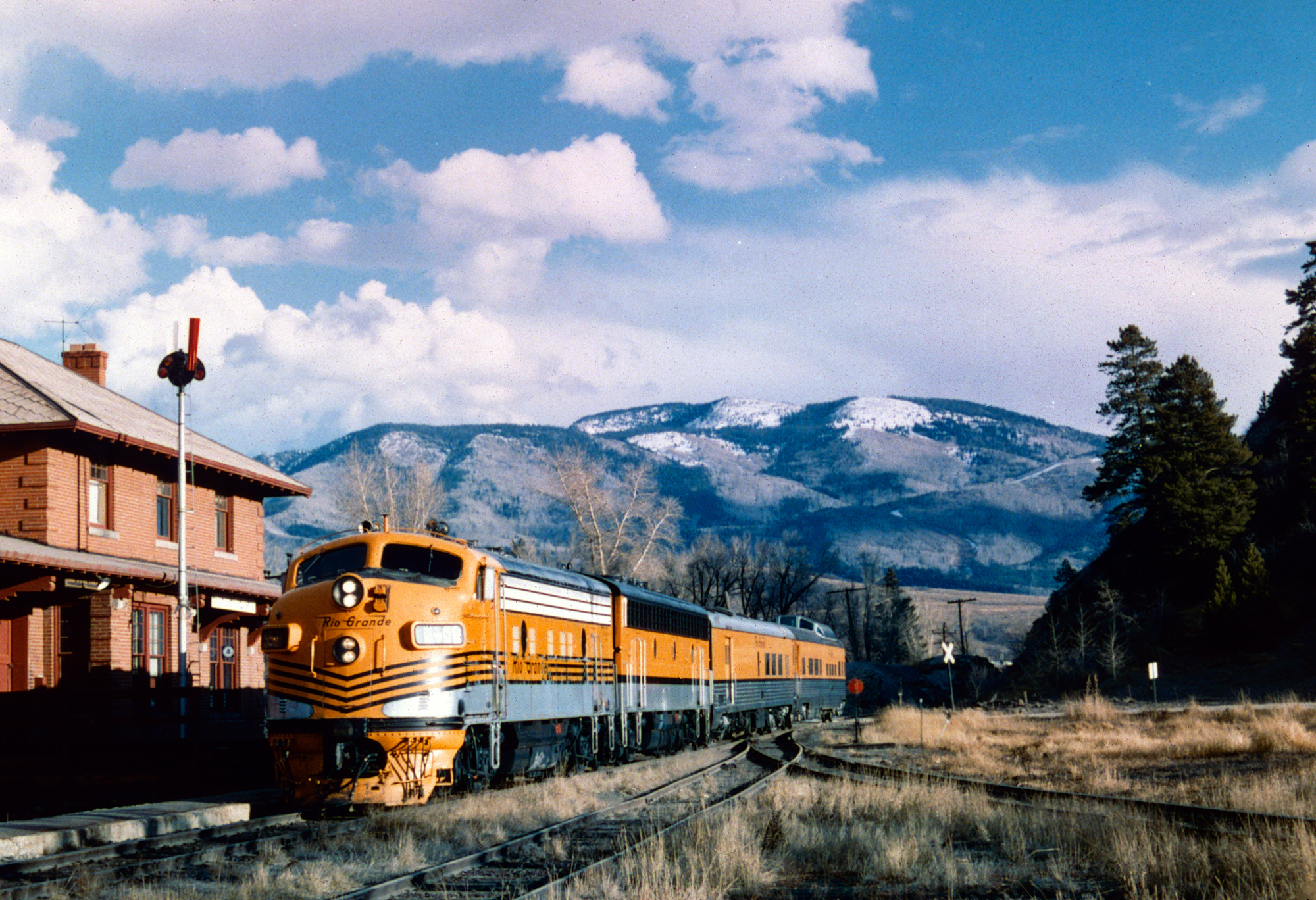 Rio Grande's "Yampa Valley," led by F9A #5771, at Steamboat Springs, Colorado; November 19, 1967. Ed Fulcomer photo. American-Rails.com collection.
The development of the steam engine, coupled with its use on a moving platform (i.e., a "locomotive") running along a guided track-way, greatly aided our nation's movement into the modern age. 
Without the railroad, our economic boom during the 19th and 20th centuries would not have been possible.  The speeds at which this new technology traveled allowed for significantly lower shipping costs, which, in turn, was passed on to the public.   
The book "Railroads In The Days Of Steam," published by the editors of American Heritage, details how travel improvements were accomplished. 
In the years leading up to the American Revolution, roads in America were still primitive; in 1756 wagons required three days to travel just 90 miles from New York to Philadelphia. 
The country's first stone-road, the Lancaster Pike, opened in 1795; it ran a distance of 62 miles from 34th Street in Philadelphia to Lancaster, Pennsylvania. 
Paved roadways, however, remained scarce throughout the 19th century.  The National Road (sometimes referred to as the Cumberland Road) was a 620-mile corridor started in 1811 and completed in 1837. 
Its initial purpose was to link the Potomac River at Cumberland, Maryland with the Ohio River at Wheeling, Virginia. 
At A Glance
| | |
| --- | --- |
| Earliest Known Rail-Like Operation | England (1630) |
| First Iron Rails | Whitehaven, Cumberland, England (1740) |
| Flanged Wheel Invention | 1789 (William Jessop: Loughborough, Leicestershire) |
| First U.S.-Built Steam Locomotive | "Tom Thumb" (1830) |
| Notable Types | Steam, Diesel, Electric, Genset, Battery |
Following its opening on August 1, 1818, the federally funded project (authorized by President Thomas Jefferson on March 29, 1806) set out for St. Louis along the Mississippi River. 
Unfortunately, the financial Panic of 1837 ended the endeavor at Vandalia, Illinois but it still enjoyed recognition as the longest road in the country for many years.   
The next important developments were canals, engineered waterways that could reduce travel time by more than 50% over standard horse-drawn wagons. 
For instance, after the mighty Erie Canal opened between New York and Buffalo on October 26, 1825 (at a cost of $7 million it was 4 feet deep and 40 feet wide) a canal-boat could make the journey in just 5 days instead of a wagon's 20. 
As a result, freight rates decreased by an astounding 95%, from $100 per ton to only $5.  But the canal's days were short-lived. 
Railroads were already in development and would soon displace them, despite fierce resistance from canal owners and states like New York, which had spent considerable capital on their construction.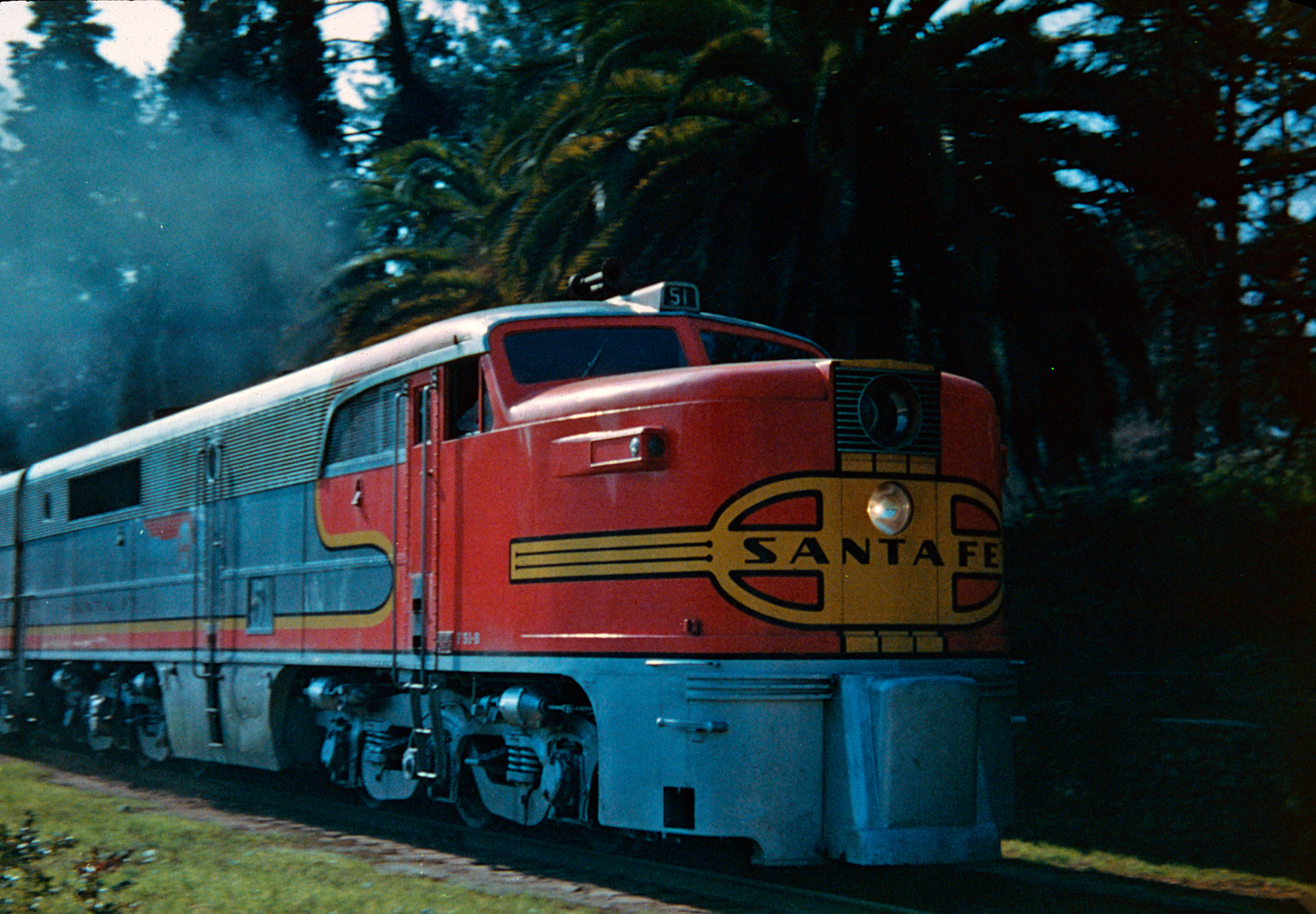 Santa Fe PA-1 #51-L is on the move through South Pasadena, California in 1948. Russ Cole photo. American-Rails.com collection.
Timeline
According to historian Mike Del Vecchio's book, "Railroads Across America," the very first railroad-type operation was launched in England during 1630 when wooden rails, upon which wooden cross-ties (or "sleepers") were attached for lateral support, were laid down to haul coal. 
This rock would prove vital in the steam locomotive's future development.  The first known implementation of iron rails took place in 1740 at Whitehaven, Cumberland, followed by William Jessop's (Loughborough, Leicestershire) invention of the flanged wheel in 1789.  The steam engine is attributed to Thomas Newcomen who received a patent for his design in 1705.  
It was later improved upon by James Watt in 1769 who realized expanding steam was much more powerful and efficient than Newcomen's condensing version.  
He first employed the engine in steamboats and the technology eventually found its way to the United States where Colonel John Stevens began using it for the same purpose. 
Interestingly, the very first contraption actually called a "locomotive" was designed by Nicolas-Joseph Cugnot of France in 1769. 
It was steam-powered but did not run along a fixed trackway.  Today, this historic piece of engineering still survives, housed and on display at the Musée des Arts et Métiers in Paris.  All modern locomotives and automobiles can trace their heritage back to this single device.
Inventor
Colonel Stevens would go on to charter the United States' first railroad, the New Jersey Railroad Company, on February 6, 1815.  The state legislature granted it the powers to link New Brunswick with Trenton. 
Although not actually completed until 1832, it would eventually become part of the modern Pennsylvania Railroad's network. 
The colonel's recognition did not end there; he also tested the first type of steam locomotive in 1826 when he showcased his "Steam Waggon" on a short segment of track at his estate in Hoboken, New Jersey.
But, once more, England is recognized as the birthplace of the modern steam locomotive.  The first patent is credited to Richard Trevithick and Andrew Vivian in 1802. 
It entered service in 1804 along the Merthyr-Tydfil Railway in South Whales where it pulled loads of iron ore along a tramway.  
Two decades would pass before the first modern design appeared, the work of George Stephenson.  He was born on June 9, 1781 to a very modest family in the small village of Wylam, Northumberland near Newcastle upon Tyne. 
In time he became an expert in steam technology and decided to improve upon the early works of others, like Trevithick. 
He constructed his first in 1814 and eventually garnered widespread attention for his superb craftsmanship. As the steam locomotive continued to prove its worth, arguably its most impressive attribute was operating in all types of weather, unhindered by winter's frozen grip. 
Try as they might, canal owners could only delay the inevitable. 
One of America's earliest transportation companies, the Delaware & Hudson Canal Company, is credited as operating America's first steam locomotive when, according to Jim Shaughnessy's book, "Delaware & Hudson: Bridge Line To New England And Canada," the 0-4-0 Stourbridge Lion was tested on August 8, 1829. 
Unfortunately, it proved too heavy and was scrapped in 1870 having never been used in regular service.  In 1830 another made headlines, Peter Cooper's Tom Thumb, regarded as the first successful test of an American-built design. 
It famously raced a horse on the fledgling Baltimore & Ohio on August 28th that year.  The little 1-ton coal-burner, featuring a vertical boiler, lost the bout (while carrying 30 patrons in a single coach) but nevertheless proved its viability.  
According to the Baltimore & Ohio Railroad Museum the locomotive was capable of speeds up to 15 mph.  While it did spend a year carrying passengers from time to time it never entered regular service and was scrapped in 1834.
- A replica is on display at the museum, constructed for the B&O's 1927 Fair of the Iron Horse, based from drawings Cooper had provided in 1875. -   
Since the Thumb was only an experiment, another locomotive was given recognition as the first American-built design to haul a revenue passenger train, South Carolina Canal & Rail Road's Best Friend Of Charleston.
As the years advanced, so too did steam technology.  In his book, "The Majesty Of Big Steam," author Brian Solomon points out that the 4-4-0 "...was the most recognizable locomotive type across North America..." during the 19th century. 
The historian goes on to say this about the ubiquitous American Type, "Even today the silhouette of a classic 4-4-0...remains a common icon of railroading, despite more than a century of obsolescence."  And that statement certainly rings true as the 4-4-0 became the industry standard throughout the 19th century, and even found work well into the 20th. 
Its modest wheelbase, coupled with an adequate boiler, offered ample power for a multitude of roles (passenger or freight service). 
The nomenclature of the "4-4-0" describes its "Whyte Notation," developed by Frederick Whyte, which classifies a locomotive by its wheel arrangement. 
The 4-4-0 was followed by much more powerful designs through the latter 19th, and in particular, 20th centuries.  As demand for rail service increased, ever larger locomotives were needed.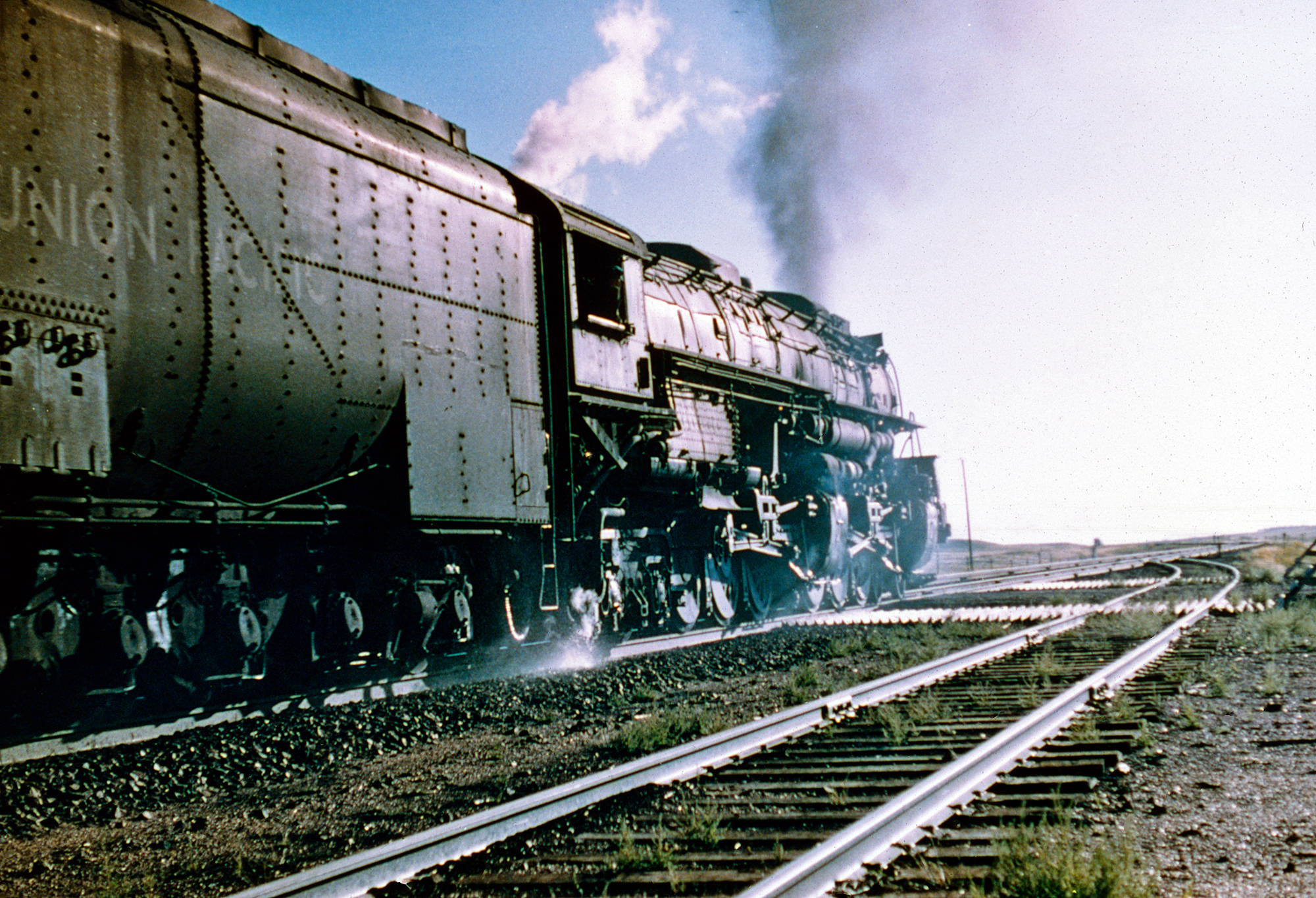 Union Pacific 4-6-6-4 #3933 with Extra 3933 heads westbound into the sun at Durham, Wyoming on August 31, 1955. J.E. Shaw photo. American-Rails.com collection.
This led to new wheel arrangements like the 4-6-0, 2-8-0, 4-4-2, and 2-8-2.  Then, Lima Locomotive Works launched the "Super Power" concept during the 1920's. 
These designs sought larger fireboxes for greater combustion (thus, generating more steam) and modern components such as roller-bearings and feed-water heaters to reduce maintenance. 
It began with the 2-8-4 of 1925 and was followed by the 4-8-4, 2-10-4, and articulateds like the 2-8-8-4, 2-6-6-4, and 4-8-8-4. 
Lima was not the only quality manufacturer; the revered Baldwin Locomotive Works, based in Eddystone, Pennsylvania (Philadelphia) could trace its heritage back to railroading's earliest days while the American Locomotive Company (or, "Alco") was another respected builder. 
Brian Solomon notes in his book, "Alco Locomotives," the latter was a conglomerate of several smaller companies which merged in June, 1901 to more effectively compete against Baldwin; in time, Alco would consolidate all operations at Schenectady, New York. 
Alas, all three would disappear before 1970, replaced in the diesel age by General Motors' Electro-Motive Division and General Electric.  To read more about the steam locomotive's heritage, and how its boiler transfers steam into power please click here.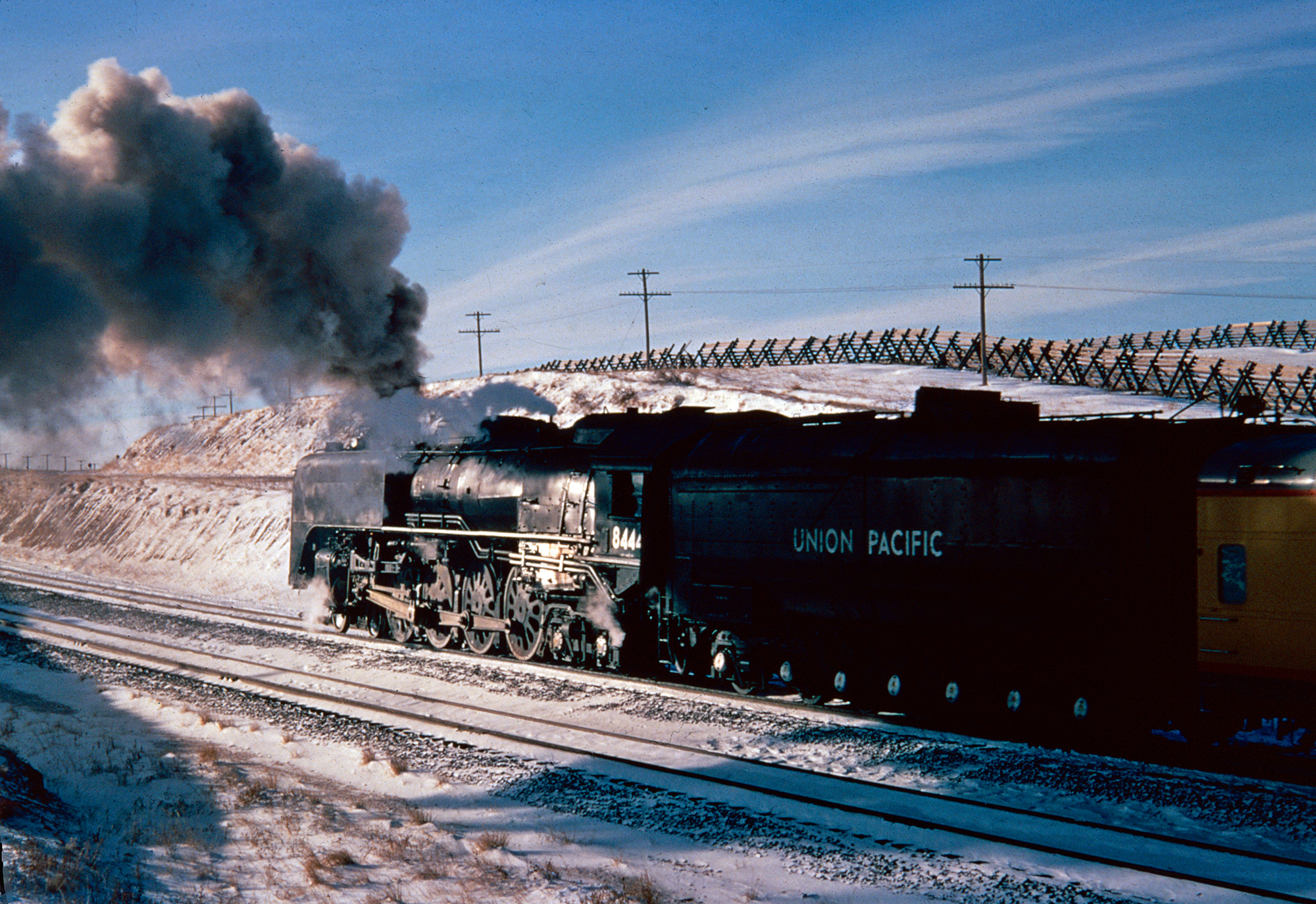 Union Pacific 4-8-4 #8444 leads a special fan trip westbound, and away from the photographer, over Sherman Hill (Wyoming) in January, 1972. American-Rails.com collection.
Electric Locomotives
Railroads were still in their infancy when a new technology emerged, electricity, although it was not adopted for commercial use until the 1880's. According to Brian Solomon's book, "GE and EMD Locomotives: The Illustrated History," its heritage can be traced back to a battery-powered locomotive tested during the 1830's.
This is further supported by the authoritative book, "The Electric Interurban Railways In America," by authors Dr. George Hilton and John Due who note:
"The electric motor had been in existence, at least in rudimentary form, as early as the 1830's; in 1835 the Vermont blacksmith Thomas Davenport exhibited an electrically propelled toy train in Boston and Springfield. 
The first true electric locomotive, one which could be used in commercial applications, powered by a generator (then known as a dynamo), is credited to Werner Von Siemens.  In 1879 he successfully demonstrated such on a small railway in Berlin, Germany. 
Its migration to America took place only a year later; in 1880, Thomas Edison tested his own type of electric propulsion system on a 2.25-mile segment of track in Menlo Park, New Jersey.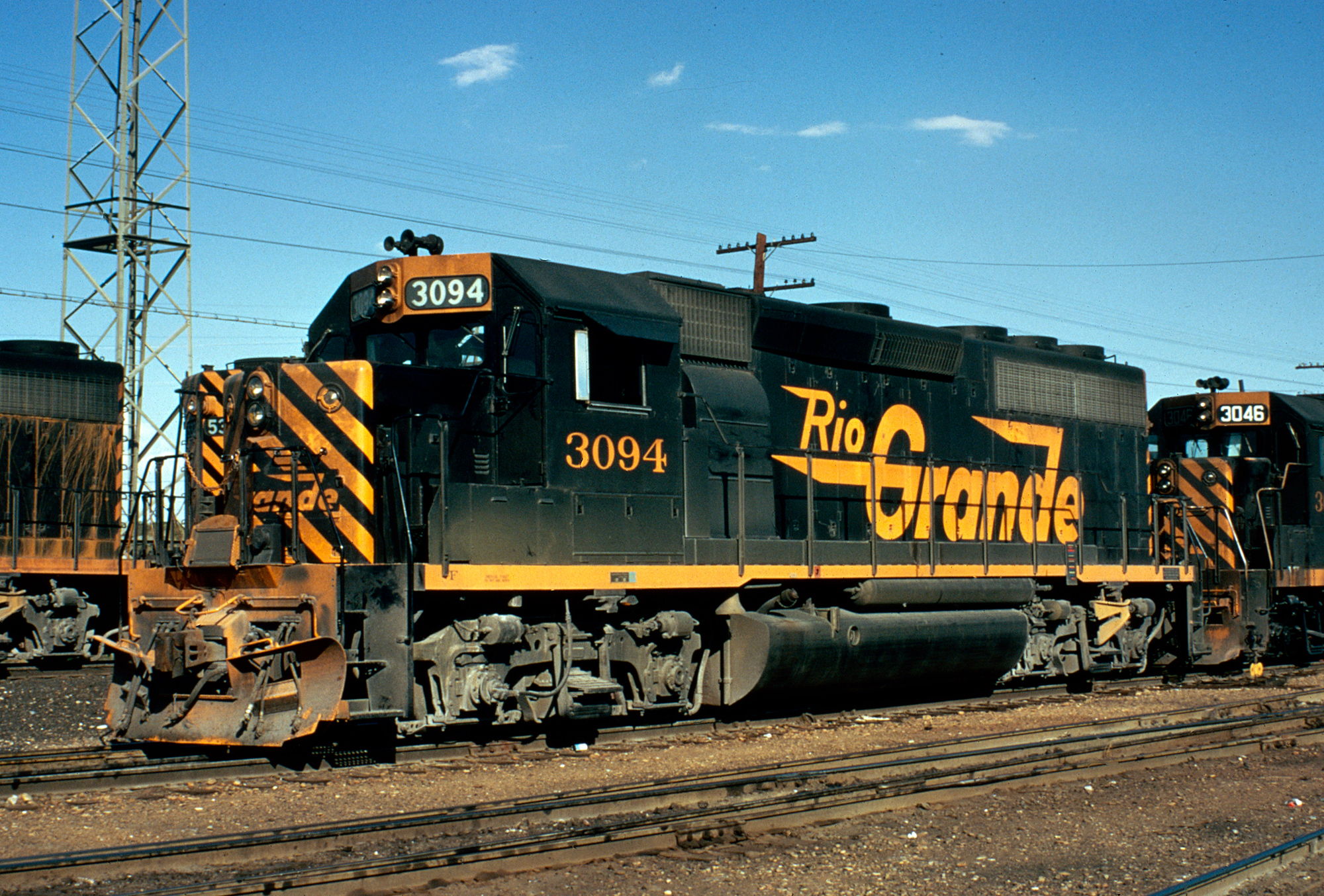 Rio Grande GP40-2 #3094 and GP35 #3046 layover at Pueblo Yard in Pueblo, Colorado during the 1970s. American-Rails.com collection.
With the technology now viable, streetcars began using electrification on a wide scale following Frank Sprague's test on the New York Elevated Railway in 1886.  From trolleys blossomed the interurban, a type of early rapid-transit system connecting cities of all sizes. 
Unfortunately, these operations were not built to the heavy, stringent standards of their steam railroad counterparts and many died out by World War I. 
The first use of a "motor" (the nickname sometimes given to electric locomotives) in main line applications was on the Baltimore & Ohio when it initiated service through its Howard Street Tunnel in Baltimore, Maryland during 1895. 
The territory covered 7.2 miles from Milepost 90.7 at Bay View, Maryland to Milepost 97.9 at Hamburg Street, Baltimore.  Of this, 4 miles was electrified. 
The B&O used a 600-volt direct current, third-rail system with four gearless, 360-horsepower locomotives. Following the B&O's system, several others energized sections of their network such as the Pennsylvania; New York Central; New York, New Haven & Hartford; Illinois Central; and Milwaukee Road. 
However, only the most financially successful could do so on a large scale and typically only segments were upgraded, not entire main lines. 
The largest concentration was located in the Northeast and only the Milwaukee Road electrified a long stretch of its western extension expressly for freight service.  Most could not justify electrification's enormous upfront costs despite the lure of lower operational costs.  To read more about electric locomotives please click here.
Diesel Locomotives
The diesel-electric locomotive remains the primary power plant for railroads in the modern age.  Ironically, as Mr. Solomon notes, GE was the leading pioneer during the early 20th century despite not actually gaining a true foothold in the market until the early 1960's. 
The first diesel-electric ever tested was a General Electric unit which operated on the Southern Pacific in 1904 and 1905 according to the subset article, "The First Diesel" by John Gruber from "GE and EMD Locomotives: The Illustrated History." 
The experiment apparently proved unsuccessful after the initial trials but the diesel engine, conceived by Germany's Dr. Rudolf Diesel, would be refined for railroad applications in the succeeding decades. 
Although the technology was designed by a German, the patent rights were controlled by an American, Augustus Busch, through his company, the Diesel Motor Company of America.
While GE is credited with pioneering diesel technology, it was not the first to utilize a power plant which did not employ a boiler.  In 1890, William Patton placed a 10-horsepower Van Duzen gasoline engine inside a railcar, believed to be the first of its kind. 
A diesel-electric's mechanics are rather straightforward although it is commonly mistaken the engine, alone, does the work.  
This is not the case.  While it is the prime mover the energy it creates drives an electric generator, which in turn powers the traction motors found within the locomotive's trucks.  
The latter are responsible for turning the wheels and propelling the unit forward. The engine, itself, has no involvement in the actual motion.  
In essence, the diesel is an electric locomotive with its own power plant.  What is the difference?  A true electric has its power provided either through overhead catenary or third-rail while a diesel-electric carries its own engine on-board.   
In 1917 GE continued refining diesel technology when it tested an experimental model utilizing a GM-50 prime mover (a V-8 diesel engine designed by GE but based from German Junkers engines used in aircraft).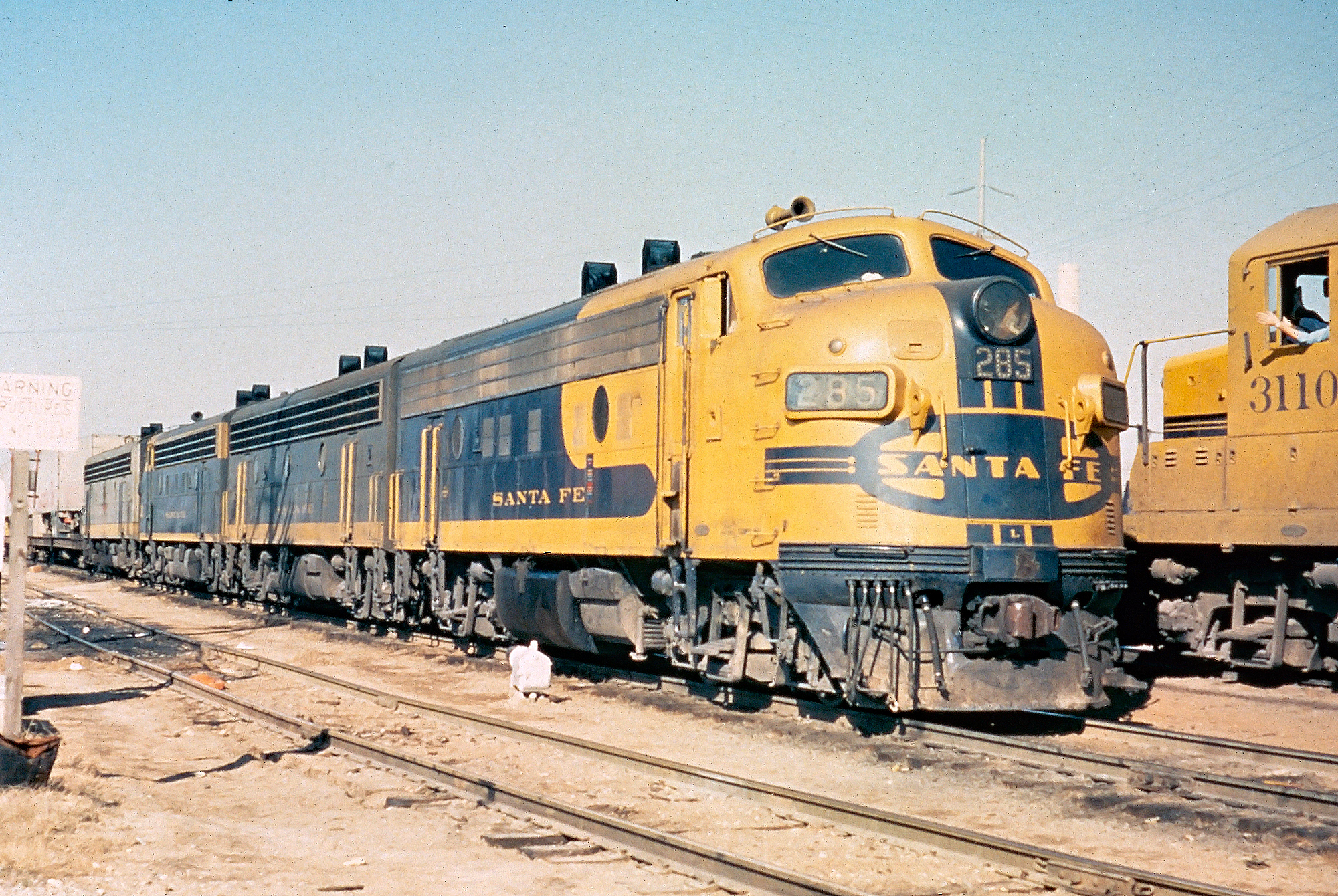 Santa Fe F9A #285-L and other F units lead trailers at Cleburne, Texas, circa 1974. On the next track over is GP20 #3110. Mike Bledsoe photo. American-Rails.com collection.
A year later it launched formal production of these 225 horsepower machines; the boxcab switchers were largely considered a failure although did find a few buyers; one went to the Jay Street Connecting Railroad (#4), another to the city of Baltimore and a final example to the U.S. Army. 
As a stand-alone manufacturer, GE exited the business shortly thereafter but in 1923 revisited the market by partnering with Ingersoll-Rand (IR) and American Locomotive to build a 300-horsepower, boxcab switcher; GE supplied electric components while IR the prime mover and Alco the carbody.   
As the late historian Jim Boyd notes in his book, "The American Freight Train," the 60-ton locomotive was finished in June, 1924 (following tests at IR's plant in Phillipsburg, Pennsylvania on December 17, 1923) and proved a success. 
It toured the country as #8835 (GE's construction number) and was eventually sold to the Central Railroad of New Jersey (#1000) where it spent many years in switching assignments around New York City.   
Small switchers proved the domain of diesels for many years as railroads remained distrustful of their ability to handle the rigors of main line service. 
The Electro-Motive Corporation, however, believed otherwise.  The company began in 1922 as a small, privately-owned operation based in Cleveland, Ohio building inexpensive motorcars.
---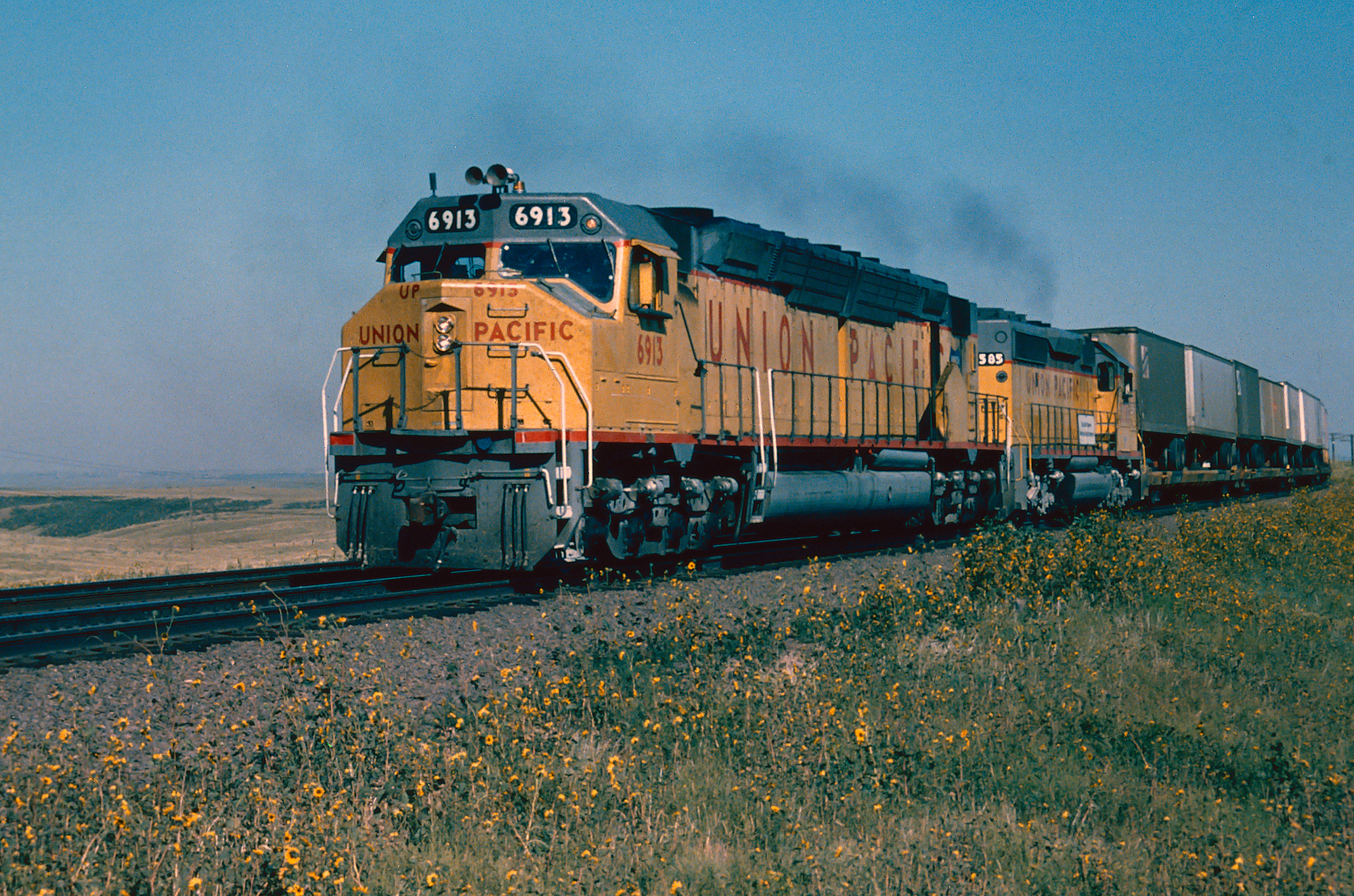 Union Pacific DDA40X "Centennial" #6913 and SD40-2 #3585 led trailers westbound out of Cheyenne, Wyoming on August 8, 1984. Mike Bledsoe photo. American-Rails.com collection.
In 1930 it was acquired by General Motors, then the world's largest industrial company, which saw potential in diesel-electric locomotives.  The first produced under the GM name were five, 1,800 horsepower boxcabs carrying Winton Engine Company model 201-A, V-12 diesel engines. 
There were two demonstrators (#511 and #512) along with a lone example built for the Baltimore & Ohio (given #50 it was used on the Royal Blue between Baltimore/Washington-New York) and a pair for the Atchison, Topeka & Santa Fe (nicknamed "Amos & Andy" or "The Twins" they pulled the new Super Chief which debuted in May, 1936). 
Next, Electro-Motive upgraded the boxcab's prime mover with a rugged General Motors model 567 model while shrouding it within a sleek carbody.  This "FT" demonstrator A-B-B-A set, given #103, was tested around the country beginning in November, 1939. 
As Brian Solomon notes in his book, "Electro-Motive E Units And F Units," it proved itself time again, such as on Southern Pacific's Tehachapi Grade where it outperformed SP and Santa Fe steam locomotives.  A passenger variant, the EA, released in 1937, began a long line of passenger diesels, the so-called "E" series. 
EMD's catalog, and others manufactured by American Locomotive, Baldwin, and Fairbanks-Morse helped vanquish steam.  Later, General Electric reestablished itself with its Universal series in the 1960's.  To read more about the diesel locomotive, and variants thereof, please click here.  For more resources and reading regarding locomotives please click here to visit the site's Works Cited section.