Commuter Trains

Last revised: April 20, 2023

By: Adam Burns

Commuter trains have always been an important means of transportation for those traveling to and from their place of employment.  

The history of suburban rail service is not new tracing back to the 19th century when trains were the only means of getting around.  
It was also a profitable venture for railroads during an era in which they provided nearly 100% of the country's transportation needs. Many miles of secondary lines were built for this purpose in places like Chicago, Los Angeles, New York, and Boston. 

In some cases, interurbans provided an alternative to "heavy rail" services; Los Angeles had the great Pacific Electric system, Chicago/Milwaukee the Chicago, Milwaukee & North Shore ("The North Shore Line"), and Philadelphia's Philadelphia Suburban Transportation Company.  
All of these are gone today while city, state, and federal agencies began subsidizing services for continued operations.  This led to the creation of names like NJ Transit, Maryland Rail Commuter Service (MARC Train), Metrolink, Massachusetts Bay Transportation Authority (MBTA), and Metra.

Photos
New Jersey Transit E8A's #4285 (ex-New York Central #4080) and #4258 (ex-Pennsylvania #5798) run the old New York & Long Branch with a westbound/northbound commuter train at the small community of Morgan, New Jersey on April 21, 1981. Author's collection.
History
Many folks who ride today's commuter trains probably are not aware that long ago such services were provided by the private freight railroads.  
The Windy City was served by the Chicago & North Western, Milwaukee Road, Burlington, Rock Island, and many others while the Big Apple's needs came via the New York Central, Pennsylvania, New Haven, Erie, and Lackawanna.  
Today's commuter systems are largely thought of as either heavy rail or light-rail-transit (LRT).  The latter was essentially identical to the interurban and streetcar systems of yore.  
This is interesting considering most were ripped up by the 1950's in the name of "progress."  Since then, LRT has grown in popularity and returned to some of the very same cities which had removed theirs years before.  
You can now find them in such places as Charlotte, Austin, Norfolk, Minneapolis, and Portland while traditional trolley cars are still operated in New Orleans, San Francisco (cable cars), and even on the Southeastern Pennsylvania Transportation Authority (SEPTA) in Philadelphia. 
For an idea of just how many new commuter rail and LRT projects are either in the works or under way please visit this page at Light Rail Now!, the premier resource on the web covering commuter operations and light rail transit.
Also, for full data and statistics regarding not only light rail and commuter rail operations but also all modes of public transportation please visit the American Public Transportation Association's (APTA) website.
There you can also learn about the latest news, happenings, and other goings on regarding the subject. A final resource worth mentioning is the Bureau of Transportation Statistic's website which provides additional resources highlighting rail transit. 

In his book, "Frank K. Hain And The Manhattan Railway Company," author Peter Hain details the history of commuter systems on New York's Manhattan Island.  
On November 10, 1875 the Manhattan Railway (the "El") was organized to acquire the region's two transit systems, the New York Elevated Railroad (running from Ninth Avenue to Third Avenue, its predecessors were the West Side & Yonkers Patent Railway and West Side Patented Railway) and Metropolitan Elevated Railway (serving Sixth Avenue to Second Avenue it began as the Gilbert Elevated Railway).  
In 1879 the Manhattan took lease of these properties but litigation delayed the takeover until 1884.  
During its peak years the system operated 102 miles serving the entirety of the island, stretched into the Bronx, and witnessed an incredible 515,000 passengers daily.  On March 31, 1903 it was acquired by the Interborough Rapid Transit Company.  
The El's operations were eventually assimilated into the parent road's growing subway system and purchased outright by the city in June of 1940 (the last remnants of the El were removed in 1958).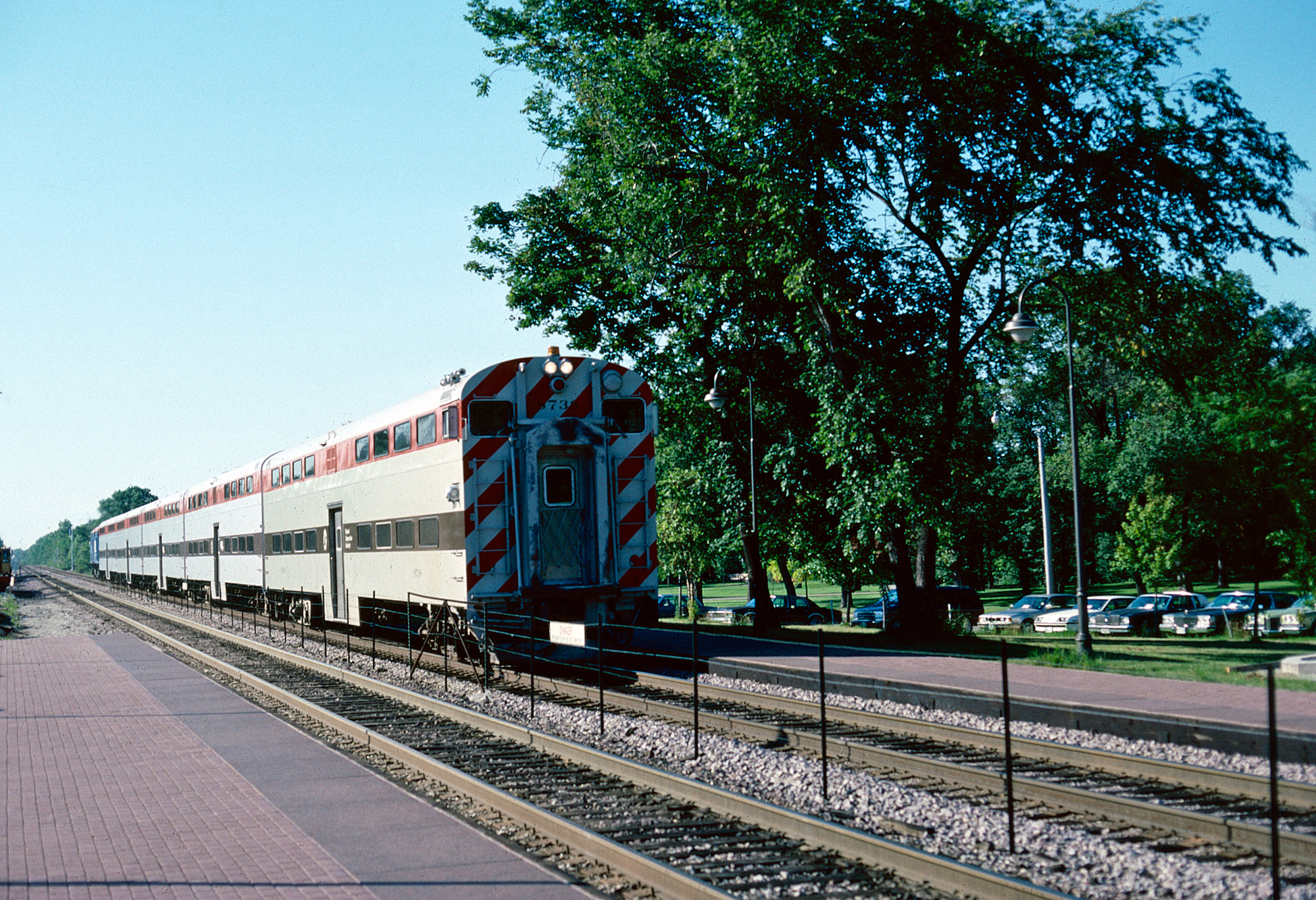 A Regional Transportation Authority (RTA) push-pull commuter train is seen here at Evanston, Illinois in July, 1990. American-Rails.com collection.
New York also once maintained "heavy rail" branches into the boroughs and suburban areas of New Jersey, Connecticut, and eastern Pennsylvania.  
There was also the Long Island Rail Road (whose name still exists today as part of the Metropolitan Transportation Authority) and the Staten Island Rapid Transit system.  Another noted region was Chicago, America's railroad capital.  
Dozens of carriers reached the Windy City and many provided commuter services such as the Pennsylvania, New York Central, Chicago & North Western, Rock Island, and Burlington.  
In addition, one of the great interurbans was located there, the Chicago, North Shore & Milwaukee Railroad; better known as "The North Shore Line."
Its history dates back to the 1890's and it eventually blossomed into an important service linking Chicago with Milwaukee via a double-tracked, high-speed main line.  The North Shore slowly declined as vehicular competition pulled away its business.  
The completion of the Northwest Expressway connecting the Chicago Loop with the Edens Expressway in 1960 proved the final blow. It had tried to abandon all service as early as May, 1958 but was initially denied by the Interstate Commerce Commission. 
In November, 1959 its approval was granted but the Illinois Commerce Commission vigorously appealed the ruling.  
Trains continued to run until early 1963 when finally, on January 21st, service officially came to an end.  A similar incident happened with a nearby interurban, the Chicago, Aurora & Elgin.  
The so-called "Roarin' Elgin" linked the city with the suburbs of Elgin, Aurora, Geneva, and Batavia.  Its history began at the turn of the 20th century and like the North Shore Line grew into a double-tracked, high-speed route.
As competition from highways ate away revenues it infamously and abruptly ended all passenger operations without warning at Noon on July 3, 1957.  
Arguably the greatest of all interurbans was the Pacific Electric Railway (PE).   Its roots date back to the Pasadena & Pacific Railroad, opened in 1895 to connect downtown Los Angeles with Pasadena.  
On September 1, 1911, following control by the much larger Southern Pacific the PE grew exponentially by taking over several small railroads in the area. Dubbed the "Great Merger" it became the largest interurban in the world boasting a network of more than 1,000 miles.
The PE featured many double-tracked routes while its famous "Red Cars" and "Hollywood Cars" were a common sight for decades.  Alas, as the city hedged its bets on highways the Pacific Electric lost out and ceased operations entirely during the 1960s.
Improved roads, and the new Interstates, not only hurt interurbans but also killed off privately-operated commuter service.  
In his book, "Erie Lackawanna: Death Of An American Railroad, 1938-1992," author Roger Grant describes the hopeless situation for the EL (the 1960 merger of the Erie Railroad and Delaware, Lackawanna & Western):
"When it came to passenger operations, the worm in Erie Lackawanna's apple was its commuter and not its through-line service.  Both the Erie and Lackawanna had once hauled patrons profitably in the New York City commutation zone..."
"The opening of the Holland Vehicular Tunnel on November 11, 1927, and subsequent construction of the George Washington Bridge, Lincoln Tunnel, and an expanding network of paved roads, together with increased automobile and bus usage, drained business.  
"We lost much of the midday or causal travelers,' observed Milton McInnes (EL's second chief executive elected in late 1960)." 
Ridership
---
---
Prior to their merger the Erie and Lackawanna were losing more than $5 million, combined, operating commuter trains annually.  
Both pleaded with respective public service commissions for their discontinuance but, ultimately, were only successful in ending a few trains.  
The moribund Erie Lackawanna, the "Fourth Way To Chicago," entered bankruptcy in 1972 following devastating property damage from Hurricane Agnes.  It wound up as part of the federally mandated Conrail in 1976, and today some of its former commuter lines are still in service.  
The Chicago, Rock Island & Pacific faced a similar problem.  The Rock Island was, at one time, a premier Midwestern carrier, serving Chicago, the Twin Cities, Kansas City, St. Louis, Memphis, Texas, the Gulf Coast, and eastern New Mexico.  
It was immortalized in song and regarded as a legendary railroad even within its own time.  As Gregory Schneider's book, "Rock Island Requiem," notes by 1971 it was hemorrhaging $1.8 million annually on Chicago area commuter operations.  

---
Historic Interurbans
The renewed interest in what today is referred to as light rail transit or "LRT" is actually just a fancy term for the venerable interurban and streetcar systems of a bygone era.  
Many towns were served by these operations prior to World War II and all were electrically operated.
A few, such as the Pacific Electric, Illinois Terminal, Detroit United Railway, Philadelphia Suburban Transportation Company, North Shore Line, South Shore Line, Piedmont & Northern, and Indiana Railroad System maintained systems several hundred miles in length.  
As Dr. George Hilton's and John Due's authoritative piece, "The Electric Interurban Railways In America," points out during their peak years interurbans maintained more than 15,000 miles throughout the country.  There was even a dedicated trade journal published for this industry.  
The interurbans and streetcar operations were hit particularly hard by the automobile's rise and several had given up by the 1920's.  
The Great Depression brought even more failures.  By 1950 just 1,519 miles remained and the number dropped to just 209 miles by 1959.  As 1960 dawned the classic interurban was essentially gone.  To read more about them please click here.
Rock Island E8A #650 in suburban service at Blue Island, Illinois during the summer of 1975. American-Rails.com collection.
---
It requested, and eventually received, public assistance by the state.  Unfortunately, economic conditions and strict government regulations led to its bankruptcy in the 1970's and eventual liquidation in 1980.  
These are only a few examples but they illustrate the difficulty privately operated railroads faced in an increasingly negative environment.  
By the 1980's, various state agencies had taken over all such commuter services.  Despite its unprofitable nature rail transit remains a vital public need.
It is both fascinating and ironic to witness the rebirth in commuter rail; we once boasted fabulous systems throughout the country like those highlighted above.
However, unable to compete against federally-sponsored and subsidized highways all private involvement had ended by the 1980's.  One of the biggest benefits of LRT, particularly when compared to "heavy rail" services, is their lower construction and maintenance costs.  
Two of the most proactive states in this regard include North Carolina and California. Both are doing a magnificent job developing corridors, particularly the former.  
If you are interested in seeing how such a network should be properly implemented, planned, and carried out take a look at what the Tarheel State is doing. 
Routes
Altamont Corridor Express

Caltrain

Long Island Rail Road

Metro-North Railroad

Shore Line East

---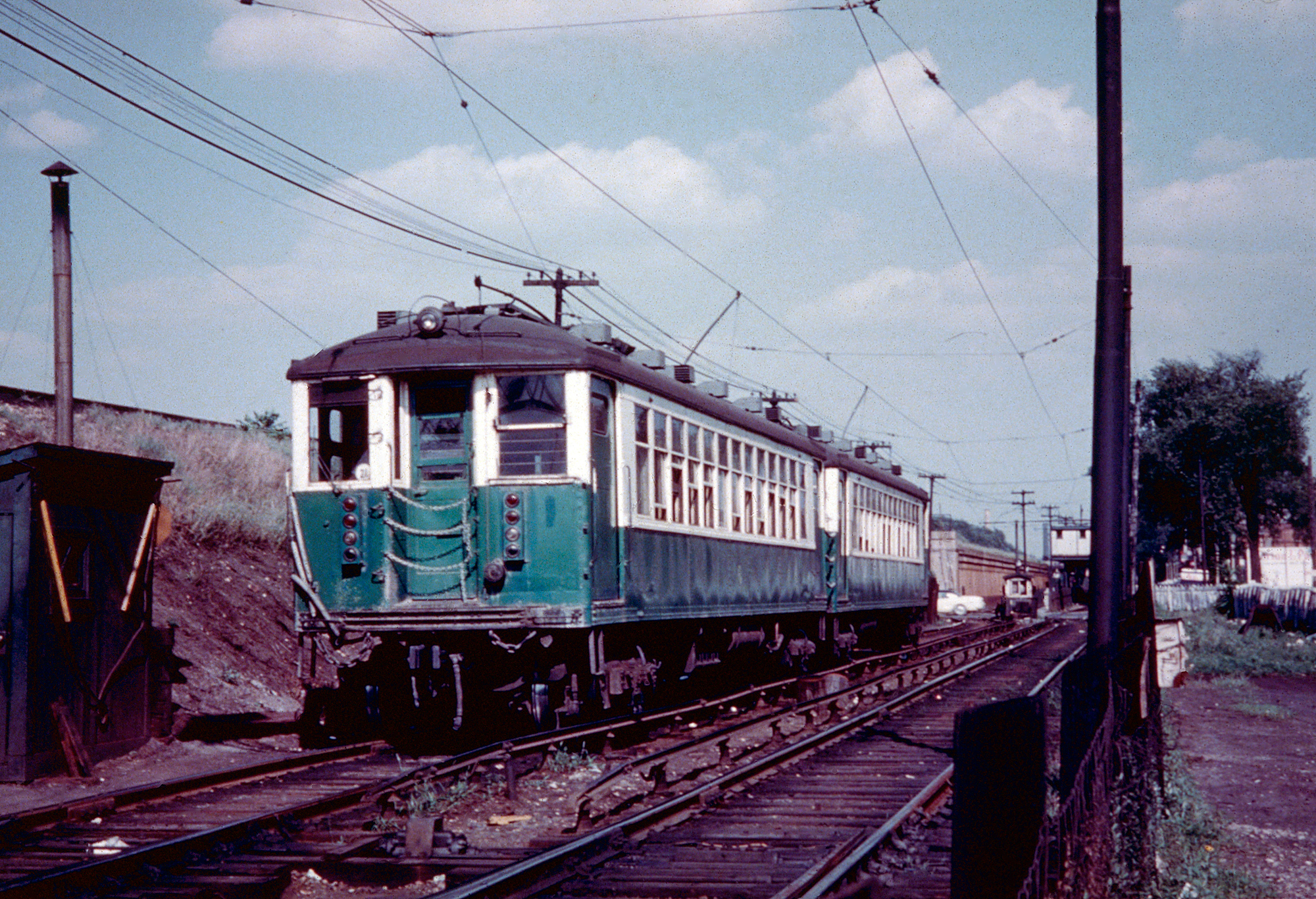 Chicago Transit Authority (CTA) MU cars #4355 and #4356, products of the Cincinnati Car Company, are seen here in service at Lake Street on the Elevated Line. American-Rails.com collection.
For instance, the three graphs you see above (information courtesy of the American Public Transportation Association or APTA), illustrate that commuter rail and LRT continue to witness an upward trend.
The numbers reflect the total usage of commuter, light, and heavy rail in millions, dating back to 1984 (roughly the period in which private involvement ended). 
When viewing this report the streetcar/interurban systems were listed under "Light Rail."  In 2013 APTA began listing streetcars as a separate mode due to their growing popularity.  
It seems, once again, the old adage of things coming full circle applies to rail transit as well.
The current streetcar numbers are only a tiny fraction of a century ago although it is wonderful seeing this transportation mode on the rise once more.  Interestingly, if you notice, some of the largest ridership gains occurred since the 2000s.
This can be partly attributed to the increased monetary spending as states upgrade their infrastructure.  Aside from California and North Carolina, Florida and Washington are two other states heavily subsidizing rail transit.  
As Don Phillips stated in his monthly column in Trains Magazine some years back, either we as country decide to properly update our transportation network or face complete gridlock as Interstate funding is barely able to keep up with growing demand.