Railroad Stories, From The Serious To Funny And Everything In Between

Last revised: March 4, 2022
By: Adam Burns
Since America's first railroad began service many moons ago (the Granite Railway of 1826 which served a quarry at Quincy for transporting the rock to the Neponset River at Milton), there are infinite accounts of men's (and later women's) experiences while on the job.  

Railroad stories are a unique, interesting, and sometimes entertaining part of the industry.  Even if you are not necessarily into the subject of trains, everyone enjoys a great story.  

For those of us who have never worked in this field such tales offer a little more insight and fascinating glimpse into one of the oldest industries.  
On occasion, Trains Magazine has, for many years, featured a section spotlighting these anecdotes, told by those who were there.  They are a captivating mix of humor, suspense, and silliness.  If you can find a copy with these stories I would highly recommend checking them out.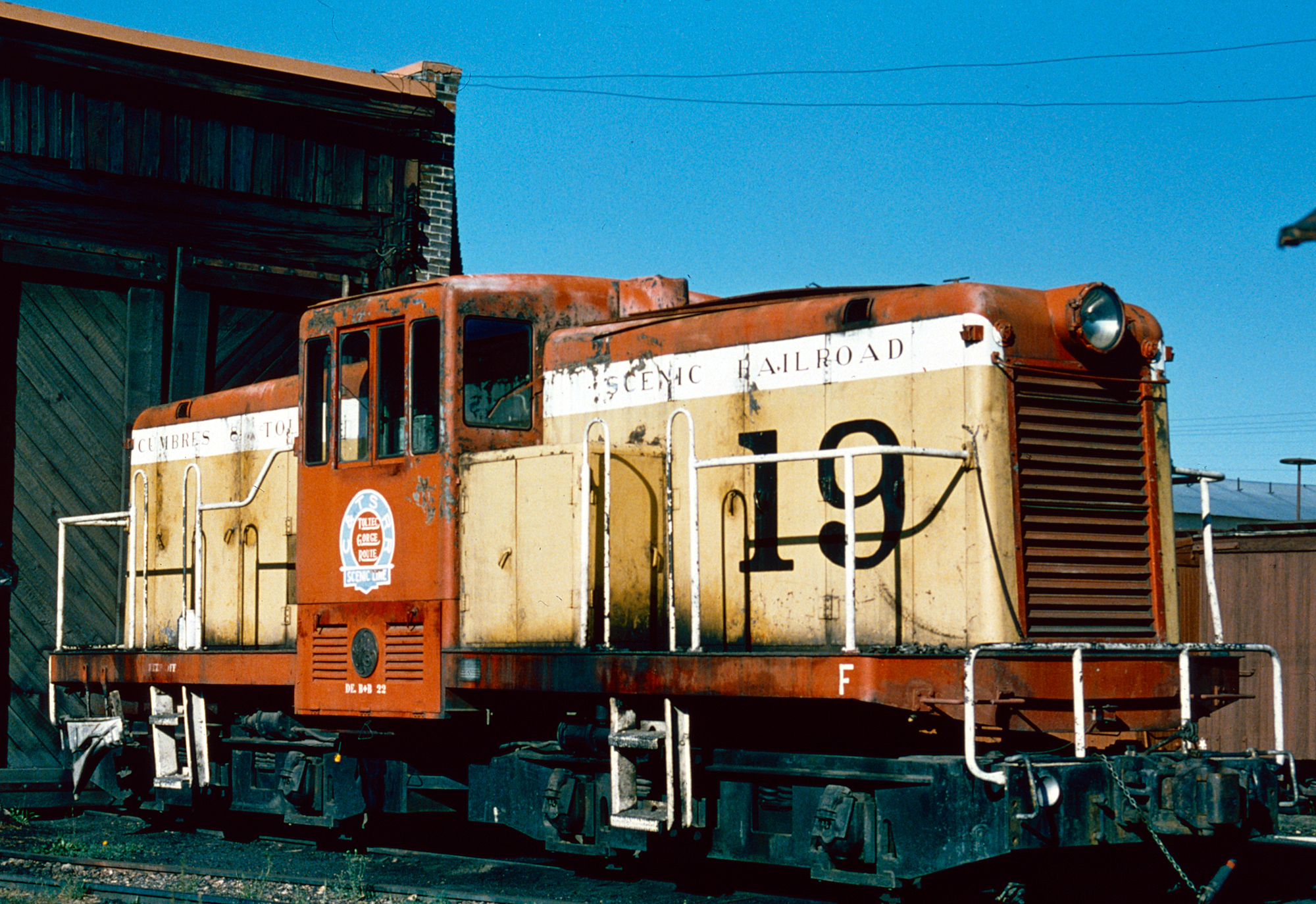 Cumbres & Toltec Scenic 44-ton narrow-gauge switcher #19, a product of General Electric, is seen here in Chama, New Mexico in 1984. This unit was built for the Oahu Railway & Land Company of Hawaii as #19 in October, 1943. American-Rails.com collection.
Some stories featured here are serious true accounts while others are hilarious anecdotes.  So, with that, please enjoy those presented below  (they are categorized by type).  Perhaps most interesting?  Not all such stories are told by railroaders.
For instance, many folks continue to recount incidents which defy answers such as ghost trains that appear and disappear just as quickly, strange lights and noises along railroad right-of-ways (whether the tracks are still in place or not) that seem to come from nowhere (pretty eerie stuff, you know!).  
In any event, for an idea of what some of these stories may contain please read this clip from author Larry Dumas, a fictional ghostly account of a tragic passenger train accident in the late 19th century:
Every Christmas Eve for the past 100 years, at ten minutes to midnight, a mournful wail floats through the frosty silence shrouding the 468-foot railroad bridge near Route 117 in Essex Junction, Vermont.
It's the cry of a steam locomotive; a piercing shriek that climbs to a feverish pitch, only to end abruptly, plunging the night back into darkness. To the old timers in the area, it's a grim reminder of the demise of Engine 93, and Engineer, Edmund Johansson.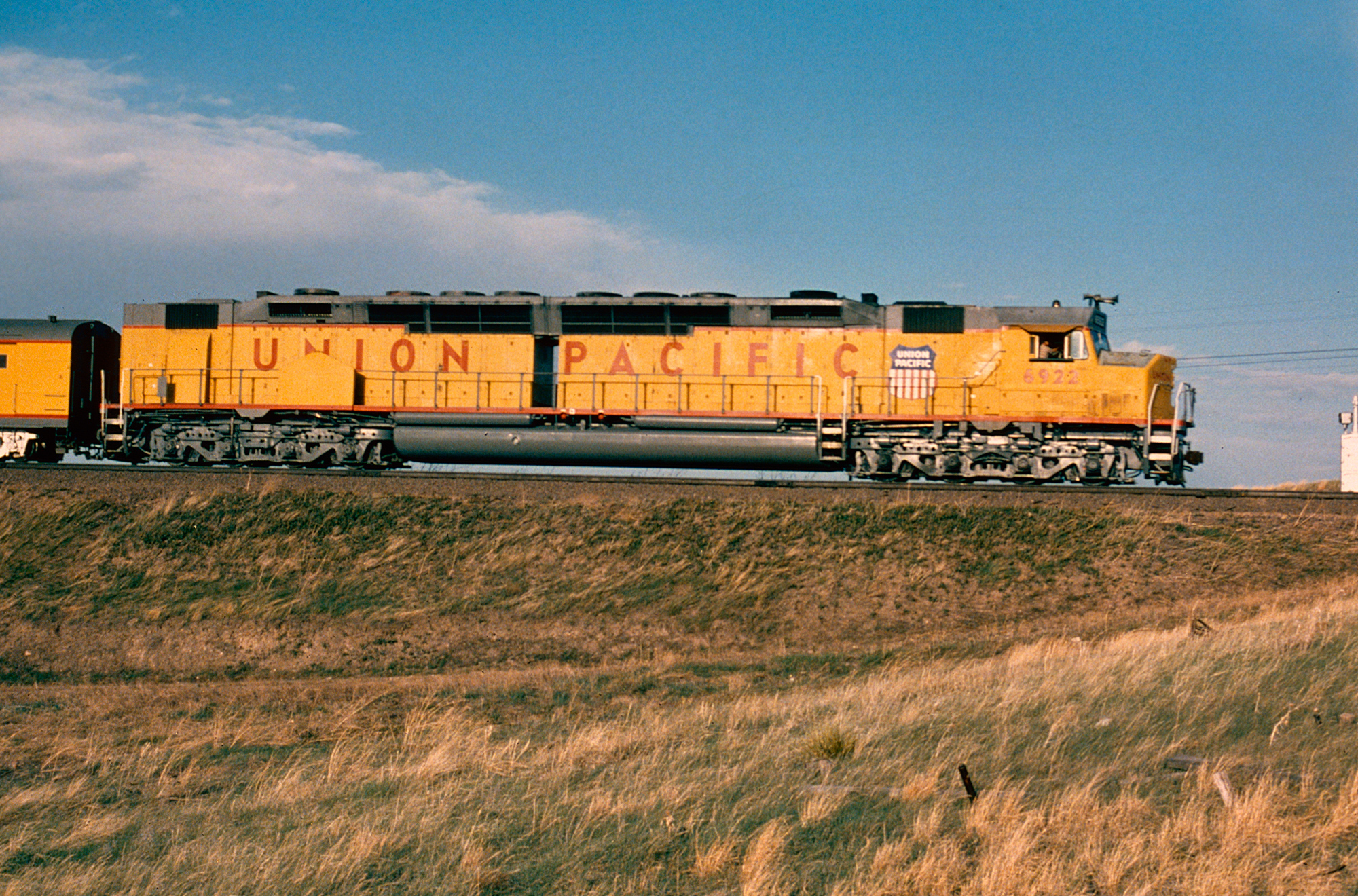 Union Pacific DDA40X "Centennial" #6922 with the company business train on Wyoming's Sherman Hill in the summer of 1985. American-Rails.com collection.
For hours, the wood and steel railroad bridge just outside town had endured the paralyzing minus 39-degree temperature that had silently descended on the wings of darkness.
Deeper and deeper, the cold wormed its way into the metal, torturing the bolts in the thick, steel splice plate until their surrender sounded like gunshots in the empty night air. Unfortunately, because of the late hour and the terribly frigid night, there was no one about to hear the horror that had just spawned that December 24, 1898.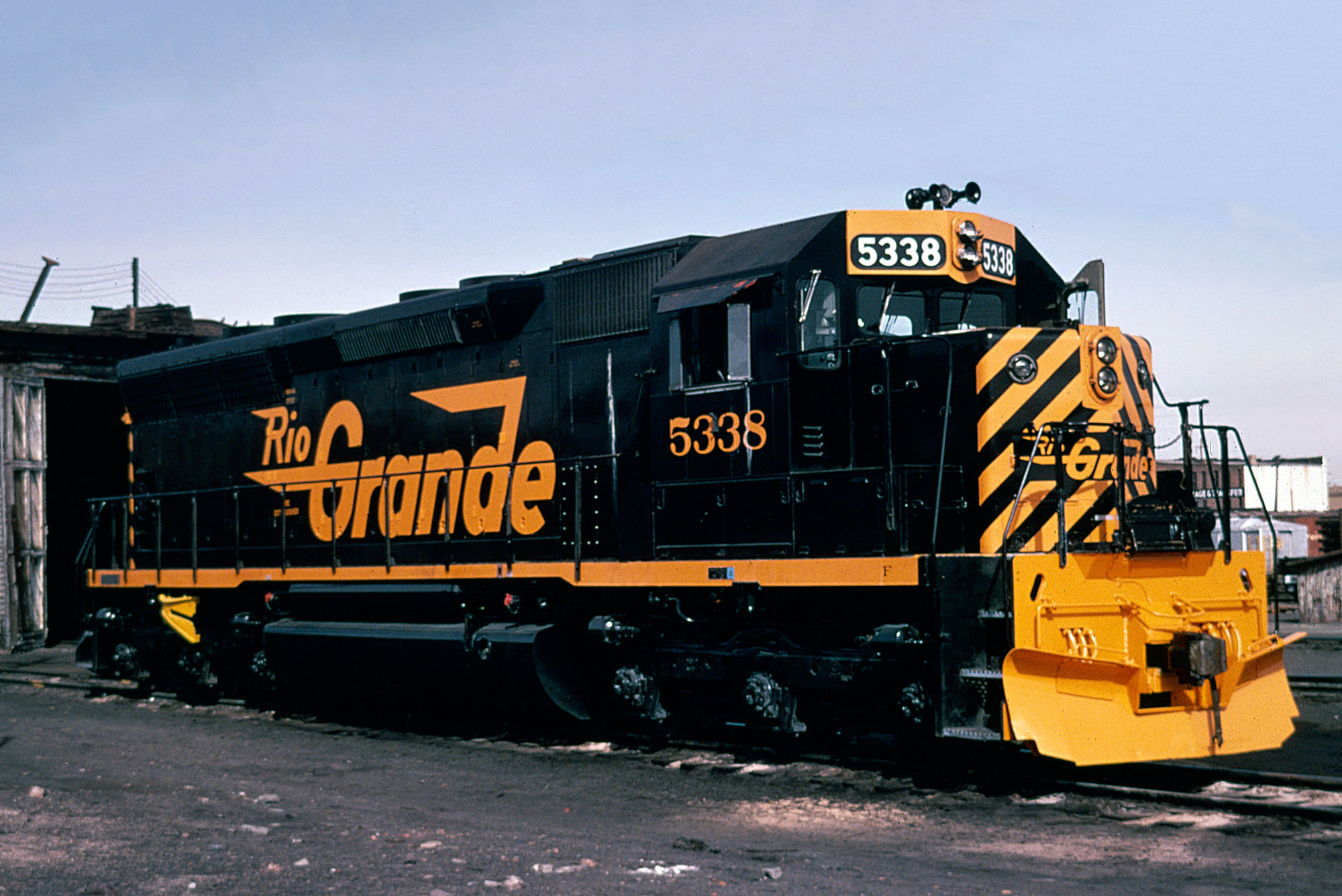 Recently delivered Rio Grande SD45 #5338 is seen here in Pueblo, Colorado in March, 1968. American-Rails.com collection.
It was by far the coldest night of the year when Johansson's train -- two coaches full of French immigrants en-route to Montreal -- left White River Junction, winding its way through the moon lit, picturesque snow-covered hills of central Vermont.
But inside the darkened locomotive cab the gangly Engineer wasn't interested in the scenery. Ignoring the billowy clouds of white steam rushing past the frost-etched windows of the locomotive, Johansson's steel gray eyes were coolly scanning the gauges, verifying what he already knew.
He was pushing the iron 2-0-2 monolith close to its limits. Then, without so much as a care in the world, he nudged the throttle another notch.
At thirty-one years of age, Johansson's shock of unruly, chestnut-colored hair and lean six-foot frame made him the heart's desire of all the women in town.
And despite his outgoing appearance, deep down he was shy, the reason his cheeks always warmed whenever a woman stared at him. But tonight he wasn't 'warm', at least not that way.
No. A cold anger gripped him an anger as cold as frigid as the steel rails the train was traveling over. And while much of his anger was directed at 93's regular engineer who reported in sick, the gangly Johansson was angrier with himself for not saying no when asked to take the unscheduled, last-minute Montreal run.
Further, he hadn't had time to say good-by to Mary and the children. Maybe Hector, the ticket agent, would brave the cold, and get a message to Johansson's honey-haired wife who was waiting in the cottage in West Lebanon, just across the Connecticut River in New Hampshire.

---
---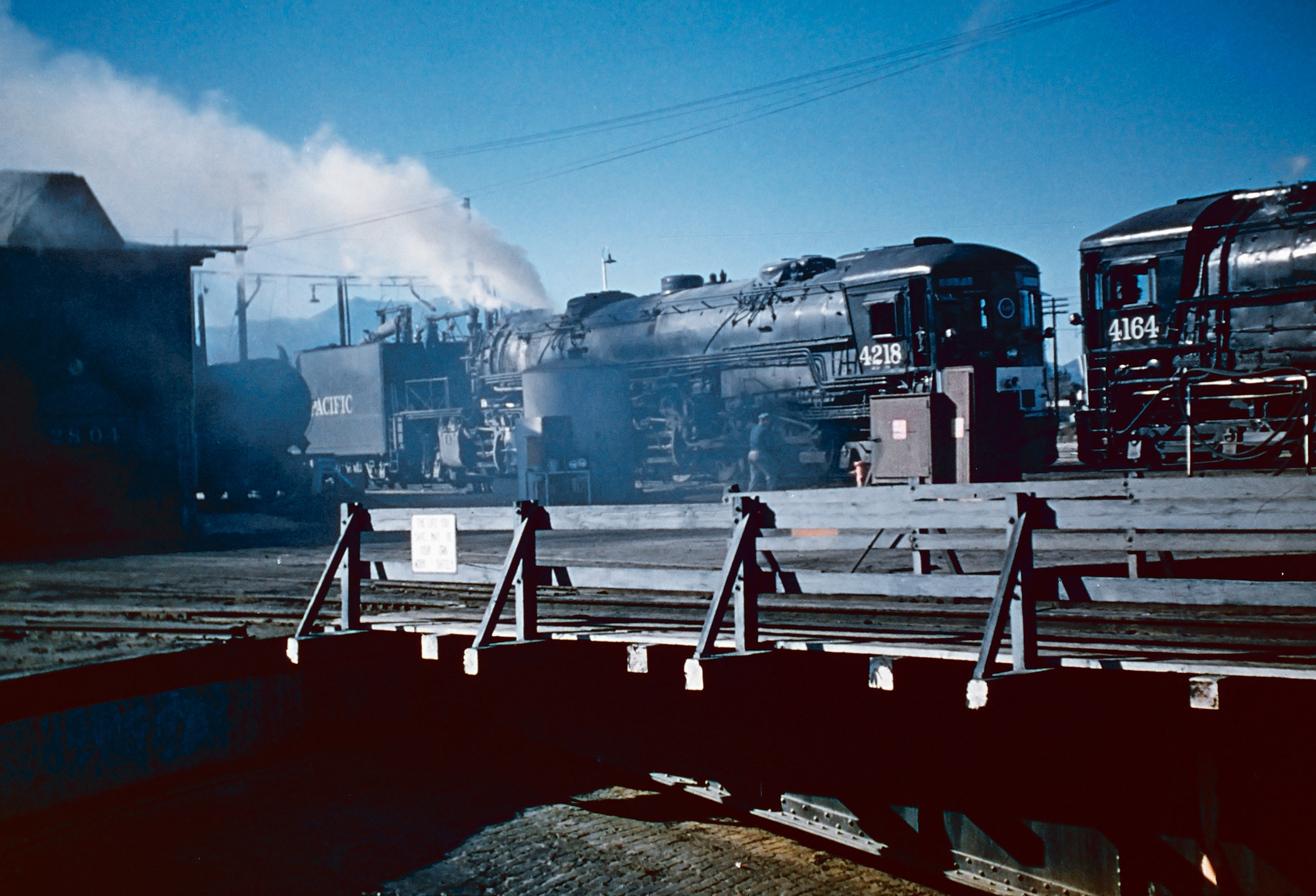 Southern Pacific 4-8-8-2 "Cab Forwards" #4164 (AC-7) and #4218 (AC-11) are serviced at Colton, California in 1955. American-Rails.com collection.
She'd be disappointed, but she'd understand. The severity of the early winter had drastically reduced their firewood supply, and they had already discussed his taking extra runs to earn more money with which to buy more wood.
Absently unbuttoning his heavy duffel coat -- the roaring blaze in the firebox was making the cab uncomfortably warm -- his thoughts drifted back to Alfy Magna, the red-faced conductor, and a young, skinny new brakeman, named George something-or-other...  
To read Mr. Dumas's complete story please visit the link, "The Christmas Story," above under the "Fiction" title.  
Finally, if you have a railroad-related story that you would be interested in submitting for inclusion here whether it is fictional, non-fictional, funny, or serious please contact me for possible inclusion.
There is no limit to the number of submittals or title length, I only ask they be clean, family oriented pieces (meaning free of most profanity and crude jokes/comments/sayings so everyone can read and enjoy the stories).