Scenic Train Rides (USA): A Complete Guide (2023)

Last revised: April 20, 2023
By: Adam Burns

Scenic train rides are one of the great pastimes and can be found scattered throughout the country, from Florida to California.  Presented here is information on how to find a tourist railroad near you.

While Amtrak still offers the chance to travel from city-to-city and commuter services fulfill an essential need within large metropolitan areas, neither provides the nostalgia of railroading's "Golden Age."   
More than a half-century ago one could board a flagship service like Pennsylvania Railroad's legendary Broadway Limited at New York's illustrious Pennsylvania Station and enjoy a lap of luxury during a 16-hour journey to Chicago. 

The mighty PRR spared no expense in stocking its top service with every amenity imaginable, from freshly prepared five-star meals to full bedrooms. 
The train's other noteworthy perks included air-conditioning and a fully-staffed crew provided by the iconic Pullman Company.  But the PRR was not alone, many other railroads, such as the New York Central, Santa Fe, and Union Pacific, offered their own level of opulence.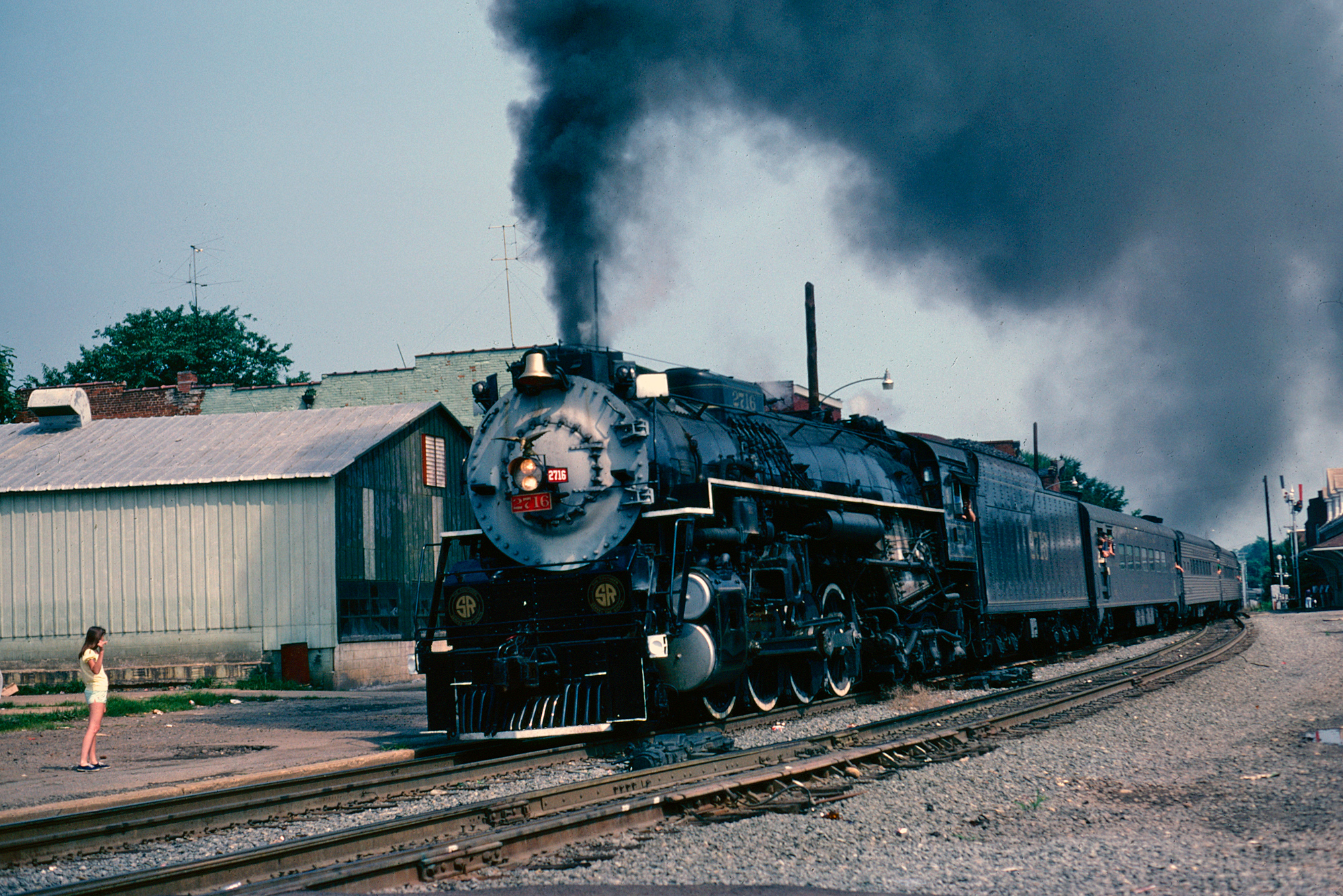 Chesapeake & Ohio 2-8-4 #2716 (K-4), masquerading in Southern Railway colors, leads an excursion southbound through Orange, Virginia in July, 1982. American-Rails.com collection.
History
Tailoring to a traveler's every needs some of these trains provided a secretary, nurse, domes for maximum viewing, and even a barber.  
Such indulgences cannot be found on Amtrak.  However, a few, like dome cars and full-course meals, have made their way to the scenic train ride industry.  Within this section you can learn more about a few of these organizations and where they are located.

The scenic train ride concept is not new although it has certainly gained popularity over the last few decades.  The oldest organization dedicated to preserving rail history is the Railway & Locomotive Historical Society, Inc. founded in 1921.  
The R&LHS remains an active group and you can visit their website by clicking here.  Before modern scenic railroads were born enthusiasts sponsored these trips directly on the railroads.  
Many companies were happy to host such events before rising insurance premiums and the fear of ligation largely ended the practice.  
The trips were not limited to big-name roads like the Southern Pacific, Santa Fe, Burlington, New Haven, Nickel Plate Road, or Baltimore & Ohio.  Several small carriers also operated such excursions, names like the Western Maryland, Virginian, and Reading.
It all began in 1934 when the first "fan trip" was hosted by the Massachusetts Bay Railroad Enthusiasts, Inc. along the Hoosac Tunnel & Wilmington Railroad (this system was abandoned long ago but the MBRE still exists). 
In his article from the September, 1969 issue of Trains Magazine entitled "Are These People Embalmers Or Enthusiasts?," noted editor David P. Morgan described the term "railfan" quite poignantly.
It carries a range of subcategories, from photography to model trains, but general refers those who simply enjoy the subject of railroads.  
Various clubs/organizations sprang up throughout the 1930s, '40s, and '50s.  These groups rose in number as many railroads disappeared after the 1970's.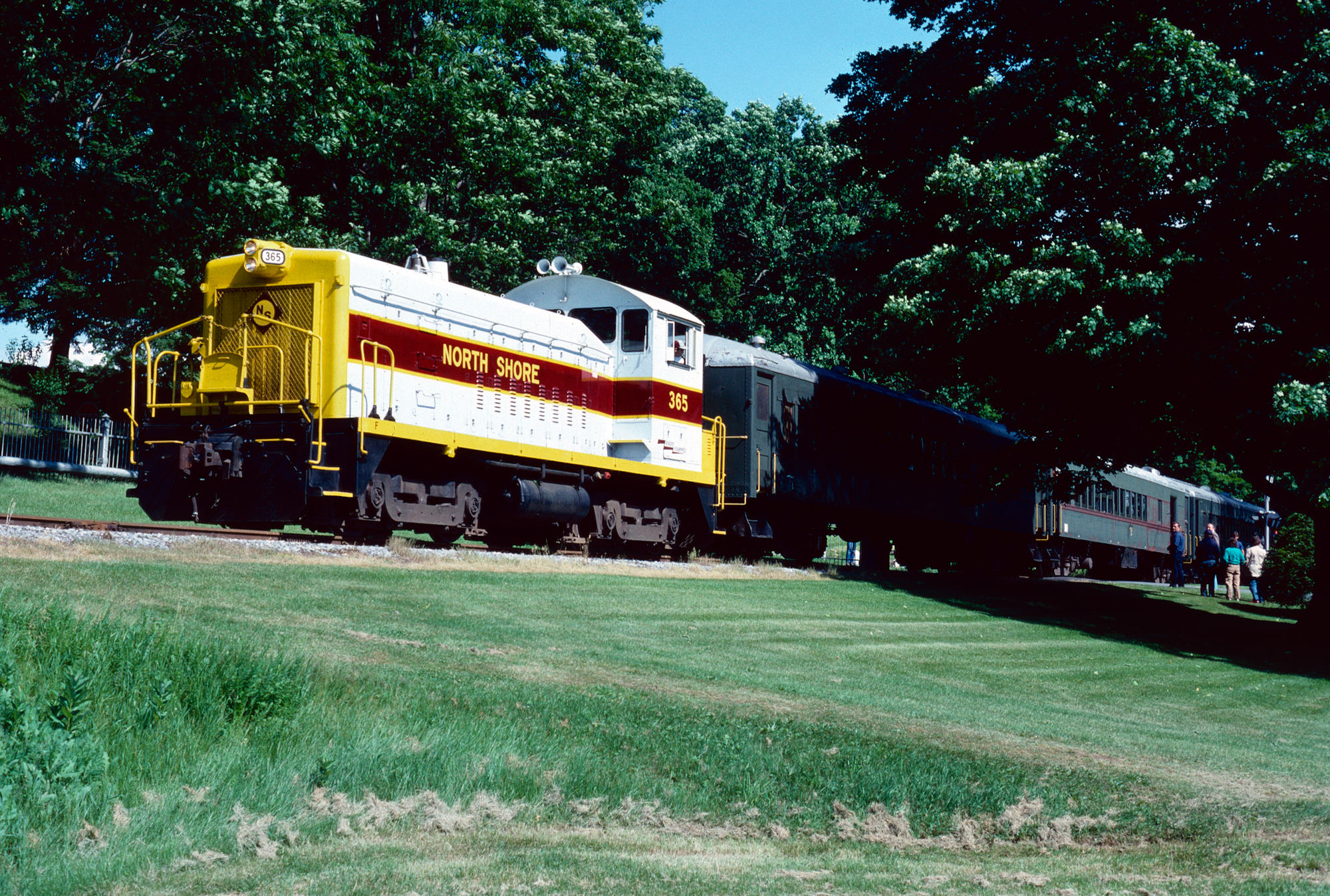 North Shore Railroad SW8 #365 leads an excursion in east-central Pennsylvania during June of 1992. Walter Schopp photo. American-Rails.com collection.
There were 65 such groups in 1934 and 96 by 1959 as noted by the "The Railfan, Inc." (edited by Rosemary Entringer) featured in the June, 1959 issue of Trains Magazine.  The next important organization was the National Railway Historical Society (NRHS), formed in 1935.  
The NRHS acted as a franchising operation with various chapters formed across the country, many of which are still around today.  
But again, the modern movement of museums and scenic train rides sprang up in postwar times as nostalgia took hold when diesels replaced steam and railroads disappeared through merger.  
The popular "fan trips" peaked after World War II when, as Mr. Morgan points out, some clubs tried to sponsor as many as five excursions at a time, all with different railroads. 
One of the last great adventures at this time were the popular "Iron Horse Rambles" hosted by coal-hauler Reading between October 25, 1959 and October 17, 1964. 
The trips were pulled by one of their powerful 4-8-4's, listed Class T-1.  Three of these steamers participated in the events (#2100, #2102 and #2124) during a total of fifty "Rambles" operated over a five-year period.  
Bennett Levin's pair of restored Pennsylvania E8A's, #5711 and #5809, travel through Mifflin, Pennsylvania as they head towards Chicago for National Train Day; May 4, 2011. Reuben Brouse photo. American-Rails.com collection.
In another article from Mr. Morgan entitled, "Reading's Rambles: How And Why Would A Railroad Partially De-dieselize?" presented in the April, 1961 issue of Trains Magazine, he detailed the program during its height. 
In an era when such things truly mattered, then-president Joseph A. Fisher wanted to boost the company's public image. 
He felt steam-powered excursions offered the best chance of success, an assessment which proved correct!  There were problems with the logistics, however. 
The Reading had retired its last steam locomotive in early 1957 and two years later contained only two extant coaling towers (one at Reading and the other in Rutherford, Pennsylvania). 
The railroad did have a few of its large and powerful 4-8-4's still on the property although the T-1's were too large to fit within Reading Terminal (Philadelphia). 
Nevertheless, Fisher pushed forward with the "Iron Horse Rambles" concept.  The first returned to service was #2124.  As Mr. Morgan notes, Reading had to look outside the train enthusiast hobby to fill a 975-seat train, hoping that it could at least break-even on the trips.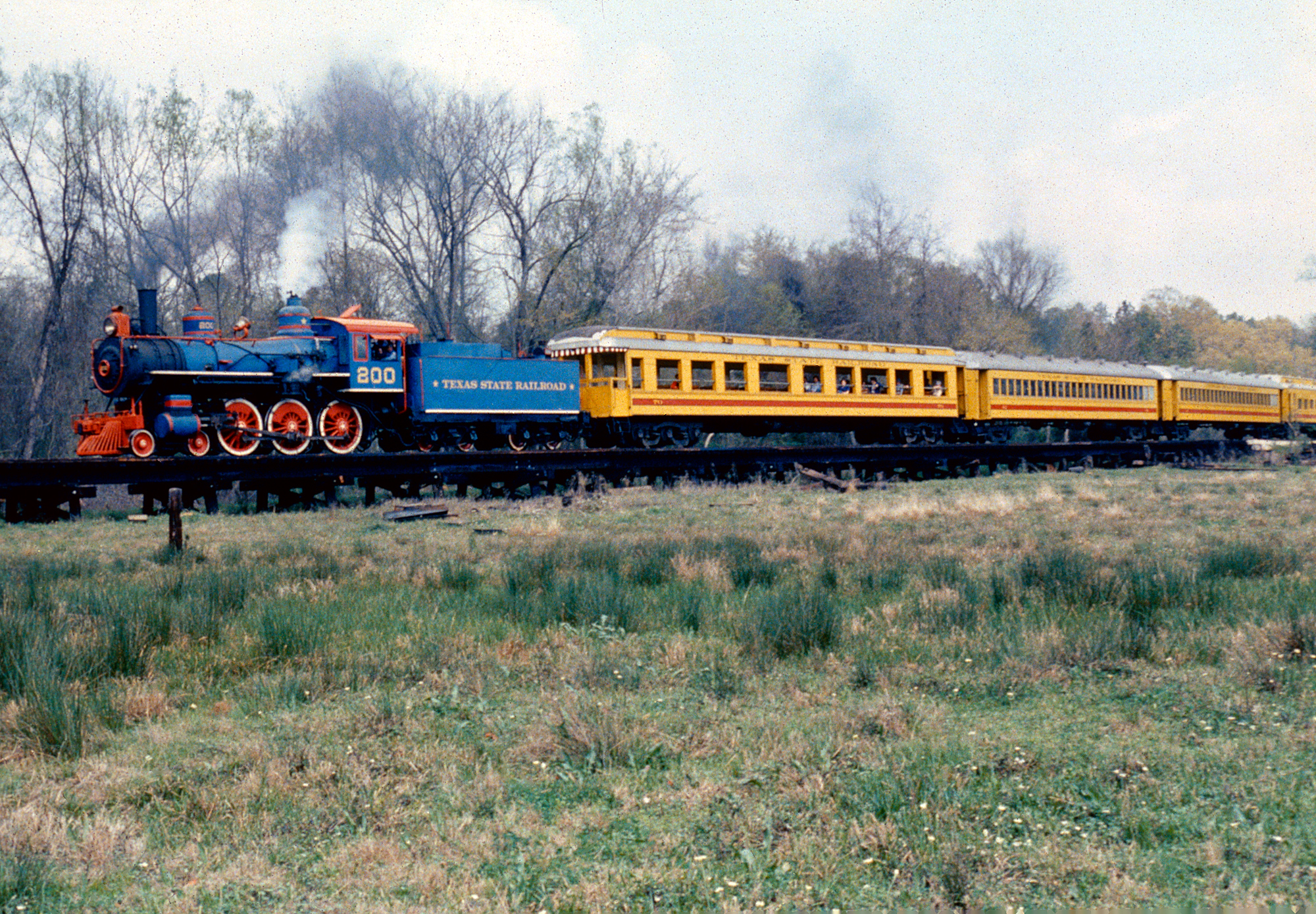 In this classic scene of the Texas State Railroad, 4-6-0 #200 leads an excursion during the 1970s. American-Rails.com collection.
To do this the excursions were heavily marketed on radio and television, as well as promoted at Trains Magazine. In addition, the railroad offered themed rides to further increase ridership. 
Some of these included holiday specials (during warmer months), a fall foliage run, traveling to the historic Gettysburg battlefields, and even a "Touch Of Old Dutch Day" trip to Schwenksville, Pennsylvania (abandoned today).  While not every run was a success, particularly during the holidays, trains were typically filled with over 900 passengers. 
The all-time record was a Philadelphia-West Milton "Ramble" held on October 15, 1960.  On that day the consist was double-headed by #2124 and #2100 and the pair pulled 22 cars containing 1,321 patrons!   
The 1960's signaled the last great period of fan trips as railroads focused attention in other areas, particularly discontinuing passenger services, the merger movement, and simply survival.  
Over the next few decades a handful of memorable excursions were run, ranging from the American Freedom Train and Chessie Steam Special to Southern Railway's steam program, maintained into the Norfolk Southern era until 1994 (renewed again between 2011-2015 albeit without NS-owned locomotives).  
---
What To Expect
Before embarking on your trip you might want to learn more about the scenic railroads in which you are interested.  If you are simply interested in a train ride, you are sure to enjoy any of them!  However, if you are looking for a little more there many options to choose from. 
Are you interested primarily in a trip with spectacular scenery or one in which a fine meal is served? 
For instance, California's Napa Valley Wine Train offers some of the best on-board dining anywhere in the country while West Virginia's tiny Durbin & Greenbrier Valley "Rocket" operates predominately with open-air cars to allow for maximum viewing. 
You can also catch murder mystery specials at other locations while themed rides during the holidays are also a big hit, particularly during the Christmas season. 
Finally, there is a reason why names like the Durango & Silverton Narrow-Gauge, Strasburg, and White Pass & Yukon Route draw the biggest crowds as their rides are first-class operations providing incredible views with numerous amenities available.
---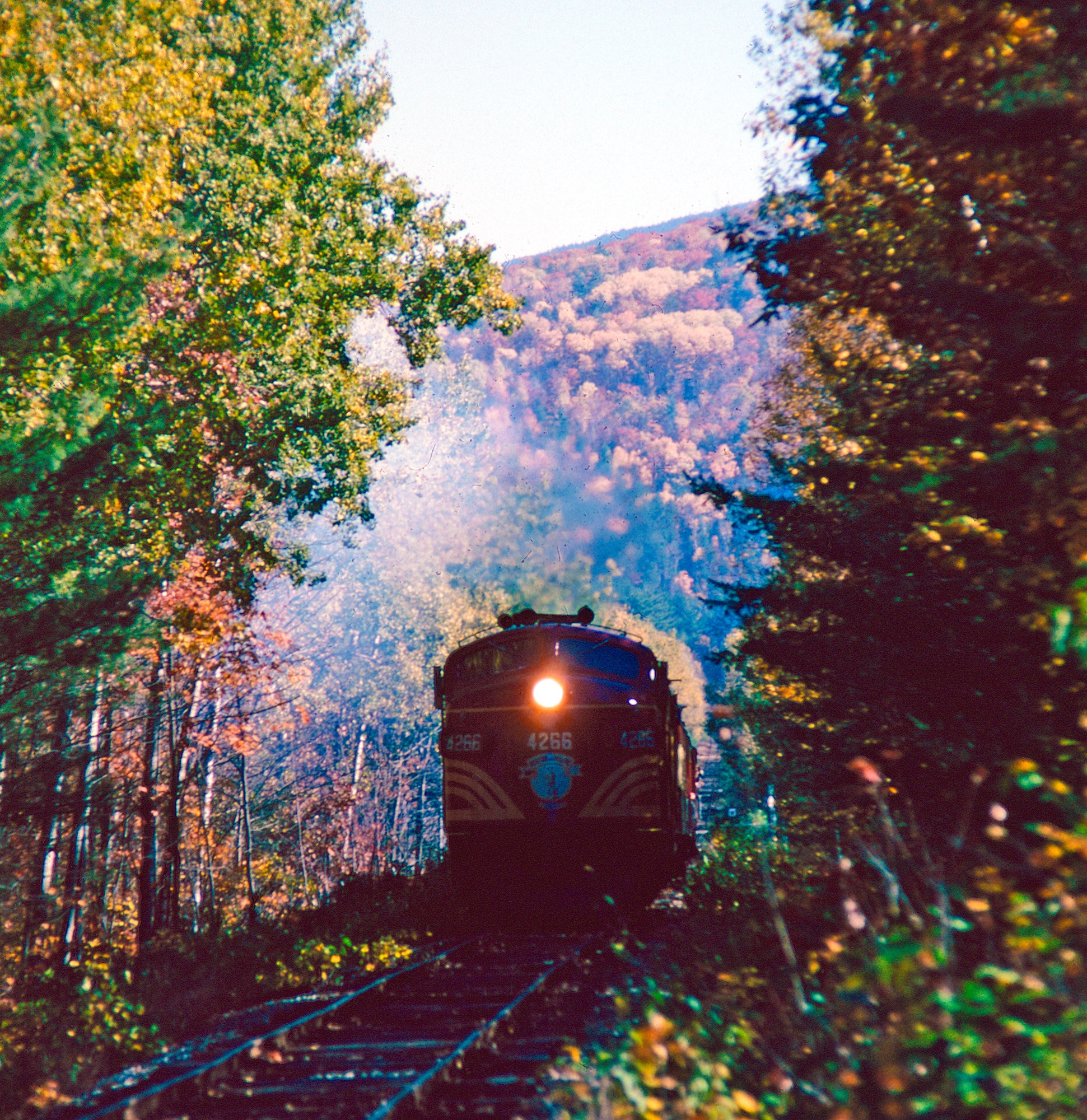 Conway Scenic Railway F7A #4266 (built as Boston & Maine #4266-A) cuts through a grove of trees near Attitash, New Hampshire on a beautiful October 13, 1995. F. Oltmann photo. American-Rails.com collection.
The truth is that while enthusiasts are sometimes looked down upon by society, without them there would be no Strasburg Railroad (one of America's most popular excursions located in Pennsylvania's Amish community), Durango & Silverton Narrow-Gauge in Colorado, or the White Pass & Yukon Route in Alaska.  
These folks, many working as volunteers, do it all for love of the hobby.  The Strasburg was originally built as a short-line freight carrier but shutdown in 1957.  
In 1959 a group of railfans purchased the defunct short line and began operating excursions. Today, the railroad is a mostly all-steam with authenticity a key to its success.  
In recent years it began hauling freight once more and also performs car and locomotive repairs.  Scenic train rides operated today carry many similarities to those hosted decades ago. 
Tourist companies have been successful at exploiting niches, like dinner train themes, trips for Christmas ("The Polar Express" rides have proven especially popular since Warner Brothers' 2004 acclaimed movie, based from Chris Van Allsburg's 1985 children's book), and the always-popular fall foliage excursions.  There are some areas, however, heritage railroads simply cannot simulate.
Nickel Plate Road 2-8-4 #759 steams over the Norfolk & Western (ex-Wabash) near Montgomery City, Missouri with the "Centennial Limited" excursion in 1969. Carl Sturner photo. American-Rails.com collection.
Because most organizations are only a few miles in length trips last only an hour or less. 
As a result, ridership is hampered.  As an entertainment venue, folks want to be pampered and indulged.  If a train ride is very short with few amenities it feels cheap and not worth the price. 
The most successful railroads host trips lasting anywhere from 1 to 2 hours, sometimes longer!  In the case of Reading's "Iron Horse Rambles" these operated anywhere from 100 to 175 miles with trains clipping along at track-speed (usually above 25-35 mph). 
There was a full crew of 23, which included a boiler-maker, master mechanic, and road foreman to ensure trips went off without hitch and the locomotives were functioning properly.  So many qualified personnel on a train is nearly unheard of today, simply due to cost. 
Technologies, particularly the Internet and social media, have greatly enhanced marketing in the modern age but Reading's fully-staffed public relations department worked wonders at spreading the word. 
They even went to incredible lengths into identifying the best photographic locations for railfans  No Class I railroad would ever bother doing such things today! 

Trips By State
Individual Excursions
The My Old Kentucky Dinner Train - RJ Corman
Stone Mountain Scenic Railroad

Boone & Scenic Valley Railroad

California Western Railroad, The Skunk Train
Cripple Creek & Victor Narrow Gauge
Durango & Silverton Narrow-Gauge
Leadville, Colorado & Southern
Railtown 1897 State Historic Park
Roaring Camp & Big Trees Narrow Gauge Railroad

Defunct Lines
Santa Cruz & Monterey Bay Railway

---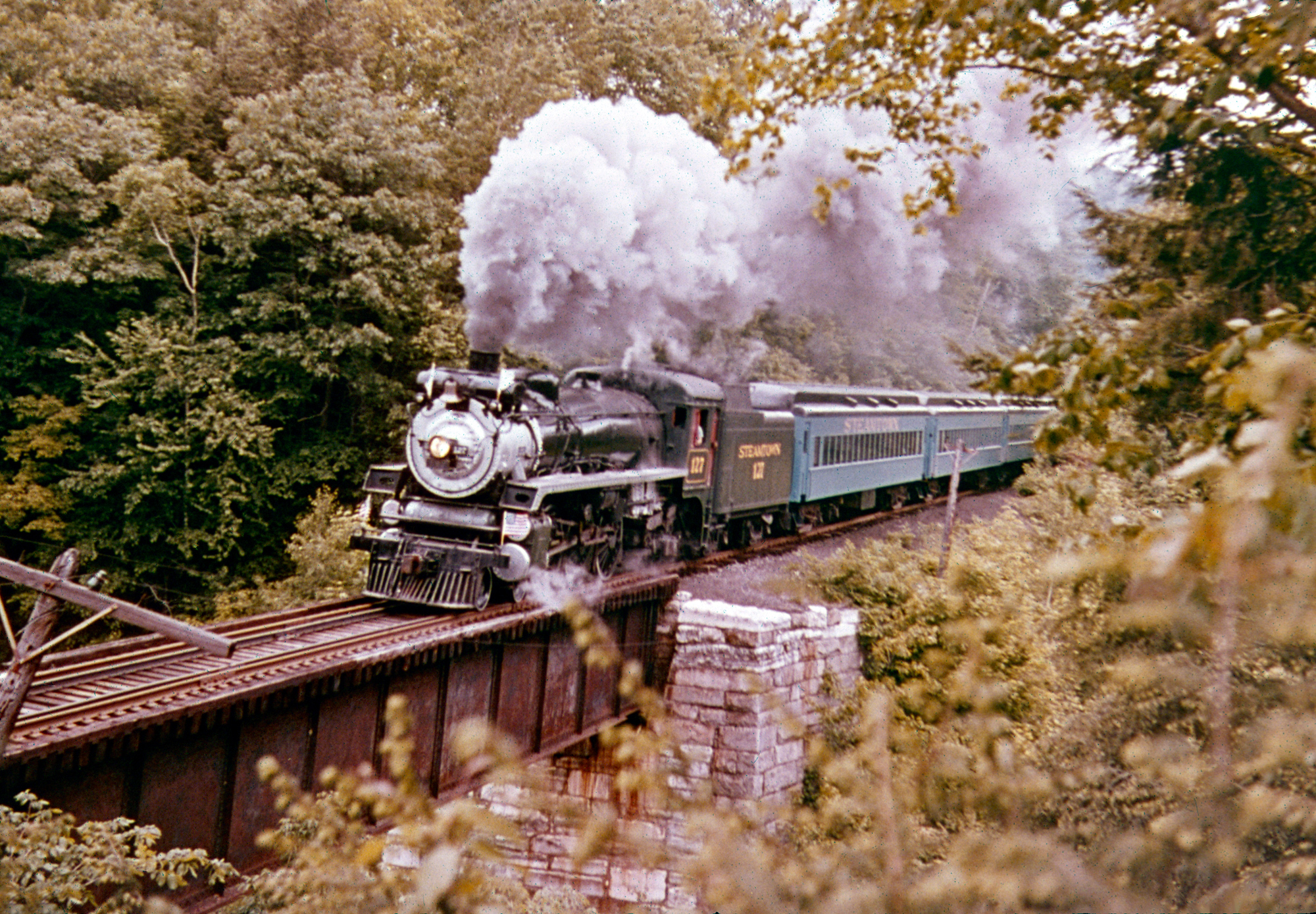 Steamtown 4-6-2 #127 (built as Canadian Pacific #1278, she returned to her original number in 1973) leads an excursion over the former Rutland at Brockways Mills, Vermont as the train crosses the Williams River during the mid-1960s. Fred Bailey photo. American-Rails.com collection.
Premier Experiences
There are many great scenic railroads to experience but if you are truly interested in riding the best-of-best, there is a reason why names like the Durango & Silverton Narrow-Gauge, Strasburg Railroad, Grand Canyon Railway, Verde Canyon Railway, and White Pass & Yukon are so popular. 
Trips on these railroads are usually more expensive but well worth the money! 
They host long rides in very-well maintained equipment (usually climate-controlled), provide a range of special events throughout the year, operate through absolutely spectacular scenery, offer some type of dining/cuisine/beverages, and furnish trips lasting hours. 
The Grand Canyon Railway stands out, in particular.  The company operates the former Atchison, Topeka & Santa Fe's 64-mile Grand Canyon Branch from the main line at Williams, Arizona to the canyon's South Rim. 
There, travelers can stay at the Santa Fe's historic El Tovar Hotel (among other accommodations) or simply enjoy the incredible views. 
During your trip the train provides many levels of service, from standard to coach to dome-car settings.  If you have the means, this railroad is very much worth a visit!