Washington Scenic Train Rides (2023): A Complete Guide

Last revised: August 6, 2023
By: Adam Burns

Washington scenic train rides offer fantastic scenery of the Pacific Northwest with breathtaking views of the Cascade Mountains. 

A visit to the Evergreen State is a must if you are interested in experiences that truly define this region; catch views of Mt. Rainier, ride antique trolleys at Yakima Valley Trolleys, enjoy wine at the Northwest Railway Museum or fine dining at the Chehalis-Centralia Railroad & Museum. 
These tourist attractions also exude history with many trains pulled by either steam or venerable diesel locomotives.   
Washington's involvement with railroads began in the 1850's although the state did not flourish until the Northern Pacific completed its transcontinental corridor more than three decades later 
By the 20th century, Puget Sound had blossomed into a major port while elsewhere the state produced considerable timber and agricultural traffic.  
In his book, "The Routledge Historical Atlas Of The American Railroads," historian John F. Stover notes Washington's mileage peaked at 5,587 in 1920. 
Between the loss of Milwaukee Road's main line and numerous secondary routes, this number has since dropped to 3,032 miles today, according to the Association of American Railroads.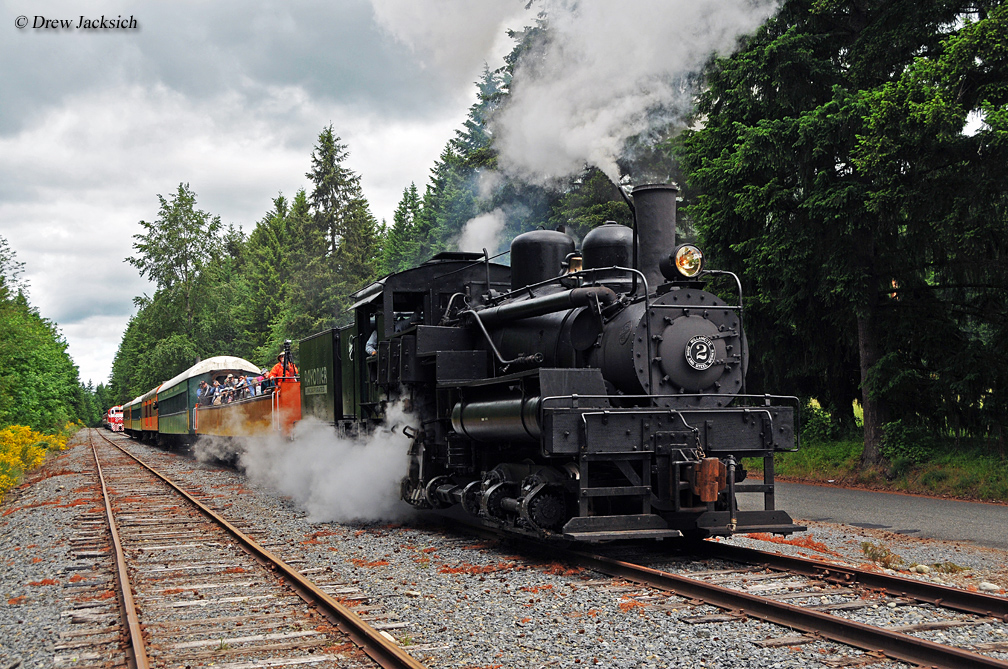 Mt. Rainier Scenic Railroad 3-truck Willamette #2 leads an excursion at Eatonville, Washington, bound for Mineral on June 23, 2011. Drew Jacksich photo.
State Rail History

Washington has a fascinating history with trains; it was once home to three transcontinental main lines.  These included:
Northern Pacific (completed in 1883)


Great Northern (finished in 1893)


Chicago, Milwaukee, St. Paul & Pacific (Milwaukee Road) opened to Seattle in 1909
The latter was arguably the most fascinating with an electrified corridor and superbly engineered main line.  Alas, it was abandoned in 1980. 
Today, the state's tourist railroads try to preserve its rich heritage, two of which use tracks once owned by the Milwaukee Road.
Additionally, excursions hosted at the Chelatchie Prairie Railroad tell Washington's once vast logging history. 
If you would like to see venerable geared steam locomotives, stop by the Mount Rainier Scenic Railroad, which has several in service. 
Finally, if you are interested in rides that pertain to specific events, such as "The Polar Express," Halloween, Thomas the Tank Engine excursions, or fall foliage events please visit the main tourist trains section of this website.
The state's first railroad was a rather inconsequential operation; according to an in-depth analysis Trains Magazine published in its January, 2007 issue entitled, "Great Railroading: State-By-State," this was the Cascades Portage Railroad, launched in 1851 as a mule-powered, wooden tram way (5-foot gauge). 
It was built by Francis A. Chenoweth, a lawyer and politician, to operate along the Columbia River's north bank. 
These so-called portage roads were indispensable in moving freight and people around the Cascade Rapids, which were too dangerous for traditional watercraft. 
At each end the little systems established connections with steam boats.  Along the south bank (Oregon), similar operations could also be found. 
The Cascades Portage Railroad maintained about a 6-mile line that ran from the Lower Cascade on Hamilton Island to the Upper Cascade near Stevenson, Washington.   
In his book, "American Narrow Gauge Railroads," author and historian Dr. George Hilton notes the property was sold to the Bradford family, who reincorporated it as the Cascades Railroad (CRR) on January 31, 1859.  
It operated in this fashion for a few years until a flood severely damaged the wooden trestle-work in 1861. It returned to service in 1862 as a steam-powered railroad, owned by the Oregon Steam Navigation Company. 
At that time a small locomotive named the Pony was placed into service.  In 1880 the CRR was re-gauged to 4 feet, 8 1/2 inches to align with the Oregon Railway & Navigation Company's (which acquired the Oregon Steam Navigation in 1879) operations on the south bank, although no physical connection was never established. 
In 1883, another gauge change took place when the railroad was realigned to 3 feet, which coincided with the OR&N's nearby Blue Mountain Branch. 
Another flood in 1894 again heavily damaged the CRR after which time about half was rebuilt to serve a salmon cannery plant. 
This company closed in 1906, essentially ending the Cascades Railroad's operations.  By then both the Northern Pacific and Great Northern had completed transcontinental lines to the Pacific Northwest. 
In addition, the OR&N maintained a standard-gauge route along the river's south bank (then under Union Pacific's control) while the Spokane, Portland & Seattle was completing its own corridor between Portland and Spokane.  As CRR's lessee, Union Pacific abandoned the alignment in 1908.
Overview
Bellingham Railway Museum
This museum, located in Bellingham, tells the history of railroads in Whatcom and Skagit Counties, particularly as it relates to the lumber industry.  There are several exhibits on-hand, including an operating model train layout.  The museum is open most days of each week.

Cascade Rail Foundation
Located in Cle Elum, along the Yakima River's south bank where the Milwaukee Road maintained a small yard and Substation #24, the Cascade Rail Foundation's endeavor is to preserve the railroad's fascinating history in this region. 

Officially regarded as the South Cle Elum Rail Yard Interpretive Center there is a trail around the old yard along with the railroad's restored depot, which houses a restaurant and exhibits. 
Also be sure to tour the Milwaukee caboose on display.  They are open May through September.  To learn more please visit their website.
Cashmere Museum & Pioneer Village
Located in Cashmere this museum preserves the region's history, including that of the Native Americans and early pioneers.  They also have a collection of railroad rolling stock on-hand.  The facility is open during the warmer months each year.

Chehalis-Centralia Railroad & Museum
(Closed)
The Chehalis-Centralia Railroad & Museum, located in Chehalis, hosts train rides on former Milwaukee Road trackage in the Chehalis Valley.
The railroad and museum's primary goal is to preserve the area's railroad history and the excursion train really helps in this regard, especially since they have an operational 2-8-2 'Mikado' steam locomotive. The railroad also features several different dinner trains, including brunch trains and murder mysteries.
Operations were suspended for the 2022 season following an inability to obtain insurance.
Chelatchie Prairie Railroad
The Chelatchie Prairie Railroad, located in Yacolt, operates train rides on former private logging trackage between Chelatchie Prairie and Lucia Falls, which later became the property of Northern Pacific. The railroad normally operates between May and October with specials running through December.

Dayton Historic Depot
This museum is located in the small town of Dayton at the beautifully restored Union Pacific depot constructed in 1881.  It is operated by the Dayton Historical Depot Society and features a fine collection of artifacts and displays.  Also, be sure to see their preserved UP caboose outside.

Lake Whatcom Railway
The Lake Whatcom Railway, based in Acme, operates former Norther Pacific trackage with scenic train rides lasting about an hour-and-a-half. The railroad uses a vintage American Locomotive (Alco) diesel switcher and normally runs during the warmer months of the year. 

Mount Rainier Scenic Railroad
One of Washington's most popular scenic train rides can be found at the Mount Rainier Scenic Railroad in Elbe, which operates former Chicago, Milwaukee, St. Paul & Pacific (Milwaukee Road) rails.

For a small operation the railroad owns quite a large collection of operating steam locomotives although they are only used when enough volunteers are available to maintain them (otherwise diesels are used).
In any event, the Mount Rainier Scenic offers spectacular views of Washington's backcountry, where logging was once king.  Today, trips take you on either an 18 or 30-mile experience from the restored depot in Mineral.
Following the COVID-19 outbreak, operator American Heritage Railways Inc. elected to discontinue operations in 2020.  However, excursions returned in the summer of 2023.
Western Forest Industries Museum
The Western Forest Industries Museum, formerly the Mount Rainier Scenic Railroad is based in Elbe, operating former Chicago, Milwaukee, St. Paul & Pacific (Milwaukee Road) rails.
For a small operation the railroad owns quite a large collection of operating steam locomotives.
The Mount Rainier Scenic offered spectacular views of Washington's backcountry, where logging was once king.  Trips featured either an 18 or 30-mile experience from the restored depot in Mineral.
Northern Pacific Railway Museum
The Northern Pacific Railway Museum is located in Toppenish at the Northern Pacific's restored depot there. 

Inside they feature a collection of displays and exhibits while outside are pieces of rolling stock to view. 
The museum is also attempting to fully restore Northern Pacific 4-6-0 #1364, a 1902 product of the Baldwin Locomotive Works.
Northwest Railway Museum
The Northwest Railway Museum, based in Snoqualmie, preserves the area's railroad history.  In doing so they host train rides between May and October.
These trains board from the restored Snoqualmie depot (a wooden structure built by the Seattle, Lake Shore & Eastern in 1890, a Northern Pacific subsidiary) and the museum hosts several special and seasonal excursions such as "A Day Out With Thomas," the tank engine.
Remlinger Farms' Tolt River Railroad
This attraction is located in Carnation offering scale train excursions among several different rides available at the park.  They are open from May through October each year.  

Tacoma Railroad Heritage Center
Since 1965 the Tacoma Railroad Heritage Center tells the history of railroads serving that city and the entire Puget Sound region.  They have several exhibits and displays on-hand to see and peruse.

---
Washington State Railroads Historical Society Museum
This organization tells the history of all railroads which played a role in developing and shaping the state of Washington. 
They have a large collection of artifacts and displays but currently do not have a museum facility in which to showcase them.
Yakima Valley Trolleys

Yakima Valley Trolleys, based in Yakima, is Washington's only operating heritage interurban line.

The organization hosts train rides over trackage once owned by the Yakima Valley Transportation Company, a freight interurban that served the Yakima Valley for nearly one-hundred years, moving primarily fruit and produce (i.e., apples).