Railroad Magazines, Keeping Up On The Latest

Last revised: March 1, 2023
By: Adam Burns

For generations, magazines have allowed the average railfan/train enthusiast to learn about railroads and keep up with the industry's latest developments. 

The most well-known, of course, are still in circulation under Kalmbach Publishing; names like Trains, Classic Trains, Model Railroader, Garden Railways, and Classic Toy Trains.
But! Many other companies also produce excellent coverage on these subjects, and others.  In the modern Internet age, print media, in all forms, has lost many thousands of subscribers/readers to their digital counterparts.  As a result, many titles have been discontinued.  
This problem, coupled with overhead expenses (ink and paper, and payroll) have made doing business in this industry increasingly difficult.   
Kalmbach has done well to bridge the gap by releasing many digital formats, DVD's, and even an online "News Wire" component (viewed via their website, most content is only available to subscribers). 
In any event, if you are looking for a railroad or modeling magazine more information about several can be found here. 
Please note!  If you are interested in a particular subject, such as a specific railroad, several historical societies also print their own annual or quarterly magazines.  That may also be avenue to explore.

Union Pacific 4-6-6-4 #3933 heads west at Red Desert, Wyoming on August 30, 1955. J.E. Shaw photo. American-Rails.com collection.
Kalmbach, of course, has not been the sole publisher on the railroad subject although it has been around far longer than most.  It was, however, the first tailored specifically towards enthusiasts. 
Prior to Trains, one was required trade publication.  The very first was the American Railroad Journal (launched in 1832 as the "Rail-Road Journal"), followed by Railway Age.  The latter remains in circulation today (originally printed in 1856 as the Western Railroad Gazette, then renamed as the Railroad Gazette in 1870). 
There is a reason Trains carries the slogan, "The magazine of railroading." This author has subscribed to Trains for more than 20 years and found it quite enjoyable although the price may not be for everyone. 
It is published monthly covering a wide range of subjects, from the latest news to restoration projects.  It even offers an annual $10,000 award to preservation efforts. 
Throughout the years Trains has broadened its topics with articles now occasionally highlighting operations outside of North America and Mexico (Europe, Britain, China, Japan, etc.).  This allowed the company to introduce an entirely new magazine in 2000, Classic Trains.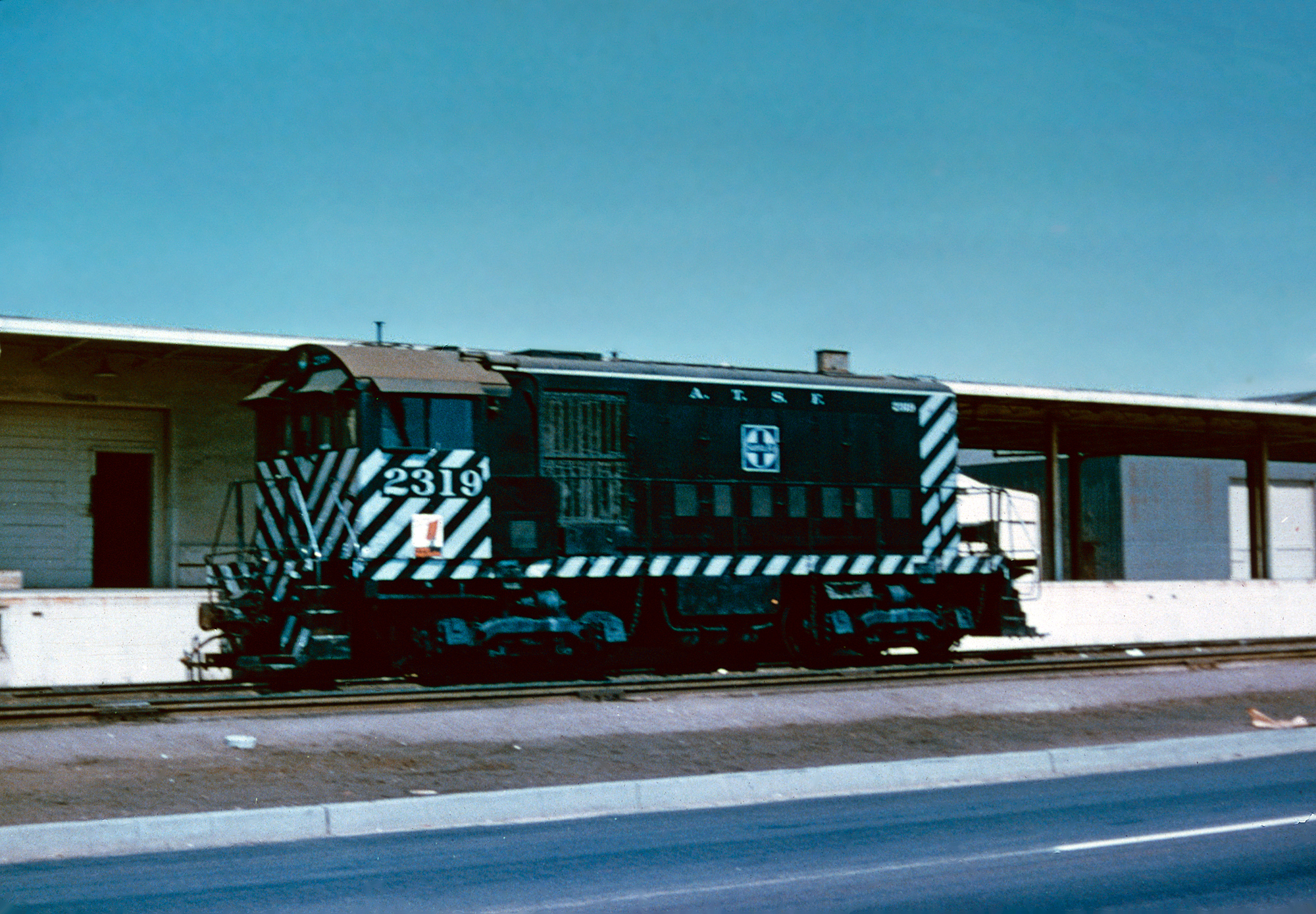 Santa Fe HH1000 #2319 is seen here tied down in Pasadena, California in March, 1961. These early 1,000 horsepower switchers from Alco carried no official model designation from the company although railfans later adopted the "HH" moniker, an acronym for High Hood. American-Rails.com collection.
A quarterly piece, it has focused exclusively on historic subjects during the industry's "Golden Age."  S
ince 2014, there have been several specials added to this title such as Great Trains: West, Great Trains: Freight, Steam's Lost Empire, Big Steam Is Back, Great Trains: Heartland, Great Trains: East, Trains Of The 1940s, Trains Of The 1970s, More Trains of the 1950s, Trains Of The 1960s, and Steam Glory 3. 
In the future, Kalmbach is sure to release additional specials.  If you are after a magazine providing a general coverage of the industry Trains is very a good choice. 
Some of the different types of material that can be found within its pages include:
A News Wire for the latest immediate news (such as abandonments, obituaries, and individual Class I/Regional/Shortline happenings).


Monthly editorial columns from various well respected writers like Don Phillips and Fred Frailey, feature articles (usually about US/North American railroading).


Anecdotal railroad stories.


Preservation news.


Answers to questions from readers. 
While the magazine is geared towards railfans, it carries a high level of professionalism.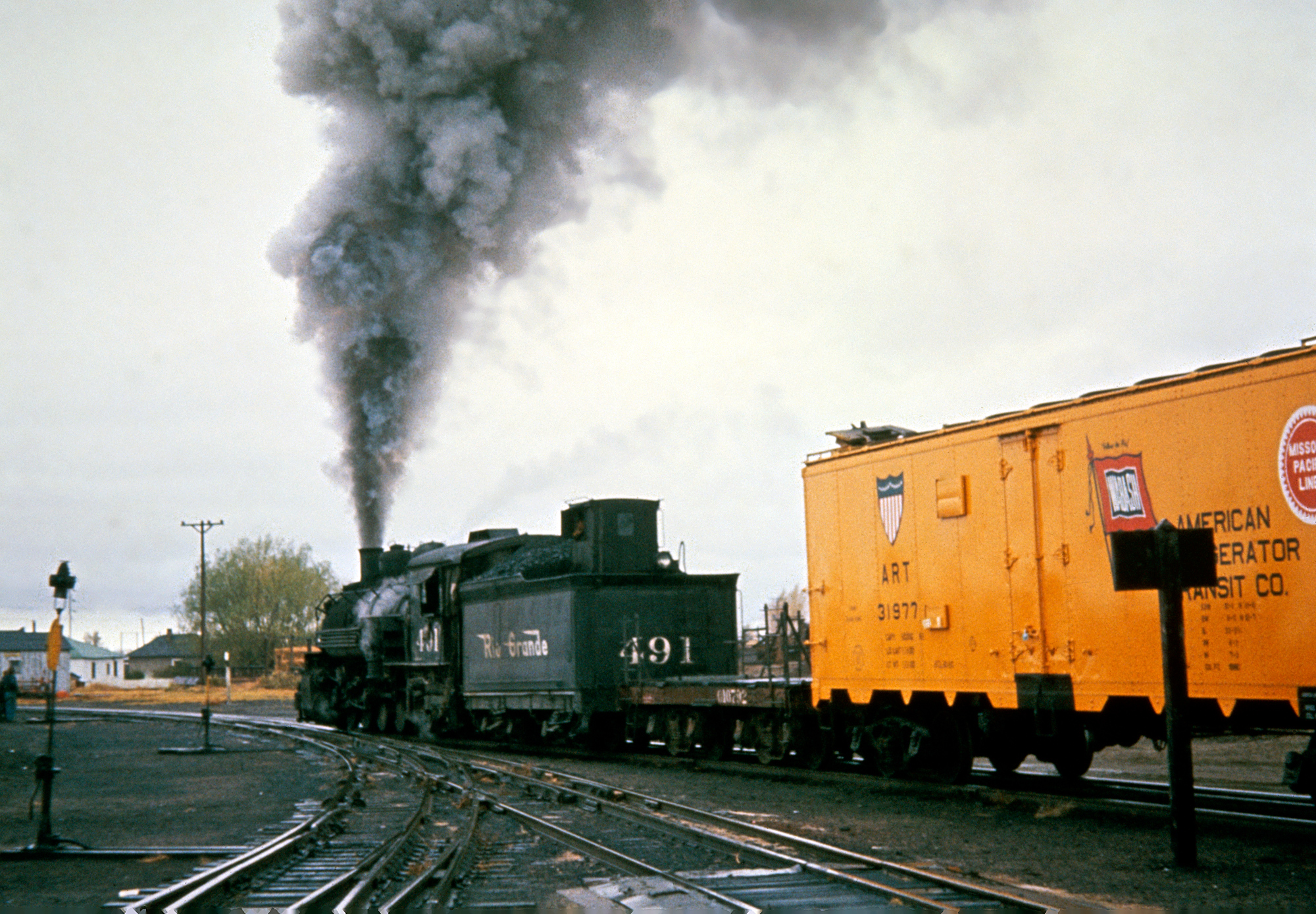 Rio Grande 2-8-2 #491 (K-37) carries out switching work in Antonito, Colorado during the 1960s. American-Rails.com collection.
Other industry trade publications include Railfan & Railroad, The Railroad Press, and Railpace Newsmagazine.  Alas, several other once proud names have succumbed to expense, cost, subscription loss, or even age. 
The most well-known include Extra 2200 South, CTC Board, and Railroads Illustrated (which acquired CTC Board before disappearing into Railfan & Railroad). 
While all industrial-based magazines cover the same topic, they all slightly differ in their presentation and/or content. For instance, Kalmbach Publishing's Trains focuses rather broadly on railroading, including the latest important news and articles on the past, present, future, and even overseas.
However, Railfan & Railroad takes a bit of a different approach by focusing more on the railfan-side of hobby including lots of classic pictures of fallen flag carriers (which appeal to the vast majority of enthusiasts) and the magazine is also more cordial and down-to-earth in nature.  
Extra 2200 South, published by Iron Horse Publications, was a magazine printed from 1961 through 2008, founded by Jerry A. Pinkepank. An entirely unique piece, it focused exclusively on locomotive rosters and types. 
Pinkepank was well-known for his work in this area, having published two books on the subject, "The Contemporary Diesel Spotter's Guide: A Comprehensive Reference Manual To Locomotives Since 1972" and "The Contemporary Diesel Spotter's Guide: A Comprehensive Reference Manual To Locomotives Since 1972, Including Rebuilding, Upgrading, And Leasing Programs (2nd Edition)."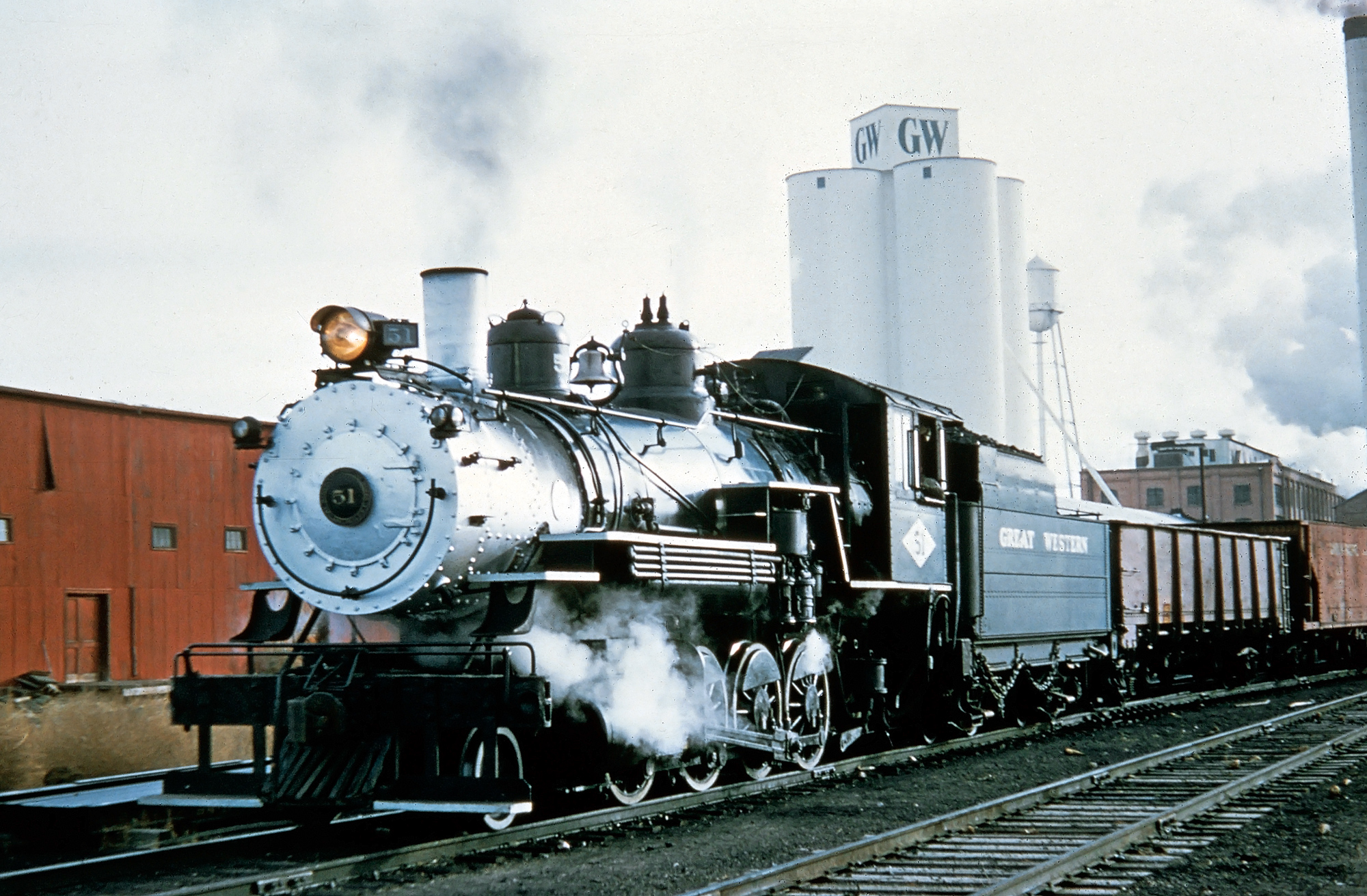 Great Western Railway (of Colorado) 2-8-0 #51 is seen here in service near the Great Western Sugar Company's plant in Loveland, Colorado, circa 1960. Today, the Consolidation is preserved and privately owned in Mead, Colorado. American-Rails.com collection.
Covering The Railroad Industry

Trains Magazine

Railfan & Railroad
Railroads Illustrated (Formerly CTC Board)
Classic Trains
Railroad Heritage
Trolley Talk
Extra 2200 South
Modeling
Model Railroader
Garden Railways
Classic Toy Trains
Railroad Model Craftsman
Model Railroad News
N-scale Magazine
N Scale Railroading
O Gauge Railroading
The periodical was the only such resource dedicated solely, and specifically, to diesel locomotives, from the first models debuted by the EMC (Electro-Motive Corporation, which later became a longtime division of General Motors) to the latest manufactured by EMD and General Electric (GE).
The magazine also maintained and updated roster information for many American railroads; arranged alphabetically it covered everything from short lines and commuter systems to Class I's and Regionals.  CTC Board, launched in 1970, was another popular magazine, produced for more than 30 years. 
However, it was sold from Hundman Publishing, after the May, 2006 issue, to White River Productions.  It subsequently became Railroads Illustrated and remained in print until 2014 when folded into Railfan & Railroad. 
While R&R also covers current events, the magazine's main focus is photography.  While the magazine does not carry quite the number of subscribers as, it nonetheless has a very loyal following. 
Railfan & Railroad tends to gear its magazine more to the railfan then taking a "50-50" approach like Trains.  For instance many folks who subscribe to it enjoy the several classic photos found in the magazine.
Similar in nature to Trains, Railfan & Railroad also tends to cover a wide range of different topics, such as current news and feature articles.  However, the magazines differ in their approach, where again Railfan and Railroad focuses more on the railfan and Trains covers the industry in general.
Some of the topics the Railfan & Railroad cover include things like timetables and guides for those interested in photographing trains, featured books, "railroadiana" (general railroading-related products) items for sale, anecdotal stories, and photographic tips/tricks (for many years this was written by the late Jim Boyd, a legendary rail historian who had many books to his name). 
Sadly, as the digital age moves forward, more such names may also disappear or move towards digital themselves.
---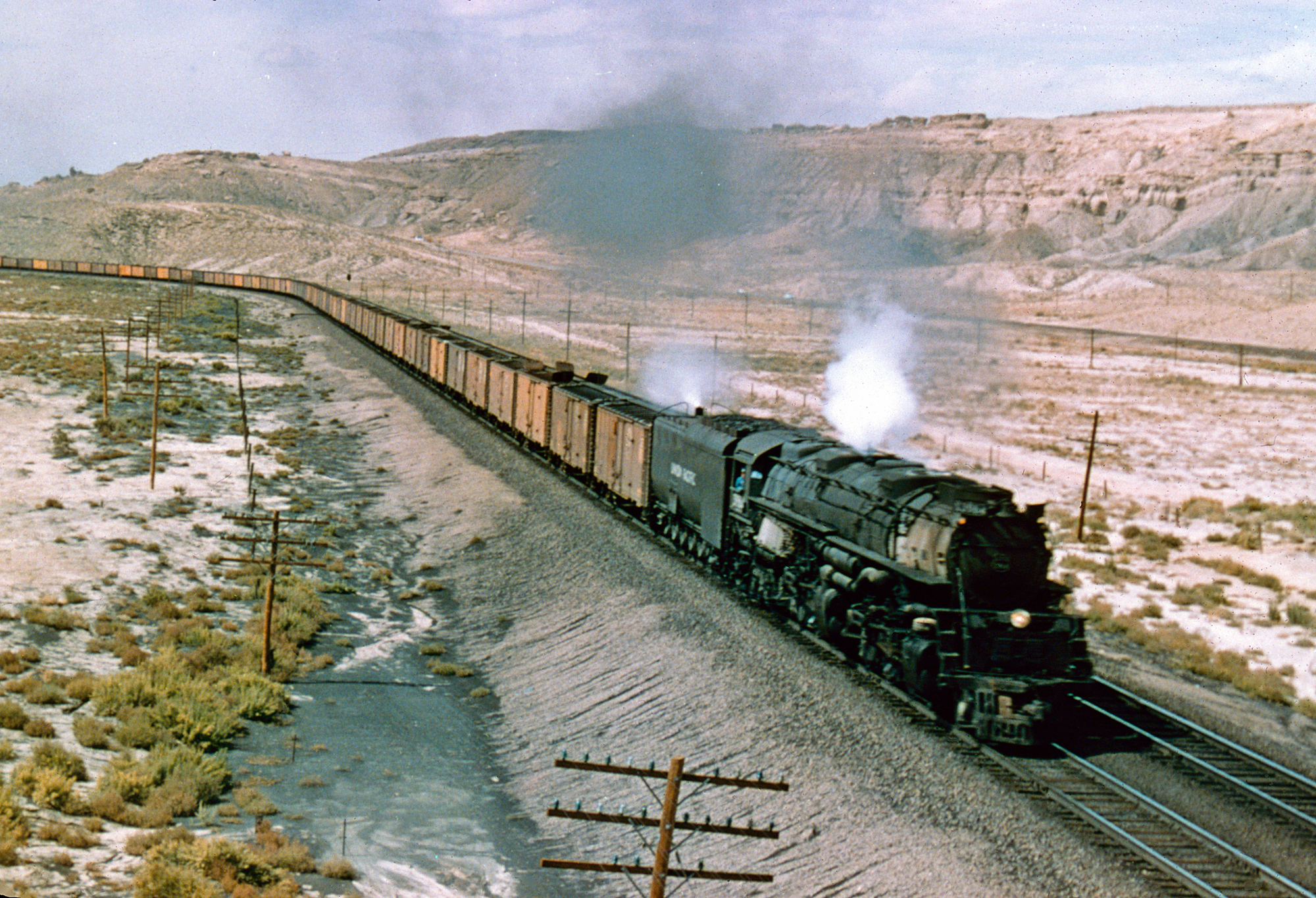 Union Pacific 4-6-6-4 #3964 leads an expedited freight of refrigerator cars eastbound, just east of Rock Springs, Wyoming on September 8, 1956. The train is about to duck under the Route 370 overpass. J.E. Shaw photo. American-Rails.com collection.
Finally, modeling is another very popular niche within the railfan community. 
One of the popular magazines is Model Railroad News,  a monthly piece printed by LampLighter Publishing, which details and highlights the latest information and news ongoing in the model railroad industry covering every possible scale you can think of.
While other magazines like the very popular Model Railroader from Kalmbach and Railroad Model Craftsman from Carstens, cover all bases from touching on news to modeling tips and tricks, MRN deals specifically with the latest models and gadgets on the market and gives you in-depth, expert advice and reviews on which are the best and perhaps which you may want to stay away from.
All in all if you are an avid modeler who wants to find out more information about a particular model or gadget for your layout Model Railroad News is a great resource for such. 
For instance, here are a few things found within its pages here is some of what you can find in their monthly publications: club news, classified ads, in-depth reviews, industry news, national hobby show coverage, new product announcements, photos.