Fallen Flag Railroads
Last revised: August 22, 2023
By: Adam Burns

The term "Fallen Flags" describes those railroads whose corporate names have been dissolved through merger, bankruptcy, or liquidation. At one time the United States boasted nearly 140 Class I's.

- According to the Association of American Railroads, prior to 1956 this defined a carrier which earned at least $1 million in annual operating revenue.  It has since been revised several times throughout the years. -

Today, many of these classic railroads are but a memory.  The older folks reading this can remember those bygone days when corporations like the legendary Atchison, Topeka & Santa Fe Railway, the mighty Pennsylvania Railroad, and prosperous Southern Railway all served America. 

And, of course, who can forget our country's first common carrier, the Baltimore & Ohio Railroad, which survived for 160 years before disappearing into CSX Transportation in 1987.  
There are many areas of the industry to study, ranging from locomotives to streamliners.  However, few remain as popular, or as enjoyable, as the venerable "fallen flag."  They defined the regions they served while providing invaluable transportation needs for local communities.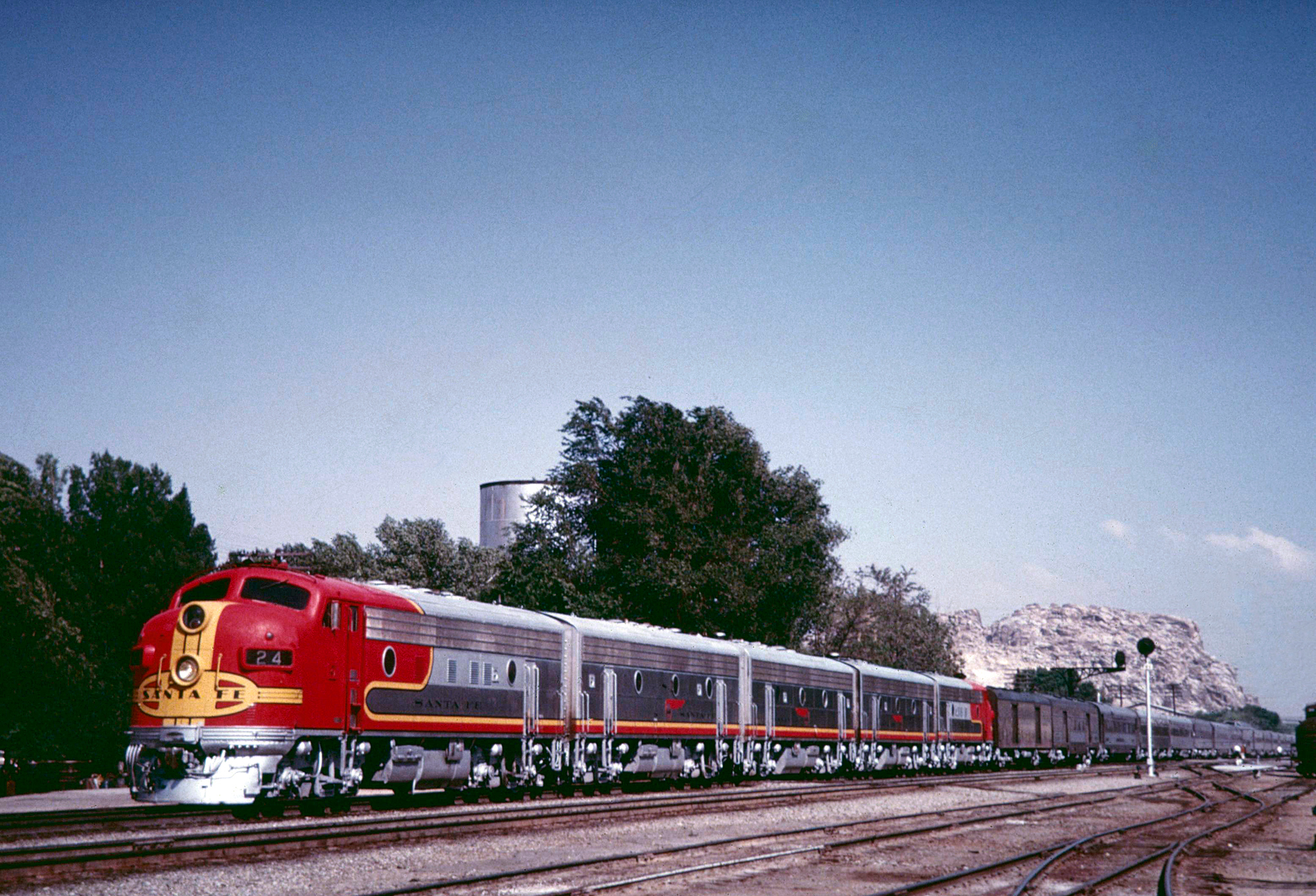 A handsome set of Santa Fe 'F' units, led by F3A #24-L, have train #20, the eastbound "Chief," at Victorville, California. Fred Worsfold photo. American-Rails.com collection.
History
Most of the fallen flags remembered today were derived from systems originally built during the 19th century.  Some railroads, such as our country's first common-carrier, maintained their original name for well over a century while others were brought about through either consolidation or reorganization. 
The railroad may have been born in England but it quickly caught on in the United States.   Following the early chartering of the B&O, Mohawk & Hudson, South Carolina Canal & Railroad Company, and others by 1835 the fledgling country had 1,000 miles of track in operation according to the book "Railroads In The Days Of Steam," published by the editors of American Heritage.  
In addition, as John Stover's title, "The Routledge Historical Atlas Of The American Railroads," points out expansion was rapid; of the twenty-six states in the Union by 1840 only four did not contain a single mile of track (Arkansas, Missouri, Tennessee, and Vermont). 
Through 1860 there had already been more than $1 billion invested in the industry (interestingly, $200 million of this total came via English or European interests), which then boasted 31,246 miles in service.
At A Glance
Class 1 Railroads (By Year)

1939 - 132

1963 - 102

1978 - 41

1988 - 12

1997 - 9

Present Day - 6

Class 1 Annual Revenue Definition (By Year)

Until 1956 - $1 million

1956 - $3 million

1965 - $5 million

1978 - $50 million

1997 - $256 million

2019 - $505 million

Present Day (2021) - $900 million

Peak Miles

254,037 (1916)

Rail Traffic Volume (1916)

98% Intercity Passenger Business

77% Intercity Freight Traffic

Railroad Passengers (1919)

1 billion

Less-Than-Carload Freight (1919)

51 million tons

Total Investment (1916)

$21 billion

Operating Revenues (1916)

$3.353 billion

Employees (1916)

1.701 million
Source: Stover, John. Routledge Historical Atlas of the American Railroads, The. New York: Routledge, 1999.
The growth only continued after the Civil War as promoters pushed ribbons of rail westward, highlighted by the completion of the Transcontinental Railroad in May of 1869.  Construction quickened after this momentous event and peaked in the 1880's.  
During that decade, as historian H. Roger Grant notes in his book, "The Corn Belt Route: A History Of The Chicago Great Western Railroad Company," the national network grew from 93,267 to 163,597 miles!  It was the single greatest period of expansion.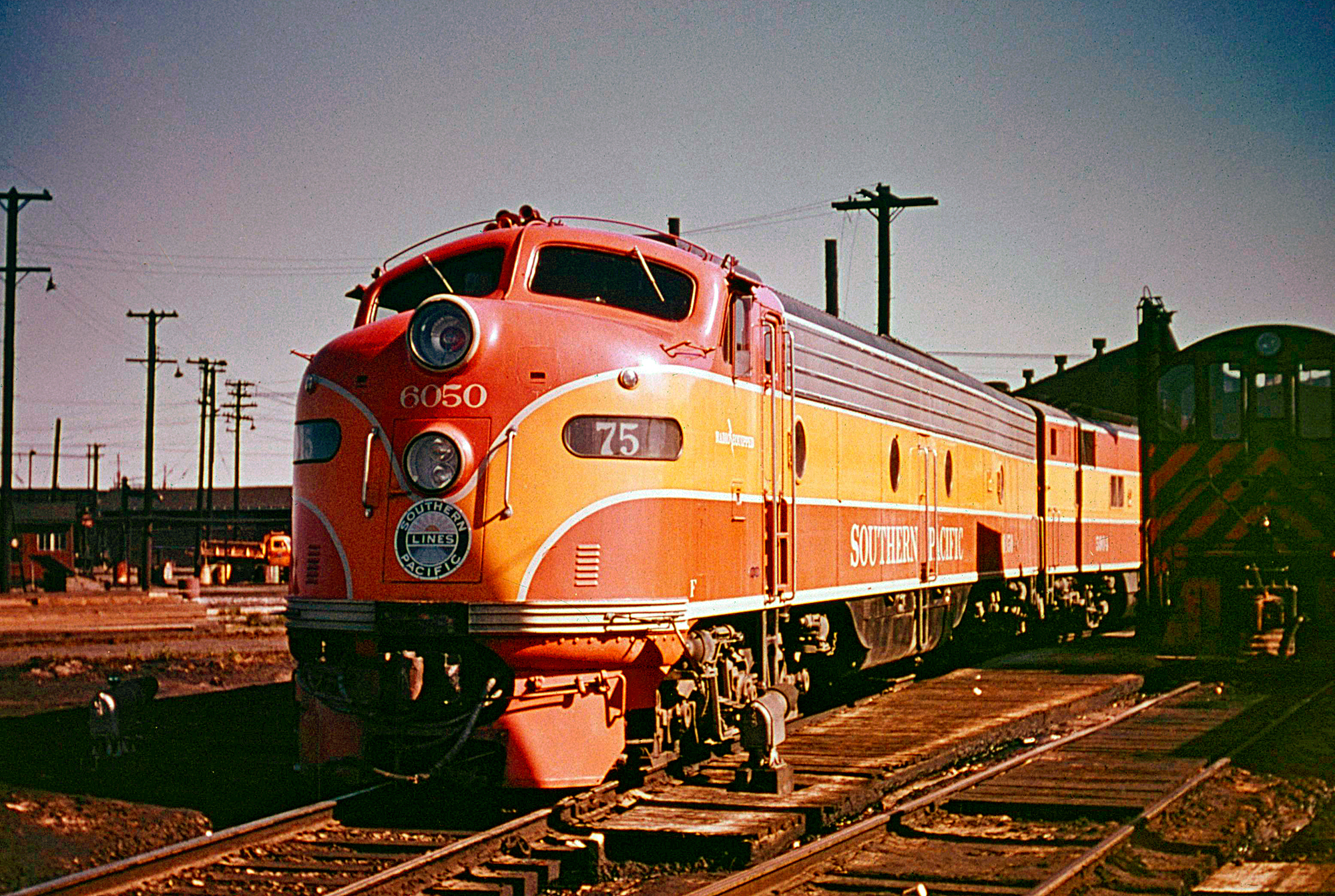 Southern Pacific E9A #6050 has arrived at the Mission Bay Roundhouse and servicing facilities in San Francisco after making a run up the coast with train #75 (Los Angeles - San Francisco) in February, 1955. American-Rails.com collection.
Classic American Railroads
The latter 19th century witnessed many fallen flags brought together while others, such as the Western Maryland and Virginian Railway, completed their systems in the early 1900's.  

The classic American railroad as we best remember it survived until the 1970's, a decade that reached a crescendo of bankruptcies and mergers.  
The government's severe regulations, dating back to the early 20th century, were largely to blame along with the railroads' difficulty in reducing crew sizes (even after technological advancements, including diesel locomotives, wireless radio, and computerization made such possible). 
These issues were partially self-inflicted, a result of executive greed and hubris during the 19th century that led to much of the federal oversight.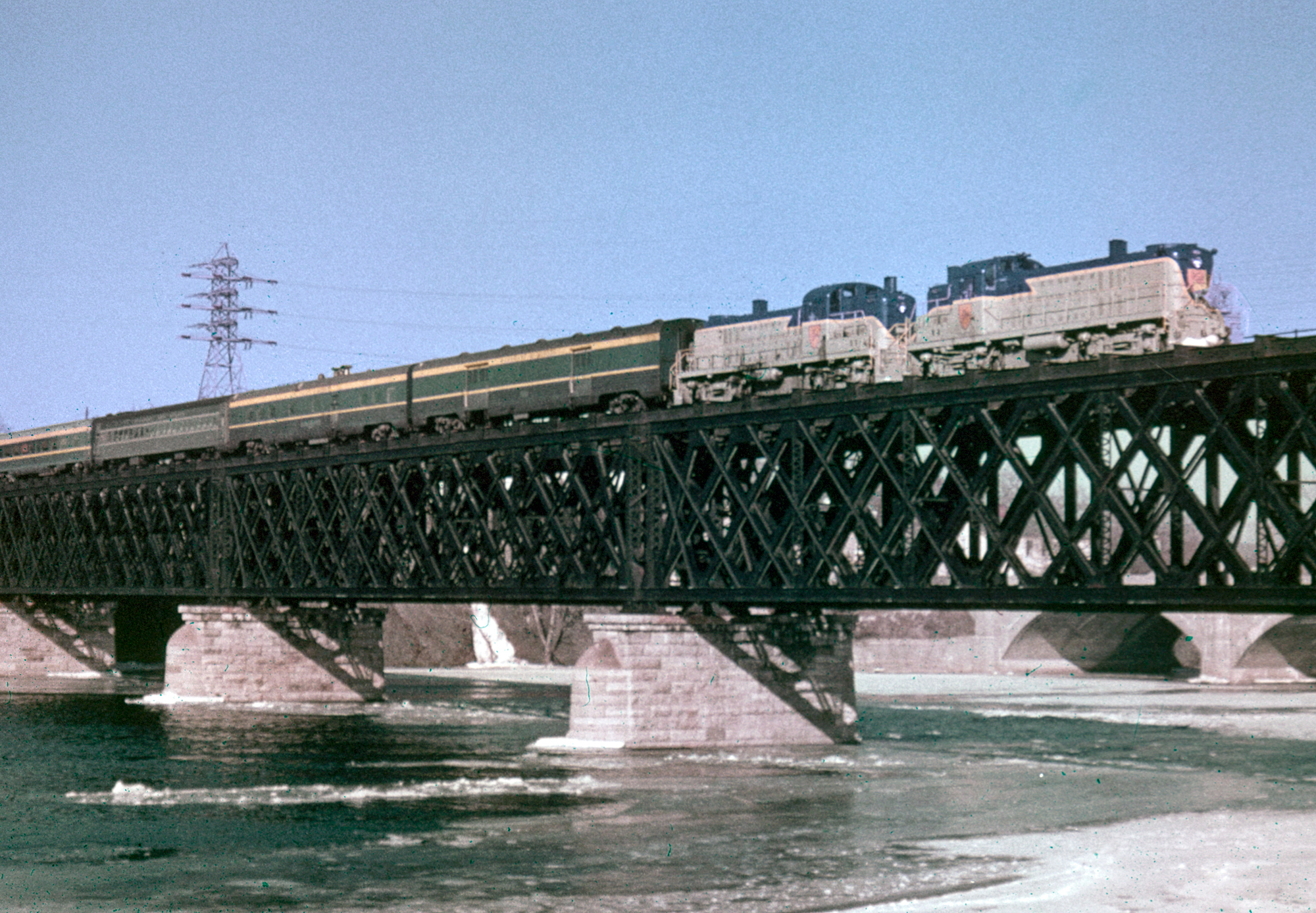 Delaware & Hudson's southbound "Laurentian" crosses the Mohawk River at Cohoes, New York during February of 1968. Jim Shaughnessy photo. Author's collection.
While the "Golden Age" officially extended from the 1880's until the Great Depression, ask most railfans the single greatest period and many would point to immediate post-World War II era, through the 1960's.
 During this time, although in decline, the industry was still generally profitable while it made the switch from steam to diesel-electric technology.  
In addition, numerous, vibrant paint schemes adorned first-generation diesels, built by the five major manufacturers (Electro-Motive, American Locomotive, Fairbanks-Morse, Baldwin, and General Electric).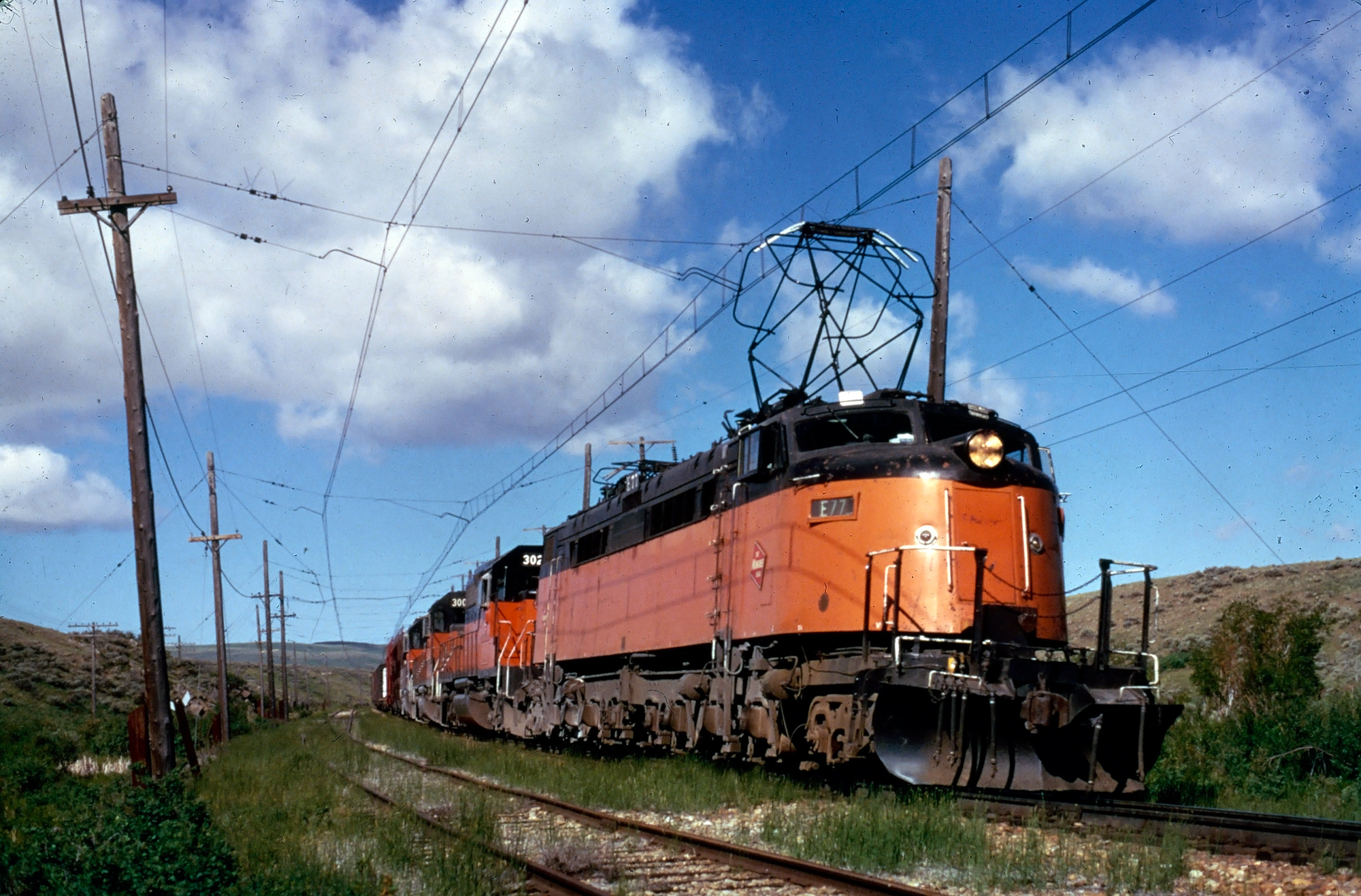 Milwaukee Road "Little Joe" E-77 and a trio of SD40-2's lead an eastbound freight at rural Bruno, Montana on July 1, 1973. American-Rails.com collection.
With a plethora of different emblems roaming the rails it was quite an era for anyone interested in trains.   Because these many systems served a particular region it was not uncommon for local communities to call a railroad their own. 
Examples here include the New York Central, Reading, New Haven, Western Pacific, Atlantic Coast Line, Missouri Pacific, and the list goes on of carriers serving either a block of states or specific area.  
Following the mega-merger movement this is no longer the case as a single railroad can now extend from New York to Chicago or link San Francisco with St. Louis.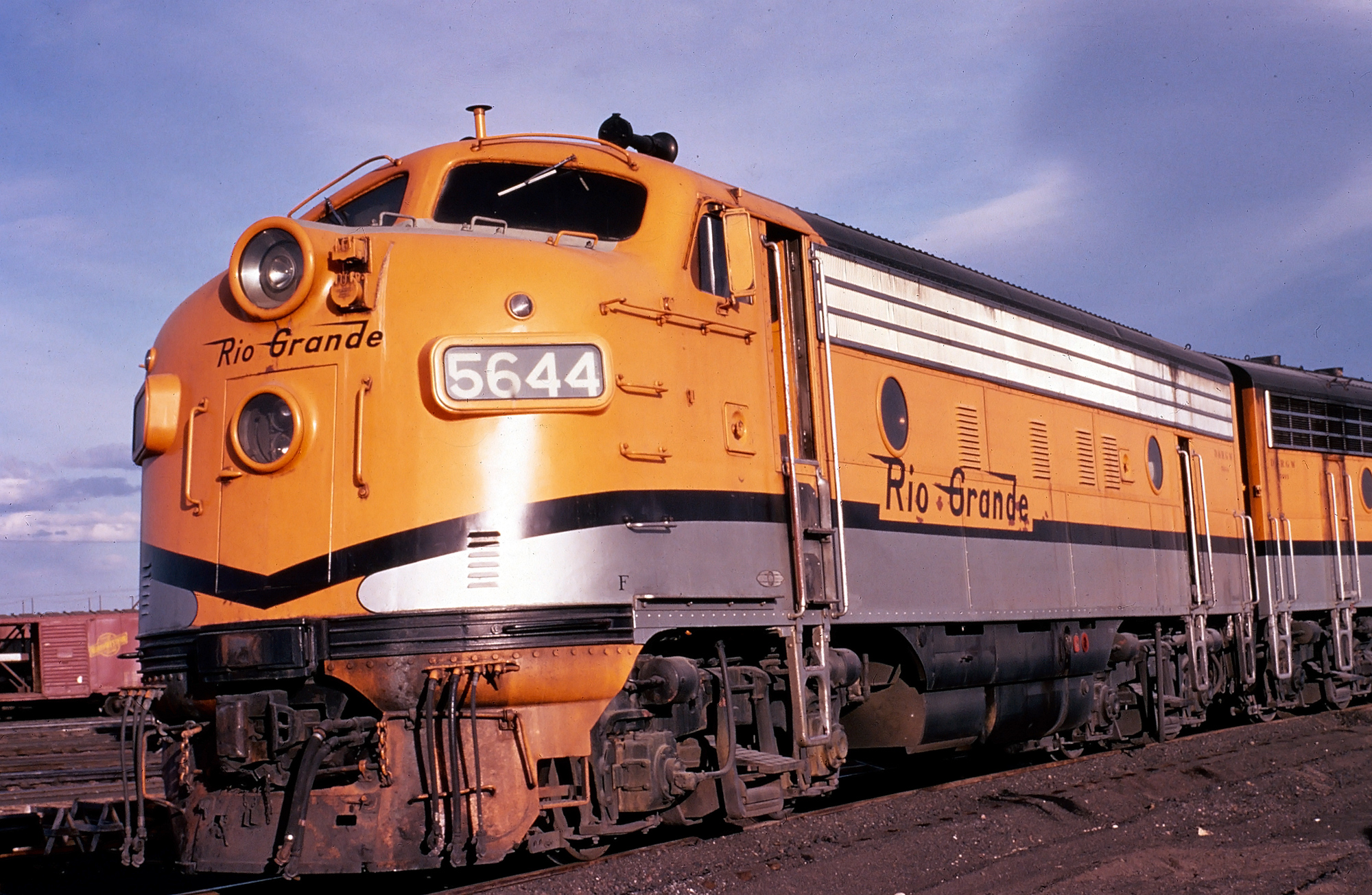 Rio Grande F7A #5644 in Denver, circa 1970. Robert Eastwood, Jr. photo. American-Rails.com collection.
Through the many mergers over the years not every classic system has disappeared.  The two most notable include Union Pacific and Kansas City Southern; the former has been an American institution for generations.  
UP recognized the need to expand and grow as the merger movement picked up adding the Western Pacific, Missouri Pacific, Chicago & North Western, Rio Grande, Missouri-Kansas-Texas, and Southern Pacific to its network from the 1980's through mid-1990's.  
In this snowy scene, from the cab of an Erie Lackawanna F unit, we are eastbound at Gouldsboro, Pennsylvania along the old DL&W main line during the winter of 1962. American-Rails.com collection.
In addition, the much smaller Kansas City Southern managed to survive as the smallest Class I system for decades.  For many years this regional pike operated a system of less than 1,000 miles connecting Kansas City with the Gulf Coast.  
It then rapidly grew during the 1990's as it expanded north into St. Louis and Illinois and south into Mexico.  The KCS finally disappeared in April, 2023 when it joined Canadian Pacific to form the Canadian Pacific Kansas City Railroad.
There are many other lesser known railroads which still carry on; names like the Ann Arbor, Florida East Coast, Susquehanna, Escanaba & Lake Superior, Iowa Traction, Louisiana & North Western, and others.
List
Northeast
Baltimore & Ohio Chicago Terminal
"Big Four Route" (Cleveland, Cincinnati, Chicago & St. Louis)
Buffalo, Rochester & Pittsburgh

Central Railroad Of New Jersey
Consolidated Rail Corporation (Conrail)
Delaware, Lackawanna & Western
Maryland & Pennsylvania Railroad ("Ma & Pa")
New York, New Haven & Hartford
Pennsylvania-Reading Seashore Lines
*  This railroad is still operating, it is placed here because of its long and storied history.
** The REA was not an operating railroad but was an integral part of the industry during the "golden age" when these now-fallen flags were still operating.
Southeast

Nashville, Chattanooga & St. Louis
Norfolk Southern Railway (Original)
Shamrock Coal Company's Oneida & Western
Richmond, Fredericksburg & Potomac
Tennessee, Alabama & Georgia Railway
West Point Route: Georgia Railroad/A&WP/WRoA
* This railroad is still operating, it is placed here because of its long and storied history.

Midwest

Chicago, Rock Island & Pacific
Chicago, South Shore & South Bend
Minneapolis, Northfield & Southern
Minneapolis, St. Paul & Sault Ste. Marie (Soo Line)
Missouri-Kansas-Texas Railroad (Katy)

Monon Railroad (Chicago, Indianapolis & Louisville)
New York, Chicago & St. Louis (Nickel Plate Road)
Pittsburgh, Cincinnati, Chicago and St. Louis Railroad (Panhandle Route)
St. Louis Southwestern (Cotton Belt)
St. Louis-San Francisco Railway (Frisco)
*  This railroad is still in operation but is placed here due to its historical significance.
** Despite still being in operation the original TP&W is technically one of the many fallen flags presented here since it disappeared into the Santa Fe in 1983. The company was reborn in 1988.
West/Southwest
Northwest
Milwaukee Road's Pacific Extension
Canada
---
A handsome, A-B set of Santa Fe FT's, led by #168-L, have arrived at San Diego, California with what appears to be a mail/express train, circa 1950. American-Rails.com collection.
Here within this page you will find information on some of the best remembered fallen flags, each described in much more detail, broken down into the territory where they operated.  
Since the website debuted I have finally had the chance to feature many of these although I realize that some are still omitted. As time allows, I will try to cover most of these companies.  As it currently stands there are already more than 100 such systems highlighted.  
You may notice that Canadian National and Canadian Pacific are now included in the website. After giving it much thought the two lines have played too significant a role in our nation's railroad history, especially in its current and future state, to be left out and unmentioned.  
For instance several are now of Canadian ownership/control such as the Soo Line (and indirectly the Milwaukee Road through the Soo's takeover by CP), Delaware & Hudson (today, partially owned by Norfolk Southern), Illinois Central, Grand Trunk Western, Central Vermont, and the Duluth, Winnipeg & Pacific Railway.