Pacific Electric Railway: "Comfort, Speed, Safety
"
Last revised: June 12, 2023
By: Adam Burns

The Pacific Electric Railway (PE) was, unquestionably, the world's most extensive interurban system.  Its network encompassed nearly 1,100 miles serving Los Angeles and its suburbs of San Bernardino, Long Beach, Pasadena, Santa Ana, Hollywood, Redondo, Pomona, Riverside, Santa Monica, and San Fernando. 

Its heritage began with Collis P. Huntington's nephew, Henry Huntington, who founded the original in 1901.  A new Pacific Electric was created in 1911 when several small operations were brought together under one banner, all controlled by Southern Pacific. 
The modern company enjoyed nearly two decades of prosperity until the Great Depression and motorized competition weakened its standing.  But the PE was not your typical interurban.  

As Dr. George Hilton and John Due argue in their authoritative book, "The Electric Interurban Railways In America," its private right-of-way, superb infrastructure, and key corridors offered commuters an excellent rapid transit system that would be invaluable in today's congested world. 
Alas, as patronage declined, Southern Pacific lost interest in the entire affair and services were slowly scaled back or abandoned.  Regular passenger service ended in 1953 while freight operations continued for another decade.  Today, most of the Pacific Electric is, sadly, but a memory.

Photos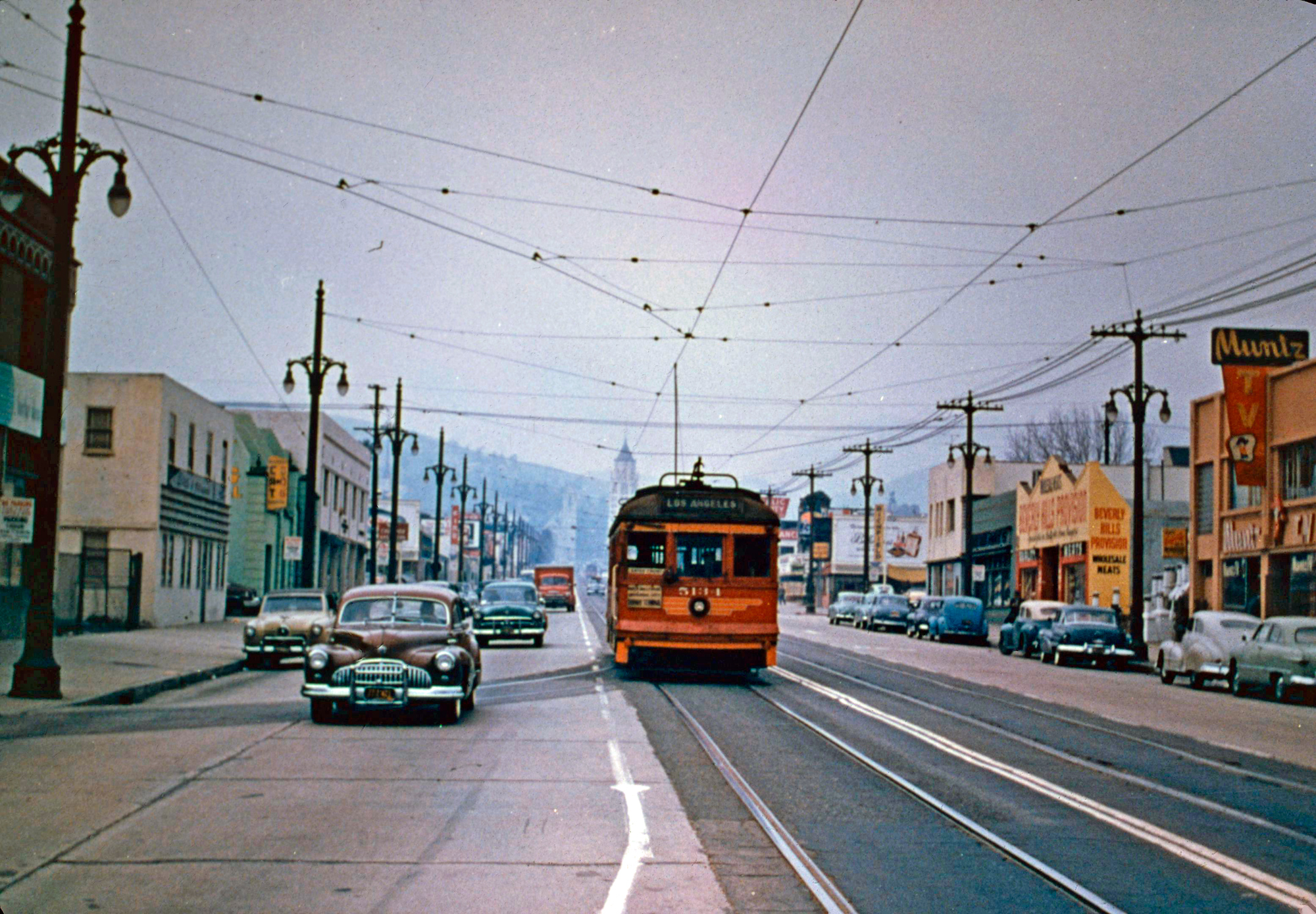 Pacific Electric car #5134 heads south/east towards downtown Los Angeles along Highland Avenue, just north of Santa Monica Boulevard, on December 27, 1952. Author's collection.
History
The original Pacific Electric Railway, incorporated in 1901 by Henry Huntington, was comprised of several small interurbans, too numerous to mention here. 
Donald Duke notes in his book, "Pacific Electric Railway: A Pictorial Album Of Electric Railroading," it all began when Huntington acquired valuable, undeveloped properties in Southern California for the purpose of establishing a transportation network.  This acreage would later blossom into the now famous suburbs of Los Angeles. 
The first route built under the PE name was the Long Beach Line which opened on July 4, 1902.  A number of other corridors would soon join it either through acquisition or as separately named entities under Huntington's control. 
At A Glance
| | |
| --- | --- |
| Headquarters | Los Angeles, California (Pacific Electric Building) |
| Regions Served | Los Angeles, Long Beach, San Pedro, Hollywood, Huntington Beach, Mount Lowe, Santa Monica, San Fernando, Glendora, Van Nuys, Wensmouth, Manhattan Beach, Redondo Beach, Newport Beach, Santa Monica, Redlands, San Bernardino, Riverside, Corona |
| Dates Of Operation | July 4, 1902 - August 13, 1965 |
| Incorporation Date | 1901 |
| Route Miles | 615 (1930) |
| Track Gauge | 4 Feet, 8 ½ Inches |
| Slogan | Comfort, Speed, Safety |
| Reporting Mark | PE |
| Successor | Southern Pacific |
One such enterprise was the Los Angeles Interurban Railway which linked Glendale, Monrovia, and Santa Ana. It also served San Pedro and Gardena by acquiring the small California Pacific in 1903, which itself was subsequently leased by the PE in 1908.
Another was the Pasadena & Mount Lowe Railway, an incline system that served the famous Alpine Tavern Resort high above Los Angeles. Two other noteworthy properties, albeit never under Huntington's influence, included the Los Angeles & Redondo and Los Angeles Pacific.
The former was originally built as a standard steam railroad to serve the coastal communities southwest of Los Angeles. It was the work of the Ainsworth-Thompson Syndicate and acquired by Huntington in 1905.
A pair of Pacific Electric "Red Cars" travel north at the intersection of Highland and Franklin Avenues in Hollywood Heights, California (Los Angeles) on December 27, 1952. Author's collection.
The latter would constitute a considerable portion of the modern Pacific Electric's "Western District."  The Los Angeles Pacific (LAP) can be traced back to 1895 as a project of M.H. Sherman and E.P. Clark. 
Their efforts eventually created a system linking Los Angeles and Hollywood with Redondo, Playa del Rey, Santa Monica, and Venice.  The LAP was acquired by Southern Pacific in 1906 and merged into the new Pacific Electric Railway of 1911. 
Logo
The book, "Pacific Electric Big Red Cars" by Raphael Long points out SP's interest in Los Angeles's interurbans began with a pair of acquisitions in 1903; the Los Angeles Traction Company and California Pacific Electric Railway. 

Afterwards, SP's market share steadily increased.  In a time before the automobile, the electrified interurban was seen as the future in suburban transportation; it was quick, clean, comfortable, and cheap.  The Pacific Electric was built to such impressively high standards it transcended virtually all others across the country. 
With a network comprised predominantly of privately-owned rights-of-way, developed prior to L.A.'s great population boom, it acted more as a rapid transit operation than a traditional interurban.  As such, patronage remained so high it was still in service after World War II, a time when most others had long since succumbed.
This busy scene along the Pacific Electric features "Red Cars" #5168 and #5136 at work along Sherman Way in the community of Van Nuys on December 15, 1952. The PE was the largest intercity interurban system in the United States with 700 route miles and a network of more than 1,000 total miles. Alas, the city gave up its incredibly efficient and well-built mass transit system in the 1950s in favor of freeways, at the time believing these were a better transportation solution. The Pacific Electric name survived under Southern Pacific (which had owned the property since 1911) until the mid-1960s for freight service. Author's collection.
Construction
Most of the Pacific Electric's contemporary lines were opened just prior to the "Great Merger" which included service to Glendora (1907), Pomona (1911), San Bernardino (1915), Glendale (1904), Newport Beach (1904), San Pedro (1904), Yorba Linda (1911), Burbank (1911), and Van Nuys (1911). 
The PE's importance in the development of Los Angeles's suburbs into the world-class venues for which they are known today is often little understood.  It provided residents with clean, efficient, and high-speed service every day, during a time pre-dating World War I!  In 1905, it opened a 400,000 square-foot office building at Sixth and Main Streets, then the largest such structure in the city. 
By 1907 it had declared itself, "The Greatest Electric Railway System On Earth."  During the 1890's, Huntington was president of the mighty Southern Pacific, a railroad his uncle had created. 
However, in 1901, another noted mogul, Edward Harriman, acquired a 45% stake in the company, which included Huntington's shares (Harriman's reign lasted less than a decade when he died on September 9, 1909).  The two men did not see eye-to-eye on many things and, in 1910, Huntington sold the original Pacific Electric to Harriman.  
System Map (1910)
As part of the deal Harriman also received the Los Angeles Inter-Urban, Los Angeles & Redondo, Redlands Central, San Bernardino Valley Traction, and Riverside & Arlington.  Only a year later, these properties, and others, were merged into the new Pacific Electric Railway on September 1, 1911. 
Expansion
In total, 63 traction railroads formed the modern PE, which at its peak encompassed 1,061 miles. Its last noteworthy additions included acquisition of the Ontario & San Antonio Heights Railway in 1912 and construction of a 1-mile subway tunnel (opened in 1925) to remove several grade-crossings along the Beverly, Hollywood, Glendale-Burbank, and San Fernando lines.
- During PE's early years it encountered few grade-crossings or street-running issues.  However, as the automobile took hold that changed as streets, avenues, and highways were paved.  This greatly slowed transit times and further eroded the railroad's business. - 
The latter project coincided with completion of the Subway Terminal Building at Fourth and Hill Streets which improved operations at the Sixth & Main Street Station by enabling slightly faster schedules over the aforementioned lines.
---
Network and Districts
Eastern District:  This territory covered all lines radiating north, east, and south of San Bernardino, including the trackage extending southward beyond Riverside.  This property primarily handled freight and fruit/citrus/produce in particular.  
Arrowhead Springs Branch:  Running north from San Bernardino, this short spur opened in 1907 to handle mineral water; passenger service was discontinued very early, in September of 1932.
Corona Branch:  The longest line of the Eastern District served Coronoa, extending 14 miles southwestward beyond Riverside. 
It was not electrified entirely until February 17, 1915 and enjoyed frequent service during its early years.  Unfortunately, cutbacks came early; the Corona-Arlington segment was discontinued in 1931, followed by the last 5 miles to Riverside in 1943.
Ontario-San Antonio Heights Line:  The history of this tackage dates back to 1887 as a mule-powered operation, later electrified in 1895.  It was acquired from Pacific Power & Light in 1912; the section north of Upland was abandoned in 1924, followed by the Upland-Ontario segment in 1928.
Patton-Highlands Branch:  With a history that began in 1888 as a standard steam railroad, this branch (later electrified) ran roughly due east of San Bernardino.  The Highlands-Patton section was abandoned in 1924 and passenger service over the entire spur was discontinued in 1936. 
Pomona-Claremont Spur:  This short branch acted as an inside gateway to Pomona, diverging off the San Bernardino main line from the east.  It opened from Pomona to Upland in 1910 while passenger service was dropped in 1933.
Redlands Branch:  This 9-mile line extended east and south of San Bernardino, completed in 1903.  It was an early victim of cutbacks and passenger service ceased after 1936. 
San Bernardino-Riverside Line:  The northern component of the branch that extended all the way to Corona was this 10-mile segment, completed on December 13, 1913.  Passenger service was dropped in 1939.
Northern District:  These lines were situated to the north and east of downtown Los Angeles; they left the 6th & Main Street Terminal, crossed the Los Angeles River, and reached such points as Sierra Vista, Pasadena, Glendora, Covina, and San Bernardino.  Various segments were slowly cutback and abandoned over the years although most survived until or after World War II. 
One of the most interesting segments was the incline railway to the Alpine Tavern on Mt. Lowe, originally opened as a tourist attraction during the late 19th century.  It was completed in three stages; the segment to Rubio was opened in 1891, next came the incline which was completed in 1893, and finally the four miles to the summit and tavern were finished in 1896. 
After Pacific Electric acquired control in 1902 it became a popular excursion, which the company dubbed the "Greatest Mountain Trolley Trip In The World."  From Los Angeles, one would ride to Rubio Canyon and then hop aboard a narrow-gauge cable car to ascend the 62% grade to Echo Mountain. 
At this point, another narrow-gauge car would take travelers on to Alpine Tavern atop Mt. Lowe.  Unfortunately, the fabled resort burned in 1936 and the trackage was abandoned in 1938.  
Monrovia-Glendora Corridor:  Situated northeast of downtown Los Angeles, this corridor became one of PE's busiest offering half-hour service.  It connected Monrovia and Glendora via Oneonta, and was completed in 1907.  Passenger service was suspended in September, 1951.
Pasadena - Oak Knoll Route: This line ran to Pasadena via El Molino and at one time ran as far as Altadena, a few miles south of Mt. Lowe.  It was finished in 1906 and abandoned in October, 1950.

Pasadena Short Line: This high-speed, 12-mile artery served Pasadena's main business sector, opening in the latter part of 1902.  It was abandoned on September 30, 1951.
Pomona Branch:  This short spur diverged from the San Bernardino line at La Verne to Pomona, opening in 1912.  It remained relatively busy until the Great Depression and following economic downturn.  Passenger service ended on November 1, 1941.
Riverside Branch:  Another secondary corridor which split off the San Bernardino line was this branch reaching Riverside via Rialto, Crestmore, and Bloomington.  Service was suspended after June 9, 1940.
San Bernardino Corridor:  The Pacific Elecric's eastern tentacle was its longest individual route, stretching 58 miles from Los Angeles to San Bernardino.  It was completed in stages between 1907 and July 11, 1914 when service opened to San Bernardino.  Intermediate stops included Covina, Upland, Pomona, and San Dimas. 
It was the only corridor to operate at 1,200 volts, DC and witnessed its first cutbacks on November 1, 1941 when service was ended beyond Baldwin Park.  Over the remaining decade these continued until passenger service ended entirely after October 15, 1950.  
Sierra Madre Branch:  During the modern PE era this secondary line branched from San Marino and witnessed relatively light patronage.  It opened in 1906 and was abandoned on December 28, 1950.
Sierra Vista-Alhambra-San Gabriel-Temple Branch: One of the numerous short branches of the PE system, this secondary line deviated from Sierra Vista and ran 14 miles to Temple.  It opened to San Gabriel in 1902 and subsequently extended to nearby Shorp in 1904 to interchange with the Southern Pacific. 
Several years later, in 1924, the line was pushed further east to Temple.  At its zenith, the branch survived less than twenty years when it was abandoned beyond Alhambra (retained for freight service until 1951) on November 29, 1941. 

South Pasadena Line: Aside from the Mt. Lowe trackage, this corridor was the earliest component of the modern Pacific Electric. 
It was completed by the Pasadena & Los Angeles on May 6, 1895 connecting its namesake towns running via Echandia Junction, Garvanza, and South Pasadena.  It was acquired by Henry Huntington in 1898 and became an early victim of abandonment with service suspended on January 2, 1935.
In a scene taken from atop Barham Boulevard along Cahuenga Pass, Pacific Electric car #5166 heads east towards downtown Los Angeles on September 21, 1952. Today, the double-tracked line has been replaced by additional lanes for the Hollywood Freeway. Author's collection.
Southern District:  This trackage was Pacific Electric's busiest, consisting of all lines running south and southeastward of the downtown 6th & Main Street Terminal to serve the nearby coastal communities. 
It carried four tracks from Los Angeles to Watts (7 miles) with main lines reaching El Segundo, Redondo Beach, San Pedro, Long Beach, Santa Ana, and Newport Beach.  Virtually all of these lines were built during the Henry Huntington era.
Hawthorne-El Segundo Line:  Another short segment that opened to El Segundo in August of 1914, primarily to serve Standard Oil's refinery there.  Passenger service was suspended after October 31, 1930.
Long Beach Corridor:  Dr. George Hilton and John Due note in their book, "The Electric Interurban Railways In America," that, in terms of traffic density, the line to Long Beach was Pacific Electric's busiest and most profitable. 
The 20-mile route opened on July 4, 1902 and witnessed regular, high-speed, and frequent service for decades.  It remained in use throughout the company's existence until the Los Angeles Metropolitan Transit Authority took over remaining passenger operations.  
Newport Beach Branch:  This branch line extended down the Pacific Coast from Long Beach, reaching Newport Beach in 1905 and nearby Balboa a year later.  Service was initially suspended in 1940 but reinstated two years later to meet wartime needs.  In 1941 the Balboa segment was permanently abandoned followed by the Newport Beach segment, a second time, in 1950.  
Redondo Beach-Gardena-Watts Line:  This spur ran due west of Watts to reach the coastal community of Redondo Beach, via Gardena.  It was originally a narrow-gauge steam railroad that was electrified in 1903.  The line continued handling passengers until 1940. 
Redondo Beach-Hawthorne-Line:  This short corridor ran slightly west and north of Gardena running via El Nido, Lawndale, and Hawthorne. 
Originally a steam railroad, it was later electrified in 1902 and served the downtown area by way of Inglewood and Slauson Junction until 1911 when cars began operating through Watts.  It lost through status in 1937 when a section from El Nido to Hawthorne was abandoned.  
San Pedro-Dominguez Line:  This direct, high-speed route was completed in its entirety on July 5, 1905 and sustained heavy patronage for many decades.  It was the one of the last to be dropped when passenger service finally ceased on December 8, 1958.
San Pedro-Gardena-Torrance Line:  This corridor was not as direct as that running via Dominguez but did reach Pacific Electric's primary shops in Torrance. 
It was originally a narrow-gauge property built by the California Pacific which opened in January of 1903.  That same year Southern Pacific gained control and standard-gauged the line in 1912, soon after the "Great Merger."  Passenger service was dropped in 1940.
Santa Ana Corridor:  This section branched directly off the Watts main line with intermediate stops including Clearwater, Bellflower, and Cypress. 
It originally opened on November 6, 1905 and, as major corridor, witnessed continued service until well after World War II; passenger service was cutback to Bellflower on July 2, 1950 and discontinued entirely on May 25, 1958. 
Whittier-Fullerton Corridor:  One of Pacific Electric's most important corridors during its early years, this line struggled after the Great Depression. The initial segment opened on December 31, 1903 and reached its furthest extent when rails arrived in Stern in 1911 and Fullerton in 1917.  Passenger service was discontinued on January 22, 1938.
Pacific Electric car #5152 crosses Wilcox Avenue near Vineland on December 18, 1952. Author's collection.
Western District:  This territory included Pacific Electric's trackage west and southwest of downtown Los Angeles.  Its heritage predated the Huntington era and was primarily built by predecessor Los Angeles Pacific, headed by M.H. Sherman and E.P. Clark. 
The subway and Subway Terminal serving the Hollywood and Glendale/Burbank lines was located in this district.  Unlike other districts this trackage was plagued with significant street-running and, as a result, schedules were slower.  Nevertheless, most segments survived until or after World War II.
Culver-Venic-Santa Monica Line:  This corridor was completed in 1902 and became the busiest of the Western District with fast, frequent service.   It survived until after the war when operations were abandoned on September 17, 1950.
Glendale-Burbank-Los Angeles Line:  Another to utilize the new subway completed in 1925, the Glendale-Burbank-Los Angeles Line ran due north from the downtown terminal to reach Glendale in 1904 and Burbank in 1911. 
It was a relatively busy component and even upgraded with new Presidents Conference Committee Streetcars (PCC's) in 1941 to meet wartime travel needs, the only modern equipment PE acquired after 1924.  This corridor was dropped under Metropolitan Coach Lines in 1955.
Hollywood-Santa Monica-Venice Corridor:  While not Pacific Electric's most heavily used route, this line served the world-famous suburbs of Hollywood and Beverly Hills along with their associated roadways, Sunset and Hollywood Boulevards. 
It was originally built as far as Colegrove in 1896 and later realigned along Hollywood Boulevard in 1911.  It also utilized the new subway opened in 1925.  West of Hollywood, service ended at a relatively early date when trains ceased beyond Beverly Hills in 1941.  The remaining segment to Hollywood survived until 1954.
Redondo Beach-Playa del Rey Line: Yet another corridor to serve Redondo Beach was that which ran via Playa del Rey, opening in 1903 under the Los Angeles Pacific name.  It was standard-gauged in 1908 and remained in service until its May 12, 1940 abandonment.
San Fernando Valley Line:  This particular route was a late-era addition, completed in stages right around the time of the "Great Merger."  It split from the Hollywood-Santa Monica-Venice Corridor at Highland Avenue, worked its way through Cahuenga Pass and reached Van Nuys in 1911. 
From there, lines diverged to serve Canoga Park (completed in 1912) and San Fernando (opened in 1913, it offered another interchange there with parent Southern Pacific).  This trackage was another early victim of cutbacks, trimmed to Van Nuys in 1938 with the rest succumbing in 1952.
Santa Monica Air Line:  Used chiefly for freight service the Santa Monica Air Line operated from the 6th & Main Street Terminal, south to Amoco over the quad-tracked Watts main line, and then turned west to Santa Monica. 
It was originally completed in 1875 as the Los Angeles & Independence, owned by silver mining mogul John Jones who helped found Santa Monica.  The LA&I later became part of the Los Angeles Pacific and was fully electrified by 1911; passenger service survived until 1953. 
Santa Monica-Beverly Hills-Vineyard Line:  This corridor ran slightly northwest of downtown Los Angeles to Beverly Hills, and then turned south to the coast at Santa Monica near the University of California, Los Angeles (UCLA) campus.  It was originally completed in 1897.  The line did not survive to the World War II era; through service ceased on July 7, 1940 and abandoned entirely in 1950.
Venice Short Line:  This was a direct route to the coast at Venice running via Vineyard, Redondo Boulevard, and Culver City.  It opened in 1902 and was the busiest line on the Western District; service was finally abandoned on September 17, 1950.
---
Modern Operation
Before America's involvement in World War I, the Pacific Electric Railway was undoubtedly the country's greatest interurban system.  It dispatched 6,200 trains a day providing frequent, efficient, and high-speed service throughout the Greater Los Angeles region. 
During its zenith the PE would have thrived in today's age of environmental awareness while greatly reducing congestion. Its network was operated in the typical interurban fashion with most lines operating under a 600-volt, direct-current (DC) system (only the San Bernardino Corridor was different, operating at 1,200-volt, DC). 
Pacific Electric cars #5111 and #5162 board at the North Hollywood Station on December 15, 1952. Author's collection.
The cars gained power from traditional overhead catenary utilizing standard trolley poles.  Its equipment was also archetypal, produced by the industry's well-known manufacturers like Jewett Car Company, Pressed Steel Car Company, St. Louis Car Company, J. G. Brill, Birney, Pullman-Standard, and Standard Steel Car Company. 

From an early period, it developed a carload freight business although for many years this traffic never encompassed more than 25% of total annual revenue (after World War II this figure did increase to around 50%). 
Much of this was handled over the Santa Monica, San Bernardino, Stern, El Segundo, and Santa Ana lines, which consisted primarily of citrus/produce, petroleum/oil, and general merchandise.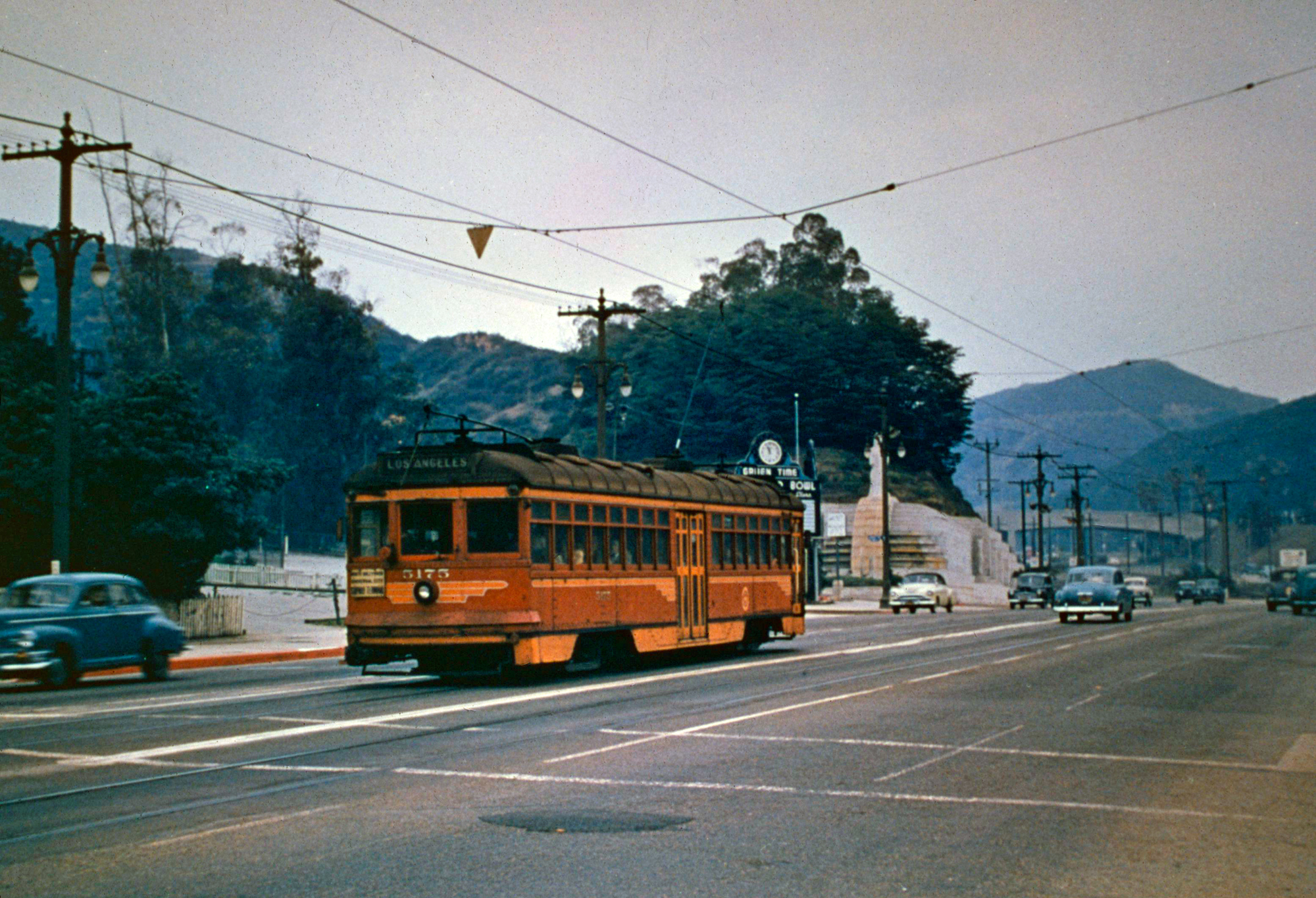 Pacific Electric car #5175 passes the entrance to the Hollywood Bowl along North Highland Avenue on December 27, 1952. Author's collection.
During the 1920's everything changed.  With evermore Americans abandoning trains for the automobile, interest waned in the Pacific Electric. 
As a result, continued improvement projects, such as construction of a grand Union Terminal (voted down during a bond referendum in 1922) and grade-separation projects (which would have increased train speeds), were abandoned.  The company's downfall was nearly as swift as its rapid rise. 
Its success lay not only in its blanket coverage of the entire Los Angeles region but also an ability to link the outlying suburbs directly with the downtown district. 
Business was so heavy that inner-city lines were all double-tracked and one, between Watts and Sierra Vista, even boasted four tracks (two local/two express). 
As ridership declined after 1923, officials and parent-Southern Pacific became increasingly disinterested in the operation; deferred maintenance grew rampant and equipment deteriorated.  In addition, except for new PCC cars purchased during World War II (30 in all to serve the Glendale-Burbank Line) no modern equipment arrived after the 1920's.
System Map (1935)
As early as 1917 buses began replacing the least-profitable corridors; the first was the San Bernardino-Highland-Patton section, followed shortly thereafter by lines to Long Beach, Pasadena, Santa Monica, Redlands, and San Pedro. 
In 1923 Pacific Electric unveiled its own bus service in conjunction with another local interurban, the narrow-gauge Los Angeles Railway (or "LARy"), to capture some lost business while allowing for a continued scaling back of low-density services. 
The Great Depression hit the company hard and any hope of seeing the entire system preserved ended; between 1929 and 1933 revenues fell by half, which coincided with the first abandonment proceedings. 
There was a detailed study undertaken by the California Railroad Commission which outlined how the Pacific Electric should continue service reductions, focus on the busiest corridors, and introduce service improvements as much as possible. 
Unfortunately, management had all but given up by then and steps were initiated to discontinue all remaining services. 
As a result, the company's famous "Red Cars," bedecked in a catchy bright red livery with orange trim (the scheme was so legendary it lives on today under the Los Angeles County Metropolitan Transportation Authority's light rail transit operations) slowly disappeared.
---
Pacific Electric car #5136 is between runs at the small yard in Van Nuys on December 15, 1952. Author's collection.
Decline
By 1941 the following routes had either been dropped or greatly cutback; San Bernardino, Riverside-Pomona, San Gabriel-Temple, Yorba Linda-Fullerton-Whittier, both lines to Redondo, and Newport Beach.  Only the onset of World War II halted what would have surely been a complete shutdown. 
Business was so heavy the company had to recall some mothballed equipment, purchase new cars (PCC's), and restore service over the line to Newport Beach.  In 1945 the Pacific Electric handled some 109 million passengers. 
Alas, it was short-lived, and the program initiated in 1939 to end all service resumed.  By 1950 the only lines still in operation included Long Beach, San Pedro, Bellflower, Hollywood, and Burbank. 
Finally, a determined management exited the passenger business entirely on October 1, 1953.  Its remaining routes were abandoned, taken over by buses (owned by Metropolitan Coach Lines [MCL] which was later folded into the Los Angeles Metropolitan Transit Authority during March of 1958), or converted to freight service. 
The very last "Red Car" made its final run on April 8, 1961 and Los Angeles's greatest transportation entity passed into history.  A few years later, the now freight-only Pacific Electric Railway was quietly absorbed by parent Southern Pacific on August 13, 1965. 
If you are interested in perusing a collection of photographs highlighting the Pacific Electric during its heyday presented alongside contemporary scenes of the same location a copy of "Then & Now: Pacific Electric Railway" by authors Steve Crise, Michael Patris, and the Pacific Electric Railway Historical Society is a must.