Fall Foliage Train Tours (2022)

Last revised: August 10, 2022
By: Adam Burns

Fall foliage train tours offer one of the best ways to see the vibrant colors of autumn.  These trips have become a very popular event in recent years although their origins can be traced back to the mid-20th century. 

Today, several tourist railroads host special fall trips and many sell out. Some organizations which do not offer such even enjoy an increase in ticket sales thanks to the fall colors.  
Many are located in the eastern United States where the Appalachian Mountains, carpeted in deciduous forests, provide breathtakingly scenic vistas. As a result, numerous organizations host such events each autumn.
Notables among these are:
Strasburg Railroad (Pennsylvania)


Cass Scenic Railroad (West Virginia)


Tweetise Railroad (North Carolina)


Adirondack Scenic Railroad (New York)


Conway Scenic Railway (New Hampshire)


Green Mountain Railroad (Vermont)


Tennessee Valley Railroad Museum (Tennessee)


Blue Ridge Scenic Railway (Georgia)
Trips on these railroads regularly sell out.  Even if a railroad may not offer a dedicated fall foliage tour many host excursions through October and can still provide great views of the changing colors.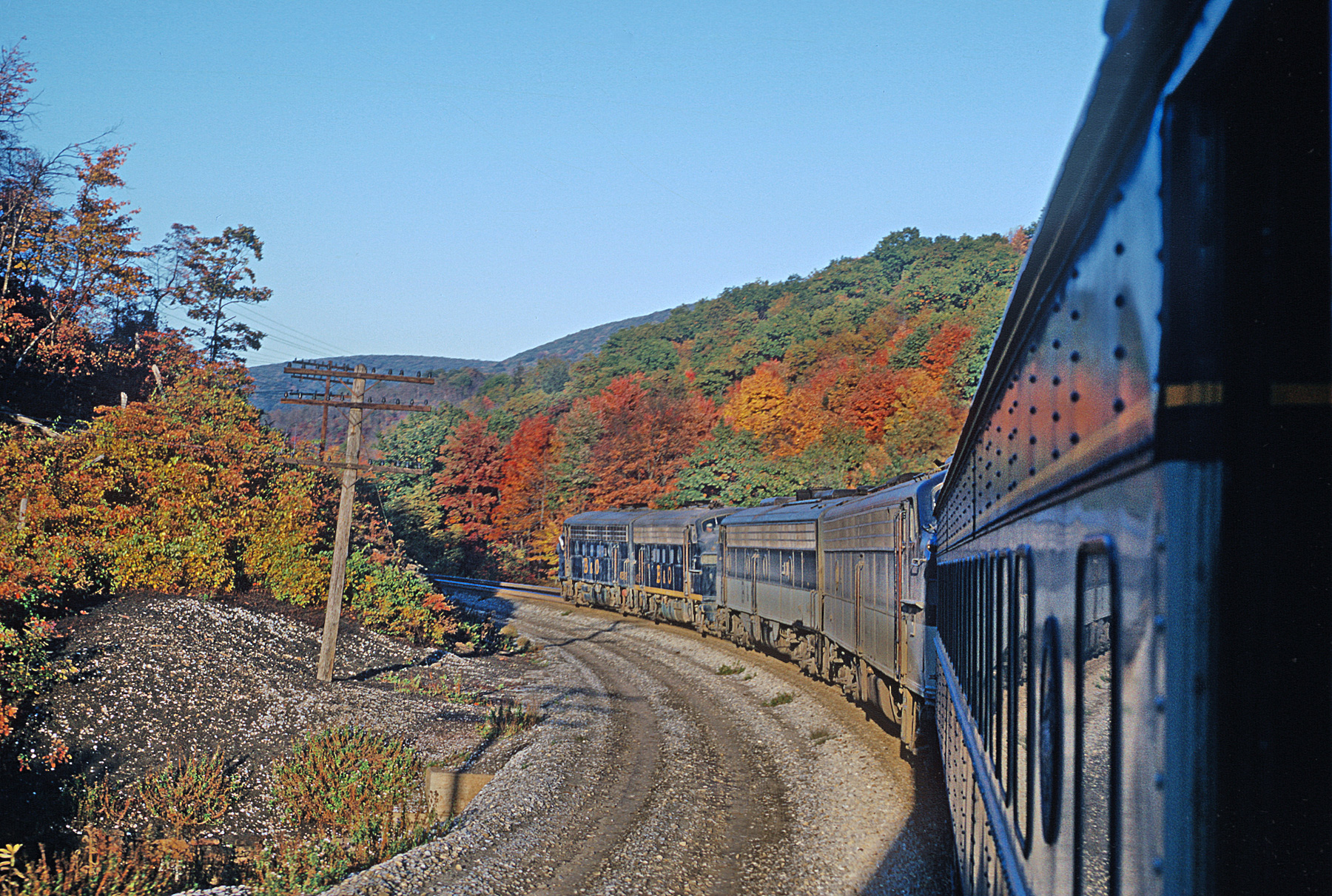 A pair of Baltimore & Ohio F7A's act as helpers at the head end of a B&O NRHS special on 17-Mile Grade near Altamont, Maryland on October 4, 1969. Roger Puta photo.
Locations
If you are very interested in going by train, when planning your trip please take note of the peak season for that particular area. 
For instance, locations higher in the mountains such as at Cass, West Virginia (home of the Cass Scenic Railroad) tend to peak much earlier (mid-September) than other areas nearby that sit at a lower elevation like the Blue Ridge Scenic Railway (early November). 
Below is a list of most tourist railroads (or museums) that host either dedicated fall foliage trains in 2022 or operate where colors are quite brilliant.  If your railroad is not included here  please let us know and it will be added. 
Finally, unless otherwise noted more information about each excursion can be found by visiting the museum's or railroad's website.  
For more information regarding when peak season occurs for different parts of the country please click here.  Finally, please click here to learn more about Halloween-themed train rides.
Alabama
Heart of Dixie Railroad Museum (Calera):  Located in Calera, this museum not only provides static displays showcasing the state's rail history but also offers many excursions throughout the year.  One such event is the Pumpkin Patch Express hosted during October. 
Geared, of course, for the kids the ride (which departs from the restored Southern Railway depot originally located in Wilton) lasts about 1 1/2 hours where the train departs east from Calera along a former Louisville & Nashville line which once linked the town with Wellington, Alabama and Birmingham in a roundabout fashion. 
The railroad referred to it as the "Alabama Mineral Division" that ran 183 miles.  Today, the museum maintains just over 5 miles of the southern leg that once reached Wellington (98 miles) where interchange was established with the Seaboard Air Line. 
During your trip you will pass through the beautiful Shelby County countryside; the right-of-way passes through a mixture of forest canopy and open farmland.  Along the way you can also see the Timberline Golf Club and Ozan Winery & Distillery's vineyard.
North Alabama Railroad Museum (Huntsville):  Like the Heart Of Dixie Museum this organization offers excursions alongside static displays.  It has two different fall train rides, the Punkin' Pickin' Extravaganza and the Fall Color Special (which normally runs during two different weekends). 
The former trip, as the name suggests, allows kids to ride out and pick out their own pumpkin.  The event is held during one Saturday each October. 
The latter is, of course, geared towards the autumn colors running over a former section of the historic Nashville, Chattanooga & St. Louis running to the east and west of Huntsville (5 miles).  This is operated as the "Mercury & Chase Railroad." 
During the trip you will see lots of beautiful farmland and view the southern periphery of the breathtaking Appalachian Mountains.  It is a lovely little train ride tucked away in the "Heart of Dixie."
Alaska
Alaska Railroad (Anchorage):  The Alaska Railroad does not offer any type of fall foliage excursion but they do offer the finest regular passenger service in the United States via trains like the Denali Star, Coastal Classic, Glacier Discovery.  The service is second-to-none and so is the scenery. 
The railroad is worth riding any time of year thanks to the spectacular views.  Tourists from around the world come to ride the Alaska Railroad for this very reason; it is one of the best ways to see the state's unparalleled beauty. 
The railroad begins in Seward along the Kenai Peninsula and snakes its way north to Portage before turning northwesterly into Anchorage. 
Along the way you can view stunning fjords and looming mountain peaks. The line then continues north to Wasilla before turning west again to follow the Susitna River within the Denali State Park. 
Rails reach Nenana where the Susitna meets the Tanana River; here, the line curves east and terminates at Fairbanks.  
Arizona
Grand Canyon Railway (Grand Canyon Village):  One of our country's finest tourist trains, the Grand Canyon Railway's location unfortunately does not subject it to spectacular fall foliage. 
However, its luxurious accommodations and gorgeous desert scenes of canyons and open vistas more than makes up for it.   
Few other places offer the chance to step back in time to experience rail travel as it was in the 1950's with freshly prepared meals on-board, dome car viewing, lounge service, and reclining seat coaches.  In some instances trains are even pulled by steam locomotives. 
Each fall they host the Pumpkin Patch Train where kids can ride out to the secret patch and pick out their favorite pumpkin.  Upon returning to the Williams Depot their new addition can be decorated while enjoying refreshments such as hot cider, cocoa, pumpkin pie, and more. 
Other activities available include arts & crafts, a Haunted Train Car, and hay bale maze.  Dressing up in Halloween costumes is strongly encouraged!
Verde Canyon Railway (Clarkdale):  Arizona is often thought as having only arid deserts, devoid of trees and foliage.  However, the state is actually filled with woodland and at one time several logging railroads could be found there. 
Notable regions include the Prescott National Forest, Tonto National Forest, Apache-Sitgreaves National Forest, and the Coconino National Forest.  The Verde Canyon Railway is found in the latter, operating 20 miles of ex-Atchison, Topeka & Santa Fe trackage near the very popular tourist destination of Sedona.
The attraction, which runs over freight line Arizona Central Railroad (which owns the entire 38 mile branch of the old Santa Fe), has become a popular tourist destination since it began in 1990. 
During October and November they host special fall foliage trips in relaxing, climate-controlled cars.  Trains snake their way northward along the fertile Verde River; during the trip guests are treated to a dichotomy of arid deserts, distant mountains, and vibrant fall colors. 
The Verde Canyon has blossomed into a fine upscale experience, worth riding any time of the year.
Arkansas
Arkansas & Missouri Railroad (Springdale):  The A&M is a large, short line freight carrier operating between Fort Smith, Arkansas and Monett, Missouri. 
They offer excursions nearly year-round, including two different "Fall Foliage Train" tours: a 70-mile, round trip from Van Buren to Winslow and a 134-mile experience from Van Buren to Springdale. 
During the journey you will pass through countless acres of farmland within the Arkansas River Valley and see the beautiful Boston and Ozark Mountains.  All trains head north out of Van Buren along the old St. Louis-San Francisco Railway (commonly referred to as the "Frisco"). 
You will first pass along Frog Bayou (which is crossed several times) before passing near Lake Fort Smith.  Next, trains stay near Clear Creek and then head through a tunnel beneath Winslow. 
Continuing north along the White River's West Fork you will see the small community of West Fork before arriving in Fayetteville/Springdale.  During most trips the train stays within the Ozark National Forest.  This is one of the top fall foliage experiences in the country! 
Eureka Springs & North Arkansas Railway (Eureka Springs):  The ES&NA is tucked away in the small town of Eureka Springs, located within the beautiful Ozark Mountains.  The railroad hosts short trips of just 2.5 miles over the old Missouri & North Arkansas (later the Arkansas & Ozarks Railway), a little short line which stopped running in 1961. 
Today's tourist attraction was made possible by a group of train enthusiasts who rebuilt a section of the old right-of-way in 1981. 
Trips depart from the town's restored M&NA depot (built in 1912) where a small turntable is also located; heading north from Eureka Springs the train rolls along near Highway 23 before crossing Leatherwood Creek, which is the northern terminus. 
While the trips are short (lasting only about an hour) they nevertheless provide a nice experience, offering the chance for those uninitiated to experience what it was like to travel by train.  During warmer months the railroad regularly hosts lunch and dinner trains 
California
No known events.
Colorado
Durango & Silverton Narrow Gauge Railroad (Durango):  One of the top 3 heritage railroads in America, the D&SNG operates 45.2 miles of the old Denver & Rio Grande Western's "San Juan District" (specifically the "Silverton Branch") between Durango and Silverton. 
This three-foot gauge railroad (otherwise known as "narrow gauge") is truly from a bygone era.  You will step back in time to experience rail travel as it was in the early 20th century; period cars are fully restored, trains pulled by historic steam locomotives (of the 2-8-2 "Mikado" type), and the on-board service is second-to-none.
What really draws the crowds is the scenery, with incredibly breathtaking views of the San Juan National Forest as tracks hug the cliffs overlooking the Animas River.  Each autumn (September and October) the aspens turn brilliant shades of red, yellow, and orange.
Georgetown Loop Railroad (Georgetown):  An easy access from Interstate 70 (and only an hour from downtown Denver), this attraction has rebuilt a 2-mile segment of the old Colorado Central Railroad's narrow-gauge (36-inch) trackage between Georgetown and Silver Plume. 
Most notable, and the feature which draws folks back year after year, is the massive Devil's Gate High Bridge spanning Clear Creek that forms a huge horseshoe curve with grades of 4%! 
The railroad does not offer dedicated fall foliage excursions but its location within the breathtaking Rocky Mountains provides excellent views of autumn colors during September and October.
Leadville, Colorado & Southern Railroad (Leadville):  The state of Colorado is famous for its narrow-gauge railroads; many, except the Denver & Rio Grande (which was specifically designed as a through corridor), were built to serve the booming silver mining industry during the latter 19th century. 
The LC&S operates the last component of the historic Denver, South Park & Pacific still in existence, 10.5 miles.  Trips depart from the 1893 brick/stone depot originally built by the Denver, Leadville & Gunnison. 
During weekends in September they host the Fall Photo Special (lasting approximately 3 hours) allowing you to view the splendid aspen trees this time of year; trains head north past Little Evans Gulch and follows the Arkansas River's East Fork before passing over a small horseshoe curve near Birdseye Gulch. 
The train continues northward before terminating at Mount Arkansas.  Located within the San Isabel National Forest.  With incredible views of the Rocky Mountains in any direction, the LC&S is worth riding any time of the year!
Rio Grande Scenic Railroad (Alamosa):  Based in Alamosa, the Rio Grande Scenic began in 2006 over a section of the old Denver & Rio Grande Western between Alamosa and La Veta (61.4 miles). 
From early September through early October the railroad hosts their "Fall Colors Explorer" via two different routes; one departing Alamosa and the other from Fort Garland.  Both services feature climate-controlled cars, including dome service, and provides brunch on-board. 
The line you will now ride was part of the original Denver & Rio Grande Railway built by General William J. Palmer, a decorated U.S. Army officer of the Civil War.  Heading south, then west from Denver his railroad crossed 9,220-foot Veta Pass, and arrived in Alamosa during July of 1877. 
He would go on to complete much of the railroad he originally envisioned as a through corridor penetrating the Rocky Mountains to reach Salt Lake City although his goal of utilizing New Mexico's Raton Pass would be thwarted by the Atchison, Topeka & Santa Fe. 
The views are quite charming; the San Luis Valley, Sangre de Cristo Mountains, and breathtaking open vistas allowing one to see for miles and miles.  When not down for inspection or overhaul there are also a handful of historic steam locomotives pulling trains.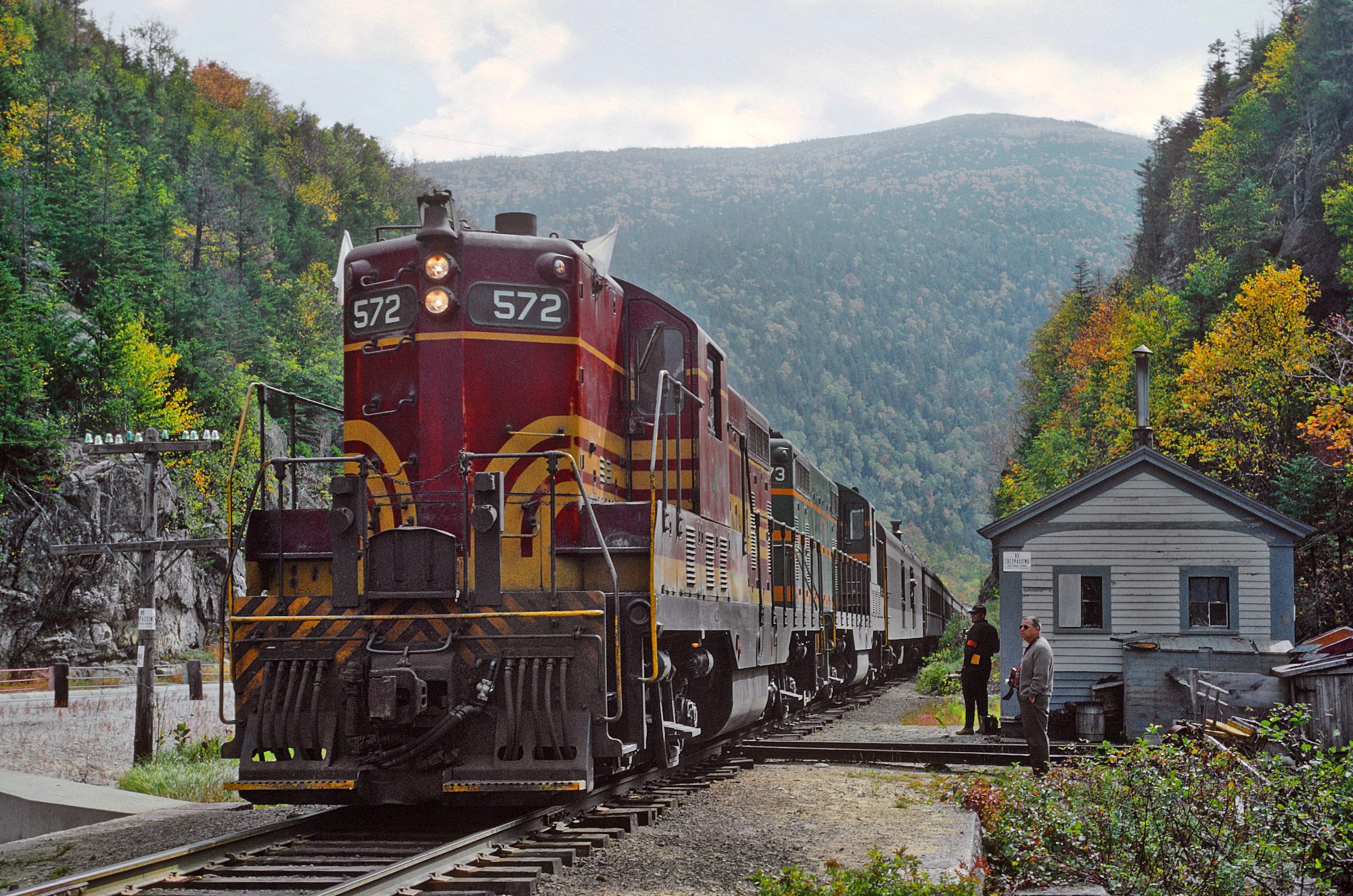 A pair of Maine Central GP7's have a fan trip on the fabled Mountain Division at Crawford Notch, New Hampshire during the fall of 1968. Roger Puta photo.
Connecticut
Essex Steam Train (Essex):  Yearning for autumn splendor at its absolute finest?  Then take a drive or train tour through New England; no other place in the country offers such vibrant colors of brilliant yellow, blaze orange, amber, burgundy, and red.   
The Essex Steam Train is one of the best locations to experience this; based in Essex and popular for its use of steam locomotives and spectacular views of the Connecticut River, they host the 2 1/2-hour Fall Foliage trip each years. 
The railroad runs some 20 miles over an old New York, New Haven & Hartford branch, most of which is draped in forest canopy. 
You will also see open farmland and, of course, splendid views of the Connecticut River.  Their trains are a treat to ride throughout the season but draws especially large crowds after summer has ended.  
Naugatuck Railroad (Thomaston):  This railroad hosts excursions through the Naugatuck River Valley, which are both steam (led by "New Haven 2-8-2 #3025" which is actually a Chinese-built engine, manufactured by the Tangshan Locomotive Works in 1989) and diesel powered. 
During September and October they host their Fall Foliage train ride. They also offer Pumpkin Patch Trains where the kids can ride out and select a pumpkin of their choosing to carve. 
The Naugatuck Railroad is a division of the Railroad Museum of New England; it maintains a 10-mile section (20 mile round trip) of the old New York, New Haven & Hartford which was originally built as the Naugatuck Railroad (whose corporate name disappeared into the New Haven). 
Heading south, trains are never far from the Naugatuck River (briefly crossed about halfway to Waterville).  During the trip you can see distance mountains and at one point pass through the Mattatuck State Forest.  Just prior to arriving in Waterville the train passes over the river again.
Delaware
Wilmington & Western Railroad (Wilmington/Greenbank):  The Wilmington & Western, located in Wilmington, is a freight railroad which also offers popular steam-powered (led by Atlanta, Birmingham & Atlantic 0-6-0 #58 built by the Baldwin Locomotive Works in 1907) excursions for the public over a 10-mile segment of a former Baltimore & Ohio branch between Wilmington (Greenbank) and Hockessin. 
They feature their Autumn Leaf Special during October and early November with trips lasting between 1 1/2 hours (Mt. Cuba Picnic Grove) and 2 1/2 hours (Hockessin). 
They also host a Hayride Express on select dates during the fall.  Departing from the depot just off the Newport Gap Pike (This building is a replica completed in 1997.  There is also an original, restored 1873 depot nearby of Baltimore & Ohio heritage.  It was historically located in Yorklyn.)
you will immediately cross Clay Creek and follow it to just above Ashland before turning west towards Hockessin.  Along the way you will pass parks, beautiful farms, and forest canopy.  Interestingly, you are never far from the suburbs with residential developments dotting the right-of-way here and there.
Florida
No events known.
Georgia
Blue Ridge Scenic Railway (Blue Ridge):  This railroad offers spectacular autumn colors of northern Georgia's Appalachian Mountains. 
Passing through the Chattahoochee National Forest the Blue Ridge Scenic hosts Fall Foliage trips from late September through early November thanks to the region's mild climate. 
They also host a 1-hour Pumpkin Patch Express during one day in late October.  The 26-mile round trip utilizes a section of the old Louisville & Nashville's famous "Hooke & Eye" line, also used by Georgia Northeastern Railroad to provide freight service. 
Departing from Blue Ridge one is instantly whisked into a country setting of hills, hollers, deciduous trees, and farms.  The line at first follows the Dry Creek before reaching the Toccoa River, a waterway which is never far for the remainder of the trip. 
At one point it is even crossed near the small community of Williamstown before reaching McCaysville, the northern terminus.  The Blue Ridge Scenic is one of the nation's finest heritage railroads, maintaining first class equipment and top notch accommodations.  It is very much worth the ticket price to ride anytime of the year.
SAM Shortline Excursion (Cordele): The SAM Shortline is one of the longest heritage railroads in the country, offering various trips along a route that spans a total of 34 miles between Cordele and Archery for a 68-mile round trip through Georgia's Veterans State Park. 
While they do not host a dedicated fall foliage excursion their season runs through the peak of autumn season of October and November.  Their name is an acronym of the Savannah, Americus & Montgomery which built this stretch of railroad. 
It was later part of the much larger Seaboard Air Line and today freight service is provided by short line Heart of Georgia Railroad.  Heading west from Cordele your journey first takes you past beautiful farms before crossing arguably the line's most scenic location, Lake Blackshear. 
Next you will again pass fertile farmland along U.S. 280 and then roll through the small town of Leslie.  As you continue west you will see the largest community along this stretch of railroad, Americus. 
The western terminus is Plains; here, trains are turned and make the jaunt back to Cordele.  Most of the trip is rural, relaxing, and scenic; a perfect way to enjoy the fall colors!
Hawaii
No events known.
Idaho
No events known.
Illinois
No events known.
Indiana
Hoosier Valley Railroad Museum (North Judson):  Railroad history is rich and pervasive in the small town of North Judson which once featured four major lines; the Pennsylvania, Erie/Erie Lackawanna, Chesapeake & Ohio, and New York Central. 
Alas, as the industry fell on hard times, companies devolved into bankruptcy, and other transportation modes grabbed market share, all were abandoned as through corridors. 
Through the 1970's the location still witnessed an incredible 125 trains every day!  Today, only a portion of the C&O and an Erie Railroad remnant are still in place at North Judson. 
The Hoosier Valley Railroad Museum hosts excursions over a 5-mile section of the old C&O; each fall they offer Fall Harvest Trains and Pumpkin Trains in late September and October. 
These trips depart from a replica C&O depot and head northwesterly through open farmland and scattered woodline before crossing the Kankakee River at English Lake whereupon trains return to North Judson.  
Whitewater Valley Railroad (Connersville):  Based in Connersville this tourist line operates a former New York Central branch, of which about 18 miles have been preserved. 
They host the Pumpkinliner during late October allowing kids to enjoy a train and pick out a pumpkin for Halloween.  All trips depart from the replica depot at Grand Avenue/5th Street. 
The entire 18-mile corridor to Metamora was acquired in 1972 from the bankrupt Penn Central Transportation Company (New York Central's successor) which would have otherwise been abandoned. 
Your trip will head south out of Connersville where the topography immediately changes to beautiful open farmland with distance woodline.  Next, you will skirt the Whitewater River and again pass tilled fields, barns, and well-kept property. 
At the town of Laurel you will cross the river before arriving in Metamora a few miles further, location of the historic Whitewater Canal.
Iowa
Boone & Scenic Valley Railroad (Boone):   The B&SV is one of only two places in Iowa that hosts public excursions.  The heritage railroad began in 1983 when the then-Boone Railroad Historical Society saved 11.3 miles of the old Fort Dodge, Des Moines & Southern Railway from the Chicago & North Western which was abandoning most of its trackage. 
The FDDM&S was a historic electrified interurban that ran from Des Moines to Webster City via Fort Dodge, a total of 104.83 miles. It also maintained branches to Lehigh (14.08 miles), Rockwell City (27.1 miles), and Ames (6.9 miles). 
While most interurbans closed by World War I, the FDDM&S found success as a freight line and survived until its 1968 purchased by the C&NW. 
Following this takeover the new owner abandoned most of its network. Each October the Boone & Scenic Valley hosts the Pumpkin Express Train for kids.  While this event is, of couse, geared towards youngsters, it indirectly offers the chance to see the area's rich fall. 
Boone was situated at Milepost 42.4 along the FDDM&S, about halfway between Des Moines and Fort Dodge.  The B&SV tracks run as far north as Wolfe at Milepost 31.1. 
This is one of the most scenic lines you can ride in the Midwest; surrounded by rural farmland and patches of forest the train will cross the breathtaking 156-foot high bridge over Bass Point Creek just north of Boone. 
A bit further you will pass another photogenic location as rails cross Deer Creek and continue along this waterway before veering west near Fraser and terminating at the small hamlet of Wolfe.
Kansas
No events known.

Kentucky
No events known.

Louisiana
No events known.

Maine
Maine Narrow-Gauge Railroad & Museum (Portland):  Based in Portland this organization tells the history of Maine's "Two Footers" and operates a short, 1.5 mile segment of two-foot gauge railroad along the Casco Bay waterfront. 
They have three small tank engines preserved, one of which is operational; Bridgton & Saco River 2-4-4T #7 built by the Baldwin Locomotive Works in 1913. 
Each October they host the Pumpkin Train where the kids can enjoy a train ride and pick out a pumpkin while partaking in refreshments consisting of hot cider and cookies. 
For reasons not entirely known to this day, 2-foot gauge railroads were prolific throughout the Pine Tree State.  They primarily served the logging industry although there were several common-carrier lines as well including the largest, the Sandy River & Rangeley Lakes Railroad, which was formed in 1908 through the merger of seven smaller systems.
Cass Scenic Railroad 3-truck Shay #11 begins the arduous climb towards Whittaker Station with another excursion from Cass, West Virginia on the afternoon of October 12, 2008. Loyd Lowry photo.
Maryland
Western Maryland Scenic Railroad (Cumberland):  Without question Maryland's most popular heritage railroad is the Western Maryland Scenic operating the former Western Maryland's Connellsville Extension between Frostburg and Cumberland (15.3 miles).
The WMSR does not offer official fall foliage tours but does host trips throughout the autumn season giving passengers breathtaking views of the Allegheny Mountains during this time. 
The WMSR began in 1988 and has grown tremendously since that time; all trips depart from the WM's beautifully preserved two-story brick station at 13 Canal Street which opened in 1913. 
Heading north along Wills Creek you will pass through the looming Cumberland Narrows before turning west near Corriganville.  Next you will cross one of the nation's most famous feats of railroad engineering, Helmstetter's Curve. 
The line continues winding its way westward through the heart of Appalachia until arriving at Frostburg where locomotives are turned on authentic turntable (also of Western Maryland heritage it was formerly located in Elkins, West Virginia). 
Trains stop here for a short time at the preserved Cumberland & Pennsylvania (WM) wooden depot completed in 1891.

Massachusetts
Cape Cod Scenic Railroad (Hyannis):  The Cape Cod Scenic is an upscale heritage railroad which offers a wide range of dinner trains and specials throughout the year. 
While it does not host an official fall foliage excursion its schedule runs through October, allowing passenger to enjoy a train ride at the height of a New England autumn. 
Few other places in America offer such vibrant colors of reds, yellows, and burgundies.  The railroad operates just over 24 miles of an old New York, New Haven & Hartford branch between Hyannis and Buzzards Bay. 
Trains depart from the former town at the preserved, two-story wooden NYNH&H depot built in the early 1900's (located at 252 Main Street). 
Your trip takes you north out of town near the Barnstable Municipal Airport and past the Cummaquid Gulf Club before turning west through a mixture of woodland and suburban homes. 
You will briefly pass the Great Marshes and continue northwest before reaching the Cape Cod Canal which connects Cape Cod Bay with Buzzards Bay. 
The trip concludes at another preserved New Haven depot, this one in Buzzards Bay, a one-story brick/stucco structure completed in 1912.

Michigan
Little River Railroad (Coldwater):  This excursion is based in Coldwater and operates a 7-mile section of an old New York Central branch to Quincy. 
It was once part of a much larger corridor through southern Michigan formerly owned by the Lake Shore & Michigan Southern. Occasionally, trips run as far east as Hillsdale, 23 miles although generally run the section previously mentioned. 
Each October they host the Pumpkin Train, allowing kids to enjoy a train ride and pick out a pumpkin for carving.  During the journey be sure and take in the region's beautiful fall colors; you will pass considerable open farmland and patches of woods near the Sauk River. 
As an added bonus most Little River Railroad excursions are led by authentic steam locomotives, either 0-4-0T #1 (built by the Vulcan Iron Works in 1908) or Little River 4-6-2 #110 (manufactured by the Baldwin Locomotive Works in 1911 it is noteworthy as the smallest "Pacific" type steamer ever built).
Southern Michigan Railroad (Clinton):  The Southern Michigan Railroad, based in Clinton, has been in operation since 1982 operating about 13.5 miles of a former New York Central line acquired from Conrail which was in danger of being abandoned. 
Their typical operating season runs each spring through December, hosting several specials during the year.  One such event is the Fall Color Tour held every October.  You can also enjoy other local festivals at this time such as the Clinton Fall Festival and Appleumpkin Festival. 
All trains depart from Clinton and head south through the Raisin River Valley; before reaching Tecumseh you will cross the river, a spot worth having your camera ready! 
Next, you will enjoy a bit of street-running, a rarity in railroading, along Evans Street before leaving town near the Raisin Valley Golf Club.  From this point the tracks continue following the river and end at a location known as Lenawee Junction.  The trip is a mixture of patchy woods and beautiful open farmland.  
Minnesota
North Shore Scenic Railroad (Duluth):  Based in Duluth and part of the Lake Superior Railroad Museum this excursion hosts a wide range of special trains throughout the year along a 27-mile route that features both steam and diesel locomotives. 
Beginning in late September it offers the Fall Colors Tour which, "CNN named the... 'Top 5 of the Top 10 in America!'"  Indeed, this trip cannot be missed if you want to experience one of the best fall foliage train rides in the nation. 
Beyond the colors, the ride is spectacular as the train skirts the shores of Lake Superior along the old Duluth, Missabe & Iron Range between Two Harbors and Duluth.  Once out of town you are immersed in beautiful scenes of trees and woodland with occasional glimpses of the lake. 
At the community of Knife River you will cross waterway for which it is named as you continue north towards Two Harbors where the trip concludes.  Here you can see massive ore docks and preserved locomotives, notably DM&IR 2-8-8-4 #229.

Mississippi
No events known.
Missouri
Branson Scenic Railway (Branson):  A true tourist attraction in every sense, Missouri's most popular train excursion hosts 40-mile round trips over short line freight carrier Missouri & North Arkansas through the heart of the Ozark Mountains.
Some of Branson's other attractions, which draws hundreds of thousands each year, include live shows, country music stars, rollercoasters, Ferris wheels, cruises, and much more.   
The Branson Scenic Railway does not offer dedicated fall foliage trips but their regular excursions and dinner trains continue through the autumn season offering the chance to see the Ozarks ablaze in color. 
Trains depart from the restored wooden depot, originally completed by the White River Railway in 1905 (which later joined Missouri Pacific), located in the downtown district; from this point your journey will head either south to Self or north to Galena; both feature bridges, tunnels, and endless scenery through the rugged mountains. 
The trip is regarded as one of America's top excursions and for good reason; in addition, at 40 miles it is also one of the longest.
Montana
No events known.
Nebraska
No events known.

Nevada
No events known.

New Hampshire
Conway Scenic Railway (North Conway):  One of New England's top heritage railroads also hosts one of the top fall foliage trips. 
Located in the heart of the White Mountains the scenes and vibrant colors along the Conway Scenic are unquestionably worth the ticket price!  Today, it operates sections of the old Boston & Maine's Conway Branch and Maine Central's Mountain Division. 
The former takes you south along the Saco River where guests can view distance mountains and nearby farms during the 7 miles to Conway.  The latter is much more impressive from a visual standpoint. 
The Mountain Division was well known for its spectacular scenery, long before a heritage railroad was born; during the Maine Central era the railroad regularly hosted fall foliage excursions through this region. 
Departing north from the North Conway depot the train stays long the Saco River until climbing out of the valley several miles out of town.  At this point you are fully immersed in mountains until you reach Crawford Notch State Park, the highlight of the trip.  Trains operate as far as Fabyan Station before turning back.
Hobo Railroad (Lincoln):  This tourist line is based in Lincoln and hosts trains along the Pemigewasset River.  During select dates in October you can ride their Fall Foliage Specials between Lincoln and Woodstock for beautiful scenes of autumn in this part of New England. 
They also operate dinner trains celebrating the fall season.  The Hobo Railroad began hosting excursions in 1986 over 7 miles of a former Boston & Maine branch (freight service was, and still is, provided by the Plymouth & Lincoln Railroad). 
Your trip departs south along the Pemigewasset River as you are surrounded by the beautiful White Mountains in every direction.  The entire journey offers a wonderful experience to see New England's stunning fall colors by train. 
Winnipesaukee Railroad (Meredith/Weir Beach):  Owned by the same group as the Hobo Railroad this operation is based in Meredith.  Like its counterpart, the Winnipesaukee Railroad also hosts Fall Foliage Specials during September and October. 
They have two stations; one in Meredith and another in Weirs Beach (both of which are situated along Lake Winnipesaukee).  The entire line runs from Meredith to Lakeport (8.3 miles) over the same ex-B&M branch operated by the Hobo Railroad. 
The scenery along this stretch is somewhat different as the tracks stay near the water almost the entire way.  However, there is still plenty plenty of foliage and fall colors to see during your journey, making this ride arguably as scenic as the Hobo Railroad.
New Jersey
No events known.
New Mexico
Cumbres & Toltec Scenic Railroad (Chama):  The Cumbres & Toltec Scenic (C&TS) operates the longest stretch of the legendary Denver & Rio Grande Western's narrow-gauge (3-foot) network still in existence in southern Colorado and northern New Mexico. 
It totals 64 miles between Antonito, Colorado and Chama, New Mexico.  The highlight of your trip is crossing 10,015-foot Cumbres Pass and passing through the Toltec Gorge, a line completed to Durango in 1881. 
The Rio Grande's so-called "San Juan District" was built to serve Colorado's then-booming silver mining industry but survived as a branch until the 1960's.  The nearby Durango & Silverton Narrow-Gauge (D&SNG) also maintains a segment of this same network, the Silverton Branch from Durango to Silverton. 
For train enthusiasts visiting either the C&TS or D&SNG is a chance to step back in time, witnessing how railroads operated more than a century ago.  Much of the original infrastructure, buildings, and even historic steam locomotives remain preserve. 
It is also a great way to view the changing colors of autumn as the railroad hosts excursions through October every year.
New York
Adirondack Scenic Railroad (Utica/Thendara):  The Adirondack Scenic is one of New York's most popular tourist railroads, operating through the heart of the Adirondack Mountains. 
Much of the corridor was originally built as the Mohawk & Malone Railway during the 1890's and later joined the much larger New York Central System.  In its entirety the line was once an important route linking New York with Montreal, Quebec (known as the Adirondack Division). 
It split from the "Water Level Route" main line at Utica and proceeded northward into Canada, running 232.3 miles.  At Lake Clear Junction, a little over halfway to Montreal, a short branch reached the resort of Lake Placid; today, the Adirondack Scenic owns the Utica-Lake Placid corridor, 141.3 miles. 
However, the line is currently only opened as far as Big Moose, 63.0 miles.  The remainder is either awaiting funds for restoration or is expected to be converted into a rail/trail. 
Despite the loss of the northern end of the line the railroad remains one of the longest excursions available.  During September and October they host several Fall Foliage Trains to allow passengers the chance to see the region's splendid fall colors through the Adirondacks as you wind your way over creeks, near lakes, and pass small towns.  
Arcade & Attica Railroad (Arcade):  The A&A is based in Arcade and operates trackage originally built by the Buffalo, Attica & Arcade in 1917 to provide local freight service between its namesake towns (connections were made with the Erie Railroad at Attica and Pennsylvania Railroad at Arcade). 
Unfortunately, severe flooding along Tonawanda Creek in 1947 ended service above North Java.  Today, the remainder survives as a popular tourist attraction; for many years the A&A was notable for its use an authentic steam engine, Boyne City 2-8-0 #18 originally built by American Locomotive's Cooke Works in 1920. 
However, a cracked boiler has sidelined the locomotive indefinitely.  During October they host Fall Foliage Train specials that last for roughly 2 hours as the train rolls through the Wyoming County countryside. 
Your trip departs from Arcade and offers bucolic views the entire way winding its way along Monkey Run and past local farms; a wonderful experience that is very much worth the price of a ticket.
Catskill Mountain Railroad (Kingston):  Situated only an hour from New York City this railroad is located within another beautiful region of New York, the Catskill Mountains. 
Many moons ago, when rail travel was the only reliable and efficient means of transportation, folks rode trains not only reach some far away destination another but also escaping life's daily grind.
Many spent their summer vacations at resorts near their home; for New Englanders this meant places like the White Mountains, Catskill Mountains, Adirondack Mountains, and Green Mountains. 
The current Catskill Mountain Railroad was built as various smaller systems during the 1870's which later became part of the Ulster & Delaware, a future New York Central component.  The line's only branch to Hunter and Kaaterskill was even built as a 3-foot narrow-gauge railroad. 
Under the NYC the corridor was known as the Catskill Mountain Branch; running 104 miles from Kingston to Oneonta (where an interchange was made with the Delaware & Hudson), dubbed as "The Only All-Rail Route to the Catskill Mountains." 
Its proximity to the Big Apple made the Catskills a popular vacation destination; however, once the resorts lost their luster the railroad continued to provide freight service through the 1970's under the Penn Central. 
When this railroad went bankrupt in 1970 the Catskill Mountain Branch was sold to local municipalities with the Catskill Mountain Railroad launching in 1982. 
Today, it maintains 5 miles for public excursions between Kingston and Stony Hollow, New York.  Each autumn they run popular Fall Foliage Specials.  The railroad also offers Pumpkin Patch Trains a few times that month.
Cooperstown & Charlotte Valley Railroad (Cooperstown):  The C&CV operates through the Susquehanna River Valley; its history is diverse, dating back to 1865 as a means of connecting Cooperstown with the national rail network.  Its 16-mile line was never acquired by a larger carrier and the little short line remained independent throughout its corporate existence. 
Today, it is best known for hosting public excursions.  Each autumn the railroad features its 2-hour Fall Foliage Trains during September and October.  Excursions depart from the Milford Depot.  Please note tickets for this trip must be purchased in advance. 
While food and drink is not included with the ticket price these are available on-board.  Your trip follows the Susquehanna River the entire way, skirting farms, crossing the river, and offering fantastic views of the vibrant fall colors.  The railroad also offers Pumpkin Patch Trains during one weekend each October. 
Medina Railroad Museum (Medina):  The Medina Railroad Museum's mission is to preserve the area's rail history, notably that of the New York Central which operated through town.
The museum is housed in the NYC's former freight depot and also operates a 34-mile round trip excursion along the Erie Canal Heritage Corridor.  During October they run Fall Foliage trips allowing the public to enjoy the region's beautiful fall colors. 
These trips last 2 hours and also include lunch in reusable totes bearing the museum's name.  A nice little keepsake for any occasion!  Trips depart from the New York Central depot in Medina and follow the world-famous Erie Canal much of the way. 
The journey is largely flat with some rolling hills; farmland is scattered throughout your ride as you pass small towns and local communities. 
North Carolina
Great Smoky Mountains Railroad (Bryson City):  The Great Smoky Mountains of western North Carolina attract millions annually for their recreation (fishing, hiking, whitewater rafting, camping, and other activities), natural beauty, and breathtaking fall colors. 
It just so happens that one of the nation's top heritage railroads is also located here, the Great Smoky Mountains Railroad.  It witnesses tens of thousands annually hosting trips over 30.7 miles of the old Southern Railway's "Murphy Branch" between Bryson City and Nantahala.
The railroad's official fall foliage train is the Pumpkin Patch Express, an event primarily geared towards the kids.  However, their trains (offering a wide range of packages and options) operate throughout the autumn season, providing guests one of the best ways to see the Smoky Mountains ablaze. 
Your journey begins in Bryson City; situated along the Tuckasegee River you immediately cross the waterway upon leaving town. 
Your trip takes you beside forest-covered mountains, winds its way along beautiful Fontana Lake (which is also crossed), and through deep hollows.  In short, you will not find a finer train ride through the Appalachian Mountain chain. 
Tweetsie Railroad (Blowing Rock): Just three hours away from the Great Smoky Mountains Railroad is the popular Tweetsie Railroad located in another spectacular region of western North Carolina, the Blue Ridge Mountains. 
It is a nod to narrow-gauge history, specifically the East Tennessee & Western North Carolina Railroad, colloquially remembered as the "Tweetsie."  At its peak this system snaked its way from Johnson City, Tennessee to Boone, North Carolina (66 miles). 
It was incredibly scenic, working its way over mountains, through tunnels, and within deep gorges.  Alas, a declining need for 3-foot railroads and lack of business led to its demise by 1950 (although a small segment remains in use today for freight service). 
The current Tweetsie Railroad does not operate on the original ET&WNC right-of-way.  Instead, it utilizes a 3-mile theme park loop south of Boone.  The railroad does not host dedicated fall foliage specials but its location and schedule runs through the autumn season.
North Dakota
No events known.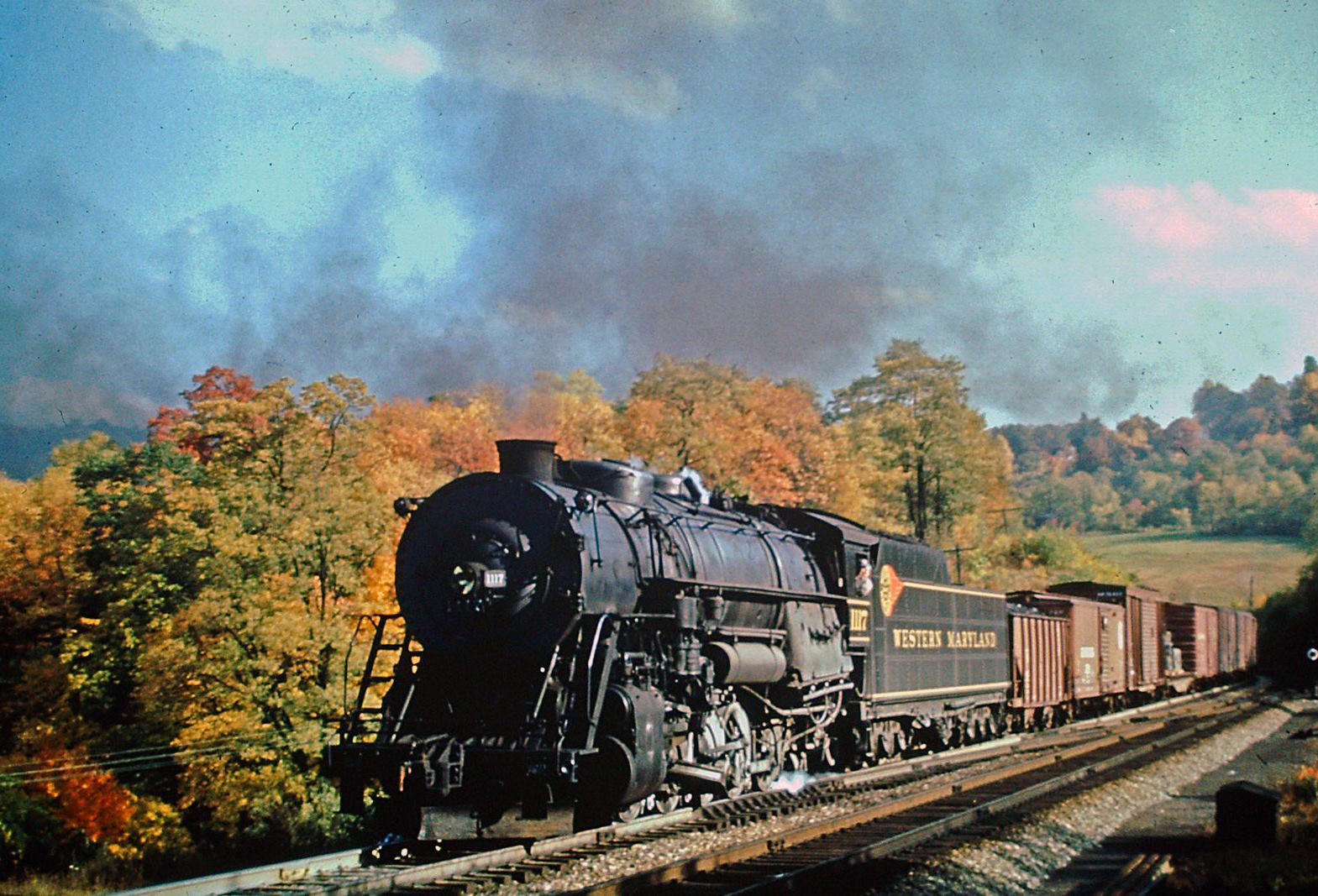 Western Maryland 2-10-0 #1117 steams through a picture perfect fall setting near Frostburg, Maryland on October 15, 1952. Photographer unknown.
Ohio
Cuyahoga Valley Scenic Railroad (Peninsula):  One of the nation's top heritage railroads can be found just south of Cleveland within the Cuyahoga Valley National Park. 
The scenery is outstanding; there are currently nine different stations from which to board traveling north from Akron along the Cuyahoga River.  During your trip you can see the Ohio & Erie Canal Towpath (operating from 1827 to 1913 it linked Lake Erie with the Ohio River), well-manicured properties, thick forests, local towns, and plenty of rural settings. 
The 51-mile line actually began hosting public excursions more than a half-century ago when then-owner Baltimore & Ohio first did so in 1967.  These continued intermittently for the next 20 years. 
They eventually became so popular the National Park Service purchased the corridor in 1986 after then-Chessie System put it up for sale. 
The Cuyahoga Valley Scenic features numerous specials throughout the year and offers guests the chance to experience the "Silver Age" of streamliners; service and accommodations are second-to-none making this train ride a must for anyone who enjoys rail travel.  
While no fall foliage specials are offered they do host excursions throughout the autumn season.
Hocking Valley Scenic Railway (Nelsonville):  The Hocking Valley Scenic Railway is located in Nelsonville, Ohio and operates 12 miles of the old Chesapeake & Ohio's Armitage Subdivision. 
The railroad was the idea of three friends in the early 1970's who were initially able to secure a 3.5-mile segment of the C&O's ex-Monday Creek Branch between Carbon Hill and Nelsonville in 1972. 
Following a bit of additional turmoil and maneuvering the organization began running over the current segment in the 1980's.  The corridor, which once reached Athens and an interchange with the Baltimore & Ohio (now a bike trail), meanders along the Hocking River Valley the entire way.
They host a 2-hour Fall Foliage Train which departs the historic Nelsonville depot throughout October.  During the trip you will cross the river, pass farms, and can even see the historic Hocking Canal (the 56-mile transportation artery operated in its entirety from 1843-1890). 
You might also consider riding the HVSR other times of the year as they host many special events and even have an operating steam locomotive, Ohio Power 0-6-0 #3 originally completed in 1920.
Lorain & West Virginia Railway (Wellington):  The L&WV hosts a 12-mile round-trip (6 miles each way) fall excursion (the Fall Color Tour) during Saturdays and Sundays in October from Wellington to Sheffield, the current segment restored. 
The organization is a unique one; its name comes from the original company which built the 25 miles from Wellington to Lorain.  For years it was part of the Wheeling & Lake Erie, a regional system which served Ohio (Toledo-Wheeling, West Virginia and Cleveland-Zanesville). 
Just after World War II the W&LE became a component of the even bigger New York, Chicago & St Louis (Nickel Plate Road) in 1949. 
The current heritage railroad has a long-term goal of eventually reopening the entire 25-mile route for freight and excursions.  The current trip takes you over northern Ohio's table flat topography dotted with farms and patchy woods making for a very nice trip.
Oklahoma
No events known.

Oregon
Mount Hood Railroad (Hood River):  The Mt. Hood Railroad operates 22.2 miles from Hood River to Parkdale as a freight line which also hosts public excursions.  The company has a fascinating history; it is not a startup but instead carries a history dating back to the early 1900's. 
It opened in 1909 to serve the fruit and timber industries along with local communities.  After nearly 60 years of independent service it was acquired by Union Pacific in 1968.  It became a private entity once more in 1987, which it remains today. 
The Mt. Hood's standard excursion is known as the Parkdale Excursion Train and, which runs throughout much of the year.  Each autumn they host the Fall Harvest Special during select dates in October. From their website:  
"Fall in Oregon brings the rich colorful tones that showcase the variety of trees in our area contrasted against the green pines and rugged mountain peaks.
To compliment Mother Nature's stunning seasonal show we added a range of autumn activities to our most popular ride to Parkdale that includes two photo stops, harvest gift, samples of area Harvest Brews, and an on-board Guest Speaker."
Eagle Cap Excursion Train (Elgin):  The Eagle Cap Excursion Train, based in Elgin, is located in northeast Oregon using RDCs (or Rail Diesel Cars) self-propelled rail cars to host excursions.   One day each September they host Fall Foliage specials.   
Your trip begins at Elgin from a replica depot; from this point you will travel north along the Grande Ronde River before crossing at the Wallowa River's confluence where the line then turns south towards Wallowa and Joseph. 
The entire corridor is 63 miles and provides fantastic panoramic views of northeastern Oregon's arid mountains and topography. 
The line was built by the Oregon Railway & Navigation Company during the 1890's as the Joseph Branch, which wound up as an important component of Union Pacific's lines throughout the Pacific Northwest. 
By the mid-1990's, UP saw the line as superfluous, wishing to either sell or abandon it.  In 2002 it was purchased by Union and Wallowa counties for continued freight service, now maintained by the publicly-owned Wallowa Union Railroad.
Oregon Coast Scenic Railroad (Garibaldi):  This tourist railroad is based in the beautiful Tillamook Bay area and is one of the best places in the Pacific Northwest to see iconic steam engines in action. 
They currently have four in operation and two others in their collection. The Oregon Coast Scenic maintains 46 miles over short line Port of Tillamook Bay Railroad, which owns 101 miles of a former Southern Pacific corridor. 
Unfortunately, severe storms in 2007 knocked out part of the corridor which still has not been repaired.  During weekends in October they offer Fall Splendor excursions which depart from Wheeler with round-trips lasting 2 hours. 
From this point you will head east and cross the Nehalem River, a waterway the train follows the entire way to Batterson, about 8 miles away.  The mountains and rural setting make this a wonderful way to experience the autumn colors.
Sumpter Valley Railroad (Sumpter):   Not many states can claim multiple attractions which operate historic steam locomotives but Oregon does, indeed, hold this honor. 
The Sumpter Valley Railroad currently has two narrow-gauge (3 foot) examples in service; White Pass & Yukon 2-8-2 #19 (built American Locomotive in 1920) and W.H. Eccles Lumber Company 2-Truck Heisler (40-ton) #3 (built by Heisler in 1915).
Their regular season runs from May through September although they host specials in October and for the holiday season.  This includes a special fall foliage run in mid-October as well as a Photographers' Weekend hosted that month. 
The Sumpter Valley has rebuilt 5 miles of an old logging railroad between Sumpter and McEwen has been restored.   The trip runs through the mountains almost exclusively and is never far from the Powder River.  
Pennsylvania
Colebrookdale Railroad (Boyertown):  A relatively new heritage line that began in 2014, the Colebrookdale Railroad (also known as the Secret Valley Line) began service over 8.6 miles of the old Reading Railroad between Boyertown and Pottstown. 
The Colebrookdale offers a multitude of special excursions and upscale amenities throughout the year (such as on-board dining) making it a growing Pennsylvania attraction. 
Their equipment is always clean and very well kept, both inside and out.  They currently offer their Autumn Splendor - Hayride On Rails and Bonfire Train during the fall season.   
Your trip begins in Boyertown (from a replica station) and immediately enters a wooded location near Ironstone Creek.  This stream is followed much of the way until crossing the larger Manatawny Creek; not far from this point you arrive in Pottstown. 
The trip is a mixture of farms, woods, and rural Americana making it one of Pennsylvania's finest tourist railroads.
Lehigh Gorge Scenic Railway (Jim Thorpe):  This excursion is operated on and owned by freight line Reading, Blue Mountain & Northern (Reading & Northern or RBM&N), a growing and successful Class II "regional" system. 
Your trip departs from the beautifully preserved Central Railroad of New Jersey (CNJ) freight station located on the south side of town along the Lehigh River's western bank.  It is one of the longest fall foliage trips available anywhere, lasting over 3 hours. 
You have your choice of either taking a steam or diesel powered train. The former is a restored 4-6-2 "Pacific" type originally built for the Gulf, Mobile & Northern in 1928.  The handsome engine is superbly maintained and always draws large crowds. 
The RBM&N runs these autumn trips on select dates in October and November.  They also now include dome service; very much worth the price if within one's budget! 
As you leave Jim Thorpe the train will first head north along the Lehigh River before turning west along Nesquehoning Creek.  The line was part of the old CNJ's western lines to serve eastern Pennsylvania's booming anthracite coal industry. 
This particular corridor was a branch that extended from Jim Thorpe to a connection with the Reading at Haucks.  You remain on the CNJ until reaching this town at which point the remaining trip to Pottsville was over the former Reading. 
You turn south at Haucks and somewhat east along the Little Schuylkill River before passing between the Locus and Nesquehoning Mountain and arrive in Tamaqua.  From here you will continue south on the Reading main line to Port Clinton. 
Next, you head northwesterly near the Schuylkill River before arriving in Pottsville.  The trip is typical Pennsylvania; river valleys, distant mountains, and rural small towns.  
Oil Creek & Titusville Railroad (Titusville):  The OC&T operates 16.5 miles of a former Pennsylvania Railroad corridor between Titusville and Oil City. 
The line follows the famous Oil Creek the entire way.  While a secondary corridor under the PRR it did act as another north-south route between Pittsburgh and Buffalo. 
The region is also famous as the location where oil was first discovered in America.  On August 27, 1859 George Bissell and Edwin L. Drake found "rock oil" via a drilling rig at a site on Oil Creek near Titusville. 
Along with the OC&T's standard excursions the railroad also hosts murder mystery dinner trains throughout the year as well as Fall Foliage Tours each October.  The valley's scenery is typical of Pennsylvania featuring rolling hills, lush forests, and plenty of bucolic settings.
Strasburg Rail Road (Ronks/Strasburg):  Our country's second most popular tourist railroad seeing 400,000 riders annually is located in Pennsylvania bucolic Lancaster County, the world's largest Amish community. 
This makes it a major tourist attraction with the railroad and county enjoying a symbiotic relationship.  The Strasburg's major draw is its first class accommodations and demand for authenticity representing rail operations as they appeared in the early 20th century. 
Interestingly, the railroad was nearly abandoned in 1957 as the little 4.5-mile short line had run its course and was no longer needed.  Its savior was Henry K. Long, a train enthusiast who saw potential in the property as a tourist attraction. 
Today, Strasburg is the oldest chartered American railroad still in operation.  Its name dates back to 1832 when today's word railroad was typically written as two ("Rail Road").  If there is one such heritage line you should ride once in your lifetime, Strasburg is it. 
While a dedicated fall foliage ride is not offered you can choose from several different excursions throughout the autumn season.  The entire trip contains views of flat bucolic farmland with distant mountains.
Tioga Central Railroad (Wellsboro):  Not many freight railroads are open to the idea of hosting public excursions but the Wellsboro & Corning is an exception. 
This short line is a component of the much larger Genesee & Wyoming, a conglomerate operating over 100 railroads in different countries. 
While the W&C maintains 42 miles of the old New York Central's Pennsylvania Division between Corning and Wellsboro, public excursions only run from the latter town to Tioga, a distance of 16 miles.  
They do not offer dedicated fall foliage excursions but their season runs through October during the peak of the autumn colors. 
Your trip takes you along Marsh and Crooked Creeks as the valley's provide wonderful scenery of north-central Pennsylvania's rural communities and towns with trips concluding at Hammond Lake.  The Tioga Central is a fine railroad offering club car, dining, and open-air observation amenities.
Wanamaker, Kempton & Southern (Kempton):  The WK&S is based in Kempton operating a unique blend of steam and diesel locomotives.  Their iron horse is an 0-6-0ST #65, manufactured by H.K. Porter in 1930. 
It typically pulls trains when not down for maintenance and inspection.  Along with standard excursions the WK&S also offers chartered trips. 
They maintain just 2.6 miles of the Reading's old Slatington Branch, which was spared from abandonment by a group of enthusiasts who wished to see public excursions hosted over this short segment. 
It is one of the oldest heritage railroads in the country with a history dating back to 1963.  Every fall the railroad offers their Fall Foliage Excursion during one weekend in October.  Your trip departs from Kempton amid rural farmland. 
You will immediately enter wood-line along Ontelaunee Creek, a stream which the tracks stays near during the run to Wanamakers.  
West Chester Railroad (West Chester):  Philadelphia and its suburbs was primarily dominated by two railroads, the Pennsylvania (PRR) and Reading. 
The West Chester Railroad utilizes 7.2 miles of the PRR (according to the Pennsylvania's "September 29, 1929" timetable) between West Chester and Glen Mills.   
This track was the very end of a 27.5 mile branch out of Philadelphia which was part of the PRR's Maryland Division.  It was essentially a suburban corridor designed to transport commuters to and from their places of work. 
To improve efficiency the railroad even had the route electrified; this history can still be seen via metal catenary supports lining the right-of-way.  Your trip will primarily follow Chester Creek; despite the surrounding development the journey is quite rural and very scenic. 
Each fall the West Chester Railroad hosts their Fall Foliage Express from late September through early October allowing guests the chance to see autumn's splendor and the region's rail history. 
During the trip you will see four historic stations; Westtown, Cheyney, Locksley, and the especially beautiful structure at Glen Mills.
Rhode Island
Newport & Narragansett Bay Railroad (Portsmouth):  The state's only heritage railroad the Newport & Narragansett Bay (previously known as the Newport Dinner Train) has been hosting train rides since 1979 over a 13 mile segment of the old New York, New Haven & Hartford's Newport Branch.   
Each autumn you can book passage aboard their Autumn Bistro Trains and enjoy all the splendors of fall along Narragansett Bay while sitting down to a fine meal.  The train truly does offer one of the best, if not the very best, coastal New England train rides. 
The bistro train includes a "...three-hour journey that will take you north along the island to the Mt. Hope Bridge. While on board you'll be treated to a special seasonal lunch created by our Executive Chef."  
South Carolina
No events known.
South Dakota
No events known.
Tennessee
Tennessee Central Railway Museum (Nashville):  The state's largest railroad museum is based in Nashville and focuses on its rail heritage.  The TCRM is named for the railroad that served its home state, the Tennessee Central.  
It sadly shutdown operations in 1968 due to declining revenue and increased competition. Aside from static displays the TCRM offers many excursions throughout the year thanks to the generosity of short line freight carrier, the Nashville & Eastern.
The N&E maintains a long section of the former Tennessee Central right-of-way east of Nashville and has been in service since 1986.  The museum has become well-known for its use of high quality equipment, dinner trains, winery trips, and other upscale excursions.  
During October they offer fall foliage specials that include round trips of up to 164 miles.  At ten hours, truly an all day event, they are the longest such excursions you can experience anywhere in the country.
Three Rivers Rambler (Knoxville):  Another popular Tennessee train ride located in a major metropolitan area is the Three Rivers Rambler. 
This particular attraction draws the crowds for more than just the scenery, they also have a working steam locomotive; Southern Railway 2-8-0 #154 (built by the Schenectady Works in 1890). 
In addition, there are three others on the property and two are under restoration. The attraction operates year-round but does not host dedicated fall foliage trips. 
Nevertheless, their standard excursions continue through autumn allowing for incredible views of Appalachia along the Tennessee River. 
The 11-mile trip (over original Southern Railway track) departs from 2560 University Commons Way within the University of Tennessee's campus. 
From this point you head east out of the city and cross the Holston River.  From here the topography is largely rural and classic for this region; rugged hills, lush vegetation, deciduous hardwoods, and rural settings.  The line heads out to the area of Asbury whereupon trains return to Knoxville.
Texas
Texas State Railroad (Rusk):  Today, the Texas State Railroad is best known for its popular publicly-hosted train rides. 
However, the company also carries a great deal of historical significance; it is state-owned by the state and was built with convict labor in the 1880's to link Palestine with Rusk (25 miles). 
While leased by private railroads over the years it has always remained a state-owned entity.  For tourists, it acts as a theme park featuring events for both the kids ("Thomas The Tank Engine" and "The Polar Express") and adults (dinner trains, club car service, private parities, camping, and more). 
For enthusiasts they currently operate two steam locomotives (2-8-0 #28 and 2-8-2 #30) and rare diesel models like a pair of former Canadian National FP9's and a U.S. Army MRS-1. 
Each fall you can take the Pumpkin Patch Express which features wonderfully scenic views of rural (and lush) East Texas.  This area of the state is far different from the arid climate found in the western regions.
Utah
Heber Valley Railroad (Heber City): Utah's only heritage railroad can be found in Heber City, about an hour's drive east from downtown Salt Lake City.  While the Heber Valley draws crowds year after year to take in the awesome scenery it also attracts enthusiasts and history aficionados. 
The railroad has become equally well-known for its use of steam locomotives.  The current Heber Valley Railroad began in the 1990's and utilizes about 13 miles of the Denver & Rio Grande Western's old Provo Canyon Branch between Heber City and Vivian Park.  
During the fall season their regular trains, which now consist of many different options, offer fine views of the autumn colors.  They also host events for Halloween. 
Your trip departs from the replica depot situated within the old Rio Grande yard on the east side of town.  The departure itself is a beautiful sight; Heber City lies within the flat Heber Valley with snow-capped mountain peaks in this distance. 
The train passes through farmlands and crosses the Provo River before entering the canyon and heading directly south.   
A little over halfway to the Provo area the line ends at a point in the canyon known as Vivian Park where trains then return to Heber City. 
While Utah is often regarded as rugged, arid, and mountainous the Provo Canyon is actually quite lush and comes alive with color each fall.
Vermont
Green Mountain Railroad (Burlington):  When one thinks of a New England autumn, Vermont often comes to mind.  A train ride is a fabulous way to experience the region's world-renowned fall colors. 
As it turns out, one of America's top heritage railroads can also be found here, the Green Mountain Railroad.  The company, a division of freight line Vermont Railway, operates over much of the old Rutland Railroad that shutdown in the 1960's. 
It has maintained valuable transportation services for its home state ever since that time.   
From mid-September through mid-October the railroad hosts popular Fall Foliage trips (including dinner trains) to allow patrons fabulous views of New England's vibrant autumn colors.  They even offer First Class accommodations for these trips. 
Virginia
Buckingham Branch Railroad (Dillwyn): Located in Central Virginia, the Buckingham Branch offers several seasonal excursions.
This growing freight line has been in business since 1989 and has rapidly expanded since 2004.  Today, it operates a total of 280 miles across Virginia, the longest of which links Richmond with Clifton Forge. 
During October, they host fall foliage trips taking you on a scenic ride through the Commonwealth's beautiful countryside. You can choose to sit in a climate controlled car or enjoy the views from an open air car.
Either way, you are sure to have a wonderful time on this 3.5 hour excursion through Buckingham County and over the James River. 
Your trip departs from the preserved Chesapeake & Ohio depot in Dillwyn and runs north over the old Dillywn Branch to Bremo along the James River.  If you love Appalachia in the autumn this train ride is a must; you will see rolling hills, farmland, and plenty of woods along the way.  

Washington
Chelatchie Prairie Railroad (Yacolt):  The Chelatchie Prairie Railroad, located in Yacolt, operates on a former logging line constructed during the late 19th century (Vancouver, Klickitat, & Yakima Railroad). 
Trips depart from Yacolt, the end of the branch, to Lucia Falls (Moulton) and return, a distance of about 3.5 miles.  The entire corridor later became a branch of the Northern Pacific Railway which referred to is as the Yacolt Branch, running 30 miles south from Vancouver. 
Stops along the way included Hidden, Barberton, Homan, Laurin, Brush Prairie, Battle Ground, Crawford, Heison, and Wall. 
Today, the track is owned by Clark County, which leases it for both freight service and tourism. During September and October the Chelatchie Prairie Railroad offers their Fall Leaves Special and a "Harvest Run." 
While many trains are diesel powered they also have an operational steam locomotive, Crossett Western 2-8-2T #10 which always draws big crowds.  Your trip departs Yacolt and follows the Yacolt Creek through the valley before turning east along the Lewis River's East Fork. 
Aside from the splendid colors the trip's highlight, as on nearly every outing, is witnessing beautiful Moulton Falls and Lucia Falls.
Mount Rainier Scenic Railroad (Elbe):  Washington's most popular excursion, thanks to their impressive fleet of operational steam locomotives, is the Mount Rainier Scenic Railroad.
It is operated by American Heritage Railways which oversees two of the nation's most popular attractions; the Great Smoky Mountains Railroad and Durango & Silverton Narrow-Gauge. 
There are currently five steamers in action at Mount Rainier Scenic.  These include:
Rayonier 2-8-2 #70 (built by Baldwin in 1922)


Hammond Lumber Company 2-8-2T #17 (built by American Locomotive in 1929)


Hillcrest Lumber 3-truck Climax #10 (this geared design was by Climax Locomotive in 1928)


Whitney Engineering Company 3-Truck Heisler #91 (built by Heisler in 1929)


Rayonier 3-Truck Willamette #2 (built by Willamette Iron & Steel in 1929)
The railroad runs a former section of the old Milwaukee Road's Rainier National Park Branch.  This line left Seattle and wound its way south to rural Morton (67.3 miles). 
Today, the heritage railroad maintains the Mineral (Milepost 53.7) to Elbe (Milepost 47.2) segment, a distance of 6.5 miles. 
During October they host the Peanuts™ The Great Pumpkin Patch Express allowing visitors to enjoy the area's gorgeous fall colors while the kids can meet Snoopy and friends and pick out a pumpkin. 
The train departs Elbe and heads east out of town.  It then turns south at Park Junction and crosses the Nisqually River whereupon it follows Mineral and Roundtop Creeks into Mineral.  Nearly your entire trip is through forest canopy making it a great way to see the fall colors.
West Virginia
Cass Scenic Railroad (Cass):  One of the nation's top heritage railroads and the best place to see geared steam locomotives in action is the Cass Scenic Railroad in rural Cass, a little over an hour's drive from either Lewisburg or Elkins. 
It is also based just a few miles from the state's most famous ski resort, Snowshoe.  Situated within the Monongahela National Forest the railroad is well-suited to host picturesque fall foliage outings within the heart of West Virginia's Appalachian Mountains. 
These trips, running up to 11 miles, feature open-air cars so please be sure to dress accordingly.  Trains depart from the rebuilt depot in Cass and wind their way up grades as high as 9%! 
This is very, very steep for a main line railroad which typically finds anything over 2% or 3% quite rugged.  You can choose from three destinations; Whittaker Station (halfway), Bald Knob (top of the mountain), or a connection with the West Virginia Central at the old logging community of Spruce. 
Soon, a fourth connection will be made with the Durbin & Greenbrier Valley near Cass along the Greenbrier River over the old Chesapeake & Ohio Railway's Greenbrier Branch (or Greenbrier Division). 
This will allow for trips of 14 additional miles to rural Durbin.  Their seasonal schedule runs from May through the end of October.
Autumn Colors Express (Huntington):  A train ride that runs exclusively for fall foliage viewing, the Autumn Colors Express has been held nearly every year since 1966. 
Until 2019 it was hosted by the Collis P. Huntington Historical Society and known as the New River Train.  Alas, conflict with Amtrak and rising costs precluded the group from continuing beyond 2018.
As a result, a new operation known as the Railway Excursion Management Company took over.  They ran their first outing in 2019 and witnessed some 2,500 passengers. 
The trip departs Huntington, rolls through Charleston and heads east as far as Hinton over the old Chesapeake & Ohio main line.  You initially follow the Mud River before reaching the Kanawha River. 
This waterway is followed through Charleston and continues until entering the New River Gorge, the trip's highlight, at Gauley Bridge. 
The beauty of this region, with its tall, foliage-draped cliffs above and water rapids below has made it a popular event for over a half-century.  While steam locomotives are no longer allowed, it continues to draw large crowds today.  
Potomac Eagle Scenic Railroad (Romney):  Located in the state's Eastern Panhandle on a branch line originally owned by the Baltimore & Ohio the Potomac Eagle Scenic meanders along the beautiful South Branch of the Potomac River featuring scenes of rolling hills, small towns, and bucolic farms. 
The line was a relatively minor part of the 10,000+ mile B&O network; it was listed as two separate corridors, the 15.4-mile South Branch (Green Spring-Romney) and 36.6-mile Moorefield & Virginia Branch  (Romney-Petersburg). 
Together, they acted as one singular route spanning 52 miles.  The West Virginia State Rail Authority (SRA) acquired the tracks in 1978 to prevent their abandonment by then-Chessie System. 
At first freight trains were the only thing to be found here (via the South Branch Valley Railroad) but in 1991 public excursions began. The Potomac Eagle Scenic's schedule runs from May through November with Christmas specials held during December. 
West Virginia Central Railroad (Elkins): Based in Elkins and not far from the Cass Scenic Railroad the WVC operates along the Greenbrier and Tygart Rivers offering a wide range of excursions in climate controlled cars. 
The railroad began in 1998 when the state of West Virginia, via the State Rail Authority, acquired 132.13 miles of the old Western Maryland to prevent its near-certain abandonment by CSX Transportation. 
Today, the WVC operates from Tygart Junction to Elkins (via Belington) as well as from Elkins to Big Cut (via Spruce). 
Interestingly, the largest section between Bemis and Webster Springs (80 miles) has sat disused for more than 20 years and is unlikely to be reactivated.
The West Virginia Central does not host a dedicated fall foliage train but its schedule runs through the autumn season. 
Most trips depart from the beautifully preserved WM depot in Elkins (also the railroad's headquarters) and follows either Roaring Creek or the Shavers Fork of the Cheat River.  The WVC is one of four fabulous choices to see the Mountain State's fall colors by rail. 
The same company also operates the Durbin & Greenbrier Valley just down the road in Durbin, which uses a restored Climax geared steam locomotive via open-air cars along a short stretch of the C&O's old Greenbrier Branch, which will soon reconnect with the Cass Scenic in Cass.

---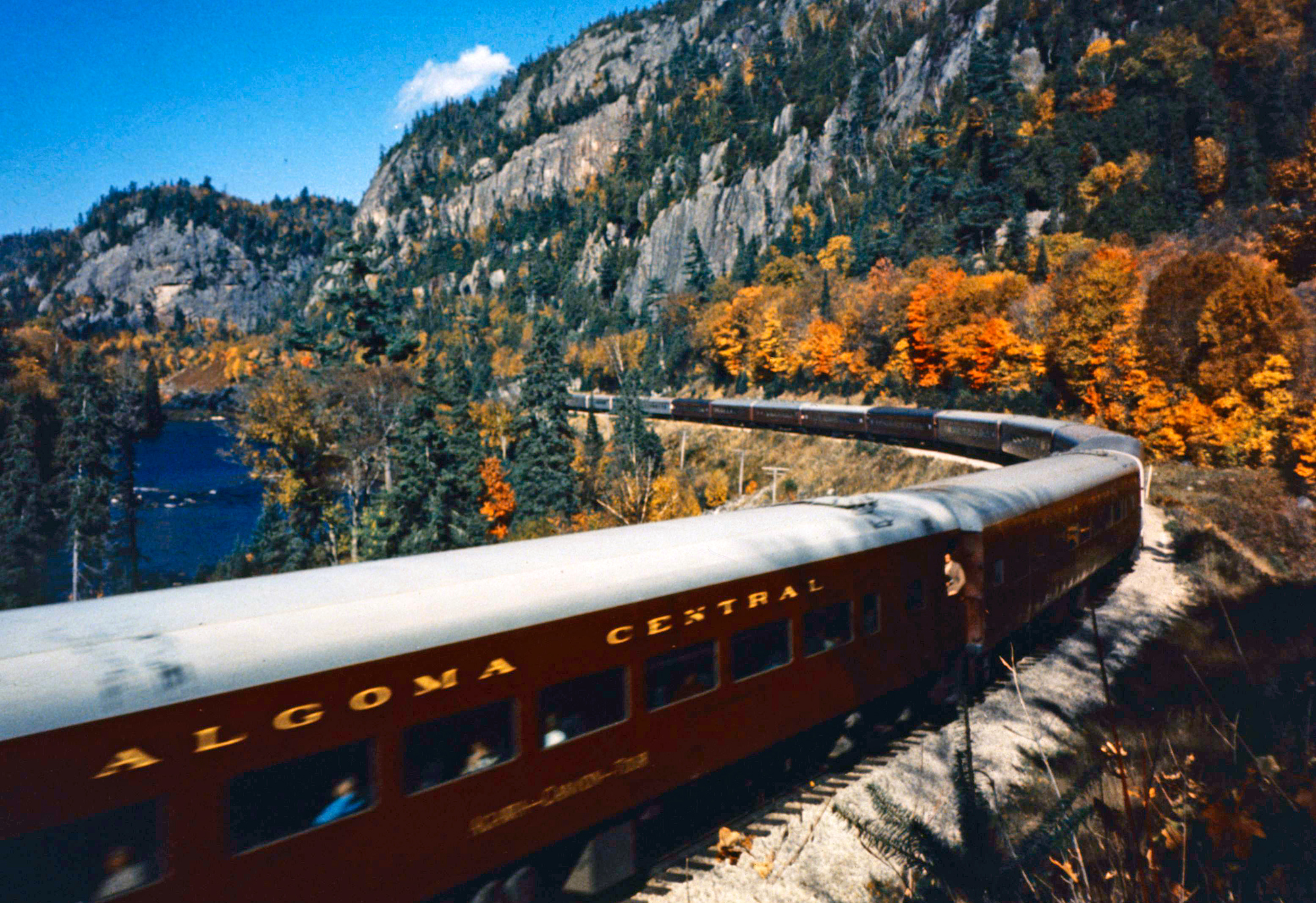 The "Agawa Canyon Train" heads north along the Agawa River (Ontario) during a fall day in the 1960's. Author's collection.
Wisconsin
Lumberjack Steam Train (Laona):  The Lumberjack Steam Train is located in Laona and operated by the Camp 5 Museum. 
They feature a restored 2-6-2 "Prairie" steam locomotive, #4, and all rides board from the restored Soo Line depot in Laona. 
During late September and October they host Saturday Fall Festivals for the entire family including a "...Green Treasure Forest Tour, pumpkin patch, face painting, a marshmallow roast, and fresh apple cider." 
The steam locomotive was originally built for the Fairchild & North-Eastern Railway in 1916 by the Vulcan Iron Works.  The F&NE was a logging operation located in Fairchild and owned by the N.C. Foster Lumber Company. 
The locomotive later worked on the Laona & Northern Railway (Laona), a system owned by R. Connor Company, another logging operation.  The L&N was a common-carrier tailored towards the movement of lumber products. 
Its lines radiated to the southwest of Laona (where numerous spurs snaked their way into rich timerland) while its main line headed north. 
Here, it roughly paralleled the Chicago & North Western's until reaching Laona Junction and interchanged with the Minneapolis, St. Paul & Sault Ste. Marie Railway (Soo Line). 
The L&N was listed at 23 miles as of 1929.  In 1965 the railroad was still operating #4 in a mixed train capacity (carrying both freight and passengers).  Finally, in 1983 the 2-6-2 was donated to the Camp 5 Historical Society. 
Today, only about 2 miles remain of the old L&N, from Laona to the Connor Farm at Camp 5.  The museum's typical summer season runs from June through August while they also have a short fall season from late September through early October. 
Your trip departs from east of Laona with the train skirting Scattered Rice Lake before arriving at Camp 5.  Leading the way is #4!
Mid-Continent Railway Museum (North Freedom):  This museum's primary goal, since its 1957 inception, has always been to preserve the region's and state's rail history. In doing so it also operates public excursions over 7 miles of the old Chicago & North Western. 
One of their annual special events is the Autumn Color Weekend held during October and just before the museum's season comes to an end. 
Your trip departs from an original C&NW depot at Walnut Street (originally built in 1894 and located in Rock Springs) and heads south from their small yard.  The line stays near the Baraboo River before heading through open farmland. 
Tracks end at a point known as Rattlesnake Station whereupon the train returns to North Freedom.  The beauty of this experience cannot be understated as trains roll past beautiful Midwestern farms intermixed with patches of woodland; a classic Americana setting.
Wyoming
No events known.