Fall Foliage Train Tours (2023)
: A Complete Guide
Last revised: October 10, 2023
By: Adam Burns

Fall foliage train tours offer one of the best ways to see the vibrant colors of autumn.  These trips have become a very popular event in recent years although their origins can be traced back to the mid-20th century. 

Today, several tourist railroads host special fall trips and many sell out. Some organizations which do not offer such even enjoy an increase in ticket sales thanks to the fall colors.  
Many are located in the eastern United States where the Appalachian Mountains, carpeted in deciduous forests, provide breathtakingly scenic vistas. As a result, numerous organizations host such events each autumn.
Notables among these are:
Strasburg Railroad (Pennsylvania)


Cass Scenic Railroad (West Virginia)


Tweetise Railroad (North Carolina)


Adirondack Scenic Railroad (New York)


Conway Scenic Railway (New Hampshire)


Green Mountain Railroad (Vermont)


Tennessee Valley Railroad Museum (Tennessee)


Blue Ridge Scenic Railway (Georgia)
Trips on these railroads regularly sell out.  Even if a railroad may not offer a dedicated fall foliage tour many host excursions through October and can still provide great views of the changing colors.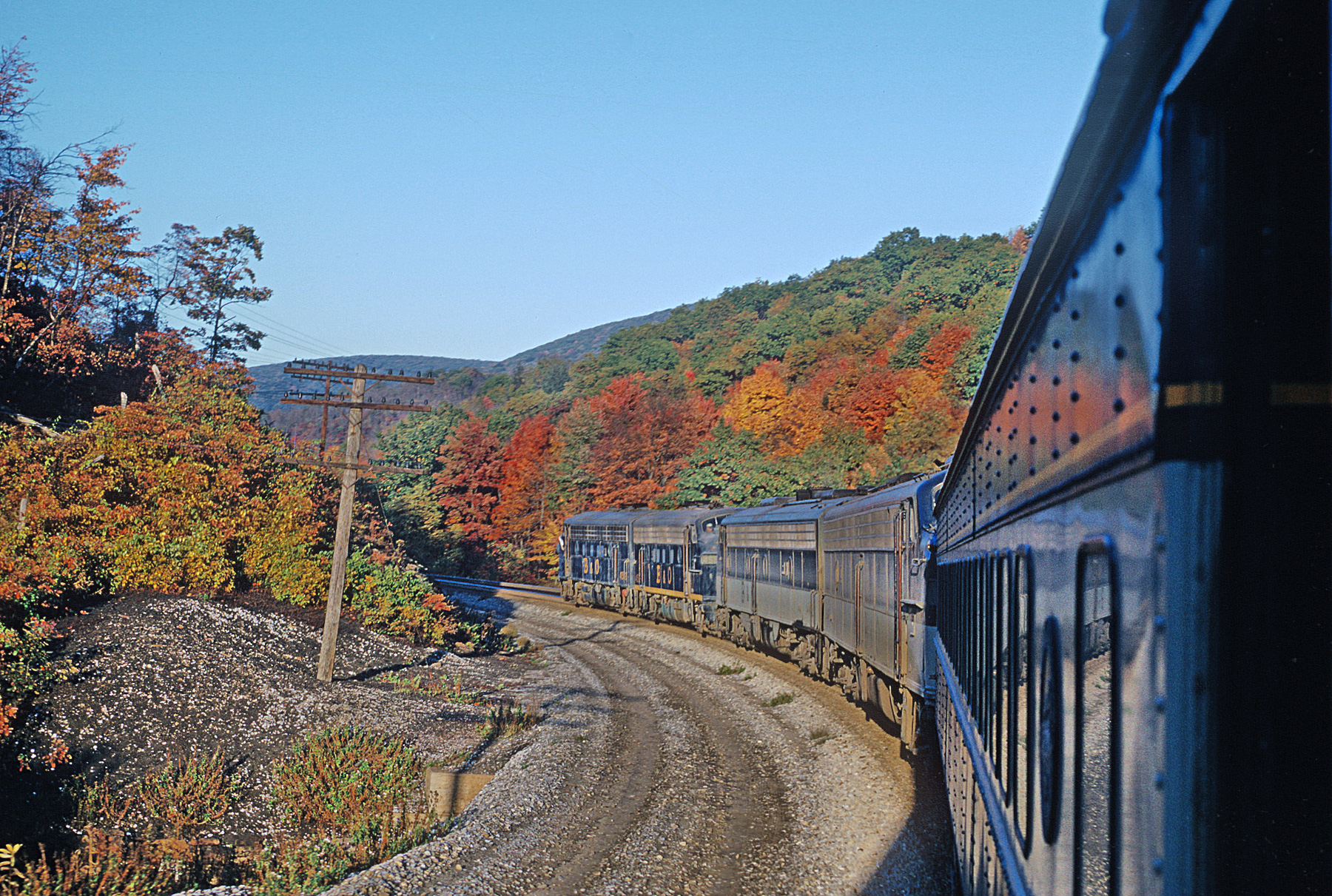 A pair of Baltimore & Ohio F7A's act as helpers at the head end of a B&O NRHS special on 17-Mile Grade near Altamont, Maryland on October 4, 1969. Roger Puta photo.
States
If you are very interested in going by train, when planning your trip please take note of the peak season for that particular area. 
For instance, locations higher in the mountains such as at Cass, West Virginia (home of the Cass Scenic Railroad) tend to peak much earlier (mid-September) than other areas nearby that sit at a lower elevation like the Blue Ridge Scenic Railway (early November). 
Below is a list of most tourist railroads (or museums) that host either dedicated fall foliage trains in 2023 or operate where colors are quite brilliant.  If your railroad is not included here  please let us know and it will be added. 
Finally, unless otherwise noted more information about each excursion can be found by visiting the museum's or railroad's website.  
For more information regarding when peak season occurs for different parts of the country please click here.  Finally, please click here to learn more about Halloween-themed train rides.
Alaska
Alaska Railroad (Anchorage):  The Alaska Railroad does not offer any type of fall foliage excursion but they do offer the finest regular passenger service in the United States via trains like the Denali Star, Coastal Classic, Glacier Discovery.  The service is second-to-none and so is the scenery. 
The railroad is worth riding any time of year thanks to the spectacular views.  Tourists from around the world come to ride the Alaska Railroad for this very reason; it is one of the best ways to see the state's unparalleled beauty. 
The railroad begins in Seward along the Kenai Peninsula and snakes its way north to Portage before turning northwesterly into Anchorage. 
Along the way you can view stunning fjords and looming mountain peaks. The line then continues north to Wasilla before turning west again to follow the Susitna River within the Denali State Park. 
Rails reach Nenana where the Susitna meets the Tanana River; here, the line curves east and terminates at Fairbanks.  
California
No known events.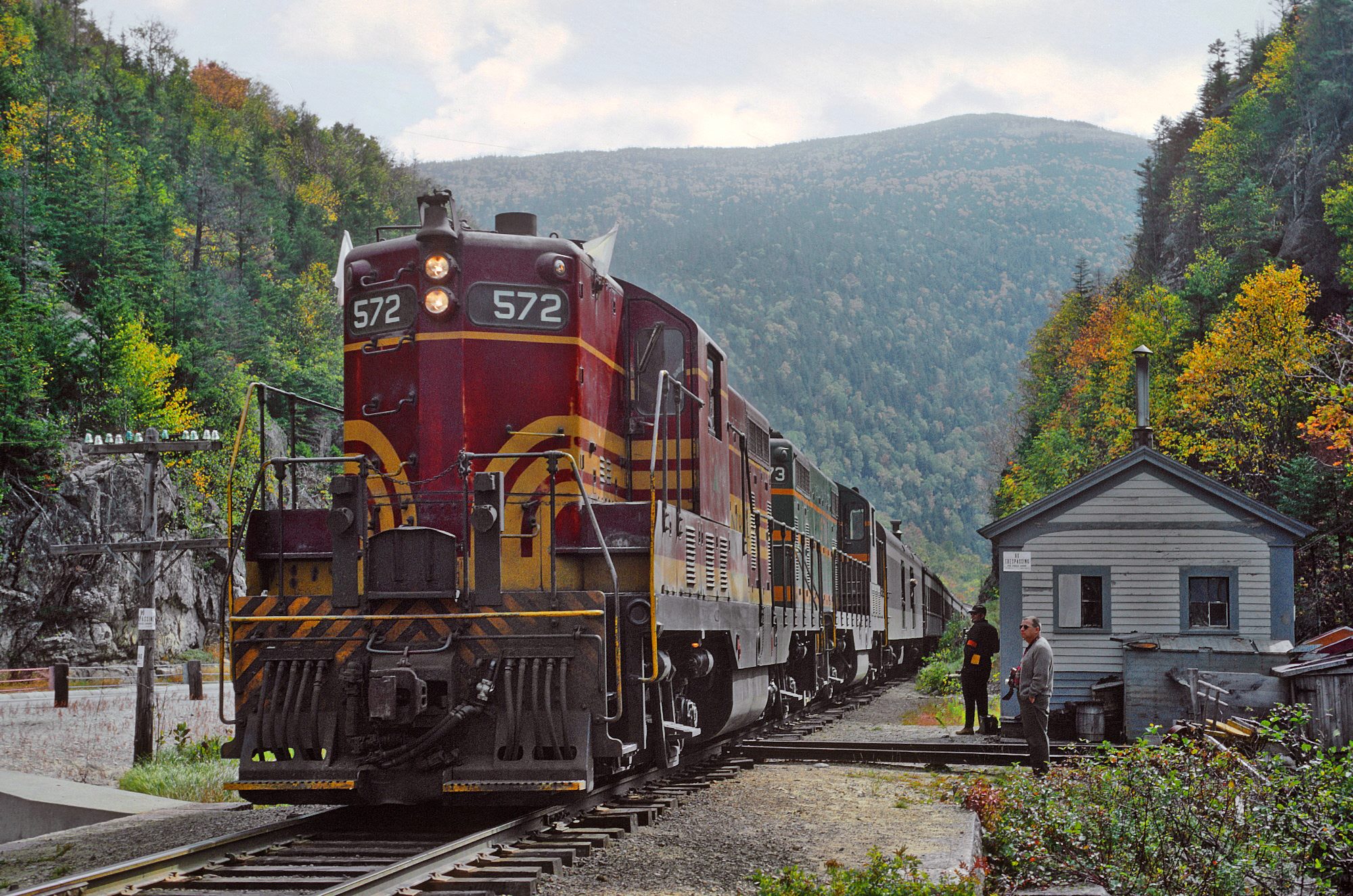 A pair of Maine Central GP7's have a fan trip on the fabled Mountain Division at Crawford Notch, New Hampshire during the fall of 1968. Roger Puta photo.
Florida
No events known.
Hawaii
No events known.
Idaho
No events known.
Illinois
No events known.
Louisiana
No events known.

Mississippi
No events known.
Montana
No events known.
Nebraska
No events known.

Nevada
No events known.

New Jersey
No events known.
North Dakota
No events known.

Oklahoma
No events known.

South Carolina
No events known.
South Dakota
No events known.
Utah
Heber Valley Railroad (Heber City): Utah's only heritage railroad can be found in Heber City, about an hour's drive east from downtown Salt Lake City.  While the Heber Valley draws crowds year after year to take in the awesome scenery it also attracts enthusiasts and history aficionados. 
The railroad has become equally well-known for its use of steam locomotives.  The current Heber Valley Railroad began in the 1990's and utilizes about 13 miles of the Denver & Rio Grande Western's old Provo Canyon Branch between Heber City and Vivian Park.  
During the fall season their regular trains, which now consist of many different options, offer fine views of the autumn colors.  They also host events for Halloween. 
Your trip departs from the replica depot situated within the old Rio Grande yard on the east side of town.  The departure itself is a beautiful sight; Heber City lies within the flat Heber Valley with snow-capped mountain peaks in this distance. 
The train passes through farmlands and crosses the Provo River before entering the canyon and heading directly south.   
A little over halfway to the Provo area the line ends at a point in the canyon known as Vivian Park where trains then return to Heber City. 
While Utah is often regarded as rugged, arid, and mountainous the Provo Canyon is actually quite lush and comes alive with color each fall.
---
The "Agawa Canyon Train" heads north along the Agawa River (Ontario) during a fall day in the 1960's. Author's collection.
Wyoming
No events known.