Polar Express Train Rides: A Complete Guide (2023)
Last revised: August 5, 2023

By: Adam Burns

Officially licensed The Polar Express train rides have become an increasingly popular attraction across the country since Warner Brothers Pictures released the film in November, 2004.
Numerous organizations, from museums to tourist railroads, now host such themed rides every November and December (some even run into early January).
They feature a story-telling of Chris Van Allsburg's magical tale, The Polar Express, which comes complete with hot chocolate, cookies, and a small gift.

When possible, and if available, a steam locomotive is used to pull the train.  I have had the experience to enjoy these events on more than one occasion.  
If you have the means, I highly recommend taking your kids, grandchildren, or nieces/nephews!  The productions are excellent and highly entertaining.
Please Note!  While I have striven to make sure the information presented is accurate to the best of my knowledge, I cannot say-so with 100% certainty.  
Please contact each individual organization regarding available trains, specific dates, times, and ticket pricing.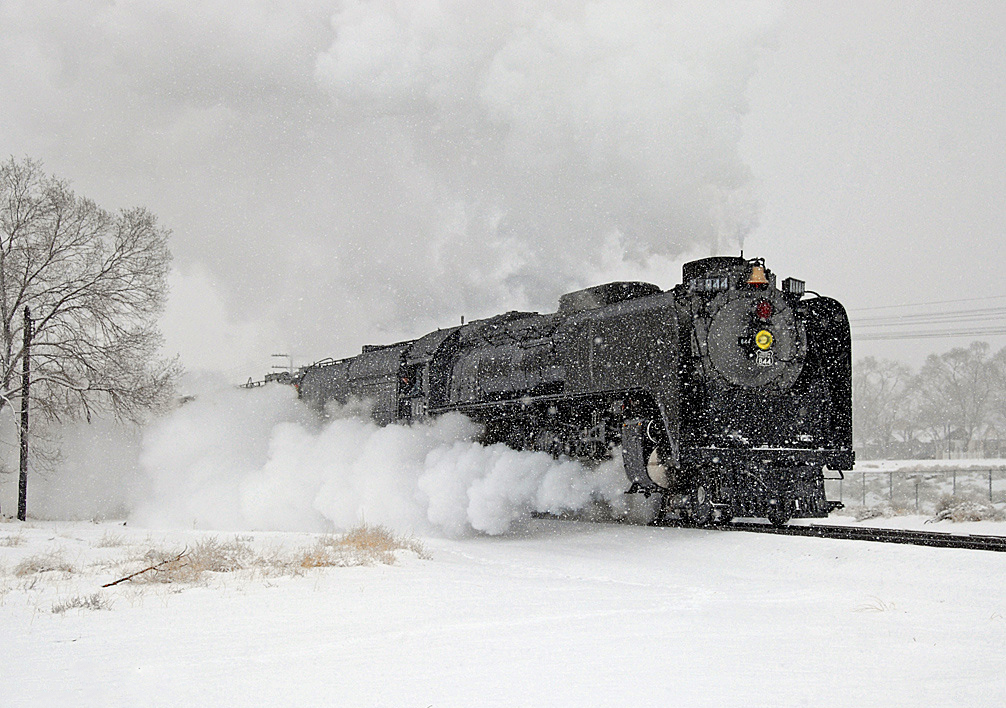 Union Pacific 4-8-4 #844 steams through snowy Winnemucca, Nevada with a special excursion during an early spring storm on April 15, 2009. Drew Jacksich photo.
The Polar Express is a children's book written and illustrated by Chris Van Allsburg, originally published in 1985.
As the story goes a young boy is lying in bed on Christmas Eve awaiting Santa's arrival when he hears the sound of a train outside his home, The Polar Express.
State Guide
He is invited by the conductor to come aboard the train, which is filled with children and heading to the North Pole to meet Santa and the elves.
During the journey the kids are treated to hot chocolate and cookies, which is what has inspired their serving aboard The Polar Express tourist trains today.
The story concludes with the young boy being picked by Santa to receive the first gift of Christmas and he chooses a simple, silver bell from Santa's sleigh.
Interestingly, though, once he returns home and awakes on Christmas morning he notices that the bell is still in his possession.   
Finally, please visit the Rail Events, Inc. website for complete information regarding locations that offer official The Polar Express events.  
West Virginia
Alabama
No events known.
Alaska
No events yet known.
Arkansas
No events known.
Connecticut
No events known.
Delaware
No events known.

Georgia
No events known.

Hawaii
No events known.
Idaho
No events known.

Iowa
No events known.
Kansas
Midland Railway:  The all-volunteer Midland Railway is based in Baldwin City and has grown into a popular attraction. 
The organization got its start in 1987 when a group of investors, looking to launch their own tourist railroad, acquired a secondary corridor of the Atchison, Topeka & Santa Fe between Baldwin City and Ottawa, Kansas. 
At the time the AT&SF was attempting to offload a great deal of its branches and unprofitable routes, most of which were located in Kansas, Oklahoma, and Texas. 
Many had been built to serve the Heartland's agricultural needs but unfortunately railroads were heavily overbuilt throughout the Midwest. 
As a result, when trucks began grabbing increasingly greater market share during the 20th century thousands of miles became redundant and/or money-losing operations. 
The Midland Railway has acquired an impressive collection of equipment and maintain a railroad that stretches 11 total miles, allowing it to offer visitors 20-mile round trips. 
One of their locomotives is a rather unique RS3m with components from two different manufacturers.  One of their special events is the offering official The Polar Express trips during November and December. 
Louisiana
New Orleans Union Passenger Terminal:  This historic passenger station is one of three locations where Amtrak hosts official The Polar Express train rides. 
The immense success and critical acclaim of Warner Brothers' 2004 film spun-off an unexpected new market, excursion trains masquerading as "The Polar Express." 
It began as an impromptu experiment by a handful of organizations and became so popular Warner Brothers now requires licensing fees through Rail Events, Inc. for any railroad/museum wishing to host the event. 
As it continues to grow the production has branched out to major Amtrak terminals, such as New Orleans, and will likely continue to expand in the coming years.  
New Orleans Union Passenger Terminal was one of the last great facilities opened in America when completed in 1954.  It was designed by architects Wogan & Bernard, Jules K. de la Vergne, and August Perez & Associates in 1949 as actual construction took three years. 
NOUPT replaced New Orleans Union Station (built in 1892, demolished in 1954) and served all of the major railroads serving the city including Illinois Central, Southern Railway, Southern Pacific, Kansas City Southern, and Louisville & Nashville.
For complete scheduling information please click here.
Michigan
No events known.

Minnesota
No events known.

Mississippi
No events yet known.

Montana
No events known.

Nebraska
No events yet known.
New Hampshire
No events known.

New Mexico
No events known.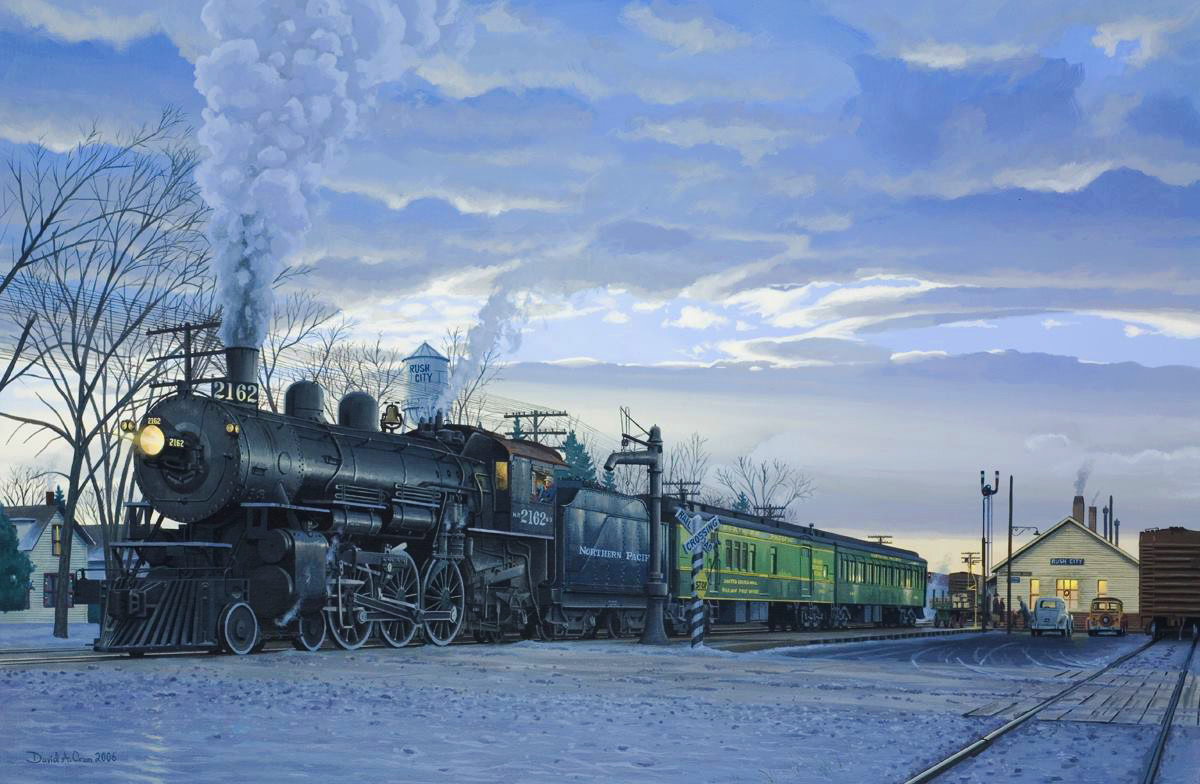 "Holiday Homecoming." Art by David A. Oram.
North Dakota
No events yet known.
Oregon
No events known.

Pennsylvania
No events known.

South Carolina
No events known.

South Dakota
No events known.

Tennessee
No events known.

Utah
No events known.

Virginia
No events known.

Washington
(Currently Closed Due To A Washout) Chehalis-Centralia Railroad & Museum:  For those who want to see a steam locomotive in action within the Pacific Northwest a visit to Chehalis is a must. 
The Chehalis-Centralia Railroad & Museum operates the following locomotive:
Cowlitz, Chehalis, & Cascade Railroad (CC&C) 2-8-2 #15 (built by Baldwin Locomotive in 1916)
Two others under are restoration:
CC&C 2-8-0 #25 (built by Baldwin in 1920)
Rayonier 2-6-6-2T Mallet #8 (built by Baldwin in 1924)
To host excursions they utilize a 10-mile section of the old Milwaukee Road (which left the west coast in 1980), currently owned by the Port of Chehalis (and used for freight service by Tacoma Rail); founded in 1986, public outings began three years later. 
The museum is primarily dedicated to the region's logging history with several pieces focused on that subject.  In addition, they host an array of various train rides for the public including dinner trains, regular excursions, and specials for virtually every holiday. 
These trips are quite popular, even more so thanks to the use of steam locomotives which draws even larger crowds.  One of their special events is hosting official The Polar Express events during late November through December.  
The Polar Express Dates: 
Please note that they also offer Santa Steam Trains not related to The Polar Express during select dates in December.

Mt. Rainier Scenic Railroad  (Indefinitely Closed In 2020):  Few other places in America can boast nearly a half-dozen operational steam locomotives. 
If you enjoy rail history and seeing these incredible machines in service you must plan a visit to the Mt. Rainier Scenic Railroad & Logging Museum. 
Located in Elbe it utilizes about 7 miles of the old Milwaukee Road to Mineral.  After the Milwaukee left the west the track was acquired by Weyerhaeuser and then the city of Tacoma in 1998. 
Today, the MRSR is managed by American Heritage Railways, which operates some of the nation's finest excursion trains like the Durango & Silverton Narrow Gauge and the Great Smoky Mountains Railroad. 
Steam locomotives you can catch in action here include:
Rayonier (Polson Logging) 2-8-2 #70 (Baldwin/1922)
Hammond Lumber Company 2-8-2T #17 (Alco/1929)
Hillcrest Lumber Company 3-Truck Climax #10 (Climax/1928)
Whitney Engineering Company 3-Truck/90-Ton Heisler #91 (built as #102 by Heisler in 1929)
Rayonier 3-Truck, 75-Ton Willamette #2 (Willamette Iron & Steel/1929).
They also have other locomotives either on display or under restoration.
Wyoming
No events yet known.
Canada
Alberta Prairie Railway:  This attraction is located in Stettler, Alberta offering steam and diesel powered trips which last up to 5 or 6 hours to Big Valley!  They offer numerous amenities, from on-board meals to murder mystery specials. 
One of their special events are official The Polar Express excursions. 
The Polar Express Dates: 
November 18 - 19
November 25 - 26
December 1 - 3
December 7 - 10
December 14 - 17
December 20 - 23
Aspen Crossing Railway:  This excursion train, based in Mossleigh, Alberta, will host official The Polar Express excursions.  
The Polar Express Dates: 
November 24 - 26
December 1 - 3
December 8 - 10
December 15 - 24
West Coast Railway Heritage Park:  Located in Vancouver, British Columbia and established in 1961 the WCRA's mission is to preserve Canada's railroad history through restoration and preservation.  
They maintain the West Coast Railway Heritage Park in Squamish, British Columbia which includes a total of 12 acres that features, among other attractions, a station and Canadian National roundhouse.
Waterloo Central Railway:  This heritage railroad began service in 2007, operated by the Southern Ontario Locomotive Restoration Society (SOLRS) and owned by the Region of Waterloo.
It utilizes a section of the former Canadian National between Elmira and Kitchener, Ontario.  For the first time in 2017 they hosted official The Polar Express events.
York–Durham Heritage Railway: This heritage railway is located above Toronto in the both the York and Durham Regions.  It was originally built as the Toronto & Nipissing Railway to a gauge of 3 foot, 6-inches, later widened to standard gauge in 1883. 
It became part of the Canadian National in 1923.  Since 1996 it has operated about 12 miles between Uxbridge and Stouffville.
---
Virginia & Truckee 2-8-0 #29 steams through the snow south of Virginia City, Nevada with a chartered photo special on March 2, 2010. Drew Jacksich photo.
The movie version of The Polar Express is a bit different, and a much longer tale, than the original but for the most part it sticks to the original story.
To rail fans and historians the most notable aspect of the movie is Pere Marquette #1225, an actual 2-8-4 Berkshire-type steam locomotive, which is still operational and used as the basis of the locomotive in the movie.
It, and its tender, was computer generated to the finest detail, including using the sounds of the locomotive while in operation, in the movie.   
Also, please be aware that only certain organizations operate the officially licensed Polar Express train and they are denoted here by the image above.
All other organizations listed here operate Christmas or Santa Claus trains not affiliated with the Polar Express  (but are worth the visit!).