Streamliners: The Legendary American Passenger Train

Last revised: May 26, 2023
By: Adam Burns

Streamliners were a relatively late era development.  The period in which trains ruled interstate transportation, the so-called "Golden Age," occurred between the 1880's and World War I.  

Into the 1920's there was strong recovery, following federal takeover during the war, which persisted until the Great Depression and subsequent economic downturn of the 1930's.  Alas, that event proved a turning point.  
As John F. Stover notes in "The Routledge Historical Atlas Of The American Railroads" (New York: Routledge, 1999), every year after 1929 the industry posted annual deficits on passenger services and the depression only worsened the situation.
In Gregory Schneider's book, "Rock Island Requiem," the author points out that by 1936, 70,000 miles were in receivership or roughly 25% of the country's entire network. 

As much as railroads tried, nothing slowed Americans from purchasing their very own automobile, an invention made affordable through Henry Ford's mass-produced Model-T of 1908.  
To stem the losses, Union Pacific and the Chicago Burlington & Quincy came up with a new concept; the sleek, fast, and colorful train.  The streamliner was born.

Photos
A pair of handsome Delaware, Lackawanna & Western E8A's, led by #818, have arrived at East Stroudsburg, Pennsylvania with the eastbound "Phoebe Snow" during the 1950s. American-Rails.com collection.
History
Union Pacific's M-10000 kicked things off following its delivery on February 25, 1934.  As Mike Schafer and Joe Welsh note in their book, "Streamliners: History Of A Railroad Icon," the trainset had been ordered a year earlier from Pullman-Standard.
It was unlike anything the public had ever seen.  Its sleek appearance carrying no boxy features was entirely contrary to standard trains of the day which were drab, colorless, and generally uninspiring.  
M-10000
The M-10000 was completely the opposite, adorned in a scheme Union Pacific called "Canary Yellow" and "Golden Brown," the former hue chosen specifically for safety reasons.
A similar version of this same livery still adorns UP equipment today.  The trainset topped out at 204 feet and weighed just 124 tons.  
It was powered by a 600 horsepower distillate engine designed by the Winton Engine Company with speeds capable of 110 mph.  
The articulated, three-car consist included the combined power car/Railway Post Office/baggage compartment, a 60-seat coach, and a buffet-kitchen-observation with seating for 54.  In total, the train could hold 116 patrons.  The M-10000 was a publicity success although its distillate engine proved unsatisfactory in service.
It was at around this same time that the Chicago, Burlington & Quincy had placed an order for its own streamlined trainset (doing so on June 17, 1933).  It was also a three-car articulated design, the work of the Budd Company, a future Pullman competitor.  
Its prime mover was a Winton 8-201-A diesel engine capable of 660 horsepower.  The train was given the name, Zephyr 9900, later renamed the Pioneer Zephyr. It equally impressed the public following its unveiling at Philadelphia's Broad Street Station on April 18, 1934.  
A Great Northern publicity photo of the "Empire Builder" shows the train just east of Glacier National Park at Spotted Robe (Kilroy), Montana in 1947. Author's collection.
Zephyr 9900
The 197-foot train featured a simple, yet elegant, sloped nose to enhance its streamlining features with accommodations including the combined power car/Railway Post Office/mail-storage area, a baggage/coach, and a coach-parlor-observation.  The Zephyr held less seating, just 72 paying customers.  

However, the CB&Q arguably boasted the much more reliable train since its diesel engine had fewer issues.  It also earned the greatest recognition when it made its historic initial run on May 26, 1934.
That day the trainset left Denver at 5:05 AM in anticipation of reaching Chicago later that evening.  With an average speed of 78 mph it completed the 1,015-mile trip in just 14 hours, arriving in the Windy City at 7:10 PM.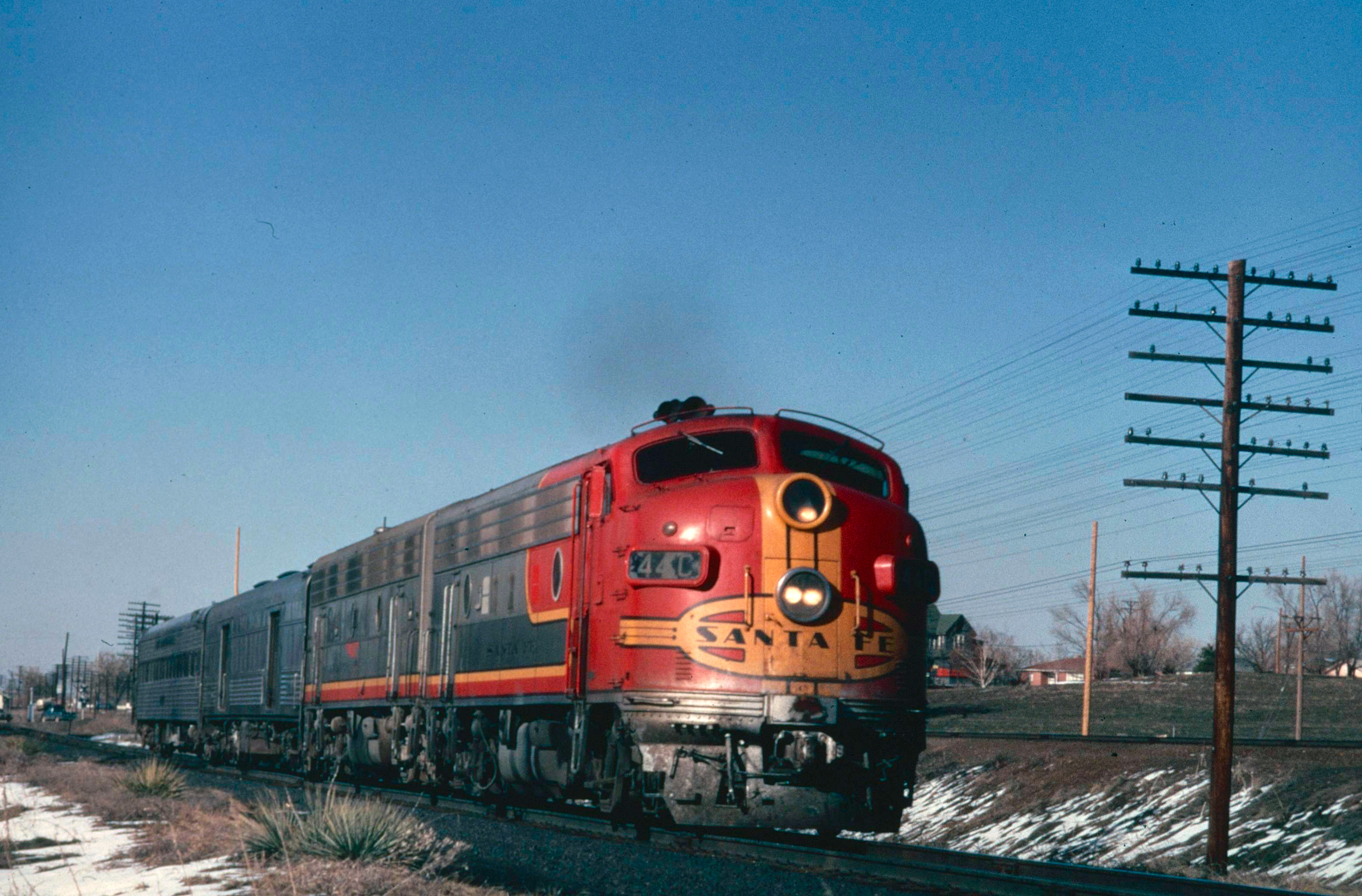 What appears to be Santa Fe's evening connection (Denver - La Junta) to the eastbound "Super Chief"/"El Capitan" at La Junta, Colorado is led by F7A #44-C as it hustles south through Littleton, Colorado on the late afternoon of April 3, 1970. Author's collection.
The industry wasted no time in emulating what the Burlington and Union Pacific were doing. Streamliners were the wave of the future as they quickly spread across the country.  
There were several spin-offs of the Zephyr and M-10000 such as Boston & Maine's Flying Yankee (nearly identical to the Zephyr); New Haven's Comet; Gulf, Mobile & Ohio's Rebel; and Illinois Central's Green Diamond (similar to the M-10000).  
Unfortunately, all of these trains ran into a problem of practicality. The Achilles heel of articulated trainsets is that if a problem occurs within a single car the entire train was forced off the road for repairs.
Furthermore as demand rose seating quickly became an issue and without the ability to add cars entire new trains would be needed.  This was simply not a sustainable situation.  
What railroads needed was a conventional passenger train with individual cars pulled by an ordinary locomotive, yet streamlined like these trainsets.
In 1935 the Baltimore & Ohio and Milwaukee Road introduced two of the first non-articulated streamliners, the elegant Royal Blue (Washington/Baltimore - New York) and legendary Hiawatha (Chicago - Twin Cities).  
A handsome set of Rio Grande F units, with F7A #5704 closest to the photographer, layover in Denver, Colorado on November 8, 1964. Ed Fulcomer photo. American-Rails.com collection.
Classic Rail Travel Accommodations
The B&O's service had been around since 1890 where, according to Herbert Harwood, Jr.'s authoritative book, "Royal Blue Line:  A Classic B&O Train Between Washington And New York," the railroad's entire fleet of trains serving this market had simply been referred to as the "Royal Blue." 
In 1935, to revive its sagging passenger business it launched an official streamliner to the Big Apple known as the Royal Blue.  
The train featured lightweight aluminum cars manufactured by American Car & Foundry with power provided via a pair of graceful steam locomotives carrying an English look, the 4-4-4 Lady Baltimore and 4-6-4 Lord Baltimore.  
In addition, a boxcab diesel (internally identical to the future EA but lacking external streamlining) was purchased from the Electro-Motive Corporation and given #50.
What's more, the train included additional creature-comforts such as wider seats, full dining services (and a lunch-counter option), buffet-lounge, and round-ended parlor observation.  
The Royal Blue officially entered service on June 24, 1935. Just a month prior the Milwaukee Road launched its Hiawatha on May 29th.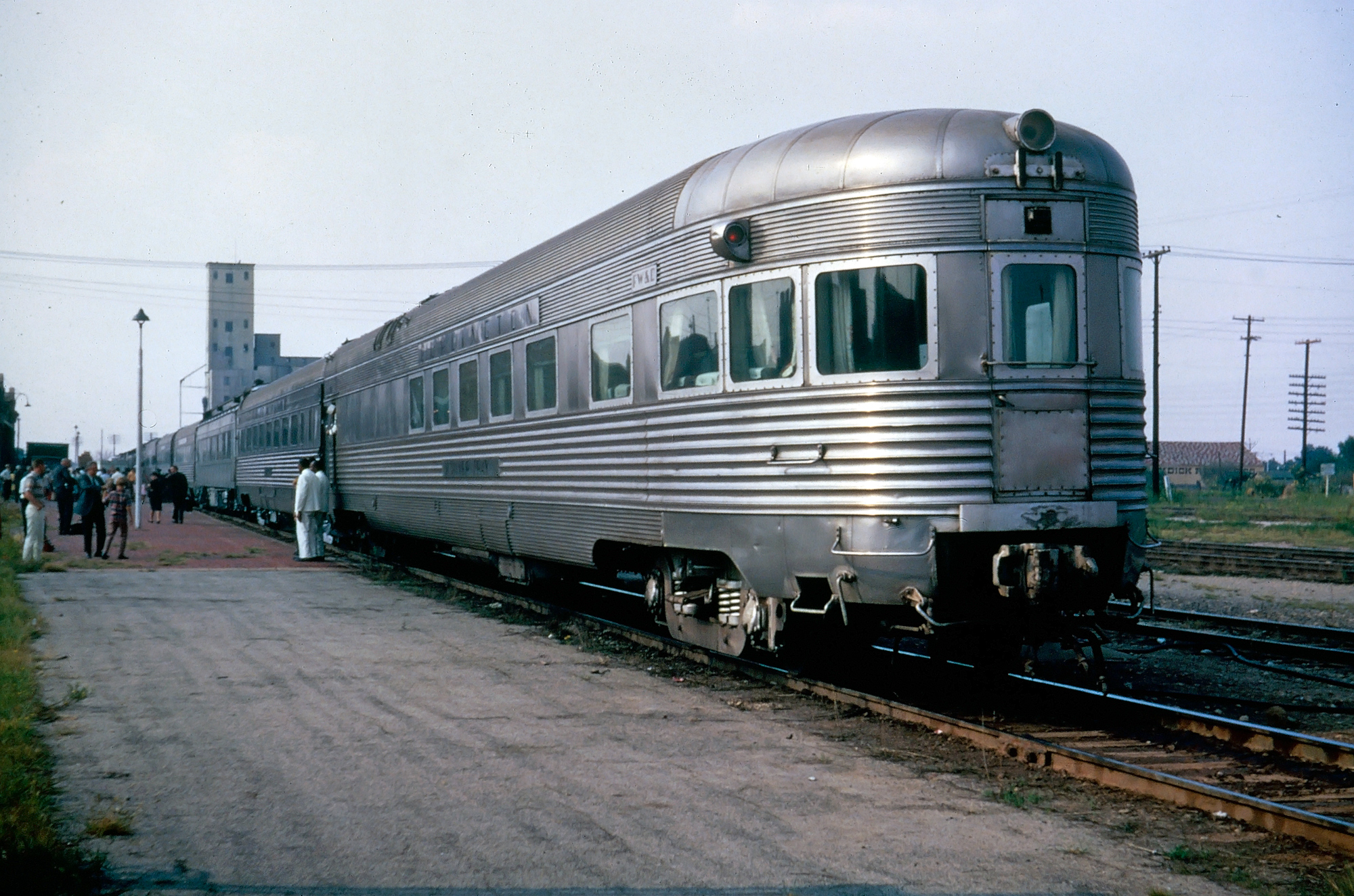 The Burlington's northbound "Texas Zephyr" stopped at Wichita Falls, Texas, circa 1965. American-Rails.com collection.
The Hiawatha was also initially steam powered, featuring the legendary 4-4-2's (Class A), manufactured by the American Locomotive Company.  This train was all about speed.
In his book, "The Hiawatha Story," author Jim Scribbins notes just how fast these Atlantics were during trial runs held on May 15, 1935:
"They were intended to cruise at 100 mph and to reach 120 mph - plenty of reserve power if needed...On May 8th, No. 1 reached 90 mph with a 500-ton train.  
The big event, though, was a May 15th round trip between Milwaukee and New Lisbon with engine No. 2.  Engineman Ed Donahue had a complete consist of Hiawatha equipment.  
The train, carefully timed to each milepost with stopwatches and chronometers, loafed along at 65 to 75 mph as far as Watertown 'just to get the feel of things,' then the decision was made for the remainder of the run to find out just how fast comfortable travel could be achieved.  
Ninety-one mph seemed like 45.  At 100 mph a shout erupted from the mechanical department personnel doing the timing - 103.5...105...105.5...109, and still comfortable. Finally came 112.5, and the train rode like a dream.  In the diner, a full glass of water held every drop.
The trip to New Lisbon had required 113 minutes for 136 miles, a start-to-stop average of 74.9 mph, and the 112.5 mph had been maintained without difficulty for 14 miles...According to Engineer Donahue, the faster he went the better the locomotive rode."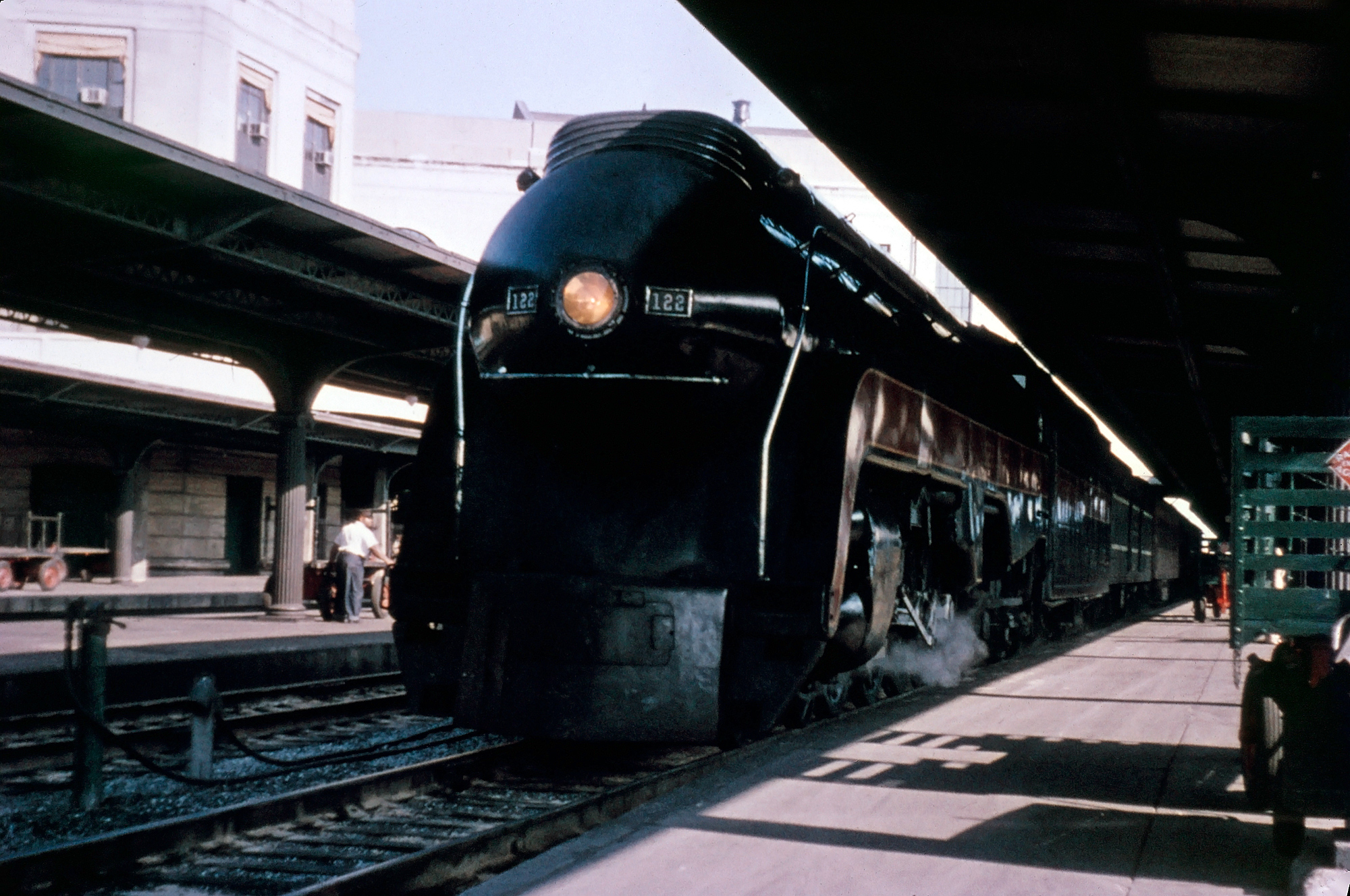 Norfolk & Western 4-8-2 #122, with streamlining that closely mimicked the more famous 4-8-4s, awaits departure from Richmond's Broad Street Station, circa 1955. American-Rails.com collection.
The Atlantics were later bumped by newer 4-6-4 Hudsons (Class F-7) in the fall of 1938.  These machines had no trouble matching their counterparts, also capable of speeds above 100 mph.  
The Milwaukee was lauded for its Hiawatha fleet, the original of which was home-built at its shops in Milwaukee, Wisconsin (except for the locomotives).  
While the trains' speed and exterior glamour wowed the public the interior accommodations were just as opulent with its famous "Tip-Top-Tap" restaurant-buffet-diner, three reclining seat coaches, parlor, and parlor-observation.  
Other flagship services like the Super Chief and Empire Builder featured similar levels of comfort and designers went to great lengths ensuring just the right theme had been achieved for each particular train.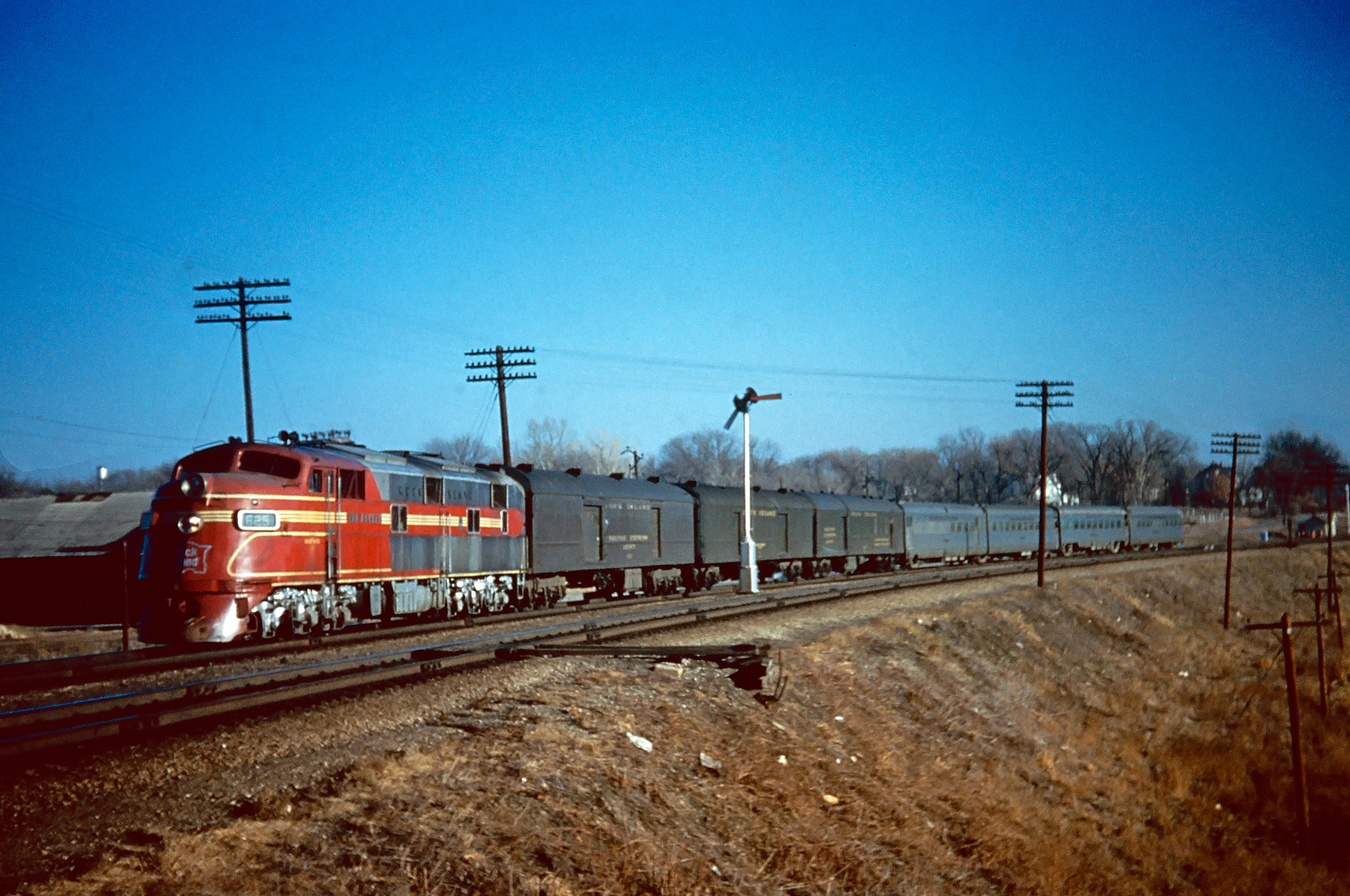 Rock Island E3A #625 has train #39, the westbound "Imperial," operating over the Union Pacific near Kansas City, circa 1955. American-Rails.com collection.
As Bob Johnson, Joe Welsh, and Mike Schafer point out in their book, "The Art Of The Streamliner," engineers were always under a deadline:
"Renowned architect John Harbeson once estimated that he had designed over thirty trains for the Budd Company - and never had more than three weeks to create any of them."  These men also spent time learning about each train's particular operating territory and the history of its railroad.  
By the late 1930s shiny, sleek, and fast passenger trains were fast becoming the must-have sensation as nearly every major railroad had at least one in service by 1940.
New Services Of The 1930s
Union Pacific

M-10000/"The Streamliner" (January 31, 1935)

Chicago, Burlington & Quincy

Zephyr 9900 (November 11, 1934)

Pennsylvania Railroad

Broadway Limited (June 6, 1938)

Baltimore & Ohio

Royal Blue (June 24, 1935)

Capitol Limited (November 23, 1938)

Abraham Lincoln (1935)

Milwaukee Road

Hiawatha (May 29, 1935)

New York Central

20th Century Limited (June 6, 1938)

Union Pacific

City Fleet (1935-1936)

Southern Pacific

Daylight (March 21, 1937)
The onset of World War II halted the advancement of streamliners with all efforts focused on wartime production (sadly, New York Central's introduction of the Empire State Express on December 7, 1941 was overshadowed by a much more notable event in American history).  

Streamliner mania continued after the war in spite of declining demand as railroads spent lavishly on new equipment in hopes of rejuvenating public interest.
The NYC, for instance, spent an astonishing $90 million during, and immediately after, the war for a total of 720 new cars built by the vaunted Pullman-Standard ("The World's Greatest Hotel"), Budd Company, and American Car & Foundry.
As it turns out, the beautifully crafted shrouding some steam locomotives wore was short-lived when Electro-Motive got in on the streamlined concept with its EA diesel in 1937. 
First operated by the B&O, and soon followed by the Santa Fe (E1), these machines could operate further while requiring fewer man-hours to maintain.  
This initial variant was powered by two 900-horsepower, 12-cylinder 201-A Winton engines.  The Santa Fe equipped its E1 variant on the premier Super Chief.
The train was a more luxurious version of the Chief and introduced to compete with the Union Pacific's City of Los Angeles.
It was instantly successful and featured a striking paint scheme of red and yellow (Knickerbocker's famous Warbonnet livery) with matching stainless-steel cars produced by Budd.  
The entire train was modeled after Native American tribes of the Southwest.  By comparison, the B&O utilized its EA on the premier Capitol Limited (Chicago - New York) with the help of its Mount Clare Shops, which streamlined standard heavyweight cars to match the new diesels.  
Southern Pacific's train #95, the overnight "Starlight," waits for a signal to depart Glendale, California in 1953. The companion service to the popular "Lark" the train was short-lived, lasting only from 1949 to 1957. William Fahey, Jr. photo.
Notable Trains
Atlantic Coast Line

Baltimore & Ohio

Boston & Maine

Chesapeake & Ohio

Chicago & Eastern Illinois

Chicago & North Western

Chicago, Burlington & Quincy

Florida East Coast

Great Northern

Gulf, Mobile & Ohio

Illinois Central

Kansas City Southern

Delaware, Lackawanna & Western

Lehigh Valley

Louisville & Nashville

Milwaukee Road

Maine Central

Missouri-Kansas-Texas (Katy)

Missouri Pacific

Nashville, Chattanooga, & St. Louis

New York Central

New York, New Haven & Hartford

Nickel Plate Road

Norfolk & Western

Northern Pacific

Pennsylvania

Reading
Denver & Rio Grande Western (Rio Grande)

Chicago, Rock Island & Pacific (Rock Island)

St. Louis - San Francisco (Frisco)

Atchison, Topeka & Santa Fe (Santa Fe)

Seaboard Air Line

Southern Pacific

Southern Railway

Union Pacific

UP's 'City' Fleet Of Streamliners: Those Bound For Chicago Operated In Conjunction With The C&NW, And Then The Milwaukee Road After 1955

Wabash

Non-Streamliners

Additional Reading

---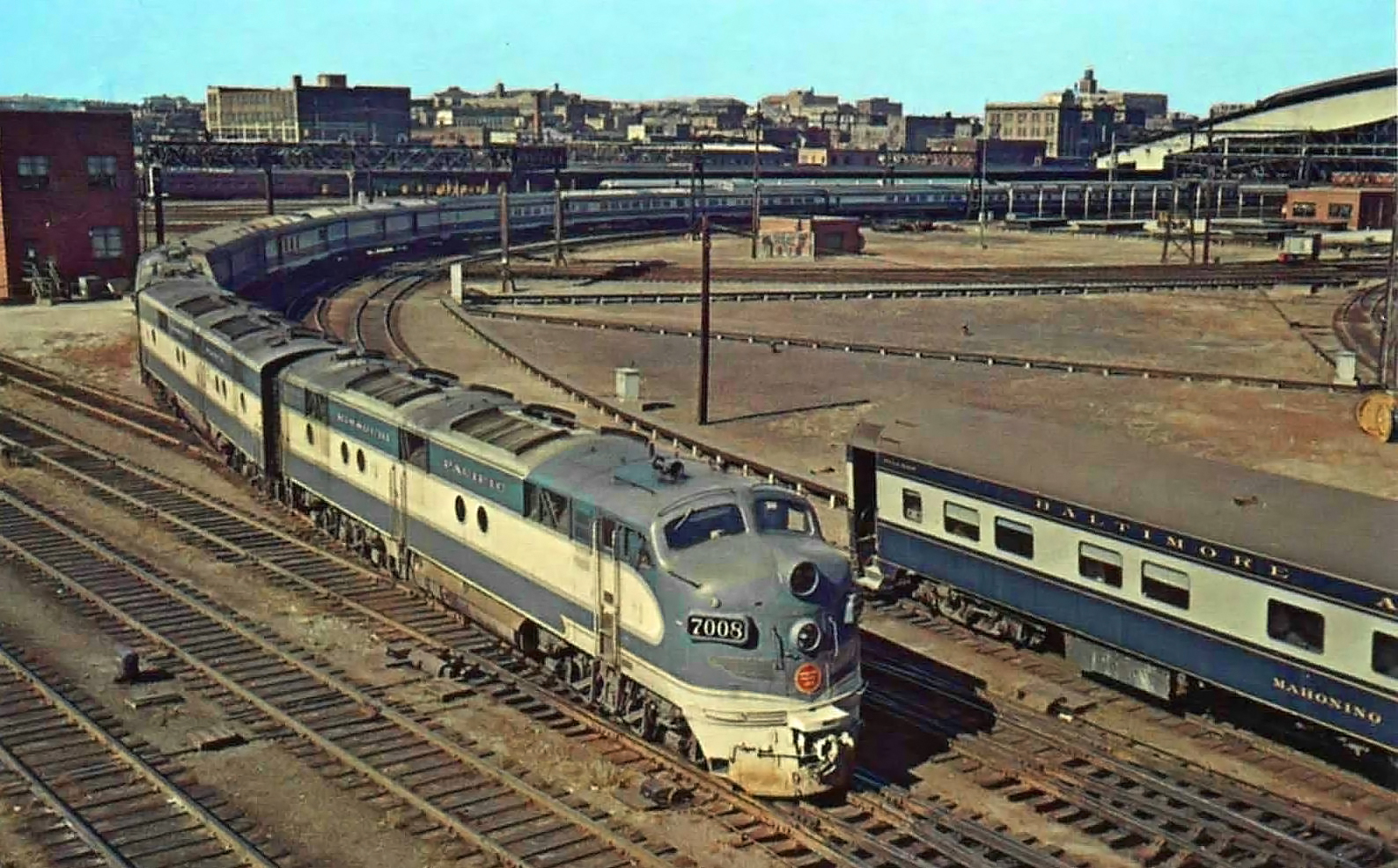 Missouri Pacific's "Colorado Eagle" backs into St. Louis Union Station, following its eastbound run from Kansas City and other western points, in October, 1957. Donald Smith photo.
Despite their efforts railroads watched helplessly as passenger traffic plummeted and not even new equipment and promotional advertising could sway passengers back to the rails.   
The industry bowed out of the market when and where they could as automobiles and airplanes gradually eroded business.  
Due to the Interstate Commerce Commission's strict oversight many, particularly the largest railroads, had difficulty eliminating services entirely.
By the 1960s even flagships were in serious decline (New York Central elected to cancel its prestigious 20th Century Limited prior to its 1968 merger with PRR) while only the strongest carries, such as the Santa Fe and Union Pacific, continuing to operate their trains with top-notch accommodations.  
As railroads desperately looked for a way out the major car builders ceased production of traditional equipment and Pullman closed altogether in late 1968.
By 1971 their wish became reality with the creation of the National Railroad Passenger Corporation, or Amtrak.  It alleviated many carriers of their obligations.  
Today, Amtrak continues providing intercity services across the country albeit via a truncated network and far fewer on-aboard amenities than these streamliners provided.