The Rebel

Last revised: May 9, 2023
By: Adam Burns

The Gulf, Mobile & Ohio, famously known as The Rebel Route, gained its celebrated slogan from the small fleet of passenger trains known as Rebels originally launched by a predecessor road. The GM&O is not well remembered for its passenger services. 

This is likely due to the fact that it bailed out of the Deep South passenger market in the 1950s due to stiff competition from the Illinois Central and Louisville & Nashville despite the fact that the railroad was one of the earliest to begin experimenting with the streamliner concept in the mid-1930s. 
History
Regardless, its small fleet of streamliners made enough of an impression that they are still remembered today by many in the railroading ranks and those who were lucky enough to ride aboard them.
Similar to the Chessie System in the east, the Gulf Mobile & Ohio serving the Midwest and South was a short-lived railroad whose legend continues to live on today.
The GM&O wasn't created until the early days of diesel power and it was gone by the early 1970s. However, during its roughly 40 years of operation the company held its own against the competition.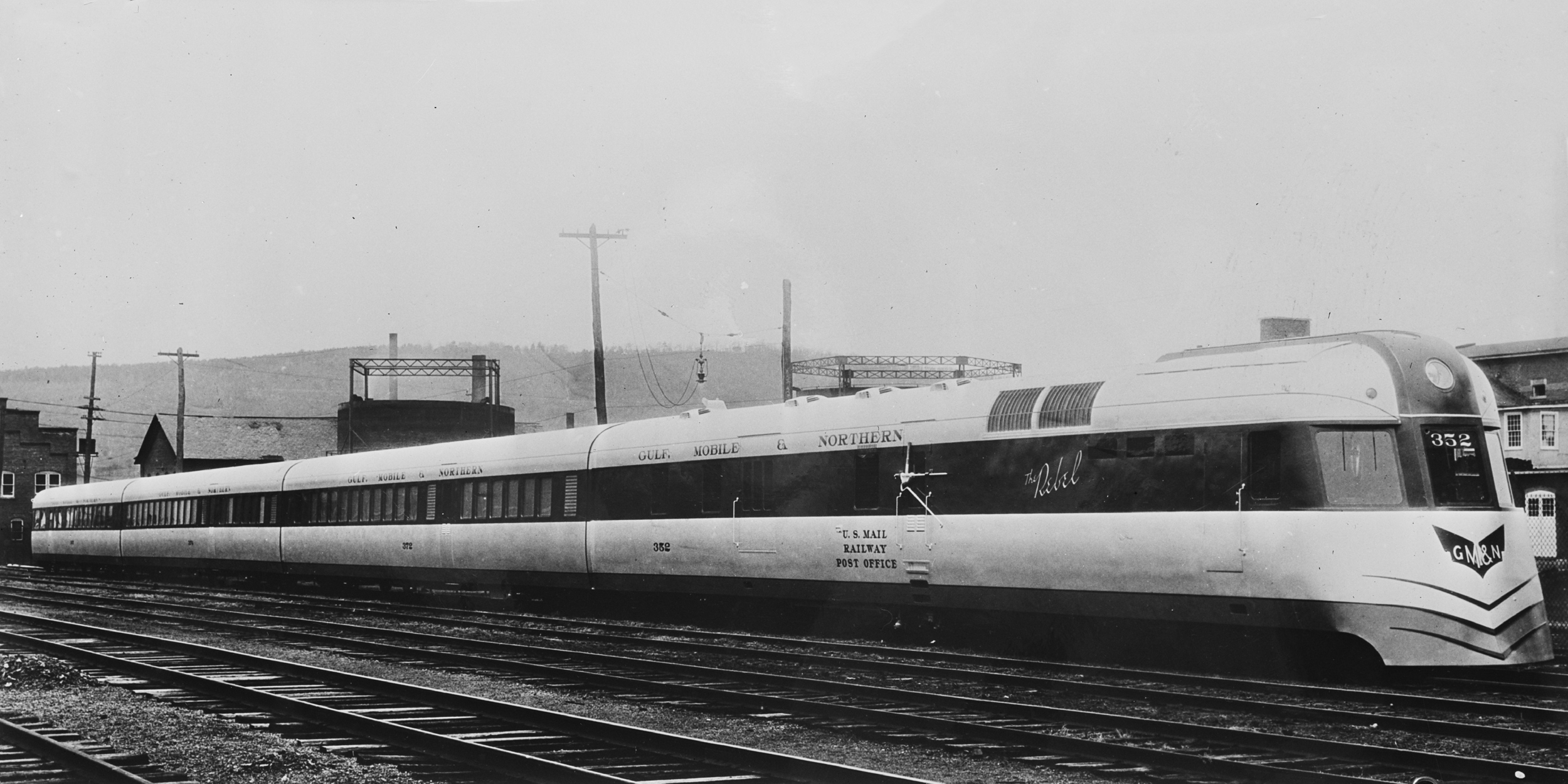 A glass plate negative by Harris & Ewing (photographer) featuring the original "Rebel" trainset, circa 1935. It was manufactured by American Car & Foundry. Unlike most other early semi-articulated trainsets, the "Rebel's" cars could be freely interchanged, which became a common setup for future streamliners. The small fleet included three buffet-coach cars and two sleeper-observations.
Gulf, Mobile & Northern
What became the classic passenger train remembered today actually has its beginnings with predecessor Gulf, Mobile & Northern.  The GM&N gained the distinction of launching the very first streamliner in the South when the Rebel debuted in 1935. 
The trainset was built by American Car & Foundry with the power car provided by the American Locomotive Company (Alco). 
This car carried a unique 2-B wheel arrangement and 600 horsepower, model 531 prime mover design by Alco-predecessor McIntosh & Seymour (this engine powered many of Alco's earliest diesels, such as the HH series switchers).  Aside from the engine the car also featured a baggage compartment and area for a small Railway Post Office (RPO). 
Design
The trainset was styled by noted industrial designer Otto Kuhler (among his other accomplishments included Baltimore & Ohio's Royal Blue, Milwaukee Road's Hiawathas, and Lehigh Valley's Black Diamond) with a shovel-nosed look sporting shiny stainless-steel with a deep crimson band running the length of the consist. 
While the train's initial route connected Jackson, Tennessee, with either New Orleans or Mobile, Alabama (the train split at Union, Mississippi), in 1942 it was stretched to St. Louis after the merger between the M&O and GM&N, and the trainsets were pulled off line in favor of traditional, streamlined passenger equipment.

Timetable (1940)
This train may not be as well known as the Super Chief or Empire Builder but it brought about two drastic upgrades to passenger rail operations. First, the original Rebel was a streamlined "trainset," similar to that of the Burlington's famous Zephyr 9900.
However, along with including more boxy streamlining than the Zephyr, the train also had the ability to interchange or add cars (this was not the case with the Zephyr and many other articulated trainsets debuting around the country at the time which were rigid, semi-permanently coupled trains). 
This ability meant the GM&N could swap out any type of consist it so desired and its fleet of equipment included three buffet-coach cars and a pair of sleeper-observations 
In 1937 an additional order was placed for an additional power car and two coach-sleepers.  Lack of ridership north of Jackson, Mississippi meant that a three-consist only normally met demand while south of that point an extra coach was added. 
The Rebel also featured on board hostesses, perhaps the very first train to introduce such services.  The original train could connect Jackson with New Orleans in just over fourteen hours while it reach Mobile in under thirteen hours.
Both trips carried an average train speed of between 32 and 34 mph.  When the GM&N and Mobile & Ohio merged in 1940 the Rebel was extended to St. Louis according to Mike Schafer's and Joe Welsh's book, "Streamliners, History Of A Railroad Icon."
Timetable (April 18, 1938)
Read Down Time/Leave (Train #1)
Milepost
Location
Read Up
Time/Arrive (Train #2)
8:30 PM (Dp)
0

Jackson, TN

8:20 AM (Dp)
F 8:38 PM
3

Bemis, TN

F 8:13 AM
F 8:51 PM
11

Parkburg, TN

F 8:02 AM
F 8:57 PM
15

Deanburg, TN

F 7:56 AM
9:05 PM
20

Silerton, TN

7:48 AM
F 9:10 PM
23

Pine Top, TN

F 7:43 AM
9:19 PM
28

Hornsby, TN

7:34 AM
F 9:25 PM
32

Series, TN

F 7:27 AM
F 9:31 PM
37

Lacy, TN

F 7:21 AM
9:39 PM
40

Middleton, TN

7:15 AM
F 9:46 PM
45

Brownfield, MS

F 7:06 AM
9:52 PM
49

Walnut, MS

7:01 AM
F 9:58 PM
52

Tiplersville, MS

F 6:55 AM
10:05 PM
56

Falkner, MS

6:48 AM
10:18 PM
65

Ripley, MS

6:36 AM
10:28 PM
71

Blue Mountain, MS

6:25 AM
F 10:35 PM
76

Cotton Plant, MS

F 6:17 AM
10:45 PM (Ar)
83

New Albany, MS

6:05 AM (Dp)
11:00 PM (Dp)
83

New Albany, MS

5:50 AM (Ar)
11:20 PM
94

Ecru, MS

5:30 AM
11:36 PM
102

Pontotoc, MS

5:17 AM
11:59 PM
117

Houlka, MS

4:50 AM
12:18 AM
127

Houston, MS

4:31 AM
F 12:37 AM
139

Mantee, MS

F 4:09 AM
F 12:57 AM
151

Maben, MS

F 3:46 AM
1:02 AM
154

Mathiston, MS

3:42 AM
1:31 AM
170

Ackerman, MS

3:11 AM
2:05 AM (Ar)
188

Louisville, MS

2:35 AM (Dp)
2:15 AM (Dp)
188

Louisville, MS

2:15 AM (Ar)
F 2:30 AM
197

Noxapater, MS

F 1:59 AM
2:57 AM
213

Philadelphia, MS

1:36 AM
3:20 AM (Ar)
228

Union, MS

1:10 AM (Dp)
Time/Leave (Train #1/New Orleans Section)
Milepost
Location
Time/Arrive (Train #2/New Orleans Section)
3:35 AM (Dp)
228

Union, MS

12:45 AM (Ar)
3:57 AM
241

Sebastopol, MS

12:24 AM
4:10 AM
250

Walnut Grove, MS

12:11 AM
F 4:18 AM
255

Tuscola, MS

F 12:02 AM
4:26 AM
260

Lena, MS

11:55 PM
F 4:37 AM
267

Ludlow, MS

F 11:44 PM
F 4:51 AM
278

Koch, MS

F 11:29 PM
F 4:55 AM
281

Goshen Springs, MS

F 11:25 PM
F 5:05 AM
287

Fannin, MS

F 11:16 PM
F 5:15 AM
295

Luckney, MS

F 11:05 PM
5:30 AM (Ar)
302

Jackson, MS

10:50 PM (Dp)
6:15 AM (Dp)
302

Jackson, MS

10:30 PM (Ar)
6:43 AM
324

Gatesville, MS

9:59 PM
6:58 AM
335

Georgetown, MS

9:47 PM
7:04 AM
340

Rockport, MS

9:37 PM
7:17 AM
350

Wanilla, MS

9:25 PM
7:27 AM
357

Monticello, MS

9:15 PM
8:05 AM
385

West Columbia, MS

8:40 PM
8:27 AM
404

Angie, LA

8:15 PM
8:32 AM
409

Varnado, LA

8:09 PM
8:40 AM (Ar)
417

Bogalusa, LA

8:00 PM (Dp)
8:45 AM (Dp)
417

Bogalusa, LA

7:55 PM (Ar)
9:04 AM
435

Talisheek, LA

7:33 PM
9:25 AM
452

North Slidell, LA

7:15 PM
9:35 AM
453

Slidell, LA

7:05 PM
10:35 AM

New Orleans, LA (City Park Avenue)

6:10 PM
10:45 AM (Ar)
488

New Orleans, LA (Terminal Station)

6:00 PM (Dp)
Time/Leave (Train #21/Mobile Section)
Milepost
Location
Time/Arrive (Train #22/Mobile Section)
3:40 AM (Dp)
228

Union, MS

12:35 AM (Ar)
3:58 AM
238

Decatur, MS

12:21 AM
4:15 AM
247

Newton, MS

12:07 AM
F 4:30 AM
255

Roberts, MS

F 11:50 PM
F 4:42 AM
262

Montrose, MS

F 11:38 PM
4:50 AM
267

Louin, MS

11:31 PM
5:04 AM
274

Bay Springs, MS

11:20 PM
F 5:18 AM
282

Stringer, MS

F 11:06 PM
F 5:29 AM
288

Mossville, MS

F 10:56 PM
5:45 AM (Ar)
298

Laurel, MS

10:40 PM (Dp)
6:00 AM (Dp)
298

Laurel, MS

10:25 PM (Ar)
F 6:13 AM
307

Lanham, MS

F 10:12 PM
6:27 AM
315

Ovett, MS

9:58 PM
F 6:53 AM
320

Rhodes, MS

F 9:50 PM
6:46 AM
327

Richton, MS

9:40 PM
F 6:56 AM
333

Hintonville, MS

F 9:29 PM
7:08 AM
340

Beaumont, MS

9:19 PM
7:21 AM
347

McLain, MS

9:06 PM
7:31 AM
353

Leaf, MS

8:56 PM
7:42 AM
359

Merrill, MS

8:45 PM
7:48 AM
363

Bexley, MS

8:40 PM
8:00 AM
369

Lucedale, MS

8:28 PM
F 8:04 AM
371

Evanston, MS

F 8:24 PM
8:14 AM
377

Shipman, MS

8:14 PM
8:27 AM
386

Wilmer, AL

8:01 PM
8:38 AM
393

Semmes, AL

7:50 PM
F 8:46 AM
398

Orchard, AL

F 7:42 PM
8:59 AM
405

Mobile, AL (Government Street)

7:30 PM
9:10 AM (Ar)
409

Mobile, AL (Conception Street)

7:20 PM (Dp)
The merger also brought about a new train known as the Gulf Coast Rebel (affectionately known as the "Big Rebel"), operating between St. Louis and Mobile along a route spanning 648 miles. 
This particular Rebel stuck with the beautiful livery of crimson and silver with power provided by a GE-Alco DL-series, slant-nosed diesel locomotive (similar in looks and length of an EMD E series model).
Interestingly, while the original Gulf Coast was advertised as a streamliner it utilized modernized heavyweight equipment within its consist rebuilt at the old M&O Iselin Shops in Jackson.
It also carried rebuilt Pullmans, which were overhauled at Pullman's shops in Chicago.  During 1947 the GM&O ordered new lightweight cars from American Car & Foundry, which reequipped the Gulf Coast Rebel and other traditional trains.  

---
While the Rebel and Gulf Coast Rebel were perhaps the railroad's most famous passenger trains it did provide other services including the Abraham Lincoln (Chicago – St. Louis), Alton Limited (Chicago – Mobile), Alton Limited (Chicago - St. Louis), and Ann Rutledge (Chicago – St. Louis) among others. 
In any event, the Gulf, Mobile & Ohio simply could not effectively compete with the more luxurious and faster running times of trains like the Panama Limited and City of New Orleans offered by rival Illinois Central. 
As a result of this, and other factors, the railroad decided to focus more on freight services, and less on passenger operations, pulling all of its trains operating south of St. Louis in 1958 (which included the entirety of the Rebel services).