Christmas Train Rides: A Complete Guide (2023)
Last revised: January 1, 2023

By: Adam Burns

While Christmas train rides have been around for quite some time, interest spiked after Warner Brothers Pictures released The Polar Express in November, 2004.  
The movie is based from Chris Van Allsburg acclaimed children's book by the same name, originally published in 1985.  Today, numerous organizations host officially licensed trips featuring his work and these usually sell out months in advance. 
However, not all have chosen this route and instead offer their own Christmas-themed excursions. Many are also quite popular and some, too, sell out quite quickly! Featured below is a 2021 schedule of such events which are expected to operate.
State Guide
If you would like to learn more about officially licensed The Polar Express events please click here.   
Please Note!  While I have striven to make sure the information presented is accurate to the best of my knowledge, I cannot say-so with 100% certainty.  Please contact each individual organization regarding available trains, specific dates, times, and ticket pricing.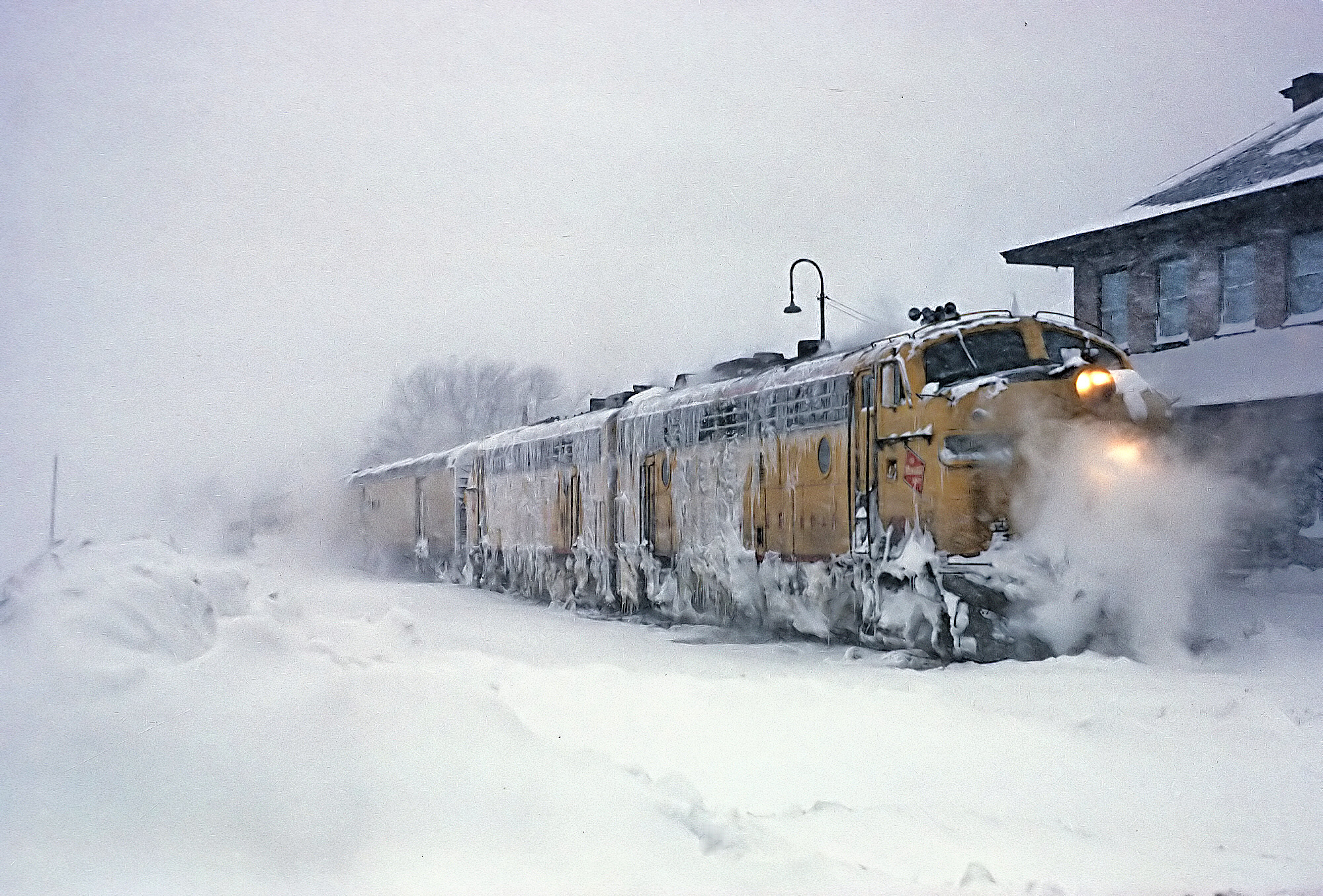 It's a bitterly cold January 7, 1967 as Milwaukee Road's train #2, the southbound "Copper Country Limited," awaits departure from Soo Line's depot in Calumet, Michigan. Roger Puta photo.
Alaska
No events yet known.
Arizona
No events known.
Arkansas
Arkansas & Missouri Railroad (Springdale):  Some of the nation's finest train excursions do not operate official The Polar Express trips.  Wishing to sidestep the steep licensing fees they elect to host their own Christmas-themed rides. 
One such place is  the Arkansas & Missouri, an active and successful short line freight carrier. The A&M began in 1986 over a long stretch of the old St. Louis-San Francisco Railway ("Frisco") between Fort Smith, Arkansas and Monett, Missouri, a distance of 140 miles. 
During the early 2000's the A&M saw its infrastructure considerably upgraded and the railroad now features continuous welded rail (CWR) and handles the industry's largest and heaviest freight cars. 
Thanks to its friendly stance towards public excursions such trips are offered throughout the year between Springdale, Winslow and Van Buren.  If you have a chance, a ride aboard the A&M is highly recommended. 
During the holiday season they offer a number of Christmas-themed activities including a Children's Christmas Train, the Holiday Express, Holiday Pizza Express, and even Pajama Trains similar to The Polar Express.  
Delaware
Wilmington & Western Railroad (Wilmington): Today's Wilmington & Western is a nod to history as a former company by the same name built the 10.2 miles currently operated as a tourist attraction between Wilmington and Hockessin.
This line originally opened in 1872, reaching as far as Landenberg, Pennsylvania and a connection with the Pennsylvania Railroad. 
For many years the property was owned by the Baltimore & Ohio, our nation's first common-carrier.  The first excursions were hosted by Historic Red Clay Valley, Inc. during the mid-1960's. 
These continued for more than a decade until the then-Chessie System elected to abandon the branch.  The group managed to acquire the property in 1982, establishing today's Wilmington & Western. 
While the scenery alone and many special trips continue to draw in visitors, the railroad's two operating steam locomotives do as well; former Atlanta, Birmingham & Atlantic 0-6-0 #58 and Mississippi Central 4-4-0 #98. 
The W&W's Santa Claus Express offers an 1.5-hour trip from late-November through December. The railroad also offers the uniqueness of steam-powered trains.  The event features chocolate and, of course, a meet-and-greet with Santa. 
The railroad also hosts the Holiday Lights Express, using their restored Doodlebug railcar.  The car is aglow in lights and a 45-minute trip allows passengers to see the decorated private homes near the railroad.  Finally, as an early celebration of the holiday season they also host "Christmas In July" specials.
Hawaii
No events known.
Idaho
No events known.

Illinois
Illinois Railway Museum (Union):  IRM is the nation's largest such museum and a must-see if you enjoy trains. It began as a grassroots organization started by a group of ten railroad enthusiasts who launched the Illinois Electric Railway Museum in 1953. 
Their goal at that time was to preserve the dying interurban industry.  To begin this endeavor they acquired former Indiana Railroad car #65 by pitching in $100 each. 
Next, property was needed to showcase not only the car but also any future pieces they might acquire.  At first they found a patch of ground in North Chicago but when this became too cramped moved to empty farmland in Union in 1964. 
By then the group's collection had amassed 40 pieces, which now included both general railroad equipment and interurban cars.  As a result, the titled was shortened to the Illinois Railway Museum. 
By 1966 it had fully restored its first interurban car and showed off a rebuilt steam locomotive two years later.  Wishing to host excursions it next built a 1 mile loop for its operational streetcars/interurbans, completed in 1981. 
Today, IRM has expanded its track to 4.6 miles (all built from scratch, no former right-of-way was utilized) and owns a total of 80 acres.  Its list of buildings and equipment is extremely impressive. 
During the holiday season IRM hosts the Happy Holiday Railway during late November and December allowing kids to experience a 40-minute train ride while enjoying treats on-board and meeting St. Nick himself.
Indiana
Hoosier Valley Railroad Museum (North Judson): If you were a train enthusiast prior to the 1970's, North Judson was a famous junction.  This small town was then served by four major railroads; the Pennsylvania, New York Central, Erie, and Chesapeake & Ohio. 
Three (PRR, Erie, and C&O) were major corridors reaching Chicago; during the mid-20th century one could witness over 125 trains a day pass through the small town and nearly all of the community's residents worked for the railroad.  Alas, as the industry fell on hard times (1970's), each line's use dwindled in importance. 
Eventually, all were abandoned as through routes.  Today, only a portion of the old Chesapeake & Ohio and Erie/Erie Lackawanna remnant still contain rails. 
The museum is housed on a segment of the latter's property (they have also built a replica C&O depot), located to the northeast side of town where a small yard stores their small collection of equipment. 
The remaining trackage also enables the group to host short train rides throughout the year, such as their popular Santa Trains.  These are offered on select dates in December and feature a 45-minute trip where kids get to see Santa and receive a small gift.
Iowa
Midwest Central Railroad (Mt. Pleasant):  Want to see a working steam locomotive in Iowa? Then plan a visit to the Midwest Central Railroad!  The group's heritage dates back to 1959 as a spin-off the Old Midwest Threshers. 
That year they purchased a little 0-4-0 steamer built by the Davenport Locomotive Works (1925).  Next, they acquired two former Chicago, Burlington & Quincy depot's; one from Hillsboro and the other from Yarmouth. 
Both were placed in McMillan Park.  To host excursions the group picked up a pair of 2-6-0's and constructed a pole-barn roundhouse to store and maintain their new acquisitions. 
To host excursions they built a short, 1.25-mile segment of loop narrow-gauge track (3 foot). 
The first trips ran in 1960 and today the setup essentially remains unchanged although their locomotive fleet has grown to include an 0-4-0T, another 2-6-0, a 2-8-0, and until 2019 a 3-truck Shay originally built for the West Side Lumber Company (it now operates at the Georgetown Loop Railroad). 
Among their seasonal activities is hosting the North Pole Express for Christmas.  The trains run from late November through early/mid-December with trips departing North Station.  During the trip kids can meet Santa and receive a small gift.
Kansas
No events known.
Louisiana
No events known.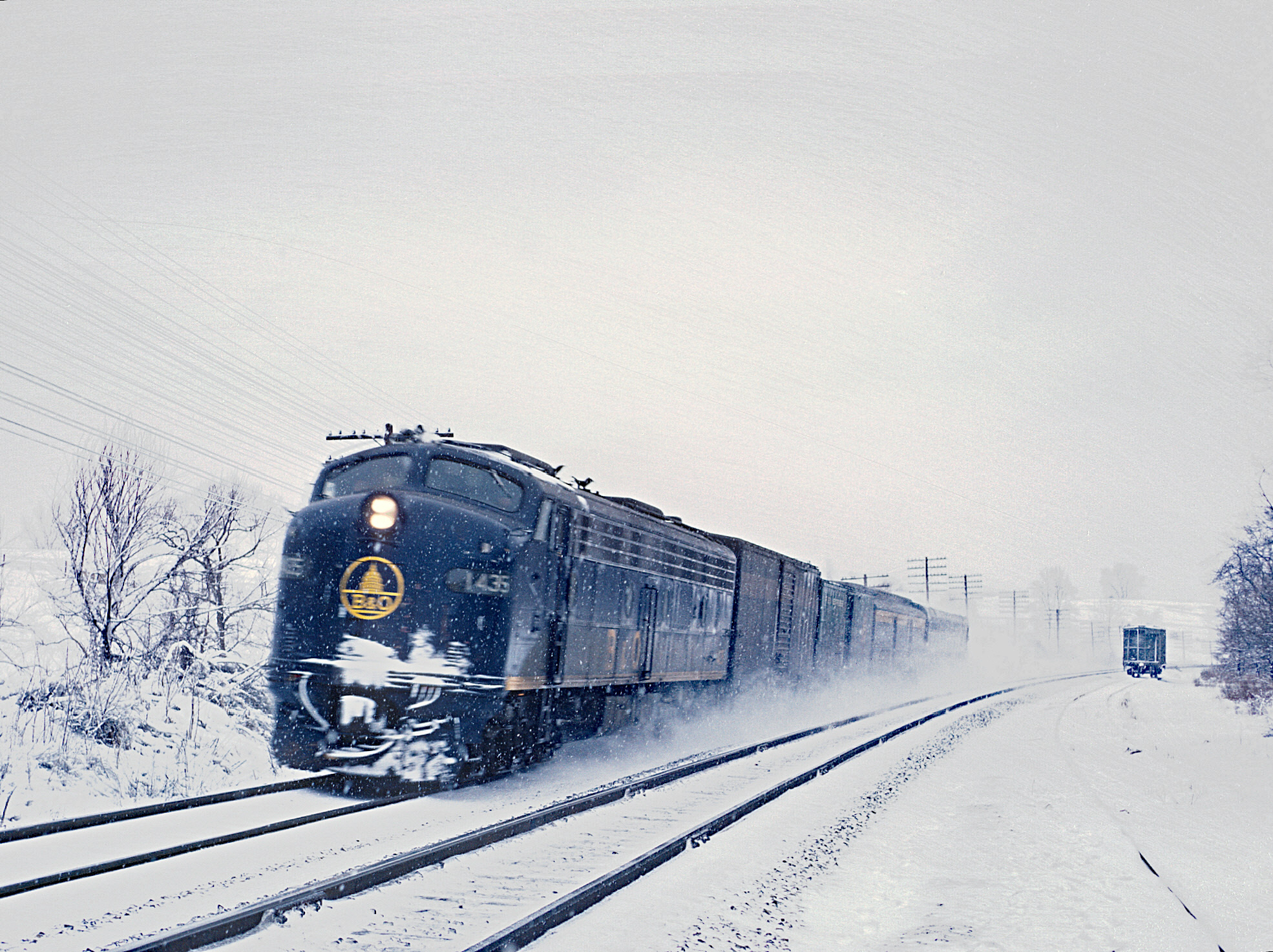 Baltimore & Ohio E8A #1435 dashes through the snow near Germantown, Maryland with train #11, the "Metropolitan," on March 2, 1969. Roger Puta photo.
Mississippi
No events known.
Missouri
St. Louis, Iron Mountain & Southern Railway (Jackson):  This tourist attraction uses a historic name which dates all the way back to 1851, the St. Louis & Iron Mountain Railroad. 
Its promoters' intentions were to handle iron ore from mines around Ironton, Missouri.  On April 2, 1858 it opened to Pilot Knob (very near Ironton), then continued expanding southwestward. On May 6, 1874 the StL&IM was reorganized as the St. Louis, Iron Mountain & Southern Railway (StLIM&S or "Iron Mountain Route"). 
The railroad eventually wound up as part of the Missouri Pacific, one of the Midwest's largest with roughly 12,000 route miles. 
The present day St. Louis, Iron Mountain & Southern utilizes about 4.5 miles of the MP's old Jackson Branch which originally extended from Allenville to Jackson. 
The current StLIM&S has grown into a very nice attraction, offering a wide range of trips throughout the year, particularly during the holidays. 
They are also play an educational role by teaching kids what it is like to be an engineer or conductor.  During the holiday season they host the Santa Express from late November and December where kids can see Santa and a Christmas tale is read to all during the 2-hour trip. 
Montana
Charlie Russell Choo Choo (Lewistown/Hanover):  Montana's only rail excursion offers guests splendid views of northern Montana over short line Central Montana Rail, Inc. which operates a section of the old Milwaukee Road's "Northern Montana Lines." 
The experience provides breathtaking open vistas and typically glimpses of local wildlife such as deer, elk, and other smaller mammals.  All of this can be seen while enjoying dinner during the trip. 
The train only runs during select weekends from June through early October.  Please note that trips actually depart somewhat north of Lewistown at a point known as Hanover (about 15-20 minutes away) and the entire journey covers 56 miles. 
Their North Pole Adventure lasts about an hour and a half where kids can enjoy hot cocoa and cookies, meet Santa and Mrs. Claus, hear a Christmas tale, and sing songs.    To learn more please click here.
Nebraska
No events known.
Nevada
No events known.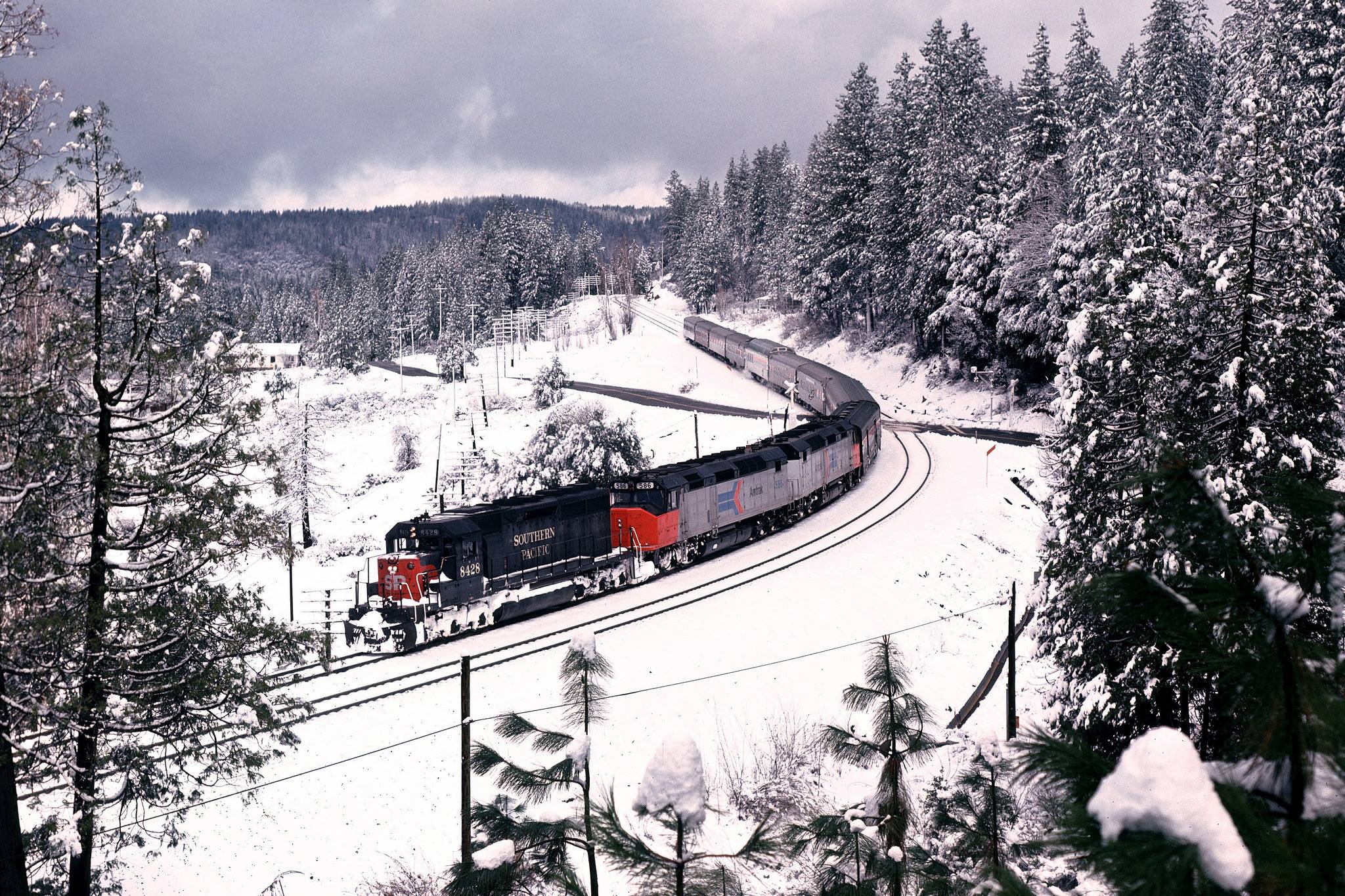 Southern Pacific SD40 #8428 leads Amtrak's "San Francisco Zephyr" westbound over Donner Pass as it crosses Dutch Flat Road in January, 1975. Drew Jacksich photo.
New Mexico



No events known.
North Carolina
New Hope Valley Railway (Bonsol): One of North Carolina's hidden treasures is the New Hope Valley Railway, a division of the North Carolina Railway Museum. 
It is one of only two locations in the state where the public can experience a heritage railroad (the other is in Spencer at the North Carolina Transportation Museum). 
Situated southwest of Raleigh in the small community of Bonsol the New Hope Valley Railway operates a 5 mile section of the former Seaboard Air Line to New Hill.
They offer a nice experience and their close proximity to Raleigh, the Research Triangle, and the I-40 corridor allows the museum to draw nice crowds each year. 
For train enthusiasts you can see several preserved diesel switchers and two steam locomotives, Carbon Limestone 0-4-0T #17 and Cliffside 2-6-2 #110. 
Both of this historic engines are currently under restoration and should further bolster ridership once they are back under steam. 
During the month of December, on select weekends, the railroad hosts Santa's Reindeer Roundup Express where kids can meet Santa, take pictures, and enjoy a festive holiday experience. 
Please note!  These trips are hosted in open-air cars so please dress accordingly.
North Dakota
No events yet known.
Oklahoma
No events known.
Rhode Island
Newport & Narragansett Bay Railroad (Portsmouth):  Based in Newport, the Newport & Narrangansett Bay Railroad was created in 2014 through the merger of the Newport Dinner Train and Old Colony & Newport Scenic Railway. 
The heritage railroad dates back to 1979 when it acquired 13.4 miles of the old New York, New Haven & Hartford's Newport Branch from Newport to Tiverton. 
The line originally ran 19.6 miles to Fall River, Massachusetts.  Even in the New Haven era this corridor was not particularly fruitful; passenger service ended in 1938 and freight customers were sporadic. 
However, it was incredibly scenic providing fantastic coastal views of southern Rhode Island which has continued to draw crowds for over 40 years.  Trains are currently pulled by historic diesel switchers, a pair of 45-ton models built by General Electric. 
For Christmas they host a themed-trip called the "Dickens Holiday Dinner Theatre Train."  Guests will enjoy a meal while enjoying a retelling of Charles Dickens' "A Christmas Carol" by the Marley Bridges Theatre Company. 
They also host a "Jingles On The Rails Holiday Dinner Train.", "PJ's With Santa," and "Breakfast With Santa."  To learn more about all of their events please visit the railroad's website.
South Carolina
South Carolina Railroad Museum (Winnsboro):  The state's largest railroad museum also operates excursions along what is known as the Rockton, Rion & Western Railroad.  One such event is the Santa Train held during select dates in December where Santa meets with every child. 
The museum makes this a priority and strives to be sure he speaks with all of the children during the trip.  The South Carolina Railroad Museum (SCRM) began in 1973 when a group of enthusiasts wanted to tell the Palmetto State's interesting rail history through a museum. 
This heritage dates back to the industry's earliest days when the South Carolina Canal & Rail Road Company completed its original 136 mile route in 1833.  It later became a part of the modern Southern Railway. 
SCRM entered the railroad business when Martin Marietta Aggregates donated its industrial trackage, known as the Rockton & Rion Railway.  As a nod to this kind gesture the railroad gains its name from its predecessor; the Rockton, Rion & Western Railroad. 
It total it stretches 11.5 miles and the museum eventually plans to restore the entire property for public trips, in addition to building a locomotive shop and display tracks. 
South Dakota
Black Hills Central Railroad (Hill City): Tucked away in western South Dakota is one of the nation's finest heritage railroads, the Black Hills Central. 
It also the state's only notable excursion train, featuring live steam locomotives (including a rare Mallet type, Rayonier 2-6-6-2T #110 built by the Baldwin Locomotive Works in 1928). 
During the holidays they host the Holiday Express; a Christmas-decorated train allowing kids to see Santa and receive a small gift.
The Black Hills Central Railroad operates a 10-mile section of the former Chicago, Burlington & Quincy's Keystone Branch, which was located along the western fringe of the railroad's massive system. 
Gold and lead mining brought railroads to the region in 1879, which continued to expand in the coming years.  One other notable railroad served this area, the Chicago & North Western. 
Unfortunately, once mining operations slowly dried up there was a decreasing need for the railroad; the first public excursions were hosted in 1957 from Hill City.  The train was affectionately known as "The 1880 Train," a name which still stands today.  
Utah
Heber Valley Railroad (Heber City): The North Pole Express takes kids on a magical ride to see Santa. During the trip they can listen to choir-performed Christmas songs, play games, enjoy refreshments, and take in the beautiful scenery.  
The train is hosted during select dates from late November until just before Christmas. 
The Heber Valley Railroad is Utah's only heritage railroad; it maintains 13.6 miles of the ex-Denver & Rio Grande Western's old Provo Canyon Branch between Heber City and Vivian Park (originally the line extended 25.5 miles from the main line at Provo to Heber City). 
The route offers some spectacular scenery within the Provo River Canyon which draws folks back year after year. 
When not down for restoration or the mandatory 1,472-day inspection you can ride behind one of two 2-8-0 "Consolidations," Union Pacific #618 or Great Western Railway #75.   
They also feature one other steamer on display; Columbia Steel Corporation (U.S. Steel) 0-6-0 #300 built by the Baldwin Locomotive Works in 1925. Check out their website to learn more about all of the trips and packages the railroad has to offer.

Vermont
No events known.
Virginia
Buckingham Branch Railroad (Dillwyn):  Offered in junction with the Old Dominion Chapter of the National Railway Historical Society the Santa Train operates several times on select Saturday's in December.
As the train journeys through the Buckingham County countryside, Santa and Mrs. Claus will pass through the seasonally decorated cars and visit with the children. 
Make sure to plan your trip in advance as these trips always sell out quickly!  These excursions operate over short line Buckingham Branch Railroad, a growing Virginia freight carrier. 
The trains use their original track between Bremo, Virginia in Fluvanna County and Dillwyn in Buckingham County (part of its so-called "Buckingham Division").  It covers 17 miles and was previously the Chesapeake & Ohio's Dillwyn Branch, sold by CSX Transportation in 1989. 
Since that time the Buckingham Branch has expanded greatly and currently operates a total of 280 miles along four different divisions across central and eastern Virginia.
The longest is the Richmond & Allegheny Division which runs 199 miles between Richmond and Clifton Forge, another former component of the C&O.
West Virginia
No events known.
---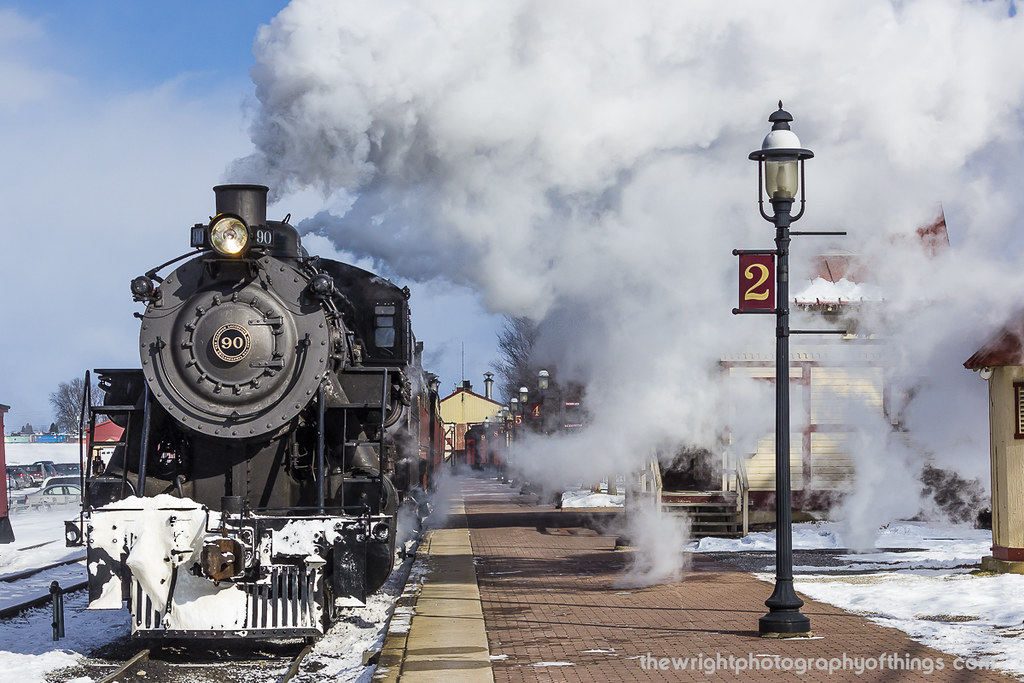 Great Western Railway 2-10-0 #90 is seen here simmering away at the Strasburg Rail Road on February 13, 2016. Jon Wright photo.
Wyoming
No events yet known.