Christmas Train Rides: A Complete Guide (2023)
Last revised: May 27, 2023

By: Adam Burns

While Christmas train rides have been around for quite some time, interest spiked after Warner Brothers Pictures released The Polar Express in November, 2004.  
The movie is based from Chris Van Allsburg acclaimed children's book by the same name, originally published in 1985.  Today, numerous organizations host officially licensed trips featuring his work and these usually sell out months in advance. 
However, not all have chosen this route and instead offer their own Christmas-themed excursions. Many are also quite popular and some, too, sell out quite quickly! Featured below is a 2021 schedule of such events which are expected to operate.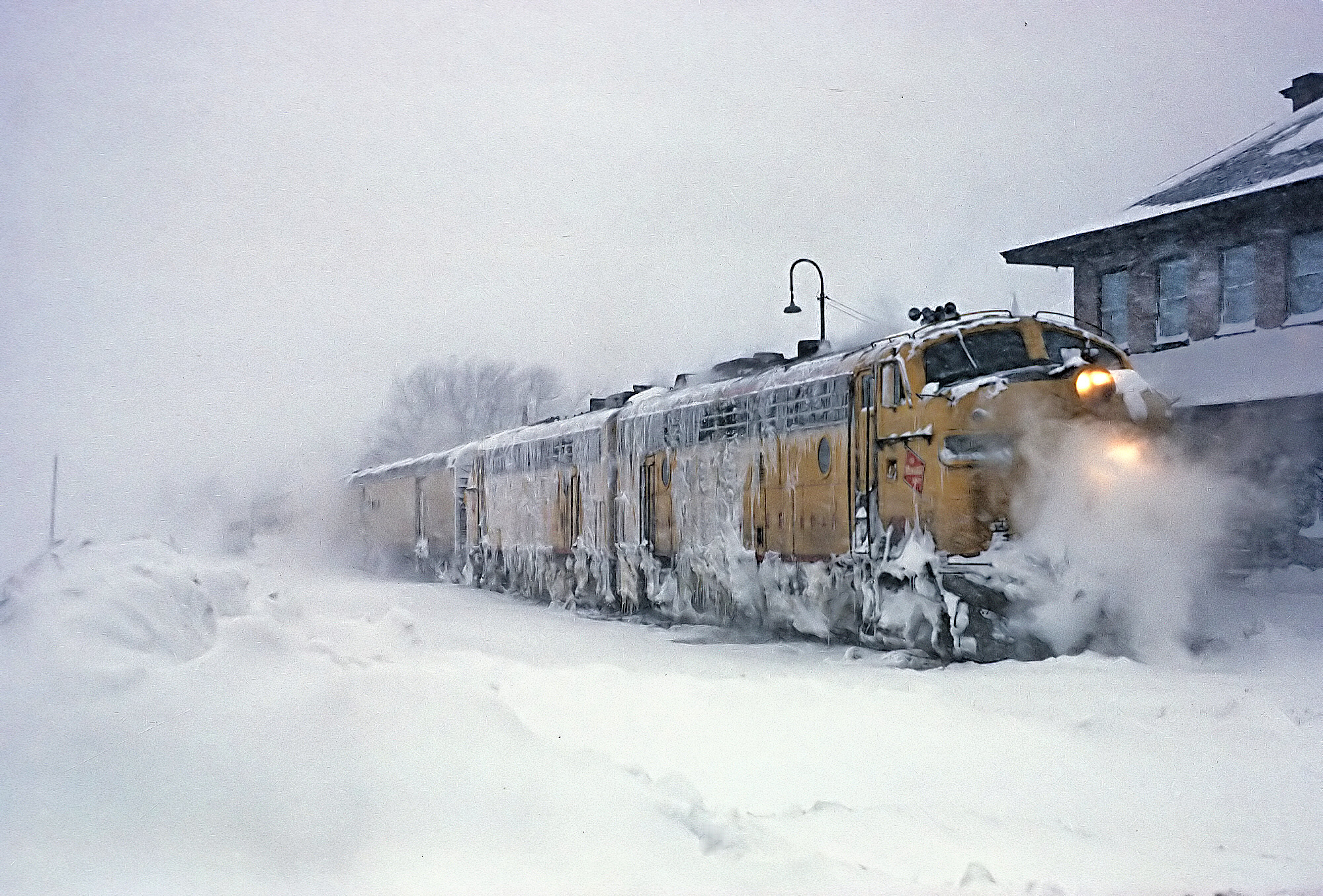 It's a bitterly cold January 7, 1967 as Milwaukee Road's train #2, the southbound "Copper Country Limited," awaits departure from Soo Line's depot in Calumet, Michigan. Roger Puta photo.
State Guide
If you would like to learn more about officially licensed The Polar Express events please click here.   
Please Note!  While I have striven to make sure the information presented is accurate to the best of my knowledge, I cannot say-so with 100% certainty.  Please contact each individual organization regarding available trains, specific dates, times, and ticket pricing.

Notable Events
All aboard for a magical holiday adventure! Celebrate the most wonderful time of the year in a truly unique way by hopping aboard one of the best Christmas-themed train rides.

These enchanting journeys will transport you to a winter wonderland, filled with twinkling lights, holiday cheer, and memories that will last a lifetime. Get ready to experience the joy and wonder of Christmas as you traverse breathtaking landscapes and embrace the spirit of the season. Here are some of the top Christmas train rides in the country.  More information about these experiences may be found in the above state listings.
The Polar Express (Durango & Silverton Narrow Gauge Railroad, Colorado)
Inspired by the beloved children's book and film, The Polar Express train ride in Colorado promises an unforgettable journey. Settle into vintage coaches adorned with holiday decorations as you embark on a magical trip to the North Pole. Enjoy hot cocoa and cookies, sing along to Christmas carols, and listen to the story of The Polar Express brought to life. Be prepared for a surprise visit from Santa Claus himself, spreading joy to all passengers. It's an experience that captures the imagination of both young and old alike.
The Christmas City Express (Duluth, Minnesota)
Step into a storybook setting on the Christmas City Express in Duluth, Minnesota, hosted by the North Shore Scenic Railroad. Journey through snowy landscapes aboard beautifully restored vintage trains, adorned with festive lights and decorations. As you travel, take in stunning views of Lake Superior and the charming winter scenes along the route. Encounter Santa's helpers, enjoy live holiday music, and meet Santa Claus, who will be eager to hear your Christmas wishes. Don't forget to indulge in delicious holiday treats, making this journey a true delight for all.
Napa Valley Wine Train's Santa Express (Napa, California)
Combine the elegance of wine country with the magic of Christmas aboard the Napa Valley Wine Train Santa Express. This enchanting ride takes you through California's picturesque vineyards, offering panoramic views of rolling hills and wintry landscapes. As you savor a gourmet holiday meal, Santa and his merry elves will visit your table, spreading cheer and surprises. Children can participate in fun activities and receive special gifts. Raise a toast to the holiday season with a glass of local wine and make memories to cherish forever.
The North Pole Express (Strasburg Rail Road, Pennsylvania)
Take a nostalgic journey on the North Pole Express at Strasburg Rail Road in Pennsylvania. Climb aboard the beautifully restored vintage steam train and embark on a captivating expedition to the North Pole. Immerse yourself in the festive atmosphere as you enjoy storytelling, sing-alongs, and the company of holiday characters. Children will be thrilled to meet Santa Claus and share their Christmas wishes. Capture the enchantment of the season against the backdrop of Pennsylvania's picturesque countryside.
The Christmas Train (Heber Valley Railroad, Utah)
Experience the magic of The Christmas Train in Utah's Heber Valley. Settle into cozy, heated train cars adorned with holiday decorations, and embark on a scenic journey through snow-covered landscapes. Enjoy live entertainment and warm up with complimentary hot cocoa and fresh-baked cookies. Look out for Santa Claus and his helpers as they visit each carriage, spreading joy and giving gifts to children. This heartwarming experience will leave you with cherished memories and a renewed love for the holiday season.
The Santa Express (Cuyahoga Valley Scenic Railroad, Ohio)
Celebrate the spirit of Christmas aboard the Santa Express in Ohio's Cuyahoga Valley. Enjoy a leisurely ride through the picturesque Cuyahoga Valley National Park, adorned in its winter glory. Delight in the festive ambiance as you listen to Christmas music, sip hot chocolate, and engage in onboard activities. Santa and his
Alaska
No events yet known.
Arizona
No events known.
Hawaii
No events known.
Idaho
No events known.

Kansas
No events known.
Louisiana
No events known.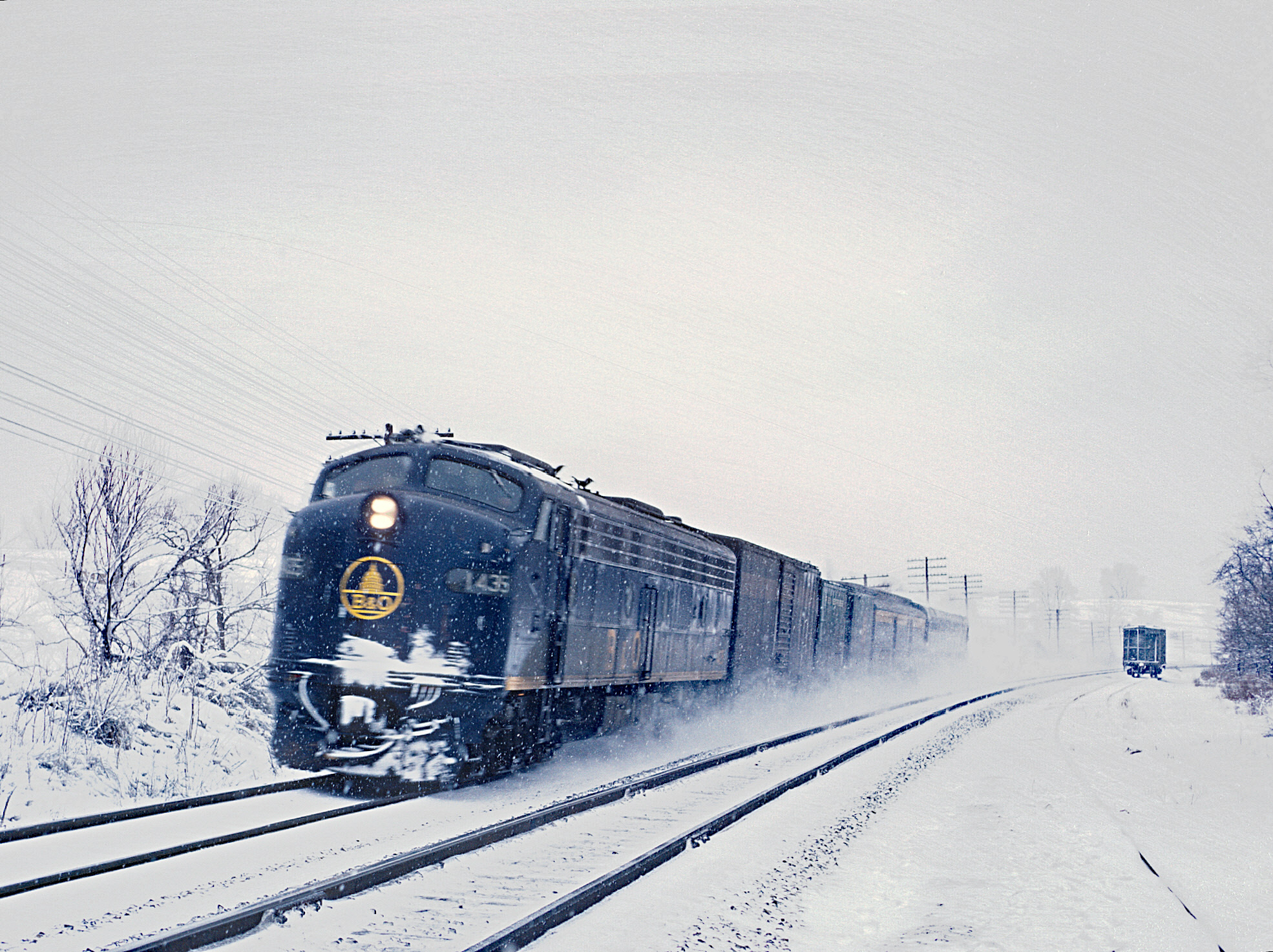 Baltimore & Ohio E8A #1435 dashes through the snow near Germantown, Maryland with train #11, the "Metropolitan," on March 2, 1969. Roger Puta photo.
Mississippi
No events known.
Nebraska
No events known.
Nevada
No events known.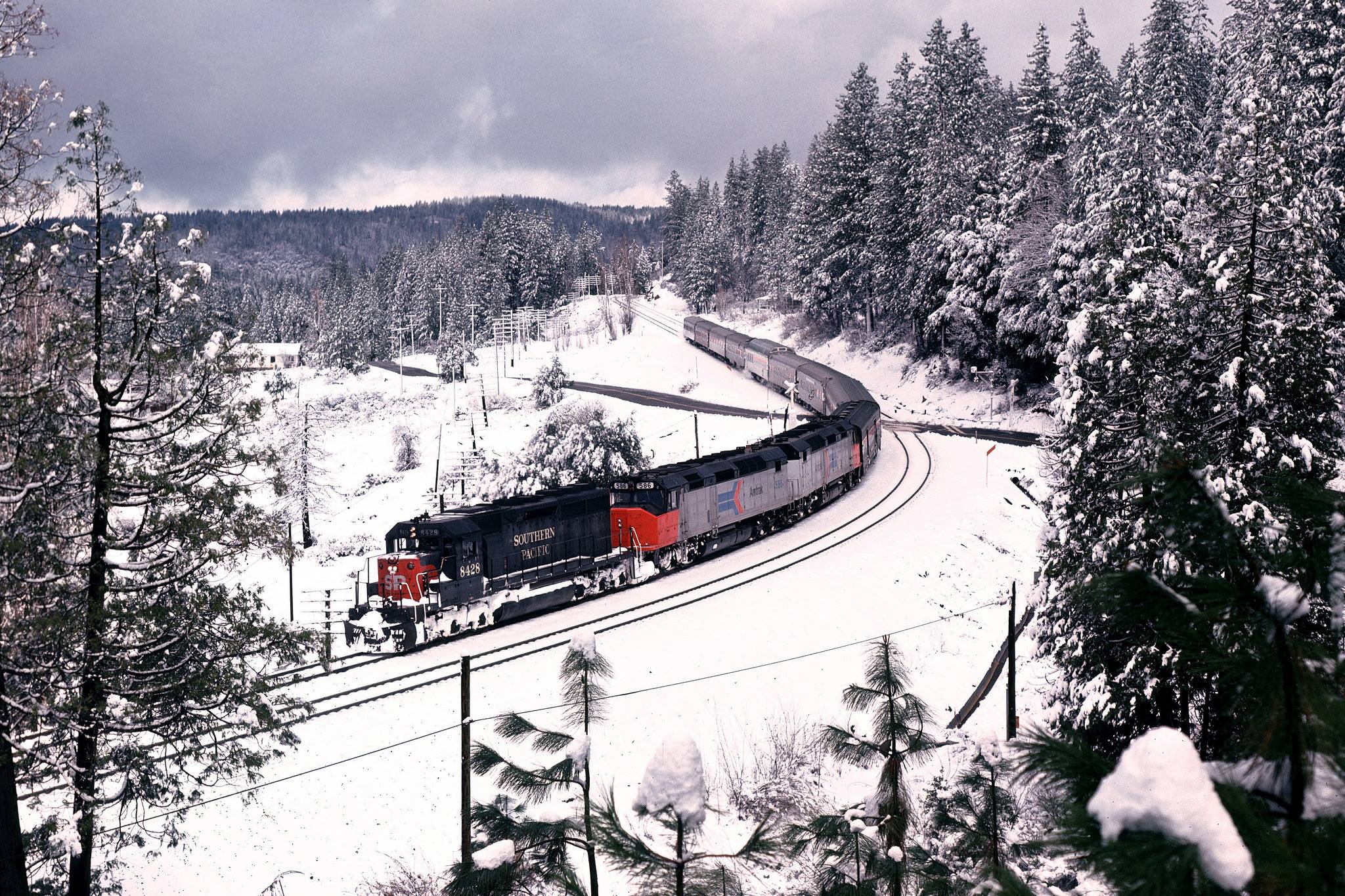 Southern Pacific SD40 #8428 leads Amtrak's "San Francisco Zephyr" westbound over Donner Pass as it crosses Dutch Flat Road in January, 1975. Drew Jacksich photo.
New Mexico



No events known.
North Dakota
No events yet known.
Oklahoma
No events known.
Vermont
No events known.
---
Wyoming
No events yet known.