Christmas Train Ride Locations (2023)
Last revised: October 14, 2023

By: Adam Burns

While Christmas train rides have been around for quite some time, interest spiked after Warner Brothers Pictures released The Polar Express in November, 2004. 
The movie is based from Chris Van Allsburg acclaimed children's book by the same name, originally published in 1985.  Today, numerous organizations host officially licensed trips featuring his work and these usually sell out months in advance. 
However, not all have chosen this route and instead offer their own Christmas-themed excursions. Many are also quite popular and some, too, sell out quite quickly! Featured below is a 2021 schedule of such events which are expected to operate.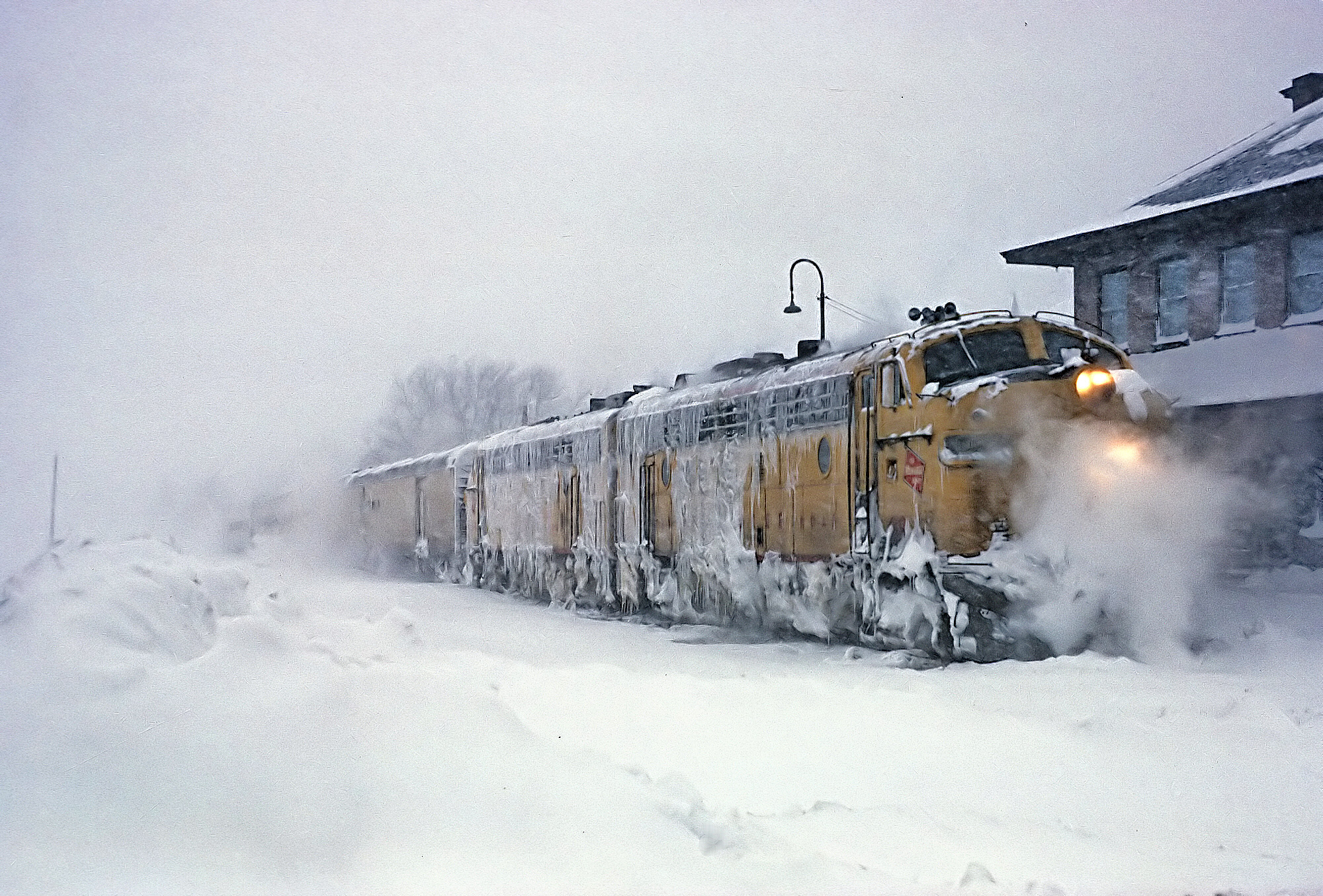 It's a bitterly cold January 7, 1967 as Milwaukee Road's train #2, the southbound "Copper Country Limited," awaits departure from Soo Line's depot in Calumet, Michigan. Roger Puta photo.
States
If you would like to learn more about officially licensed The Polar Express events please click here.   
Please Note!  While I have striven to make sure the information presented is accurate to the best of my knowledge, I cannot say-so with 100% certainty.  Please contact each individual organization regarding available trains, specific dates, times, and ticket pricing.

Notable Events
All aboard for a magical holiday adventure! Celebrate the most wonderful time of the year in a truly unique way by hopping aboard one of the best Christmas-themed train rides.

These enchanting journeys will transport you to a winter wonderland, filled with twinkling lights, holiday cheer, and memories that will last a lifetime. Get ready to experience the joy and wonder of Christmas as you traverse breathtaking landscapes and embrace the spirit of the season. Here are some of the top Christmas train rides in the country.  More information about these experiences may be found in the above state listings.
The Polar Express (Durango & Silverton Narrow Gauge Railroad, Colorado)
Inspired by the beloved children's book and film, The Polar Express train ride in Colorado promises an unforgettable journey. Settle into vintage coaches adorned with holiday decorations as you embark on a magical trip to the North Pole. Enjoy hot cocoa and cookies, sing along to Christmas carols, and listen to the story of The Polar Express brought to life. Be prepared for a surprise visit from Santa Claus himself, spreading joy to all passengers. It's an experience that captures the imagination of both young and old alike.
The Christmas City Express (Duluth, Minnesota)
Step into a storybook setting on the Christmas City Express in Duluth, Minnesota, hosted by the North Shore Scenic Railroad. Journey through snowy landscapes aboard beautifully restored vintage trains, adorned with festive lights and decorations. As you travel, take in stunning views of Lake Superior and the charming winter scenes along the route. Encounter Santa's helpers, enjoy live holiday music, and meet Santa Claus, who will be eager to hear your Christmas wishes. Don't forget to indulge in delicious holiday treats, making this journey a true delight for all.
Napa Valley Wine Train's Santa Express (Napa, California)
Combine the elegance of wine country with the magic of Christmas aboard the Napa Valley Wine Train Santa Express. This enchanting ride takes you through California's picturesque vineyards, offering panoramic views of rolling hills and wintry landscapes. As you savor a gourmet holiday meal, Santa and his merry elves will visit your table, spreading cheer and surprises. Children can participate in fun activities and receive special gifts. Raise a toast to the holiday season with a glass of local wine and make memories to cherish forever.
The North Pole Express (Strasburg Rail Road, Pennsylvania)
Take a nostalgic journey on the North Pole Express at Strasburg Rail Road in Pennsylvania. Climb aboard the beautifully restored vintage steam train and embark on a captivating expedition to the North Pole. Immerse yourself in the festive atmosphere as you enjoy storytelling, sing-alongs, and the company of holiday characters. Children will be thrilled to meet Santa Claus and share their Christmas wishes. Capture the enchantment of the season against the backdrop of Pennsylvania's picturesque countryside.
The Christmas Train (Heber Valley Railroad, Utah)
Experience the magic of The Christmas Train in Utah's Heber Valley. Settle into cozy, heated train cars adorned with holiday decorations, and embark on a scenic journey through snow-covered landscapes. Enjoy live entertainment and warm up with complimentary hot cocoa and fresh-baked cookies. Look out for Santa Claus and his helpers as they visit each carriage, spreading joy and giving gifts to children. This heartwarming experience will leave you with cherished memories and a renewed love for the holiday season.
The Santa Express (Cuyahoga Valley Scenic Railroad, Ohio)
Celebrate the spirit of Christmas aboard the Santa Express in Ohio's Cuyahoga Valley. Enjoy a leisurely ride through the picturesque Cuyahoga Valley National Park, adorned in its winter glory. Delight in the festive ambiance as you listen to Christmas music, sip hot chocolate, and engage in onboard activities. Santa and his
Alaska
No events yet known.
Arizona
No events known.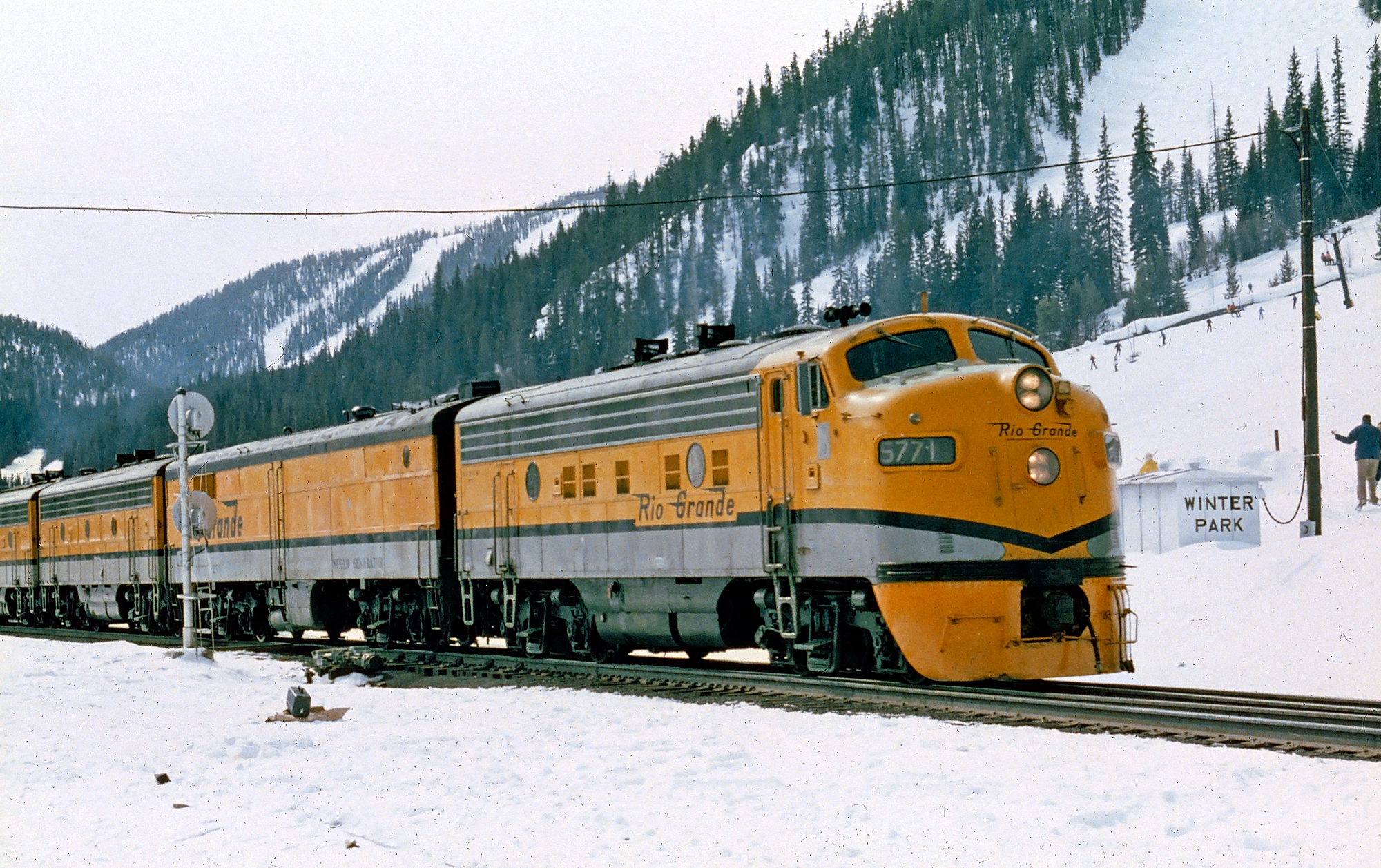 Rio Grande F9A #5771 is ahead of the "Ski Train" at Winter Park, Colorado, circa 1984. Mike Bledsoe photo. American-Rails.com collection.
Colorado
Georgetown Loop Railroad (Georgetown): As George Hilton notes in his engaging book, "American Narrow Gauge Railroads," most of Colorado's railroads were built for one of two reasons; serve the booming mining industry or communities, like a fledgling Denver, bypassed by the Transcontinental Railroad. 
The Georgetown Loop's heritage dates back to the Colorado Central Railroad, which fell into the latter category.  It was the project of William A.H. Loveland to promote Golden over Denver as the major center of commerce along the Front Range. 
It was designed as a duel narrow gauge (3 foot)/standard gauge operation; the former would run west from Golden to serve the mining industry while the latter would link Golden with Hazard (near Cheyenne, Wyoming) where a connection was made with Union Pacific. 
Its lines were primarily built during the 1870's; when UP leased the property in 1879 more lines were added during the 1880's.  What makes the Georgetown Loop famous was a loop and horseshoe curves designed by Union Pacific engineer Robert Blickensderfer. 
He was tasked with finding a way to build a rail line with a manageable grade between Georgetown and Silver Plume which would gain 638 feet in just 2 miles.  His finished design was impressive; it contained 4.47 miles of track with a maximum grade of just 3.5%. 
The Colorado Central was abandoned in stages between 1898 and January 1, 1939 when all remaining operations ceased.  The current Georgetown Loop Railroad has reactivated 4.5 miles of the old roadbed, including the legendary loop; rebuilding began in 1973 and was officially opened on March 10, 1984. 
Among their steam-powered excursions is a special event during the holidays, Santa's North Pole Adventure.  This trip is offered during weekends from mid November through early January.
While aboard the train kids can meet Santa and enjoy candy, cocoa, cookies, and receive a small gift. They have also added Santa's Lighted Forest Trains, which run from mid November through the end of December. 
Royal Gorge Route Railroad (Cañon City):  One of the most visually stunning feats of railroad engineering was completed through Colorado's Royal Gorge during the 1870's as the Atchison, Topeka & Santa Fe and Denver & Rio Grande fought for control of this natural wonder to tap Colorado's lucrative mining trade. 
Most of the original construction along the Arkansas River had been completed by the Santa Fe although both railroads fiercely fought for control of the line. 
The U.S. Supreme Court finally ended the war in a decision rendered on April 21, 1879.  In the so-called "Treaty of Boston" the railroads agreed to stay out of each other's territory (later broken by both parties) while the Rio Grande purchased AT&SF's completed work for $1.4 million. 
For years, the Royal Gorge Route was a successful marketing campaign for the D&RGW and it even had a train named after the gorge.  In 1997 Union Pacific agreed to sell the most scenic 12 miles, including the fabled hanging bridge, as a tourist attraction. 
It remains a very popular draw today as the Royal Gorge Route Railroad.  Each holiday season they offer the Santa Express with different classes of service; trips run daily from mid November through December.
Trains travel to the North Pole to see Santa and during the ride kids are able to enjoy treats and a story reading.  They also now host the Holiday Train during late December.
Delaware
Wilmington & Western (Wilmington): Today's Wilmington & Western is a nod to history as a former company by the same name built the 10.2 miles currently operated as a tourist attraction between Wilmington and Hockessin.
This line originally opened in 1872, reaching as far as Landenberg, Pennsylvania and a connection with the Pennsylvania Railroad. 
For many years the property was owned by the Baltimore & Ohio, our nation's first common-carrier.  The first excursions were hosted by Historic Red Clay Valley, Inc. during the mid-1960's. 
These continued for more than a decade until the then-Chessie System elected to abandon the branch.  The group managed to acquire the property in 1982, establishing today's Wilmington & Western. 
While the scenery alone and many special trips continue to draw in visitors, the railroad's two operating steam locomotives do as well; former Atlanta, Birmingham & Atlantic 0-6-0 #58 and Mississippi Central 4-4-0 #98. 
The W&W's Santa Claus Express offers an 1.5-hour trip from late-November through December. The railroad also offers the uniqueness of steam-powered trains.  The event features chocolate and, of course, a meet-and-greet with Santa. 
The railroad also hosts the Holiday Lights Express, using their restored Doodlebug railcar.  The car is aglow in lights and a 45-minute trip allows passengers to see the decorated private homes near the railroad.  Finally, as an early celebration of the holiday season they also host "Christmas In July" specials.
Hawaii
No events known.
Idaho
No events known.

Illinois
Illinois Railway Museum (Union):  IRM is the nation's largest such museum and a must-see if you enjoy trains. It began as a grassroots organization started by a group of ten railroad enthusiasts who launched the Illinois Electric Railway Museum in 1953. 
Their goal at that time was to preserve the dying interurban industry.  To begin this endeavor they acquired former Indiana Railroad car #65 by pitching in $100 each. 
Next, property was needed to showcase not only the car but also any future pieces they might acquire.  At first they found a patch of ground in North Chicago but when this became too cramped moved to empty farmland in Union in 1964. 
By then the group's collection had amassed 40 pieces, which now included both general railroad equipment and interurban cars.  As a result, the titled was shortened to the Illinois Railway Museum. 
By 1966 it had fully restored its first interurban car and showed off a rebuilt steam locomotive two years later.  Wishing to host excursions it next built a 1 mile loop for its operational streetcars/interurbans, completed in 1981. 
Today, IRM has expanded its track to 4.6 miles (all built from scratch, no former right-of-way was utilized) and owns a total of 80 acres.  Its list of buildings and equipment is extremely impressive. 
During the holiday season IRM hosts the Happy Holiday Railway during late November and December allowing kids to experience a 40-minute train ride while enjoying treats on-board and meeting St. Nick himself.
Indiana
Hoosier Valley Railroad Museum (North Judson): If you were a train enthusiast prior to the 1970's, North Judson was a famous junction.  This small town was then served by four major railroads; the Pennsylvania, New York Central, Erie, and Chesapeake & Ohio. 
Three (PRR, Erie, and C&O) were major corridors reaching Chicago; during the mid-20th century one could witness over 125 trains a day pass through the small town and nearly all of the community's residents worked for the railroad.  Alas, as the industry fell on hard times (1970's), each line's use dwindled in importance. 
Eventually, all were abandoned as through routes.  Today, only a portion of the old Chesapeake & Ohio and Erie/Erie Lackawanna remnant still contain rails. 
The museum is housed on a segment of the latter's property (they have also built a replica C&O depot), located to the northeast side of town where a small yard stores their small collection of equipment. 
The remaining trackage also enables the group to host short train rides throughout the year, such as their popular Santa Trains.  These are offered on select dates in December and feature a 45-minute trip where kids get to see Santa and receive a small gift.  These trips usually run four times daily from North Judson at 9:00 am, 11:00 am, 1:00 pm, and 3:00 pm (Central Time).  Exact dates will be posted when available.
Kansas
No events known.
Louisiana
No events known.
Maine
Seashore Trolley Museum (Kennebunkport): Another association dedicated to the heritage of streetcars is the Seashore Trolley Museum. 
It is one of the oldest railroad preservation groups in America and, in fact, is the world's oldest and largest museum dedicated to mass transit. 
It was formed in 1939 to preserve the region's streetcar heritage, which was ending after the Biddeford & Saco Railroad's discontinued trolley service in favor of buses between Biddeford (where it connected with the Atlantic Shore Line Railway, a large interurban) and Portland (here it linked up with another interurban, the Portland-Lewiston Interurban Railroad).
Since then the museum's collection has grown exponentially to include more than 250 vehicles along with several trolley cars. 
Today, the group features several small rail yards to house their equipment (most of which also featured enclosed pole buildings), a visitor's center replicating a depot, and about 2.5 miles of track to host excursions. 
One of their specials is the Christmas Prelude, held on select dates in early December.  This trolley ride features hot chocolate, hot cider, tea, coffee and other snacks while on board.  In addition, they host a similar trip where Santa rides along with the kids. 
Wiscasset, Waterville & Farmington Railway Museum (Alna):  Simply put, this is one of the coolest museums you can visit, countrywide. 
The organization is named for one of Maine's famed 2-footers, which began in 1854 as the Kennebec & Wiscasset, intended to link Wiscasset with Augusta via Togus. 
However, with no financing or progress the company's name was changed to the Wiscasset & Quebec Railroad (W&Q).  Still nothing happened.  Finally, after 40 years of delays track-laying began in October, 1894 with intentions of reaching Burnham and Pittsfield. 
After more than a year of construction, 43.5 miles was opened from Wiscasset to Albion on November 4, 1895.  Unfortunately, promoters hit a snag after the Maine Central would not allow a crossing of its Belfast Branch. 
The W&Q would later go bankrupt in 1900 and be renamed as the Wiscasset, Waterville & Farmington Railroad on February 5, 1901. 
The company managed to grow once more by completing a branch to Waterville via Togus but this proved the extent of its network.  Unfortunately, the WW&F was never profitable and ultimately ended operations entirely in 1937. 
In 1989 the Wiscasset, Waterville & Farmington Railway Museum was created to preserve its memory.  After acquiring a section of old WW&F right-of-way they have managed to restore 3 miles of track from Alna to above Trout Brook. 
In addition, an original WW&F locomotives has been restored along with several buildings. This place is well worth the visit!  They also have plans to rebuild more trackage north of Trout Brook. 
Be sure and also take part in their Victorian Christmas, offered one day in December only during which time you and the kids can enjoy free rides, a visit from Santa, and horse-drawn carriage rides. 
Michigan
Coopersville & Marne Railway (Coopersville):  Beginning in late November and throughout much of December this railroad features its Santa Train. While Santa is, of course, aboard the train their version is a bit unique in that a princess reads the kids a Christmas tale. 
The Coopersville & Marne Railway began in 1988 as a short line freight carrier using 14 miles of former Grand Trunk Western track between Coopersville and Grand Rapids. 
At one time the line extended all the way to Lake Michigan at Grand Haven but is no longer active beyond Coopersville.  Public excursions are hosted along the western 6 miles between Coopersville and Marne. 
The railroad provides a nice experience if you wish to take a train ride; trips are powered by one of two historic diesel switchers; Grand Trunk Western SW9 #7014 or Dupont Chemical 44-toner #3049. 
Some of their notable special events aside from the Santa Train include the Bunny Train, Del Shannon Day Car Show Shuttle, Veteran's Free Troop Train, The Famous Pumpkin Train, and The Great Train Robbery.
Huckleberry Railroad (Genesee Township):  The popular Huckleberry Railroad, part of the Genesee County Parks system, dates back to 1976. 
It uses a 3 mile stretch (6-mile round trip for a total ride time of 40 minutes) of the former Pere Marquette Railway's Otter Lake Branch which hugs the western shore of Mott Lake just north of Flint. 
This line originally ran from Flint to Fostoria (19.5 miles) and was completed by the 1870's.  Much of it was abandoned in the 1970's and what is now used as a heritage railroad was reduced from the standard gauge of 4 feet, 8 1/2 inches to a narrow-gauge 3-foot system.
The Huckleberry Railroad is currently landlocked but is a beautifully maintained operation featuring loops at each end, eliminating the need for trains to be turned. 
Railfans are draw to the park to witness two historic steam locomotives; Denver & Rio Grande Western 2-8-2 #464 (a Class K-27 "Mudhen" manufactured by the Baldwin Locomotive Works in 1903) and Alaska Railroad 4-6-0 #2 (built by Baldwin in 1920). 
In addition to train rides the park offers other perks such as historic buildings, amusement rides, and seasonal events like the Christmas At Crossroads Holiday Magic. 
The holiday festivities begin in late November and last throughout most of December.  During this time the train is decorated for the holidays and offers nighttime rides.
Litte River Railroad (Coldwater): This steam-powered railroad departs from Coldwater's beautifully preserved Lake Shore & Michigan Southern (New York Central) depot that was originally completed circa 1890. 
Michigan contains an incredible amount of rail history from logging and mining (iron ore) to main lines and fast streamliners. 
A major Canadian railroad, the Canadian National, even served the state through subsidiary Grand Trunk Western.  Alas, a great deal of its track has since been abandoned. 
The Little River Railroad hosts excursions over short line Michigan Southern between Coldwater and Quincy, a distance of 7 miles. 
Occasionally, trips run as far east as Hillsdale, 23 miles from Coldwater.  In the NYC era this trackage was once part of its Michigan Division, a secondary route running between Monroe, Michigan and Elkhart, Indiana. 
Passengers riding the Little River Railroad are treated to either 0-4-0T #1 (built by the Vulcan Iron Works in 1908 and which once operated in Indiana) or 4-6-2 #110 (a 1911 product of Baldwin) leading their train. 
Each December they host the Holiday Express, which is decorated for Christmas and tailored towards the kids!
Steam Railroading Institute (Owosso): The SRI offers their North Pole Express beginning in mid-November and lasting throughout most of December. 
This is one of the longest Christmas-themed rides you can experience; it lasts four hours during which time kids can see Santa, enjoy cocoa, and partake in live musical entertainment.
The group offers different classes of service; Coach, Cocoa (which includes unlimited cocoa, a cookie, and a souvenir mug), Caboose, and Deluxe Coach. 
Please note!  The SRI owns the actual steam locomotive used in "The Polar Express" movie, Pere Marquette 2-8-4 #1225 which often pulls the train. 
The history of SRI is an interesting tale involving a single locomotive, previously mentioned #1225.  It was donated by Chesapeake & Ohio to Michigan State University in 1957 where it remained on static display until a group of railfans took an interest in its long term preservation and operation. 
As a result, the Michigan State University Railroad Club was formed in 1970, later renamed as the Michigan State Trust For Railway Preservation.  In February, 1983 #1225 was moved to Ann Arbor Railroad's locomotive shop in Owosso for restoration. 
After two years of work she was fired (started) for the first time in November, 1985.  It was the first time the 2-8-4 moved under its own power in 34 years. 
Today, SRI is a educational enterprise, teaching the public about steam-era technology.  They host excursions during various times throughout the year. 
Southern Michigan Railroad (Clinton):  This little tourist line offers the Santa Special excursions during the holiday season each December.  They last an hour running from Clinton to Tecumseh and back. 
Please note the cars they use are not heated so please dress appropriately! 
The railroad began in 1982 as the non-profit Southern Michigan Railroad Society; they began hosting excursions after purchasing then-Conrail's Clinton Secondary Track in 1984 for $100,000. 
This line was a longtime New York Central corridor which originally extended from Jackson, Michigan to Toledo, Ohio (71 miles).  As a secondary route its need dwindled over the years and was abandoned in stages. 
Today the track extends to Tecumseh while the railroad is still connected to the national network east of Adrian with short line Adrian & Blissfield (only a very short section has been removed for safety purposes in the event of a runaway car). 
While this quaint operation is not well-financed like the Strasburg Railroad, Grand Canyon Railway, or Cumbres & Toltec Scenic Railroad it nevertheless offers a nice experience for anyone interested in enjoying a short train ride.
Mississippi
No events known.
Nebraska
No events known.
Nevada
No events known.

New Mexico



No events known.
New York
Arcade & Attica Railroad (Arcade):  The historic Arcade & Attica has an interesting and fascinating story. 
It began in 1917 for the purpose of providing local freight service between its namesake towns as well as the communities of Sierks, Earls, Varysburg, Johnsonburg, Perrys, North Java, Java Center, Curriers, and Arcade Center. 
The road's primary freight was agricultural products (it interchanged with the Pennsylvania Railroad at Arcade and with the Erie Railroad at Attica).  It was a total of 28.36 miles in length. 
Alas, it was abandoned above North Java in 1947 following severe flooding that year along Tonawanda Creek.  This resulted in the northern 13.22 miles being abandoned, leaving 15.14 miles which is still in operation today. 
The railroad remains in the freight business while also providing public excursions. 
During Christmas it hosts the North Pole Express; this trip lasts about 2.5 hours and operates most weekends from mid-November through December where kids are encouraged to dress in their PJ's while visiting Santa and enjoying hot cocoa and cookies.
Please be aware that these trains use open-air cars so be sure to dress accordingly.
Cooperstown & Charlotte Valley Railroad (Cooperstown):  While Cooperstown is most famous for the National Baseball Hall of Fame and Museum, you can also experience a train ride there! 
The C&CV's heritage can be traced back to 1865 when promoters sought a connection with the national rail network.  After four years of work this endeavor was completed in the summer of 1869. 
The 16-mile railroad, which connected with the then-Albany & Susquehanna Rail Road near Colliersville, subsequently went through several owners during the next 127 years. 
In 1996 the Leatherstocking Railway Historical Society acquired the property with intentions of running excursions.  After a few years of tireless efforts the first rebuilt segment opened to the public in 1999. 
Since then the group has restored more of the property and eventually plans for complete restoration of the line. 
During the holidays they offer two different events:
The Santa Claus Express (The train is quite festive and decorated for Christmas. During the 2.5-hour trip kids can enjoy refreshments, meet Santa, receive a gift provided by the parent[s]/guardian[s], and enjoy holiday music.)
North Pole Express (Similar to the Santa Claus Express this trip last 2 hours and departs from the Milford Depot.  During the journey kids see Christmas lights along the tracks, enjoy music, and stop at the North Pole Station.)
Catskill Mountain Railroad (Kingston Plaza):  Located just over an hour from New York City the Catskill Mountain Railroad has been a popular Kingston attraction since it launched in 1982 over the former New York Central's Catskill Mountain Branch (originally built as the Ulster & Delaware Railroad). 
In 1979 Ulster County acquired 38.6 miles of the line from bankrupt Penn Central estate with plans to launch tourist and freight service over the corridor. 
After working to rebuild the tracks the effort was initially successful and service was restored to Conrail at Kingston.  However, flooding has wreaked havoc on the corridor over the years placing various sections out-of-service. 
Then, in the 2010's the county expressed interest in removing part of the line for a rail/trail.  After a fight with the railroad ensued, the county eventually got its way and tore up 11.5 miles in 2018. 
Today, the Catskill Mountain Railroad enjoys thousands of annual visitors operating about 5 miles of the route between Kingston and Stony Hollow. 
For many years the group hosted official The Polar Express rides within climate-controlled cars.  In 2021 the company launched their own Christmas train rides known as the Catskill Christmas Express.
The 60-minute ride travels through the Catskills until reaching Santa's Workshop at the North Pole.  During the trip, guests receive a cookie (locally baked) and a small gift.
Please be aware that these trains use open-air cars so be sure to dress accordingly.
North Dakota
No events yet known.
Oklahoma
No events known.
Vermont
No events known.
---
Wyoming
No events yet known.