Pennsylvania Christmas Train Rides: A Complete Guide (2023)
Last revised: April 13, 2023
By: Adam Burns

Pennsylvania is home to many heritage railroads; few other states contain such a rich collection of organizations aimed at preserving rail history.
They also offer the general public a glimpse at what train travel used to be like through the mid-20th century. The information here highlights those which provide Christmas train rides during the holiday season.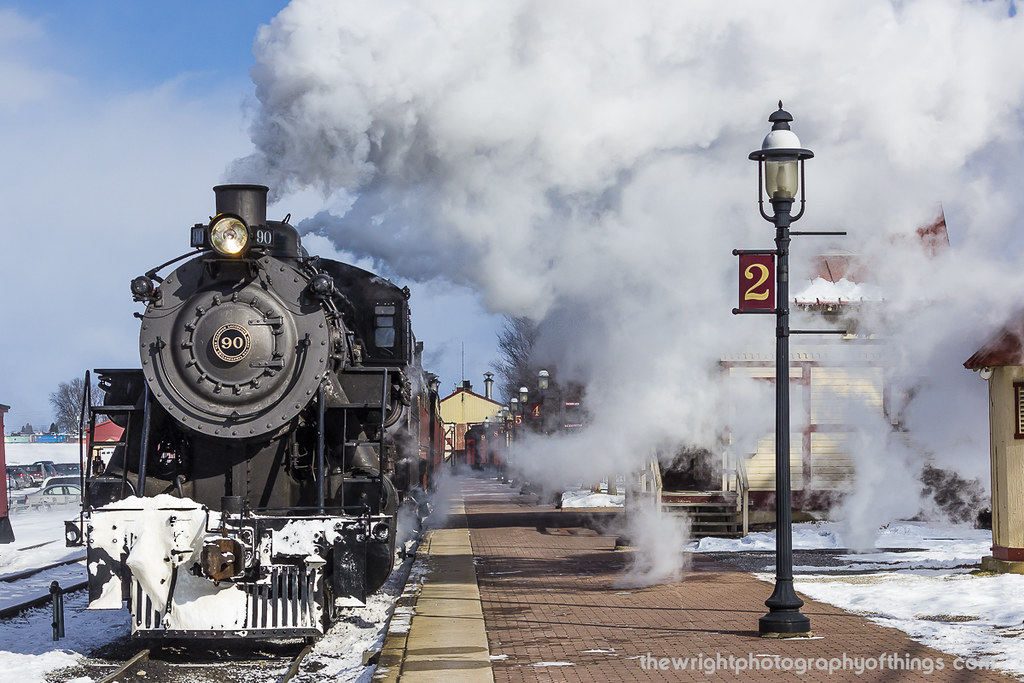 Great Western Railway 2-10-0 #90 is seen here simmering away at the Strasburg Rail Road on February 13, 2016. Jon Wright photo.
Please note these trips are not official "The Polar Express" events but simply rides hosted by these railroads which contain a holiday/Christmas theme.  The information here provides more about each trip as well as links to official websites.
Guide Information
(Boyertown):  A relatively new tourist railroad, the Colebrookdale Railroad, also known as the Secret Valley Line, began in 2014 operating 8.5 miles between Boyertown and Pottstown (here an interchange is established with Class I, Norfolk Southern Railway).
Its name can be traced to the original railroad which built the line during the 1860's from Pottstown to Barto, a distance of 13.o miles. 
It later became a small branch of the Reading Railroad, a sprawling 1,300-mile carrier that served central and eastern Pennsylvania.  It is best known for moving millions of tons of anthracite coal and was once one of the richest railroads in America. 
Alas, as anthracite coal demand dried up so did the Reading's fortunes.  By the 1970's it was bankrupt and rolled into the newly formed, government-created Consolidate Rail Corporation (Conrail) in 1976. 
Wishing to shed unwanted secondary lines the Barto Branch was in danger of being abandoned until the state of Pennsylvania stepped in and purchased it. 
In 2001 the property again changed hands when Berks County acquired the line. It was subsequently reactivated again in 2010 and excursions began on October 18, 2014.
The Colebrookdale Railroad currently offers two different holiday excursions including the 'Twas The Night Before Christmas Train and Santa's Polar Bear Express. 
(Middletown): The Milk & Honey Line is named for the railroad which built the 6.5 miles of track between its namesake towns along Swatara Creek. 
The railroad, completed in 1890, was constructed for the express purpose of providing rail service to Middletown which was bypassed by the Philadelphia & Reading (Reading Railroad). 
Following its opening it was acquired by the P&R and remained a branch until the formation of the Consolidated Rail Corporation in 1976. 
It was subsequently acquired by Wendell Dillinger who quickly launched freight service over the line; ten years later (1986) the first passenger trains began running. 
Today, the railroad even has a historic steam engine to pull excursions when it's not down for mandatory inspection; Canadian National 2-6-0 #91 which was built by Canadian Locomotive Company in 1910. 
Among their many special events is the Polar Bear Express and Santa's Surprise Trains scheduled in late November and December where kids can meet Santa Claus.
(New Hope): Running from mid-November through early January, the diesel-powered North Pole Express includes a train ride lasting over 1 hour where kids meet Santa, listen to live music, enjoy hot cocoa and cookies, and receive a small gift. 
They also have a new event entitled Santa's Steam Spectacular which departs from New Hope. During the journey kids again can meet Santa and Mrs. Claus, listen to Christmas carols, enjoy hot chocolate and cookies, and receive a sleigh bell gift. 
This event is markedly different from the North Pole Express in that is pulled by an authentic steam locomotive, Cliffside Railroad 2-8-0 #40 (originally built in 1925 by the Baldwin Locomotive Works for the Lancaster & Chester Railway). 
The New Hope & Ivyland is a long-running tourist attraction that began hosting public excursions in 1966 over 16.7 miles of the Reading Railroad's former New Hope Branch south of New Hope along the Delaware River.  Trains depart from the town's beautifully restored depot in New Hope built in 1891.
(Titusville):  The Oil Creek & Titusville, based in Titusville, operates Santa Trains for three weekends after Thanksgiving where kids get to meet Santa, sing along to Christmas carols, receive a small gift (for those 12 and under), and enjoy hot chocolate and cookies upon returning to the station. 
The railroad is a long-running event that began in 1986 over a 16.5-mile segment of the Pennsylvania Railroad between Titusville and Oil City along Oil Creek. 
These names date back to a time when oil was discovered in western Pennsylvania, prompting construction of a railroad.  For the PRR, it used the route as a north-south main line linking Pittsburgh with Buffalo via Oil City and Dunkirk, New York along Lake Erie. 
When PRR successor Penn Central went bankrupt in 1970 the property eventually came under control of a new entity, the Consolidation Rail Corporation (1976) which, over time, abandoned segments it deemed redundant.
This prompted action by the Oil Creek Railway Historical Society to save the current segment which runs through the Oil Creek State Park.
(Lancaster County):  When you are the second most popular tourist railroad in the country, with over 400,000 riders annually, you can choose how you want to celebrate the Christmas season. 
A great deal of similar attractions host official The Polar Express events to bolster exposure and patronage.  However, it requires licensing fees which are very expensive.  The Strasburg Rail Road offers their own version, known simply as the Christmas Train.
It runs over the entire main line between Lancaster and Paradise; during the journey kids get to see Santa and trains are always pulled by steam locomotives. 
The railroad also now hosts The Night Before Christmas special during the holiday season (check out the Christmas Feast offered on this trip!). 
They also run a Christmas Tree Train in early December where families can take a train ride to pick out their own pre-cut Frasier Fir tree.  Finally, check out Santa's Christmas Trolley to ride with the Jolly Man aboard an authentic, restored trolley car. 
The Strasburg Railroad is as historic as it is popular.  It is the oldest continuously operating railroad in America with a heritage tracing back to 1832. 
For more than a century the 4.5 mile short line was little more than an unknown local transportation service.  It was nearly abandoned in the 1950's until a group of preservationists worked to save the property.  
---
(Kempton):  The WK&S is based in Kempton and offers their Santa Claus Special during the first weekend in December where kids are able to meet Santa and Mrs. Claus. 
The railroad also hosts Story Time With Mrs. Claus in early December.  It seems many of Pennsylvania's heritage railroads began over a section of the old Reading Railroad. 
The WK&S is no different; one of the state's oldest such attractions it began in 1963 when train enthusiasts acquired a short, 2.6-mile segment of the Reading's route between Reading and Slatington (originally, 41.7 miles in length) which was requisitioned for abandonment. 
Since that time the organization provides a nice experience for those wanting to ride the rails; trips are hosted from May through November and are steam-powered when these locomotives are not down for their mandatory 1472 day inspection (there are three on the property; 0-4-0ST #2, 0-6-0ST #65, and Cypress Lumber Company 2-6-2 #4).