Short Lines, Where Customer Service Is Key!

Published: December 5, 2021

Short lines, whose designation by the Surface Transportation Board (STB) is a Class III carrier (which includes terminal and switching lines) make up the bulk of today's freight railroads.  
According to the STB and American Short Line & Regional Railroad Association (ASLRRA) the 2016 definition of a short line is any earning an annual operating revenue less than $36.633 million.
This figure is adjusted yearly, which factors inflation using the base year of 1991 according to the ASLRRA.  Class III's may be the smallest but they offer perhaps the greatest level of interest, hearkening back to an era when single car service was commonplace. 
This practice has been largely abandoned under Class I's which favor lucrative long haul, unit consists.  
As a group short lines comprise nearly double the annual revenue, mileage, and employees of their larger counterpart, the regional  In addition, many are part of a large conglomerate such as Genesee & Wyoming, Watco, or OmniTRAX.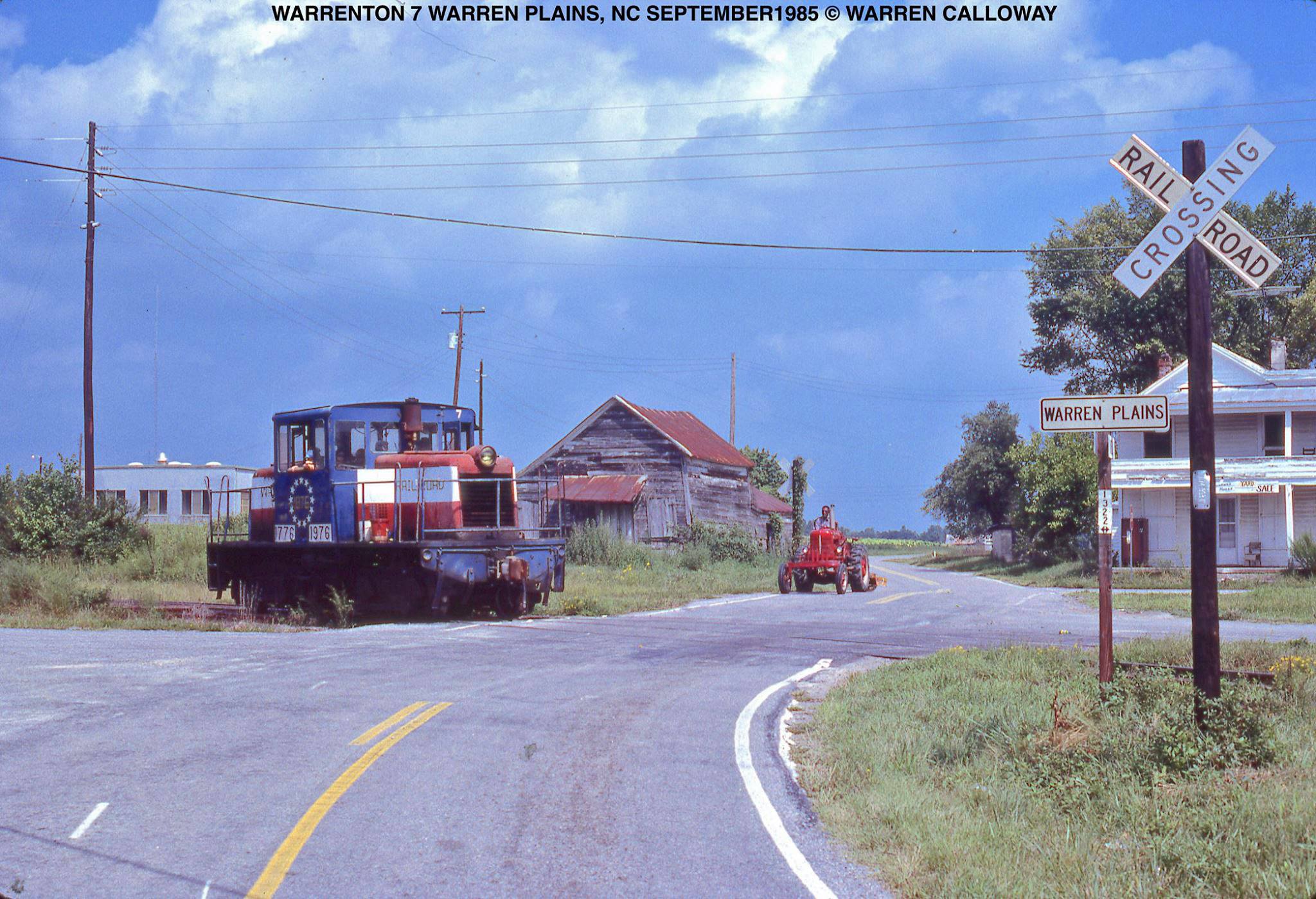 Warrenton Railroad 45-tonner #7 (built as U.S Navy #65-00104) is about to cross County Road 1322 in rural Warren Plains, North Carolina during a lazy summer's day in September of 1985. The historic line, which first opened in 1884, saw its final day of service on this particular afternoon having delivered a Seaboard System boxcar to the interchange in Warrenton. Warren Calloway photo.
The short line offers a good example of how railroading was performed more than a half-century ago.  
While the caboose is gone, crew sizes reduced (conductor and engineer), foot-boards outlawed, and less-than-carload business a thing of the past the focus on customer service has remained steadfast.  
These small carriers depend greatly upon their customers and you will find none other providing higher quality service than a short line.  
A particular carrier may rely on a few precious annual carloads to make ends meet, unable to afford such a loss. In some cases a single customer will generate most, or all, of its yearly business. Such a situation occurred at the Elk River Railroad in West Virginia.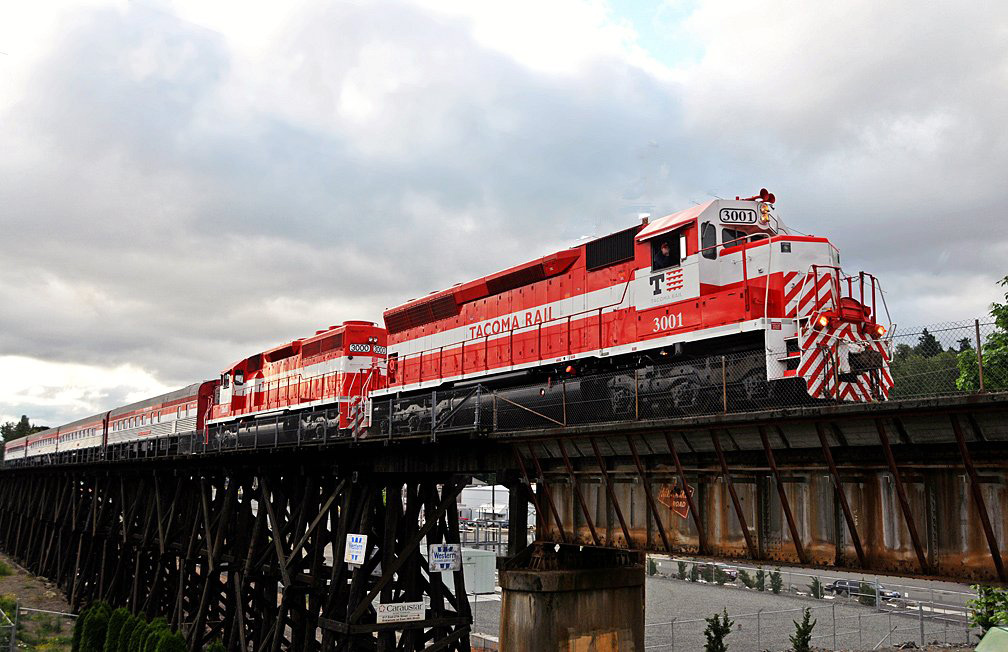 Tacoma Rail SD40-3 #3001 (built as Penn Central SD45 #6237) rolls across a former Milwaukee Road bridge in Tacoma, Washington with a special excursion bound for Eatonville on June 23, 2011. Drew Jacksich photo.
Operating on the former Baltimore & Ohio's Coal & Coke Branch, as well as the ex-Buffalo Creek & Gauley south of Gassaway it began operations in the mid-1990's to serve a coal mine.  
Unfortunately, within a few years the mine closed and business abruptly stopped.  Now, more than a decade later, the Elk River survives largely by storing and repairing cars. 
List Of Short Lines
Toledo, Peoria & Western

RJ Corman Railroad Group 

Belt Railway of Chicago 

Cedar Rapids & Iowa City 

Chicago, South Shore & South Bend
Short Lines By Region
Northeast
Arcade & Attica

Beech Mountain Railroad
Elk River Railroad

Grafton & Upton

Little Kanawha River Railroad

Livonia, Avon & Lakeville

South Branch Valley

West Virginia Central

New Hope Railroad

Southeast
Aberdeen & Rockfish

Aberdeen, Carolina & Western

Apalachicola Northern

Atlanta & St. Andrews Bay

Columbus & Greenville

De Queen & Eastern

South Carolina Central

Georgia Northeastern

Georgia Southwestern
Pickens Railway

Chesapeake & Albermarle

Lancaster & Chester

Pinsly Company

Sandersville Railroad

St. Marys Railroad

Midwest
Arkansas & Missouri

Indiana Harbor Belt

Iowa Traction

Lake Superior & Ishpeming

Indiana & Ohio

Ohio Central

Alton & Southern

Iowa Northern

Illinois & Midland

Sand Springs Railway

Tulsa-Sapulpa Union

Terminal Railroad Association Of St. Louis

Southwest
Black Mesa & Lake Powell

Arizona & California

Fort Worth & Western

Apache Railway

Dallas, Garland & Northeastern

Farmrail

Copper Basin Railway
Pecos Valley Southern Railway

Trona Railway

Modesto & Empire Traction

Northwest
Butte, Anaconda & Pacific

Port of Tillamook Bay

Idaho, Northern & Pacific

Eastern Idaho Railroad

Red River Valley & Western
Defunct Short Lines
Belfast & Moosehead Lake Railroad

Camas Prairie Railroad

Chesapeake Western Railway

Copper Range Railroad

Durham & Southern

Erie Western Railway

Frankfort & Cincinnati

Lake Erie, Franklin & Clarion

Magma Arizona

McCloud River Railroad

Montour Railroad

North Louisiana & Gulf

Pittsburg & Shawmut

Quanah, Acme & Pacific, "The Quanah Route"

Rahway Valley

Reader Railroad

Roscoe, Snyder & Pacific

St. Johnsbury & Lamoille County

Texas-Mexican Railway

Toronto, Hamilton & Buffalo

Virginia Blue Ridge Railway

Wellsville, Addison & Galeton

West Virginia Northern

By contrast there are large systems operating several hundred miles that nearly achieving Class II status. These include names like RJ Corman; Iowa Northern; Twin Cities & Western; and Livonia, Avon & Lakeville.  
There are also those which have historic connections dating back a century or more like the Indiana Harbor Belt (a Chicago belt line), St. Marys Railroad, Utah Railway, and Ann Arbor (Michigan's reborn survivor). The bottom line is you can find Class III's of all shapes and sizes.  
Some railfans have become resentful of Genesee & Wyoming, a conglomerate which has spent the last few decades amassing a wealth of once-independent short lines, including one-time rival RailAmerica.
 However, it has been extremely successful; so successful in fact that no railroad under its control has either failed or been sold.  
The company began humbly as a small short line incorporated in 1891, the Genesee & Wyoming Valley Railway.  
The G&WV opened in 1894 from Retsof to a location known as P&L Junction near Caledonia (14 miles).  It was reorganized as the Genesee & Wyoming in 1899.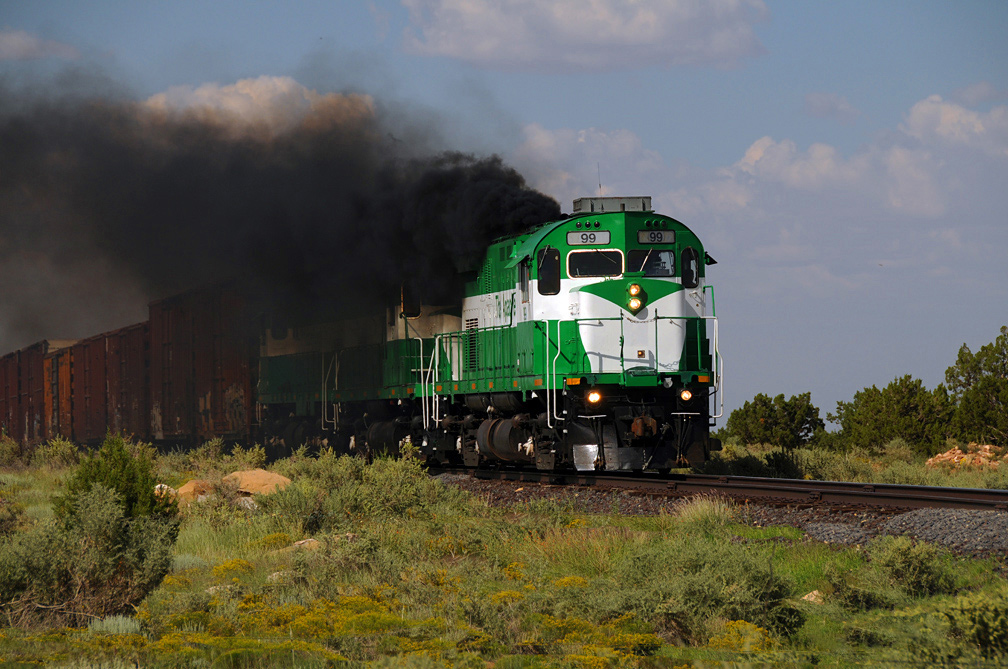 Apache Railway's famous Alco's darken the skies as C424 #99 leads its freight atop the hill at Elkins Ranch, Arizona on August 30, 2012. Drew Jacksich photo.
The railroad remained unchanged for more than 70 years until new ownership in 1977 formed Genesee & Wyoming Industries, which branched out into the rail car leasing and management business.  
In 1986 it picked up its first short line subsidiary when Chessie System sold off much of the old Buffalo, Rochester & Pittsburgh property in western New York and Pennsylvania; renamed under G&W as the Buffalo & Pittsburgh.  
Since then the company has expanded prodigiously, acquiring railroads where potential is recognized.  
t the present time it operates ten different North American regions (Pacific, Mountain West, Central, Coast, Southern, Midwest, Ohio Valley, Coastal, Northeast, and Canada), boasts a Europe Region, and maintains two operations in Australia ("Genesee & Wyoming Australia" and "Freightliner Australia").  
The success of short lines/regionals in the post-1980 era has been unquestioned, preserving many corridors which would have otherwise been abandoned.  
This has left analysts and industry experts to conclude that shedding so much infrastructure during the 1970s and 1980s was a severe overreach despite the industry's troubles during that time.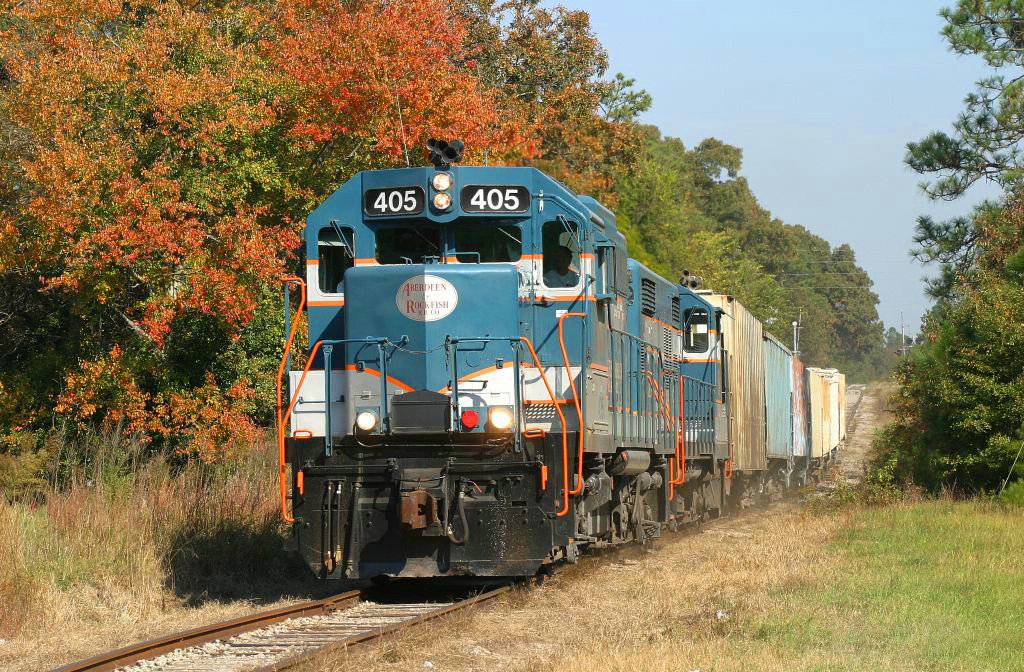 Aberdeen & Rockfish GP38 #405 leads a short freight near Rockfish, North Carolina on November 8, 2005. Warren Calloway photo.
Locomotives comprise another interesting aspect of the short line phenomenon.  If you have an interest in classic designs they abound on these railroads; anything from little switchers like General Electric 44-tonner's and American Locomotive S-1's to Electro-Motive's line of GP7's and SD9's. All of these date to the 1950's or earlier and can still be found working revenue service.  
Interestingly, even the Chicago & North Western continued maintaining a fleet of GP7's into the 1990's, a testament to the model's longevity and durability.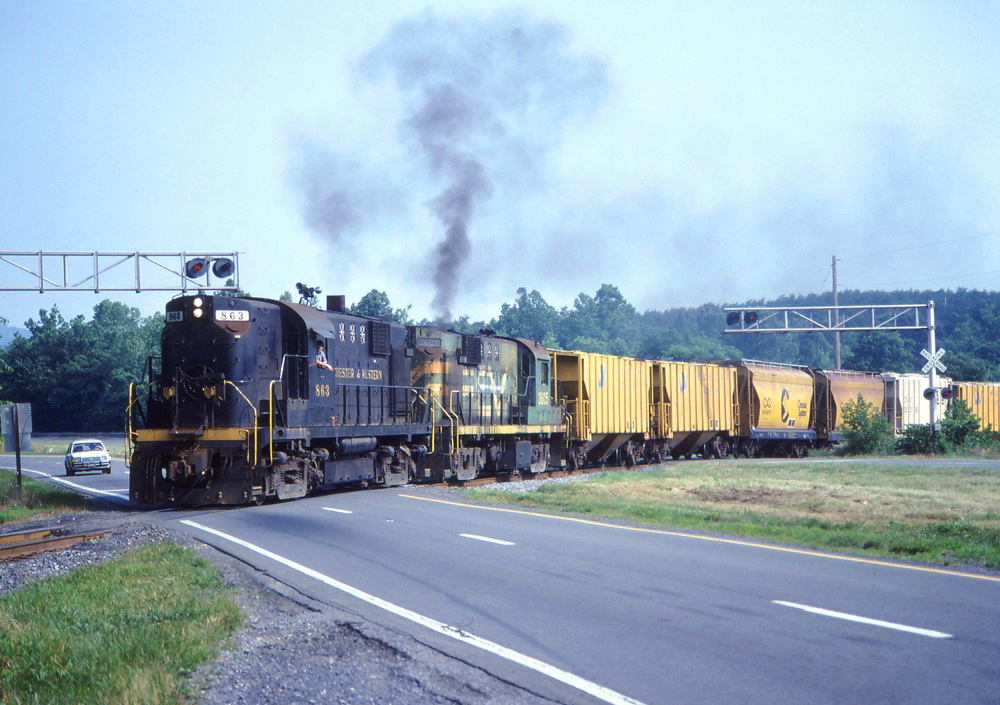 A pair of classic Winchester & Western RS11's roll through the four-lane Route 50 crossing at Hayfield, Virginia with the "Sand Man" on July 10, 1992. Wade Massie photo.
In some cases, a short line, for a variety of reasons, actually prefers a particular design or manufacturer's build.  
Take, for example, the Livonia, Avon & Lakeville in New York which rosters an all-Alco road-switcher fleet (C425's, C424's, RS3's, RS36's, etc.) or the SMS Rail Lines roster of rare Baldwin units ( VO-660, VO-1000, DS-4-4-660, DS-4-4-1000, DS-4-4-750, S12, and AS616).  
Even today, new Class III's continue springing up like the once-dormant, historic Grafton & Upton, in Massachusetts.  
---
"Regional" And "Short Line" Railroad Statistics, 2021
220 Railroads (1980, Pre-Staggers Act): 470 Railroads (1990, Post-Staggers Act) 
603 Railroads (Current)
27 Holding Companies Control Nearly 270 Short Lines/Regionals
17,800 Employees (10% Of Industry Total)
47,500 Miles (29% Of Industry Total)
Current And Future Capital Infrastructure Needs: $6.9 Billion
Sources: FreightRailWorks.org, Federal Railroad Administration

Industry Facts & Figures
| Railroad Type | Number | Mileage | Employees | Revenue (Billions) |
| --- | --- | --- | --- | --- |
| Class 1 | 7 | 95,264 | 163,464 | $67.6 |
| Regional (Class 2) | 21 | 10,335 | 5,507 | $1.4 |
| Short Line/Local (Class 3) | 582 | 37,165 | 12,293 | $2.6 |
Source: Federal Railroad Administration's "Summary Of Class II and Class III Railroad Capital Needs And Funding Source" Report (October, 2014)

---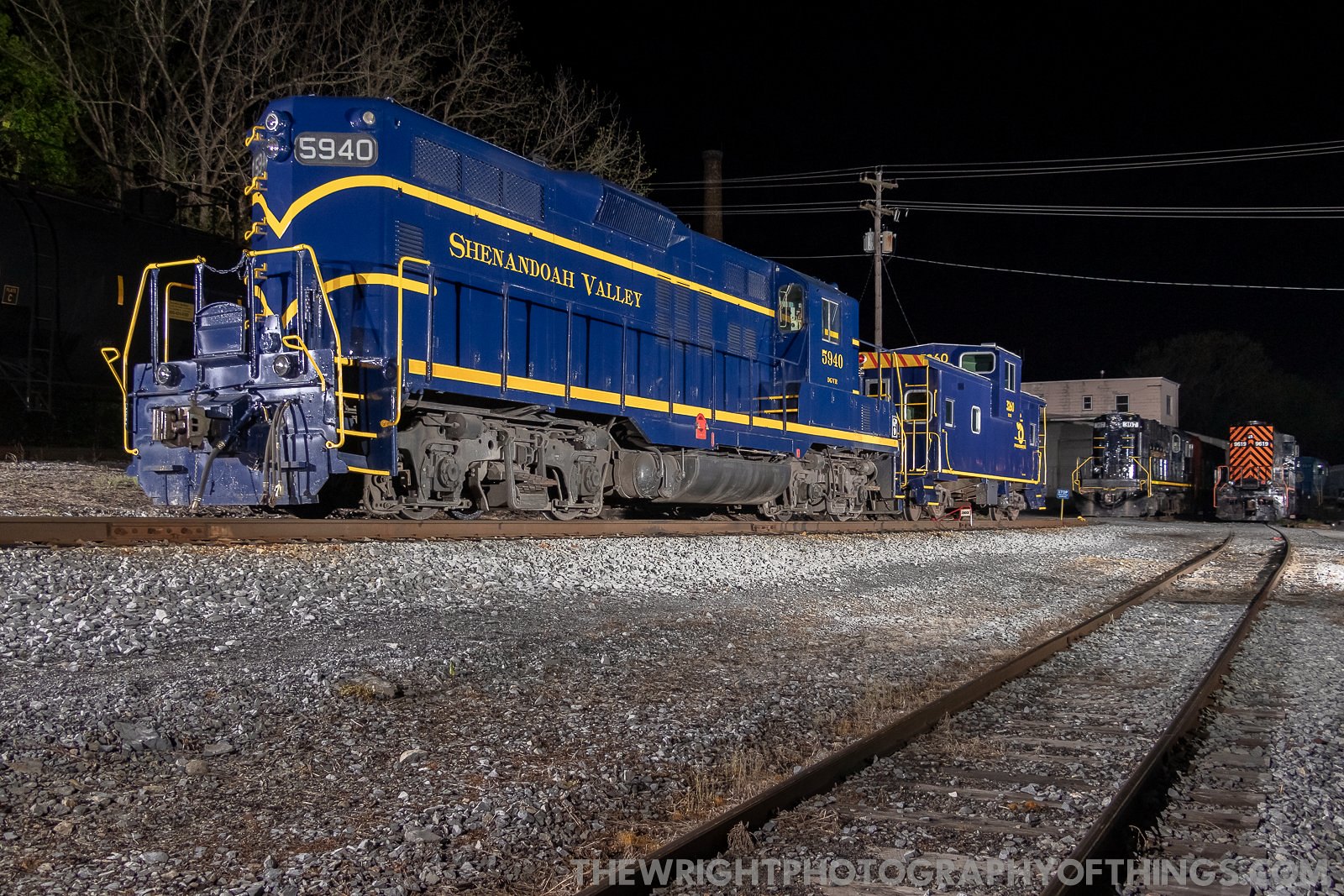 Shenandoah Valley Railroad GP9 #5940 along with an original Chesapeake & Ohio caboose are seen here tied down for the evening on April 22, 2019. Jon Wright photo.
The short line concept is not new.  There have been many famous carriers dating back to the pre-Staggers era such as the bucolic Maryland & Pennsylvania, Colorado's Great Western Railway, fabled Virginian & Truckee, and little Virginia Central.
There were also numerous belt lines and terminal roads (many subsidiaries or larger railroads) such as the Baltimore & Ohio Chicago Terminal, Portland Terminal, Belt Railway of Chicago, Peoria & Pekin Union, and Davenport, Rock Island & North Western.  
However, only since the industry's deregulation have their numbers more than doubled.   So, if you get the chance be sure and see one in action.
While watching a container train on a Class I zipping across the Heartland is always thrilling, nothing can likewise beat a local line switching a local customer.
If you want to see the human side of railroading, no one does it better than these small lines. To learn more about them please click here to visit the American Short Line and Regional Railroad Association's (ASLRRA) website.
This member organization is similar in nature to the Association of American Railroads but geared towards smaller, non-Class I carriers.