Montour Railroad

Last revised: October 11, 2023
By: Adam Burns

The Montour Railroad (reporting marks, MTR) was a southwestern Pennsylvania coal hauler whose lines ran so close to Pittsburgh that it interchanged with multiple Class Is.

While coal was not the only freight carried by the Montour it could not have survived without it, as its system served nearly thirty mines at one time.
The short line began during the late 19th century and slowly expanded south and southwest of the Steel City tapping new loadouts along the way.
At its peak the operation stretched nearly 50 miles with several spurs branching from its main line that resembled a rough "L" shape.
The mines slowly played out over the years causing Montour's owners to sell the railroad after World War II.
Eventually, the entire property became the sole ownership of the Pittsburgh & Lake Erie, a one-time interchange partner. As revenues dried up the MTR was cutback and finally ended all operations in the mid-1980s.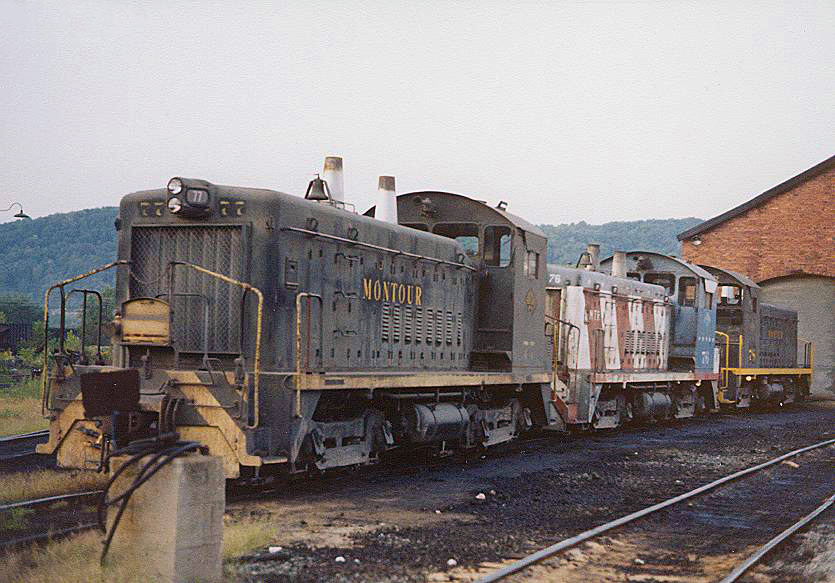 A trio of Montour's SW9s including #77, #76, and #78 await further assignment at the road's shops in Coraopolis, Pennsylvania on September 20, 1980. Doug Kroll photo.
The Montour Railroad was chartered in 1877 by parent Imperial Coal Company to serve its mines located around Imperial.
The first segment of the system branched off from the P&LE at Montour Junction, just south of Coraopolis (at the confluence of the Ohio River and Montour Run this town was also where its main shops were located).
It then extended southward to the small town of Imperial, a distance of 9.51 miles (according to the railroad's timetable).
This small segment not only reached its parent's mine but also served tipples at Scott (owned by the Montour Collieries Company), Dickson Mine (owned by Pittsburgh Coal Company, which later owned the MTR), and a short spur near Imperial that reached Marcon Coal Company's Marshall Mine.
For more than 30 years after this the short line remained relatively unchanged until the early 20th century when it began to build further south to tap new mines, and along the way gaining new interchange points.
This growth saw the company more than quadruple in size with construction on the extension beginning in 1912.
The line headed south into Washington County until reaching Southview where it veered eastward  crossing back into Allegheny County.
It then terminating at Mifflin Junction where it would connect with the Union Railroad and Bessemer & Lake Erie (via trackage rights over the URR).
The entire route was open by 1917 and included interchanges with all of Pittsburgh's other major railroads:
Pennsylvania (later Penn Central) at McDonald.


Pittsburgh & West Virginia (later Norfolk & Western) at George.


PRR again at Hills.


West Side Belt Railroad at Salida.


Baltimore & Ohio (later Chessie System) from a branch reaching Snowden.
The Montour's system south of Imperial also had spurs connecting to several mines not located on its main line.
Montour SW9s #84, #81, and #73 are seen at the Coraopolis shops about a month after the previous photo on October 19, 1980. Doug Kroll photo.
Two were just south of Imperial serving the Solar Mine (Solar Coal Company) and Montour #9 (Pittsburgh Coal) while the latter were located near the P&WV interchange at George:
Midland Spur serving the Morris Mine (Gilmore Coal Company).


Westland Mine (Pittsburgh Coal).


Muse Branch reaching National #4 owned by the National Mining Company.
In total, the Montour Railroad owned 44.89 miles of track along its line between Montour Jct. and Mifflin Jct. according to the company's timetable (however, this does not include its many mine spurs and interchange trackage).
While it would grow no larger in terms of mileage it continued to see additional mines come online through the 1930s, which was in no small part due to the fact that several major steel mills were located just a few miles away (others were also nearby in northern West Virginia and northeastern Ohio).
Timetables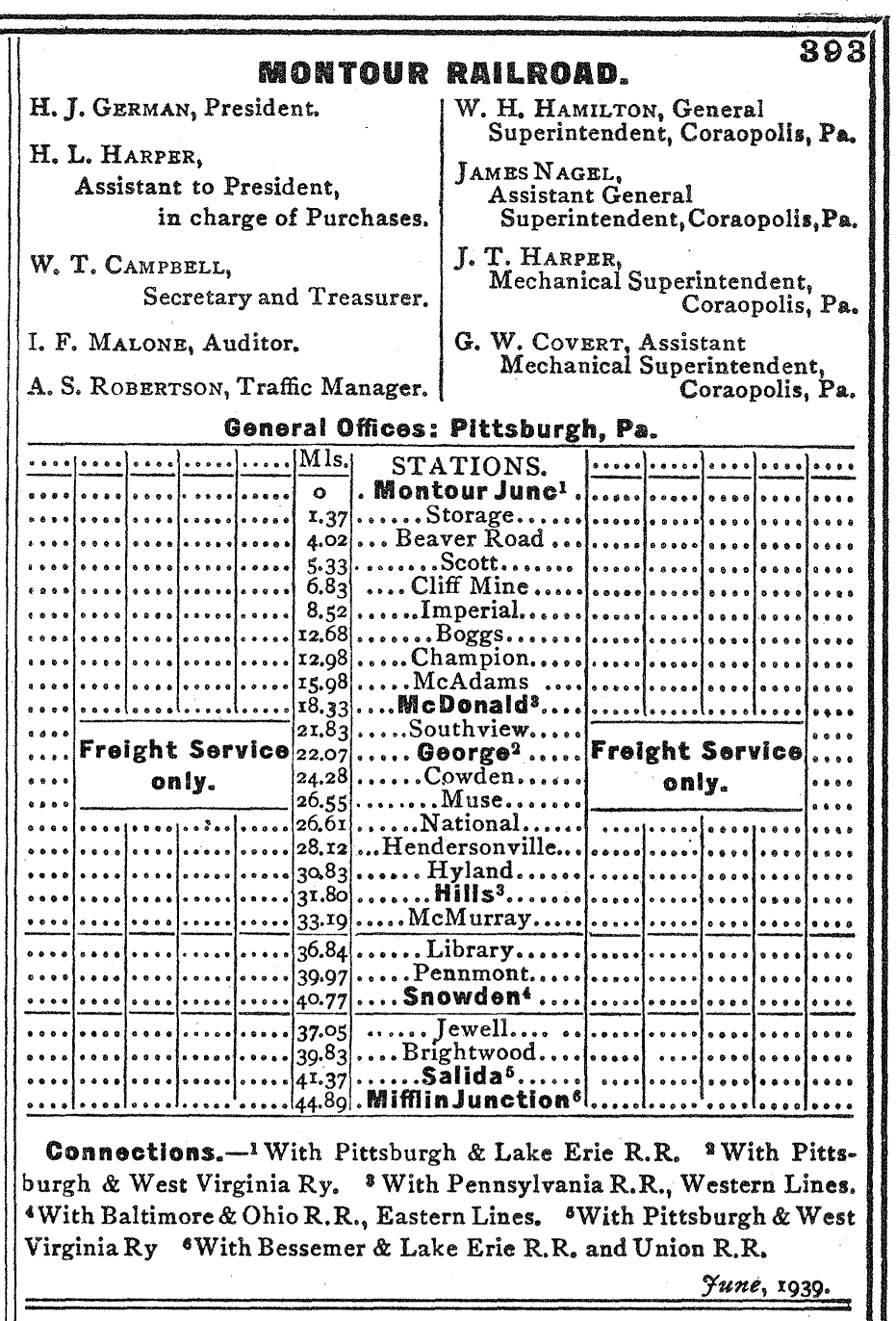 The MTR did offer passenger services but only during its early years. As with most small shortlines serving remote regions there was not much demand by the local populace to take the train, which was certainly the case on the Montour.
It finally ended all passenger runs in the mid-1920s along its fifteen station stops. Power on the railroad during the steam era was made up almost exclusively by 2-8-2 Mikados built by the American Locomotive Company (Alco).
They began acquiring the steam locomotives just prior to 1920, which worked great on the circuitous MTR and were capable of producing roughly 64,000 pounds of tractive effort.
The Mikados remained in use on the railroad until it began replacing them with small EMD switchers, which consisted of an SW7 and 11 SW9s.
The first diesel to arrive on the property was SW7 #72 in November, 1950. This was followed by SW9s #73 through #84 until January, 1953.
The MTR found that the small switchers worked well navigating the tight curves and low tunnel clearances while providing comparable power when MU'ed. It was after World War II that the railroad slowly began to decline as mines played out.
Pittsburgh & Lake Erie
In 1946 then-parent Pittsburgh Coal sold the line to the PRR and P&LE (itself a subsidiary of the New York Central). This co-ownership arrangement continued for the next 30 years until the PRR/NYC merger, creating Penn Central in 1968.
With the mega railroad's bankruptcy a few years later and the P&LE spun-off as an independent, the "new" short line acquired full ownership of the MTR in 1975.
The final blow for the Montour Railroad occurred in 1980 when Consolidation Coal's Montour #4 Mine near Hill was flooded during heavy rains that summer.
Locomotive Roster
| Builder | Model Type | Road Number | Notes | Quantity |
| --- | --- | --- | --- | --- |
| EMD | SW7 | 72 | Acquired new: November, 1950. | 1 |
| EMD | SW9 | 73-76 | Acquired new: May, 1952. | 4 |
| EMD | SW9 | 77-80 | Acquired new: December, 1952. | 4 |
| EMD | SW9 | 81-84 | Acquired new: January, 1953. | 4 |
---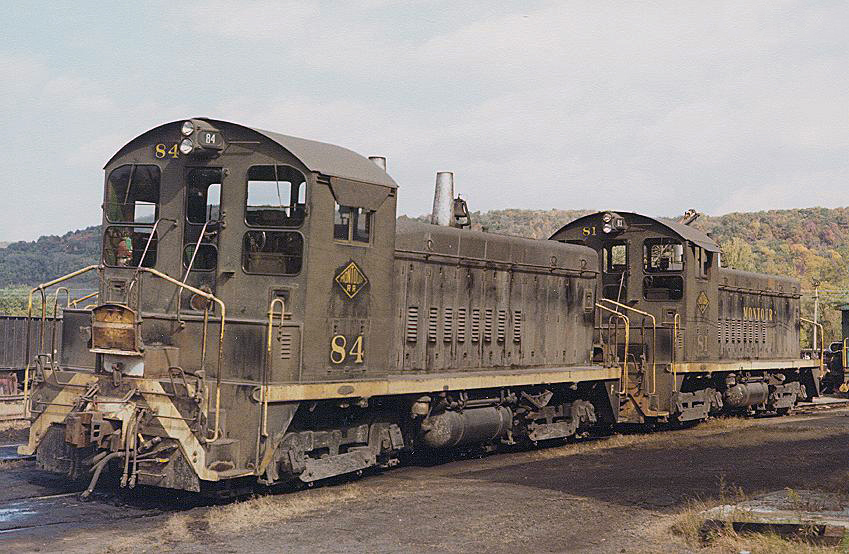 Two more of the Montour's SW9s are seen in Coraopolis on October 19, 1980. Just a few years after these photos were taken the coal hauler shut down permanently. Doug Kroll photo.
Abandonment
This mine was capable of loading 40 cars in just eight hours and its loss essentially doomed the little line, as most other mines along its system had already shutdown.
A year later this caused half of its diesel fleet, six SW9s, to be sold to Inland Steel in April, 1981. In 1983 the final mine closed and was eventually abandoned. With absolutely no online traffic remaining, and only 23 miles still in use the Montour was finally abandoned itself in 1985.
During the 1990s large sections of the former railroad were acquired by the Montour Trail Council and today host popular rail/trails.
To learn more about the Montour Railroad please click here to visit a website dedicated to the company's history (you can also find several system maps there, roster information, and other detailed information).