Scenic Dinner Train Ride Locations (2024)
: A Complete Guide
Last revised: October 10, 2023
By: Adam Burns

Dinner train rides are a relatively new type of excursion, hearkening back to the days of yore when one could enjoy first class cuisine while traveling by train.
Today's experiences lack an extended, multi-day journey and typically last just a few hours.  Along with providing passengers with an excellent meal these trips usually include some type of entertainment, such as a play, murder mystery, or train "robbery."  
In addition, there has been a growing and increasingly popular trend of providing alcohol on-board which is either included with the dinner or presented as a wine/beer tasting event.  
You will typically find such offerings at finer organizations such as the Strasburg Railroad, Verde Canyon Railroad, and Grand Canyon Railway.  
This section covers either exclusive dinner trains or regular excursions in 2024 featuring a dinner/meal, all of which are broken down by state.  
Please note! The information included here highlights only tourist railroads (and only those including a dinner/meal setting), most of which host day-trips to the general public lasting just a few hours.  If you are interested in long-distance, intercity passenger service please visit Amtrak's website, the national rail provider.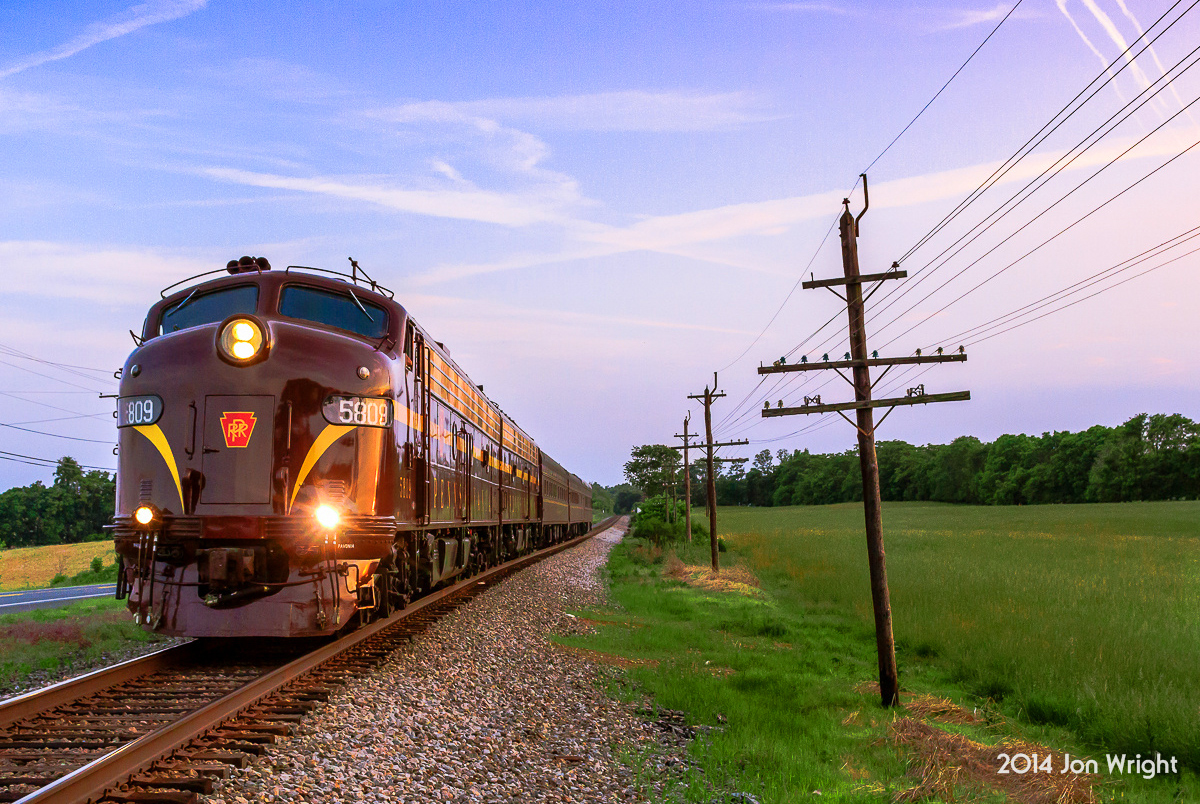 Bennett Levin's pair of restored Pennsylvania E8As traveling near Sharpsburg, Pennsylvania over Norfolk Southern's H Line on a June evening in 2014. Jon Wright photo.
States
The dinner train concept has caught on in recent years as an added, upscale experience to excursion trains.  It has certainly witnessed an increase in ridership as the Strasburg Railroad, the nation's second largest tourist railroad has found out, hosting trips for more than 400,000 passengers annually!  
Only the White Pass & Yukon Route in Alaska is larger.   In the May, 2008 issue of Trains Magazine author Erik Ledbetter highlighted Strasburg's premium services within a piece entitled, "Lessons From The Strasburg At 50."  As the railroad has learned, patrons want to be pampered and are willing to pay for it.  
The company first provided snack/beverage service in 1988 by introducing the restored parlor car Marian that year which offered snacks and soft drinks.  
They were surprised to learn it sold out faster than standard coach accommodations and from that forward an increasing level of first-class services were offered.  
In 2006 the Strasburg received its liquor license and in 2007 hosted its first wine tasting event, which has huge it.  As the railroad put it, "that has made a huge difference in our business."  
Such fine services are virtually non-existent via intercity rail travel today unless one can afford a pricey charter trip or owns a private railcar (a very real, but expensive, possibility!).  Some of the more notable locations across the country to experience dinner by train includes: 
Napa Valley Wine Train (Napa, California): This luxurious train ride takes you through the scenic vineyards and wineries of Napa Valley. The train features antique Pullman railcars that have been beautifully restored, and the dining experience includes a gourmet meal with wine pairings.
Grand Canyon Railway (Williams, Arizona): This historic train ride takes you through the stunning landscapes of northern Arizona. The ride starts in Williams, Arizona, and travels to the South Rim of the Grand Canyon. The dining experience includes a hearty buffet-style meal, with options for breakfast, lunch, or dinner.  All of this is offered in climate-controlled cars, which includes dome cars.
"The Royal Gorge Route" (Cañon City, Colorado): This scenic train ride operates over part of the former Rio Grande through Colorado's stunning Royal Gorge. The ride features vintage train cars that have been restored to their original elegance. The dining experience includes a three-course meal, with options for lunch, brunch, or dinner.
Mount Hood Railroad (Hood River, Oregon): The Mount Hood Railroad is a charming trip that takes you through the beautiful Columbia River Gorge in Oregon. The ride features historic train cars that have been restored to their original splendor. The dining experience includes a gourmet meal with views of the surrounding mountains and countryside, including glimpses of breathtaking Mount Hood.
The links below offer more information about dinner train experiences by state.   Also more information about some states can be found here on this page by scrolling further below.
Hawaii
None known.
Idaho
None known.
Louisiana
None known.
Mississippi
None known.
Nebraska
None known.
Nevada
Nevada Northern Railway (Ely):  The Nevada Northern Railway, a National Historic Landmark, hosts the "Taste of Italy" dinner train.  According to the railroad this event offers the following: "Your coaches will be pulled by one of our century-old steam locomotives for a trip on the Nevada Northern Railway mainline.   It will be our pleasure to serve you a classic, multi-course Italian meal, complete with flowing wine, and dessert." 
You also may be interested in another special train known as the Evening Champagne & Star Train where you can enjoy a glass of champagne while viewing the incredible night sky.
The Nevada Northern Railway is unique in that it is a living museum, similar to the East Broad Top Railroad of Pennsylvania, whereby the entire original route is preserved, some of which still hosts train rides for the general public.
The railroad's history can be traced back to 1905 and historically handled copper from mines located around Ely to connections with the Western Pacific (Shafter) and Southern Pacific (Cobre).  Freight service ended in 1983 although today, the entire 141 mile main line from Kimberley to Cobre is preserved by the White Pine Historical Railroad Foundation. 
However, only a small section from Ruth to Ely is currently maintained for excursions.   Also be sure to check out their large collection of preserved steam and diesel locomotives at the historic shops in Ely.
Virginia & Truckee (Virginia City): The historic Virginia & Truckee Railway began with its 1869 chartering in 1869 to serve Reno and Carson City.
Today, about 15 miles are operable, much of which has been rebuilt since the early 2000's.  They have slowly added an increasing number of excursion options including "Toast of the Canyon Wine Tasting Train."
The V&T was chartered in 1869 for the express purpose of hauling ore, lumber and supplies for the famed Comstock Lode, the operation of extracting gold and, particularly, silver from beneath the mountains and hills of Virginia City.
During the 19th century the railroad was extremely wealthy in the movement of gold and silver ore; by 1878 it had handled $400 million in business.  In total, the railroad operated a little over 50 miles of rail line. While the mining operations around Virginia City signaled the peak years of the V&T's operations it remained a viable freight until service finally ended in 1950.
In 1974 the first efforts began to restore part of the railroad for public excursions although the project did not gain serious traction until 1991. Today, the railroad operates about 15 miles of track between Gold Hill (near Virginia City) to Carson City.
New Mexico
Cumbres & Toltec Scenic Railroad:   Please visit the Colorado section above to learn more about the Cumbres & Toltec Scenic's available dinner trains.
North Dakota
None known.
Oklahoma
None known.
Rhode Island
Newport & Narragansett Bay Railroad (North Kingstown):  The Newport & Narragansett Bay Railroad (formerly known as the "Newport Dinner Train"), is one of New England's more popular such venues operating a former New Haven Railroad branch along Rhode Island's Aquidneck Island and Narragansett Bay.
As the name suggests its hosts full service meals on-board with but also offers other trains such as luncheons and murder mysteries.  These include the Grand Bellevue, Murder On The Bellevue Express, and Murder On The Bellevue Express.  They also have railbike adventures and boating trips, the latter operated as the Newport & Narragansett Bay Navigation Company.
After acquiring the line from Conrail, the state of Rhode Island soon leased the track on Aquidneck Island to the Old Colony & Newport Scenic Railway, a non-profit organization.  In 1988 the island's track became disconnected from the national rail network when flooding damaged the bridge over the Sakonnet River, which was removed in 2007.
In 1997, the state allowed a second heritage railroad to begin using the island trackage.  Known as the Newport Dinner Train, it hosted trains along with the Old Colony & Newport Scenic Railway. 
The two entities were struggling by the mid-2010s; the Newport Dinner Train had shutdown by 2012 and was sold, becoming the current Newport & Narragansett Bay Railroad.  It is also sometimes referred to as the "Grand Bellevue Dining Experience."
The Old Colony & Newport Scenic Railway stopped hosting trains in 2015 and was merged into the Newport & Narragansett Bay.  Today, all trains are hosted as simply the Newport Dinner Train excursion.
The dinner train runs with its own chef which, according to the railroad includes: "...[a] fully outfitted kitchen car, where food is prepared daily. Our menu includes dinner and lunch options. Beers, wines, and spirits are also featured on select trains."
Trains are usually pulled by a little 44-ton switcher locomotive, built by General Electric in 1951 for the Hampton & Branchville Railroad, a short line freight carrier that still serves South Carolina.
The dinner train's other equipment includes:
A pair of RDC cars (self-propelled rail diesel cars built by the Budd Company in 1956/1957 for Canadian lines, Pacific Great Eastern and Canadian National)
Dining car Aquidneck Spruce, originally built as a 54-seat coach for the Pennsylvania Railroad in 1946.  It has since been converted into a tabled dining car.
Theater car Atlantic Rose, originally a 54-seat coach built for the Atlantic Coast Line.  According to the railroad: "In 2018 the car was again rebuilt into a theater car with bistro seating facing a center stage. It now hosts weekly murder mystery performances as part of the Grand Bellevue."
Dashing Dan's Clam Car, originally for the Long Island Rail Road in 1956 as coach #2943.  It was updated with modern heating and cooling systems in the early 1970s.  It was again heavily rebuilt in the early 2020s.  According to the railroad: "In 2021 the car was retrofitted with a kitchen, repainted to its original gray and orange, and parked at Portsmouth Junction, where it now serves as a classic seaside clam shack offering breakfast, lunch, and dinner."
Kitchen car, Bellevue Clipper: This car was originally built for the Chesapeake & Ohio in 1948 by the Budd Company as a lounge.  In 1987 it was rebuilt into a kitchen car and was again heavily modernized in 2016-2017.
South Dakota
Black Hills Central Railroad: While the upscale Black Hills Central Railroad's 1880 Train does not feature meals aboard their trips they do offer excursions tailored to alcoholic beverages, notably the Wine Express.
This train offers adults the chance to feature local wines and enjoy light refreshments.  Live entertainment is also provided.  There is also Oktoberfest hosted each September that brings a taste of Germany to the railroad.
Utah
Heber Valley Railroad:  Utah's most popular excursion is the Heber Valley, which has utilized the Rio Grande's 28-mile Provo Canyon Branch (Heber City to Provo) since the 1990s. 
The railroad does not host a dedicated dinner train but does have an optional boxed lunch, at an additional cost, on some trips.
Their box lunch includes your choice of a ham, turkey, roast beef or vegetarian sandwich, a freshly baked cookie, chips and bottled water. 
---