Scenic Dinner Train Rides: A Complete Guide (2023)

Last revised: January 8, 2023
By: Adam Burns

Dinner train rides are a relatively new type of excursion, hearkening back to the days of yore when one could enjoy first class cuisine while traveling by train.
Today's experiences lack an extended, multi-day journey and typically last just a few hours.  Along with providing passengers with an excellent meal these trips usually include some type of entertainment, such as a play, murder mystery, or train "robbery."  
In addition, there has been a growing and increasingly popular trend of providing alcohol on-board which is either included with the dinner or presented as a wine/beer tasting event.  
You will typically find such offerings at finer organizations such as the Strasburg Railroad, Verde Canyon Railroad, and Grand Canyon Railway.  
This section covers either exclusive dinner trains or regular excursions in 2023 featuring a dinner/meal, all of which are broken down by state.  
Please note! The information included here highlights only tourist railroads (and only those including a dinner/meal setting), most of which host day-trips to the general public lasting just a few hours.
If you are interested in long-distance, intercity passenger service please visit Amtrak's website, the national rail provider.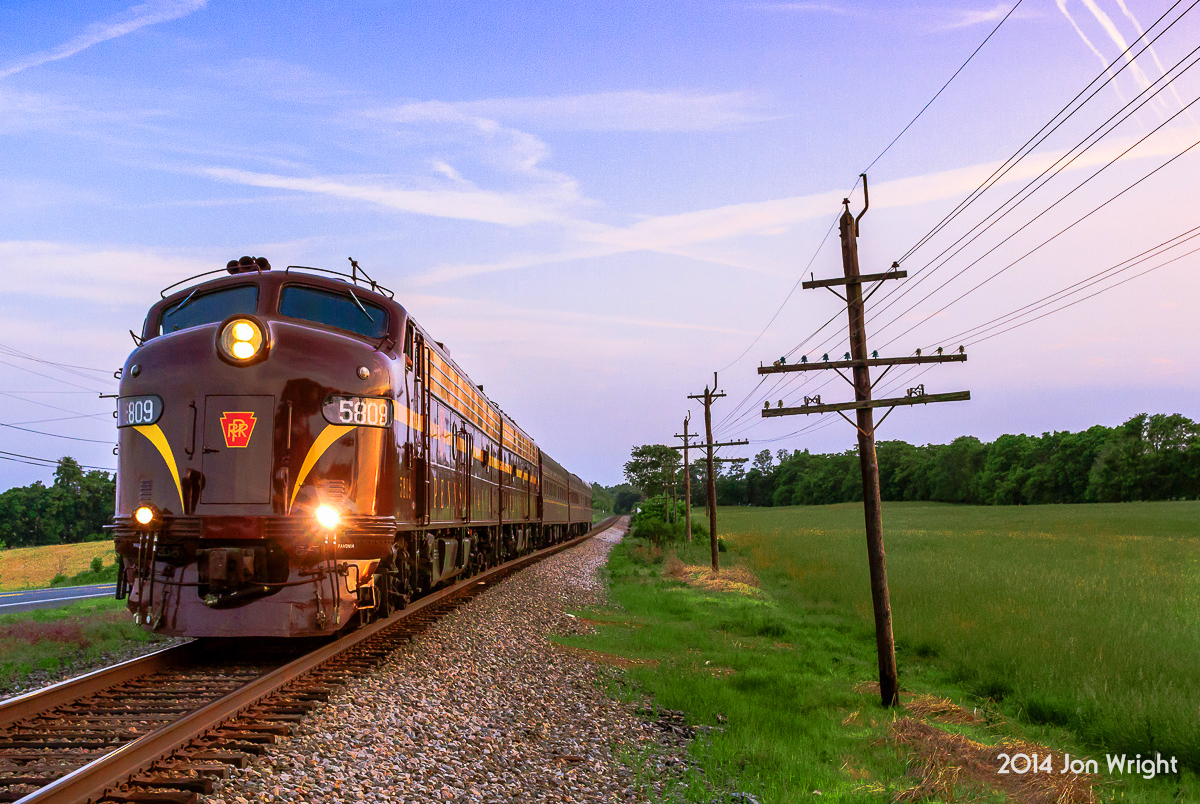 Bennett Levin's pair of restored Pennsylvania E8As traveling near Sharpsburg, Pennsylvania over Norfolk Southern's H Line on a June evening in 2014. Jon Wright photo.
State Guide
The dinner train concept has caught on in recent years as an added, upscale experience to excursion trains.  It has certainly witnessed an increase in ridership as the Strasburg Railroad, the nation's second largest tourist railroad has found out, hosting trips for more than 400,000 passengers annually!  
Only the White Pass & Yukon Route in Alaska is larger.   In the May, 2008 issue of Trains Magazine author Erik Ledbetter highlighted Strasburg's premium services within a piece entitled, "Lessons From The Strasburg At 50."  As the railroad has learned, patrons want to be pampered and are willing to pay for it.  
The company first provided snack/beverage service in 1988 by introducing the restored parlor car Marian that year which offered snacks and soft drinks.  
They were surprised to learn it sold out faster than standard coach accommodations and from that forward an increasing level of first-class services were offered.  
In 2006 the Strasburg received its liquor license and in 2007 hosted its first wine tasting event, which has huge it.  As the railroad put it, "that has made a huge difference in our business."  
Such fine services are virtually non-existent via intercity rail travel today unless one can afford a pricey charter trip or owns a private railcar (a very real, but expensive, possibility!). 
Alabama
Heart of Dixie Railroad Museum:  The Heart of Dixie Railroad Museum has been telling the Alabama's railroad history since 1963 and today offers a wide range of exhibits to see.
The museum also offers excursion train rides including their Ozan Wine Trains for adults, which includes a gourmet picnic lunch after tasting at the museum's vineyard.
Alaska
Alaska Railroad:  Alaska does not feature any true dinner trains. However, the Alaska Railroad, which hosts regularly scheduled passenger service does offer dining services aboard their trains.
The ARR provides some of the most spectacular scenery by rail that can be found anywhere in the United States. A trip aboard the railroad, in general, is well worth it if you have the opportunity to do so.

Arizona
Grand Canyon Railway: Does not offer dining service but does feature snacks and appetizers; there are six classes to choose from during your trip and five provide some type of food and drink.  
This very upscale train offers one the best rail experiences found anywhere in the country.  You will disembark at the historic El Tovar Hotel (built by the Atchison, Topeka & Santa Fe Railway) along the Canyon's South Rim where dining services and complete accommodations are available.
Verde Canyon Railroad: The Verde Canyon offers appetizers and alcoholic drinks in their first-class accommodations and snacks within coach class.  They also provide several vacation packages for the surrounding Sedona area. 
This is one of the nation's premier scenic train rides between the on-board accommodations and surrounding scenery.
Connecticut
Essex Steam Train: This excursion is Connecticut's most popular scenic train ride.  They offer a full service dinner train, the Essex Clipper, throughout the operating season in addition to several specials involving some type of dining available.  
Their menu can be viewed online.  Please visit their website for much more about scheduling, times, and dates.
Delaware
Wilmington & Western Railroad: The Wilmington & Western offers several different types of train trips, including a number of dinner trains such as the Mother's Day Buffet Dinner Train, Ride-To-Dine Dinner Train, and murder mystery specials that provide desserts and beverages.  
Also, the railroad hosts "Brews On Board" where adults over 21 can sample local brewery craft beers.

Hawaii
None known.
Idaho
None known.
Iowa
Boone & Scenic Valley Railroad: The Boone & Scenic Valley offers three different dinner-style trips including the Wolf Lunch Train, Wolf Dinner Train, and the Wolf Picnic Train.
The two former trains provide a full-course meals aboard either their fully restored, climate-controlled cars "City of San Francisco" or "City of Los Angeles."
The Picnic Train offers guests the chance to pack a lunch while enjoying a trip through the Des Moines River Valley.
Kansas
Abilene & Smoky Valley Railroad: This 13-mile excursion train features a dinner train during select times of the year operating over former Rock Island trackage.  
The meal is a chicken dinner prepared by the Brookville Hotel.
The railroad states advance purchase is necessary to book this particular trip, typically offered on select dates from May through October (on rare occasion, a steam locomotive will pull this train).  
Midland Railway:  The all-volunteer Midland Railway, based in the eastern Kansas town of Baldwin City, is a popular excursions operating regular excursions from April through October (special holiday events are hosted outside these months).
They have an impressive collection of equipment and operate a railroad that stretches about 20-miles.  One of their popular trips is the Kansas Belle Dinner Train which utilizes four restored dining cars.  The railroad's website notes:
"Our three-hour Saturday night evening runs are more formal and romantic, while the Sunday afternoon dinner run is a more casual outing best suited for families with a slightly shorter run time. You may want to enhance your dinner train experience with an optional murder mystery, WWII USO show, or a melodrama."
Louisiana
None known.
Maine
Maine Narrow-Gauge Railroad & Museum:  The Maine Narrow-Gauge Railroad & Museum operates a two-foot narrow-gauge railroad using restored steam locomotives. The railroad hosts a number of special events such as the Wine Wise – Cork & Rail Limited in April.  While not a true dinner train experience, this wine tasting event also includes food pairings.
They also host the Rails & Ales several times in each year where patrons can partake in beers from local Maine breweries.  Provisions are provided by the Navis' Café.
Massachusetts
Cape Cod Central Railroad: The deluxe Cape Cod Central Railroad offers a handful of different trains which include some type of dining; food service is actually what this particular scenic train ride is centered around.
Currently, their two most popular include the Cape Cod Dinner Train and Cape Cod Luncheon Train.
Special events include the:
Mother's Day Brunch Train


Father's Day Brunch Train


Sunday Brunch Train


Rails & Ales Beer Tasting Train


Gourmet Wine & Dinner Train


 Easter Sunday Brunch Train
Michigan
Adrian & Blissfield Railroad: The Adrian & Blissfield Railroad, which is first a freight-carrying short line, also hosts the Old Road Dinner Train which features both a standard dinner as well as a murder mystery special.  To learn more about riding their trains please visit the railroad's website.
Coopersville & Marne Railway:  The Coopersville & Marne Railway, based in Coopersville, Michigan offers a wide variety of train rides to choose from.  
The railroad also hosts The Murder Mystery Train in August, 2021.  Many organizations host similar events around the country which have become quite popular.
As you try to unravel who the culprit is, enjoy appetizers and non-alcoholic cold beverages.
Mississippi
None known.
Montana
Charlie Russell Chew Choo:  A sometimes forgotten dinner train operation is the Charlie Russell Chew Choo is based in Lewistown along the only former Milwaukee Road  still intact in the west-central region of the state.
The train covers 28 miles (56-mile round trip) and operates nearly every weekend during the summer season.  The views and open vistas afforded on this trip are incredible.
Nebraska
None known.
Nevada
Nevada Northern Railway: Operated by the Nevada State Railroad Museum at Carson City this tourist train offers the "Taste of Italy" dinner train.  
According to the railroad this event offers the following: "Your coaches will be pulled by one of our century-old steam locomotives for a trip on the Nevada Northern Railway mainline.   It will be our pleasure to serve you a classic, multi-course Italian meal, complete with flowing wine, and dessert." 
You also may be interested in another special train known as the Sunset, Stars, & Champagne Train where you can enjoy a glass of champagne while viewing the incredible night sky.
Virginia & Truckee Railway:  The historic Virginia & Truckee Railway began with its 1869 chartering in 1869 to serve Reno and Carson City.
Today, about 15 miles are operable, much of which has been rebuilt since the early 2000's.  They have slowly added an increasing number of excursion options including "Toast of the Canyon Wine Tasting Train" and the "Dinner & Melodrama Train."
New Jersey
Black River & Western Railroad:  The Black River & Western, based in Ringoes, New Jersey operates from the town's restored depot.  
You can enjoy enjoy a ride behind an authentic steam locomotive courtesy of Black River & Western 2-8-0 #60 (built as Great Western Railway of Colorado #60 in 1937 by American Locomotive).
They do not offer a dedicated dinner train or any type of food service aboard their trips.  However, there is a Winery Train hosted where patrons are taken to a vineyard located in nearby Finesville, New Jersey to sample their wines.
New Mexico
Cumbres & Toltec Scenic Railroad:   Please visit the Colorado section above to learn more about the Cumbres & Toltec Scenic's available dinner trains.
North Dakota
None known.
Oklahoma
None known.
Rhode Island
Newport Dinner Train: The Newport Dinner Train is one of New England's more popular such venues operating a former New Haven Railroad branch along Rhode Island's Aquidneck Island and Narragansett Bay.
As the name suggests its hosts full service meals on-board with but also offers other trains such as luncheons and murder mysteries.  
These include the Grand Bellevue, Murder On The Bellevue Express, and Autumn Harvest Bistro.  They also have dining and tours available.
South Carolina
South Carolina Railroad Museum:  The South Carolina Railroad Museum, based in Columbia, predominantly looks to preserve the state's heritage and has accrued a wide collection of equipment.  They also host excursion trains during the warmer months known as the Rockton, Rion & Western Railroad.
Their regular trips include First Class accommodations that offer beverages and a light snack while private charters for large groups also have optional food service.   In addition, dinner is served within their Lake Rion dining car.
South Dakota
Black Hills Central Railroad: While the upscale Black Hills Central Railroad's 1880 Train does not feature meals aboard their trips they do offer excursions tailored to alcoholic beverages, notably the Wine Express.
This train offers adults the chance to feature local wines and enjoy light refreshments.  Live entertainment is also provided.  There is also Oktoberfest hosted each September that brings a taste of Germany to the railroad.
Utah
Heber Valley Railroad:  Utah's most popular excursion is the Heber Valley, which has utilized the Rio Grande's 28-mile Provo Canyon Branch (Heber City to Provo) since the 1990s. 
The railroad does not host a dedicated dinner train but does have an optional boxed lunch, at an additional cost, on some trips.
Their box lunch includes your choice of a ham, turkey, roast beef or vegetarian sandwich, a freshly baked cookie, chips and bottled water. 
Vermont
Green Mountain Railroad: Operating on former Rutland Railroad trackage the Green Mountain Railroad is one of the country's popular tourist railroads offering breathtaking New England scenery.
During the course of the year it hosts a select number of full course dinner trains such as the Fall Foliage Dinner Train.  In addition, in 2018 they launched the Champlain Valley Dinner Train. 
This 3-hour trip includes a three-course meal and option of hot coffee or hot tea.
---