Scenic Dinner Train Rides (2022)

Last revised: September 10, 2022
By: Adam Burns
Dinner train rides are a relatively new type of excursion, hearkening back to the days of yore when one could enjoy first class cuisine while traveling by train.
Today's experiences lack an extended, multi-day journey and typically last just a few hours.  Along with providing passengers with an excellent meal these trips usually include some type of entertainment, such as a play, murder mystery, or train "robbery."  
In addition, there has been a growing and increasingly popular trend of providing alcohol on-board which is either included with the dinner or presented as a wine/beer tasting event.  
You will typically find such offerings at finer organizations such as the Strasburg Railroad, Verde Canyon Railroad, and Grand Canyon Railway.  
This section covers either exclusive dinner trains or regular excursions in 2022 featuring a dinner/meal, all of which are broken down by state.  
Please note! The information included here highlights only tourist railroads (and only those including a dinner/meal setting), most of which host day-trips to the general public lasting just a few hours.
If you are interested in long-distance, intercity passenger service please visit Amtrak's website, the national rail provider.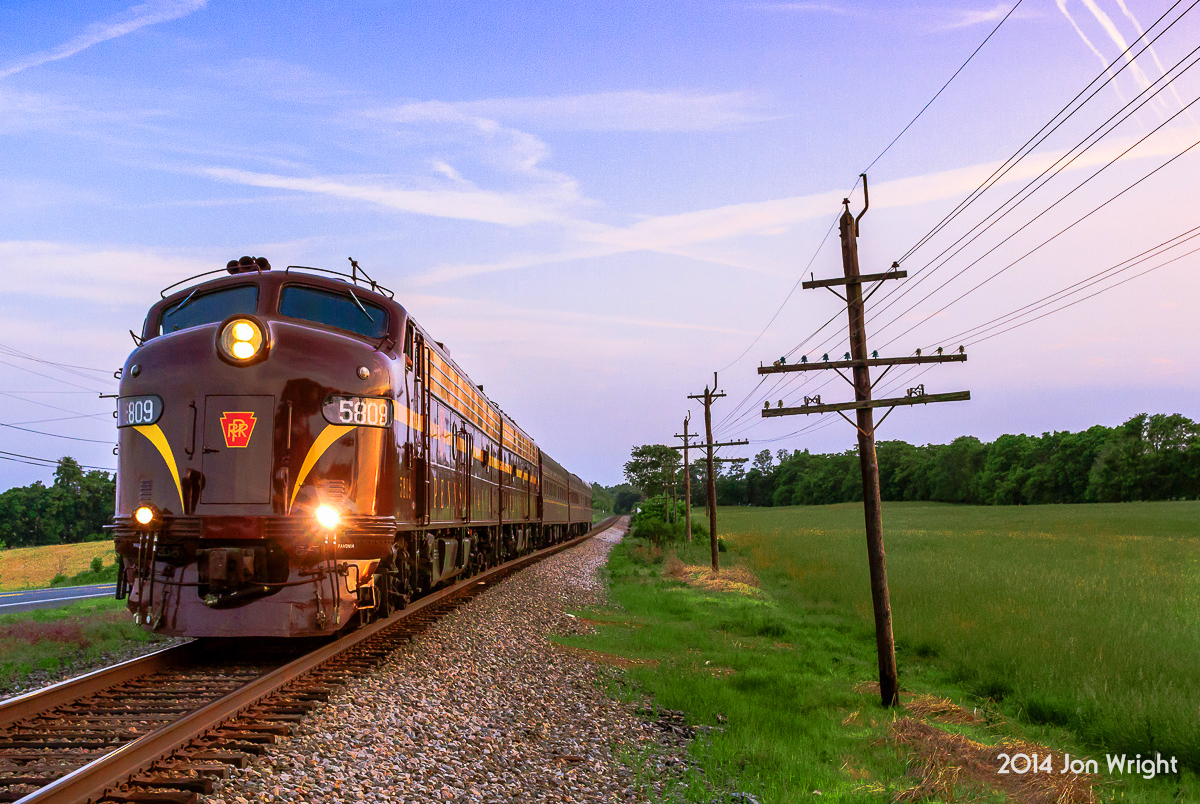 Bennett Levin's pair of restored Pennsylvania E8As traveling near Sharpsburg, Pennsylvania over Norfolk Southern's H Line on a June evening in 2014. Jon Wright photo.
Guide Information
The dinner train concept has caught on in recent years as an added, upscale experience to excursion trains.  It has certainly witnessed an increase in ridership as the Strasburg Railroad, the nation's second largest tourist railroad has found out, hosting trips for more than 400,000 passengers annually!  
Only the White Pass & Yukon Route in Alaska is larger.   In the May, 2008 issue of Trains Magazine author Erik Ledbetter highlighted Strasburg's premium services within a piece entitled, "Lessons From The Strasburg At 50."  As the railroad has learned, patrons want to be pampered and are willing to pay for it.  
The company first provided snack/beverage service in 1988 by introducing the restored parlor car Marian that year which offered snacks and soft drinks.  
They were surprised to learn it sold out faster than standard coach accommodations and from that forward an increasing level of first-class services were offered.  
In 2006 the Strasburg received its liquor license and in 2007 hosted its first wine tasting event, which has huge it.  As the railroad put it, "that has made a huge difference in our business."  
Such fine services are virtually non-existent via intercity rail travel today unless one can afford a pricey charter trip or owns a private railcar (a very real, but expensive, possibility!). 
Alabama
Heart of Dixie Railroad Museum:  The Heart of Dixie Railroad Museum has been telling the Alabama's railroad history since 1963 and today offers a wide range of exhibits to see.
The museum also offers excursion train rides including their Ozan Wine Trains for adults, which includes a gourmet picnic lunch after tasting at the museum's vineyard.
Alaska
Alaska Railroad:  Alaska does not feature any true dinner trains. However, the Alaska Railroad, which hosts regularly scheduled passenger service does offer dining services aboard their trains.
The ARR provides some of the most spectacular scenery by rail that can be found anywhere in the United States. A trip aboard the railroad, in general, is well worth it if you have the opportunity to do so.

Arizona
Grand Canyon Railway: Does not offer dining service but does feature snacks and appetizers; there are six classes to choose from during your trip and five provide some type of food and drink.  
This very upscale train offers one the best rail experiences found anywhere in the country.  You will disembark at the historic El Tovar Hotel (built by the Atchison, Topeka & Santa Fe Railway) along the Canyon's South Rim where dining services and complete accommodations are available.
Verde Canyon Railroad: The Verde Canyon offers appetizers and alcoholic drinks in their first-class accommodations and snacks within coach class.  They also provide several vacation packages for the surrounding Sedona area. 
This is one of the nation's premier scenic train rides between the on-board accommodations and surrounding scenery.
Arkansas
Arkansas & Missouri Railroad:  The most popular scenic train ride in Arkansas is hosted by the Arkansas & Missouri Railroad, an operating freight line which also hosts trips for the public in the state's northwestern region.  
Its rides range from a 134-mile roundtrip to 70-mile round trip.  There are three classes offered:
Standard Coach: Snacks and beverages available.


Premium: Morning pastries, baked goods and fruit with an afternoon tasting plate.


Silver Feather: All premium services but enjoyed within the railroad's Vista Dome car.
Eureka Springs & North Arkansas Railway: Offers dinner service aboard their dining car known as the Eurekan, with wine and champagne available.  They provide dinner and lunch services in the car, which is offered from May through October.  For complete information and menus please visit the railroad's website.

California
Fillmore & Western Railway: The Fillmore & Western features dinner and live entertainment in the way of a murder mystery train with lunch and dinner schedules available.  They also offer special events tailored around dining such as Dinner With Santa and a New Year's Eve party.

Napa Valley Wine Train: Perhaps the best dinner train experience you can enjoy throughout the country-wide is the Napa Valley Wine Train.  They host a wide range of dinner options (including wine) aboard their train which operates through the beautiful Napa Valley region. 
Niles Canyon Railway:  The Niles Canyon Railway features a number of different trips throughout the year, including a wine tasting special and "Romance On The Rails" for Valentine's Day.
Roaring Camp Railroad: The Roaring Camp & Big Trees Narrow Gauge Railroad operates the "Starlight Evening Dinner Train Party" during select dates that features a steak dinner, train ride, and live entertainment. 
Sacramento River Train: The Sacaramento River Train, based in Woodland, features upscale dinner train packages offering entertainment with your meal during the three-hour trip.  They also provide special trains and events throughout the year. 

Yosemite Mountain Sugar Pine Railroad: During select times throughout the operating season the railroad operates specials known as the Moonlight Special, which feature dinner at the station, a train ride, and live entertainment.
They also offer a Mother's Day Brunch train; before your trip you can enjoy coffee or hot cocoa and afterwards partake in a quick bite to eat.
Colorado
Cumbres & Toltec Scenic Railroad:  The Cumbres & Toltec Scenic is another famous narrow-gauge tourist railroad located in southwestern Colorado and northwest New Mexico.  
It operates over the former Rio Grande, complete with original steam locomotives from that railroad (the nearly identical Durango & Silverton operates former D&RGW trackage nearby).  
The railroad offers four classes of service; coach, open gondola, parlor, and deluxe.  The latter two cars provide both snacks and full bar service (beer, wine, and cocktails).
Durango & Silverton Narrow Gauge Railroad: One of the most famous excursions nationwide (and the second most popular behind Alaska's White Pass & Yukon Route), the D&SNG offers spectacular views of southern Colorado with several special events throughout the operating season.  
The railroad provides a range of on-board classes from Presidential to Standard.  The upscale classes include beverages and/or snacks while they also host wine tasting events. 
They also host a number of special events throughout the year that include either alcoholic beverages and/or on-board food service such as Romance On The Rails, Wine & Rails, and Brew Trains.
Georgetown Loop Railroad:  The narrow-gauge Georgetown Loop Railroad is a short, but very popular scenic railroad located in Georgetown, Colorado.
It is operated by the Colorado Historical Society as part of the larger Georgetown Loop Historic Mining & Railroad Park. Trips are available in three different classes; coach, parlor, and the Waldorf and Tahoe cars (available during the holidays only).  The latter two services provide on-board snacks and drinks.
Leadville, Colorado & Southern Railroad: Offers special train rides throughout the season that include both barbecues (the Devils Tail BBQ Special) and served boxed lunches (the Wild Flower Special).
Royal Gorge Route Railroad: Another of Colorado's fine tourist trains, the Royal Gorge Route Railroad offers several different meal services from including breakfast, lunch, and dinner (offered as stand-alone trains!). There are also a number of other events hosted throughout the year. 
This is one the finest scenic train rides available in the United States, taking guests through Colorado's stunning Royal Gorge.
Connecticut
Essex Steam Train: This excursion is Connecticut's most popular scenic train ride.  They offer a full service dinner train, the Essex Clipper, throughout the operating season in addition to several specials involving some type of dining available.  
Their menu can be viewed online.  Please visit their website for much more about scheduling, times, and dates.
Delaware
Wilmington & Western Railroad: The Wilmington & Western offers several different types of train trips, including a number of dinner trains such as the Mother's Day Buffet Dinner Train, Ride-To-Dine Dinner Train, and murder mystery specials that provide desserts and beverages.  
Also, the railroad hosts "Brews On Board" where adults over 21 can sample local brewery craft beers.

Florida
Orlando & North Western Railway:  Also known as the "The Royal Palm Railway Experience," the Orlando & North Western operates track owned by the Florida Central Railroad. 
It hosts a number of upscale trips with food or beverages provided such as the Royal Pizza Express, Early Bird Supper Excursion, murder mystery specials, and even a wine train.
Seminole Gulf Railway: The Seminole Gulf Railway is actually a freight railroad which hosts a very popular Murder Mystery Dinner Train that is well known for the on-board meals they serve (including wine and alcohol).  
Throughout the year the railroad hosts a number of different "mysteries" as well as special events for the holidays.  To learn more about this popular attraction please visit their website.
Georgia
Blue Ridge Scenic Railway: The most popular tourist railroad in Georgia is the Blue Ridge Scenic Railway.  It is located in the northern mountainous regions and operates over 13 miles.  
The company does not offer full dining services on-board but its "Premier Class" accommodations (18 years or older) provide an enjoyable trip.  
According to the railroad; "you will experience individualized service in a coach featuring:
Comfortable, reclining seats


A substantial catered snack (small meal) made fresh and delivered each morning


Some sweet treats on the return trip for dessert


A complimentary group photo (1 per sales transaction)


A canvas tote bag (1 per sales transaction)

"
SAM Shortline Excursion Train:  The SAM Shortline, located in Cordele, Georgia is a beautiful operation that features nearly a 70-mile round trip.  
There are no dinner trains provided by the railroad but they do offer the following upscale accommodations which offer some type of refreshment:
Premium (Americus Car): Complimentary snack mix is on each table and each ticket includes a free beverage from the concession car. 


Lounge car (Samuel Hawkins Car): Features both tables, chairs, and leather couches. The lounge includes a meal ticket for the concession car (drink, chips and a hot dog or Chick-Fil-A sandwich).

Hawaii
None known.
Idaho
None known.
Illinois
None known.
Indiana
Indiana Railway Museum/French Lick Scenic Railway:  The Indiana Railway Museum operates the French Lick Scenic Railway, featuring a 20-mile round trip through the Hoosier National Forest.
They now offer a Dinner Train Special that includes a 2.5 hour trip through the Hoosier National Forest, 2200-foot Burton Tunnel, and several bridges.
During your ride you can enjoy a complete meal with a full menu to choose from.  Please visit their website to learn more.
Spirit of Jasper Excursion Train:  Operated by the city of Jasper and in conjunction with the Indiana Railway Museum, this excursion runs to French Lick and back, covering 25 miles and about 2 hours. 
Among their available trips is dinner aboard the train.  The Spirit of Jasper utilizes four beautifully restored cars (club #200, lounge #300, parlor #400, and the "Monon Car").

Whitewater Valley Railroad:  What would certainly be considered arguably Indiana's most popular excursion trains the Whitewater Valley Railroad is based Connersville.  
The tourist railroad does not feature on-board dinners but does offer the Twilight Limited Train to Dinner where passengers are taken to the nearby Laurel Hotel for dinner.   They also host their "Wild West Train To Dinner" during the summer and early fall.  To learn more please visit their website.
Iowa
Boone & Scenic Valley Railroad: The Boone & Scenic Valley offers three different dinner-style trips including the Wolf Lunch Train, Wolf Dinner Train, and the Wolf Picnic Train.
The two former trains provide a full-course meals aboard either their fully restored, climate-controlled cars "City of San Francisco" or "City of Los Angeles."
The Picnic Train offers guests the chance to pack a lunch while enjoying a trip through the Des Moines River Valley.
Kansas
Abilene & Smoky Valley Railroad: This 13-mile excursion train features a dinner train during select times of the year operating over former Rock Island trackage.  
The meal is a chicken dinner prepared by the Brookville Hotel.
The railroad states advance purchase is necessary to book this particular trip, typically offered on select dates from May through October (on rare occasion, a steam locomotive will pull this train).  
Midland Railway:  The all-volunteer Midland Railway, based in the eastern Kansas town of Baldwin City, is a popular excursions operating regular excursions from April through October (special holiday events are hosted outside these months).
They have an impressive collection of equipment and operate a railroad that stretches about 20-miles.  One of their popular trips is the Kansas Belle Dinner Train which utilizes four restored dining cars.  The railroad's website notes:
"Our three-hour Saturday night evening runs are more formal and romantic, while the Sunday afternoon dinner run is a more casual outing best suited for families with a slightly shorter run time. You may want to enhance your dinner train experience with an optional murder mystery, WWII USO show, or a melodrama."
Kentucky
Big South Fork Scenic Railway: This railroad does not feature first-class dining although it does offer a "Coal Miner's Lunch," "Hobo Lunch," and "Coal Bucket Concession" for an additional ticket fee along their 16-mile round trip through the Daniel Boone National Forest and Big South Fork National River & Recreation Area.
In addition, the Whistle Stop Restaurant & Steakhouse in Stearns offers lunch and dinner at select times throughout the week.
My Old Kentucky Dinner Train: Operated by the RJ Corman Railroad Group, a corporation which owns a number of short lines freight systems, this train is based in Bardstown and operates two to three days a week from during the summer season and at least once a week year-round. The train has become well-known for its fine dining.

Kentucky Railway Museum: The Kentucky Railway Museum operates excursion trains on its property including a dinner train once a month during the operating season.  The museum notes that casual dress is preferred while reservations are required.  They also host a mystery theatre during select dates which includes a meal with the show.

Louisiana
None known.
Maine
Maine Narrow-Gauge Railroad & Museum:  The Maine Narrow-Gauge Railroad & Museum operates a two-foot narrow-gauge railroad using restored steam locomotives. The railroad hosts a number of special events such as the Wine Wise – Cork & Rail Limited in April.  While not a true dinner train experience, this wine tasting event also includes food pairings.
They also host the Rails & Ales several times in each year where patrons can partake in beers from local Maine breweries.  Provisions are provided by the Navis' Café.
Maryland
Walkersville Southern Railroad: The Walkersville Southern offers several special trains throughout the year serving either refreshments or full-service meals aboard their available dining car.
They also offer standard dinner trains and murder mystery specials.  These trips are very popular and usually sell out in advance so please book your trip early if interested!
Western Maryland Scenic Railroad: The WMSR has blossomed into one of the most popular excursion experiences in the country operating between Cumberland and Frostburg.
They feature many different trains throughout the season provided in either a first class or lounge setting.
Their five classes of service include:
Standard Coach


Deluxe Coach


Deluxe Open Air


Club Lounge


Dome Car
All but standard coach provide some sort of on-board refreshment and snack.
Massachusetts
Cape Cod Central Railroad: The deluxe Cape Cod Central Railroad offers a handful of different trains which include some type of dining; food service is actually what this particular scenic train ride is centered around.
Currently, their two most popular include the Cape Cod Dinner Train and Cape Cod Luncheon Train.
Special events include the:
Mother's Day Brunch Train


Father's Day Brunch Train


Sunday Brunch Train


Rails & Ales Beer Tasting Train


Gourmet Wine & Dinner Train


 Easter Sunday Brunch Train
Michigan
Adrian & Blissfield Railroad: The Adrian & Blissfield Railroad, which is first a freight-carrying short line, also hosts the Old Road Dinner Train which features both a standard dinner as well as a murder mystery special.  To learn more about riding their trains please visit the railroad's website.
Coopersville & Marne Railway:  The Coopersville & Marne Railway, based in Coopersville, Michigan offers a wide variety of train rides to choose from.  
The railroad also hosts The Murder Mystery Train in August, 2021.  Many organizations host similar events around the country which have become quite popular.
As you try to unravel who the culprit is, enjoy appetizers and non-alcoholic cold beverages.
Minnesota
North Shore Scenic Railroad:  Operated by the Lake Superior Railroad Museum this excursion offers numerous events that include on-board food service such as the Elegant Dinner Train to murder mystery specials.  
Other featured trains which include either food and/or beverages include the:
Music & Pizza Train


Knife River Picnic Train


Father's Day BBQ Dining Car


Summer BBQ In The Diner


Beer Tasting Train
Osceola & St. Croix Valley Railway: Operated by the Minnesota Transportation Museum this tourist train features available Pizza Trains during their operating season.  The train runs from early May through early September.  To learn more about these trips, and others, please visit the museum's website.

Mississippi
None known.
Missouri
Belton, Grandview & Kansas City Railroad: The Belton, Grandview and Kansas City Railroad does not feature full service meals aboard their trains.
However, they do offer "Ice Cream Specials" a few times during the summer season where visitors can enjoy a bowl of ice cream during their trip.
Branson Scenic Railway: The popular Branson Scenic Railway features a 40-mile round trip on their excursion, which includes a dinner train option during the operating season from April through October.  
The dinner trains run on Saturdays and depart at 5 p.m. Your meal is four courses, enjoyed amid candlelight.
St. Louis, Iron Mountain & Southern Railway:  The St. Louis, Iron Mountain & Southern offers a ten-mile excursion through the rolling, open countryside of southeastern Missouri.
They offer several specials throughout the year, some of which include dining and/or food such as the Chocolate Express, Murder Mystery Dinner Train, and the Chuck Wagon Dinner Train on select evenings.
Montana
Charlie Russell Chew Choo:  A sometimes forgotten dinner train operation is the Charlie Russell Chew Choo is based in Lewistown along the only former Milwaukee Road  still intact in the west-central region of the state.
The train covers 28 miles (56-mile round trip) and operates nearly every weekend during the summer season.  The views and open vistas afforded on this trip are incredible.
Nebraska
None known.
Nevada
Nevada Northern Railway: Operated by the Nevada State Railroad Museum at Carson City this tourist train offers the "Taste of Italy" dinner train.  
According to the railroad this event offers the following: "Your coaches will be pulled by one of our century-old steam locomotives for a trip on the Nevada Northern Railway mainline.   It will be our pleasure to serve you a classic, multi-course Italian meal, complete with flowing wine, and dessert." 
You also may be interested in another special train known as the Sunset, Stars, & Champagne Train where you can enjoy a glass of champagne while viewing the incredible night sky.
Virginia & Truckee Railway:  The historic Virginia & Truckee Railway began with its 1869 chartering in 1869 to serve Reno and Carson City.
Today, about 15 miles are operable, much of which has been rebuilt since the early 2000's.  They have slowly added an increasing number of excursion options including "Toast of the Canyon Wine Tasting Train" and the "Dinner & Melodrama Train."
New Hampshire
Café Lafayette Dinner Train: The Café Lafayette Dinner Train, based in Woodstock features, only dinner trains, which operates only on select dates.  
These are very popular trips which feature a 2-hour train ride while guests enjoy a five-course meal within restored, 1950's era passenger cars.  
Conway Scenic Railroad: The Conway Scenic Railroad is one of the more popular tourist trains in the eastern United States.  As part of their service, first-class dining is an option during your trip through beautiful New England in the Mt. Washington Valley.  
In June, 2021 you can enjoy dinner within their Rhonda Lee dome car, featured on their longest excursion, running 5-5.5 hours in length.
Hobo Railroad: Despite its name the Hobo Railroad offers first-class accommodations aboard their trains, which include specials including a Fall Foliage Special, hosted to coincide with the spectacular colors of autumn in New England.  
Once you reach your destination at Common Man Inn & Spa, located in Plymouth, guests are served dinner.
Also be sure to check out their First Class and Presidential Class accommodations which include light snacks and non-alcoholic beverages.
New Jersey
Black River & Western Railroad:  The Black River & Western, based in Ringoes, New Jersey operates from the town's restored depot.  
You can enjoy enjoy a ride behind an authentic steam locomotive courtesy of Black River & Western 2-8-0 #60 (built as Great Western Railway of Colorado #60 in 1937 by American Locomotive).
They do not offer a dedicated dinner train or any type of food service aboard their trips.  However, there is a Winery Train hosted where patrons are taken to a vineyard located in nearby Finesville, New Jersey to sample their wines.
New Mexico
Cumbres & Toltec Scenic Railroad:   Please visit the Colorado section above to learn more about the Cumbres & Toltec Scenic's available dinner trains.
New York
Adirondack Railroad:  While the Adirondack Railroad does not offer on board meals a number of their special trains operated throughout the year does host their café car on trips which feature light snacks and beverages.  
In addition, one noteworthy special of interest is the and Beer & Wine Train (departs from Utica).  Your train travels to Remsen Station during which time guests can sample a variety of drinks.
Arcade & Attica Railroad:  The A&A is based in Arcade, New York and utilizes trackage originally built and owned by the Buffalo, Attica & Arcade Railroad.  
They host the "Murder Mystery Dinner Train" in July and August where guests can enjoy a meal (catered by Catered Creations!) and unravel a mystery.
Finally, adults may be interested in their "Ales & Wine On The Rails!" special where spirits can be sampled during the trip.  Finally, all regular excursions offer light snacks and refreshments.
Cooperstown & Charlotte Valley Railroad:  The Cooperstown & Charlotte Valley Railroad, operated by the Leatherstocking Railway Historical Society, uses tracks originally built by a company of the same name, the Cooperstown & Charlotte Valley.  
They operate two specials which include food and/or beverages; the Brooks BBQ Dinner Trains and Ice Cream Social Train.
Delaware & Ulster Railroad:  The Delaware & Ulster Rail is based in Stamford, using trackage originally owned by the Ulster & Delaware Railroad.  
Their Rip Van Winkle Flyer whisks passenger back in time aboard dome, tavern, and observation cars to experience rail travel as it was in the mid-20th century, which includes a full-course meal.  
They also offer "Twilight On The Rails" where guests can enjoy an evening train ride in the summer, listen to music from "Blues Maneuver," and bring a picnic dinner.
North Carolina
Great Smoky Mountains Railroad: The Great Smoky Mountains Railroad a multitude of trains which include full course meals within a variety of classes along its route following the beautiful Smoky Mountains in western North Carolina.  
The GMSR is one of the premier scenic train rides, not only in the eastern U.S. but also throughout the country. 
There are some trips which are now even hosted by an authentic steam locomotive.  Please visit their website to peruse all available packages.
New Hope Valley Railway:  The New Hope Valley Railway is based in New Hill, North Carolina.  The organization does not host a dedicated dinner train but they do run specials involving food and/or beverages under the heading of Brew 'n' Choo (this event has its own specials during the year).
North Dakota
None known.
Ohio
Cuyahoga Valley Scenic Railroad: The popular Cuyahoga Valley Scenic Railroad now hosts a dedicated dinner train known as "Evening Dining on the Rails."  
The ride, which lasts 2 hours, includes a 4 course meal and complimentary bar service.  These trips are now hosted in the railroad's elegant dome cars, the Silver Solarium and Silver Lariat, which originally ran on the California Zephyr.
Lebanon Mason Monroe Railroad:  The Lebanon Mason Monroe Railroad is based in Lebanon, Ohio and uses trackage once owned by the Pennsylvania Railroad.  
Throughout the operating season they host murder mystery specials, which includes a buffet at the Cherry Street Café and Lebanon.  In addition, a cash bar is available during the train ride.
Oklahoma
None known.
Oregon
Mount Hood Railroad: The Mount Hood Railroad offers full course meals on many of its trains throughout the operating season.  
They provide different classes of service (Standard, First, and Diamond) in addition to many special events throughout the year.  To learn more about their trips please visit the railroad's website.
Oregon Coast Scenic Railroad:  The Oregon Coast Scenic Railroad is based in Tillamook and has operated on the Port of Tillamook Bay Railroad since 2003 using a historic Climax geared steam locomotive and standard 2-6-2 for power (#2 and #25 respectively).
They regularly offer dinner trains during the operating season, a three-hour trip.  Known as the Sunset Dinner Train this trip includes reserved seating in the dining car and a full four-course catered meal.
The entrée is regularly changed.  Drinks include non-alcoholic and alcoholic beverages.
Pennsylvania
Colebrookdale Railroad:  A relatively new excursion, the Colebrookdale Railroad, also known as the Secret Valley Line, began service in 2014 and operates 8.6 miles between Boyertown and Pottstown.
Since their opening the railroad has really grown into quite an upscale operation featuring upscale services and fine dinging within their Garden Café Car.
They host several specials with food and beverages involved including the Valentine's Day Train, Mother's Day Tea Train, Father's Day Beef & Beer, Secret Valley Dinner Excursion, Stony Run Winery Wine Tasting, and Sundae Sundays Doodlebug Express.
Middletown & Hummelstown Railroad: Also an operating freight railroad the M&H runs excursion trains during the warmer months of the year. It operates the Murder Mystery Dinner Train during select dates.

New Hope & Ivyland Railroad: The New Hope & Ivyland Railroad, one of the more well known tourist lines in the country, offers a wide range of trips involving on-board dining and full course meals, operated as both special events and regular excursions.  
Typically, the railroad offers full course meals aboard its trains and other dining options.  However, due to COVID-19 the only service available in 2021 is the Grapevine Express.
During these trips, offered on select dates, guests can enjoy gourmet cheese, artisan crackers, meats, fruit, and local wines.  In addition, other alcoholic and non-alcoholic beverages are available.
Oil Creek & Titusville Railroad:  The Oil Creek & Titusville Railroad, based in Titusville, operates roughly 14 miles normally using a traditional diesel locomotive for power.   During the latter half of their operating season they host Murder Mystery Dinners.  To learn more please visit their website.

Strasburg Railroad: The second-most popular tourist railroad in the country offers full course meals and other refreshments, including available wine and alcohol aboard their lavishly restored 19th century equipment.  
They also provide light snacks, refreshments, and beverages within upscale services, notably the lounge and parlor cars.
Tioga Central Railroad:  The Tioga Central operates on trackage that once belonged to the New York Central.  One of their popular specials is the Sunset Dinner Train hosted throughout the operating season.  
This two-hour evening ride provides guests with a full course meal.  Please visit their website for complete details regarding meals and departures.
Wanamaker, Kempton & Southern Railroad: The WK&S, based in Kempton (eastern Pennsylvania), operates a unique blend of steam and diesel locomotives. They do not host a dedicated dinner train but do offer the Wine & Cheese special on select dates throughout the operating season.
The train features wine and cheeses from Pennsylvania's very popular Amish Dutch Country.   Every trip features cheese from the BAD Farm and wine from the Stony Run Winery.
West Chester Railroad: The West Chester Railroads does not offer a true dinner train. However, during most weekends throughout the summer they host a special picnic train by the same name, the Summer Picnic Special, from June through September. 
The 90-minute trip features a packed lunch and stop at the Glen Mills train station picnic grove.

Rhode Island
Newport Dinner Train: The Newport Dinner Train is one of New England's more popular such venues operating a former New Haven Railroad branch along Rhode Island's Aquidneck Island and Narragansett Bay.
As the name suggests its hosts full service meals on-board with but also offers other trains such as luncheons and murder mysteries.  
These include the Grand Bellevue, Murder On The Bellevue Express, and Autumn Harvest Bistro.  They also have dining and tours available.
South Carolina
South Carolina Railroad Museum:  The South Carolina Railroad Museum, based in Columbia, predominantly looks to preserve the state's heritage and has accrued a wide collection of equipment.  They also host excursion trains during the warmer months known as the Rockton, Rion & Western Railroad.
Their regular trips include First Class accommodations that offer beverages and a light snack while private charters for large groups also have optional food service.   In addition, dinner is served within their Lake Rion dining car.
South Dakota
Black Hills Central Railroad: While the upscale Black Hills Central Railroad's 1880 Train does not feature meals aboard their trips they do offer excursions tailored to alcoholic beverages, notably the Wine Express.
This train offers adults the chance to feature local wines and enjoy light refreshments.  Live entertainment is also provided.  There is also Oktoberfest hosted each September that brings a taste of Germany to the railroad.
Tennessee

Tennessee Central Railway Museum:  The Tennessee Central Railway Museum is based in Nashville and focused primarily on preserving the state's rail history.  
The organization hosts very long excursion that journey up to 180 miles (round-trip).  They do not offer dinner trains but do host wine trains where patrons can ride out to the DelMonaco Winery while enjoying wine tasting and tours.  There is also live music and lunch available.

Texas
Austin Steam Train Association:  The Austin Steam Train is based in Austin, Texas operating through the state's "Hill Country" using tracks once owned by the Southern Pacific.  
The organization maintains an impressive fleet of restored passenger equipment that includes lounge cars providing light snacks and alcoholic/non-alcoholic beverages.  To learn more about their trips and excursions please visit their website.
Grapevine Vintage Railroad: Operated between Grapevine and the Fort Worth Stockyards this excursion train does not feature dinner trains but does participate in the GrapeFest wine tasting event.  Please visit their website for more information.
Texas State Railroad: The popular Texas State Railroad does not provide full course meals aboard its trains but does offer upper class services which include appetizers and non-alcoholic/alcoholic beverages
They also provide wine and beer-tasting trains including the Pints In The Pines and Wines In The Pines.
Utah
Heber Valley Railroad:  Utah's most popular excursion is the Heber Valley, which has utilized the Rio Grande's 28-mile Provo Canyon Branch (Heber City to Provo) since the 1990s.  
The railroad does not host a dedicated dinner train but does have an optional boxed lunch, at an additional cost, on some trips.
Their box lunch includes your choice of a ham, turkey, roast beef or vegetarian sandwich, a freshly baked cookie, chips and bottled water. 
Vermont
Green Mountain Railroad: Operating on former Rutland Railroad trackage the Green Mountain Railroad is one of the country's popular tourist railroads offering breathtaking New England scenery.
During the course of the year it hosts a select number of full course dinner trains such as the Fall Foliage Dinner Train.  In addition, in 2018 they launched the Champlain Valley Dinner Train. 
This 3-hour trip includes a three-course meal and option of hot coffee or hot tea.
Virginia
None known.
Washington
Chehalis Centralia Railroad: Also a museum, this tourist railroad is based in Chehalis featuring the Mother's Day Brunch Trains and Riverview Dinner Trains.
The latter is held on select dates throughout the operating season; they are quite popular so be sure and get your tickets well in advance.  Depending on which dates you select will determine what's on the menu during that particular trip.
Chelatchie Prairie Railroad:  The Chelatchie Prairie Railroad, located in Yacolt, operates on former logging trackage between Chelatchie Prairie and Lucia Falls.
The railroad normally operates between May and October with specials that include dinner trains.  Also be sure and check out their dinner/wine trains hosted each fall.  To learn more about these events please visit their website.
West Virginia
Cass Scenic Railroad:  Operating on former logging lines in the heart of the state's Appalachian region Cass Scenic Railroad, now a division of the Durbin & Greenbrier Valley, always operates trains with a fleet of geared steam locomotives, usually Shays.  Some of their excursions provide lunch service. 

Potomac Eagle Scenic Railroad: This popular excursion operates former Baltimore & Ohio trackage in the eastern region of the state.  Their restored club car offers light snacks and refreshments on-board.

West Virginia Central Railroad: Also an operating freight railroad the WVC, another division of the D&GV, features several different trips including its climate-controlled New Tygart Flyer, which has the option of buffet service.
 They also host the popular Mountain Explorer Dinner Train. Finally, be sure to learn more about their Murder Mystery Wine Train.

---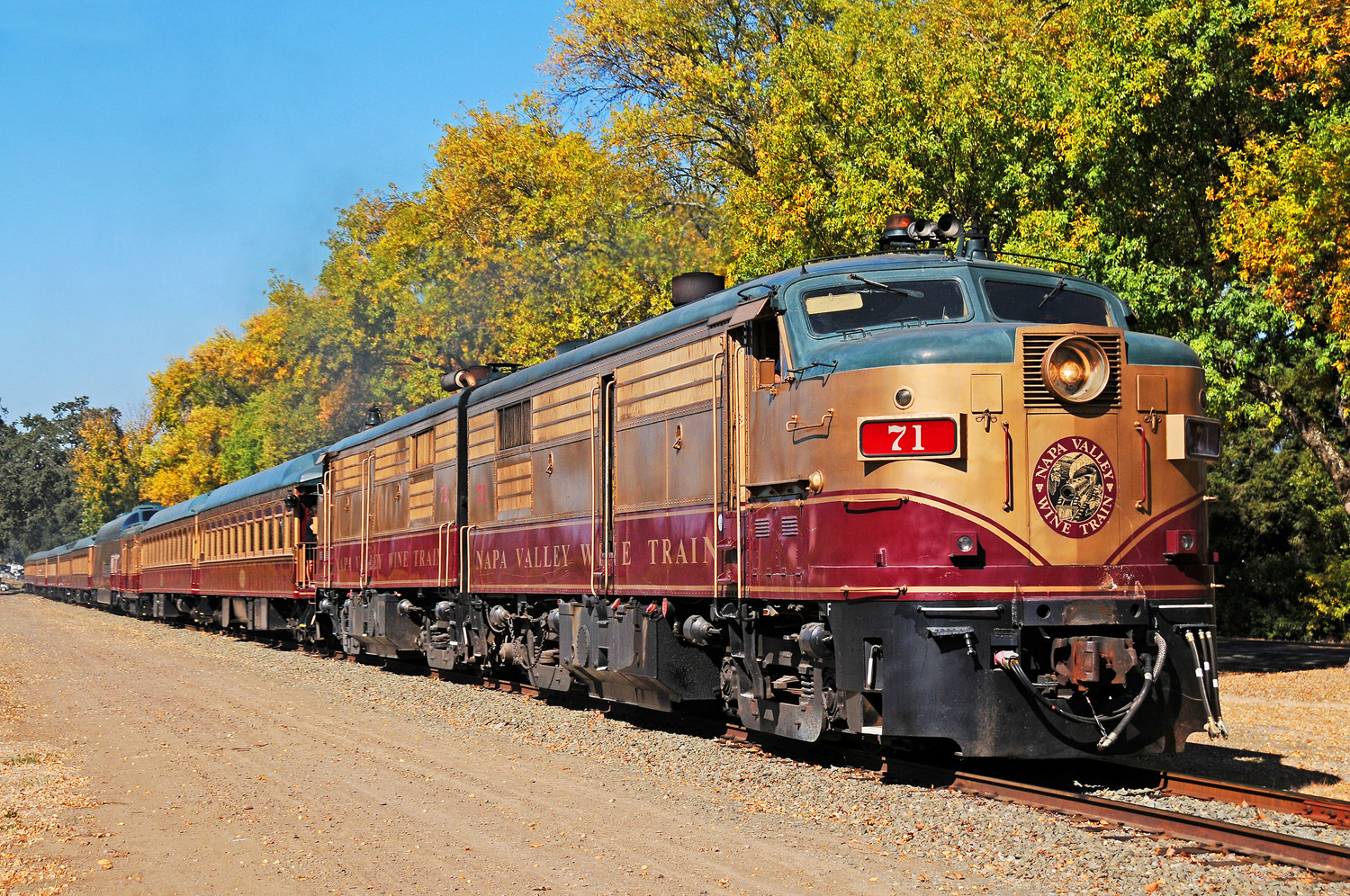 One of the most popular and highly respected dinner trains in the country is the Napa Valley Wine Train in California. It is powered by FPA-4's, originally built for the Canadian National by the Montreal Locomotive Works. Drew Jacksich photo.
Wisconsin
Osceola & St. Croix Valley Railway:  To learn more about the Osceola & St. Croix Valley's dinner train services please visit the Minnesota section of this page.

East Troy Railroad: The East Troy Electric Railroad, based in East Troy is actually a trolley/interurban operation. However, it also operates a popular dinner train during the operating season.  In addition, the organization hosts special dinner trains throughout the year and even pizza trains.

Mid-Continent Railway: Also a museum, based in North Freedom, this tourist railroad features full course dinners aboard its train in February, May, and October.  There are numerous specials hosted throughout the year which include on-board food service.  To learn more about all of the railroad's offerings please visit their website.

Wisconsin Great Northern Railroad: Based in Spooner, Wisconsin this tourist railroad offers many different meals aboard a select number of its trains from full course dinners to brunches, buffets, and BBQs.  They also host a Pizza Train for the Christmas season.  Finally, they provide host bed & breakfast accommodations!
Wyoming
None known.