About American-Rails.com, How It All Came Together

For as long as I can remember I have had an interest in trains, from the Brio sets as a kid to the not-so-accurate HO-scale models from Tyco.
 I received a new book on occasion and often read my latest subscription of Trains Magazine while riding the bus to school.  
Many youngsters carry at least a passing interest in trains but often lose their fascination as they grow older. Not me.  
For whatever reason, perhaps it was the books or maybe the toys, my intrigue endured.  Maybe it all had to do with my hometown of St. Marys, West Virginia where the trains still roll through main street.  
As I got older I became a book nut, reading about long gone legends like the Pennsylvania and Rock Island.  While I always watching a passing train I have never took up the photography side of the hobby, being too impatient to wait for what may be hours for one to pass.
American-Rails.com is a culmination of many years of research and study.  I hope it aids you in your own research or at least offers a little enjoyment.
Southern Pacific H24-66 "Train Masters" await the evening rush at San Francisco's 3rd & Townsend Depot around 5 PM on June 13, 1972.
As the Internet Age has given us all an unprecedented medium to learn more about virtually any subject I thought perhaps creating a website spotlighting railroads would be useful.  
While there are many excellent ones out there covering the industry, nearly all only cover one particular subject or area.  
Over the course of researching I was finding it a bit frustrating none existed on a broader level.  After some time I began to think, why not just create such a website myself?
And that, in a nutshell, is the basis behind American-Rails.com; a website dedicated to highlighting our country's railroad history.  
To date I have spent many long hours publishing articles featuring everything from the Baltimore & Ohio to Electro-Motive's GP7.  
Looking ahead many hours remain. Nothing here would be possible, however, without the assistance of numerous fine books, individuals and other resources which I have leaned upon heavily.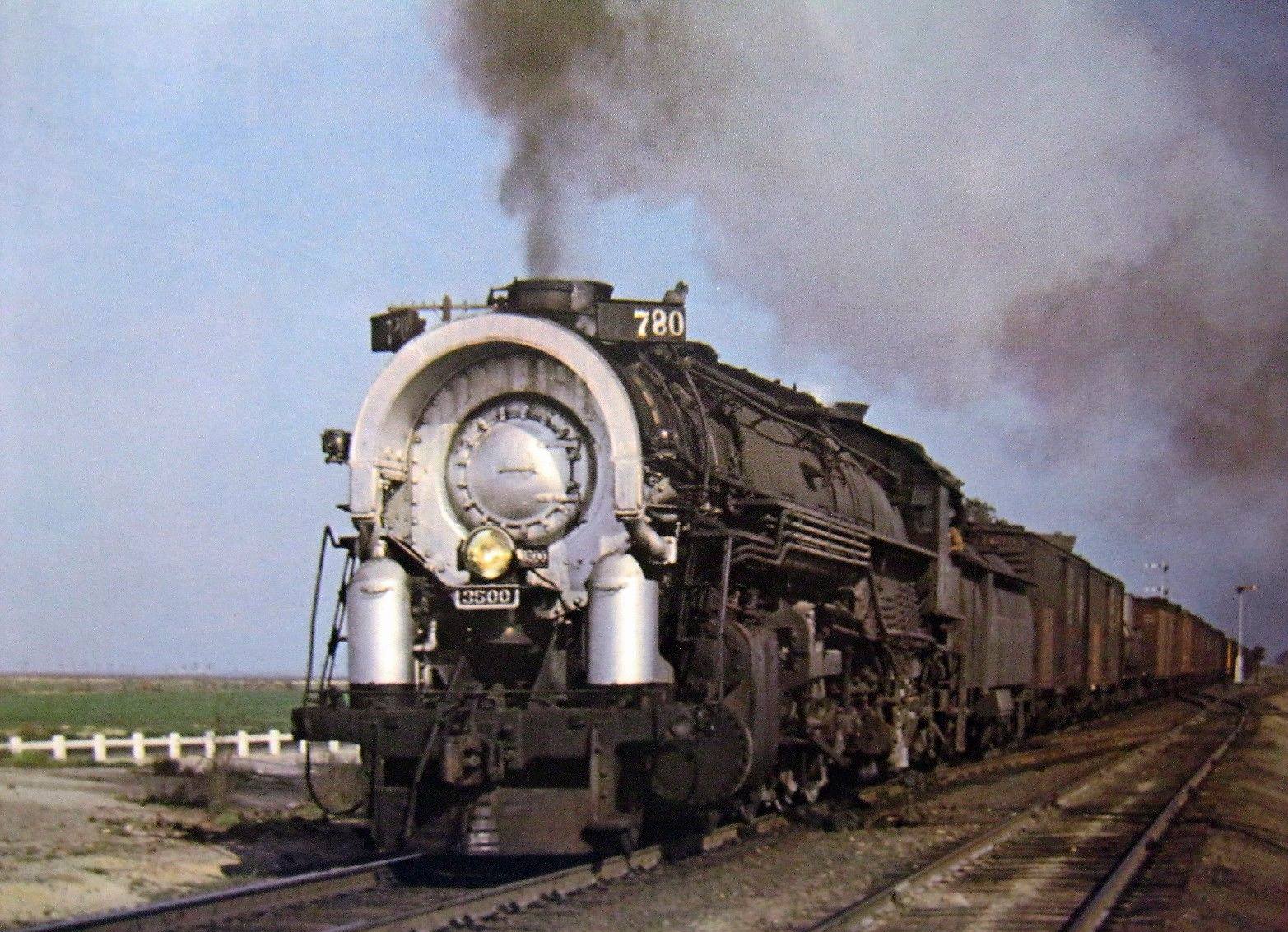 Southern Pacific 2-8-4 #3500 (B-1), a former Boston & Maine unit, leads freight #780 at Lerdo, California near Milepost 302 on February 25, 1950. The odd contraption on the smokebox is a Coffin Feedwater Heater with a pair of air pumps below.
I am forever grateful to all for the help these provided; as any author will attest, putting together a large-scale project is a group effort with many thanks to go around. Below are some of these very nice comments.

Just a brief note of thanks for a wonderful website. Just stumbled upon it and had a great read, keep up the great work! ~ Bill Hatrick
Mr. Burns, thank you for producing this wonderful website. ~ Sam Middleton
I really love your website. I am a model railroader who simply loves the Delaware, Lackawanna & Western Railroad after visiting Steamtown National Historic Site. This is really great. I have not been able to get this much information anywhere. WOW! Keep up the good work! ~ Matthew Deutsch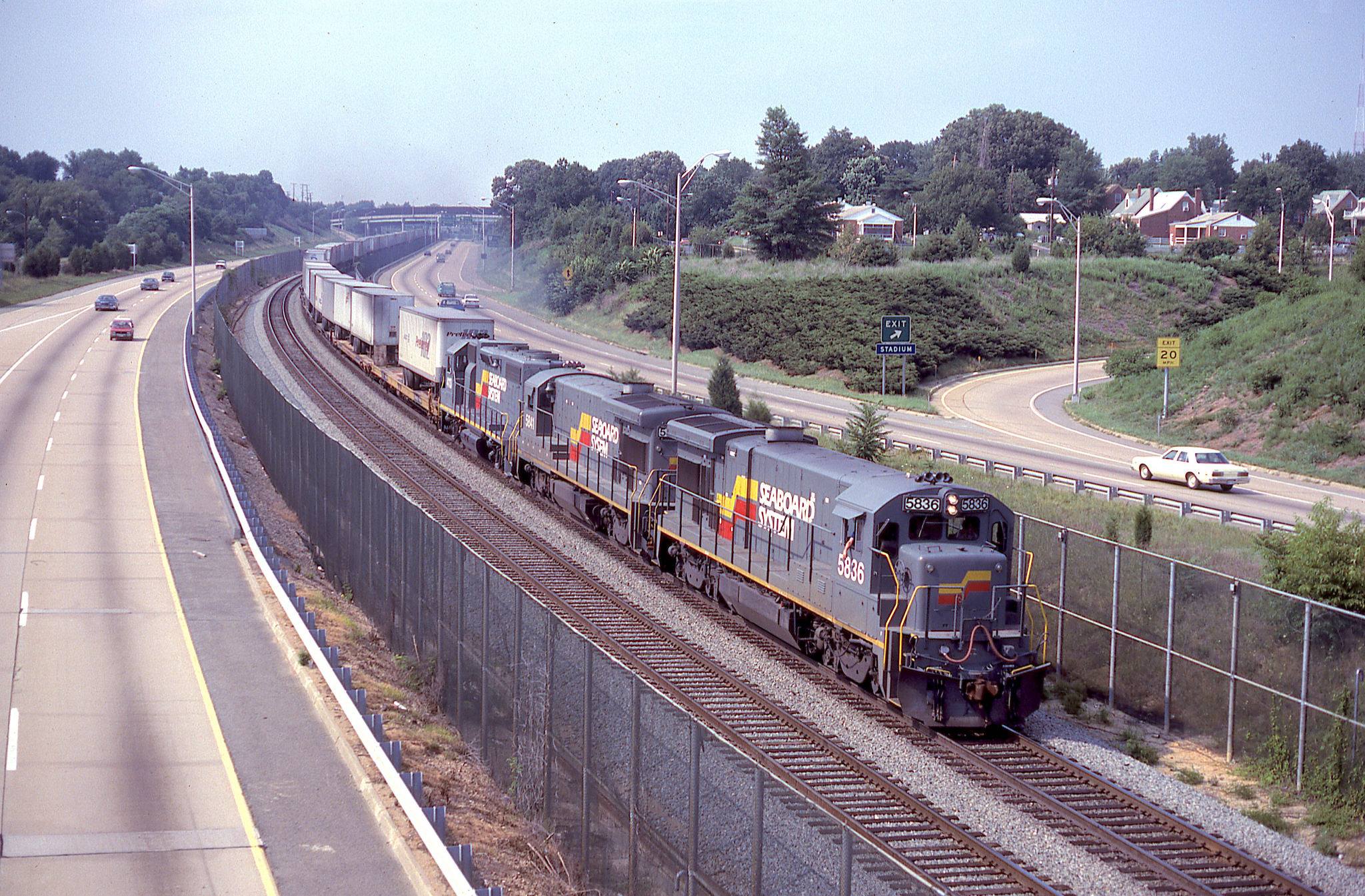 Bracketed by Interstate 195, and about to duck beneath Douglasdale Road, Seaboard System B36-7 #5836 leads a trailer train southbound through Richmond, Virginia on June 15, 1985. Warren Calloway photo.
You've got a great site, one which I've enjoyed visiting many times. ~ Mike Stanz
Just a comment to thank you for a wonderful site and a good resource. I have a passion for interurban railways and all that was lost because of GM and big oil, starting in the late 1920s. Also great site for my favorites; C&NW, CB&Q, Milwaukee Road, IC, well that list is endless. Thanks again. ~ Nicholas Stuart
As the website journeys forward please let me know if there are any topics or subjects you would like covered at the site and I will see if I can include them. Lastly, thanks again to all of you who have taken the time to send me words of praise about the website, it truly means a lot. ~ Adam Burns