Railroad Engineering Inventions & Achievements

Last revised: October 10, 2023
By: Adam Burns

There is a long list of noteworthy engineering inventions and achievements across the railroad industry, ranging from the Baltimore & Ohio's early Thomas Viaduct to the Great Northern's miles-long Cascade Tunnel in Washington State. 

Even more impressive is that before the introduction of mechanized equipment many of these projects were completed with only manual labor.  It is a true testament to the work of these stone masons and general laborers at that time.   
Because of their craftsmanship projects like the Thomas Viaduct, Starrucca Viaduct, and Hoosac Tunnel not only continue to host trains but are also listed as Historic Civil Engineering Landmarks.
Impressive as these are railroads soon recognized the expense of using only stone to build bridges and tunnels, turning to cheaper alternatives including iron, steel, and later concrete.  

For purposes of this site we will discount stations and depots here since there is already a section of the website covering that particular topic. Today, many of these fabled locations continue to see trains while others have been converted into pedestrian walkways.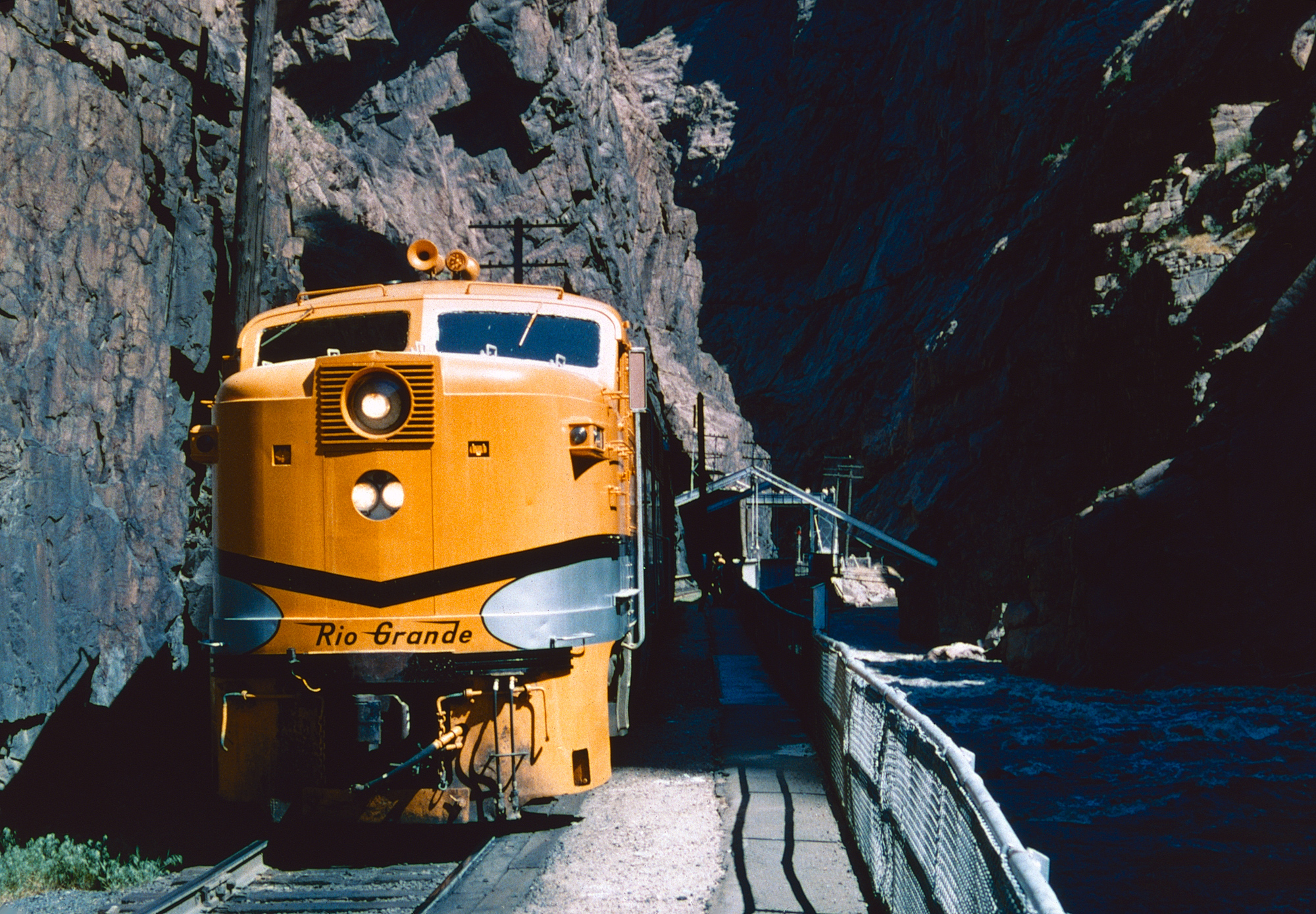 A handsome Rio Grande PA-1, #6013, is stopped at the famous Hanging Bridge in Colorado's Royal Gorge, with the "Royal Gorge" on May 21, 1967. The Arkansas River can be seen at right. Ed Fulcomer photo. American-Rails.com collection.
Overview
In our present-day world of creature comforts and modernity it is hard to truly appreciate the difficult working conditions of the 19th century during which time many rail lines were constructed.  
There was no heavy machinery, any way to escape Mother Nature's often unbearable conditions, or virtually any kind of national safety protocols/laws in place to protect workers from unsafe practices.  Put bluntly, rail construction was not for the weak.
History
As Jeffery Garcilazo's points out in his book, "Traqueros: Mexican Railroad Workers In The United States: 1870-1930," track workers were injured so often that, "...space does not allow for the discussion of the wide variety and conditions under which these accidents occurred."  

Indeed, an entire book could be devoted to this very subject.  The sacrifices these workers made in building our nation's railroads have long gone unnoticed and unappreciated.  
They came from all walks of life and nationalities ranging from Irish to Chinese immigrants.  On occasion, especially in the South, slave labor was even utilized.  
In the case of the Mexican workers, their families often traveled with them living in former boxcars converted into makeshift housing units.
The construction of tunnels was especially difficult.  The first completed in the United States was the Staple Bend Tunnel, located near Johnstown, Pennsylvania. It was built by the Allegheny Portage Railroad in 1831 and completed in 1834.
With no mechanization available (and which would not appear until the late 19th century) thousands of man-hours were required using picks, shovels, and black powder to blast out a bore wide enough for trains.  
The powder used as a blasting material at the time was often unstable with no precise way to control it.  With everything done by hand and "eyeballed" many workers were killed building these projects.  
John Henry
Perhaps the most famous of all was John Henry, an African American who helped construct the Chesapeake & Ohio's Big Bend Tunnel near Talcott, West Virginia.  
In a famous race against a steam hammer, Henry beat the mechanical device only to collapse and die soon afterwards.  He came a folk hero legend immortalized in the song, "John Henry, The Steel Driving Man." 
Southern Pacific/Cotton Belt SD45T-2 #9391 leads an eastbound over the loop on Tehachapi at Walong, California. Date not recorded. Mike Bledsoe photo. American-Rails.com collection.
A few excerpts from the piece include:
"John Henry was a railroad man,
He worked from six 'till five,
"Raise 'em up bullies and let 'em drop down,
I'll beat you to the bottom or die."
John Henry said to his captain:
"You are nothing but a common man,
Before that steam drill shall beat me down,
I'll die with my hammer in my hand."
Noteworthy Feats
The hard work went beyond only general laborers, surveyors also had it difficult; from the first projects planned in the 1830's to the future Transcontinental Railroad west of the Mississippi river, every corridor planned through remote territory had to be surveyed entirely on horseback and scaling cliffs or mountain passes. 
Often times there was not even wagon roads or pathways available, surveyors simply hacked their way through the wilderness.  
In the book, "Railroads In The Days Of Steam," published by the editors of American Heritage, there is a photo on page 41 depicting surveyors climbing a rock face in the Unitas Mountains of Utah while working to complete the Central Pacific's projected right-of-way.  
Working conditions proved only one problem laborers in some parts of the country dealt with.  For railroads under construction in the West raids by Native Americans were not uncommon due to the White Man's assault on their long-held territories.  
In addition, Europeans often disturbed herds of buffalo, an animal upon which Indians had long depended for survival.  
The federal government was eventually forced to step in and provided armed protection for construction crews.  This also held true for surveyors, which sometimes had parties of between 10 to 100 soldiers escorting them.  Even with protection both groups occasionally came under attack.  
Landmarks
---
Union Pacific DDA40X #6927 and SD40-2 #3197 lead a westbound over Sherman Hill (Wyoming), circa 1985. Mike Bledsoe photo. American-Rails.com collection.
Today
Notable landmarks and famous locations can be distinguished as noteworthy structures and feats, which were extremely difficult to accomplish, especially during the early years of the railroad industry.
These include such things as impressive bridges, aforementioned tunnels, mountain passes (St. Paul, Snoqualmie, Donner, etc.), fabulous "Horeshoe Curves," and even railroads built over the open ocean.  Today, many of these fabled locations remain in regular use while others preserved for posterity.  
While this section generally highlights famous feats of engineering it will also look at well-known locations and "railfan hot spots" such as the Santa Fe's Tehachapi Loop.   Sadly, a number of these locations are either gone or no longer used in their original capacity.  
Perhaps most importantly is that simply by once existing they offer us a glimpse at what this great nation was once capable of producing long before the days of computers and other fancy gadgets. Perhaps one day we will again see such impressive projects completed (or rebuilt) by the railroad industry.