Southern Pacific's Donner Pass

Last revised: May 9, 2023
By: Adam Burns

One of the stiffest main lines in the west was Central Pacific's original route over the Sierra Nevada mountain range through Donner Pass, located in east-central California.

Years later the line became part of Southern Pacific's main line to the east where it connected with the Union Pacific at Ogden, Utah. 
The route became legendary because of the constant battle that rages during the cooler months of the year between man and Mother Nature.
Snowfalls in the Sierras can become staggering and it became a regular struggle with SP, and still today with Union Pacific, in keeping the line open. Despite this, the route is a vital artery in UP's system today between Chicago and Oakland, California.
The route over Donner Pass was originally the vision of Theodore D. Judah, an accomplished engineer who surveyed a manageable grade through the Sierra-Nevada range running 115 miles from Sacrament to the Nevada state line. 

He lobbied for the project as early as 1859 but was ultimately pushed out by the "Big Four" of Collis P Huntington, Charles Crocker, Leland Stanford, and Mark Hopkins. 
Their Central Pacific ultimately used much of Judah's work and included a total of 15 tunnels blasted out of the granite by hand (several have since been abandoned or circumvented).
What appears to be a Southern Pacific "Tunnel Motor" is ahead of an Amtrak consist led by SDP40F's at snowbound Truckee, California in February of 1975. Drew Jacksich photo.
History
The Southern Pacific has a whole host of renowned achievements it is credited with, far too many to go into detail here.
However, to name a few it had three important main lines which continue as important arteries under Union Pacific today, the Overland Route (San Francisco-Chicago), Golden State Route (Southwest-Kansas City), and the Sunset Route (Pacific Coast-Gulf Coast).
The railroad also had numerous famous passenger trains bedecked in its celebrated "Daylight" livery of bright red and orange (with black and white trim), one of the all time classics in American railroading.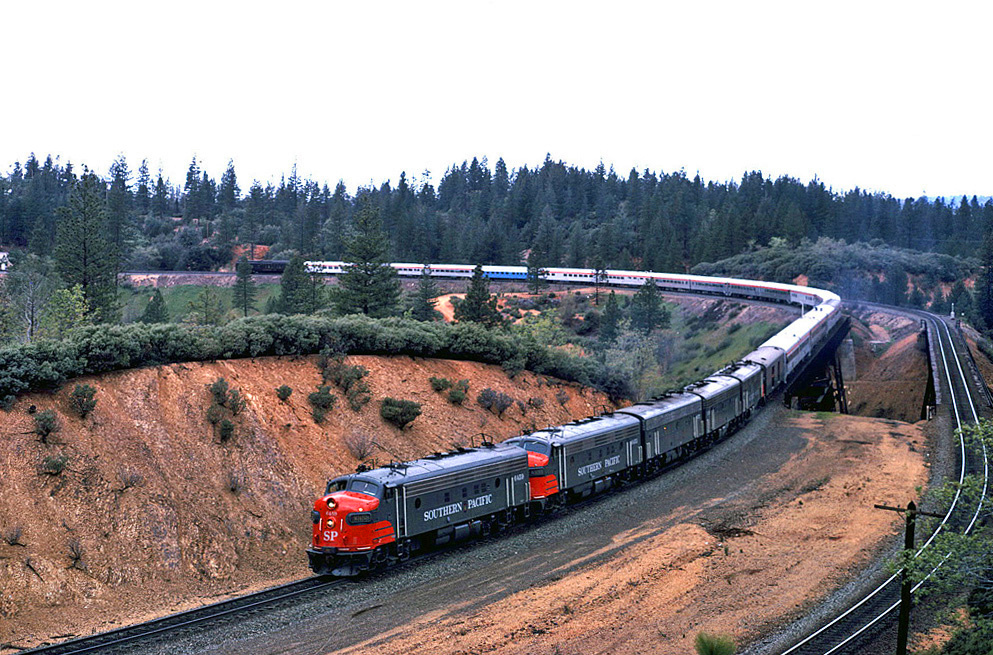 Southern Pacific FP7's have the Pacific Locomotive Association's "Truckee Limited" excursion, the last operated prior to Amtrak, at Long Ravine, California on April 25, 1971. Drew Jacksich photo.
Many of its trains shared the same name as its paint scheme, Daylights.
These include such names as:
Coast Daylight


Sacramento Daylight


San Joaquin Daylight


Shasta Daylight
Other notable trains included the Lark, Sunset Limited (still operated by Amtrak), Starlight, San Francisco Overland, City of San Francisco, and the Golden State Limited just to name a few.
While the idea of "Transcontinental Railroad" was authorized in 1862 by Congress to lay rails across the west the soon-after incorporated Central Pacific Railroad was tasked with building the difficult section of the line, across the Sierra Nevada mountain range through eastern California.

Amtrak FP7 #110 leads the "Reno Fun Train" over Donner Pass at Yuba Pass, California during a February snowstorm in 1975. Drew Jacksich photo.
Construction
The CP began construction in late October, 1863 from Sacramento, California heading east. By September 1, 1865 the CP had completed its line to Colfax along the western edge of the Sierra Nevada range, a distance of about 53 rail miles (according to SP's timetable).
However, heading over the range surveying and construction became much more difficult as there were no roads or even trails, crews were literally carving a new transportation artery as they went. 
Southern Pacific "Extra 6417," led by F7A #6417, heads west past the cook house as it exits from the snow shed at Norden, California along Donner Pass on January 27, 1967. Referred to as "The Car" by SP employees, the cook house burned down less than a month after this photo was taken. Tom Gildersleeve photo. Author's collection.
It took the Central Pacific, led by chief assistant engineer, Lewis Clement, more than three years to span the Sierras themselves at Summit, just west of Truckee (covering a distance of just 65 rail miles) with a grade averaging around 2.5%. The line itself did not open until December 13, 1867 and included four tunnels and numerous snow sheds. 

Southern Pacific GP38-2 #4840 and a mate pause next to the depot in Truckee, California with a flanger during January of 1990; the consist will soon make another run over Donner Pass. Drew Jacksich photo.
Operation
Soon after the CP began operations it came under permanent control by Southern Pacific in 1885. In the 1920s SP opened a new line over the Sierra Nevada, which became known as "Track #2."
This line featured a grade between just 1.3% and 2.4%, which prompted SP to eventually abandon Track #1 in 1993 to reduce maintenance and operating costs.  Today, this route's right-of-way is still easily visible, as are the original tunnels cut by hand.  
Not surprisingly, Donner Pass proved an operating headache with numerous tunnels, snow sheds, unpredictable weather, and stiff grades although it offered the lowest elevation in which to span the Sierras. This line is where the SP developed its most unique steam locomotive the unique 2-8-8-2 "Cab Forward."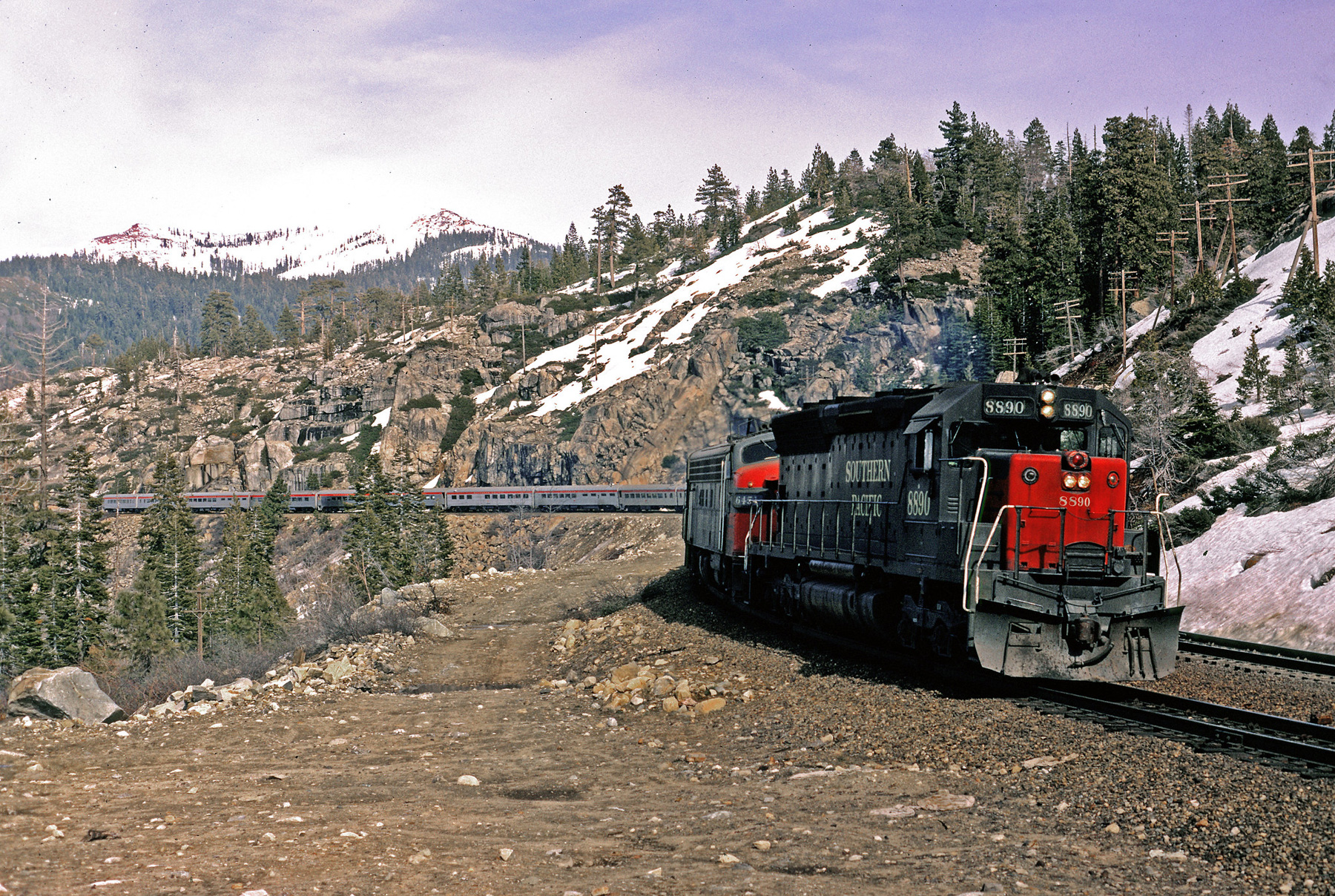 Southern Pacific SD45 #8890 and several FP7's have Amtrak's "Reno Fun Train" traversing Donner Pass at Yuba Gap, California in April of 1972. Drew Jacksich photo.
The locomotive looks much like it's backward and facing the wrong direction but this design was very deliberate and its purpose was to keep train crews away from the thick smoke and dangerous gases that would build up in the numerous tunnels and snow sheds. 
Along with Cab Forwards protecting crews from smoke and gases the locomotives were also quite powerful and had tremendous tractive effort to battle the steep grades over the Sierras. 
Map
With the development of diesels, SP regularly employed six-axle, C-C designs for maximum tractive effort, usually EMD designs like SD9s and SD45T-2s.   Today, the battle with Mother Nature continues with current owner Union Pacific and almost surely will remain so for many years to come. 

---
Tunnels
Tunnel #1:  Located at Grizzly Hill, 514.7 feet in length. The bore was widened in 1913 to support double-tracking.
Tunnel #2 (Daylighted):  Situated about 1 mile east of Emigrant Gap, this bore was 271 feet in length; daylighted 1923-1924.
Tunnel #3:  This bore is at Milepost 180.7 near Cisco.  When originally built it was 280 feet in length.
Tunnel #4:  Very near Tunnel #3 at Milepost 181, it was originally 92 feet in length.
Tunnel #5 (Daylighted):  Located only four miles west of Tunnel #4 at Milepost 185, it was 128 feet in length; daylighted in 1895.
Tunnel #6 (Bypassed):  The famous bore in the Sierras also known as "Summit Tunnel" it was 1,659 feet in length.  The structure was bypassed in 1997.
Tunnel #7 (Abandoned):  Situated at Milepost 194.1 it is 100 feet in length; later daylighted and then covered with a snowshed before being abandoned.
Tunnel #8 (Bypassed):  This structure sits at Milepost 194.3 near Black Point.  It is 375 feet in length and is no longer in service.
Tunnel #9 (Bypassed):  This bore is located at Milepost 194.9 and is 216 feet in length; now abandoned.
Tunnel #10 (Bypassed):This tunnel is at Milepost 195.1 and is 509 feet in length; now abandoned.
Tunnel #11 (Bypassed):   Based at Milepost 195.4 it is 577 feet in length, now abandoned.
Tunnel #12 (Bypassed): At Milepost 195.7 it is only a mile west of Tunnel #11; the structure is 342 feet in length and is now abandoned.
Tunnel #13:  Situated at Milepost 200.1 near Andover it is the second-longest at 870 feet in length.
Tunnel #14 (Bypassed):  Located at Milepost 222 it is 200 feet in length and was bypassed following a line change in 1913.
Tunnel #15 (Daylighted): Located at milepost 225 (Quartz Spur); originally 96 feet in length.  The bore was daylighted in 1895 and the grade was abandoned in 1913 following a line change.
---
Amtrak's westbound "Reno Fun Train" is led by a parade of "covered wagons" as it rolls across the west side of Donner Pass at Gold Run, California in February, 1975. Drew Jacksich photo.
Today
Currently operations with what modern-day locomotives, many of which are General Electric-built, are not nearly as exciting as watching Cab Forwards conquer the pass although they are certainly much more economical and provide the railroad with a tremendous savings in operating costs.  
The issues poised by snow will always remain and as a result will always require the use of multiple snowsheds for more fluid operations.  
If you would like to see the pass in action today, it is much easier to access than during the pre-Interstate era; simply take Interstate 80 anywhere between Colfax and Truckee, California as it closely parallels the line all across the mountain.