Moffat had holdings and interests in numerous railroad projects over the years, all of which were located in or around the state of Colorado. His hope initially with the Denver, Northwestern & Pacific was to connect a low-grade "Air Line" to Salt Lake City, as requested by the city of Denver.  As mentioned before, with the resulting bankruptcies the project proved to much more difficult than anticipated. While Moffat spent all of his fortune trying to complete a tortuously steep route between the two cities he neither connected the two before his death in 911 nor before his railroad fell into bankruptcy. What was complete of the D&SL was only completed between Denver and Craig, Colorado (a distance of just over 200-miles, and less than half way to Salt Lake City) using a route that went over the Rocky Mountains at Rollins Pass topping out at over 4% along many stretches of the 23-miles of railroad it took to cross the pass.
It was the highest main line railroad ever built in the United States, reaching a height of 11,680 feet at the top of pass, and resulted in the D&SL having astronomical operating costs to move a train over the line. The tunnel itself began construction in the spring of 1922, and was mostly financed by the city of Denver and state of Colorado, which need to efficiently connect the city of Pueblo that had recently been devastated by flooding. As is the case with many construction projects, estimates to build Moffat Tunnel, which passed under James Peak of the Rocky Mountain Range, proved to be far too low.

For instance, poor and unstable rock deposits on the west end of the bore drove up construction costs and it took the state three additional bonds to finally complete the tunnel. On February 18, 1926 both construction crews finally met although it took two additional years until mid-winter 1928 that the first train passed through the 6.21-mile bore. The final costs of the tunnel, with interest, rang up to nearly $24 million, a phenomenally expensive project for that era. It costs 28 workers their lives and took nearly six years to complete before the first train used the tunnel.  However, the tunnel not only cut out 23-miles of steep and dangerous railroad it also cut down operating times by hours. In 1931 the D&RGW took over the Denver & Salt Lake's subsidiary the Denver & Salt Lake Western and used the railroad to complete the Dotsero Cutoff near the tunnel, further reducing grades and transit times. Although the D&RGW fell into bankruptcy in 1935 it emerged in 1947 with ownership of the D&SL itself.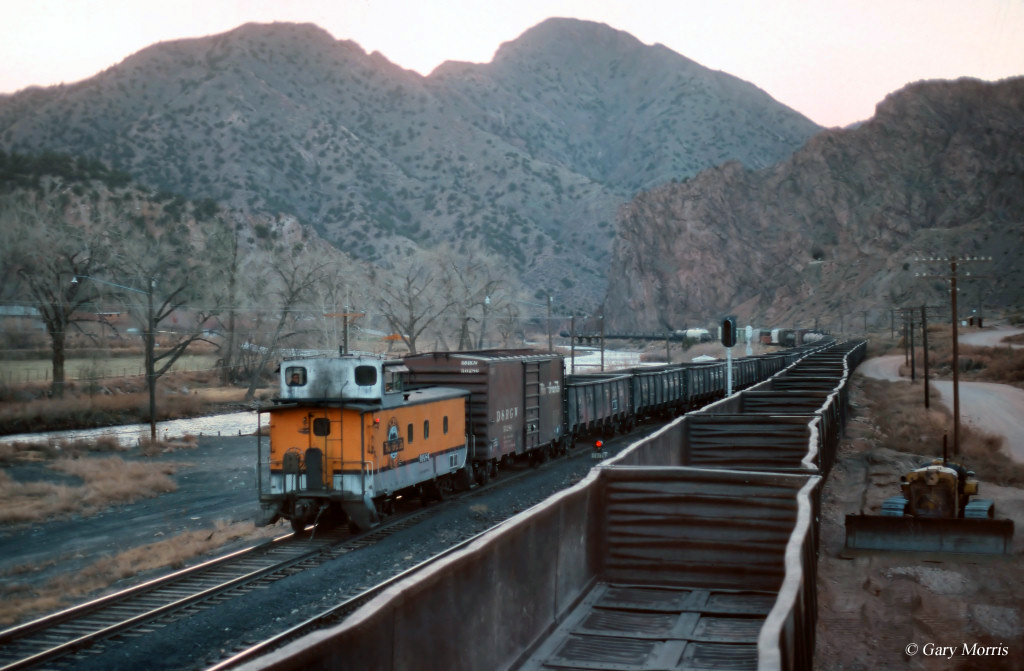 While the Rio Grande became part of the Union Pacific 1996 through its purchase of the Southern Pacific (the Rio Grande had purchased the SP in 1988 but took the SP's name due to its prominence as larger and more well known system), the Moffat Tunnel continues to be an important artery today carrying not only freight trains but also Amtrak's California Zephyr.  For more reading and history about the famous tunnel please click here.  For an in-depth look at how the tunnel was constructed and built you might want to consider the book The Moffat Line: David Moffat's Railroad Over And Under The Continental Divide by author John Sells.  Released by iUniverse Publishing in 2011, it is 140 pages in length and provides a good look at how Moffat and his Denver & Salt Lake Railway achieved the difficult task of completing a low-grade, direct rail line through the Rocky Mountains.  If you're interested in perhaps purchasing this book please visit the link below.

Home

›

Railroad Landmarks

› Moffat Tunnel