Saluda Railroad Grade

Last revised: February 27, 2022
By: Adam Burns
From an engineering and railroading perspective the Southern Railway's Saluda Grade was one of the scariest and most daunting sections of main line anywhere in the country.
The line was originally constructed in the 1870s to connect Spartanburg, South Carolina and Asheville, North Carolina through the Blue Ridge Mountain range but with no suitable grade available in southern North Carolina engineers were forced to lay a grade between 4% and 5%! 
Unable to find a better grade in later years the line remained in operation until late 2001 as the steepest main line railroad anywhere in the United States.  To reduce the chance of runaways, a safety spur was installed (a type of runaway ramp often employed on steep highway grades for trucks) at the bottom of the hill.  
In addition, trains were often required to "double the hill," a railroad expression involving cutting the train into two sections. Interestingly, this was done in both directions due to the grade's severity. 
Today, Norfolk Southern has finally given up on the route and while officially mothballed (i.e., not abandoned) it likely will never see freight trains again.  Its future will likely involve being turned into a recreational trail.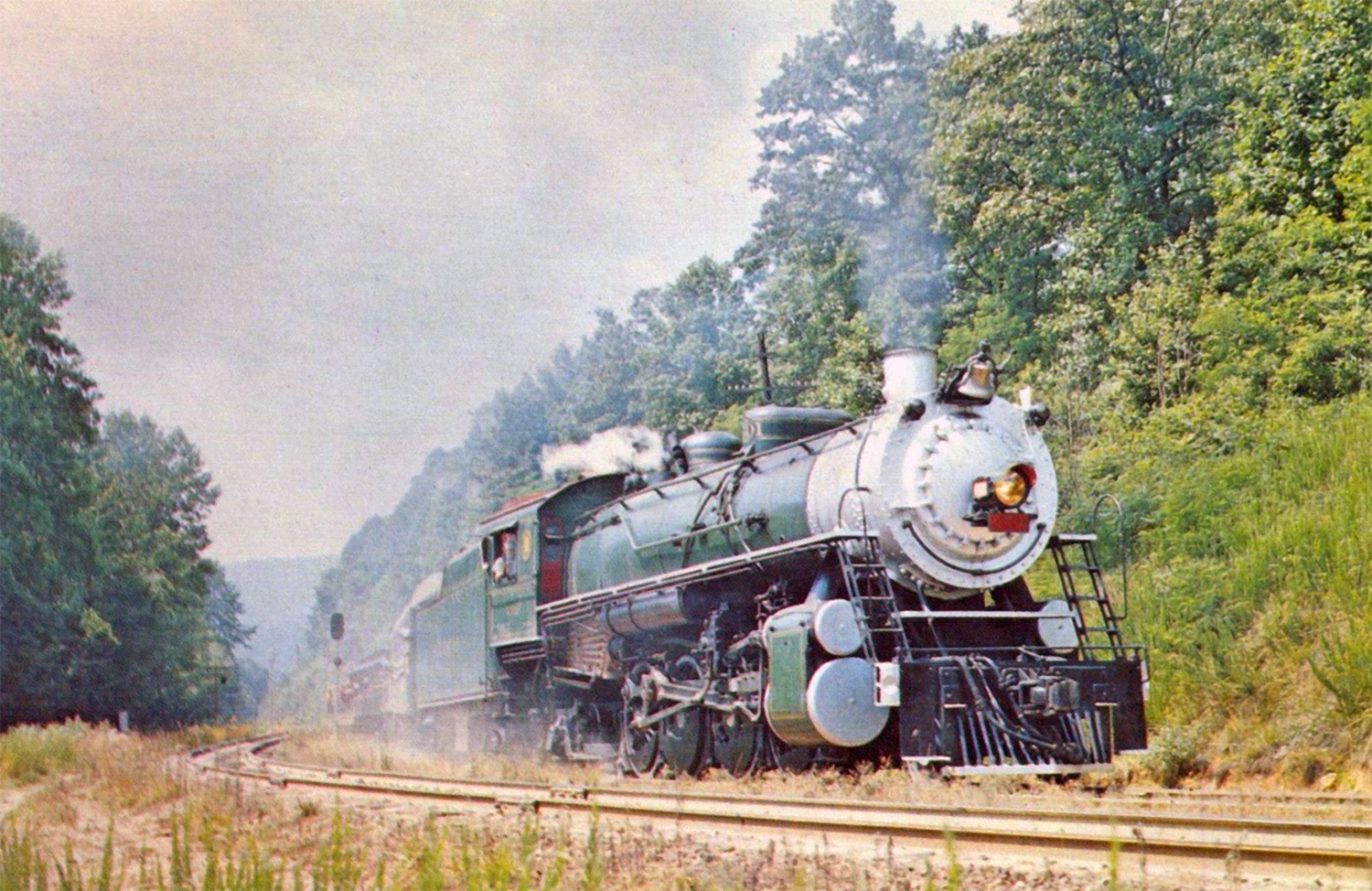 Southern Railway 2-8-2 #4501 climbs 4.7% Saluda Grade with a fan trip at a location known as Stop Board #2 on July 8, 1972. A.M. Langley, Jr. photo.
The Southern Railway, forever remembered by its famous slogan, "The Southern Serves the South – Look Ahead, Look South" (it was also known for the slogan "The Southern Gives a Green Light To Innovations"), was created from a number of smaller railroads, which merged over the years to form the Southern Railway.
Perhaps the railroad's famous green paint scheme was fitting for the railroad as it became the most respected and arguably the best managed railroad of its day before it disappeared into a merger with the Norfolk & Western Railway (N&W) in 1982 to form today's Norfolk Southern Railway (NS).
A major reason why the Southern Railway became so successful was because its innovative nature and sound business practices, especially in the railroad's later years.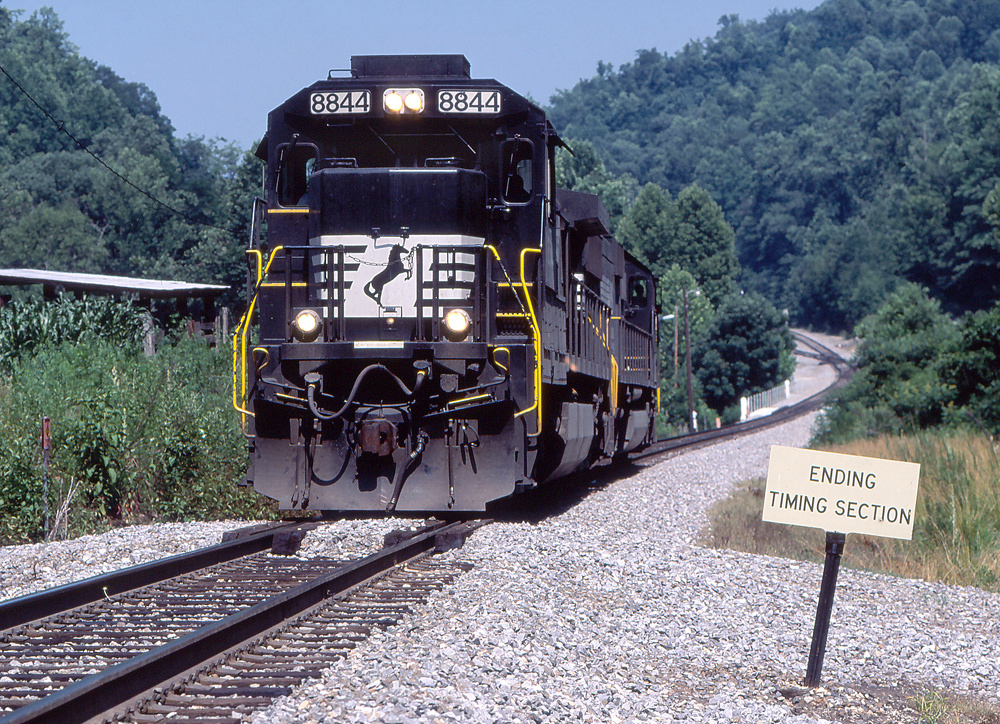 A pair of Norfolk Southern units, led by C40-9 #8844, prepares to make another run up Saluda as the locomotives return to the summit for a second cut of cars from Melrose, North Carolina on June 22, 1996. Wade Massie photo.
The Southern was quick to adopt new technologies that improved efficiencies such as Centralized Traffic Control (CTC) and began double-tracking lines to improve operations (it would eventually finish double-tracking its entire main line between Atlanta and Washington, D.C.).
What became known as Saluda Grade (due to the summit of the grade being located in the small town of Saluda, North Carolina) was designed by Charles W. Pearson who engineered the route of the Spartanburg & Asheville Railroad (predecessor of the Southern Railway) between its namesake cities.
Surveying northward from Spartanburg Pearson found that the soft, rolling hills of southern North Carolina's Piedmont region suddenly crashed into the Blue Ridge Mountain range.
Try as he might, Pearson and his engineering crew could not find a suitable, manageable grade up the mountainside (something at least hovering around 2%, which was still quite stiff for daily railroad operations). 
Beginning at Melrose Mountain near what is now Tryon, North Carolina the line was surveyed on a westward track towards the small town of Saluda.
The grade chosen proved quite tortuous with one 3-mile section topping out at 3.787% while other segments were even worse at between 4.7% and 5.1% (thus earning its distinction as the steepest standard-gauge main line railroad).  Typically, such grades are only found in logging or branch line operations, never a through route!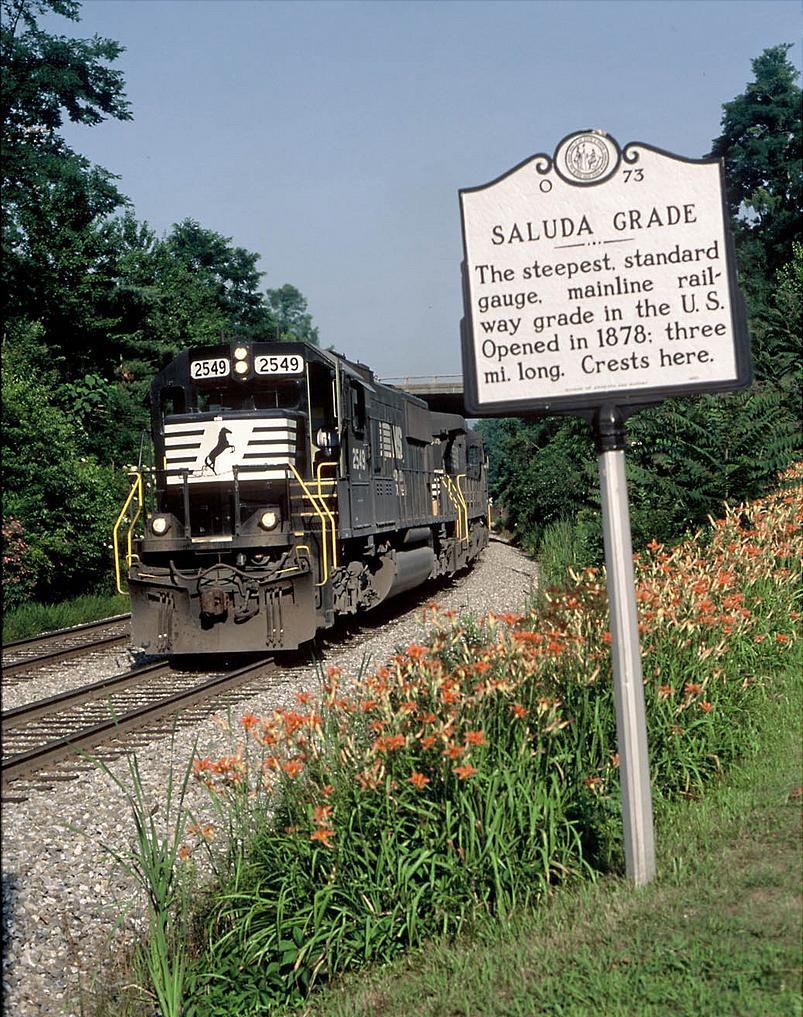 Norfolk Southern SD70 #2549 nears the summit at Saluda, North Carolina to fetch another cut of cars as it passes the grade's historic marker on June 22, 1996. Wade Massie photo.
The route was officially open on the morning of July 4, 1878. Over the years to improve the safety of the line it had various intervals of what were essentially manned runaway tracks in the event an eastbound train out of Asheville lost its brakes.
Before the days of radio, these manned runaway turnouts required the train to give off a coded whistle to signal those stationed at each location to open the line for through traffic. This practice was carried on through the Southern, and even Norfolk Southern era.  For more reading about the Southern please click here.

---
---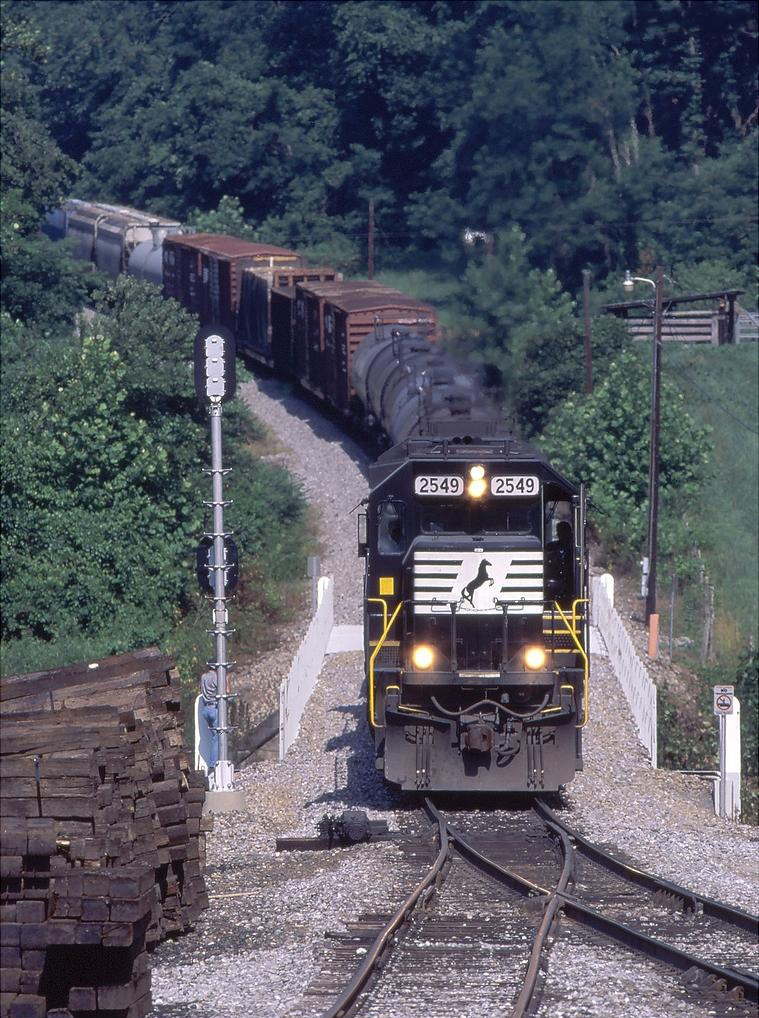 Norfolk Southern SD70 #2549 eases freight W78 down Saluda Grade and nears the Melrose Safety Spur on June 22, 1996. Wade Massie photo.
Interestingly, while runaways on the route did occur and a few crewmen lost their lives, no passenger trains ever recorded a fatality. According to the Southern Railway's 1969/70 timetable the exact distance between Spartanburg and Asheville is 68.5 miles (or between Milepost 181.5 at Asheville to milepost 250.0 at Spartanburg).
In an attempt to reduce operating costs successor Norfolk Southern finally mothballed Saluda Grade in December, 2001 and the line has sat dormant ever since.
There has been talk of reopening the route, most likely in the event of needed capacity but given the line's severe grades and expensive operating costs it is doubtful that will ever happen. To date, however, Norfolk Southern retains full ownership of the property.