Milwaukee Road's Pipestone Pass

Last revised: October 10, 2023
By: Adam Burns

Another of the many impressive engineering feats accomplished during the construction of Milwaukee Road's Pacific Coast Extension was its crossing of the Continental Divide at Pipestone Pass. 

This natural corridor was situated along the Rocky Mountains' eastern foothills within a range known as the Pioneer Mountains. The pass was not far from the Jefferson River Valley, enabling engineers to keep grades relatively reasonable. 
Heading west, the grade split away from the river near rural Piedmont and headed in a straight tangent before turning abruptly north towards the mountains.  It is here where the railroad left the valley and engineers completed one of the West's most impressive Horseshoe Curves, Vendome Loop.  
Today, like the loop Pipestone Pass Tunnel remains quiet as trains have not traversed the route in more than 30 years.  The needed elevation allowed grades to be kept relatively manageable as the alignment continued northwesterly and eventually reached Pipestone.  Sadly, the right-of-way is now little more than a scar on the landscape, flanked by old Route 10 (now Route 2), a two-lane highway.
Photos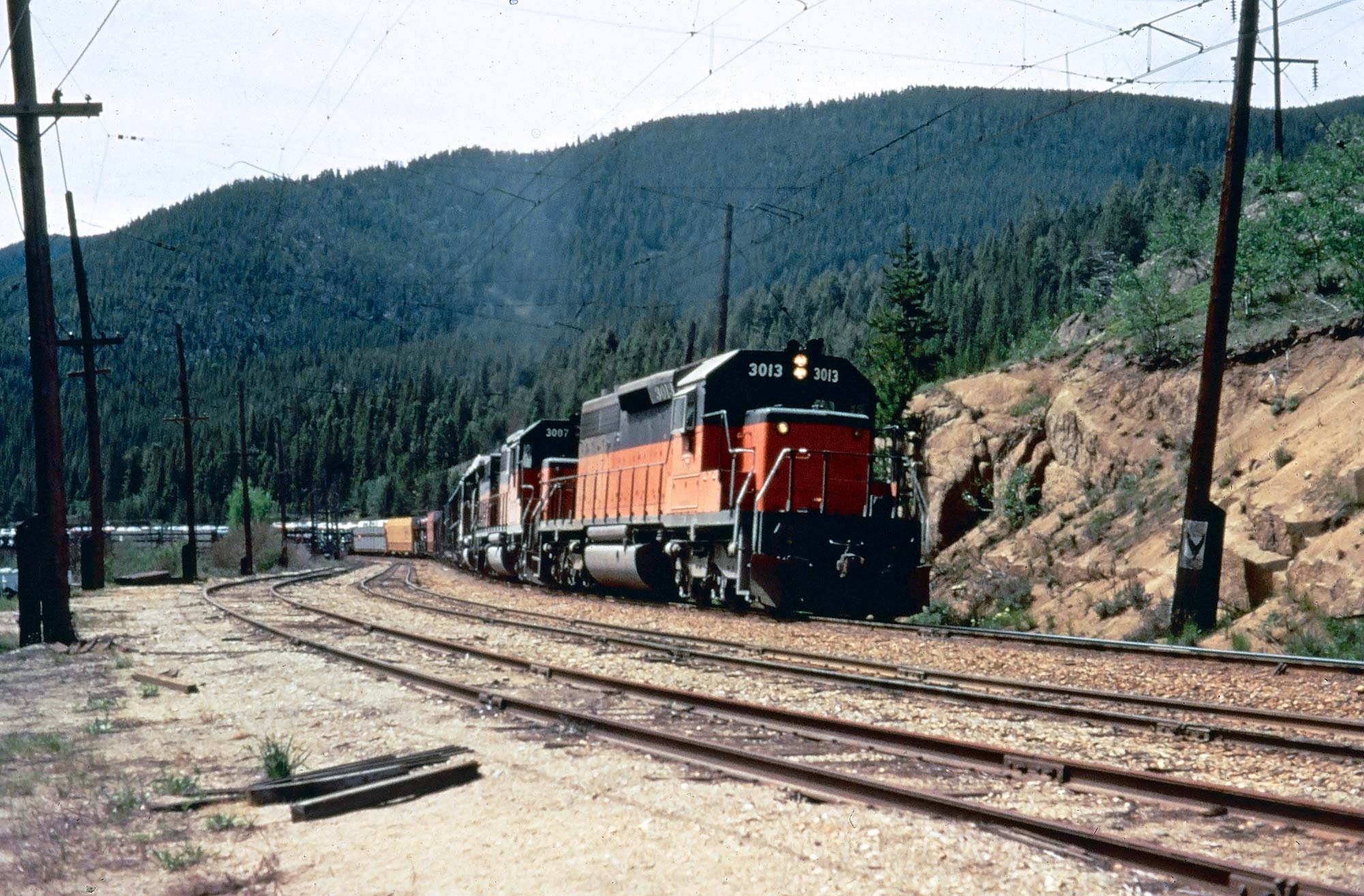 A trio of Milwaukee Road SD40-2's, led by #3013, have what is likely eastbound time freight #264 working their way down Pipestone Pass at Donald, Montana on July 2, 1973. American-Rails.com collection.
History
Few rail lines, let alone railroads, have garnered such interest, intrigue, and awe as the Chicago, Milwaukee, St. Paul & Pacific Railroad's Pacific Coast Extension, even 30 years since it was abandoned.
Unfortunately, the best engineered rail line through the rugged Cascades could not save it from the inept decision making of management at the time and it is now but weeds and trails, a vital transportation artery no longer available to shippers and the American economy. 
In 1901 the first surveying work began and it was estimated the more than 1,400-mile western extension would cost the railroad around $45 million adding more than 25% to its total system mileage.
Construction
However, four years later this number was readjusted to $60 million. What made the extension so terribly expensive was partly due to the right-of-way costs.
Unlike the Great Northern and Northern Pacific, the Milwaukee Road was not given free government land grants.  Instead, it had to purchase all of its land from private landowners as well as take over a number of small, new, or floundering railroads.
Amazingly, in just three short years the entire extension had been completed and on May 19, 1909 a Golden Spike was driven at Garrison, Montana commemorating the opening of the new route.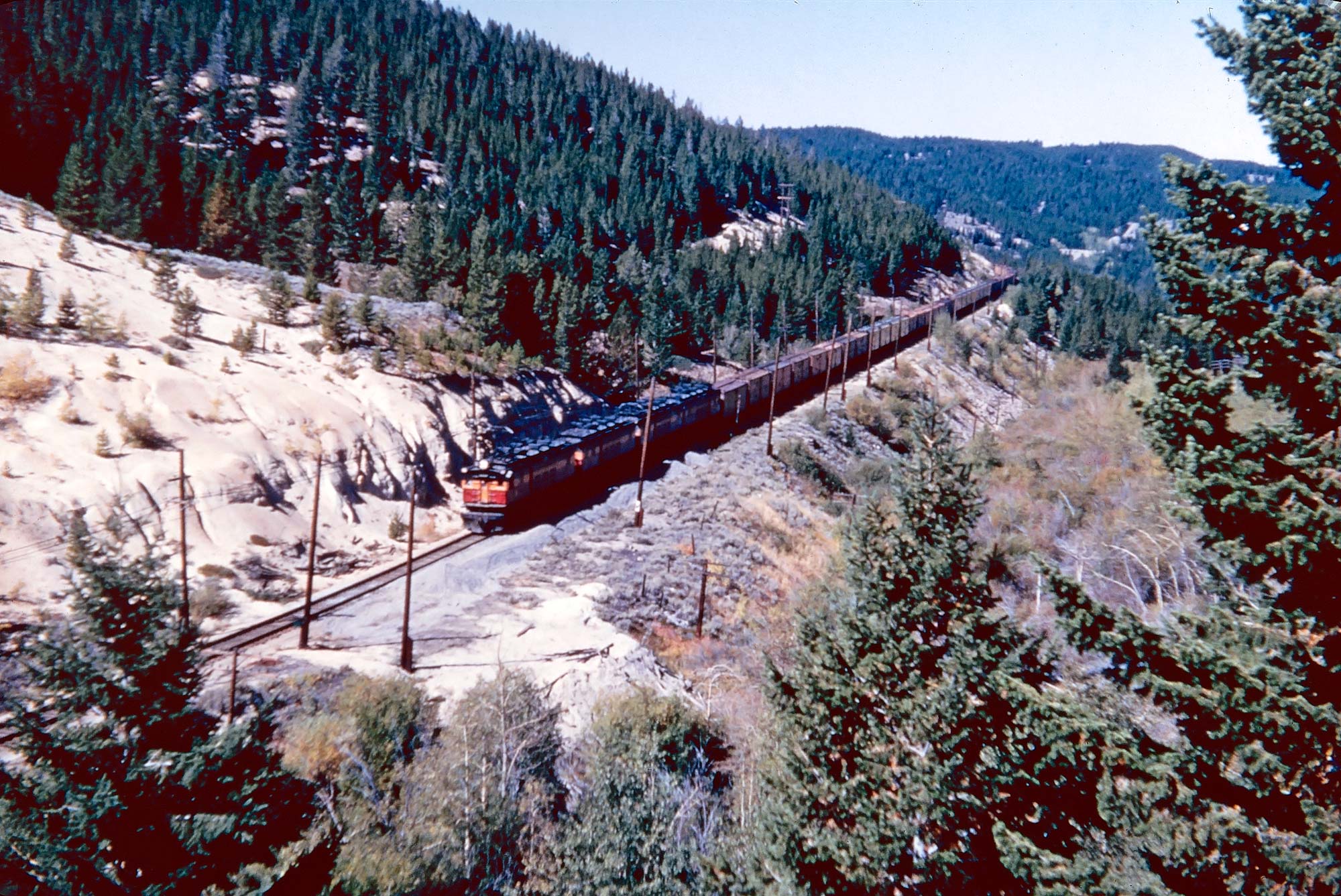 A four-unit Milwaukee Road boxcab set, led by E-45A, climbs the 1.6% straightaway grade towards tunnel #11 and the summit of Pipestone Pass (east of Butte, Montana) with an eastbound freight in September of 1957. This stretch of right-of-way closely follows Montana's Highway 10 here. American-Rails.com collection.
Pacific Coast Extension
The Pipestone Pass Tunnel was part of one of many segments engineers and planners split the Pacific Coast Extension into during surveying so as to construct the route as fast as possible (all over the states of Montana, Idaho, and Washington parts of the line were being built simultaneously).
The pass and Continental Divide were less than ten miles south of Butte, Montana and along with the route's close proximity to the Northern Pacific Railway's main line helped immensely in moving men and material to the site quite quickly and easily.  
Survey work on this section of line between Lombard and Butte began in 1904 with surveyors determining that the lowest grade route over the Pioneer Mountains was through Pipestone Pass at the Continental Divide.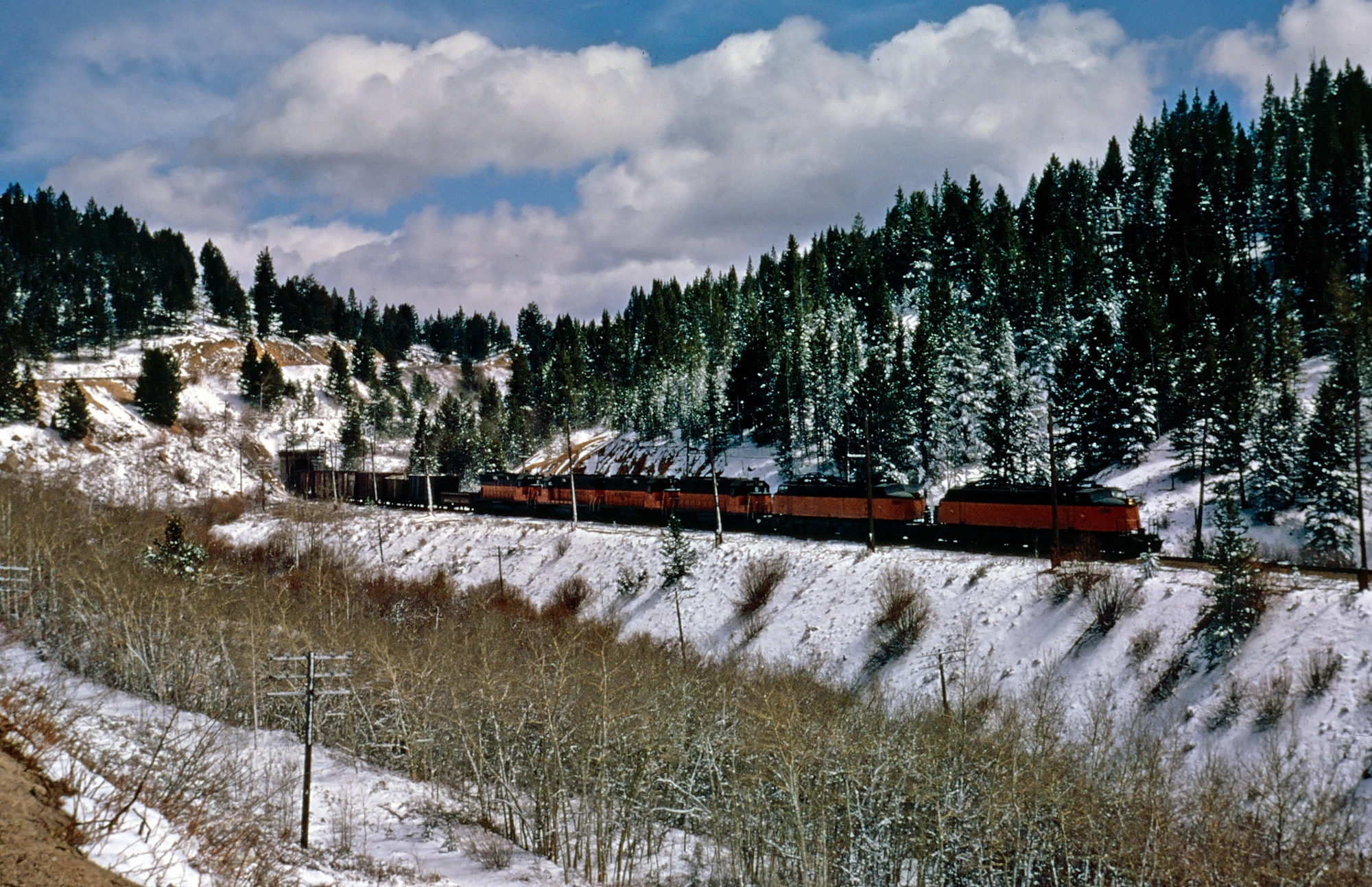 A pair of Milwaukee Road "Little Joes" and a quartet of EMDs lead westbound freight #263 out of the tunnel on Pipestone Pass on May 13, 1974. George Horna photo. American-Rails.com collection.
Tunnel Specifications
| Tunnel Number | Milepost | Height | Width | Length |
| --- | --- | --- | --- | --- |
| #11 | 1505.5 | 18'-9" | 15'-2" | 2,290 Feet |
Construction of the tunnel and right-of-way was carried out by the McIntosh Bros. and by 1908 a temporary line had been completed between Three Forks and Butte although the tunnel itself was yet to be completed making for a tortuous climb over Pipestone for about a year. However, the work was not easy.
Loose and solid granite rock along the way made grading very difficult resulting in the route's opening being slightly delayed and costing more than anticipated. The tunnel, officially known as #11 on the Milwaukee Road and located at Milepost 1505.5, itself was completed and opened in 1909 (general boring and drilling had been completed during 1907 and 1908).

---
Map
By the early 20th century most railroad tunneling projects were being constructed entirely of concrete to reduce maintenance costs and increase strength and Pipestone Pass Tunnel was no different (actually, all of the tunnels along the Pacific Extension were built this way). The tunnel sat an elevation of 6,347 feet and was about a half-mile in length at 2,290 feet.
Overall, the route between Butte and Three Forks through the mountains ranged in grade from 1.66% to 2%, which was quite good considering roughly ten miles east of the tunnel the mountains drop away to Jefferson River Valley. To keep the grade manageable engineers and surveyors designed the impressive 3-mile Vendome Loop.
Sources
Murray, Tom. Milwaukee Road, The. St. Paul: MBI Publishing, 2005.
Ploss, Thomas. Nation Pays Again, The. Ploss (Self Published): January, 1985.
Schafer, Mike. Classic American Railroads. Osceola: MBI Publishing, 1996.
Scribbins, Jim.  Hiawatha Story, The.  Minneapolis:  University of Minnesota Press, 2007.
Scribbins, Jim. Milwaukee Road Remembered.  Minneapolis:  University Of Minnesota, 2008 (Second Edition).
Solomon, Brian and Gruber, John. Milwaukee Road's Hiawatha's, The.  St. Paul: Voyageur Press, 2006.
Wood, Charles R. and Wood, Dorothy M.  Milwaukee Road West.  Seattle: Superior Publishing Company, 1972.