B&O's Magnolia Cutoff

Last revised: May 9, 2023
By: Adam Burns

Baltimore & Ohio's Magnolia Cutoff was a series of tunnels, bridges, cuts, and fills constructed in the Eastern Panhandle of West Virginia to alleviate grades, curves, and generally straightening the company's main line east of Cumberland, which wound along the Potomac River.

This new route, also known as the "Highline," greatly improved the railroad's main line through the region when it was constructed in the early 20th century.  The B&O was always strapped for cash, particularly during the 20th century, but did its best to improve infrastructure when, and wherever possible. 
Many of these, like Magnolia, were carried out under the railroad's most influential leader, Daniel Willard.  He had an incredibly long tenure (1910-1941), during which time he tried very hard to make the B&O a major competitor to rivals Pennsylvania and New York Central. 
Willard even tried to piece together a direct route to New York City via Pennsylvania but was ultimately unsuccessful.
Today, Magnolia remains an important artery under successor CSX Transportation. In any event, had the B&O acquired the financial means to carry out other similar improvement projects along its through lines in the Appalachian region it likely could have been much more competitive with the east other two large Chicago trunk lines, the Pennsylvania and New York Central.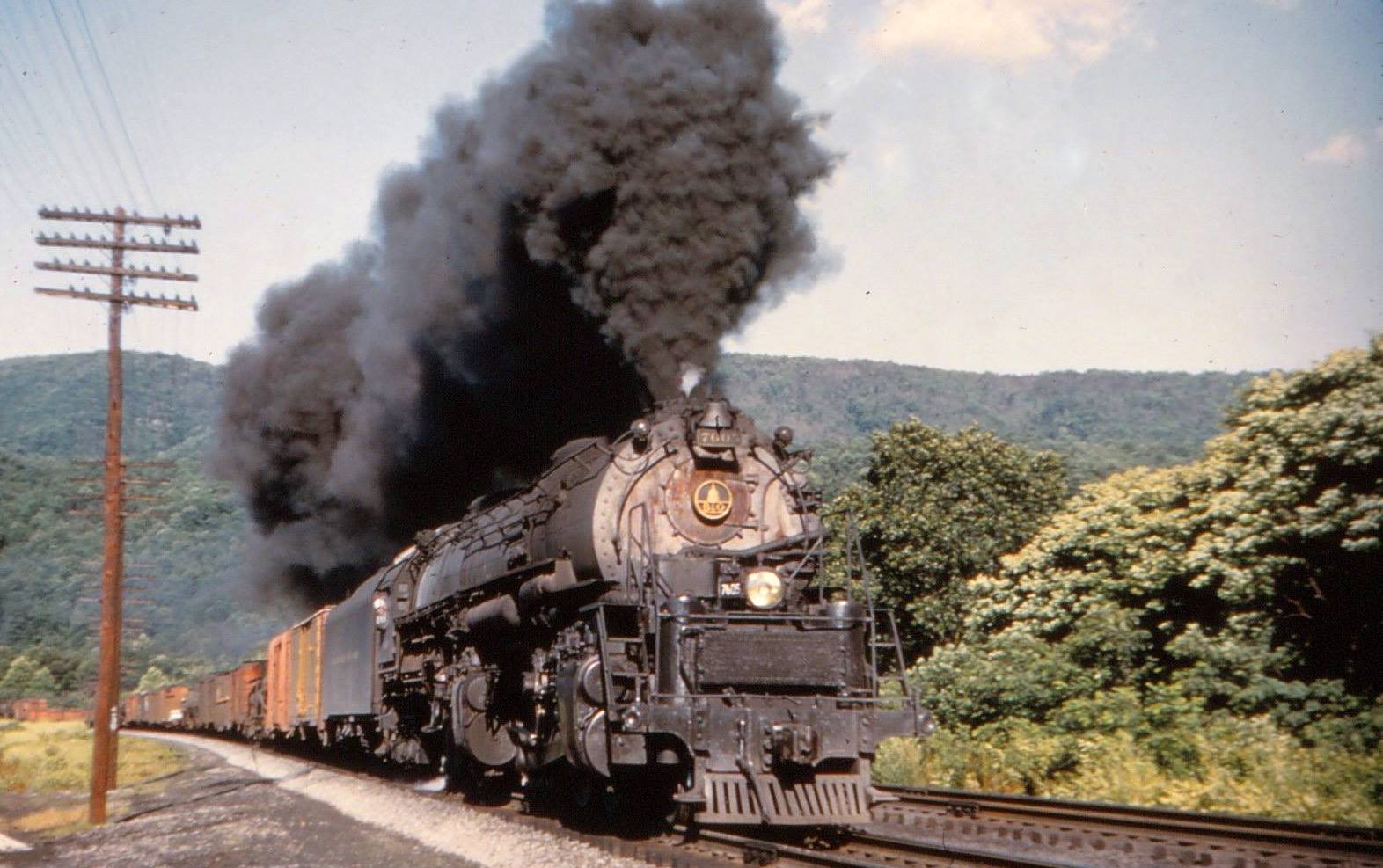 Baltimore & Ohio 2-8-8-4 #7605 (EM-1) works hard as it muscles a mixed freight over Magnolia Cutoff. Rust on the smoke box while the locomotive is still numbered in the 7600-series suggests this is an early 1950's scene. Photographer unknown.
History
The Baltimore & Ohio, "Linking 13 Great States With The Nation." This was the B&O's slogan for much of its existence and something which it held to for its entire life.
The Baltimore and Ohio, commonly known as the B&O, holds the distinction of being this country's very first common-carrier railroad, officially incorporated and organized on April 24th, 1827.
By being this country's first such operation the B&O was instrumental in helping to build and grow not only our economy but also the country itself when the "west" meant the Ohio River.
While never a wealthy railroad throughout its existence (when compared to the likes of its much larger and powerful northern competitors, the Pennsylvania [PRR] and New York Central [NYC] Railroads) its legacy will forever be remembered as a survivor and that it put customer service above all else.
When the company's name and existence finally came to an end on April 30th, 1987 it had just celebrated its 160th birthday and witnessed the industry grow from nothing more than few scattered systems to a rail network consisting of tens of thousands of miles linking the country from coast to coast (it also outlived its wealthier northern competitors by over a decade).
During the early CSX era two C40-8s sporting the early Stealth livery of sold blue and grey cross the Potomac River with a load of autoracks exiting 1,592-foot Graham Tunnel at Magnolia, West Virginia on June 1, 1991. Wade Massie photo.
Line Improvements
In the early 20th century the B&O began the task of straightening its main line through the hills and mountains of the Appalachians. A few years before the railroad began its Magnolia Cutoff project it had completed the Patterson Creek Cutoff several miles east near Cumberland, mostly to alleviate congestion and bypass the city's busy yards. 
The B&O began the Magnolia project in 1910 officially starting at the main line near Orleans Cross Roads, West Virginia along milepost 233.3, where the railroad would construct the Orleans Road Tower protecting the "Highline" and original "Lowline".
Intended to shave off mileage and grades the project used tunnels and bridges to increase efficiency by no longer following the winding Potomac River. The project also called for a double-tracked main line, which is still in place today under CSX ownership.
Map (1940)
Tunnels
While the Magnolia Cutoff's most spectacular bridge, the Magnolia Bridge, spans the Potomac River at 50-feet high and about 1,000-feet long its most impressive features are its four tunnels  (this information comes directly from the B&O's "Official List #29" dated January 1, 1948).  

Randolph Tunnel: Constructed in 1914 it is located 2.8 miles west of Orleans Road and carries 4 degrees of curve throughout its length. It is a total of 1,014.9-feet long, 24' 6" wide, and 31' high.
Stuart Tunnel: Constructed between 1913 and 1914 it is located 5.0 miles west of Orleans Road and carries 2.3 degrees of curve for a distance of 381.6 feet. It is a total of 3,355.4-feet long, 24' 6" wide, and 31' high.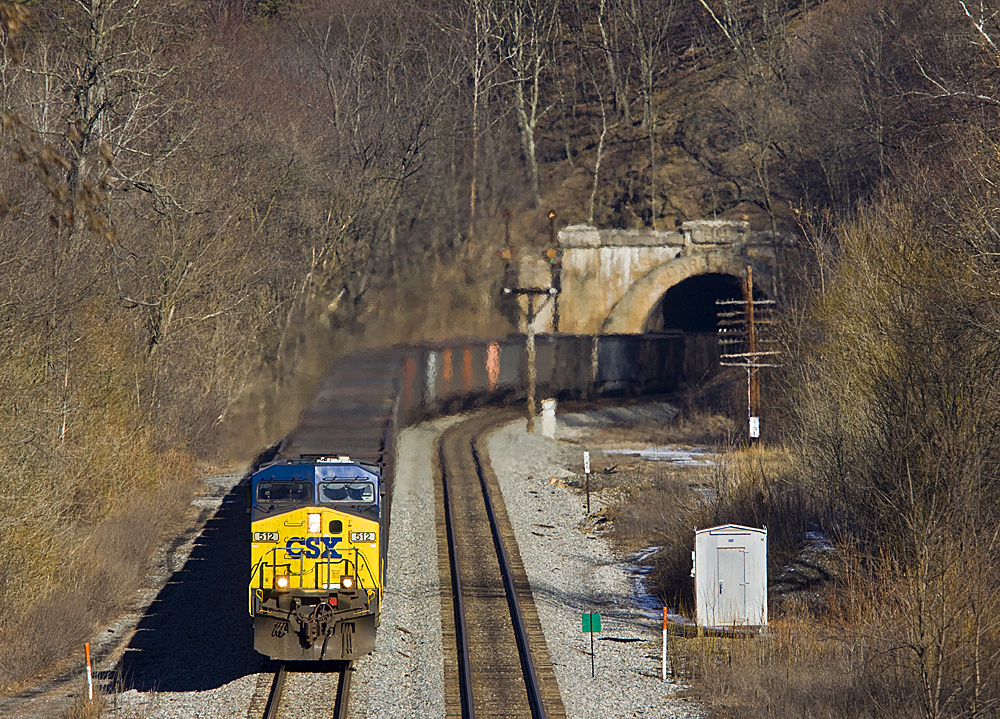 A CSX empty coal train (E819) led by a single AC4400CW, #512, exits Carothers Tunnel at Paw Paw, West Virginia on December 28, 2010. Wade Massie photo.
Graham Tunnel: The only tunnel located in Maryland it was constructed between 1913 and 1914 and is located 4.1 miles east of Little Cacapon. It is a tangent (straight) 1,592 feet in length, 24' 6" wide, and 31' high.
Carothers Tunnel: Constructed between 1913 and 1914 it is located 3.2 miles east of Little Cacapon and carries 2.3 degrees of curve throughout its length. It is a total of 995.9-feet long, 24' 6" wide, and 31' high.
Moving westward the cutoff ended just east of Paw Paw, West Virginia at the Okonoko Tower, which protected the western convergence of the "Highline" and "Lowline" at milepost 252.2. Most of the new line was located in West Virginia but one small section did cross over into Maryland.

---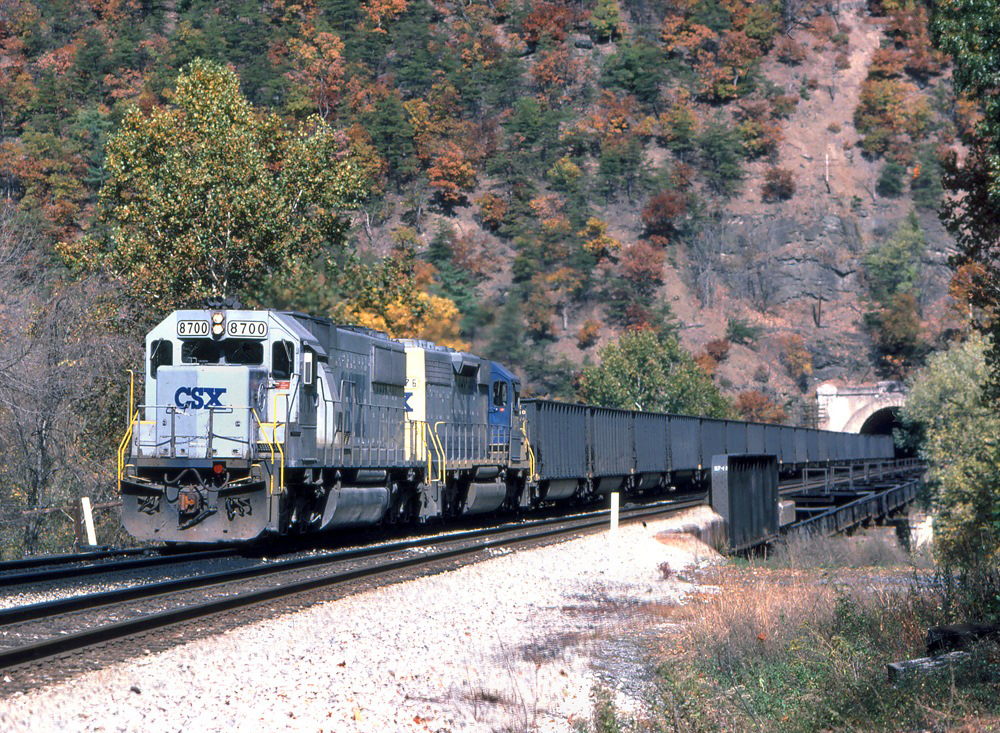 CSX train E110 carrying empty coal hoppers rolls westbound through Kessler, West Virginia along the Cutoff led by SD60 #8700 on October 24, 1993. Wade Massie photo.
The cutoff was completed in four years and opened to traffic in 1914. While freight traffic used the much faster route along the cutoff passenger trains continued to use the original main line until 1961 when the B&O officially closed the circuitous line along the Potomac River.

Of note was the fact that the cutoff did include two additional connections prior to the B&O abandoning the original main line through the area: first, there was additional connection to the "Lowline" at Doe Gully, West Virginia. Additionally, the railroad had a connection with the Western Maryland (upon whose main line it crossed at Magnolia) at milepost 239.7.