Milwaukee Road's St. Paul Pass

Last revised: March 2, 2023
By: Adam Burns

One of the Milwaukee Road's famous tunnels along its Pacific Coast Extension was located in the Bitterroot Mountains at St. Paul Pass.  This crossing was nestled right along the Idaho/Montana border.

With few access points in this area it was difficult for train enthusiasts to snag scenes of "Little Joes" hustling past Substation #13 as they journeyed west over a grade that exceeded 1%.  It was one of the tougher sections to survey and construct due to its remoteness. 
As a result, crews spent nearly two years laying out all possible routes before choosing the St. Paul Pass routing.  The tunnel, nearly a mile high in elevation and over a mile in length, became unique in that part of it lay in the state of Montana while the other part lay in the state of Idaho.
From an operational standpoint, St. Paul was a manageable mountain crossing, particularly following its electrification.  Engineers did a magnificent job designing the entire extension and this stretch was no different where grades remained under 2%.  Today, the tunnel, also known as Taft Tunnel, has not seen a train in more than 40 years.  It has found new life, however, as part of the "Route of the Hiawatha" rail/trail.
Milwaukee Road "Little Joes" E-77 and E-20, along with a pair of GP40's, lead eastbound time freight #264 out of the east portal of St. Paul Pass on May 23, 1974. American-Rails.com collection.
Pacific Extension
Few rail lines, let alone railroads, have garnered such interest, intrigue, and awe as the Chicago, Milwaukee, St. Paul & Pacific Railroad's Pacific Coast Extension, even 40+ years since it was abandoned.
Unfortunately, the best engineered rail line through the rugged Cascades could not save it from the inept decision making of management at the time and it is now but weeds and trails, a vital transportation artery no longer available to shippers and the American economy. 
In 1901 the first surveying work began and it was estimated the more than 1,400-mile western extension would cost the railroad around $45 million adding more than 25% to its total system mileage.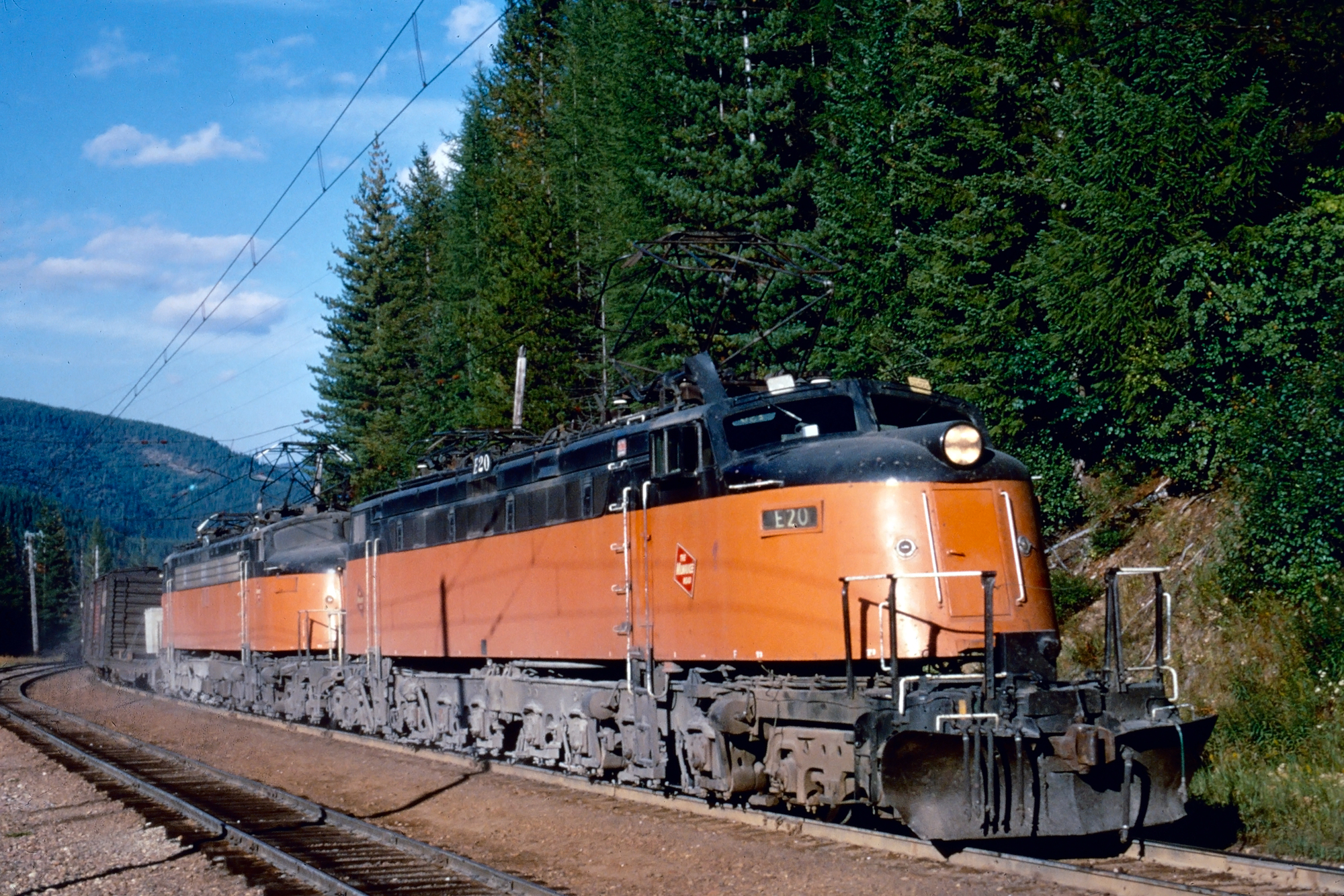 Milwaukee Road "Little Joes" E-20 and E-72 lead a westbound freight at East Portal, Montana on St. Paul Pass in September of 1972. American-Rails.com collection.
However, four years later this number was readjusted to $60 million. What made the extension so terribly expensive was partly due to the right-of-way costs.
Unlike the Great Northern and Northern Pacific the CM&StP was not given free government land grants and had to both purchase all of its land from private landowners as well as take over a number of small, new, or floundering railroads across the region.
Amazingly, in just three short years the entire extension had been completed and on May 19, 1909 a Golden Spike was driven at Garrison, Montana commemorating the opening of the new route.

Map
Surveying a route west of Butte, Montana began in earnest as early as November 1, 1904 when the first crews set out to begin the arduous process of laying out the best rail line through thousands of square miles of wilderness and steep, mountainous terrain using the standard tools of the day; transits, stadia rods, and barometers.
The route surveyed over St. Paul Pass, which was ultimately chosen by the railroad, began in August 1906 and was completed in November of that year.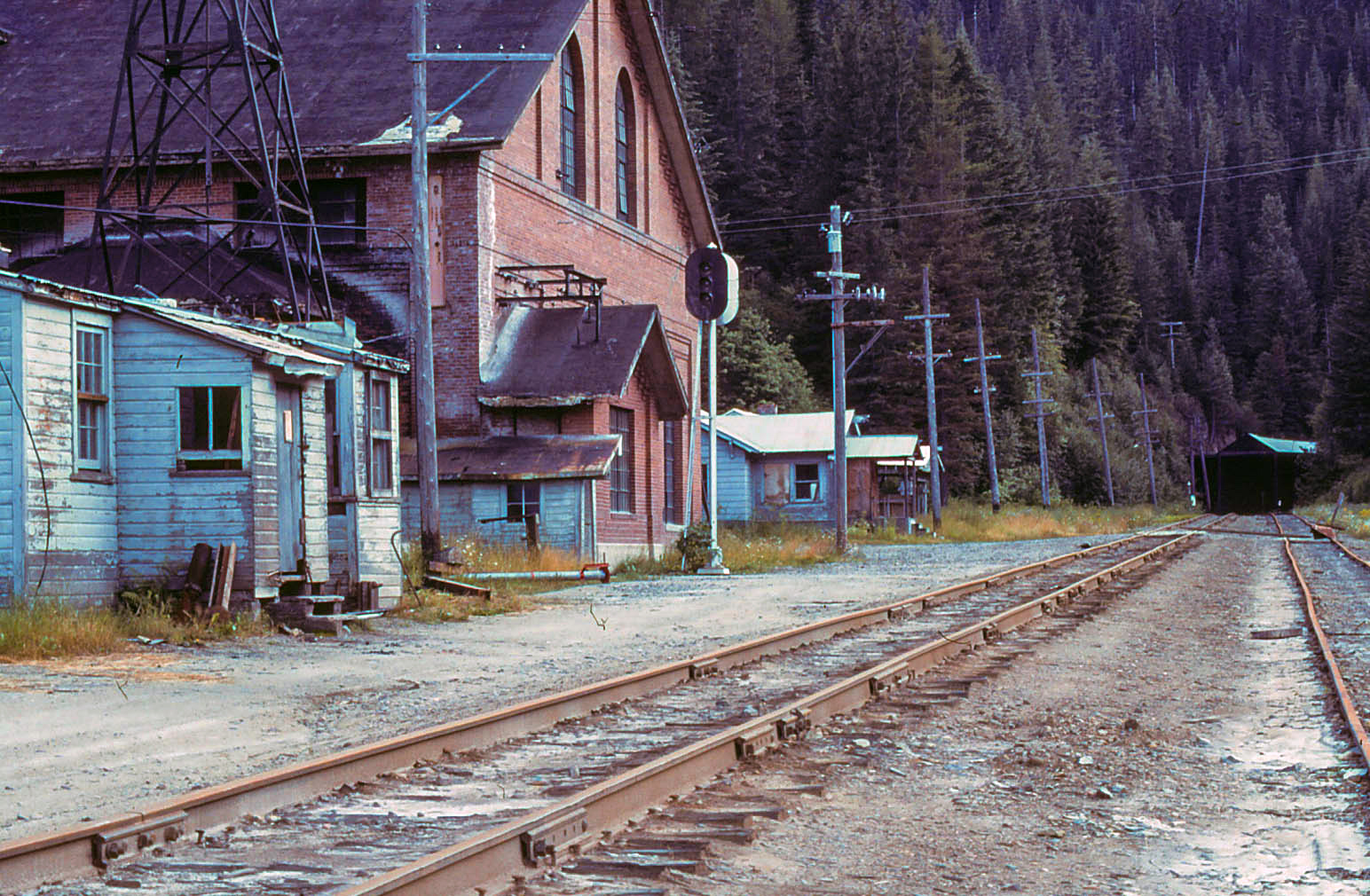 Milwaukee Road's Substation #13 at East Portal, Montana in August of 1980 among deteriorating bungalows and other maintenance-of-way buildings. Alan Freed photo.
Construction
Surveying this section and the area it covered is somewhat staggering. The railroad estimated that for every one mile of grade which was ultimately chosen as part of the main line up to 4.5 miles was surveyed and documented.
In total, between Butte, and the pass, some 1,040 miles was surveyed with the actual main line covering those two points being only 230 miles in length.  Contract work for the building of the St. Paul Pass Tunnel was done by Winston Brothers Company of Minneapolis, Minnesota, which also handled much of the grading and construction between Missoula and the pass.
The primary subcontract work was carried out by contractors W.B. Cronk, A.D. McDougal & Company, Stewart & Welch, and Street & Lusk.  Heading west from Missoula grading began in July 1906. Around this same time work was also started on the tunnel with its approaches completed in 1906 although heavy boring work did not begin until late 1907.
Overall the gradient of the tunnel was kept at a manageable 1.7% while its overall length to conquer the Bitterroots was 1.66 miles! The tunnel was officially completed in December, 1908 giving the Milwaukee Road its second-longest tunnel across its Pacific Coast Extension.  
Tunnel Specifications
| Tunnel Number | Milepost | Height | Width | Length |
| --- | --- | --- | --- | --- |
| #20 | 1750.1 | 19' | 14'-9" | 8,771 Feet |
---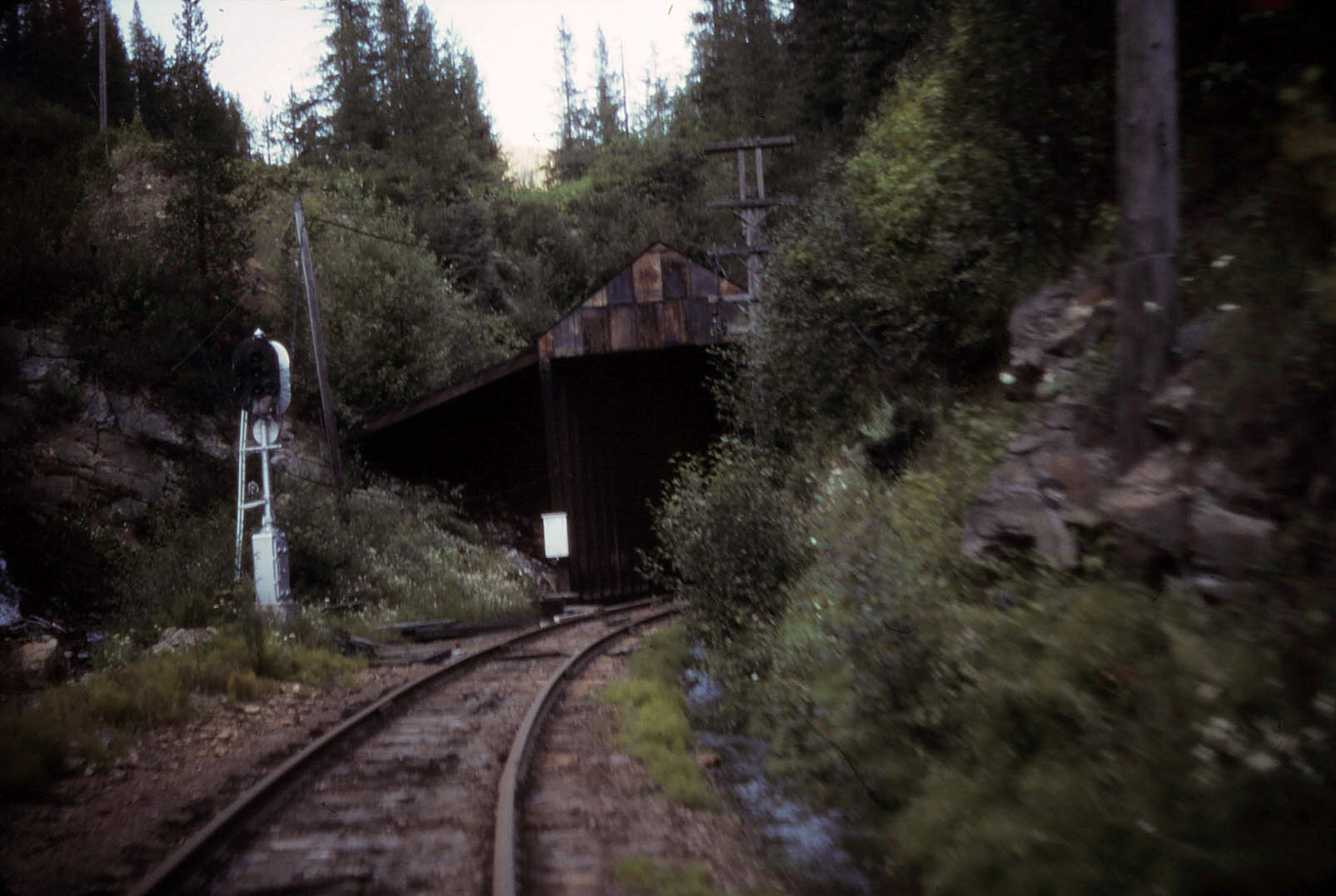 In this scene the speeder is exiting the west portal of St. Paul Pass Tunnel, facing eastward (but traveling westward), at Roland, Idaho. Alan Freed photo.
Abandonment
For the railroad, which numbered its tunnels from east to west, the structure at St. Paul Pass was officially listed as #20.  The tunnel also became known as Taft Tunnel due to its close proximity to the tiny hamlet of Taft, Montana near the state line.  
However, the railroad came to know this location as East Portal, as it was the location of one of the substations after the line was electrified a few years following the tunnel's opening.  
After the Milwaukee Road abandoned its Pacific Coast Extension in March, 1980 the tunnel sat dormant and empty for more than 20 years before it was officially "rededicated" on June 23, 2001 as part of the "Route of the Hiawatha" rail/trail. Today, the tunnel sees thousands of hikers and bikers annually.

Sources
Murray, Tom. Milwaukee Road, The. St. Paul: MBI Publishing, 2005.
Ploss, Thomas. Nation Pays Again, The. Ploss (Self Published): January, 1985.
Schafer, Mike. Classic American Railroads. Osceola: MBI Publishing, 1996.
Scribbins, Jim.  Hiawatha Story, The.  Minneapolis:  University of Minnesota Press, 2007.
Scribbins, Jim. Milwaukee Road Remembered.  Minneapolis:  University Of Minnesota, 2008 (Second Edition).
Solomon, Brian and Gruber, John. Milwaukee Road's Hiawatha's, The.  St. Paul: Voyageur Press, 2006.
Wood, Charles R. and Wood, Dorothy M.  Milwaukee Road West.  Seattle: Superior Publishing Company, 1972.