Eagle Nest Tunnel/Bridge (Montana)

Last revised: October 14, 2023
By: Adam Burns

One of the most scenic and visually stunning locations along the Milwaukee Road's Pacific Coast Extension was a rather small, simple deck plate girder bridge and tunnel at a location known as Sixteen, Montana.

What became known as Eagle Nest Tunnel was located along the main line between Harlowton and Three Forks.  The engineer feat was spectacular in how it was achieved; the tunnel was cut into a small cliff-face and emptied out directly onto the bridge which spanned a small creek.
With the Milwaukee Road's abandonment of its Extension in 1980 this section of the line currently lies dormant and has not seen a train in over 40 years. The Milwaukee is an unfortunate tale of "what could have been's."  The argument is often made that the railroad should have never went west.  
Its attempt to compete against the Great Northern and Northern Pacific for the lucrative Pacific Northwest transcontinental traffic resulted in crushing debt (particularly the electrification project) that ultimately forced the company into bankruptcy in 1925, and again in 1935. 
It is somewhat ironic then that "Lines West" was actually one the railroad's few profitable components when it entered bankruptcy for a final time in 1977.  
Photos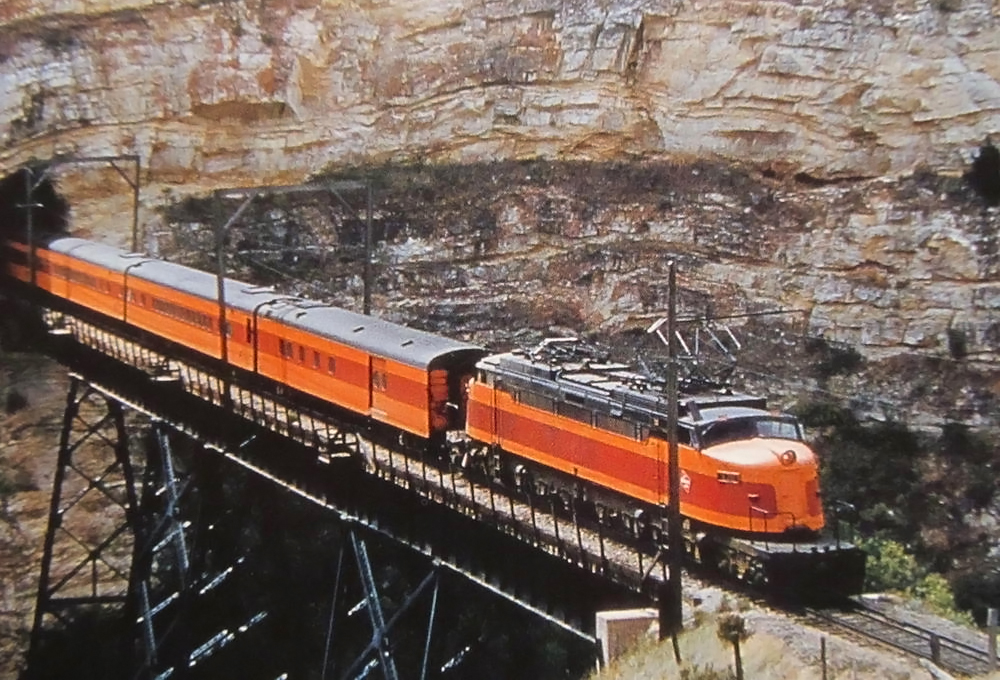 A "Little Joe" leads Milwaukee Road's train #16, the eastbound "Olympian Hiawatha," as it exits the stunning Eagle Nest Tunnel and crosses Sixteen Mile Creek, located in western Montana, in 1954. Sandy Goodrick photo.
History
Few rail lines, let alone railroads, have garnered such interest, intrigue, and awe as the Chicago, Milwaukee, St. Paul & Pacific Railroad's Pacific Coast Extension, even 30 years since it was abandoned.
Unfortunately, the best engineered rail line through the rugged Cascades could not save it from the inept decision making of management at the time and it is now but weeds and trails, a vital transportation artery no longer available to shippers and the American economy. 
The Milwaukee Road was not your typical railroad; it was entirely independent of powerful names like Vanderbilt, Gould, Harriman, and Huntington.  It even avoided a takeover by the "Empire Builder," James Hill.  In many respects, the system should still in operation today, or at least the bulk of its network. 
After World War II traffic patterns shifted and by the 1960's and 1970's America's western ports were seeing an increasing level of business. 
With a superbly engineered main line that avoided most metropolitan centers between Chicago and Seattle, the Milwaukee was a perfect intermodal corridor.  Interestingly, its transcontinental route would make for an ideal Class I operation today, which covets point-to-point service.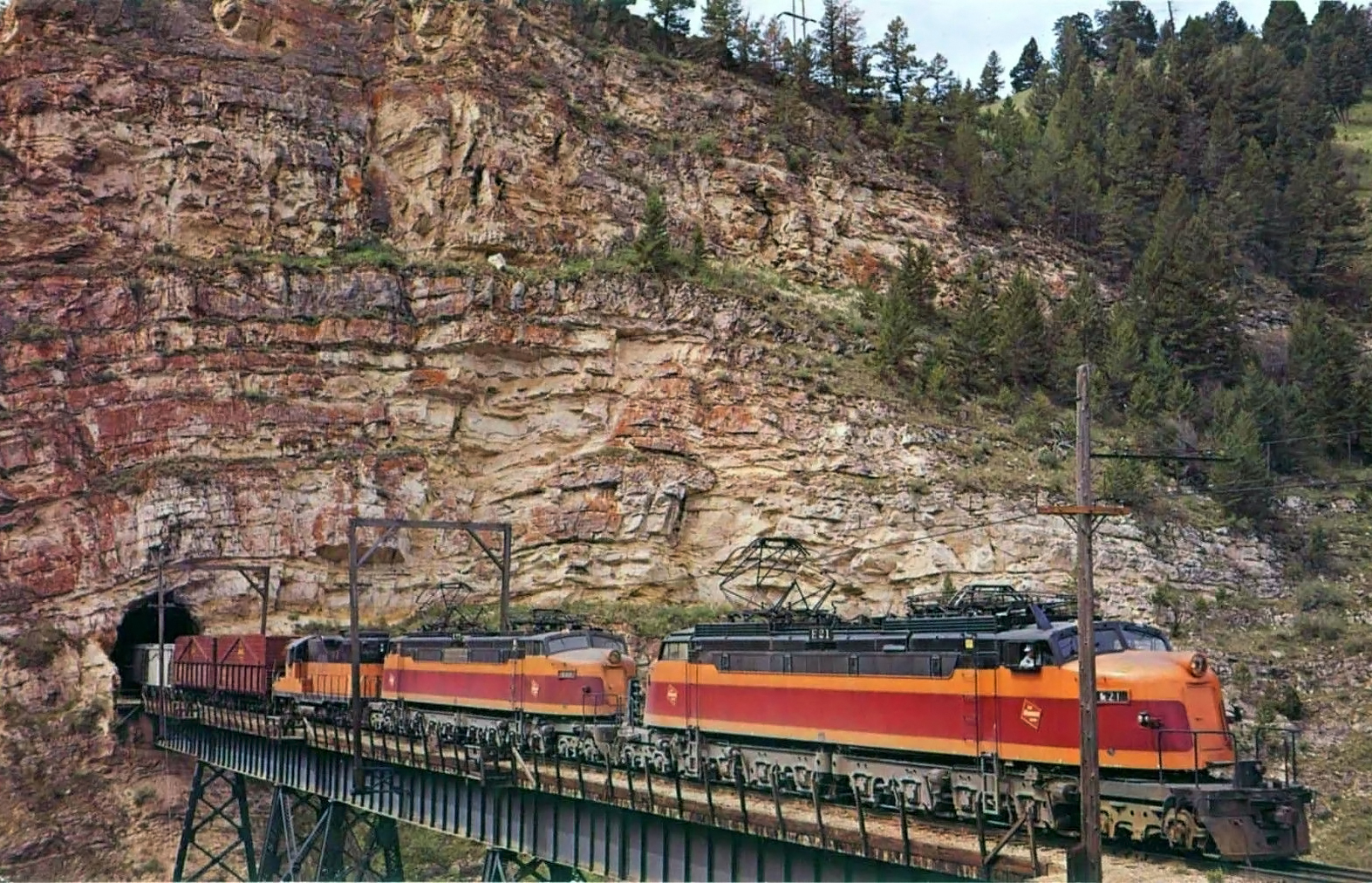 Milwaukee Road "Little Joes" E-21 and E-77, along with GP9 #804, lead an eastbound train out of picturesque Eagle Nest Tunnel as the train crosses Sixteen Mile Creek within Montana's Belt Mountains on May 20, 1962. Ronald Nixon photo.
Construction
In 1901 the first surveying work began and it was estimated the more than 1,400-mile western extension would cost the railroad around $45 million adding more than 25% to its total system mileage. However, four years later this number was readjusted to $60 million.
What made the extension so terribly expensive was right-of-way costs. Unlike the GN and NP the CM&StP was not given free government land grants and had to both purchase all of its land from private landowners as well as take over a number of small, new, or floundering railroads across the region.
Amazingly, in just three short years the entire extension had been completed and on May 19, 1909 a Golden Spike was driven at Garrison, Montana commemorating the opening of the new route.
Tunnel Specifications
| Tunnel Number | Milepost | Height | Width | Length |
| --- | --- | --- | --- | --- |
| #4 | 1408.5 | 19'-4" | 14'-5" | 370 Feet |
Unlike much of the Pacific Coast Extension, the section between Harlowton and Lombard, Montana, a distance of about 91 rail miles did not require extensive surveying and preparatory work, as the Montana Railroad had already built a route through the region.
While the line, originally built between 1894 and 1900, was not up to the Milwaukee Road's specifications it did offer an excellent base from which to begin.
As such, the Milwaukee Road entered a trackage rights agreement with the Montana Railroad in December, 1907 for 99 years although just over two years later (January, 1910) the latter company soldout to the CMStP&P.
Between 1906 and 1910 construction crews (handled by contractors Dittmar, Breadbury & Weitbrec and McIntosh Bros.) upgraded the route. In doing so they straightened curves and eased grades between 1% - 1.7%.
Map
In doing so, surveyors and engineers cut a route through Sixteen Mile Canyon, which proved difficult and laborious due to steep canyon walls and solid rock. The route here covered several miles while Eagle Nest crossed the Sixteen Mile Creek.
The bridge itself was a little under 300-feet in length and only stood about 100-feet in height to the rail head. The tunnel, cut through solid rock, was also rather small at just a few hundred feet in length.

---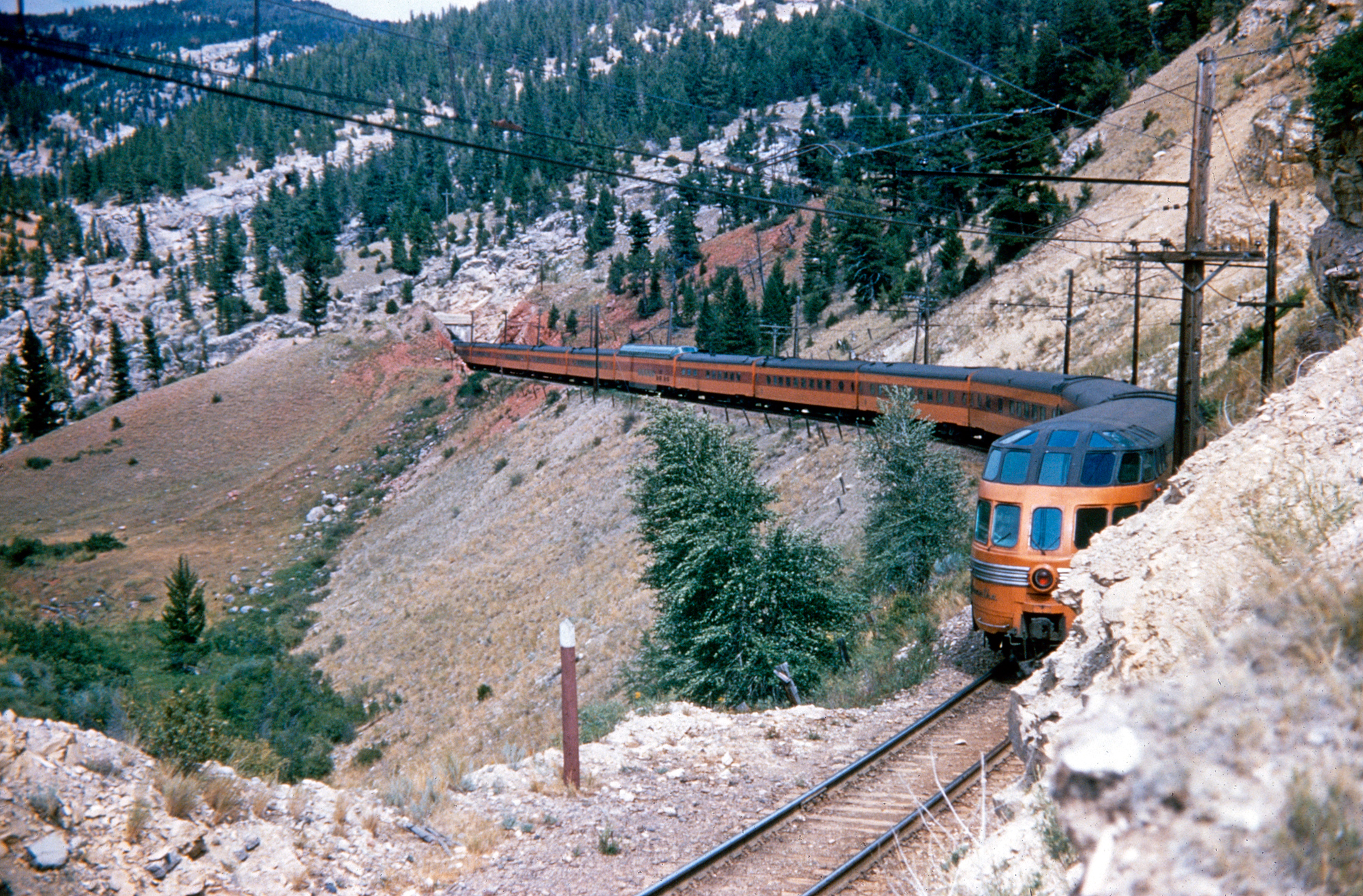 Milwaukee Road's train #16, the eastbound "Olympian Hiawatha" has just exited Eagle Nest Tunnel, crossed Sixteen Mile Creek and is now passing through the short, 169-foot Canyon Tunnel at Milepost 1,408.2, circa 1955. Note one of the exotic Sky Top sleeper-lounge observations bringing up the tail end of the train and "Super Dome" mid-train. American-Rails.com collection.
Operation
While Eagle Nest Tunnel was open cut-stone along its east portal, the west portal featured a standard concrete approach abutment.
What made the location so impressive was simply the way it was engineered with the tunnel cut directly into the mountain face that spilling directly onto the bridge over the creek bed.
To make train operations even more interesting for sightseers and railfan was the line's electrification, which was maintained until June, 1974.
As it turns out, the Milwaukee Road found operating through Sixteen Mile Canyon quite difficult with a narrow right-of-way and unstable rock located in the area. The railroad would line most of the canyon route with fencing and warning lights in the event of rock slides.
Alas, March, 1980 proved the end of this spectacular location was the Milwaukee's final dead freight east passed over the line.  Today, the bridge and tunnel are still in good condition but inaccessible to the public as the entire area is private property. 
Sources
Murray, Tom. Milwaukee Road, The. St. Paul: MBI Publishing, 2005.
Ploss, Thomas. Nation Pays Again, The. Ploss (Self Published): January, 1985.
Schafer, Mike. Classic American Railroads. Osceola: MBI Publishing, 1996.
Scribbins, Jim.  Hiawatha Story, The.  Minneapolis:  University of Minnesota Press, 2007.
Scribbins, Jim. Milwaukee Road Remembered.  Minneapolis:  University Of Minnesota, 2008 (Second Edition).
Solomon, Brian and Gruber, John. Milwaukee Road's Hiawatha's, The.  St. Paul: Voyageur Press, 2006.
Wood, Charles R. and Wood, Dorothy M.  Milwaukee Road West.  Seattle: Superior Publishing Company, 1972.