The Key West Extension

Last revised: May 9, 2023
By: Adam Burns

The legend of the Florida East Coast was cemented when its leader, Henry Flagler, took his railroad to sea in 1905. The mogul, who made his millions in oil alongside John D. Rockefeller and Standard Oil, had high hopes for what became known as the Key West Extension.

By the early 20th century, the FEC had not only singlehandedly developed Florida's Atlantic coastline into the vacation paradise for which it is known today, but also offered the only rail service along the state's East Coast.
Despite its monumental expense and impressive nature, the Florida Overseas Railroad never blossomed into the great extension Flagler envisioned.
Overview
The city of Key West's deep water port failed to develop into either a major generator of freight or a coal refueling point for marine vessels.

After struggling for two decades, one of the railroad industry's most celebrated accomplishments was destroyed by the Labor Day Hurricane of 1935.
At the time the FEC was bankrupt and could not afford repairs to the line.  As a result, the property was sold to the state of Florida, which subsequently turned the former railbed into a major roadway
What became known as the Overseas Highway (U.S. 1), the route still serves Key West today albeit the former rail bridges no longer carry vehicle traffic. 
One of the great photos of the Key West Extension as what appears to be a 4-8-2 Mountain is ready to leave from the FEC's main terminal at Trumbo Island in Key West during a late afternoon in 1933.
It is always fun to daydream over what could have been with the Key West Extension.   There is no question that if the line was still active it would be an incredible tourist attraction drawing thousands annually to Florida's popular southern beaches. 
However, it was built as a freight corridor and, unfortunately, Key West never materialized into the deep water port Henry Flagler had envisioned. 
The extension was already in decline when the Labor Day Hurricane struck in 1935 and would almost certainly have been abandoned at a later date.
A Brief History
Henry Flagler began his rail empire in 1885 when he acquired a rickety, 36-mile narrow-gauge property known as the Jacksonville, St. Augustine & Halifax River Railway (JStA&HR). 
As George Hilton points out in his book, "American Narrow Gauge Railroads," the JStA&HR was a disconnected system from the national rail network at the time.  It ran southeasterly from South Jacksonville and reached St. Augustine.
The road also had a connection with the little Jacksonville & Atlantic Railway which ran due east to Pablo Beach.  Flagler quickly converted the JStA&HR to standard gauge and then set about expanding his growing rail network southward, once a direct rail connection was established across the St. Johns River (1890).
Florida East Coast 4-8-2 #431, manufactured by American Locomotive in 1924, steams into Long Key during the Extension's final years of service. Harry Wolfe photo.
More about the history of the Florida East Coast, its growth, and impact on its home state can be found in the link at the top of the page.
Suffice it to say, by the turn of the 20th century, Flagler had built not only built Florida into a growing prosperous destination but also created a highly profitable railroad in the process.
The Key West Extension, officially known as the Florida Overseas Railroad, was the final leg of Flagler's great railroad empire.  
Map (1930)
He believed Key West would develop into a busy deep water port (then containing about 20,000 residents) as well as a trade route with Cuba and Latin America following the Panama Canal's opening (then under construction).  
He also thought the port would act as a vital refueling (coal) point for steam ships entering or exiting the canal.  
Following a series of surveys, company engineers concluded a railroad could, indeed be constructed across the Keys and into Key West.

The railroad made an official announcement construction of the project had commenced in April, 1905.  The line had already reached Homestead a year earlier in 1904 and proceeded steadily southward after that time.  By late 1905 work was underway from both directions.  
Bridges
The spans presented in the below table are those located south of Homestead, Florida.
| Name | Milepost | Length |
| --- | --- | --- |
| Jewfish Creek Bridge | 417 | 233 Feet |
| Indian Key Draw Bridge* | 445 | - |
| Channel #2 Bridge | 450.1 | 1,721 Feet |
| Channel #5 Draw Bridge | 451.3 | 4,520 Feet (2.69 Miles) |
| Long Key Viaduct | 457.4 | 14,190 Feet |
| Toms Harbor Viaduct #4 | 462.2 | 1,397 Feet |
| Knight's Key Bridge | 467.1 | 35,711 Feet (6.76 Miles) |
| Moser Channel Rotating Swing Bridge | 479 | - |
| Little Duck Missouri Viaduct | 483.3 | 800 Feet |
| Missouri-Ohio Viaduct | 483.7 | 1,395 Feet |
| Ohio Bahia Honda Bridge | 484.4 | 1,005 Feet |
| Bahia Honda Bridge | 486.8 | 5,005 Feet |
| Spanish Harbor Viaduct | 489.3 | 3,312 Feet |
| Pine Channel North Viaduct | 493.5 | 622 Feet |
| Pine Channel South Viaduct | 494.2 | 808 Feet |
| Torch Key Viaduct #1 Bridge | 495.0 | 799 Feet |
| Torch Ramrod Viaduct | 495.4 | 616 Feet |
| Niles Channel Viaduct | 496.7 | 4,435 Feet |
| Kemp Channel Viaduct | 499.3 | 933 Feet |
| Bow Channel Viaduct | 502.6 | 1,303 Feet |
| Park Key Viaduct | 504.3 | 779 Feet |
| North Harris Viaduct | 505.2 | 390 Feet |
| South Harris Viaduct | 506.5 | 390 Feet |
| Lower Sugar Loaf Viaduct | 507.5 | 1,212 Feet |
| Saddle Bunch Viaduct #2 Bridge | 508.4 | 552 Feet |
| Saddle Bunch Viaduct #3 Bridge | 508.7 | 656 Feet |
| Saddle Bunch Viaduct #4 Bridge | 509.8 | 801 Feet |
| Saddle Bunch Viaduct #5 Bridge | 510.3 | 805 Feet |
| Sharks Key Viaduct | 511.3 | 1,989 Feet |
| Rockland Viaduct | 513.2 | 1,231 Feet |
| Boca Chica Viaduct | 516.4 | 2,573 Feet |
| Garrison Bight Draw Bridge | 521 | 159 Feet |
* Removed and replaced with solid fill in 1916.
The extension covered a total of 156 miles via Miami.  The elderly Flagler nearly bet everything on the railroad's gamble to reach Key West.
The Florida Overseas Railroad was built to the highest construction standards, often utilizing concrete viaducts to bridge the distances across the tiny patches of land.  At one time or another the company employed more than 4,000 men.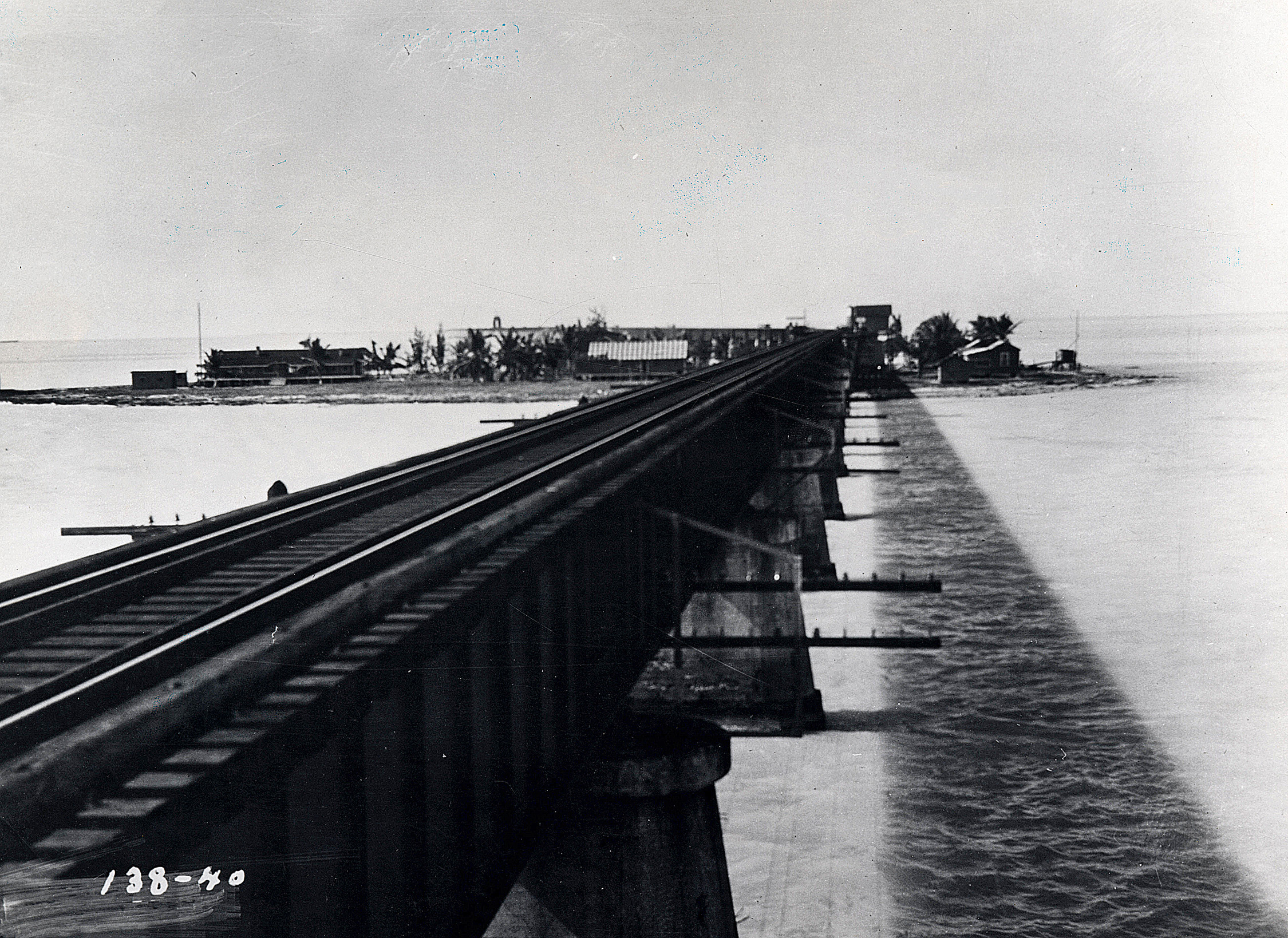 Taken from Seven Mile Bridge this view looks southwest towards Bahia Honda Key and Key West. Harry Wolfe photo.
The extension required more than two-dozen bridges to reach Key West with the longest structure the Seven Mile Bridge, connecting Marathon with Big Pine Key. It took Flagler and the FEC seven years to complete the Extension with the route officially opening on January 21, 1912.
A day later the 82-year-old Flagler rode the entire line to Key West aboard his private business car. Most had scoffed at the idea that such a railroad could be built initially calling the extension "Flagler's Folly". However, once completed it was hailed at the time as the "Eighth Wonder of the World". Overall the project had cost $49 million. 
Unfortunately, the Extension never reached its full potential. Despite Flagler's belief that Key West would become a major port for trade with Cuba, Latin, and South America this never materialized.
And, neither did the hope that Key West would become an important refueling stop for ships. As sailing vessels were able to travel further and further without the need to refuel, the resort town lost its status as a maritime resupply hub. 
Timetable (1930)
Labor Day Hurricane Of 1935
In addition, diesel would soon replace coal as the world's primary source of fuel.  
Then, the category five Labor Day Hurricane of 1935 devastated the Keys and the Florida Overseas Railroad killing more than 400 people, overturning the train dispatched to evacuate folks off the islands, and wrecking the extension.   To see a collection of historic photographs please click here.
Sources: 
Bramson, Seth H. Greatest Railroad Story Ever Told, The: Henry Flagler & The Florida East Coast Railway's Key West Extension. Charleston: The History Press, 2011.



Bramson, Seth H. Speedway To Sunshine, The Story Of The Florida East Coast Railway. Charleston: Boston Mills Press, 1984, 2010.


Hilton, George.  American Narrow Gauge Railroads. Stanford:  Stanford University Press, 1990.
---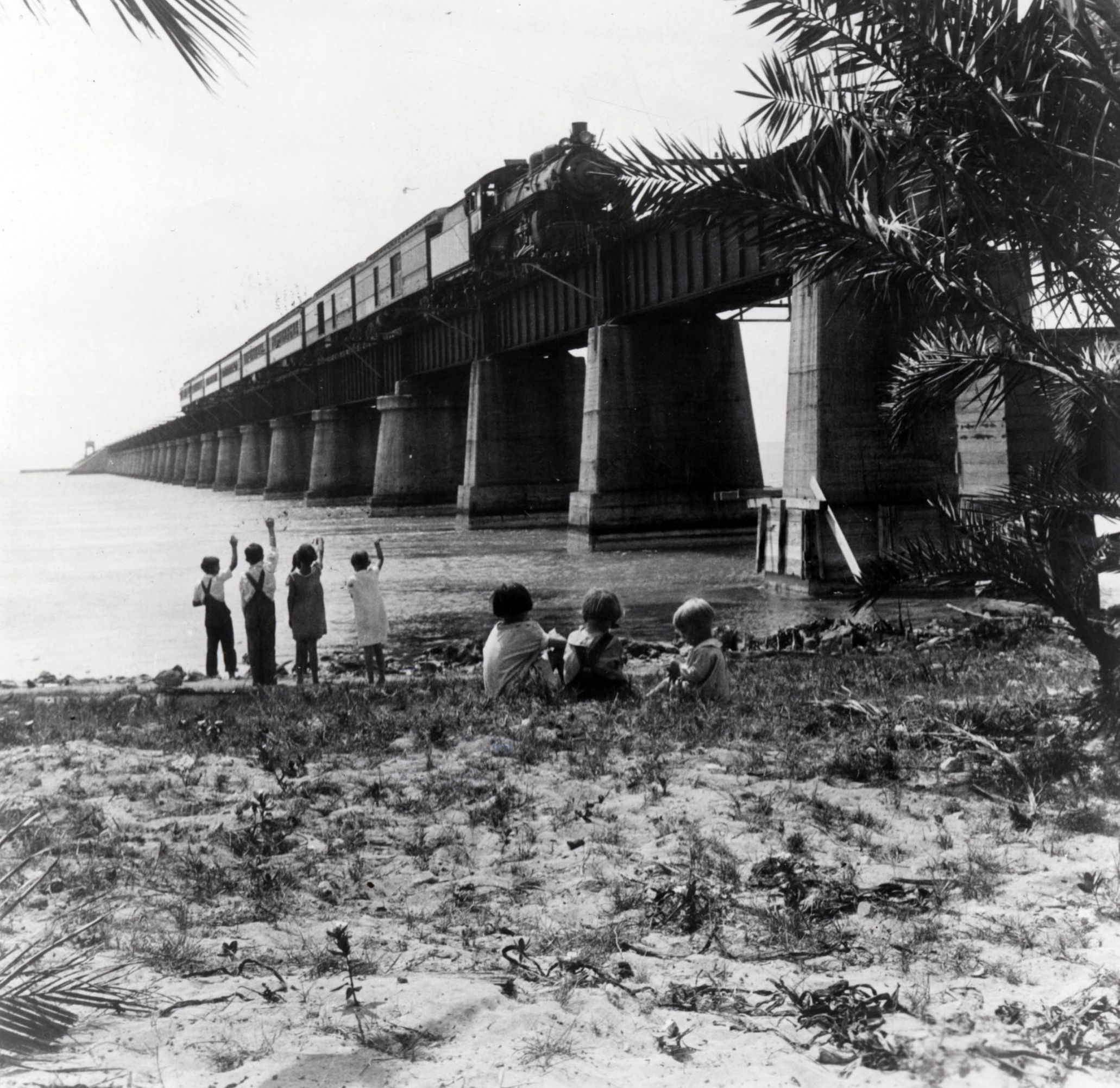 Children wave to a Florida East Coast passenger train from Pigeon Key as it crosses Seven Mile Bridge, circa 1920's.
U.S. 1 Highway
With the FEC already in bankruptcy the railroad was unable to afford repairs to the route.
As such it sold the entire right-of-way and remaining bridges to the state of Florida for $640,000.   In turn the state rebuilt the right-of-way into a major highway, U.S. 1, serving the keys and reaching Key West.
The original railroad bridges remained in use carrying vehicular traffic until the 1980s when the state began constructing new bridges to serve the islands.
However, today, these original structures remain in place and mostly used as fishing or walking piers and are listed on the National Register of Historic Places.