Maryland Dinner Train Rides (2023)
: A Complete Guide
Last revised: May 9, 2023
By: Adam Burns

From a historical perspective, Maryland is significant as being home to the nation's first common-carrier railroad, the Baltimore & Ohio.  The company's heritage dates back to 1827 and it went on to survive the many mergers and bankruptcies of the 19th century to emerge as one of the three major eastern trunk lines throughout the 20th century.
The B&O's home city was, of course, Baltimore, a city it proudly served with many first-class passenger trains such as the Capitol Limited, Columbian, Cincinnatian, Royal Blue, National Limited, and Ambassador.  The Capitol Limited was the railroad's flagship train serving Baltimore/Washington - Chicago, and even ran as far east as New York before 1958.
The on-board amenities it provided were second-to-none including such things as secretaries, barbers, manicurists, valets, and fine Chesapeake Bay cuisine offered on exquisite dinnerware with colonial-style furniture.  While its other trains did not quite reach this level of opulence, all were fine services which truly aimed to put the customer first.
Today, Maryland is home to two heritage railroads, the Walkersville Southern and Western Maryland Scenic; both offer dinner train excursions to provide guests a glimpse of what rail travel was like in the early/mid-2oth century.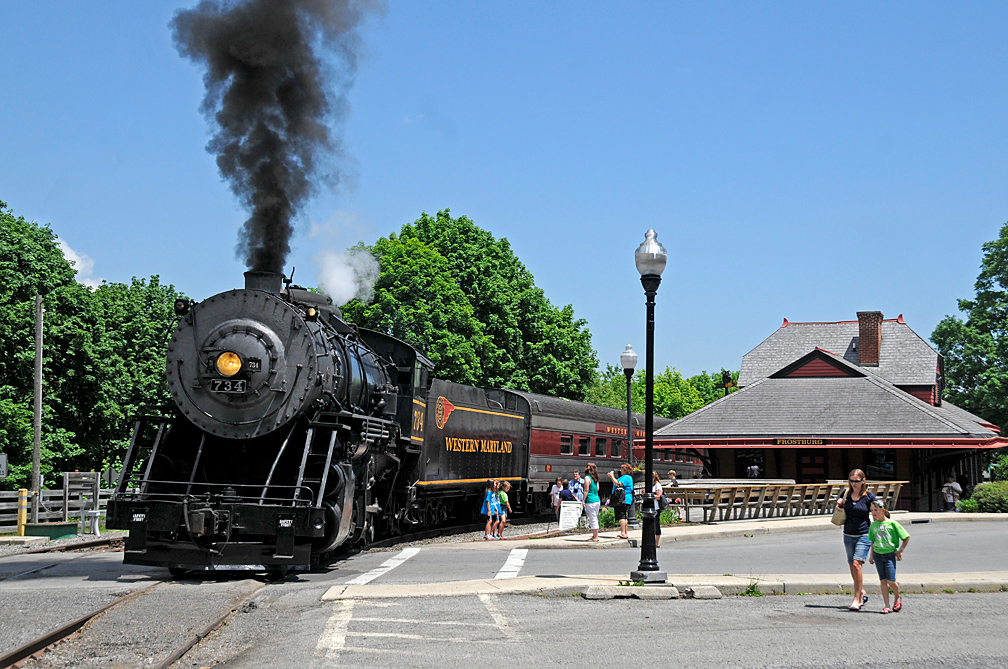 Western Maryland Scenic Railroad 2-8-0 #734 is seen here during her days pulling excursions at Frostburg, Maryland on May 31, 2013. Drew Jacksich photo.
Overview
The Walkersville Southern offers several special trains throughout the year serving either refreshments or full-service meals aboard their two available dining cars.  They also offer standard dinner trains and murder mystery specials.  These trips are very popular and usually sell out in advance so please book your trip early if interested!
The railroad's two dining cars include the Southampton and Meadowlark, which take guests back in time to experience a meal by rail from the 1920s.  The food provided is catered locally by the Carriage House Inn of Emmitsburg, Maryland.
According to the railroad it "...operates dinner trains on the first Saturday of each month from May through November."  They also host murder mystery specials that include a full course meal as well as Valentine's Day dinner trains and a  Mother's Day lunch train.  All trips depart from the restored Pennsylvania Railroad (PRR) depot at 6 PM and last approximately two hours.
The Walkersville Southern operates about 6 miles of former PRR/Penn Central trackage between Walkersville and Frederick.  The railroad, in conjunction with the state, rebuilt this trackage in the early 1990s and began limited excursions in 1995; the line was fully reopened in following bridge repairs over the Monocacy River in March, 1996.
Since that time, the state has worked with the railroad to continue reopening the line further north of Walkersville.  The rail line operates through beautiful bucolic farmland in north/central Maryland, further enhancing the experience of this trip.
The WMSR has blossomed into one of the most popular excursion experiences in the country operating between Cumberland and Frostburg. They feature many different trains throughout the season provided in either a first class or lounge setting. Their five classes of service include:
All but standard coach provide some sort of on-board refreshment and snack.  In addition, the railroad has now launched three-course dinner trains as well known as the "Allegheny Mountain Dinner Train."  These trips begin boarding at 6:30 PM and depart Cumberland at 7 PM and last three hours.  They also offer a bar with alcoholic beverages.
From the railroad:
"New for 2023 the Allegheny Mountain Dinner Train is a fine dining experienced offered by the Western Maryland Scenic Railroad. Your trip into the mountains will begin in Cumberland, where our friendly wait staff will show you to your table and start you off with some refreshments.
With a full bar available onboard, one can enjoy our wine & beer selections or one of our named specialty cocktails. Rolling along the rock cliffs, creeks, streams and trees, our chefs will be busy preparing your three course meal onboard in the kitchen car. Take in the sunset and evening views as your enjoy your three course meal with friends or family."
---
Today, the Western Maryland Scenic maintains nearly 17 miles of the former Western Maryland Railway corridor from Cumberland to Frostburg. This segment includes several scenic locations which includes "The Narrows", just west of Cumberland, 914-foot Brush Tunnel, and finally famous "Helmstetter's Curve."
This particular part of the old WM was its Connellsville Extension that once extended all of the way to Connellsville, Pennsylvania.  However, the line was abandoned west of Frostburg in 1975 and today is part of the Great Allegheny Passage.
Today, the railroad operates diesel-powered trains as well as recently restored Chesapeake & Ohio 2-6-6-2 #1309.  The big Mallet has quickly became its star attraction and has allowed the WMSR to regain its footing after the locomotive's restoration became embroiled in years of delays and setbacks.  Today, WMSR remains one of the state's top tourism destinations enjoying more than 40,000 riders annually.