Pittsburg & Shawmut Railroad

Last revised: October 11, 2023
By: Adam Burns

The historic Pittsburg and Shawmut Railroad (reporting marks, PSR), also known as The Shawmut Line, dates to the very early 20th century and was the product of a large estate left to a spouse.

The P&S operated for just over 100 years as an independent road relying primarily on the movement of coal.
It was a profitable company virtually its entire existence with good management, a high demand for the numerous coal mines located along its property, and three interchanges with large Class I systems.
Logo
Interestingly, despite the arduous task of moving heavy coal trains the railroad relied primarily on EMD diesel switchers although it did have larger locomotives during the steam era.
In the late 1980s and early 1990s the company grew twice, more than doubling its original size by taking over former Pennsylvania Railroad branches.
Then, it was acquired by Genesee & Wyoming and dissolved in the mid-2000s when it became part of the G&W's Buffalo & Pittsburgh property.
Photos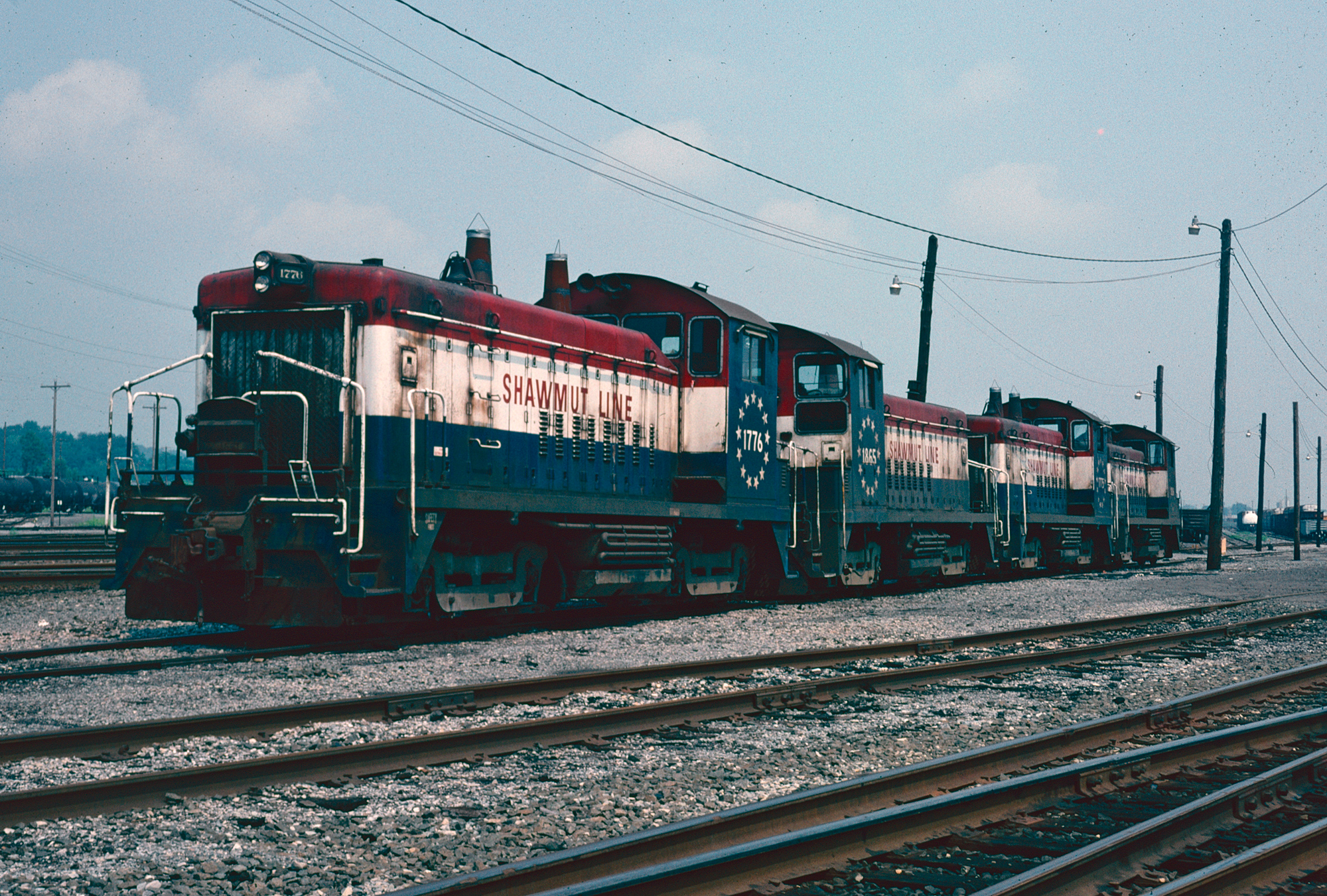 Having already been transferred off the property, Pittsburg & Shawmut SW9's #1776, #1865, #1775, and #1816 sit in Newberry, Pennsylvania on August 4, 1996. Reuben Brouse photo. American-Rails.com collection.
History
The Pittsburg and Shawmut Railroad has its beginnings thanks to the heiress and widow of Mark Hopkins, Mary Frances Hopkins.
After his death in 1879 she married a New York architect and home decorator, Edward T. Searles. In 1891 Mary Frances passed away and bequeathed her estate, which was valued in the millions, to her husband.
The new millionaire decided to use his wealth to build his own railroad, in collaboration with his business agent Thomas H. Hubbard.
So, on July 21, 1903 the Brookville & Mahoning was incorporated to transport coal from the western Pennsylvania foothills with intentions of constructing the new line north from Brookville and a connection with the PRR to Brockway.
Brookville would also become the company's base of operations with the main classification yard, scales, car shops, steam shops (it later served the diesels), and mechanical department offices all located there.
The first segment to open was 9 miles in length, reaching Knoxdale (along with a short branch to Ramsaytown that was later abandoned), and by 1907 the route was opened to Brockway, 20.9 miles.
Here, the B&M also had an interchange with the Pittsburg, Shawmut & Northern as well as the Erie Railroad, the latter of which would prove to be a very important connection with more than 20,000 annual carloads interchanged during the 1950s.
A year after the B&M opened it was leased by the PS&N in 1908, a road that stretched from Brockway all of the way to Wayland, New York with branches reaching Hornell, Olean, and Tyler (Pennsylvania).
The PS&N, however, was always a company in financial difficulty and ended its lease of the property in 1916 after a bankruptcy forced it to divest its holdings in the short line (in 1947 the railroad was formally abandoned after years of red ink).

On January 3, 1910 after becoming tired of having its freight cars sent to the Boston & Maine, which carried the same initials, the company decided to make a name change as the Pittsburg and Shawmut Railroad.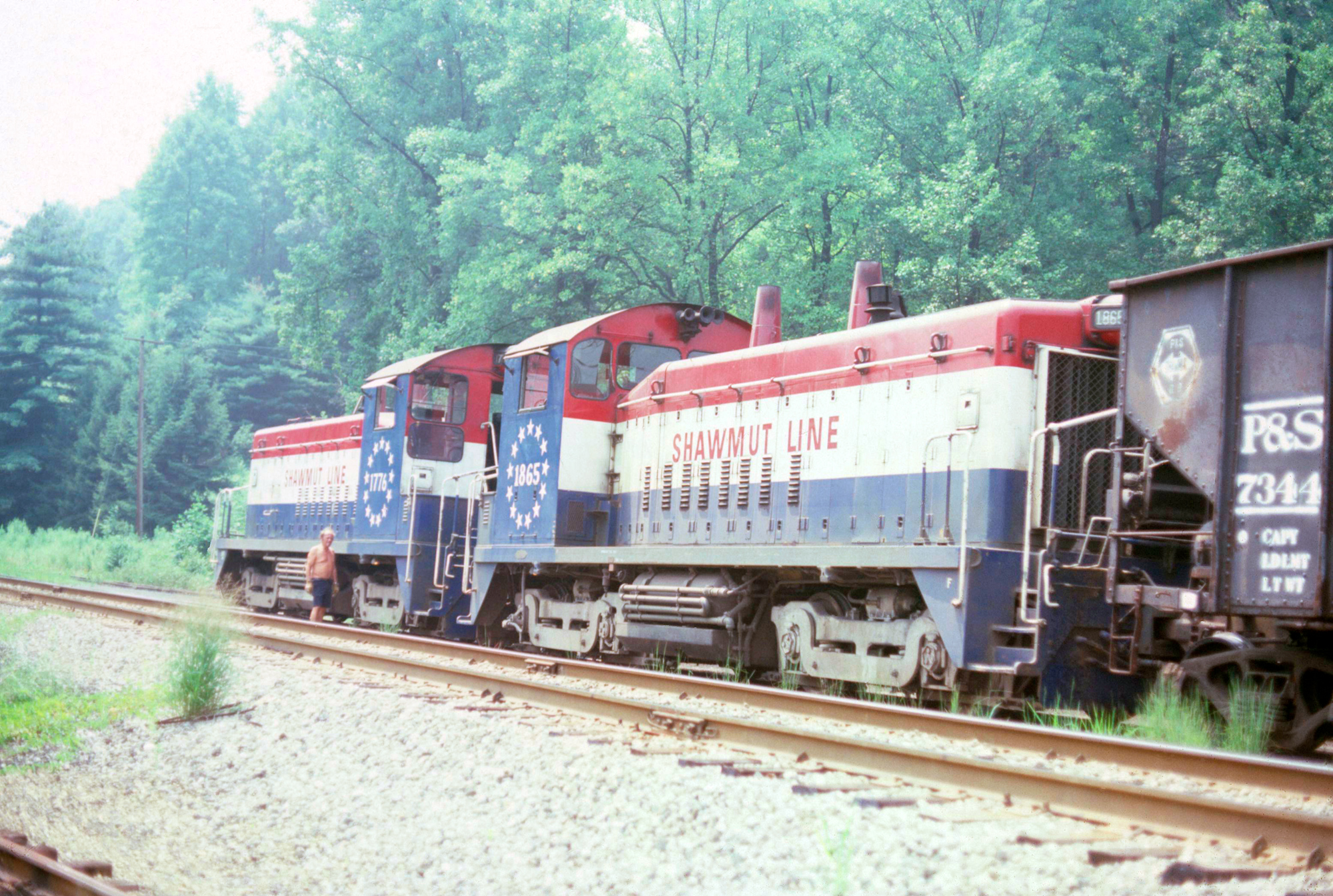 A pair of Pittsburg & Shawmut SW9's are tied down at Reesedale, Pennsylvania in August, 1987. Author's collection.
A year after the PS&N lost its holdings in the P&S the coal hauler was able to complete its line to Freeport, a distance of 88.01 miles, where it established another connection with the PRR (it also interchanged with the Baltimore & Ohio at West Mosgrove).
Much of the right-of-way on the southern end of the system followed the Allegheny River. While the railroad struggled during its early years it became quite profitable in short order with not only numerous coal mines popping up along its property but also other traffic that included lumber mills, aggregates, local agriculture, interchange freight, and various less-than-carload movements.
Of course, in succeeding years much of that traffic would disappear although the P&S would supplant it with other types of freight. For instance, by the 1950s traffic consisted of chemicals, aggregates, brick, sand, and fertilizer.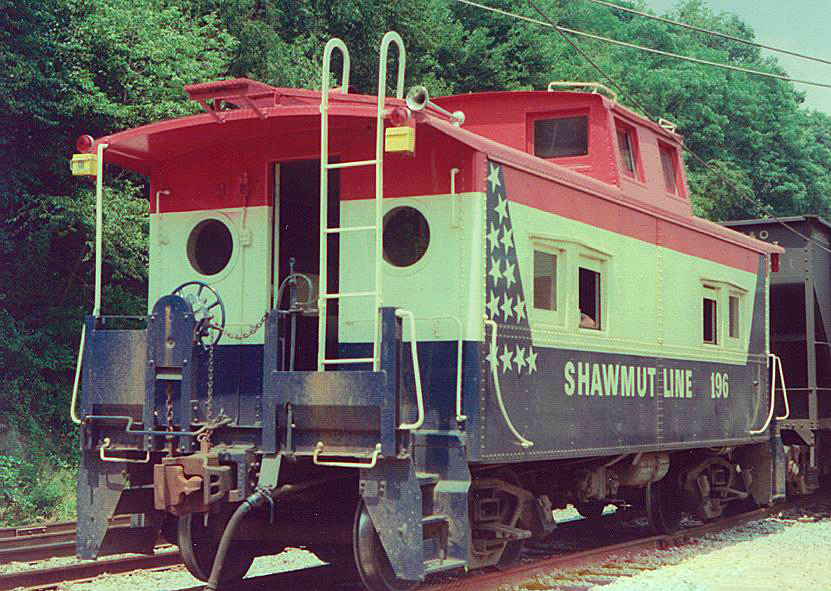 Pittsburg & Shawmut caboose #196, painted in its own Bicentennial livery, rides the tail end of a freight at Kittanning, Pennsylvania on July 6, 1976. Doug Kroll photo.
For a route that was less than 100 miles in length the Pittsburg and Shawmut Railroad boasted several tunnels and long bridges including:
Mauk Tunnel (1,989 feet)


Sprankle Viaduct (1,430 feet long and 150 feet high), Coutler Tunnel (2,035 feet)


East Branch Viaduct (1,478 feet long and 128 high)


Knoxdale Tunnel (812 feet)


Mahoning Tunnel (1,040 feet)
Despite a high maintenance main line and the 19-mile Grade just north of Mahoning Yard of 0.62% the P&S was not a taxing system from an operational standpoint as the company found J4-Class 2-8-2 Mikados (former Monon units) quite sufficient to move heavy coal drags and other freights.
System Map (1940)
Other wheel arrangements used during the steam era included 2-8-0 Consolidations, which was primary power until the Mikados arrived, and 4-4-2 Atlantics for passenger service.

Timetable (1940)

The Shawmut Line did offer passenger services from the time it began until finally dropping its remaining gasoline-powered, "Doodlebug", in 1938, which by that date was mostly used only to haul kids to and from school in Kittanning and Brookville.
Interestingly, though, at one time the P&S operated trains powered with speedy and sleek 4-4-2s toting all-steel cars (before they became an industry standard).
However, a lack of demand after World War I simply did not warrant this kind of costly service and it was slowly cut back. Diesels replaced the steamers in November of 1953 when nine new EMD SW9s arrived.
In later years the railroad picked up two former Conrail GP7s but the switchers were always relied upon as main power during independent operations (the company would also acquire a former Penn Central U30B).
---
Pittsburg & Shawmut SW9 #237 sits quietly at the road's shops in Brookville, Pennsylvania on July 11, 1976. Doug Kroll photo.
Final Years
Until 1990 no significant changes occurred for the railroad when that year it grew by 10 miles acquiring ex-Pennsy trackage from Conrail between Sligo to Lawsonham and operating it as the Red Bank Railroad.
Then, at the end of 1991 it picked up 104.3 miles of additional PRR trackage from Conrail between Lawsonham to Driftwood and operated it as the Mountain Laurel Railroad.
This new setup for The Shawmut Line lasted just a short five years when it was acquired by Genesee & Wyoming in 1996 and in 2004 it was dissolved into G&W regional Buffalo & Pittsburgh.
Since the 1996 much of the original P&S has been abandoned with just 24.5 miles remaining between Reesedale and Freeport Junction. 
(Thanks to "The Shawmut Line" by author Richard J. Cook from the February, 1955 issue of Trains as a primary reference for this article.)