Indiana And Ohio Railway

Header Photo: Drew Jacksich
The Indiana & Ohio Railway (reporting marks, IORY) is a shortline railroad, based out of Cincinnati, Ohio with nearly 600 miles of railroad it either directly owns or operates via trackage rights. The railroad began operations in 1978 when it took over a branch of the former Cleveland, Cincinnati, Chicago and St. Louis Railway (the Big Four, which became part of the New York Central) running between Valley Junction, Ohio and Brookville, Indiana. Throughout the 1980s the railroad continued to grow picking up unwanted lines from large Class Is such as Conrail and the Chessie System, and even former Detroit, Toledo & Ironton trackage. Today, the railroad is part of the Genesee & Wyoming family of shortlines and features a rather diverse traffic base that should allow it to remain successful throughout the foreseeable future (in many ways the railroad is nearly a Class II, regional).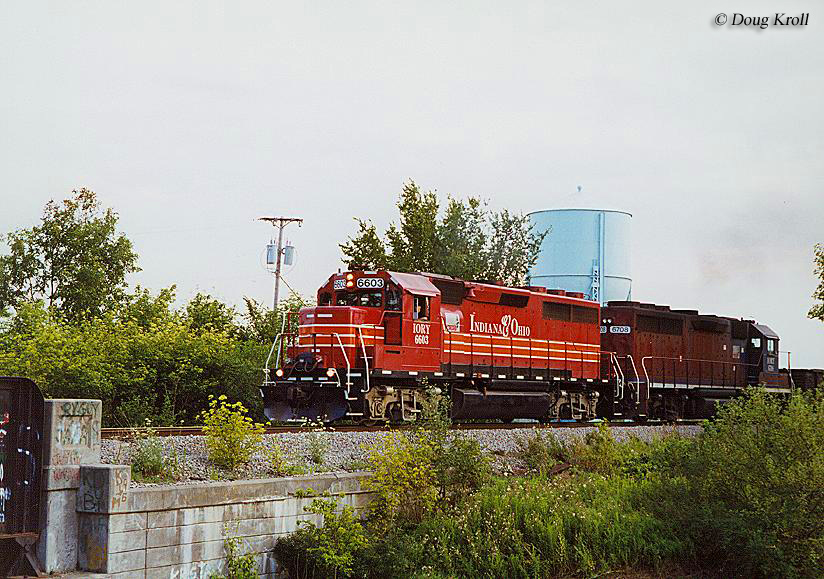 Through the 1980s and 1990s the then privately-owned Indiana and Ohio Railway continued to grow as it took over lines no one else wanted. In 1984/85 the railroad purchased a former Conrail (Pennsylvania Railroad) branch between Middeltown, Mason, and Lebanon just northeast of Cincinnati. A year later it picked up another former Conrail (PRR) to Blue Ash (also near Cincinnati). By this point the I&O had interchange points along the Chessie System (now CSX) and Conrail (now Norfolk Southern). Then, in the late 1980s the newly formed CSX system had abandoned the B&O's main line through Ohio and eventually sold to the I&O the entire section between Cincinnati and Greenfield, as well as its secondary main line between Midland City and Columbus.
Around the same time in late 1987 the I&O picked up the C&O's former line between Logan and Columbus giving it a system stretching well over 100 miles in length. It continued to grow into the 1990s by first acquiring the former DT&I main line between Washington Court House and Springfield, adding around another 50 miles to it system. In 1994 it gained control of more former Conrail trackage, this time two branches around Springfield connecting to Mechanicsburg and Bellefontaine, which added nearly another 40 miles to its system. A year later the I&O also took over the rest of Conrail's remaining branch line trackage in and around Cincinnati.
However, things changed for the railroad in 1996. That year the Indiana and Ohio Railway's owners elected to see the company to another operator, in this case RailTex, Inc. which was, at the time, one of the larger shortline conglomerates. Under RailTex ownership the railroad continued to prosper and nearly doubled its system. In early 1997 after a long negotiation with the Canadian National the I&O was able to purchase nearly the rest of the DT&I's main line between Springfield, Ohio and Detroit, Michigan. Then, just a year later it acquired two small shortlines, the Central Railroad of Indianapolis and Central Railroad of Indiana.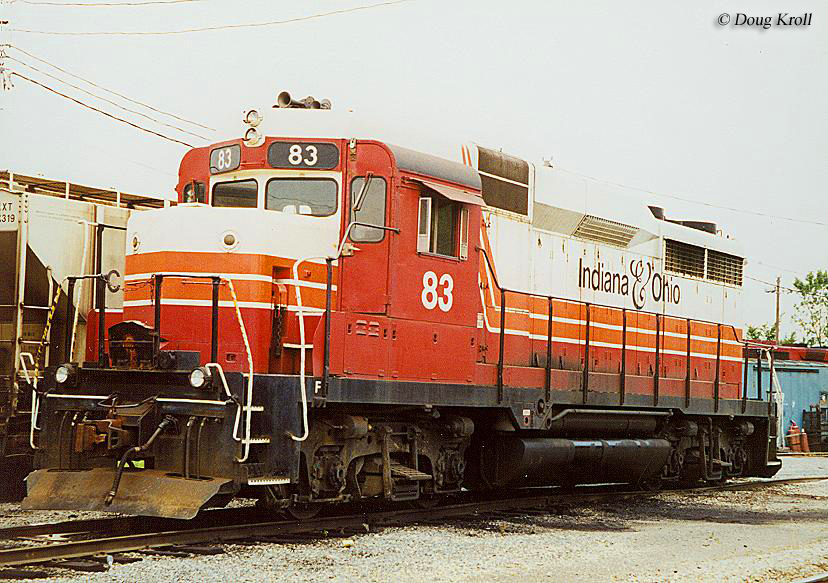 In early 2000 RailTex was acquired by RailAmerica, Inc. and thus the Indiana and Ohio Railway had a new owner, which also came to own its two shortline properties. Today, the I&O is now a Genesee & Wyoming property thanks to its purchase of RA in July of 2012 (one of its largest railroads) with a system the comprises 570 miles of track and a diversified traffic base of chemicals, metals, grain, ethanol, lumber, plastics, and other freight.

Indiana & Ohio Railway Locomotive Roster
| Builder | Model Type | Road Number | Notes | Quantity |
| --- | --- | --- | --- | --- |
| EMD | SW1500 | 1500-1501, 2342 | Ex-CR, Ex-Southern | 3 |
| EMD | GP40 | 4008, 4011, 4030, 4032 | Ex-UP, Ex-B&O | 4 |
| EMD | GP40-1 | 4034, 4036 | Ex-SCL, Ex-WRyA | 2 |
| EMD | SD40T-2 | 4070-4072 | Ex-SP | 3 |
| EMD | SD40-2 | 4082-4085 | Ex-CP | 4 |
| EMD | GP50 | 5001-5002 | Ex-BN | 2 |
---
Currently, the railroad has interchanges with numerous other lines including CSX, Norfolk Southern, Canadian National, Ann Arbor, and RJ Corman.   The Indiana and Ohio Railway is also now large enough to be split into several subdivisions including the Blue Ash Subdivision, Brookville Subdivision, CIND Subdivision, Mason Subdivision, Midland Subdivision, and Oasis Subdivision. Today the I&O has a vast array of four and six-axle motive power, although all are strictly EMDs (interestingly some units come from the very fallen flag companies which owned the branches the I&O now operates). 
Home

›
Short Lines
› Indiana & Ohio Railway