Terminal Railroad Association Of St. Louis

Last revised: October 10, 2023
By: Adam Burns

The Terminal Railroad Association Of St. Louis, also known by its reporting marks as the TRRA, is a switching line that has been in operation since the late 1880s.

It was originally founded by a group of railroads to not only switch freight amongst their lines in St. Louis, Missouri and East St. Louis, Illinois (across the Mississippi River) but it also would come to own St. Louis Union Station and switched all trains entering and exiting the terminal.
The TRRA proved to be a vitally important asset since St. Louis was the second-busiest railroad gateway behind only Chicago.
Numerous eastern trunk lines like the Baltimore & Ohio, Pennsylvania, and New York met major western carries including the Missouri Pacific, Union Pacific, Rock Island, Frisco, and others.
Today, while it no longer operates Union Station, five of the seven Class Is still own the TRRA and the system continues to sport its own livery and locomotive roster.
Photos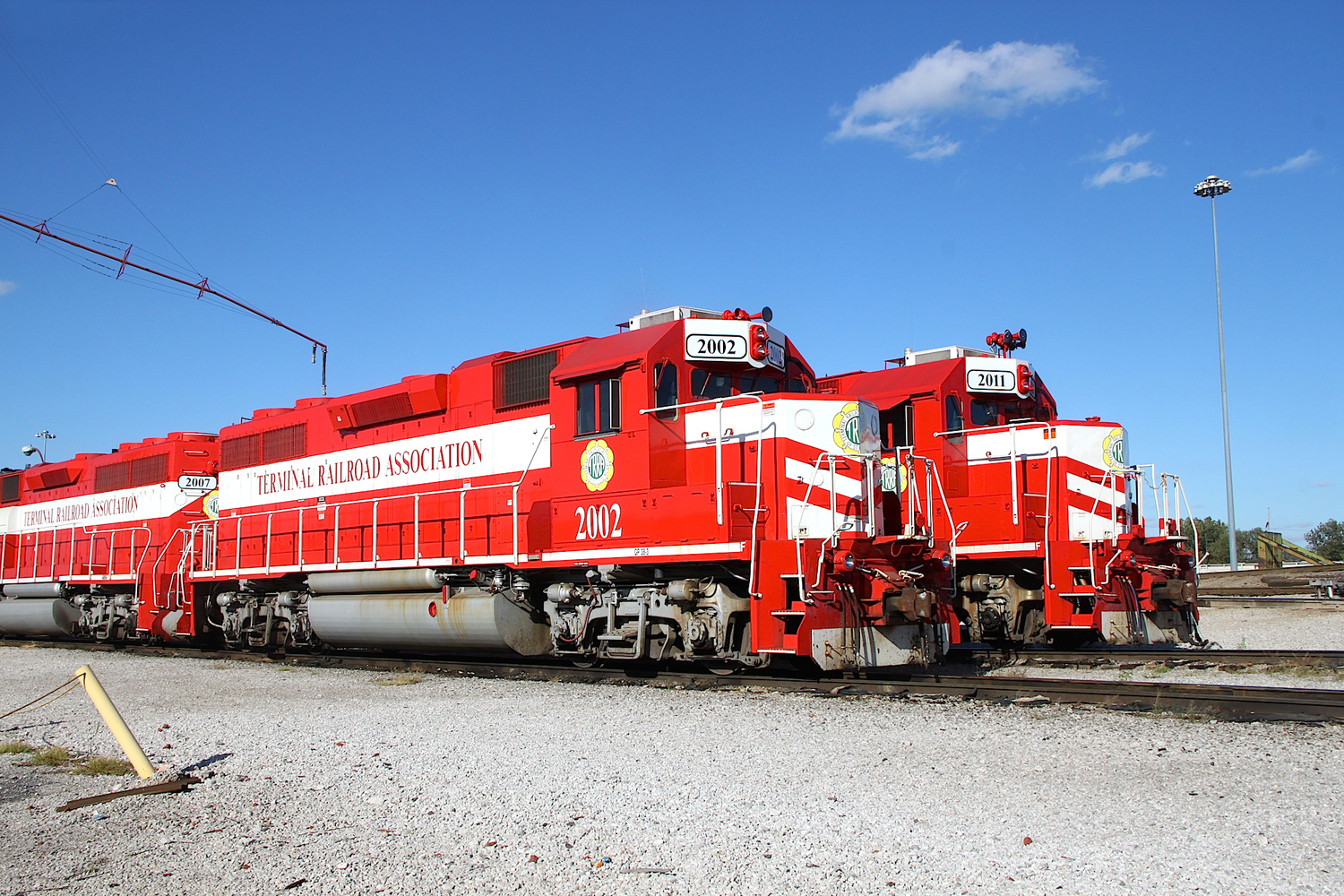 Terminal Railroad Association Of St. Louis GP38-3's #2002 (ex-Chesapeake & Ohio GP38 #3879 built in 1967) and #2011 (built as Penn Central #3164 in 1968) are seen here in October of 2014. Warren Calloway photo.
History
The original purpose of the Terminal Railroad Association Of St. Louis was to operate St. Louis Union Station.
The station's architect was Theodore C. Link and the building's exterior was of the French Romanesque style with cut stone and towers featured on the exterior with a grand 280-foot clock tower as the centerpiece.
The station's interior featured a 65-foot vaulted ceiling in the Grand Hall and stained-glass windows.
The building was split into three main sections:
The Headhouse (where the Grand Hall was located featuring mosaics, gold leaf details and scagliola surfaces).


The Midway (which was the main concourse measuring at 610 feet long by 70 feet wide).


Finally the Trainshed, which featured 32 tracks on nearly 12 acres of ground for the dozens of trains calling there.
In the late 1880s railroads were even more competitive than they are today and the thought of jointly operating a central terminals was not something they wished to do.
On July 8, 1893 the cornerstone of the St. Louis Union Station was laid and the $6.5 million structure was completed a year later, officially opened on September 1, 1894 at 1:45 a.m. following the arrival of the first train.

Terminal Railroad Association Of St. Louis GP38-3 #2009 is seen here in October of 2014. The unit was built as Katy GP40 #211 in 1969. Warren Calloway photo.
In 1889, rail tycoon Jay Gould convinced the six railroads which owned the terminal to come together and form the TRRA for the cost savings that would be gained by jointly owning a switching railroad to perform these tasks.

These lines included:
Missouri Pacific


St. Louis, Iron Mountain &Southern (a later MP subsidiary)


Wabash


Ohio & Mississippi Railroad (later part of the Baltimore & Ohio)


Louisville & Nashville


Cleveland, Cincinnati, Chicago & St. Louis Railway (the "Big Four Railroad" which became a part of the New York Central)


Later, in 1902 the Rock Island joined the consortium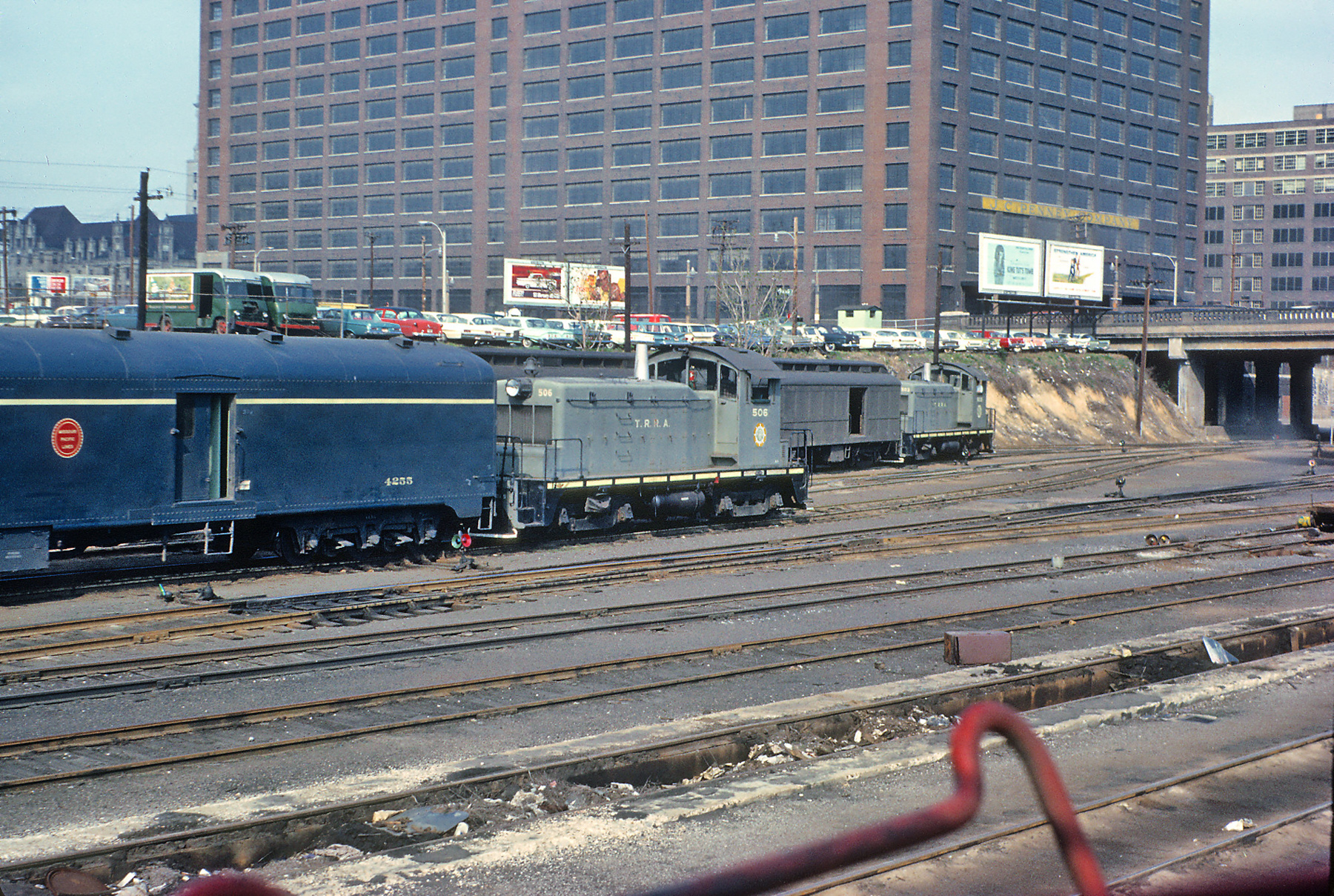 Taken from the cab of St. Louis-San Francisco E8A #2021 arriving at St. Louis Union Station with train #808, "The Sunnyland," Roger Puta captured a pair of Terminal Railroad Association SW1's busy at work on April 16, 1963.
Aside from the role the Terminal Railroad Association Of St. Louis played in keeping passenger trains coordinated into and out of the terminal it also played a growing importance in moving freight around St. Louis.
It owned two of the four major bridges crossing the Mississippi River; the Merchants Bridge (opened on March 18, 1890 it is a half-mile long) and the James B. Eads Bridge (in 1989 it swapped ownership of this structure with the city, acquiring the MacArthur Bridge in exchange).
In East St. Louis the TRRA interchanged with:
MoPac


St. Louis Southwestern (Cotton Belt/Southern Pacific), 


Chicago & Eastern Illinois


Louisville & Nashville


Nickel Plate Road


Southern Railway


Pennsylvania


Illinois Terminal (another quasi-terminal line serving the city)


Wabash (later Norfolk & Western)


New York Central


Burlington


Gulf, Mobile & Ohio

To the west in St. Louis there were connections with the St. Louis-San Francisco Railway (Frisco), Rock Island, Missouri-Kansas-Texas (Katy), and additional interchanges with the N&W and MoPac.
The TRRA's major yard has always been located in Madison, Illinois on the extreme northeastern fringe of the system (north of East St. Louis).
During the steam era the system mostly utilized common switcher designs like 0-6-0s and 0-8-0s although it also once used 2-6-0 Moguls.
System Map
Once the railroad began purchasing diesels it stayed with the switcher concept purchasing models like Baldwin's VO-660, American Locomotive Company (Alco) S2s, and Electro-Motive SW7s, SW1200s, SW1s, SW9s, and SW1500s.
Today, the TRRA uses much larger power that includes primarily GP38-3s along with an SD38-2, two SD40-2s, an SD40T-2, and an SD45T-2.
Interestingly, the company also still sports a beautiful red livery with white trim completed with its outward-pointing arrows logo.
Locomotive Roster
| Builder | Model Type | Road Number | Notes | Quantity |
| --- | --- | --- | --- | --- |
| EMD | GP38-3 | 2000-2011 | Ex-Union Pacific | 12 |
| EMD | Slug | 2206 | Former Detroit Edison SD40 | 1 |
| EMD | SD45T-2 | 3001, 3005 | Ex-Southern Pacific | 2 |
| EMD | SD40-2 | 3002, 7099 | Ex-SP, Ex-BN | 2 |
| EMD | SD38-2 | 3003 | Ex-SP SD40-2 | 1 |
| EMD | SD40-3 | 3004 | Ex-SP SD40R | 1 |
(Thanks to Wayne Leeman's "Wayne Leeman's St. Louis Union Station Scrapbook" from the March, 1978 issue of Trains as a reference for this article.)

---
Terminal Railroad Association Of St. Louis SD40T-2 #3005 leads a freight in October of 2007. The locomotive was built as Cotton Belt SD45T-2 #9262 in 1973. Warren Calloway photo.
Today
During its peak years of servicing St. Louis Union Station (through the 1920s, and again during World War II) the TRRA was handling nearly 200 trains every day that transported more than 100,000 passengers.
For instance, at the end of 1943 this translated into 72,621 passenger trains and 660,906 cars that had to be efficiently moved through the terminal and around the city, all while staying on a strict timetable schedule (much different than Amtrak).
By April 30, 1971 just six trains were still calling to the station and the next day the TRRA handed operations over to the national carrier and sold the building to a private developer, forever ending its passenger duties.
The TRRA currently operates six different subdivisions that include the Merchants Subdivision, Illinois Transfer Subdivision, MacArthur Bridge Subdivision, North Belt Subdivision, West Belt Subdivision, and Eads Subdivision.
These lines interchange with its five Class I owners that include the BNSF Railway, Union Pacific, CSX Transportation, Norfolk Southern, and Canadian National.
Interestingly enough, the TRRA is still owned by nearly as many railroads as when it first began back in 1889. To learn more about the history of the TRRA please click here.