Apache Railway

Last revised: October 10, 2023
By: Adam Burns

The Apache Railway (reporting marks, APA) is a shortline operation based out of Snowflake, Arizona and operates over 30 miles of track between Holbrook, Arizona (location of a paper mill) to Snowflake.

The Apache has been in operation for more than 90 years now and continues to haul traffic over much of the same trackage as when it started in 1917.
Over the years the railroad has been owned by a number of different companies and at its peaked featured a system stretching over 70 miles.
For many years the Apache transported a variety of timber-related products and was widely regarded in the railfan community for its use of venerable American Locomotive Company (Alco) diesel locomotives, notably C420 and C424 models.
It was announced during July of 2012 that the railroad's then-owner would be ending operations at the paper recycling mill and shutting down the railroad by that September although those plans were later changed.
Photos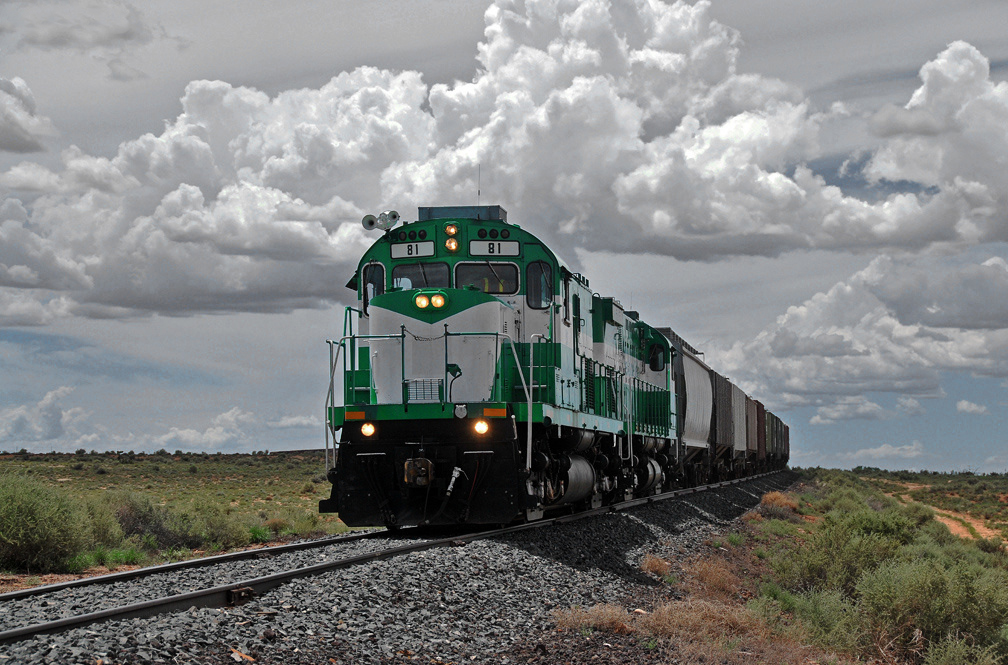 Apache Railway C420 #81 heads northbound towards Holbrook, Arizona with a short freight on August 9, 2010. Drew Jacksich photo.
History
The history of the Apache Railway begins on September 5, 1917 when it began construction from a connection with the Atchison, Topeka & Santa Fe Railway at Holbrook building southward to tap timber reserves for a paper mill.
A year later, almost exactly to the day on September 6, 1918 the railroad completed its line as far south as Snowflake and two years after that in the summer of 1920 the route was open to McNary, a total of 72 miles (when it opened, and for many years, the railroad was listed as a Class II, regional).
While the Apache has always based its traffic primarily on timber products it also provided passenger services along its line until the early 1950s.
In the following years one could also find excursion services on the line when the White Mountain Scenic Railroad began providing steam-powered tourist trains. These remained until about 1976.
Behind darkening skies a trio of Apache Railway "Centuries" push cars down the line for storage near Snowflake, Arizona on August 31, 2012. Drew Jacksich photo.
For years the railroad was famous for its rare all-Alco roster, consisting entirely of four-axle C420s and C424s. Perhaps the most dramatic change during the Apache's later years occurred in 1999 when its former owner, Stone Container Corporation, sold the railroad to Abitibi Consolidated.
This company retained ownership of the railroad until 2008 when it was purchased by Catalyst Paper, which currently remains the railroad's owner.
During this time the Apache Railway transported wood and paper products including recycled fiber, coal, chemicals, agriculture, transloading, and grain.
A pair of Apache Railway C420's layover in Snowflake, Arizona during the summer of 1987. American-Rails.com collection.
The Apache's base of operations is in Snowflake (although its main yard and shops are several miles west of the town at Holbrook).
At one time this town was about mid-point on the system but after the section of main line from there to McNary was abandoned in 1984 Snowflake became the southern terminus with the line's total length now standing at around 33 miles (at one time it reached a length of 72 miles).
It should also be noted that the company once based its main offices at the southern terminus of McNary but, of course, moved from this location after the line was cut back.
Timetables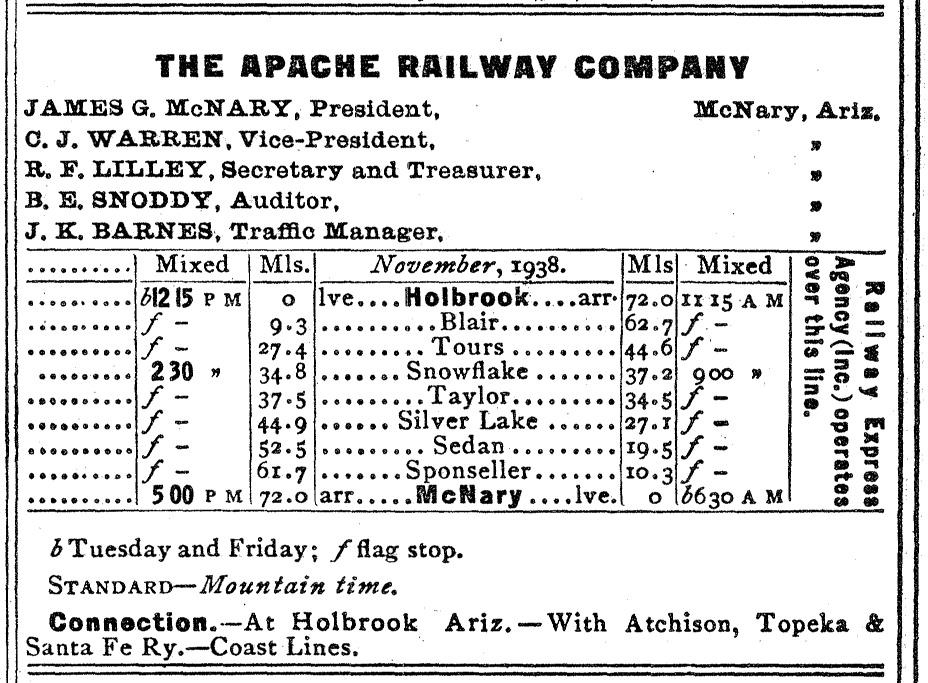 Prior to 1984 the Apache Railway had essentially four main stops along its 72-mile main line, from north to south; Holbrook (Milepost 0.0), Snowflake (Milepost 33.0), Bell (Milepost 54.8), and McNary (Milepost 72.0).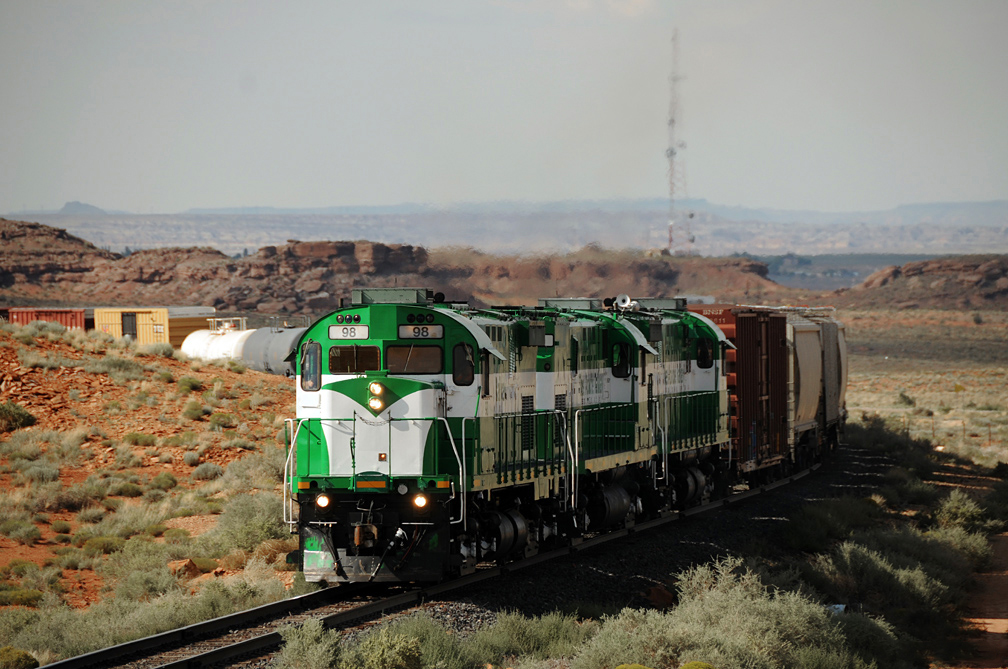 Apache Railway C424 #98 is seen here with a few friends traveling through the open desert on August 24, 2012. Drew Jacksich photo.
The railroad's original connection was with the historic Santa Fe although today that name has changed to the BNSF Railway.   Below is a current roster of the Apache.

Locomotive Roster
| Builder | Model Type | Road Number | Date Built | Quantity |
| --- | --- | --- | --- | --- |
| Alco | C420 | 81-84 | 1964-1967 (Ex-L&N, Ex-Monon, Ex-N&W, Ex-Tennessee Central) | 4 |
| Alco | RS36 | 700, 800, 900 | 1962 | 3 |
| Alco | RS11 | 901-904 | 1959 (Ex-SP) | 4 |
| Baldwin | S-12 | 600 | 1952 | 1 |
| Fairbanks Morse | H10-44 | 100, 200 | 1947-1948 | 2 |
| MLW | C424 | 97-99 | 1965 (Ex-CP Rail) | 3 |
---
Apache Railway C420 #81 (ex-Louisville & Nashville #1305 built in June of 1964) leads its freight southbound away from Holbrook, Arizona on August 5, 2009. Drew Jacksich photo.
The historic Apache timetable through the late 1960s listed that trains could travel the entire line between McNary and Holbrook in about four to five hours.
After just four years of ownership the Catalyst Paper, which is headquartered in Richmond, British Columbia, announced its intentions on July 31, 2012 to close the remaining recycling mill in Snowflake by September 30th of that year.
However, top management decided to stay this decision and keep the railroad in operation. It remains uncertain how the Apache will move forward as the railroad is currently in bankruptcy protection. Hopefully, though, the line will persevere.