Copper Basin Railway

Last revised: October 12, 2023
By: Adam Burns

The Copper Basin Railway (reporting marks, CBRY) has been in operation since 1986 when the Southern Pacific began pruning back its system, abandoning or selling secondary/branch lines, which were unprofitable or did not meet the Class I's profitability margin.

This route extended from Magma, just east of Phoenix, to Winkelman, Arizona and was more than 70 miles in length.
The upstart Copper Basin was an independent, purchasing the property from a major copper mining company in the area that has since disappeared.
Since it began the short line has undergone a few ownership changes although it still remains profitable hauling the product for which it is named.
It should be noted that the line's success is in no small part due to its longtime, and legendary, president and chief operating officer Lowell S. "Jake" Jacobson who makes sure his trains are always on time and above all else, safety is paramount.
Copper Basin Railway GP39 #402 (ex-Kennecott Copper #2 built in 1970) heads north with its train bound for Ray, Arizona on August 7, 2010. Drew Jacksich photo.
The history of the Copper Basin Railway begins on August 15, 1986 when it purchased the SP's former branch mentioned above.
In its entirety this line ran from Wellton, a junction along the transcontinental Sunset Route, through Phoenix and onto Hayden/Winkelman.
The Class I retained the line as far as Phoenix, which is still in use under Union Pacific today (and also retained a north-south branch from Magma back to the Sunset Route at Picacho).
At the same time SP was ridding itself of this copper line the Kennecott Copper Corporation, which as some may know also owned the historic Magma Arizona Railroad (remembered for its use of Baldwin road-switchers), was also selling off its Ray Mine and Hayden Smelter, the former of of which was located along a short branch north of Hayden.
In the end, ASARCO, LLC (which was known by its long name as American Smelting & Refining Company until 1975) purchased the mine and smelter, and the Copper Basin took over the branch allowing both to turn around the fortunes of their respective properties at the same time.

Copper Basin Railway GP40 #301 (built as Louisville & Nashville #3023 in 1967) is seen here with its train on September 28, 2015. Drew Jacksich photo.
Today, the Ray Mine remains one of the CBRY's major customers although the railroad does move other types of freight when the opportunity presents itself; such  as lumber and even occasional moves for the military which has a nearby base.

Additionally, raw ore is not the only copper-related traffic shipped by the Copper Basin as either refined copper (anodes and cathodes) or a byproduct of the mining process moves by train.
This freight includes sulfuric acid (a byproduct of sulfide copper ore), used in other industrial applications and gypsum, a substance commonly found in the residential drywall.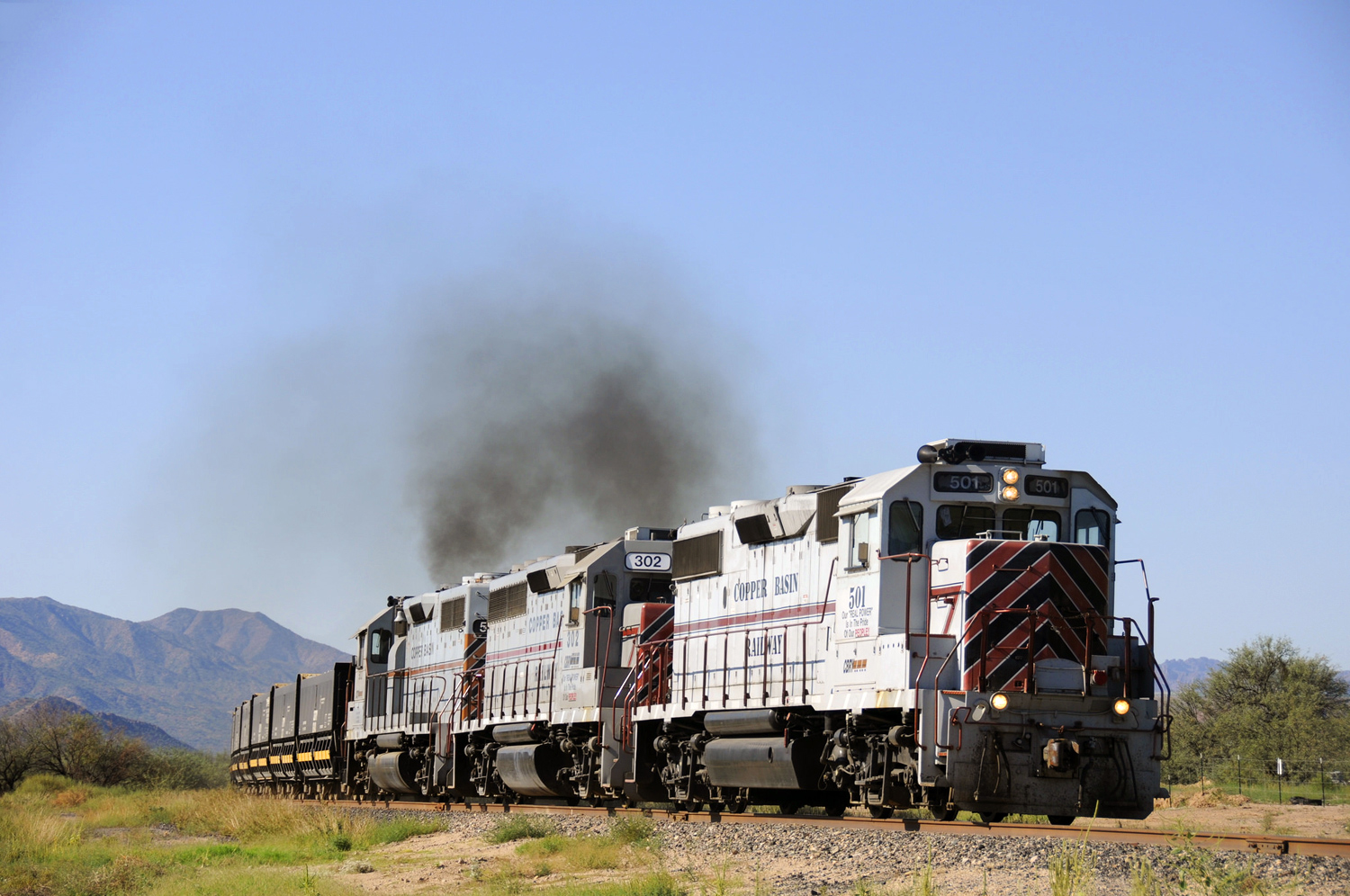 Copper Basin Railway GP39-2 #501 (ex-Kennecott Copper #791 built in 1978) is leads a string of copper ore on October 1, 2015. Drew Jacksich photo.
Much of reason why the railroad is so successful today is thanks to Jack Jacobson, a forward and frank manager that expects his employees to give nothing less than 100% while on the job.
At the same time, however, respect is something mutual at the CBRY and it is this important quality that has his team working so hard for their boss.
The trait was learned from his father and is a significant reason why he was able to work his way up the ranks at Union Pacific after signing on in 1969 following a tour in Vietnam.
He spent more than 13 years at the company until the takeover of Missouri Pacific in 1982 saw Jacobson lose interest after he disapproved of how new management was running the railroad.
So, he moved on and was asked by Rail Management Corporation's Earl Durden to take over a new short line operation in 1985, the Copper Basin Railway.
Copper Basin Railway GP39 #505 (built as Chesapeake & Ohio GP39 #3916 in 1969) with train OT-1 at the ASARCO ore loader at Hayden, Arizona on February 24, 2006. Mike Derrick photo.
It took some time for Jacobson to get his employees hired and rail operations running as fluidly as he had hoped but things were humming along by the early 1990s, so much so that in 1994 he was recognized by Railway Age as "Railroader of the Year."
After more than 25 years of heading the CBRY Jacobson no longer has to be on physically on the property as often as he once did.
This is because most of his staff has been on the railroad for so long that they know exactly what is expected. Of course, he is never far away; fail to get a train dispatched on time and you will probably be hearing from him! He also makes routine evaluations of the property at least twice a week.
Simply put, the Copper Basin is one of the best organized and managed short lines running anywhere in the country. 
For the past several years the CBRY has fleeted a locomotive roster made up entirely of Electro-Motive Geeps that include GP9s, GP18s, and three different variations of the GP39.

Locomotive Roster
| Builder | Model Type | Road Number | Notes | Quantity |
| --- | --- | --- | --- | --- |
| EMD | GP18 | 201-203 | Ex-Rock Island | 3 |
| EMD | GP9 | 204, 208 | Ex-NP, Ex-CB&Q | 2 |
| EMD | GP40-2 | 205-207 | Ex-SSW/SP | 3 |
| EMD | GP39 | 401-402 | Ex-Kennecott Copper | 2 |
| EMD | GP39-2 | 403, 501-502 | Ex-Kennecott Copper | 3 |
| EMD | GP39CLC | 503-405 | Ex-C&O | 3 |
Thanks to Steve Schmollinger's piece, "Who is Jake Jacobson...and why are his men willing to follow him anywhere?," from the October, 2001 issue of Trains magazine for a reference in writing this article.

---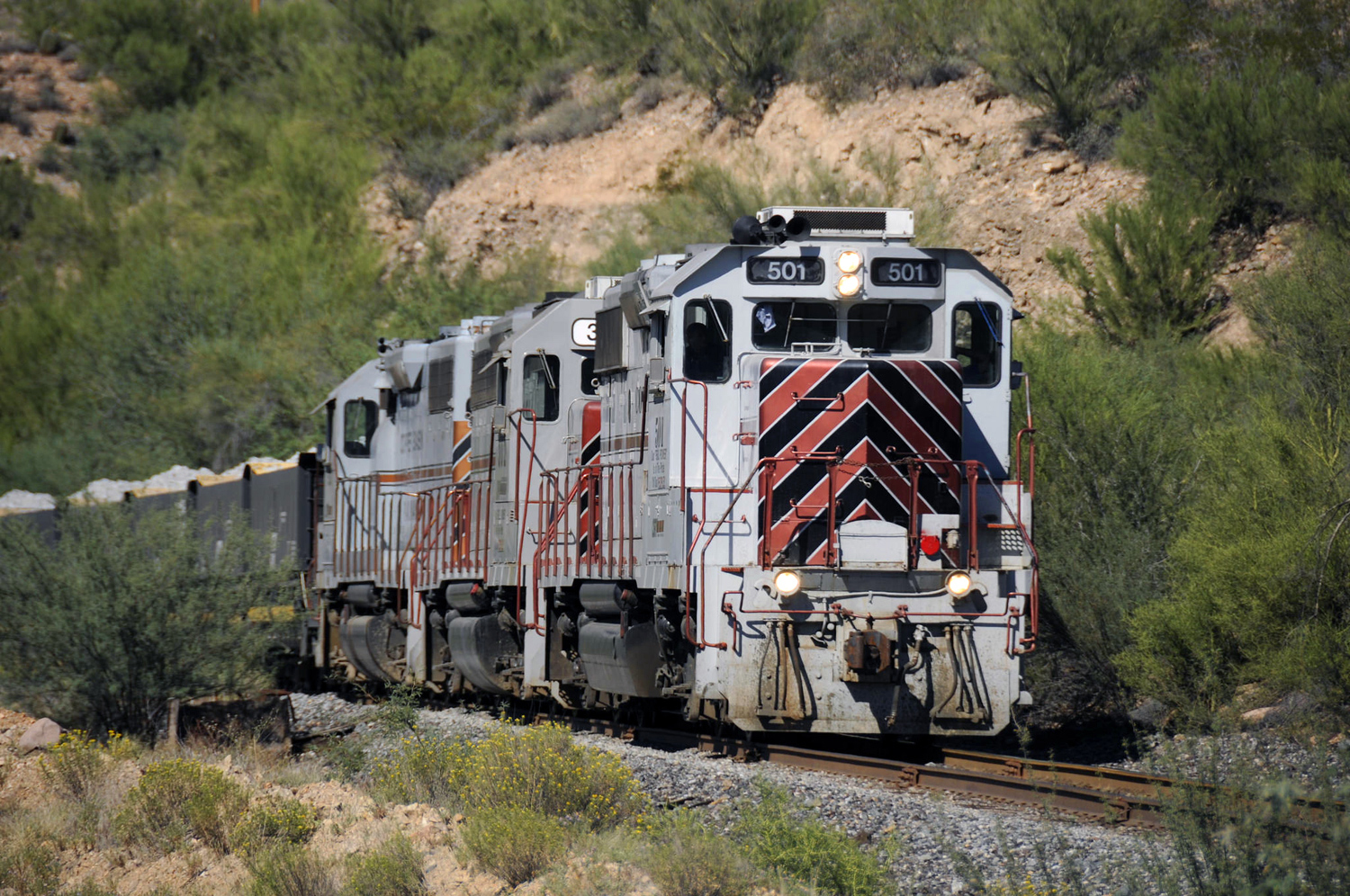 The same train as seen two photos above leaves the mine at Ray, Arizona bound for Hayden. Drew Jacksich photo.
The future of the railroad looks quite strong, particularly as long as Mr. Jacobson is at the helm and there is copper ore to be mined.
In August, 2009 the Copper Basin did change hands when it was purchased by Sterlite, Inc. Aside from the railroad's UP interchange it also switches cars with the San Manuel Arizona Railroad just south of Hayden at SMAAR Junction.  
This short line runs southward to San Manuel where another smelter/concentrator is located.
For railfans who may want to check out the short line's operations, Mike Derrick notes that they are very friendly and open to visitors who want to either see operations firsthand and/or take photos.
However, please be sure to check in at the railroad's offices before doing so and never attempt to escort yourself around company property without an employee with you.