Apalachicola Northern Railroad

Last revised: October 10, 2023
By: Adam Burns

The Apalachicola Northern Railroad has been operating in the Florida Panhandle for more than 100 years running from the Gulf Coast to the Georgia border along a system that is nearly 100 miles in length.

Today, The Port St. Joe Route is known as the AN Railway and has been owned by short line conglomerate Genesee & Wyoming since 2002 (officially the new company began operations on September 1st that year).
For railfans the Apalachicola is perhaps best known for using a rare Electro-Motive road-switcher, all three of which are still in use on the property.
In recent years it has struggled to survive after the loss of paper traffic, which made up a majority of its annual carloads for decades. However, to date it has persevered and still moves a fair amount of wood-related products. 
Photos
A pair of the Apalachicola Northern's new GP15T's are coupled up to an SW1500 at the road's shops in Port St. Joe, Florida in May, 1983. Author's collection.
History
Additionally, the railroad has been able to find other sources of freight in recent years to diversify its traffic base, which will hopefully allow to carry on as a successful short line for many years. 
Sadly, two major changes with the original property have occurred in recent years:
Firstly, the G&W removed the last 4 miles from Franklin into downtown Apalachicola.


Secondly it appears the trackage south of the Georgia Pacific plant (located just north of Hosford) has been out of service since at least the mid-2010's (about 75.5 miles).  
The history of the Apalachicola Northern Railroad begins on April 7, 1903 when it was chartered to construct a route north of Apalachicola to Chattahoochee where an interchange would be made with the Atlantic Coast Line as well as the Seaboard Air Line.
After roughly two years construction on the line finally began on March 21, 1905 although it took two additional years until the route was finally opened, 76.5 miles.
The road's owners were soon after looking to complete the line to Port St. Joe, just west of Apalachicola along the coast. However, it fell into bankruptcy in July of the same year it opened, 1907, due to construction costs and initial lack of traffic.
A year later it had exited receivership in October of 1908 and by May 10, 1910 had finally completed its long sought extension, 19.8 miles, which earned it the name as The Port St. Joe Route and gave it a total system.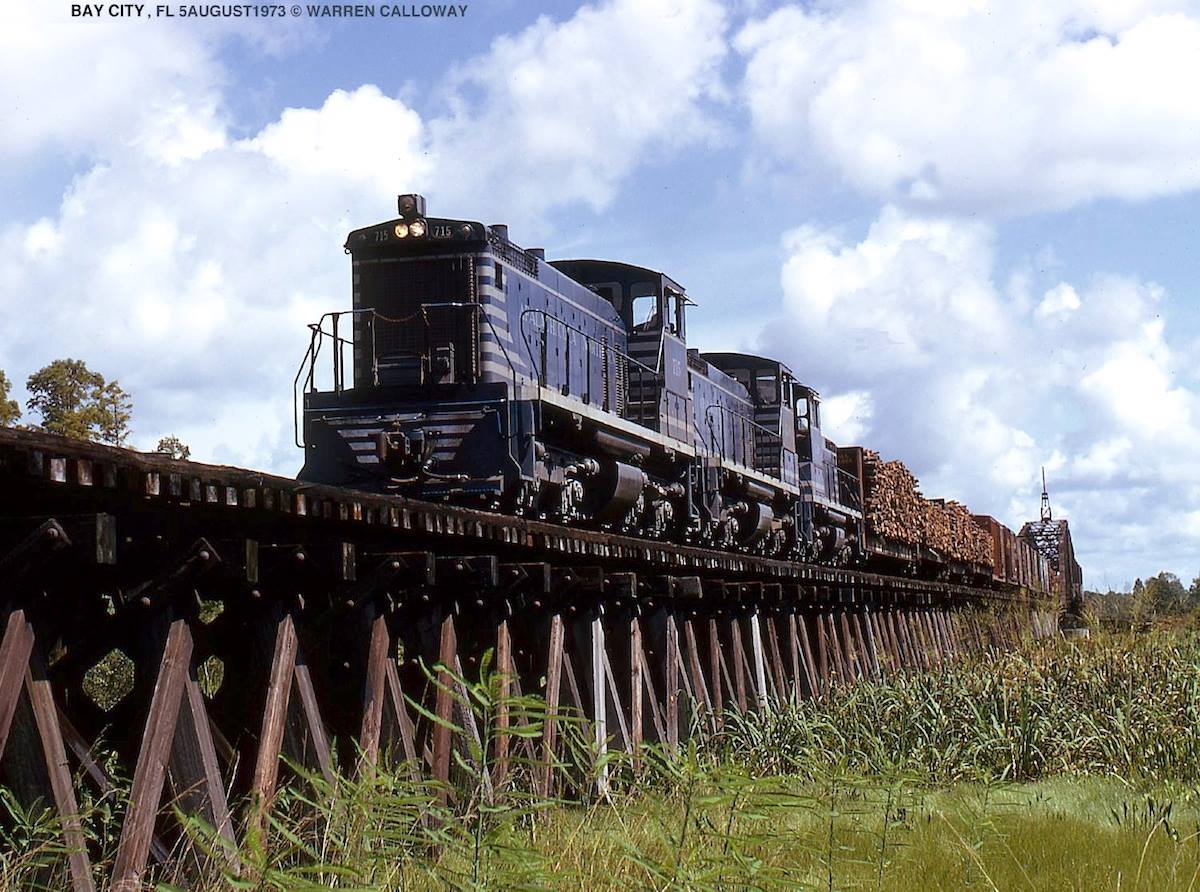 A trio of Apalachicola Northern's SW1500's lead a mixed freight across a long trestle spanning the Apalachicola River at Bay City, Florida on August 5, 1973. Warren Calloway photo.
In all, the railroad owned 96.3 miles. The company continued to struggle financially, even after its extension was completed; bankruptcies continues in May 1914 (exiting in 1916) and again in 1932.
After its latest receivership due to the lingering depression the property was purchased by Dupont in 1933, which also owned the St. Joe Paper Company, a major AN customer (as a result its primary traffic was mostly wood and paper based interchanging raw and finished products with the SAL and ACL).
In 1936 the AN exited bankruptcy for the final time and in 1940 Dupont placed the Apalachicola Northern under the control of the paper company, a setup that continued for more than 50 years. The 1940s also saw the railroad replacing its steam power for much more modern diesels.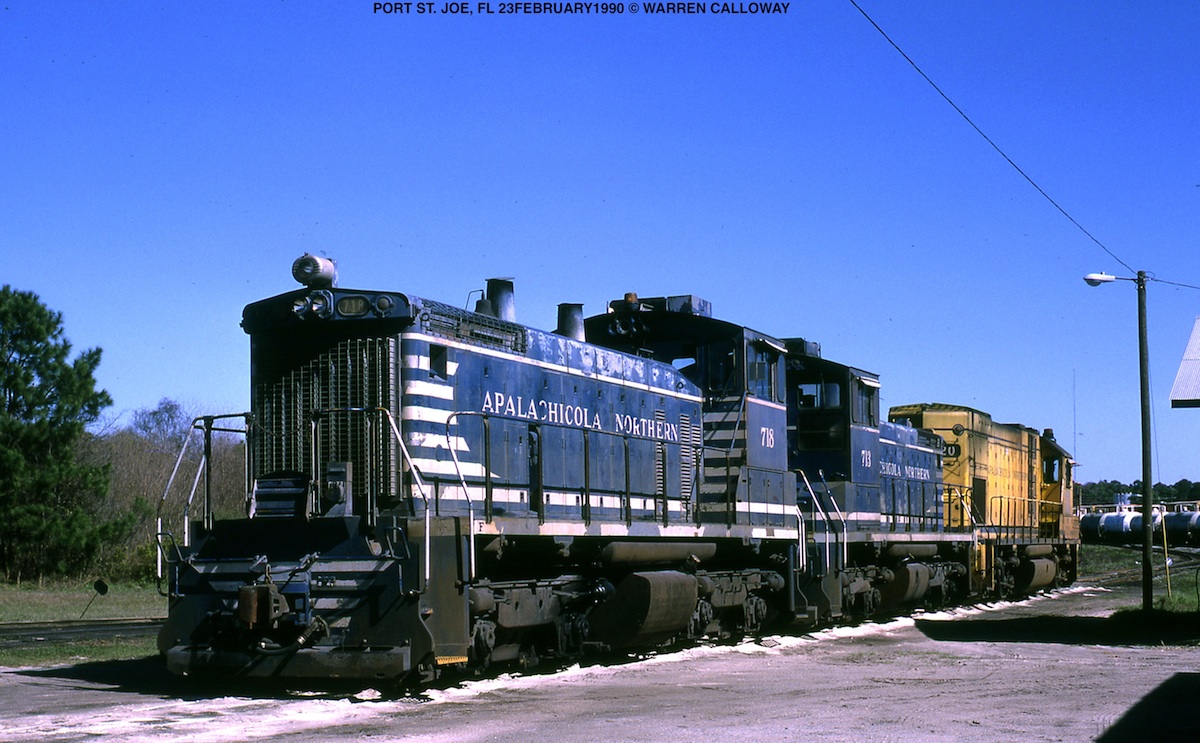 A pair of Apalachicola Northern SW1500's and a rare GP15T at Port St. Joe, Florida on February 23, 1990. Warren Calloway photo.
For years, the AN had relied on models like 4-6-0 Ten Wheelers, 2-8-0 Consolidations, and 4-6-2 Pacifics (which powered their passenger trains).
While its steam fleet was entirely made up of American Locomotive Company (Alco) product, beginning in September of 1947 it received its first order of four Electro-Motive NW2 switchers, #701-704.
Timetable (1930)
The company would stick with EMD for all of its future orders. Passenger services on the AN had been provided since it began although by the 1940s this had been reduced to a single diesel motorcar.
A somewhat unique setup, the railroad abandoned all passenger movements by 1955. From that time period forward the AN focused solely on freight and continued to remain a fairly profitable operation serving the large St. Joe mill through the 1990s.
System Map
The first signs of change here occurred in 1996 when Dupont sold the mill, which was renamed as the independent St. Joe Company.
A few years later the railroad's largest customer closed its doors, which resulted in the Apalachicola Northern Railroad being sold to the Rail Management Corporation on September 1, 2002.
Logo
AN Railway
Under new ownership the system was renamed as the AN Railway but struggled to survive after the loss of mill. On June 1, 2005 the Genesee & Wyoming purchased Rail Management and since then has looked to breathe new life in the property.

Traffic has been diversified to chemicals, woodchips, lime, scrap paper, bauxite and lumber.  Unfortunately, it appears these efforts have been unsuccessful from a long-term standpoint.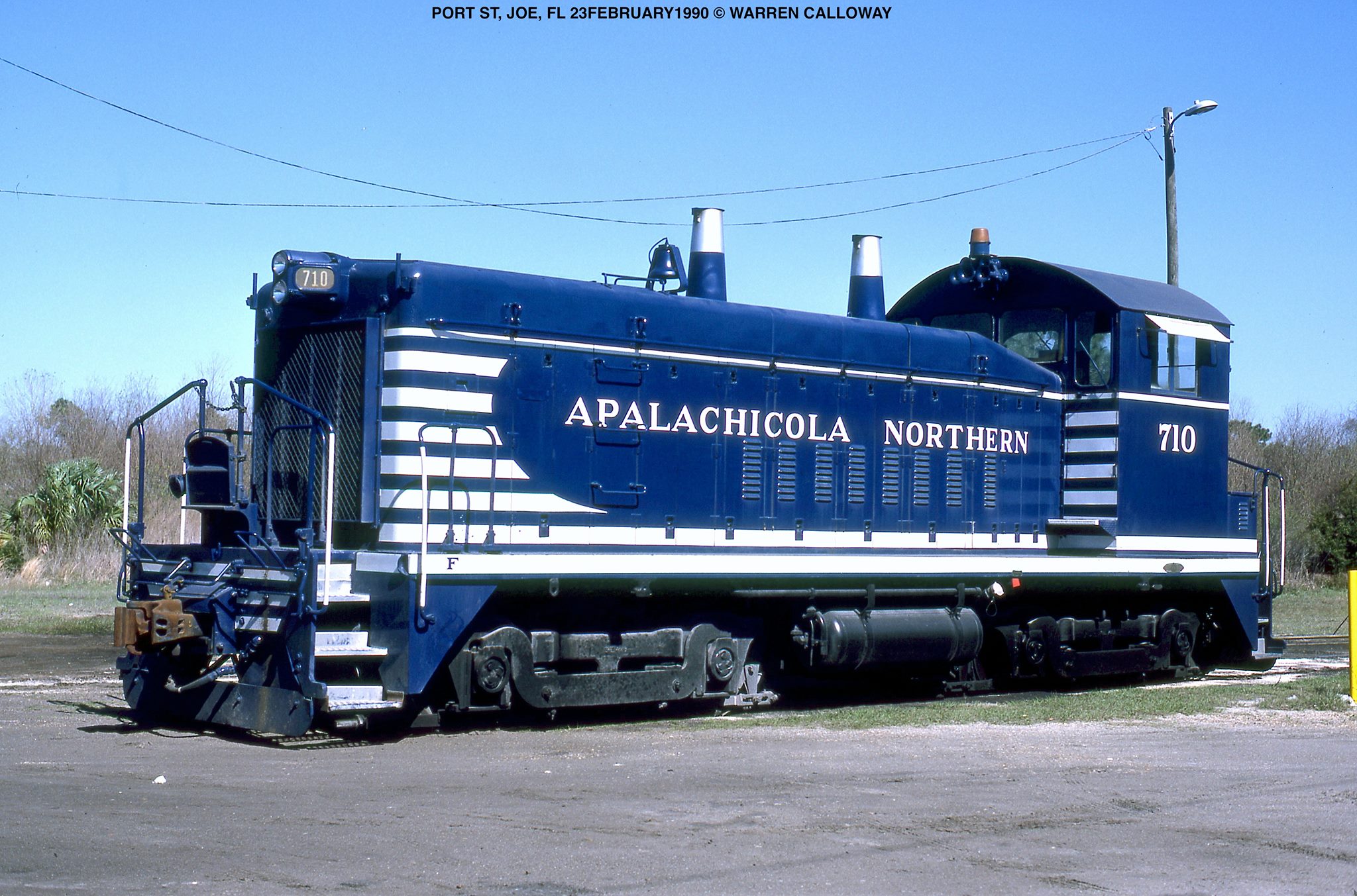 Apalachicola Northern SW9 #710 is seen here in Port St. Joe, Florida on February 23, 1990. The switcher was acquired new from EMD in the early 1950s. Warren Calloway photo.
As noted in the opening, the line south of Hosford has been out of service since at least the 2013-2015 time frame.

It appears the future of this trackage is in serious jeopardy given its many years of dormancy.  It's quite likely this long stretch of rails will eventually be pulled up. 

Locomotive Roster
| Builder | Model Type | Road Number | Notes | Quantity |
| --- | --- | --- | --- | --- |
| EMD | NW2 | 701-704 | Acquired new: September, 1947 | 4 |
| EMD | SW9 | 705-711 | Acquired new: 1952-1953 | 7 |
| EMD | SW1500 | 712-719 | Acquired new: 1969-1970 | 8 |
| EMD | GP15T | 720-722 | Acquired new: April, 1983 | 3 |
---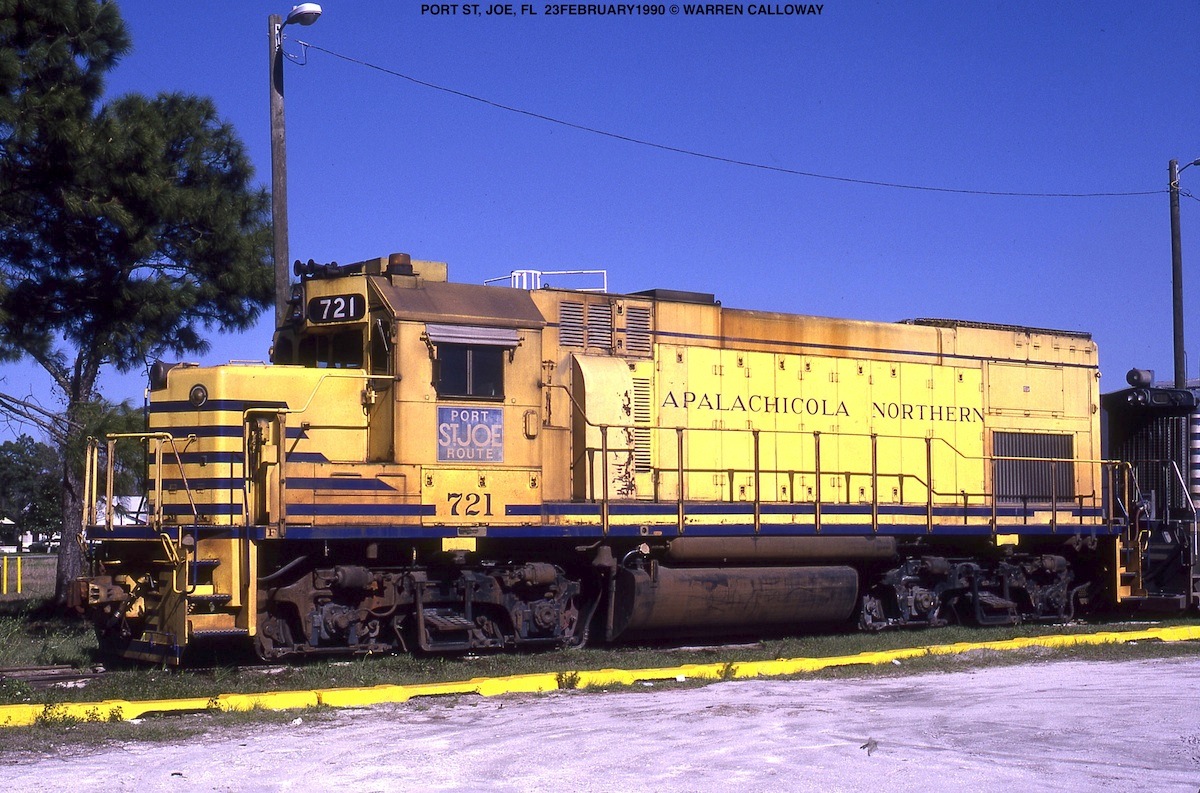 Apalachicola Northern GP15T #721 at Port St. Joe, Florida on February 23, 1990. Warren Calloway photo.
Finally, the AN became known within the railfan community for its use of a rare EMD product, the GP15T, purchased by only one other railroad; unique for being a small four-axle Geep that is turbocharged.

Today, its three, #720-722, are still in use since first arriving on the property in April of 1983. To a lesser extent, the AN is also notable for being one of only a few short lines to purchase all of its diesel power new from its first NW2s to the GP15Ts.
While the AN has owned as many as 22 diesels over the course of its time in service, on the Geeps are still on the property today, as all other switchers have since been sold.