Morristown & Erie Railway

The Morristown & Erie Railway (reporting marks, ME) is a shortline operation serving northern New Jersey as well as portions of Maine (through operating the Maine Eastern Railroad). The little railroad is well over 100 years of age and has been in existence since 1902 serving customers along virtually the same tracks as it did when it first started operations in the early 1900s. Today, along with serving customers over its 158-mile system the railroad also offers other services such as chartered private rail cars, other private events, and even car storage if you are a private car owner.  The Morristown and Erie Railway has its beginnings dating back to August 28, 1903 when it was formed by the merger of the Whippany River Railroad and the Whippany and Passaic River Railroad.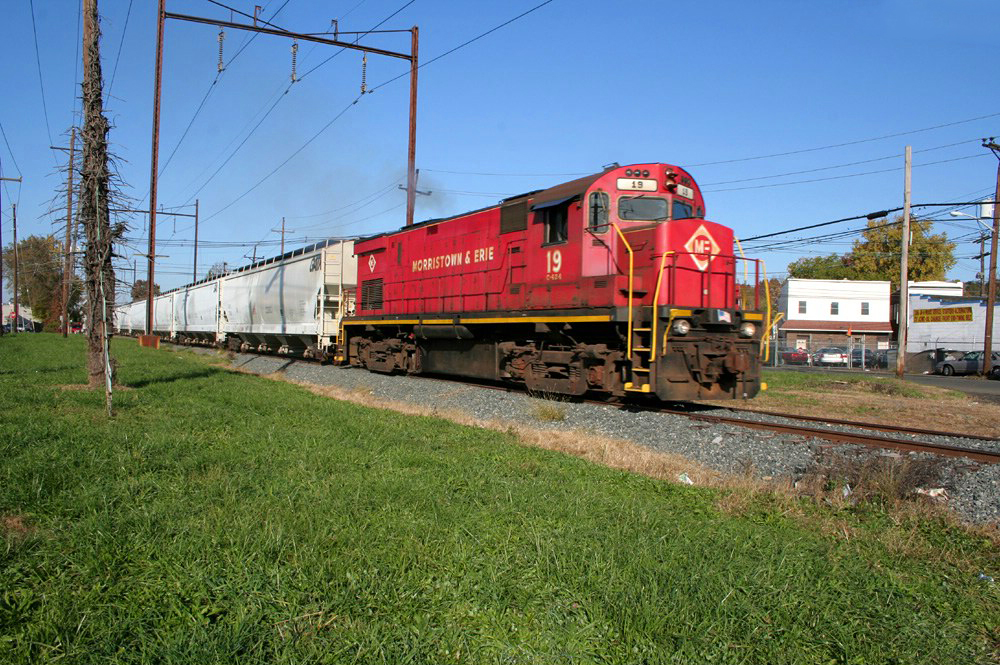 Its system roughly stretched from Morristown to Whippany and then on to Essex Falls where a connection with the Erie Railroad allowed for service to be extended as far as Jersey City.  The Morristown and Erie Railway was a quite profitable and well-managed company through World War II and its passenger service became legendary for the many flag stops it made because of the long distances between stations. Because of the railroad's small size, while healthy, passenger service was not significant on the M&E system. Because of this, when other forms of transportation, like automobiles, began making inroads into the passenger business the M&E discontinued service rather quickly and by 1928 no longer operated passenger trains.
While the railroad continued to be well-managed following WWII traffic began to deteriorate more and more as mills and industries closed up shop. Unfortunately for the M&E this slide continued all of the way through the 1970s, perhaps the lowest time at any point in the rail industry's history. While Andrew L. Cobb III, who became president in 1961, tried to diversify business to increase earnings (by purchasing companies, non-rail related) the loss of traffic on the railroad could not be stopped. By the end of the 1970s the railroad was down to precarious few carloads a week and in 1978 it filed for bankruptcy with service continuing as needed.
Unlike many Northeastern railroads, however, that would go on to fall under the Conrail umbrella or disappear altogether as the Morristown and Erie Railway was granted a second life. In 1982 a group of folks purchased the bankrupt line naming the new company the Morristown and Erie Railway, Inc. The four individuals (Benjamin J. Friedland, Wesley Weis, Ed Wilczynski and David Mandelbaum) worked to bring business back to the railroad and their efforts have paid off as traffic has rebounded astronomically.  Today, the M&E serves the largest privately owned refinery in the country, the Bayway Refinery which sees 8,000 cars switched in and out of the plant on a yearly basis. Other customers for the railroad include Standard Roofings, Suburban Propane, Royal Lubricants, Givaudan, Public Service Electric and Gas Company, ACE Lumber, and B&G Foods. Lastly, the M&E also offers passenger service once more as one can ride in luxury in the railroad's fleet of passenger equipment.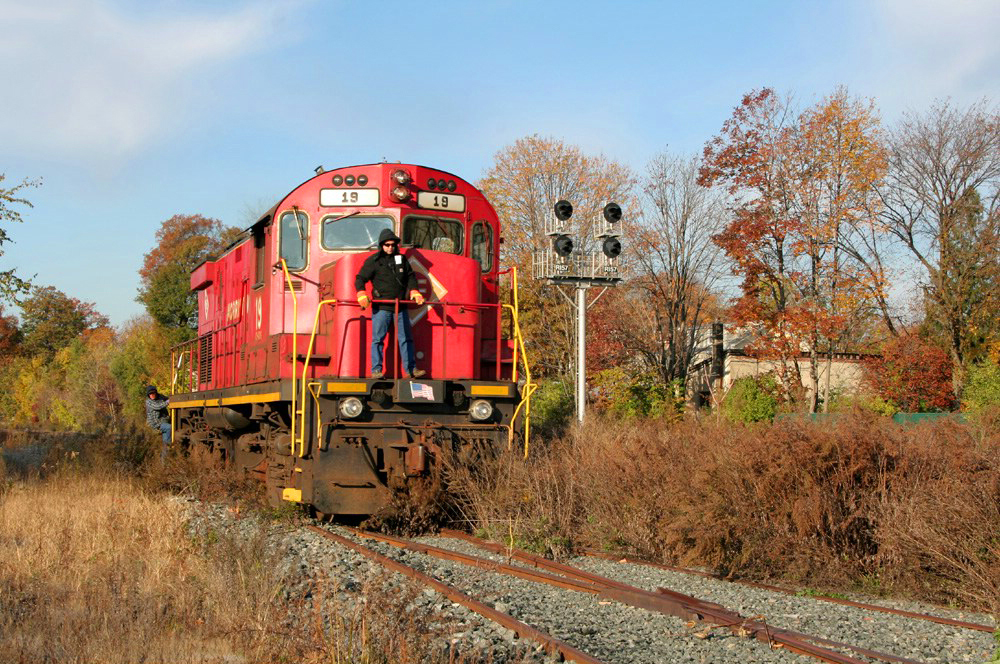 Two crewmen watch the weed-choked tracks as Morristown & Erie C424 #19 works it way towards a cut of cars at Cranford Junction, New Jersey on November 11, 2007. Randy Kotuby photo.
For the last several years the Morristown and Erie Railway has become a railfan hotspot due to the many Alcos the railroad continues to roster including big C424s as well as several RS11s. It's unclear, though, how long these legendary locomotives will continue to run on the railroad's roster due to their age (since many are at least 50 years old now) but it's good bet that they will soldier on for at least a number of years yet. Having said that, if you are after some pictures of these Alcos I sure wouldn't wait too long in getting them, you just never know! 
Morristown & Erie Railway Locomotive Roster
| Builder | Model Type | Road Number | Date Built | Quantity |
| --- | --- | --- | --- | --- |
| Alco | C424 | 18, 19 | 1964, 1966 (Ex-TP&W, Ex-RF&P) | 2 |
| Alco | RS1 | 21 | 1954 (Ex-Soo) | 1 |
| Alco | RS11 | 7205, 7210, 7212, 7215 | 1956, 1958 (Ex-Erie Mining, Ex-NP) | 4 |
| EMD | SW1500 | 20 | 1966 (Ex-RF&P) | 1 |
| EMD/M-K | TE50-4S | 22 | 1954/79 (Ex-UP GP9 #278) | 1 |
| EMD | FL9 | 484-487 | 1957 (Ex-NYNH&H) | 4 |
| EMD | SSB1200 | 557, 563 | 1953 (Ex-AT&SF) | 2 |
| EMD | GP9 | 764 | 1954 (Ex-UP) | 1 |
| MLW | M420W | 3562 | 1976 (Ex-CN) | 1 |
| MLW | C424 | 4216, 4223, 4228, 4231, 4240 | 1965-1966 (Ex-CP) | 5 |
---
---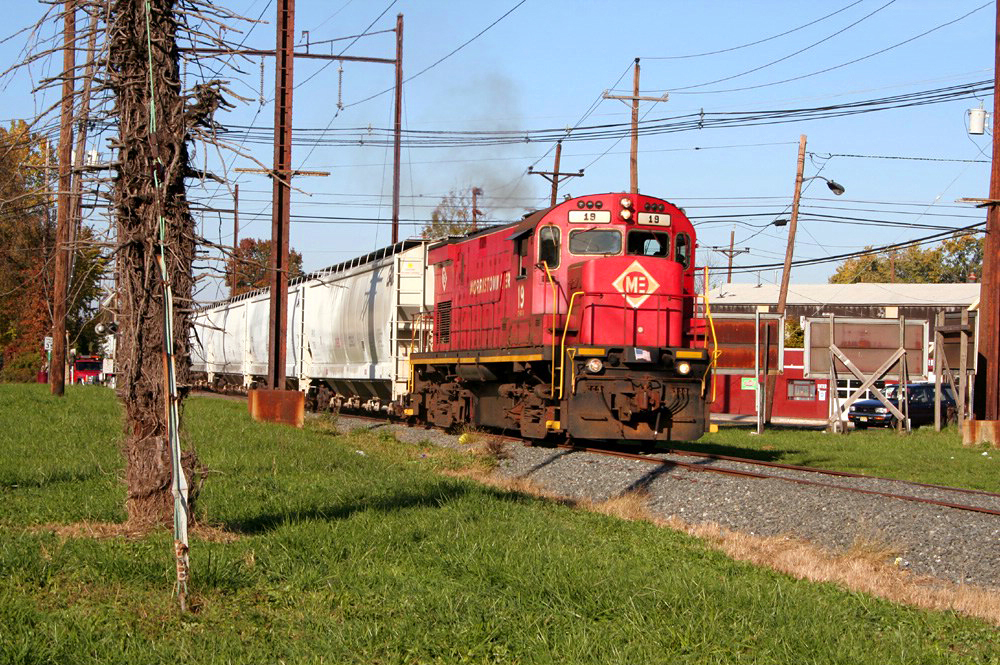 In this view of Morristown & Erie #19, the Alco is about to cross St. George Avenue in Linden with its short train of covered hoppers. Randy Kotuby photo.
For more information about the Morristown and Erie Railway please click here to visit their official website.   For a more in-depth history of the Morristown & Erie you might enjoy the book American Century Series: Rails Through The Hanover Hills: The Morristown & Erie Railroad by author Steven Hepler.   The title is released through Arcadia Publishing in 1999, it offers a rich history of this unique New Jersey short line through 128 pages.  Mr. Hepler's book primarily looks at the M&E from its formation and construction through the 1960s era. 

Home

›
Short Lines
› Morristown & Erie