Virginia Blue Ridge Railway
Header Photo: Drew Jacksich
The Virginia Blue Ridge Railway (reporting mark, VBR) was a small, historic short line system tucked away near the base of the Blue Ridge Mountains.  Because of this, as well as the road's secluded nature, it received little coverage and often went unnoticed by rail enthusiasts.  However, the VBR offered all of the things which made short lines fascinating; friendly service, a leisurely schedule, and small power.  It also gained recognition for utilizing steam locomotives into the early 1960s.  When first conceived the VBR was envisioned as a logging/timber operation.  However, this traffic was short-lived and after nearly going under the railroad returned to prosperity beginning in the 1930s by hauling other natural resources.  As the years passed, the VBR's customer base dwindled and service was eventually discontinued during the early 1980s.
The Virginia Blue Ridge Railway was a fascinating operation with an interesting, if somewhat chaotic, history that began during the height of the logging railroad industry.  It all started in 1914 when John W. Powell, a successful promoter of such systems in West Virginia, along with his associate R.G. Leftwich zeroed in on a region of north-central Virginia along the Piney River that held potential with its vast acreage of virgin chestnut.  They moved quickly and secured 55,000 acres near Three Ridges, somewhat north of Massies Mill, along Priest Mountain.  There was an additional motive for going after this business, aside from mere profits.  As William Warden, Jr. notes in his fabulous article from October, 1962 issue of Trains Magazine entitled, "Steam Success Story," the chestnut blight had first been discovered in the United States during 1904 and was found in Virginia soon after in 1908.
Because of this the two men hoped to extract the logs quickly before they rotted and of the fastest ways to do so was by rail.  Their plan was to construct a route from both Massies Mill and Woodson, which would converge and head south to the small town of Tye River where an interchange could be established with the Southern Railway.  On May 22, 1914 the Virginia Blue Ridge Railway was officially incorporated its system was envisioned to run 12 miles from Tye River to Woodson with a 6 1/2-mile branch from a location known simply as "Junction" to Massies Mill.  During early 1915 work on the corridor commenced although at first worked bogged down due to poor engineering and shoddy construction practices.  On March 1st it acquired its first locomotive, 2-8-0 #1 manufactured by H.K. Porter and later that summered completed the initial seven miles to Piney River.
During the course of the following the year the rest of the project was completed; by October of 1915 the line was finished to Woodson and the following October (1916) witnessed the branch to Massies Mill opened.  Almost immediately the Blue Ridge, as it was commonly known, set about moving chestnut timber although it wasn't long before a major event severely thwarted operations.  After the United States entered World War I the federal government nationalized the industry through the United States Railroad Administration.  The USRA deemed the little Blue Ridge superfluous to the important task of moving men and materiel for the war effort.  As a result the railroad was forced to suspend service and by the time it returned to private operation there was almost no timber left, destroyed by the blight.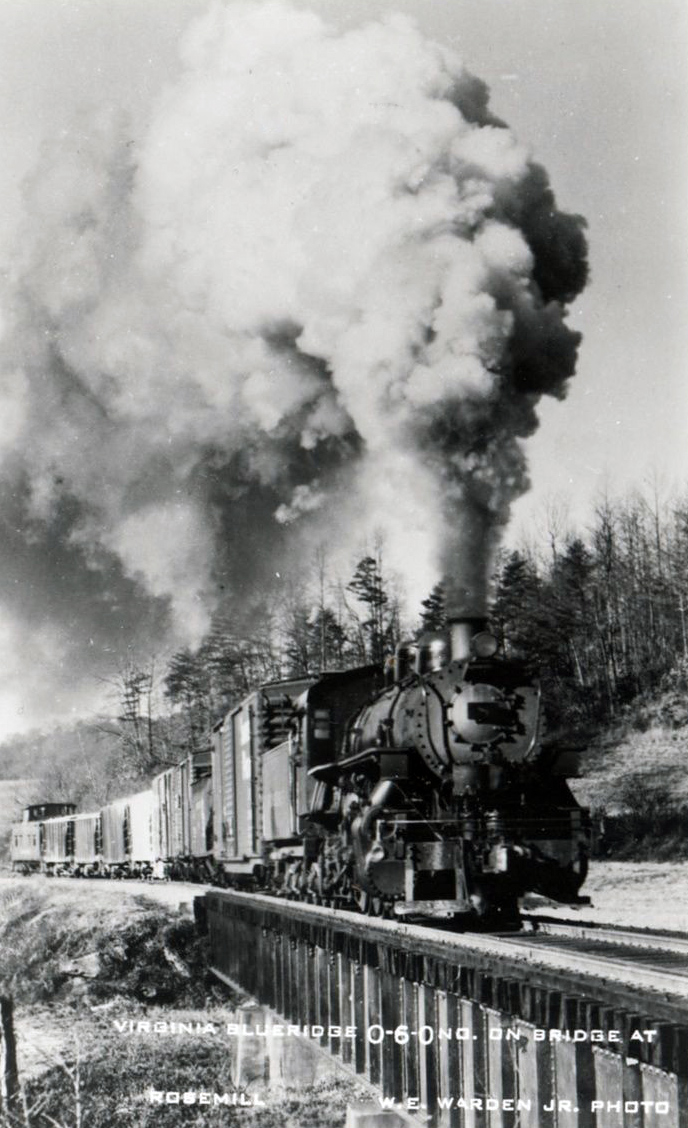 The original plan of moving timber and then subsequently abandoning the railroad was no longer possible.  In an effort to recoup their investment ownership continued operations, moving whatever freight was available along with the few folks who occasionally traveled the line (the VBR normally used an aging wooden combine car for passenger service, which was discontinued in 1936).  Since the area had long been known for its apple harvest the Blue Ridge regularly handled this crop.  Following the timber setback it also found other agriculture business and moved a bit of a pulpwood as well.  However, overall it struggled to remain afloat and flooding in 1923 as well as 1929 further strained the railroad's ability to remain operational.  As it slipped further into debt the possibility of liquidating the company became very real possibility.  As management scrambled to save the company one particular desperate attempt to do so involved the abandonment of the Junction-Woodson trackage, leaving the "branch" to Massies Mill as the new main line. The turning point occurred in 1931 when the first actual business located near the Blue Ridge.
That year the Southern Minerals Products Corporation constructed a plant near Piney River for the extraction of ilmenite ore, which is used to process titanium dioxide.  At first this operation proved cumbersome and rather ineffective, yielding meager traffic for the railroad.  Things changed in 1936 when Southern was purchased by Interchemical Corporation, which brought in a much more efficient extraction process (it was later acquired by American Cyanamid in 1944).  This move not only expanded the plant but also, finally, provided the Blue Ridge with a reliable and stable source of business.  A  year earlier, in 1935, a nearly 12-mile seam of aplite was discovered along the Piney River, the largest such deposit in the country.  This ore was used in the manufacturing process of glass and roofing products.  By 1939 the Riverton Lime & Stone Company's Dominion Minerals Division had established its first plant along the Blue Ridge for the extraction of this ore.  Two others would follow.
With its prospects on the rise the railroad purchased its first locomotive in more than 20 years, a former Southern 2-8-0, which supplemented #1.  As business grew three more steamers arrived during the 1940s along with four others in the 1950s.  This effort to update and modernize the Virginia Blue Ridge Railway was largely thanks to Kenneth Cobb, whose dad Howard had been involved in the company since its inception.  While the younger Cobb, who eventually became VBR president, was not a railroader he brought in E.A. Gooden from the Norfolk & Western to upgrade the road's infrastructure after World War II, which included such improvements as heavier locomotives, rail, and new ties.  While new steam arrived in the '50s the motive power was also near retirement.  During 1957, and later in 1959, the railroad hosted a handful of popular excursions behind its remaining steam locomotives. 
All-Time Steam Locomotive Roster
| Builder | Wheel Arrangement | Road Number | Date Built | Notes |
| --- | --- | --- | --- | --- |
| H.K. Porter | 2-8-0 | 1 | 1915 | Acquired new on March 1, 1915; sold for scrap. |
| Richmond Locomotive & Machine Works (Alco) | 2-8-0 | 2 | 1895 | Acquired from Southern on September 22, 1938; sold for scrap. |
| Baldwin | 4-6-0 | 3 | 1909 | Acquired from Georgia & Florida Railway on November 10, 1941; sold for scrap. |
| Baldwin | 0-6-0 | 4 | 1907 | Acquired from War Assets Administration on February 17, 1947. In operation on Wilmington & Western as #58. |
| Alco | 0-6-0 | 5 | 1942 | Acquired from War Assets Administration on February 17, 1947. Preserved and under restoration at the Whippany Railway Museum as U.S. Army #4039. |
| Baldwin | 2-8-0 | 6 | 1907 | Acquired from Southern on November 17, 1952. Preserved at the Whippany Railway Museum as Southern #385. |
| Lima | 0-6-0 | 7 | 1944 | Acquired from Norfolk & Portsmouth Belt Railway on April 20, 1956. After retirement in 1963 the unit was later scrapped. |
| Alco | 0-6-0 | 8 | 1942 | Acquired from Army Transportation Corps on August 15, 1958. Privately owned in Maryland as #2. |
| Alco | 0-6-0 | 9 | 1942 | Acquired from Army Transportation Corps on August 15, 1958. Preserved and under restoration by short line SMS Rail Lines of New Jersey. |
All-Time Diesel Locomotive Roster
| Builder | Model Type | Road Number | Date Built | Notes |
| --- | --- | --- | --- | --- |
| EMD | SW1 | 10 | 1940 | Ex-DL&W #430, Acquired on June 18, 1963. |
| EMD | SW1 | 11 | 1940 | Ex-DL&W #427, Acquired on June 18, 1963. |
| EMD | SW1 | 12 | 1940 | Ex-DL&W #432, Acquired on June 7, 1965. |
---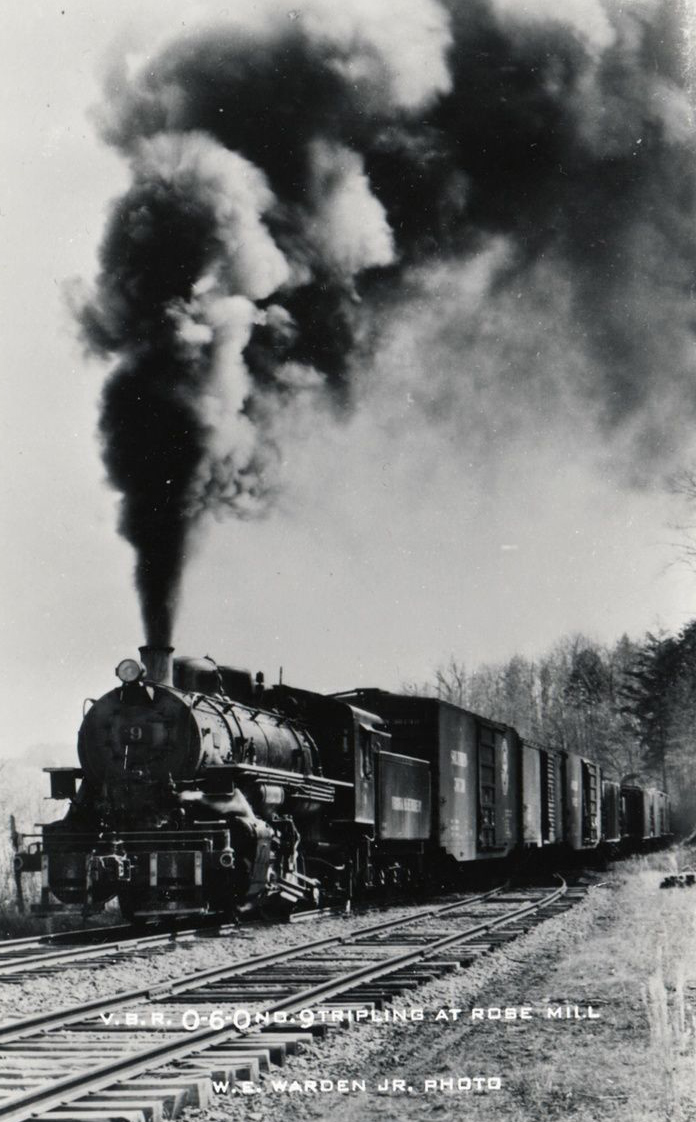 Then, in April of 1963 management made the decision to replace the iconic machines with more efficient diesels.  On June 18th two SW1's arrived, followed by a third on June 7, 1965.  As the old saying goes all good things eventually must come to an end and that began for the Blue Ridge during 1970 when American Cyanamid declared it was moving operations to Georgia effective June 15, 1971.  Around the same time Riverton Lime & Stone Company also shutdown.  The railroad's sole remaining customer was International Minerals & Chemical Company, which pulled the plug during May of 1980.  With no sources of online business left the Virginia Blue Ridge Railway was embargoed on July 1st that same year with salvage operations taking place in 1985.  Today, much of the right-of-way is home to the Virginia Blue Ridge Railway Trail.
Home

›
Short Lines
› Virginia Blue Ridge