Iowa Traction Railway

Last revised: October 10, 2023
By: Adam Burns

Until the 1980s there were still three original interurbans in business; the East Troy Electric in Wisconsin, Texas Transportation in San Antonio, and the Iowa Traction Railway (reporting mark, IATR) in Iowa.

In 1985 the East Troy discontinued freight operations (and is now a museum, although freight business sustains on an as-needed basis) after 78 years of service and Texas Transportation closed in 2001 after 114 years of service when the brewery it served shutdown.
That left only the Iowa Traction. The little line has changed hands a few times over the years, and once even doubled its reach when it purchased another small railroad in the 1960s.
However, those lines have since been abandoned leaving the company's original route the only one still in use.
While the IATR has long since ended passenger services it continues to serve a few customers along its property and interchanges with Class I Union Pacific and Iowa, Chicago & Eastern (today a subsidiary of the Canadian Pacific).
Photos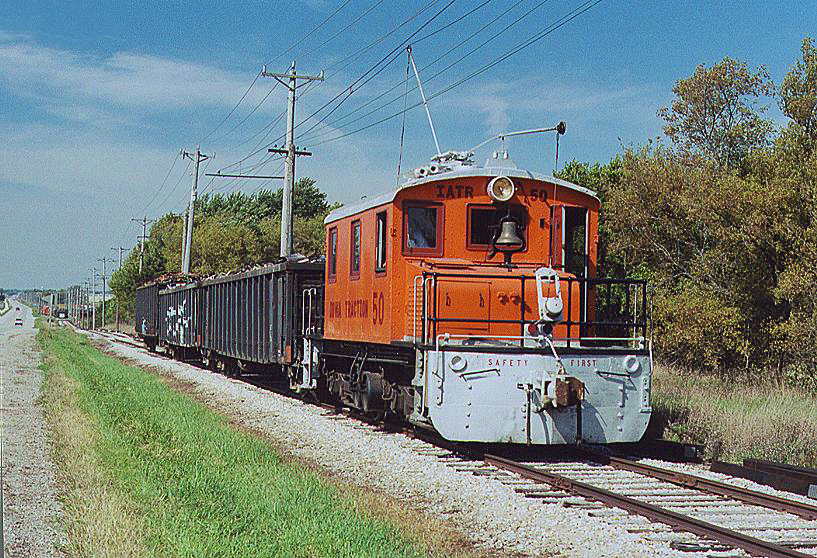 Iowa Traction freight motor #50 has three loaded gondolas heading towards Mason City on September 15, 2006. The author notes that the little unit could not handle the entire seven loads all at this grade so the crew split the train into sections. Doug Kroll photo.
History
The history of the Iowa Traction begins in the late 19th century as the Mason City & Clear Lake Railway, owned by the United Light & Railway power company.
On July 4, 1897 this interurban, one of the early such companies in the industry (the major construction period for interurbans occurred from roughly 1900 through 1910), began service between Mason City and Clear Lake.
This system was a typical electrified system of this era, running a distance of exactly 10.4 miles (according to its timetable).
Like most traction railroads, the MC&CL was built to serve a transportation need for the local community, in this case providing a connection to the vacationing destination of Clear Lake, named after the body of water it surrounds.
Around the time the interurban reached the town it was home to around 1,000 residents. By 1909 more attractions were available to guests when the Bayside Amusement Park opened.
System Map
Interestingly, however, the lake not only provided the Mason City & Clear Lake Railway with passenger traffic but also some freight.
During the winter months when the water froze a seasonal ice business developed and the interurban transported this freight to various cities via its interchange at Mason City with the Milwaukee Road, Chicago & North Western, and Chicago Rock Island & Pacific (Rock Island).
From the MC&CL's early years it began developing a carload freight business, which for one reason or another became a rather common theme among many Iowa interurbans (generally, however, western interurbans were more adept at focusing on freight traffic than their eastern counterparts).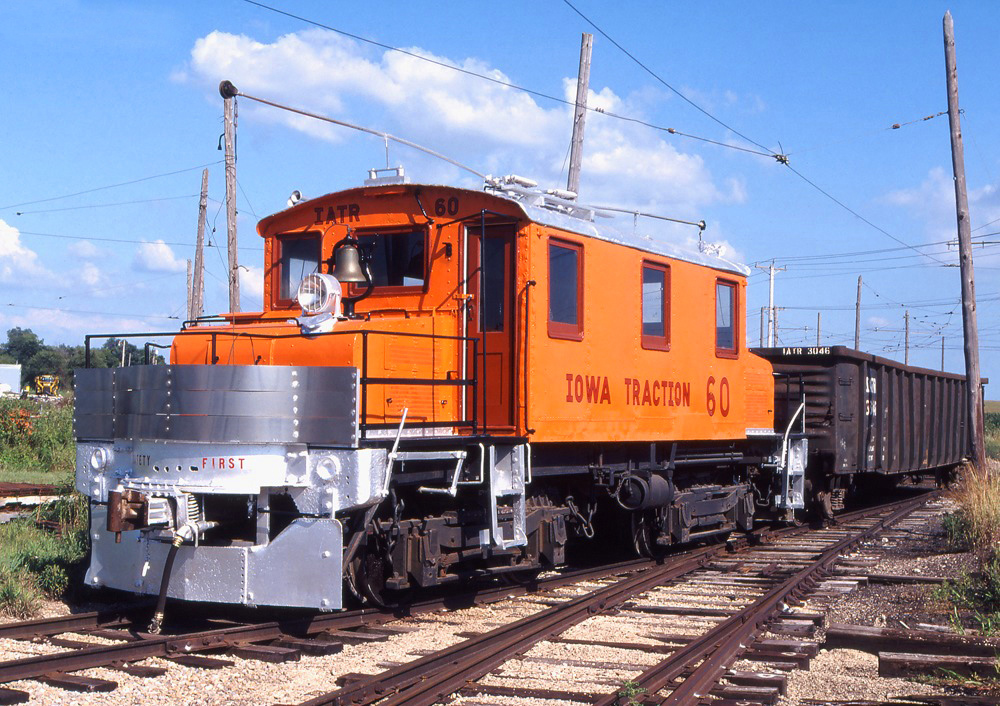 Iowa Traction steeple-cab #60 and a single gondola at the Emery shops on August 6, 2003. Wade Massie photo.
Beginning in the 1920s the line upgraded its freight motive power by purchasing four steeple cab units second-hand.
These motors were products of Baldwin-Westinghouse (a tandem which constructed many such units for interurbans) and complemented their small fleet of steeples already in operation (also built by Baldwin-Westinghouse).
In 1923, as passenger traffic was quickly eroding away the MC&CL began retiring its heavy interurban cars in place of lightweight, used equipment to reduce operating costs.
Thirteen years later on August 30, 1936 it discontinued passenger service altogether in favor of buses, partly due to its chartering expiring and it had no interest in renewing.
Interestingly, it continued operating its own bus service for many years until it finally began focusing exclusively on its freight business.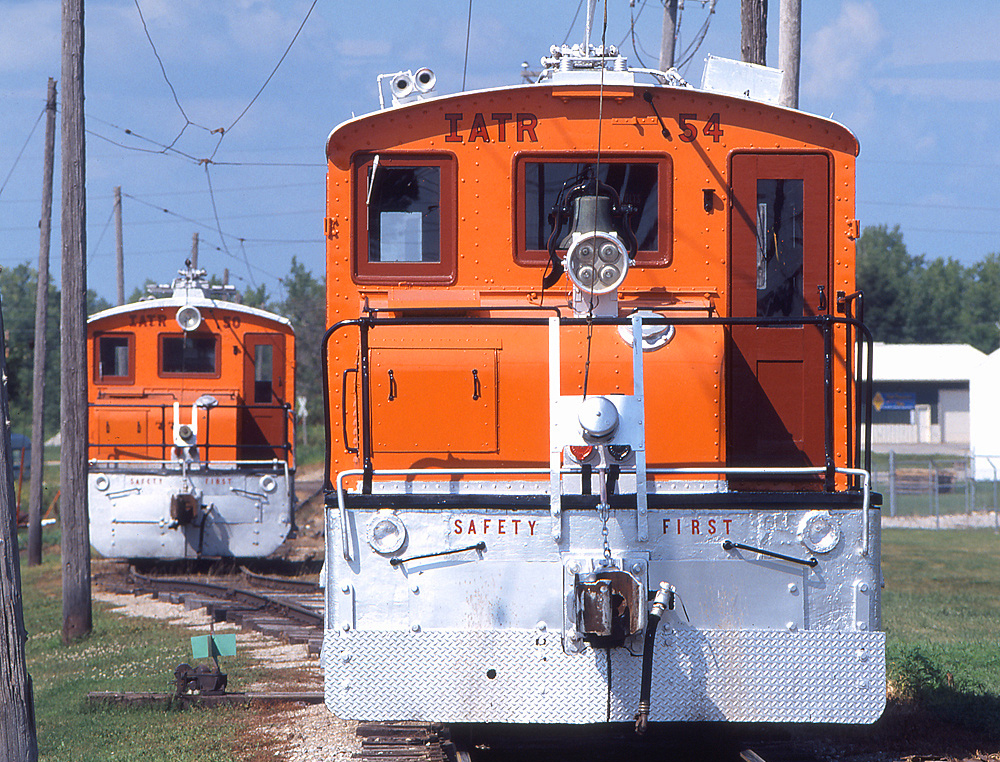 A pair of Iowa Traction's venerable Baldwin/Westinghouse steeple-cab electrics layover at the interurban's small shop complex in Emery, Iowa on August 6, 2003. Wade Massie photo.
New ownership in 1950 saw its name change to the Mason City & Clear Lake Railroad. In 1961 the line completely changed its corporate name as the Iowa Terminal Railroad (ITR) when it again saw new ownership.
On December 31, 1963 it picked up a nearby interurban neighbor to the east, the Charles City Western Railway. The CCW stretched from Marble Rock to Colwell via Charles City.
It was just 21 miles in length although its connection to the Rock Island at Marble Rock allowed for interchange service and some local online freight customers, which sustained the line after passenger traffic dried up and it discontinued such in 1952.
Timetable (1940)
The then Iowa Terminal was not connected to its new subsidiary creating two separate divisions; the Charles City Division and its original main line the Mason City Division. In 1968 the CCW route lost its catenary to a tornado and it was replaced by diesels.
Two years later the line had been cut back to Waller, south of Colwell, with operations only extending on 15.7 of the original 21 miles.
Locomotive Roster
| Builder | Model Type | Road Number | Notes | Quantity |
| --- | --- | --- | --- | --- |
| Baldwin-Westinghouse | Steeple Cab | 50 | Built as Washington & Old Dominion #50 in October, 1920. Acquired by the Cedar Rapids & Iowa City (Crandic) in 1947 as #58 and sold again to the Kansas City Kaw Valley Railroad (KCKV) in 1955 as #507. Finally, it was purchased by the Iowa Terminal in 1962, and renumbered #50 a year later. | 1 |
| Baldwin-Westinghouse | Steeple Cab | 51 | Built as Northeastern Oklahoma Railway #2 in May, 1921. Sold to the Crandic in 1940 as #40, and again to the KCKV as #505 in 1954. In 1963 it was picked up by the ITR as #51. | 1 |
| Baldwin-Westinghouse | Steeple Cab | 54 | Built as Southern Iowa Railway #400 in May, 1923. It remained in use there until 1967 when it was sold to the ITR and first renumbered 52, and changed in 1969 as #54. | 1 |
| Baldwin-Westinghouse | Steeple Cab | 60 | Built as Youngstown & Ohio River Railroad #5 in May, 1917. It was sold to the Union Electric Railway in Kansas and 1932 and renumbered 80. In 1948 it was acquired by the MC&CL as #52, and then renumbered by the ITR as 60 in 1961. | 1 |
---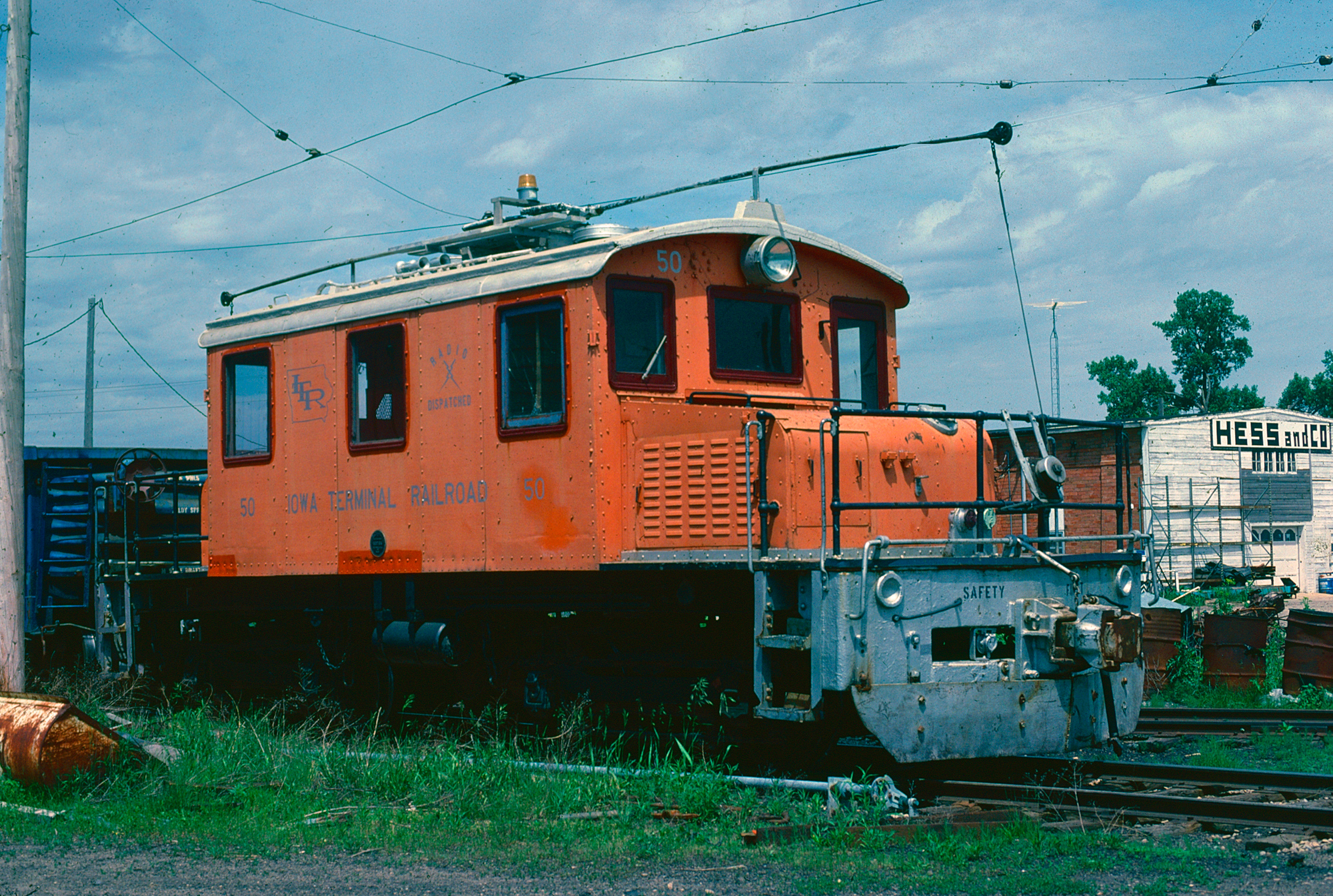 Iowa Terminal steeple cab #50 rests at the company's small shop complex in Emery, Iowa on May 26, 1985. Vincent Porreca photo. Author's collection.
Freight continued to decline on the Charles City Division and by the mid-1970s it was abandoned altogether. On April 13, 1987 the ITR was acquired by David Johnson, its current owner, and renamed as the Iowa Traction Railroad.
Then, in mid-September of 2012 it was announced that Progressive Rail would be acquiring the little short line and just as during Mr. Johnson's ownership there are no plans to retire or sell off the venerable electric freight motors.
Today, the IATR continues to operate its four remaining Baldwin-Westinghouse steeple cabs but only provides service between Mason City (and an interchange with the UP and CP/IC&E) and Emery.
The latter hamlet contains the roads' offices and shops are located, a distance of 5.5 miles according to the original timetable. The line to Clear Lake is still owned by the railroad but currently is not in use.