Twin Cities & Western Railroad

Last revised: June 27, 2023
By: Adam Burns

The Twin Cities & Western (reporting mark, TCWR) is a Class III, short line headquartered in Glencoe, Minnesota and operating along the former Chicago, Milwaukee, St. Paul & Pacific (Milwaukee Road) Pacific Northwest main line through Minnesota.

The railroad began operations in 1991 taking over the Soo Line Railroad's former "Ortonville Line", the section of Milwaukee Road main line it had acquired through its 1985 purchase of the railroad.
Today, the TC&W has connections with four Class I railroads and handles a wide variety of freight traffic from food-based products to chemicals and fertilizers.
Because the shortline also connects with the Twin Cities, operates a subsidiary railroad (the Minnesota Prairie Line), and a has a sound management team (which has made its sister line, the RRV&W successful) its future looks to be very healthy.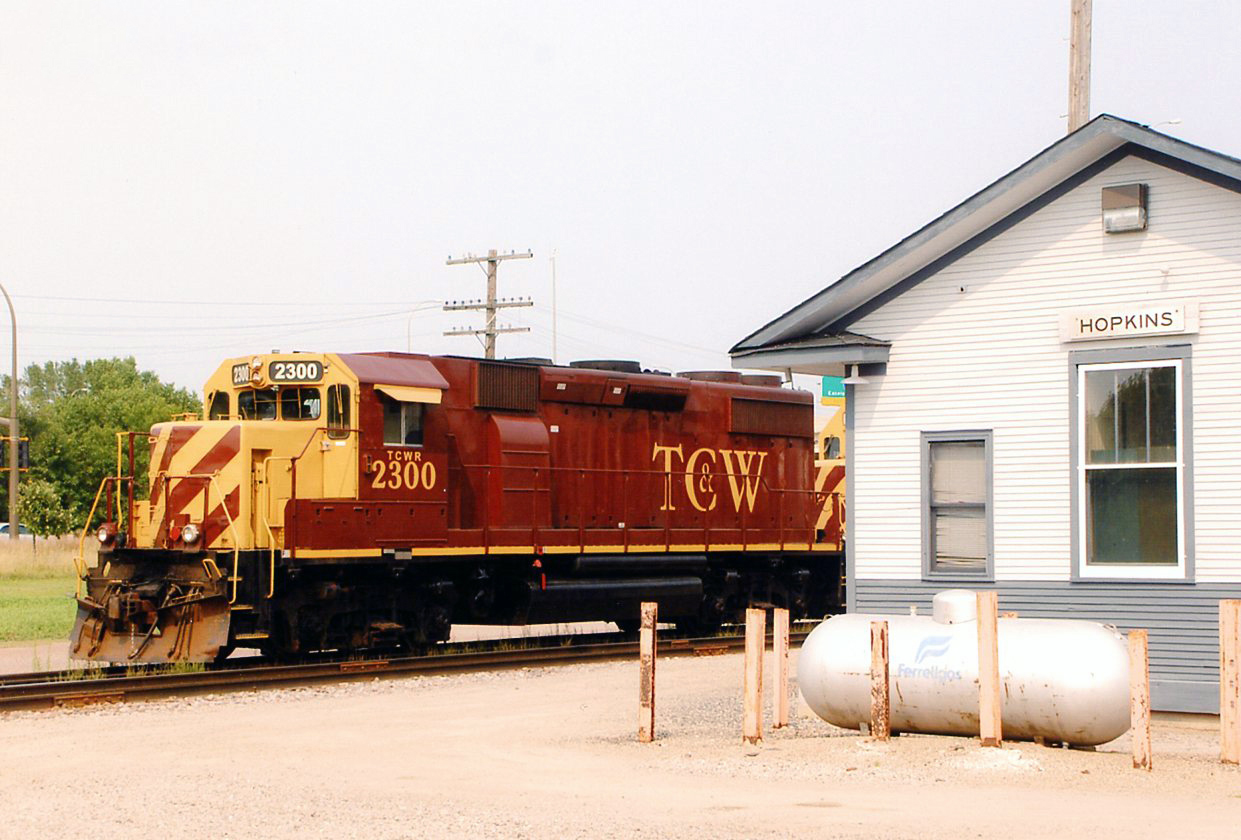 Twin Cities & Western GP39-2 #2300 is seen here next to the former Milwaukee Road depot in Hopkins, Minnesota, still in use by the railroad, on August 29, 2015. The unit began its career as Kennecott Copper #790 in 1978. Doug Kroll photo.
The history of the Twin Cities & Western Railroad began in the mid-1980s when the floundering Milwaukee Road system, once a massive railroad which stretched from Kentucky to Washington state was purchased by the much smaller Soo Line railroad.
By this point the Milwaukee had significantly reduced its system and no longer operated west of eastern Montana.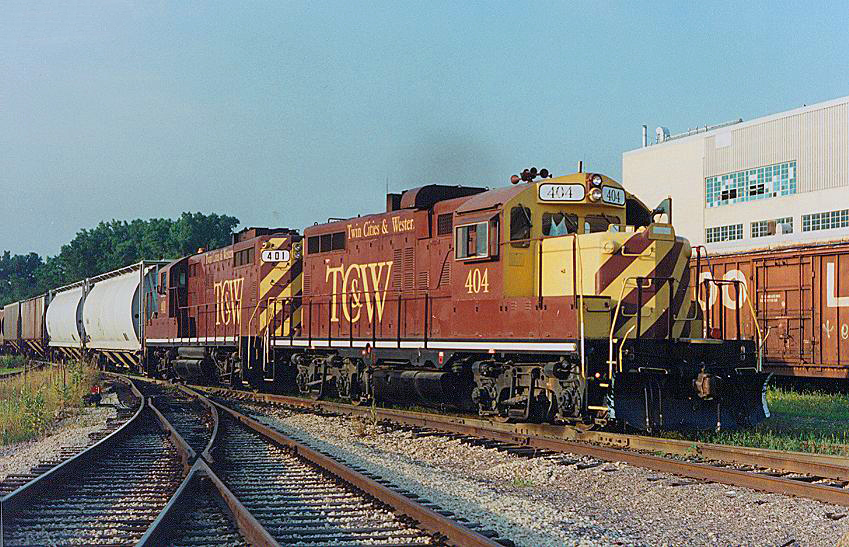 Twin Cities & Western GP10 #404 is seen here tied down in Glencoe, Minnesota. This Geep began its career on the Boston & Maine as #1710 in 1957. Doug Kroll photo.
After the Soo's purchase in 1985 it began selling off or abandoning large sections of the Milwaukee it deemed either unprofitable or not valuable (part of which was due to the fact the Milwaukee carried so much debt and bad track that the Soo was forced to do this).

By the early 1990s the Soo was looking to sell part of the Milwaukee's main line west of the Twin Cities, turning over the line to the Twin Cities and Western Railroad on July 27, 1991.
Additionally, the TC&W would pick a 94-mile section south and west of Norwood, which it operated as the Minnesota Prairie Line (the track itself is owned by the Minnesota Valley Regional Railroad Authority).
With trackage rights included the TC&W stretches from extreme eastern Minnesota at the Twin Cities (where it interchanges with BNSF Railway, Canadian Pacific, Union Pacific, and Canadian National) to eastern South Dakota at Milbank (where it again connects with the BNSF and short line Sisseton Milbank Railroad).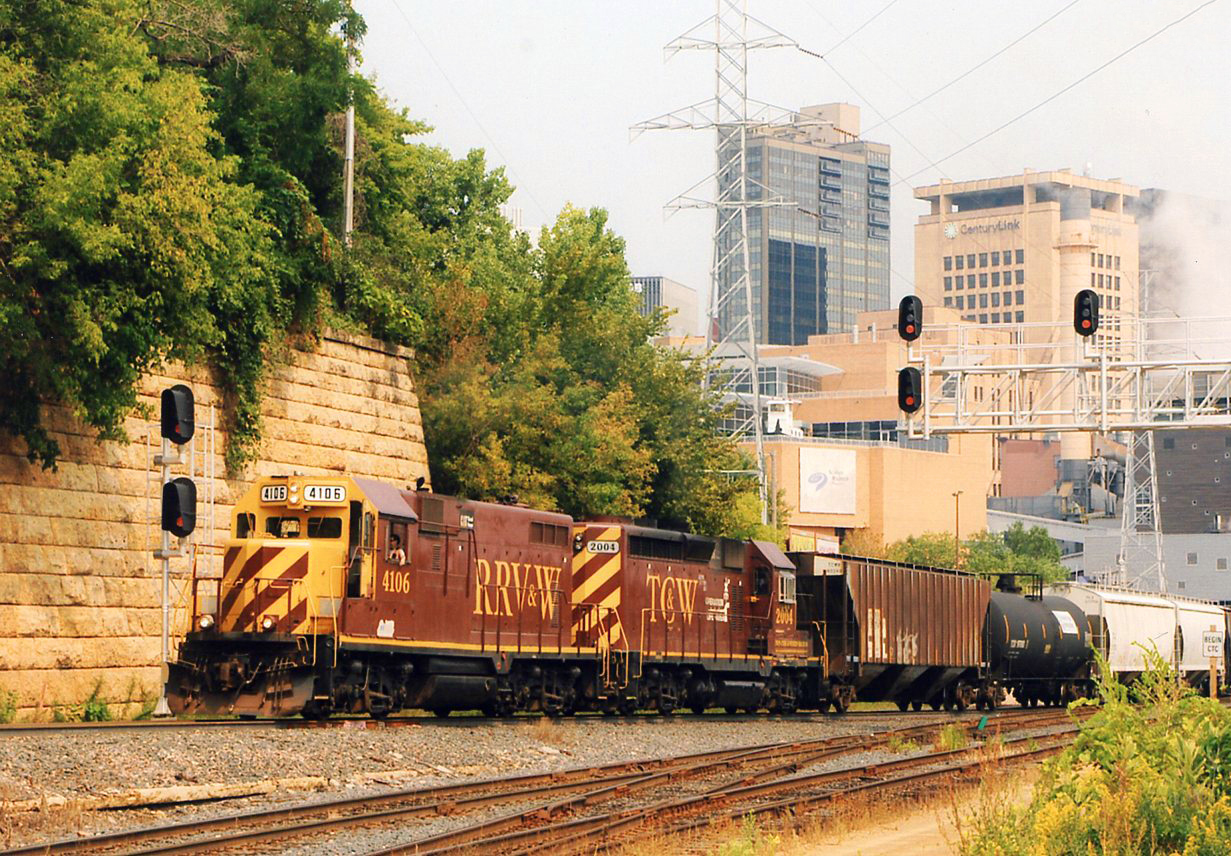 Red River Valley & Western GP15C #4106 and TC&W GP20C #2004 have a westbound freight departing St. Paul, Minnesota behind on August 29, 2015. Doug Kroll photo.
The Twin Cities and Western Railroad has become quite a successful short line operation over the last 20+ years, in no small part due to its many Class I connections and diversified traffic base.
It currently operates well over 200 miles of track and moves freight which includes, according to the railroad:
Coal


Grains (corn, wheat, barley)


Soybeans


Sugar


Beet pulp pellets


Lumber and other forest products


Canned vegetables


Wdible beans


Molasses


DDGs


Fertilizers


Crushed rock


Agricultural machinery
For more information about the Twin Cities and Western Railroad please click here to visit their official website. The site includes full contact information and available services the railroad provides.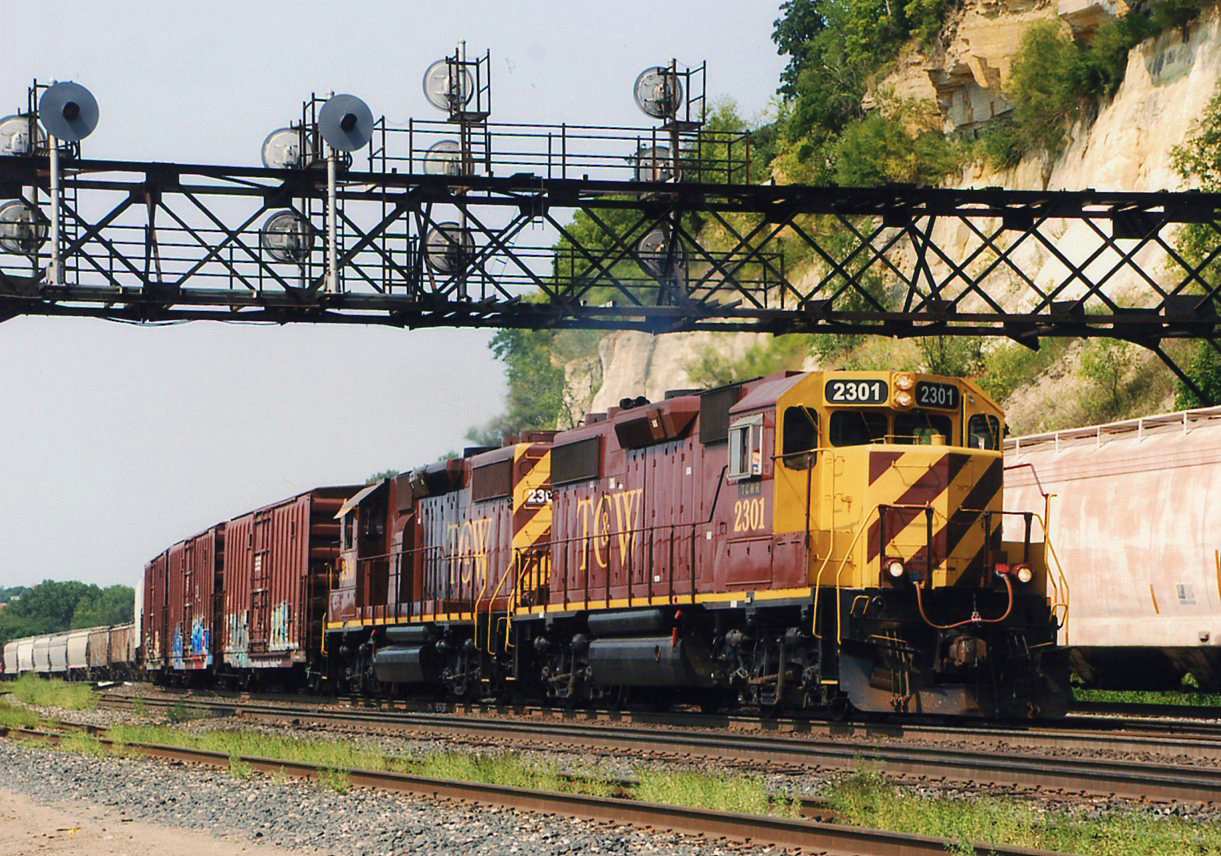 Twin Cities & Western GP39-2's #2301 and #2300 pass under the BNSF signal bridge at Dayton's Bluff Yard in St. Paul, Minnesota on August 26, 2015. Doug Kroll photo.
The railroad also provides additional services such as industrial development and car supply guarantees. In any event, below is a current roster of the TC&W.

Locomotive Roster
| Builder | Model Type | Road Number | Date Built | Quantity |
| --- | --- | --- | --- | --- |
| EMD | Slug | 302, 1503 | 1950-1951 (Ex-AT&SF F7s) | 2 |
| EMD | GP10 | 401-408 | 1950-1957 (Ex-GN, Ex-IC, Ex-B&M GP7s and GP9s; Ex-UP GP9B) | 8 |
| EMD | SD20 | 600-601 | 1957 (Ex-UP SD20s) | 2 |
| EMD | SW1200 | 1200 | 1954 (Ex-Milwaukee Road) | 1 |
| EMD | GP20C | 2004, 2008, 3516 | 1960-1961 (Ex-GN, Ex-CB&Q GP20s) | 3 |
| EMD | GP39-2 | 2300-2301 | 1977-1978 (Ex-Kennecott Utah Copper Corporation) | 2 |
| EMD | GP30C | 4300-4302 | 1962 (Ex-UP GP30s) | 3 |
---
Red River Valley & Western GP20C #2053 and TC&W GP30C #4300 have an eastbound train at Buffalo Lake, Minnesota on August 28, 2015. Doug Kroll photo.
A great new read that highlights the history of Minnesota's railroads is Minnesota Railroads: A Photographic History, 1940-2012 by noted railroad historian and photographer Steve Glischinski.  
The state has a rich background in the industry with names like the Milwaukee Road, Great Northern, Northern Pacific, Chicago & North Western, and others all operating there. 
Most of these fabled Midwestern lines are also featured in the book, which was released through University Of Minnesota Press in 2012.