Ashley, Drew & Northern Railway

Last revised: December 26, 2021
By: Adam Burns
The Ashley, Drew & Northern Railway (reporting marks, ADN) is another of the classic timber/logging lines operating in southeastern Arkansas.
It began service during the early 20th century and continued until the mid-1990s when its owner, Georgia Pacific, changed how it produced paper rendering the system superfluous.
The railroad's primary traffic was mostly always wood-related, so much so that it used a pine tree as its logo and carried the slogan, Serving Southern Forests (its diesel locomotives also sported a livery of forest green with white trim).
The original predecessor of the AD&N hauled strictly logs to serve its parent's lumber mill although under GP ownership the system branched out to move other products, such as the aforementioned paper and plywood. 
Today, about a five mile section of the AD&N remains in use to service the town of Crossett via short line Fordyce & Princeton, another GP-owned property.  T
he information presented here offers a brief history and overview of the Ashley, Drew & Northern's operations.  In addition, you can view a detailed map of its operations as well as a complete diesel locomotive roster.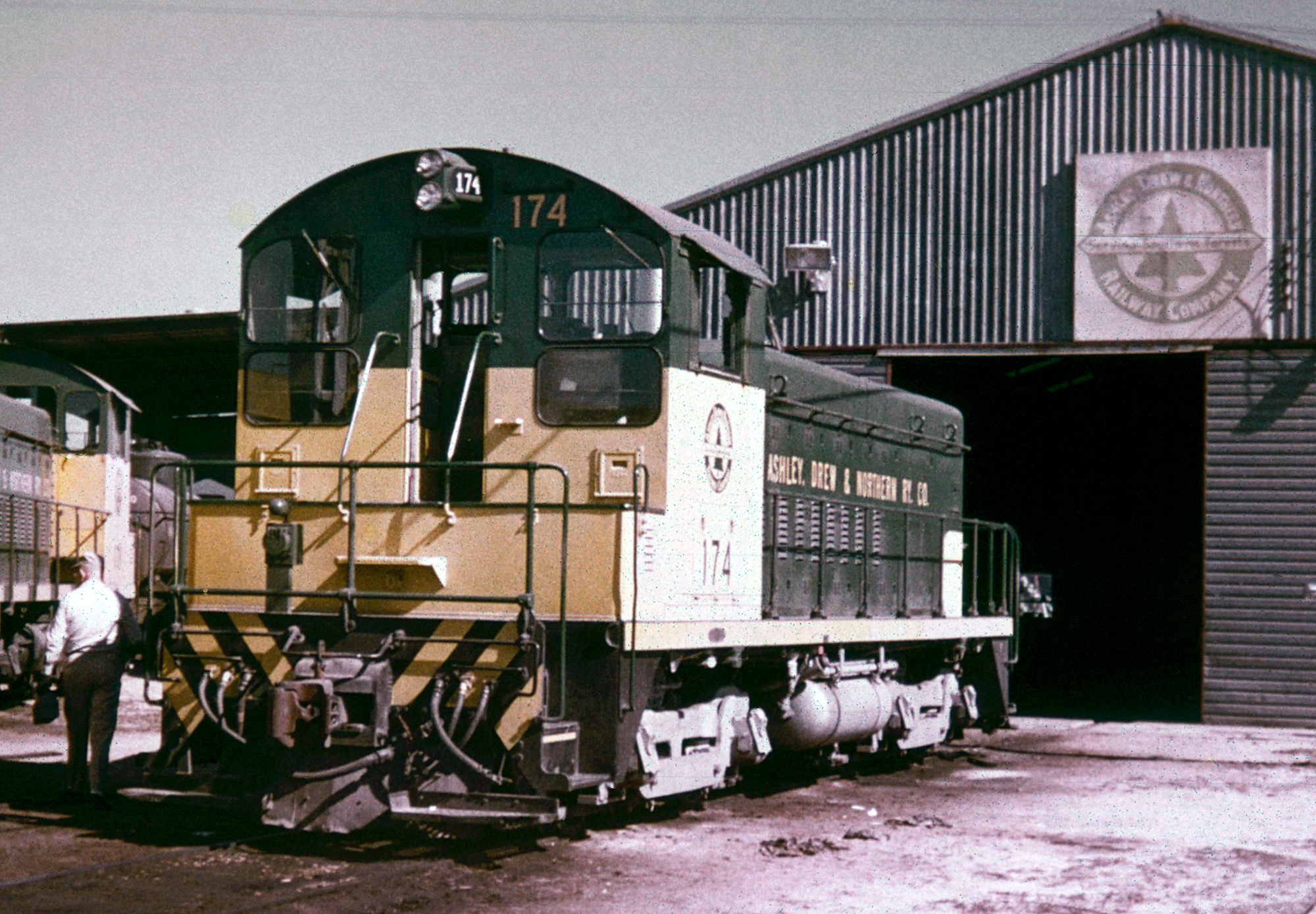 Ashley, Drew & Northern SW9 #174 lays over at the railroad's shops in Crossett, Arkansas on March 29, 1968. The unit was built new for the railroad in May, 1952. Ed Lewis photo. American-Rails.com collection.
The Ashley, Drew and Northern Railway's original predecessor was the Crossett Railway, a 10 mile line originally chartered and owned by the Crossett Lumber Company in 1902 to haul logs from nearby timber reserves to its mill at Crossett, Arkansas.
It opened in 1905 and remained in service until May 1, 1912 when it was sold to the Crossett, Monticello & Northern Railroad, which looked to extend the system nearly 40 miles northward and an eventual connection with the Missouri Pacific (which would own a branch from Dermott to Warren).
However, the CM&N only finished the line as far Fountain Hill, 19.5 miles to the north before financial problems ended any additional construction.
By August of that same year new ownership renamed the company as the Ashley, Drew & Northern and finished the line to Monticello giving it a total route of 40.7 miles.
The railroad would grow no further although it would establish interchanges with two other railroads; the Chicago, Rock Island & Pacific (Rock Island) at Whitlow Junction (about 5 miles north of Crossett) and the Arkansas & Louisiana Missouri Railway at Crossett (connections with the MP and CRI&P).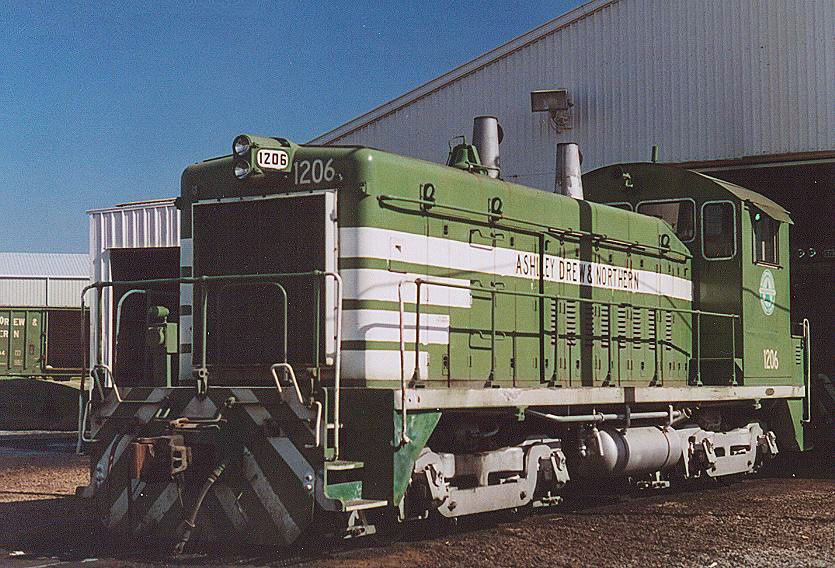 Ashley, Drew & Northern SW1200 #1206 sits outside the road's main shop in Crossett on September 22, 1983. Doug Kroll photo.
Through the 1930s the AD&N's primary traffic source was logs and lumber to and from the Crossett Lumber Company.
However, in 1934 this changed when the Crossett Chemical Company opened for business diversifying its traffic base.
Paper became a important source of freight a few years later with the opening of a mill at Crossett and another in 1945 when the Chase Paper Bag Company also opened there.
By this point, the city was the AD&N's major base of traffic, as most of its customers were located there. Additionally, the transport of logs was rapidly declining as trucks began to takeover those duties.

Ashley, Drew & Northern CF7 #1514, which began its career as Santa Fe F7A #255-C in 1951. It is seen here in Crossett, Arkansas on October 22, 1988. Warren Calloway photo.
Other new customers the railroad gained after 1950 included Crossett Concrete Products, Simplex Paper Corporation, Bemis Brothers Bag Company, and the Textile Paper Products Company all of which were situated near or around Crossett.
Additionally, this time period saw the railroad transitioning from steam to diesel power. Its workhorse during the steam era was primarily 2-8-0's.
During the diesel era the railroad stuck with small diesels after the switch, first purchasing General Electric 70 and 95-tonners then picking up a varied array of Electro-Motive units such as SW900s, SW1200s, and SW1500s.
On July 31, 1963 Ashley, Drew and Northern Railway along with its parent Crossett Lumber was purchased by the growing Georgia Pacific Corporation.
For some time after GP purchased the railroad it remained a profitable system with a rather diverse traffic base, especially considering that the company's dominant freight was always wood related.
Georgia Pacific ownership also saw a further uptick in timber products including finished materials like plywood an additional pulpwood movements in the manufacturing of paper.
Through the 1970s and 1980s the railroad's various other sources of traffic slowly began to evaporate until by the 1990s it was moving mostly pulpwood only.
The fate of the AD&N was sealed during this time for two primary reasons; first was that GP switched its paper plant to using tree-length wood instead of pulpwood and second the railroad's property was difficult to operate due to stiff grades and tight curves. 
During its last years of service the AD&N was operating SW900 #907, CF7's #1513-1514, and GP28 #1812 the latter of which was the largest diesels it ever used. Considering the railroad no longer useful Georgia Pacific filed to abandon the route on August 15, 1995, which was approved by the Interstate Commerce Commission. 

Ashley, Drew & Northern Locomotive Roster
| Builder | Model Type | Road Number | Notes/Date Built | Quantity |
| --- | --- | --- | --- | --- |
| EMD | SW900 | 102, 907 | 1959 | 2 |
| EMD | SW1500 | 150, 1509 | 1970 | 2 |
| GE | 70-Ton | 170-172 | 1948 | 3 |
| GE | 95-Ton | 173 | 1950 | 1 |
| EMD | SW1200 | 174, 176, 178, 1205-1206, 1208 | 1952-1963 | 6 |
| EMD | CF7 | 1513-1514 | Ex-AT&SF F3A And F7A | 2 |
| EMD | GP10 | 1810-1811 | Ex-IC | 2 |
| EMD | GP28 | 1812, 1815, 1816 | Ex-IC, Ex-Kansas, Oklahoma & Gulf Railway | 3 |
---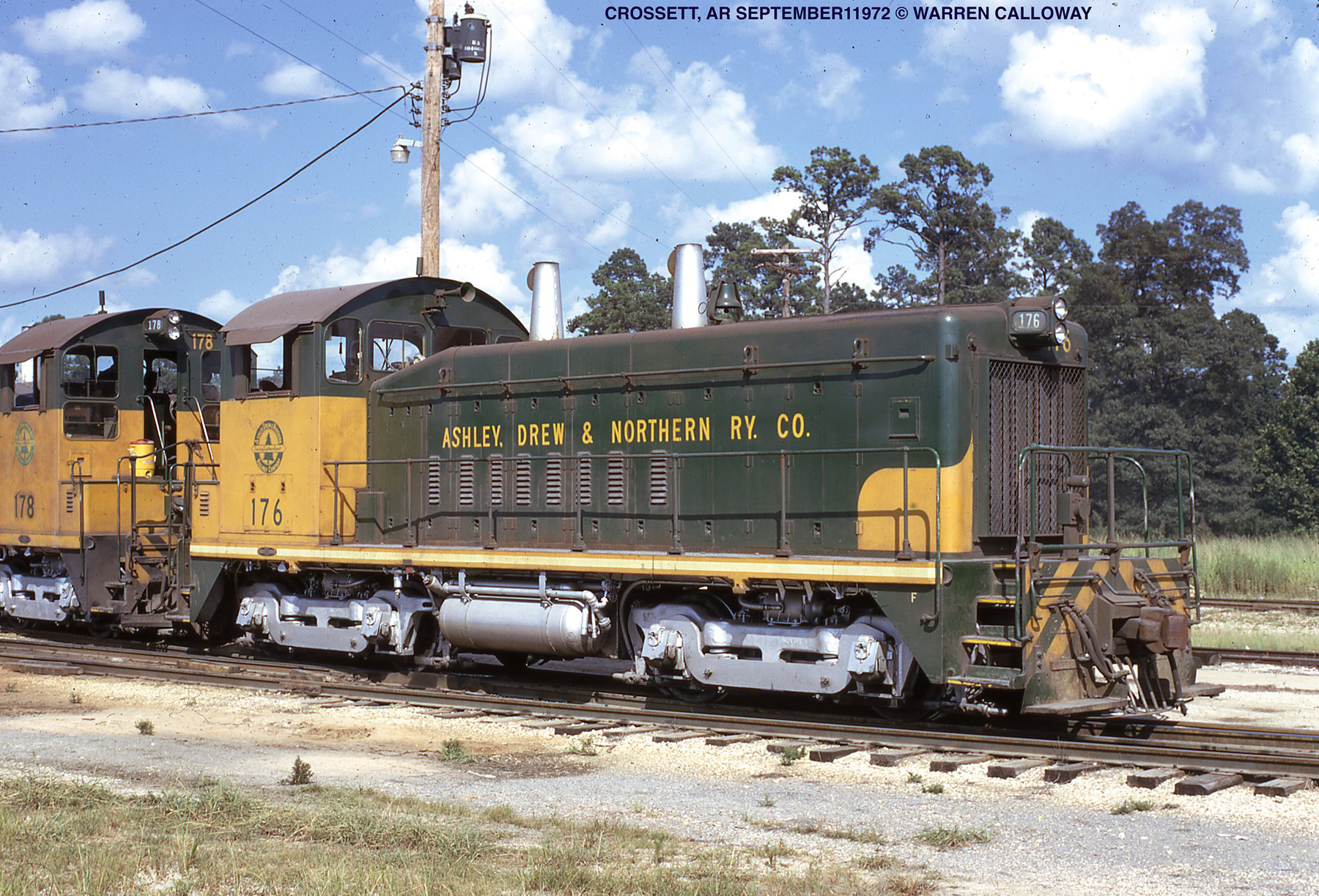 A pair of Ashley, Drew & Northern SW1200's are tied down in Crossett, Arkansas in September, 1972. Warren Calloway photo.
On June 29, 1996 the Ashley, Drew and Northern Railway made its final run under GP28 #1812, a round trip along the entire line.
The next day, the 4.8 miles between Whitlow Junction to Crossett was sold to GP-owned Fordyce & Princeton and the AD&N ceased to exist after 84 years of continuous service.
To many railfans, the most memorable aspect of the AD&N was likely its large fleet of 50-foot boxcars, painted in an attractive green and white livery with the company logo adorning the flanks. These roamed all over the country and some are still in service today.