Sandersville Railroad

Last revised: June 26, 2023
By: Adam Burns

The Sandersville Railroad (reporting mark, SAN) has been an institution in its local Georgia community for more than a century although interestingly this little line has never been particularly large at less than 10 miles in length.

During its early years the line struggled to survive finding a minimal traffic base to remain profitable. However, things all changed after 1910 when new ownership led by an innovative entrepreneur turned around the company's fortunes.
Then, about 20 years later the kaolin industry came to Sandersville and the railroad has prospered from this lucrative mineral ever since.
Surprisingly, for such a small line the Sandersvillle has a very large traffic base serving a variety of customers, most of which are located within its hometown. 
The future of the short line also looks bright; the company has been family owned by the Tarbuttons of Sandersville since 1916 and its profitable traffic enables many perks for a railroad of its size. 
The Sandersville enjoys a main line of heavy rail (132 to 136 pounds), well-maintained locomotives, and even its own locomotive shops. 
Ironically, its fleet has always consisted entirely of switcher models, including its latest addition in 2016; an MP15DC acquired from Norfolk Southern.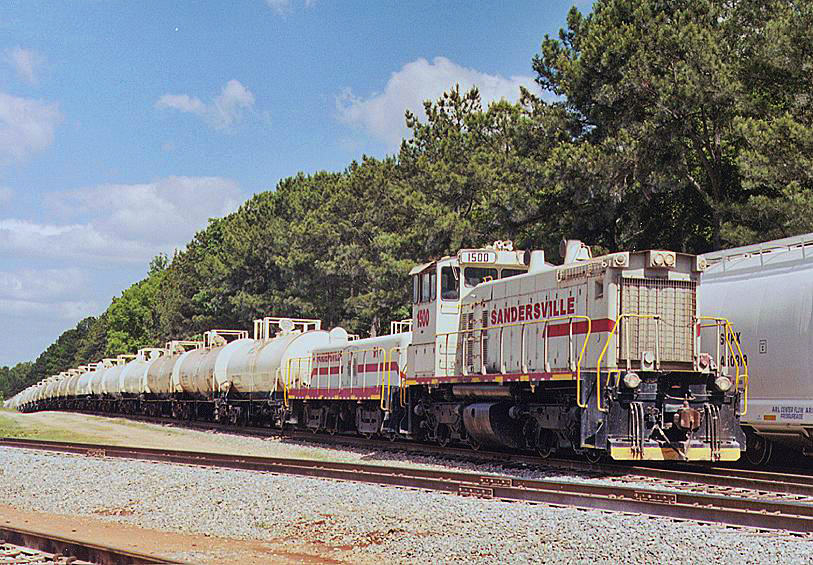 Sandersville SW1500 #1500 and slug #91 pull a long cut of kaolin cars through their hometown on May 12, 2006. Doug Kroll photo.
History
The history of the Sandersville Railroad begins when the Central of Georgia Railway (CoG) was constructing its main line to Macon in the late 1880s.
The company wanted to build its route through Sandersville and place a depot there although local opposition was so loud that the railroad ultimately decided to move its line three miles south to Tennille.
The town's disinterest in the railroad is somewhat odd in those days considering the importance trains played; a rail line was a community's lifeblood to the outside world and without it a town usually withered.
Not surprisingly, this decision considerably impacted Sandersville's economy; as Tennille prospered it did not take local leaders long to realize they needed their own railroad.
The Sandersville Railroad was organized in 1893 and with strong financial backing had soon opened Tennille, interchanging there with the CoG.
Official Guide Listing
For the next 20 years the company struggled to remain a profitable operation with little freight and only marginal passenger traffic (considering its small size).
In 1916 the railroad's owners offered the system at a very reasonable price to local businessman Ben Tarbutton if he could keep it afloat after five years of operations.
Under the young man's leadership the road began to prosper as new sources of freight were unearthed and the timber industry sprang up. Prior to World War II the line's traffic included various types of local agriculture and six sawmills.
However, the true success of the Sandersville Railroad occurred in 1938 when the Champion Paper & Fiber Company decided to begin processing its kaolin deposits located in the local Washington County region.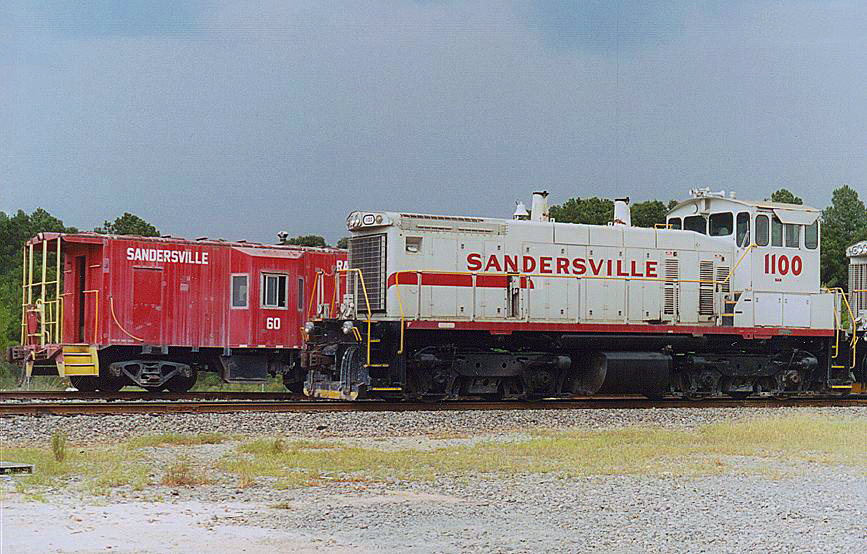 Sandersville SW1500 #1100 sits quietly at the shops in Sandersville with a caboose on July 23, 2004. The caboose was finally retired in 2009 due to its friction-bearing trucks. Doug Kroll photo.
Thanks to Mr. Tarbutton's success with his railroad Champion's vice president, Clarke Marion, wanted the company's new processing plant built somewhere along the Sandersville.
As it turns out the state of Georgia is home to the largest deposit of kaolin in the United States. The clay is a white, chalky-like mineral used in a wide range of products including medicine, paper coating, ceramic, paint, tooth paste, food products, and even light bulbs.
After Champion opened its facility several other companies soon followed including United Clay Minerals in 1940, Burgess Washington Clay in 1945, and Georgia Kaolin in 1958.
The latter company was located six miles to the northwest in Kaolin and the railroad constructed its main line there to serve the plant, tripling its total length to 9.1 miles (which still holds today).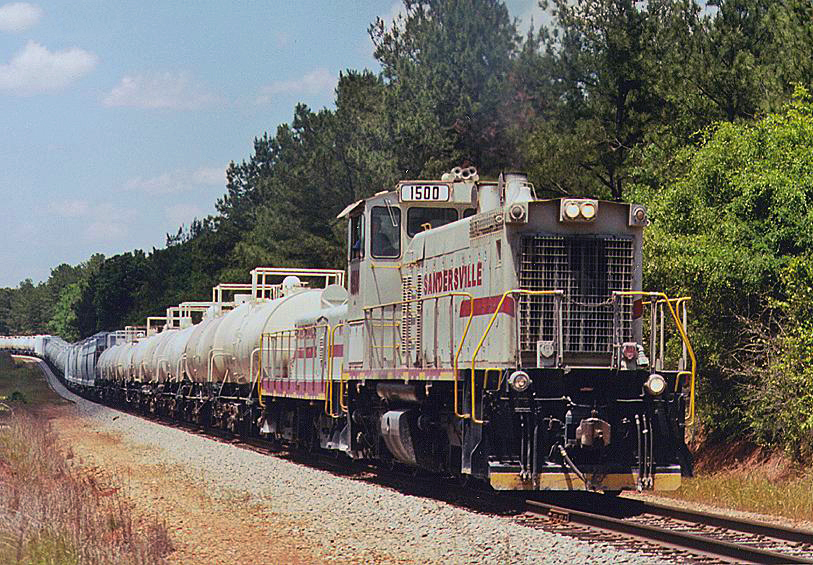 Sandersville Railroad SW1500 #1500 and Slug #91 pull 59 loads of dry kaolin and kaolin slurry on May 12, 2006. Doug Kroll photo.
While kaolin has remained Sandersville Railroad's freight staple for more than a half-century now (Georgia produces more than $1 billion of the stuff annually, although the shortline does not transport all of that) the company has diversified its traffic base in other ways as well.
Today, for instance, the road has freight that includes plastic pellets, ethanol, turkey feed, chipwood, and it even serves a bulk transfer facility.
The future also looks quite promising. Recently it was announced that a $2.1 billion coal-fired power plant was in the works to be built somewhere north of the railroad; the completion of this facility would not only have resulted in substantial growth for the railroad but also offer a new commodity, coal. 
This traffic source would have rivaled kaolin as its primary business but unfortunately the plant was never built as interest in coal slipped (and still slides today).  

System Map
Historically, during the steam era The Kaolin Road relied on a single 2-8-0 Consolidation, purchased secondhand from the Central of Georgia for freight duties.
This was replaced in 1953 with a Fairbanks-Morse 1,200 horsepower H12-44 switcher, #100. In the 1960s this unit was replaced with two EMD SW1500s.
Today, the company still uses these switchers along with a few others, an SW1200, and two slugs. The future of the road looks very strong with a wide traffic base and potential new traffic on the way, not to mention that it is still family owned by the Tarbutton's.
Perhaps most fascinating is that for such a small operation it truly carries a Class I feel with heavy welded-rail, is well-ballasted, and equipment is kept in immaculate shape. 
Locomotive Roster

| Road Number | Model Type | Builder | Year Built | Notes |
| --- | --- | --- | --- | --- |
| 90 | Slug | GE | 10/1963 | Built as Rock Island U25B #210; rebuilt as yard slug by the CRI&P, numbered 55, then sold to Sandersville. |
| 91 | Slug | - | 1966 | Acquired in 1994 from Norfolk Southern. |
| 1100 | SW1500 | EMD | 12/1967 | Acquired new. Renumbered from 100. |
| 1200 | SW1200 | EMD | 12/1964 | Acquired new. Renumbered from 200. |
| 1300 | SW1500 | EMD | 5/1970 | Acquired new. Renumbered from 300. |
| 1400 | SW1500 | EMD | 12/1967 | Built as Illinois Terminal #1513, became Norfolk & Western #2294 then Norfolk Southern #2294. Originally numbered 400. |
| 1500 | SW1500 | EMD | 4/1969 | Built as St. Louis Southwestern (Southern Pacific) #2518. |
| 1600 | MP15DC | EMD | 6/1982 | Built as Southern Railway #2401, became Norfolk Southern #2401. Acquired in October, 2016. |
---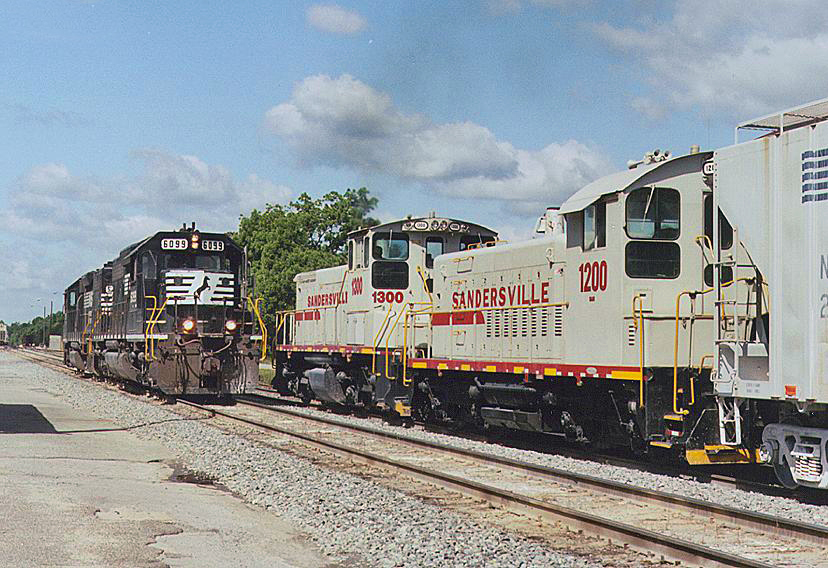 Sandersville SW1500 #1300 and SW1200 #1200 are on Norfolk Southern rails at the interchange point on May 12, 2006. Doug Kroll photo.
If you ever have the chance to visit the railroad take special note of the property and right-of-way.  Few short lines of its size are maintained to such standards. 
Not only is the line laid with heavy rail but also heavy ballast.  This gives the appearance of a major Class I operation. 
Just northeast of the Tennille interchange, along Waco Mill Road, you will see the first customer (Dura-Line), then pass a considerable yard and additional customers.  You will continue finding businesses dotting the property all of the way into Sandersville (featured on the map above). 
Finally, while the $2.1 billion coal-fired power plant's story ended in April, 2020 after the state of Georgia denied its construction permit, for the Sandersville Railroad things did not end there. 
The company had started, and largely completed, a spur just east of Sandersville which extends about 3 miles.  The entire line was graded and at least 1 mile laid with rails.  What will it now be used for? 
That remains to be seen although the railroad will likely attempt to lure one or more new customers to the area.