Pioneer RailCorp Jobs

Last revised: June 1, 2023

The Pioneer RailCorp is a holding company formed in the 1980s to operate a series of short lines and has since grown into an operation covering more than a dozen states and 600 miles of trackage.  
Pioneer is certainly not the largest operation of its kind in the country but its many railroads provide services to numerous business and customers that would otherwise not be possible without their involvement.  
From a historic standpoint the company is notable for operating the only remaining A-B-A set of cab model diesel locomotives anywhere in the country in regular freight service and they also host a "Santa Train" every Christmas.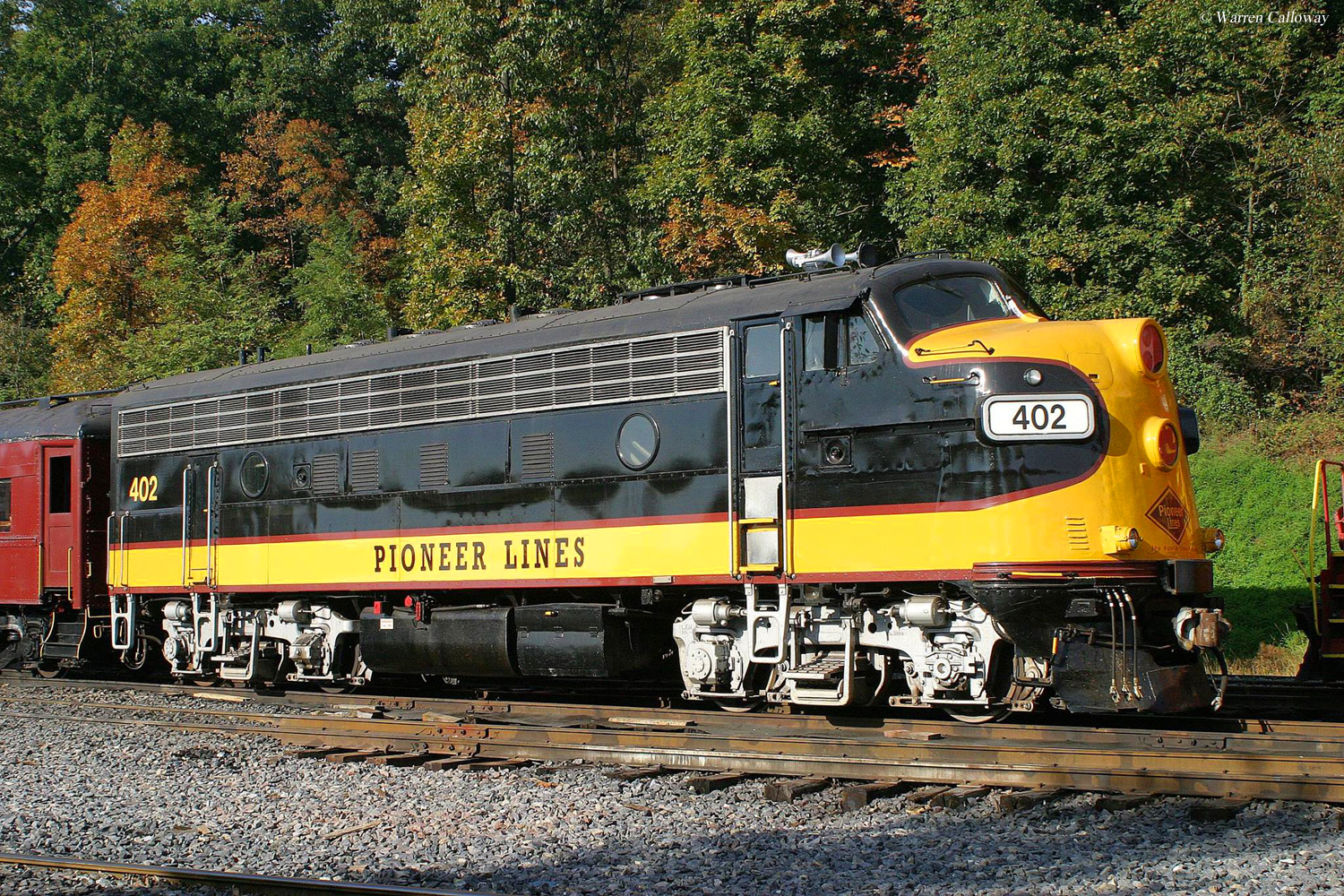 One of Pioneer Railcorp's most famous locomotives, F7A #402 on the Gettysburg & Northern in Gettysburg, Pennsylvania. This unit began its career as Chicago & North Western #4086-A in 1949.
The railroad industry has always offered excellent pay and benefits; among Class I's entry level positions as part of the train crew (conductor) typically start out in the $50,000's while an engineer can make considerably more.  
After one has worked for several years it is not uncommon to earn at, or over, $100,000 annually. Senior-level and skill positions (such as trainmaster, roadmaster, and signal maintainer) also routinely make six-digits or close to that figure. 
By performing a quick Google search using the box below you can find available job openings.  In addition, you can visit Pioneer RailCorp's website for information. 
During its now three decades of operation Pioneer Railcorp has maintained a relatively low profile, slowly acquiring new holdings and generally going about its business in a quiet manner.  
The corporation was founded in January of 1986 by Guy L. Brenkman, forming what was then known as the Pioneer Railroad Company.  
As a short line holding company it was unique in the manner Brenkman went about obtaining capital via a self-underwritten public stock offering.  
The idea worked and it continued using this method to fund future acquisitions for many years.  
Pioneer's first railroad was its 1988 takeover of the West Jersey Railroad, which operated roughly 19 miles of former Pennsylvania-Reading Seashore Lines property between Salem and Swedesboro, New Jersey.
Career And Job Information With Other Short Line Families
Rio Grande Pacific Corporation
This trackage had a history dating back to the Salem Railroad, which was put into service in 1863.
It later became part of the West Jersey & Seashore Railroad before its inclusion into PRSL into 1932, a joint Pennsylvania and Reading operation largely focused on serving commuters across southern New Jersey.  
After the fallout of Penn Central and Conrail's startup in 1976 the property was sold to the local Salem County government in 1985, which awarded its initial contract to Brenkman.  
The Pioneer Railroad served the line for only 10 years; in 1995 the contract was given to new operator Southern Railroad of New Jersey, which continues to serve the route today.  
However, by the mid-1990s Pioneer was fast becoming an established short line operator and during that decade acquired several new properties.
Georgia Southern Railway GP20 #2053 and a mate pull a string of loaded sand near Lee Pope, Georgia during June of 2013. Mike Derrick photo.
These new additions included:
Alabama Railroad (began service in 1991 over 60 miles of former Louisville & Nashville trackage between Flomaton and Corduroy, Alabama)


Decatur Junction Railway (a 1993 startup operating 38 miles of ex-Illinois Central track from Assumption to Cisco, Illinois)


Fort Smith Railroad (initiated service in 1991 over ex-Missouri Pacific trackage, today operating 18 miles of track from Fort Smith to Barling, Arkansas)


Garden City Western Railway (purchased in 1999 running 40 miles from Garden City to Shallow Water, Kansas with a branch to Wolf)


Keokuk Junction Railway (Formed in 1980 utilizing about 4.5 miles of the former Rock Island in Keokuk, Iowa; since then it has acquired segments of the historic Toledo, Peoria & Western and today totals 114 miles connecting Peoria and Lomax, Illinois.  Pioneer Railcorp acquired control in 1996.)


Michigan Southern Railroad (began service in 1989 over about 12 miles of ex-New York Central property between Sturgis and White Pigeon, Michigan)
Other properties acquired during the 1990s include:
Mississippi Central Railroad (a 1993 startup operating former Illinois Central lines in northern Mississippi); Vandalia Railroad (acquired by Pioneer in 1994 utilizing about 3 miles of ex-IC property near in Vandalia, Illinois)


Kendallville Terminal Railway (launched in the 1990s it serves customers on a 1-mile segment of ex-Pennsylvania Railroad trackage south of Kendallville, Indiana)


Pioneer Industrial Railway (launched in 1998 using what was originally the Peoria & Pekin Union Railway in the Peoria, Illinois area)


Shawnee Terminal Railway (acquired in 1996 operating about 3 miles in downtown Cairo, Illinois to serve local customers)


West Michigan Railroad (Initially began service in 1987 over the former Pere Marquette between Hartford and Paw Paw, Michigan.  It was acquired by Pioneer RailCorp in 1995 and sold to Hamilton Haitford Group, LLC in 2015)
During the 2000s Pioneer RailCorp has continued growing its portfolio by adding:
Elkhart & Western Railroad (a 2001 startup it operates two segment of track in northern Indiana which originally belong to the New York Central and Nickel Plate Road)


Gettysburg & Northern Railroad (another 2001 addition the G&N operates 25 miles between Gettysburg and Mount Holly Springs, Pennsylvania on ex-Reading trackage)


Georgia Southern Railway (acquired in 2009 from Atlantic Western Transportation utilizing ex-Central of Georgia and Georgia & Florida trackage)


Indiana Southwestern Railway (initiated service in 2000 on former IC property between Evansville and Cynthiana, Indiana it was abandoned and salvaged in 2011)


Ripley & New Albany Railroad (acquired by Pioneer in 2011, running between New Albany to Falkner, Mississippi, a distance of 26.5 miles, on the former Gulf, Mobile & Ohio)
---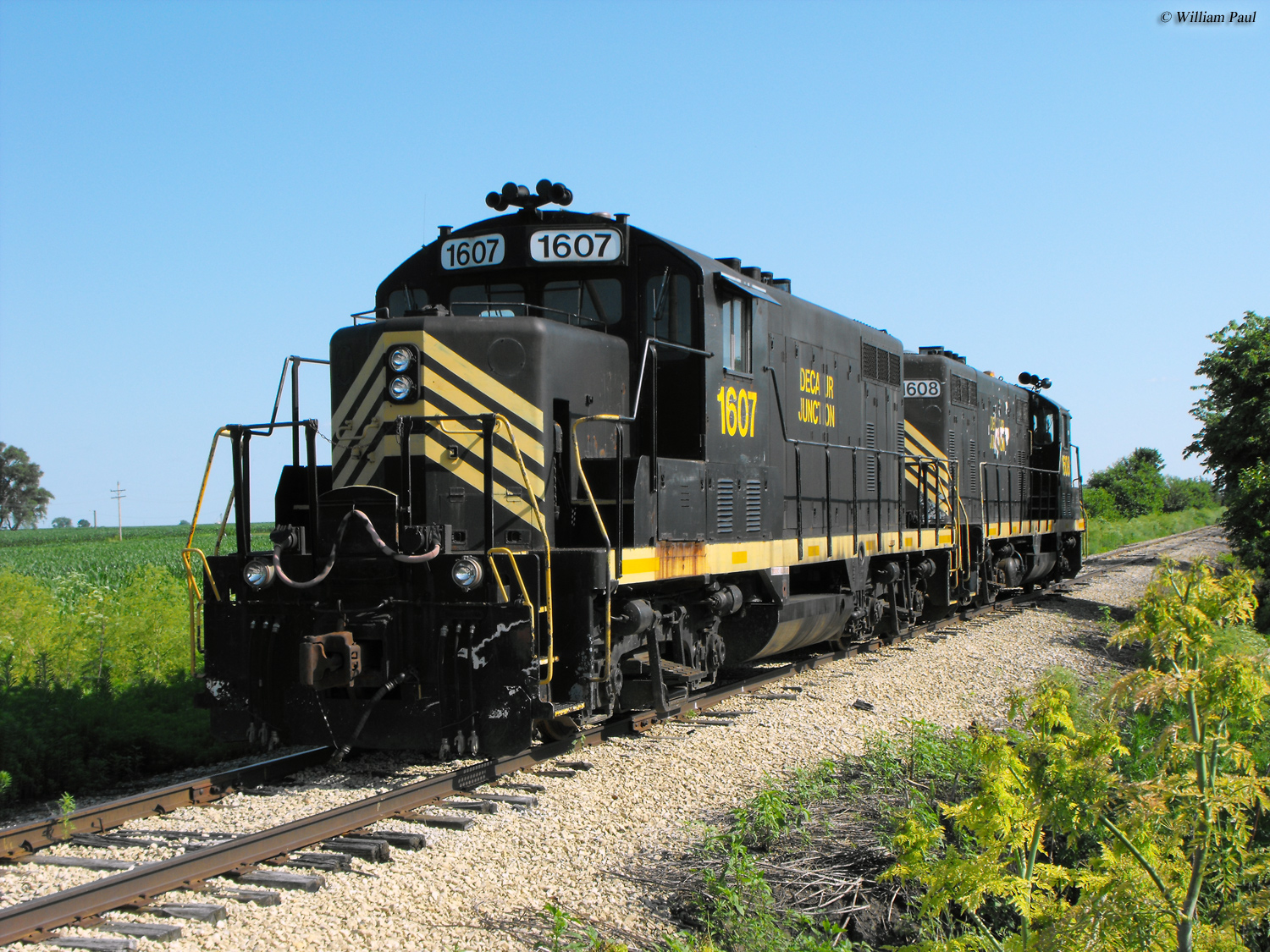 Finally, there was the addition of the Napoleon, Defiance & Western in late 2012.  This property was previously known as the Maumee & Western, operating on the former Wabash main line between Woodburn, Indiana and Liberty Center, Ohio.  
Many moons ago it was part of Wabash's 5th District through route from New Haven, Indiana to Toledo, Ohio and with very little maintenance performed on the property in the last half-century trains crawled along on trackage described as the worst in the country.  
However, with still several shippers online, and other potential business available, Pioneer purchased it and has since performed significant rehabilitation replacing numerous rotten ties, laying new ballast, and swapping out broken rail segments.  
In 2013 Pioneer's founder, Guy Brenkman, passed away but the company continues to provide top-notch, customer-focused service along all of its properties.  To learn more please visit Pioneer's website for information about employment and potential job openings.